What Is The Best Dog Food Recommended by Vets
Vets have the qualification to recommend the best dog food. If you've struggled with low-quality dog food brands, you need the best dog food recommended by vets to be sure of its nutritional quality. If you want a happy dog enjoying balanced nutrition, you need to check out the current foods which are pre-approved by vets. This article explains what vet-approved dog food is and it looks at a few best products to consider.
How veterinarians choose the best dog food
A veterinarian knows most dogs thrive on protein-rich diets. But eating pure meat alone is not the way to go if you want a happy and healthy pet. As a result, veterinarians first try to establish the type of food formulation before making a recommendation.
Checking the list of ingredients
All vets jump to the list of ingredients before recommending certain foods. Therefore, in broad terms, these can be categorized as follows.
Vegetable-based dog food
These types of foods for dogs come with ingredients such as rice, corn, or lentils. They can be found in vegetable-only foods or they can be mixed with one or multiple sources of protein either from vegetables or from meats.
Meat-based dog food
Meat-based dog foods are normally high in chicken, lamb, beef, or fish. Poultry is a term that describes all types of birds and it signals the food can come with other sources of meat apart from chicken.
Best dog foods recommended by vets don't include these ingredients
As professionals, veterinarians know some ingredients aren't truly needed as they can even be harmful in large quantities.
Dyes
Dyes are an ingredient that vets don't recommend, even if it makes the food look better. Apart from natural dyes, it's rare to find vets who truly see no issue with adding dyes to both dry or canned dog food.
Sugar
Sugar is problematic for the long-term circulation problems it comes with. Apart from the natural sugars in the vegetables and fruits, there should be no added processed sugar to dog food.
High salt
High salt content is just as problematic as high sugar levels. Vets are the first to tell you about the possible issues salt can create to your dog's health, even if the pet truly enjoys the food.
Vets follow general AAFCO dog food guidelines
There's an organization called the American Association of Feed Control Officials that looks deeper into nutrition for dogs. While it's not an official organization, its guidelines show you how vets understand dog food themselves. Here are a few things you can learn from them as well.
The ingredients should be listed in order of weight predominance
The ingredient with the highest impact on the dog food weight should be listed first. You should have a clear idea of the most important ingredients in the food simply by looking at the order they're listed in on the label. The best dog food recommended by vets always clearly labels all of these ingredients.
Feeding directions should be clearly labeled
All of the feeding directions should be printed on the food's packaging. You should know exactly the food to feed your dog. This should be printed in an amount per weight of dog formula.
Labeling the percentages for each nutrient
Each dog food label should show the minimum percentage of protein and fat together with the maximum percentage of fiber and moisture (where applicable).
Examples of the best dog food recommended by vets
Not all dog foods are created equal. Its also true that many of them have no affiliation with nutritionists and veterinarians. Here are the foods that are vet-approved you can feed your dog.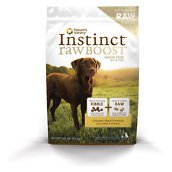 Nature's Variety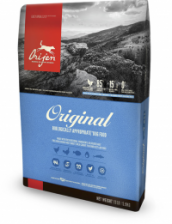 Orijen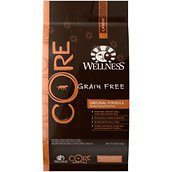 Core Wellness
Starting in the first place is Pedigree. Veterinarians love this old brand that is responsible for how we understand dog food in general, to an extent.
The Waltham Petcare Science Institute is where Pedigree researches dog food for around 5 decades. Above all, the ingredients in the company's dog food is clearly labeled.
For example, corn and gluten are labeled accordingly in the foods you can find these ingredients. Unlike many think, these ingredients can be very beneficial as amino acids, antioxidants, and linoleic acid content. But the sources of meat are also clearly labeled by the company for strong muscles and teeth.
With its research center, Pedigree is what the best dog food is all about. They came the furthest from their humble beginnings and even if there are hundreds of other dog food brands out there, it remains a company that is widely trusted by pet owners.
American Journey is a trusted brand that is still exclusive to several online retailers. It makes its food from both US and international ingredients of the best quality.
Made in Kansas, American Journey dog food is one of the products vets love as it clearly labels the most important ingredients. For example, it's one of the brands that use real salmon food which is known for its beneficial Omega fatty acids. There are plenty of products with no corn or soy to choose from as well.
Most importantly, as discussed with the product labeling above, American Journey is a trusted brand that clearly states the minimum percent per ingredient.
Most vets love Royal Canin for its trusted ingredients and for the specialized dog breed food it produces. Of course, there's no specific food a certain breed needs to consume, but the size of the kibble helps, especially with smaller dogs.
Founded in the early '60s, the brand now makes a reliable and tasty puppy, adult, and mature dog food. All of these foods are made with ingredients that can be traced to their source.
With over 200 veterinarians and Ph.D. nutritionist, Hills Science is one of the most trusted dog food brands in the industry. Furthermore, we also like that these scientists are directly employed by the company. The knowledge in pet nutrition also equates to more than 50 research papers published every year. Excess nutrients such as too much salt is never a problem with Hills Science dog food.
Formulated with the help of veterinarians, Wag is a brand of dog food exclusive to Amazon. There are no artificial flavors and chemicals in the products of the company which makes its food safe for long term consumption. It's also one of the brands which source its ingredients locally as it's the case with the American Salmon that adds flavor to some of its dry dog foods.
Blue Buffalo is one of the brands that use some of the best vet-approved ingredients in dog foods. Quality sources of protein used by Blue Buffalo include beef, chicken, and fish. Carbohydrates sources include brown rice. Fruits are also added for vitamin content and they include blueberries and cranberries.
Rachel Ray products are known for its natural ingredients. There is natural prebiotics added to many of their dry dog foods to help digestions. All of their foods are free from artificial flavors. But most agree a large benefit is given by their protein sources which come from the lean chicken as the company doesn't use poultry by-products.
Taste of the Wild is another AAFCO-certified dog food manufacturer. Following good food production practices, the company uses the help of over 500 veterinarians to create delicious and healthy dog food.
Most importantly, the company makes all of its dog food within the US. It's also one of the few brands that offer bison and venison ingredients. Besides that, the company has a wide selection of specialized dog food both dry and wet.
The quality ingredients used by Purina are recognized by happy dogs immediately. Most vets recommend Purina dog food. Their rigorous testing might have a tight connection with the trust the company enjoys. For example, it runs more than 100k tests on its ingredients.

Entirely made in the USA, Diamond Naturals dog food is another option for your beloved pet. For instance, the company has small and large breed formulas that are age-appropriate to choose from. Similarly, if your dog can't handle grains, Diamond Naturals has the right nutritional solution as well and the best dog food recommended by vets with very specific ingredients exclusion.
Final words
The best dog foods recommended by vets is always a safe choice for your pet. Of course, all dogs can react differently to the new food. As seen from the safety standards above and the research these companies involved in their food production process, a lot of filler and unhealthy ingredients are eliminated from their formulations. AAFCO guidelines above also coincide with the recommendations veterinarians make for the healthiest dog food. It's worth finding the trusted brands recommended by the association.
Below is a list of brands reviewed in this article