By Nature Dog Food Review
By Nature Dog Food Overview
By Nature is a privately-owned pet food company that offers top-of-the-line organic dog food. This brand has natural dog food, grain-free dog food, and organic dog food made with wholesome ingredients.
Who manufactures By Nature?
By Nature dog food is owned by Kent Pet Group, a family-owned business dedicated to producing safe, natural, and high-quality dog food (and the World's Best Cat Litter). Kent Pet Group is headquartered in Muscatine, Iowa, and has manufacturing plants in Illinois, Indiana, and Washington.
Disclosure: Please note that this post contains affiliate links, which will direct you to our partner sites. If you purchase the pet foods we recommend through those links, we may earn a small commission – at no extra cost to you.
By Nature Recalls 2017
Please Read First: If this statement is still here we are actively watching for new recalls. Below you will find a history of recalls. If you would like to know as SOON as we find out about a recalls visit:https://dogfood.guru/dog-food-recalls/ and fill out our Recall Alert form. We will ONLY email this list in the event of an actual recall. Once we stop watching for Recalls I will remove this statement.
We also encourage everyone to bookmark the site for future reference.
Latest Recalls List (From newest to oldest):
Here's a clue that By Nature is a trustworthy premium dog food brand: It has never been recalled!
Learn how we Monitor for Recalls: https://dogfood.guru/dog-food-recalls/
By Nature Coupons

---
30% Off First Order + Free Shipping
By Nature Reviews
A lot of dog owners have nothing but great things to say about By Nature dog food. Some of them even believe that By Nature dog food helps alleviate allergies in dogs. They also claim that their dogs become happier and healthier after switching to By Nature dog food. It's totally believable, because By Nature is probably one of the best dog food brands out there.
It's an excellent source of animal protein, vitamins, and minerals. It's a 100% natural dog food brand. That means it contains absolutely no corn, soy, wheat, artificial colors, hormones, preservatives, fillers, and chemicals. Even moreso, this premium dog food brand contains chelated minerals, which are usually found in top-of-the-line dog food. Those minerals are chemically attached to protein, which makes them easier to absorb.
However, some of their formulas contain a few questionable ingredients, such as tomato pomace and garlic. Tomato pomace is a tomato by-product that's high in fiber, but some dog owners see it as cheap filler. Garlic is usually seen as a healthy ingredient for dogs, but some dog owners prefer to avoid it because there have been rare instances where garlic was linked to Heinz body anemia in dogs.
All in all, we consider By Nature dog food an above-average brand.
By Nature Consumer Ratings:
[gdrts_multi_stars_rating_auto series="gdsr-dog-food-reviews" style_size=40 style_type="font" style_font_name="star"]
Our By Nature Active Formula review: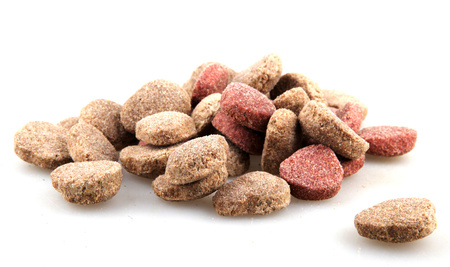 By Nature Active Formula is one of the brand's most popular formulas. Designed to give active dogs the nutrients they need to stay in tip-top shape, this formula is chock full of the right vitamins, proteins, minerals, and antioxidants. This formula is also designed to promote a strong immune system in dogs.
The crude protein level in this formula is 28%, and the minimum crude fat level is 18%. This is good for active dogs, because they need enough energy to stay active.
The first five ingredients are chicken meal, ground barley, chicken fat, ground oats, and lamb meal. This is a solid list. Here's why:
Chicken meal: Because it's pre-dried and comes in concentrated amounts, chicken meal contains 300% more protein than fresh chicken does.
Ground barley: Okay, ground barley isn't a quality ingredient, but it does contain some carbohydrates. They provide a practical source of energy for dogs. However, dogs don't need carbohydrates to maintain a healthy diet. It is believed that dog food manufacturers pump carbs into their food because it's cheaper, abundant, and durable.
Chicken fat: This ingredient sounds like an unappetizing filler, but it's actually a quality ingredient. It's a good source of linoleic acid, an Omega-6 fatty acid.
Ground oats: This ingredient is rich in B vitamins, minerals, and dietary fiber.
Lamb meal: Like chicken meal, lamb meal is an excellent source of protein.
This formula seems solid and capable of helping your energetic dog maintain a good quality of life.
Where can you buy By Nature dog food?
By Nature dog food can be purchased online or at a brick-and-mortar store. Some online retailers include PetFoodDirect, Chewy.com, heartypet.com, and PetFlow.com. You can use their retail store locator to find the closest store to you that carries By Nature dog food.