Best Dog Food for Australian Shepherds
Meet the Australian Shepherd – agile, animated, and adaptable. Originally bred to herd sheep, "Aussies" love to work, exercise, and remain busy throughout the day. In addition to herding, Australian Shepherds are known for wearing multiple hats from serving as guide dogs for the blind to being therapy dogs and search and rescue dogs. They also excel at sports, agility, and obedience.
Whether your Australian Shepherd herds livestock, works on a farm or is simply a family pet – he or she will need a high-quality, nutritious diet to remain healthy and sustain energy. Deciphering which dog food is the best for your pet's diet isn't always easy, but we're here to help with thorough recommendations for your puppy, adult, or senior Australian Shepherd.
Disclosure: Please note that this post contains affiliate links, which will direct you to our partner sites. If you purchase the pet foods we recommend through those links, we may earn a small commission – at no extra cost to you.

---
30% Off First Order + Free Shipping
on dog food for Australian Shepherds
Australian Shepherd Diet and Nutrition
Aussies are medium-sized, solidly-built dogs. Males are typically 20 to 23 inches tall and 50 to 65 pounds, while females are usually 18 to 21 inches tall and 30 to 45 pounds. Their weight and size –  as well as their age, activity level, individual metabolism, and history of being spayed/neatured, will determine how many calories your Aussie should eat each day.
The National Research Council of the National Academies recommends an average daily caloric intake of 1353 calories for an active adult Australian Shepherd weighing 50 pounds.
Growing puppies and young adult dogs, for example, consume more calories than full-grown, older dogs. However, if your Aussie tends to lie around the house all day with little opportunity to exercise, he or she would need fewer calories. Remember, every dog's metabolism is different, so one dog may need more – or fewer – calories than another.
What to Feed an Australian Shepherd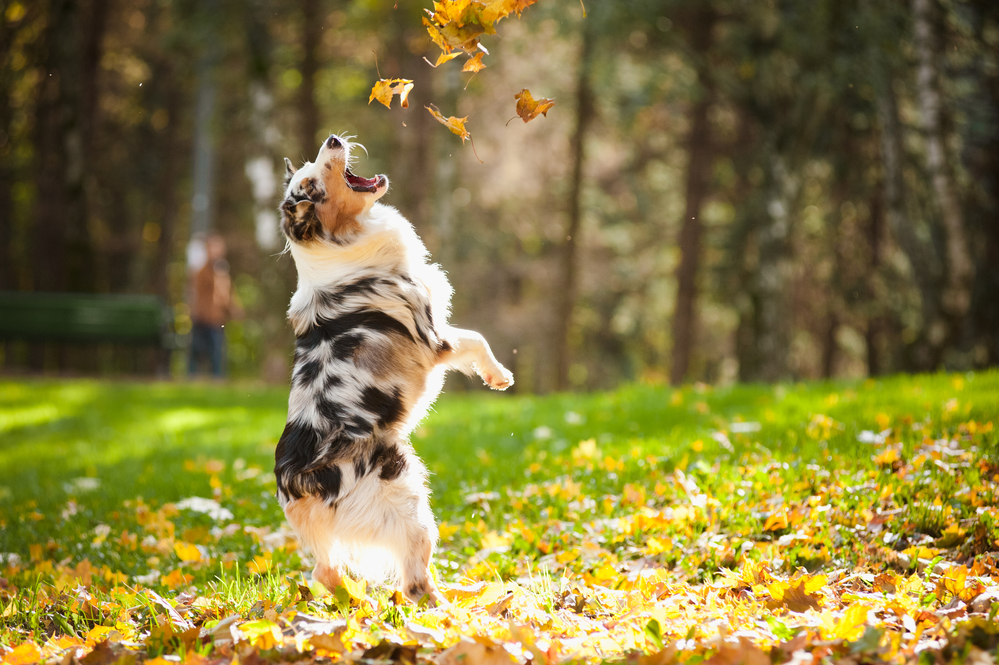 While there is no one-size-fits-all diet for an Aussie, we recommend selecting a dog food with several of the following health benefits.
Ingredients
Protein – Ideally, a good dog food will feature a couple of whole meat proteins in the first several ingredients, like chicken, beef, fish, and lamb. Protein can also come from meat meals, a concentrated form of meat in which the moisture has been removed. The Association of American Feed Control Officials (AAFCO) recommends a minimum of 22 percent protein for growth (puppies) and 18 percent protein for maintenance in adult dogs. Most quality dog foods will exceed these percentages.
Healthy Fat – Like protein, fat varies in quality depending on the source. Look for ingredients like chicken fat or fish oil to provide omega-3 fatty acids to help keep the skin and coat healthy. Fat is an important source of energy for dogs and should comprise at least 8 percent of the diet for Australian Shepherd puppies and 5 percent of the diet for adults.
DHA – Many good quality puppy foods include a compound called DHA (Docosahexaenoic acid), an omega-3 fatty acid that is known to help with brain development in puppies.
Calcium/Phosphorus (proper ratio) – Puppy foods should have a calcium to phosphorus ratio of about 1.2 parts calcium to 1 part phosphorus. Having a deficiency or excess of calcium in your dog's diet can lead to serious orthopedic problems, like painful bone spurs.
Source of Grains – Dog foods that do not include grains may be very high in protein and fat percentages, and the calcium to phosphorus ratio may be off. This can cause large breed puppies to grow too rapidly, leading to bone and joint problems. 
Source of Carbs – To keep an Australian Shepherd's blood sugar steady, look for a dog food that contains a healthy, low-glycemic form of carbs like sweet potatoes or peas.
When shopping for your Australian Shepherd's food, avoid:
Artificial flavors and preservatives
Excessive protein/nutrients
Adding supplements or nutrients to your dog's diet (milk, cheese, yogurt, meat)
---
Best Puppy Food for Australian Shepherds
For Australian Shepherd puppies, we recommend that you divide the food into meals and feed at regular times instead of free feeding. This encourages dogs to eat their food when you serve it instead of becoming picky about their food or overeating.
Australian Shepherds typically reach their adult size by the time they are around 8 to 10 months old, so you can usually start transitioning your dog to eating an adult food around this time. The following foods are hand-picked for medium-large, active puppies and don't contain soy, corn, and wheat.
1

Canidae's all life stages formula is created to serve dogs of all kinds – including the ingredients they are biologically designed to eat. With quality, healthy sources of protein, as well as probiotics, antioxidants, and omega fatty acids, the dog food is perfect for a growing Aussie.
Canidae customers love this formula for their dogs, calling it a substantial food that makes their dogs happy.
Main Ingredients: Chicken Meal, Turkey Meal, Lamb Meal, Brown Rice, White Rice, Rice Bran, Peas, Potatoes, Oatmeal, Cracked Pearled Barley
Protein: 24%
Fat: 14%
Fiber: 4%
Calories: 468 kcal/cup
2
This popular puppy food sells out quickly on Amazon and is adored by dog owners and puppies alike. Approved by the AAFCO for gestation/lactation and growth, Fromm Puppy Gold is recommended for young Aussies or pregnant mothers.
Main Ingredients: Duck, Chicken Meal, Chicken, Oatmeal, Pearled Barley, Menhaden Fish Meal, Brown Rice, Chicken Fat
Protein: 27%
Fat: 18%
Fiber: 3.5%
Calories: 417 kcal/cup
3
Free of corn, wheat, and soy, these small bites of kibble are easy to digest and do an excellent job of nourishing a growing Australian Shepherd. The formula contains flaxseed, a source of healthy fat that will help keep your puppy's coat soft and his skin healthy. Wellness Complete Health also adds DHA to this mix for healthy brain and eye development.
Main Ingredients: Deboned Chicken, Chicken Meal, Oatmeal, Ground Barley, Salmon Meal
Protein: 29%
Fat: 18%
Fiber: 4.5%
Calories: 450 kcal/cup
---
Best Adult Dog Food for Australian Shepherds
When selecting these top choices, we paid special attention to the breed's energy needs since many of these dogs are very active. We also selected foods that are soy-free and that do not have artificial preservatives, coloring, or flavors/sweeteners.
1
Orijen Adult Dog Food offers your Aussie Biologically Appropriate™ freeze-dried ingredients, prepared to mimic the natural diet canines were intended to consume. Containing 90 percent chicken, turkey, fish, and egg; 10 percent fruits, vegetables, and botanicals; and absolutely no grains, potatoes, tapioca, or plant protein concentrates, you can be certain you're feeding your Australian Sheperd a protein-packed, nutritious dog food.
Main Ingredients: Deboned Chicken, Deboned Turkey, Yellowtail Flounder, Whole Eggs, Whole Atlantic Mackerel, Chicken Liver
Protein: 38%
Fat: 18%
Fiber: 4%
Calories: 449 kcal/cup
2
Wellness Core focuses on providing fresh, whole food for your dog to enjoy daily. With this formula, your Aussie will reap the benefits of superfoods you could eat yourself – broccoli, spinach, carrots, kale, apples, and flaxseed.
Chewy states, this formula has a 100% satisfaction guarantee, so you can be certain your dog will love the taste and be properly nourished at the same time.
Main Ingredients: Deboned Turkey, Turkey Meal, Chicken Meal, Peas, Potatoes, Dried Ground Potatoes, Chicken Fat
Protein: 34%
Fat: 16%
Fiber: 4%
Calories: 421 kcal/cup
3
With freeze-dried, raw meat, Instinct fuels an active Australian Shepherd with high protein levels and loads of added health benefits. Containing probiotics to support digestive health, omega fatty acids for a healthy skin and coat, and antioxidants to support the immune system, this formula is one of the highest quality dog foods on the market.
Main Ingredients: Chicken Meal, Chicken, Chicken Fat (preserved with Mixed Tocopherols and Citric Acid), Chicken Eggs, Chickpeas
Protein: 37%
Fat: 20.5%
Fiber: 4%
Calories: 491 kcal/cup
---
Best Senior Dog Food for Australian Shepherds
As your Aussie ages, he or she will likely need to switch to a food that caters to older dogs. Senior formulas typically target weight loss, muscle loss, and joint issues like arthritis. You can determine the right senior dog food with the help of a veterinarian and our top selections below.
1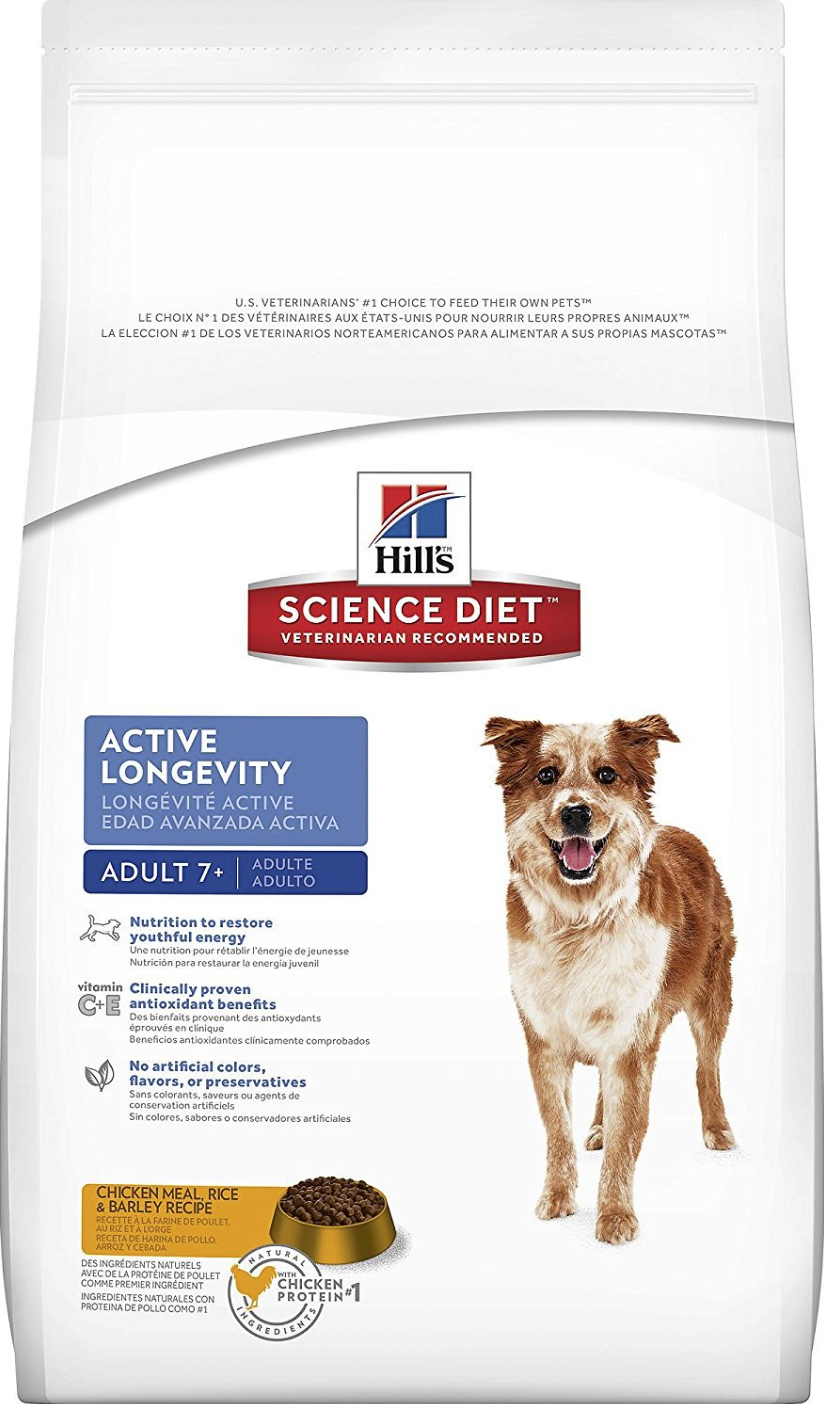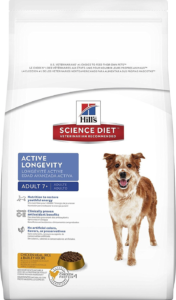 When your Aussie gets older, you shouldn't question the food you're feeding him. With Hill's Science Diet, you can be certain that your senior dog is consuming the right nutrients to nourish his or her aging body. The formula includes fatty acids for healthy skin and coat, as well as vitamins E and C to help support his immune system. The vet-approved dog food is also free of colors, flavors, and preservatives to make it easy to digest.
Main Ingredients: Chicken Meal, Brown Rice, Whole Grain Wheat, Whole Grain Corn, Whole Grain Sorghum, Cracked Pearled Barley, Whole Grain Oats
Protein: 16.5%
Fat: 12%
Fiber: 4%
Calories: 364 kcal/cup
2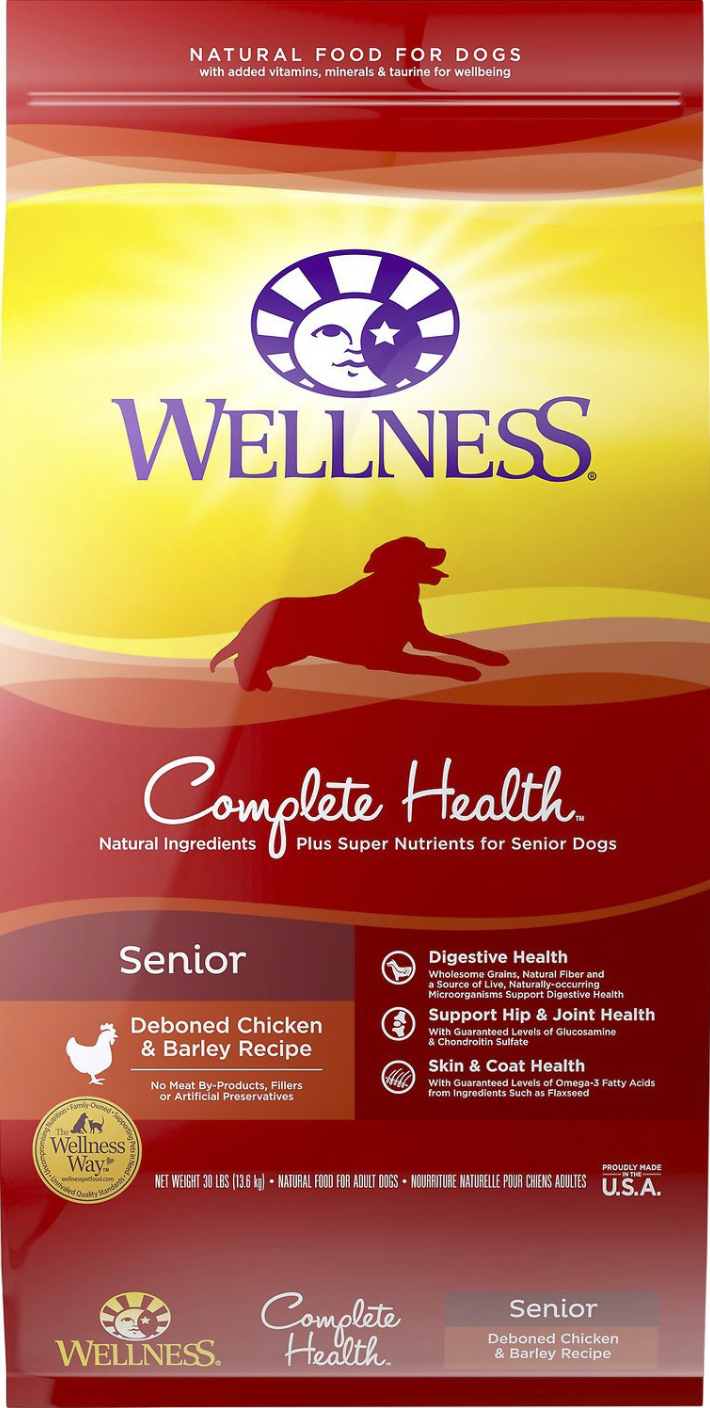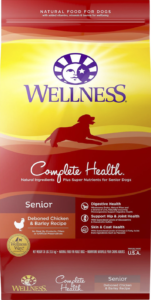 Made specifically for an aging dog, this Wellness Complete Health recipe targets three of the main issues senior dogs face: weight gain, loss of muscle tone, and joint pain. By offering a balanced, nutritious diet, your dog will consume enough calories to remain energetic and active while also limiting the amount of food he eats to keep him at a healthy weight. The healthy, quality sources of protein nourish aging, weakening muscles while the added glucosamine and chondroitin support joint health.
Main Ingredients: Deboned Chicken, Chicken Meal, Oatmeal, Ground Barley, Ground Brown Rice, Peas, Rice
Protein: 22%
Fat: 10%
Fiber: 2.5%
Calories: 416 kcal/cup
---
Additional Dietary Considerations
Australian Shepherds are generally a healthy, active breed, but they can have some health issues that are affected by the dog foods they eat. While the following considerations are important to keep in mind when selecting your dog's food, they are not guaranteed to prevent or treat symptoms of any kind. If your dog is showing signs of any health concerns, consult a veterinarian first, who will then be able to help you move forward with a treatment and proper diet for your dog.
Bone & Joint Issues
Becoming overweight or obese can aggravate problems with dysplasia and worsen arthritis as your dog gets old by placing extra stress on your dog's bones and joints.
Cancer
While there is no guarantee a specific diet will prevent cancer, studies suggest feeding a dog food that is free of preservatives, artificial colors, and sweeteners.
Hypothyroidism
Hypothyroidism can also occur with Australian Shepherds. If your dog gains weight rapidly – especially if he is losing hair or seems lethargic – he may have a thyroid problem. This is usually not a food issue. Your dog would have to eat an enormous amount of kelp or some other food containing iodine for it to affect his thyroid levels.
If you believe your Australian Shepherd may have hypothyroidism, have a vet test him. Fortunately, a thyroid problem is easily treated once it is diagnosed. Soy and some other ingredients may interfere with thyroid medication (which is a synthetic thyroid hormone), so look for a soy-free formula.
Epilepsy
Australian Shepherds can also be prone to epilepsy. The causes aren't well-understood and there is no DNA test at this time. In some cases, food or certain ingredients are suspected to be triggers for epilepsy, such as rosemary and MSG (monosodium glutamate – sometimes listed in dog food as "natural flavoring").
To review additional dog food recommendations for your Australian Shepherd, check out these other top selections for medium breed dogs.
Below is a list of Products reviewed in this article