Best Dog Food for Pitbulls
The Ultimate Pitbull Food Buyer's Guide
Skip To Detailed Recommendations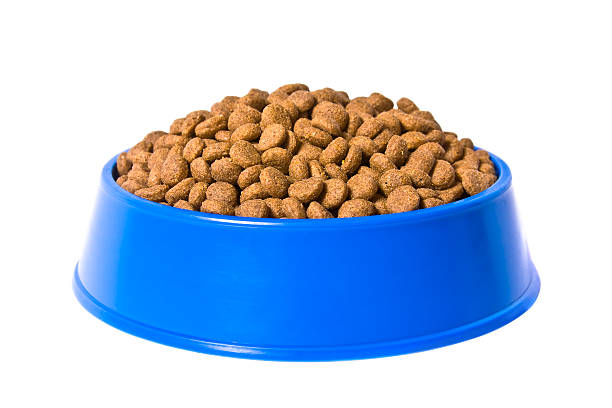 The Pitbull is as misunderstood as an angsty teen. With a strong, energetic temperament – this breed carries a reputation of aggression, stemming from their dogfighting days. But since the outlaw of bear and bull baiting, Pitbulls have evolved into a much gentler, breed – one that makes a great companion.
Breeds referred to as "Pitbulls" include the Staffordshire Bull Terrier, the American Staffordshire Terrier, the American Pit Bull Terrier – and sometimes, mixed breed dogs. And because there are several breeds that fall under the pitbull umbrella, making food recommendations can be a bit convoluted, but we're up for the challenge.
Disclosure: Please note that this post contains affiliate links, which will direct you to our partner sites. If you purchase the pet foods we recommend through those links, we may earn a small commission – at no extra cost to you.
The Best Dog Food for a Pitbull
Most Popular
Taste of the Wild Wetlands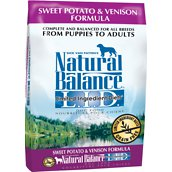 Natural Balance

---
30% Off + Free Shipping
on dog food for Pitbulls
Pitbull Diet & Nutrition
Sporting a naturally stocky frame, the pitbull is classified as a medium-sized breed, weighing anywhere between 30 pounds (small female) and 70 pounds (large male). These muscular and agile dogs expend a great deal of energy – especially growing puppies and young adults. To support this active lifestyle, they need a protein-packed, nutritious diet.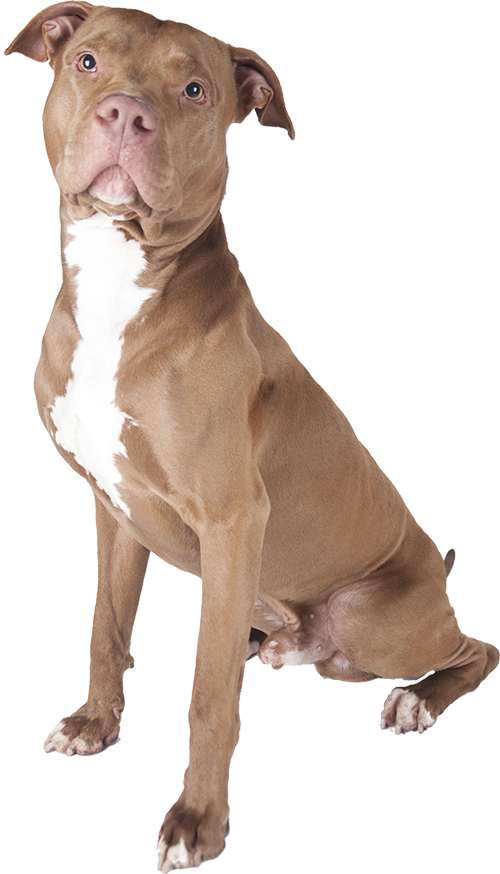 According to the National Research Council of the National Academies, an active adult pitbull should consume between 922 and 1,740 calories per day. To ensure your pup is getting the right amount of energy, consider factors like age, metabolism, and activity level when determining how many calories he should eat. Typically, dogs that have been spayed/neutered – or that are older – eat fewer calories, while growing puppies and young adults need a higher calorie count.
So, what exactly should be in a pitbull's diet? To replicate a natural canine diet, protein and fat need to be the two main ingredients in your pup's food. The Association of American Feed Control Officials (AAFCO) recommends a minimum of 22 percent protein for growth (puppies) and 18 percent protein for maintenance in adult dogs. And fat, an essential form of energy, should comprise at least eight percent of the diet for pitbull puppies and five percent of the diet for adults.
What To Feed Your Pitbull
Pitbull breeds have big appetites, so getting your pup to eat shouldn't be a challenge. What may be a challenge, however, is ensuring that your pitbull doesn't overeat. To regulate how much he consumes, avoid free feeding (leaving food out at all times). By measuring each meal and only leaving it out for thirty minutes, your dog will consume the proper amount of nutrients to sustain his energy and maintain a healthy weight.
Generally, most adult dogs do well eating two meals per day, while puppies can usually eat three meals per day.
Ingredients
Think about it – both shoe leather and steak contain protein, but there's a big difference in the nutrition they provide. A dog food may boast high levels of protein, but the source of the protein could be low quality, so it's important to pay close attention to the guaranteed analysis. When determining the best dog food for your pitbull, look for these ingredients:
Protein – Your dog's food should contain two or three meat proteins (whole meats or meat meals) in the first several ingredients. Whole meats include whole chicken, beef, lamb, and fish, while meat meals are simply a concentrated form of meat without the moisture.
Fat – Look for named fat sources such as chicken fat. These fats provide necessary nutrients like fish oil which can provide omega-3 fatty acids to help keep the skin and coat healthy. Plus, some necessary vitamins are only fat-soluble.
Carbs – Carbs provide your dog with energy, but it's important to keep the carb percentage low. Adding nutritious carbs to a recipe, like sweet potatoes, is a healthy way to balance out protein and fat levels.
Fruits & Vegetables – Pitbulls don't need fruits and veggies in their diets, but they do provide healthy vitamins and minerals that your pup can benefit from.
---
Best Dog Foods for Pitbull Puppies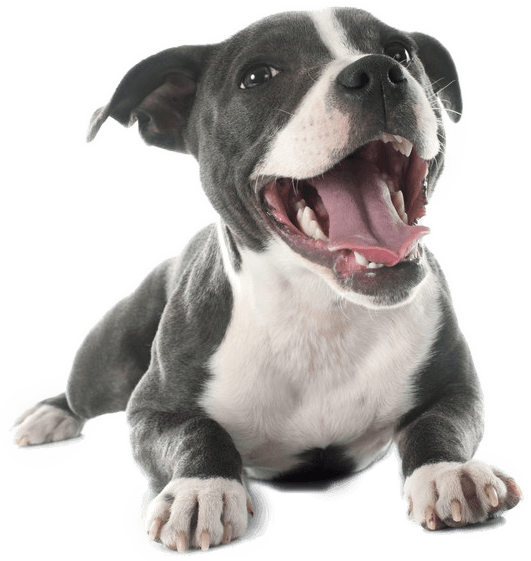 The dogs that grow up to be powerful and energetic start out as some of the most adorable, cuddly puppies. To ensure they're developing properly, it's best to start off with a puppy food that is rich in quality protein and fat sources. Each of the options below has top-notch ingredients and is loaded with health benefits for a growing pitbull pup.
1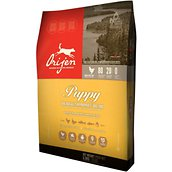 Puppies love the taste of this Orijen formula! Customers say it smells like real meat and fish and is the "next best thing to a raw diet." The food is freeze-dried and high in protein, offering your pup balanced nutrients to help him grow.
Main Ingredients: Deboned Chicken, Deboned Turkey, Flounder, Whole Eggs, Whole Atlantic Mackerel
Protein: 38%
Fat: 20%
Fiber: 6%
Calories: 449 kcal/cup
2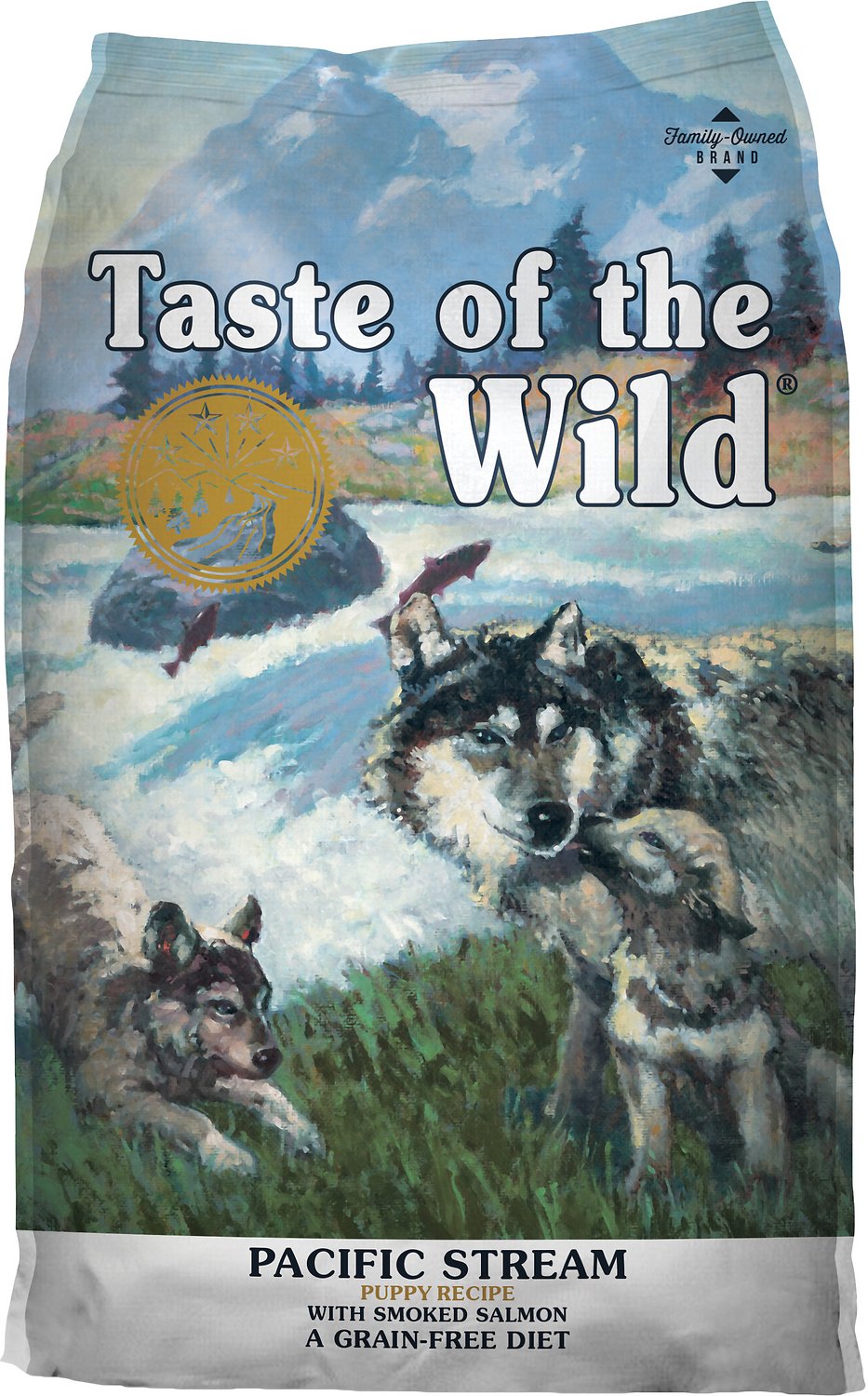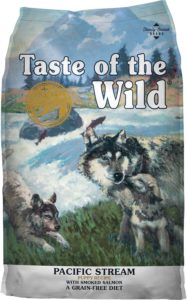 Taste of the Wild gets amazing reviews on Chewy, with customers raving over its health benefits and taste. Focusing on offering "The Diet Nature Intended," Taste of the Wild is made with premium ingredients to boost immune health, provide lasting energy, maximize nutrient absorption, and provide omega-3 fatty acids for healthy skin and coat.
Main Ingredients: Salmon, Ocean Fish Meal, Sweet Potatoes, Peas, Potatoes
Protein: 27%
Fat: 15%
Fiber: 5%
Calories: 360 kcal/cup
3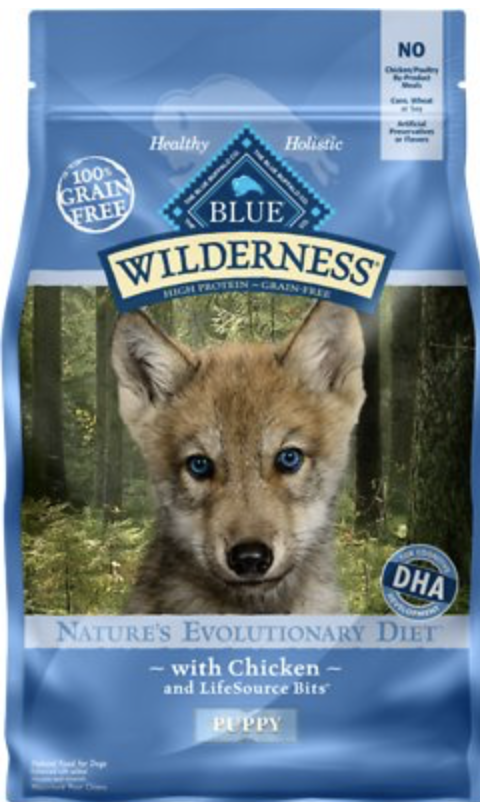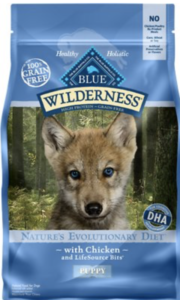 Blue Buffalo Wilderness knows exactly what your pitbull puppy needs, providing a formula with DHA for brain and eye development, quality protein, the proper calcium-phosphorus ratio, and omega-3 and 6 fatty acids for healthy skin and coat. Not only does this recipe offer your pup a balanced diet, but puppies love the real meat taste and small kibble.
Main Ingredients: Deboned Chicken, Chicken Meal, Pea Protein, Peas, Tapioca Starch
Protein: 36%
Fat: 16%
Fiber: 5%
Calories: 424 kcal/cup
---
Best Dog Foods For Adult Pitbulls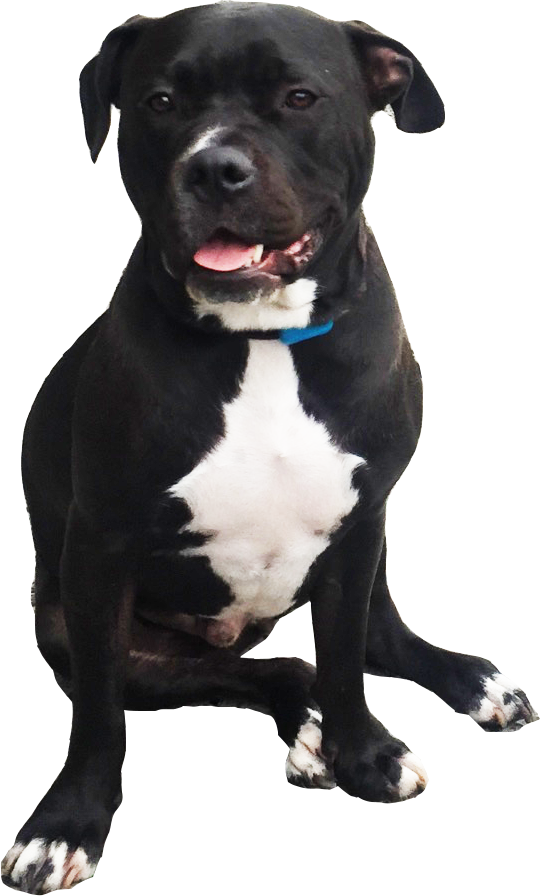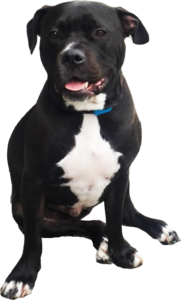 Inevitably, your pitbull will prefer certain foods over others, so it may take some trial and error before you find a contender that your dog actually likes to eat. The following foods are some of the best selling, highest quality recipes on the market, but if your Pitbull doesn't take to the one you choose, he might like another food in the same product line, made with a different kind of meat or other ingredients. Just make sure that the guaranteed analysis and nutrient percentages are similar.
1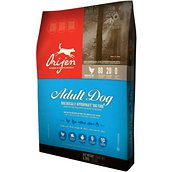 Orijen is hands down the most respected and high-quality dog food on the market. You'll be hard-pressed to find another that contains the amount of care and preparation that goes into every bag. We recommend Adult Dog for a lot of breeds, but it perfectly serves an active pitbull's needs. High protein content from quality sources, grain-free for allergy prevention, and lots of essential vitamins and minerals are a few of the pros you get with Orijen.
It's one of the more expensive dog foods on the market – but its quality is well worth the cost. If you have the budget for Orijen you shouldn't need to look anywhere else.
Main Ingredients: Chicken, Turkey (ground with bone), Whole Herring, Chicken Liver, Chicken Heart
Protein: 36%
Fat: 35%
Fiber: 5%
Calories: 449 kcal/cup
2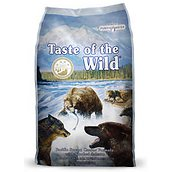 Taste of the Wild is by far the fan favorite of online dog food for its quality and reasonable price. This dry dog food is Made in the USA and, like Orijen, is also grain-free. This is great for Pitbulls with skin allergies or sensitive stomachs as it removes a lot of the typical ingredients that cause itching and bloat.
Their 30lb bag retails for $48.99 at Chewy right now. This is a very affordable dog food for your Pitbull that is a suitable competitor to Orijen for close to half the price.
Main Ingredients: Duck, Duck Meal, Chicken Meal, Sweet Potatoes, Peas
Protein: 32%
Fat: 18%
Fiber: 4%
Calories: 375 kcal/cup
3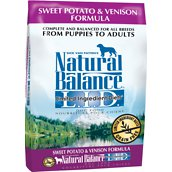 Dog food consumers rave about Dick Van Patten's Natural Balance dog foods. Most of the options are for all life-stages and have limited ingredients which help prevent skin allergies. Natural Balance is Made in the USA and is available commercially as well as online.
We found it at Chewy.com for $69.99 for a 26 lb bag. Give this one a try if your dog has especially sensitive stomach issues or itches and scratches a lot.
Main Ingredients: Dried Sweet Potatoes, Venison, Pea Protein, Potato Protein, Canola Oil
Protein: 20%
Fat: 10%
Fiber: 4%
Calories: 370 kcal/cup
---
Best Dog Food for Senior Pitbulls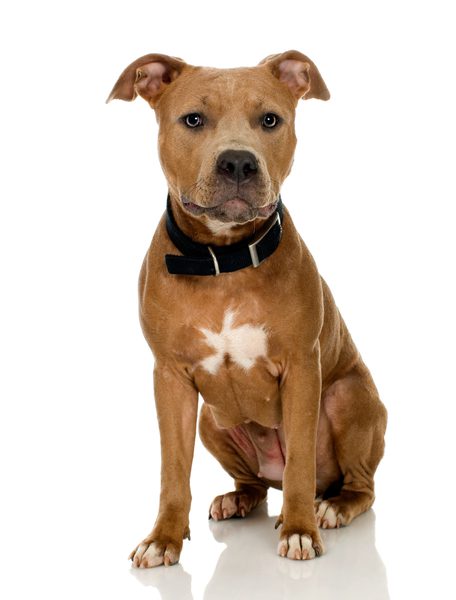 Eventually, your pitbull will get older, and with aging may come changes in dietary needs. Depending on your dog's activity level, you may need to find a food that reduces fat content. If your pup is still active and energetic, then you shouldn't be too concerned with his fat intake.
It's also important to introduce a food containing omega-3 fatty acids from fish sources, antioxidants, and probiotics, as well as chondroitin and glucosamine for joint maintenance. If the food you're feeding your senior pitbull doesn't contain these elements, then you can always add supplements to their daily routines to make sure they're getting a proper intake.
1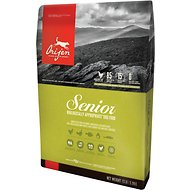 With Orijen Senior Dry Dog Food, you're getting a healthy mix of all of the above health benefits, plus quality meat proteins and fresh fruit. The formula is highly-touted by consumers and is a great option to support your aging Pitbull.
Main Ingredients: Deboned Chicken, Deboned Turkey, Atlantic Flounder, Whole Eggs, Whole Atlantic Mackerel
Protein: 38%
Fat: 15%
Fiber: 8%
Calories: 414 kcal/cup
2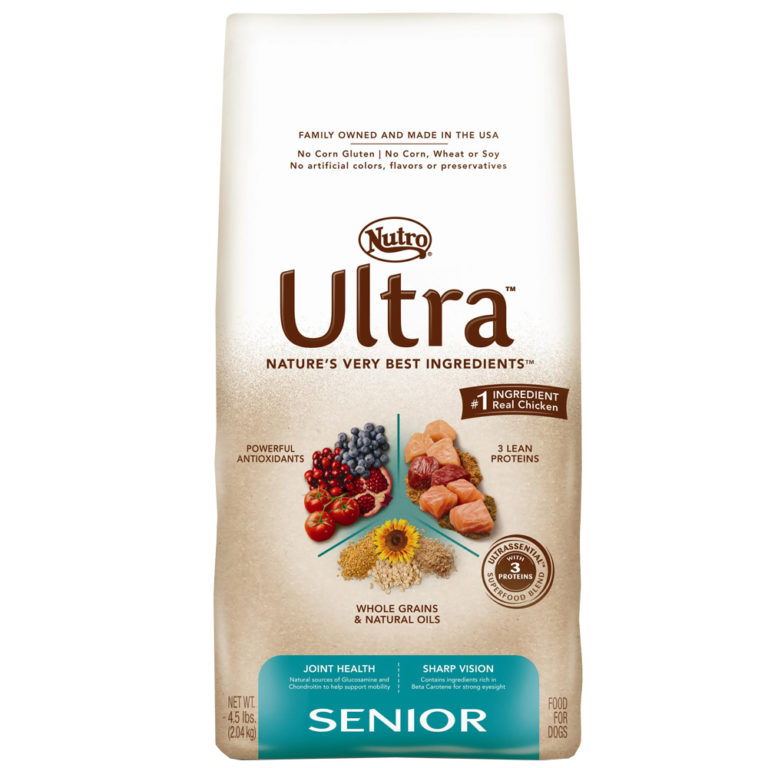 With 4.4 out of 5 stars on Amazon, older dogs and their owners love this senior formula. Nutro ULTRA contains high-quality protein from chicken, lamb, and salmon, as well as natural sources of glucosamine and chondroitin for joint health. The recipe is made without any artificial colors, flavors, or preservatives, ensuring your aging pitbull is only consuming natural, fresh ingredients.
Main Ingredients: Chicken, Chicken Meal, Whole Brown Rice, Brewers Rice, Rice Bran
Protein: 26%
Fat: 11%
Fiber: 4%
Calories: 316 kcal/cup
---
Additional Dietary and Health Considerations
Sometimes, Pitbulls will develop allergies, so owners and breeders recommend feeding a food that is free of common food irritants like corn, soy, wheat, beef, dairy products, and chicken. Most top-selling commercial dog food brands offer grain-free and limited ingredient formulas to help avoid these allergens.
Other common health concerns among Pitbulls are arthritis, hip dysplasia, and elbow dysplasia. To keep your pup's joints and bones healthy, look for a dog food with sources of glucosamine and chondroitin, as well as the proper calcium to phosphorous ratio. Research has shown that this is better for breeds that have a higher risk of developing arthritis and joint problems later in life.
For additional dog food options, check out these top-rated medium-breed foods.
Below is a list of Products reviewed in this article
Chewy Sales
Updated September 18, 2018