Best Dog Food for Siberian Huskies
From gracing the Iditarod Trail to starring in some of Disney's most iconic films, Siberian Huskies have a history of winning the hearts of families all over the world. With strikingly wolf-like features, the breed is originally from the Arctic lands of Siberia, where they were used to pull heavy loads over long distances.
Today's Huskies are as energetic as they are loving, requiring plenty of exercises and a nutritious, protein-rich diet. To make selecting a food for your pet a bit easier, we've reviewed the best dog foods for Siberian Huskies, from puppies to adults and seniors.
Disclosure: Please note that this post contains affiliate links, which will direct you to our partner sites. If you purchase the pet foods we recommend through those links, we may earn a small commission – at no extra cost to you.
Top 3 Best Dog Foods for Siberian Huskies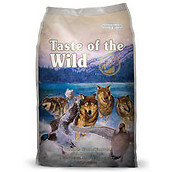 Taste of the Wild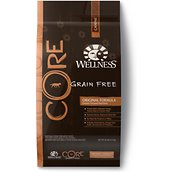 Wellness Core

---
30% Off + Free Shipping
on dog food for Huskies
Siberian Husky Diet & Nutrition
Huskies weigh between 35 – 60 pounds, females tend to be smaller than males. Siberian Huskies require a diet packed with meat protein. An active Siberian Husky weighing about 50 pounds requires an average caloric intake of about 1,358 calories. However, individual needs vary due to activity level, metabolism, age, and weight. Huskies that have been spayed/neutered require fewer calories.
What to Feed a Siberian Husky
Thriving off of protein and fat, a Siberian Husky should maintain a diet that includes quality sources of meat, vegetables, and fruit. Ideally, you should look for dog food with:
Two or Three Meat Proteins – Whole meat, such as chicken, beef, fish, and lamb should be included in the first several ingredients. Protein can also come from meat meals.
Fat – Chicken fat, canola oil, and flaxseed are all healthy sources of fats and include additional health benefits.
Omega-3s – This fatty acid helps keep a Siberian Husky's skin and coat healthy.
DHA – One of the three Omega-3s is DHA, which supports brain and eye development in Siberian Husky puppies.
Carbs – To keep a Siberian Husky's blood sugar steady, the dog food should be low in carbs and may include an alternate, low-glycemic form of carbs, such as sweet potatoes.
Calorie-Dense Foods – Siberian Huskies tend to skip meals. If you can, feed them calorie-dense dog food that is packed with nutrients and calories, you'll be certain they're getting the nourishment they need.
Proper Calcium to Phosphorus Ratio – Puppy foods should have a calcium to phosphorus ratio of about 1.2 parts calcium to 1 part phosphorus. Having a deficiency or excess of calcium in your dog's diet can lead to serious orthopedic problems, like painful bone spurs.
It's common for Siberian Huskies to be lactose or gluten intolerant, so you may need to avoid foods with:
Milk
Skim milk powder
Whey
Wheat
Best Dog Food For Siberian Huskies
Since all life stages are different, we've broken down the best food for huskies by life stage:
Best Puppy Foods for Siberian Huskies
To ensure your growing Husky is developing properly, feed them puppy food with a minimum of 22% protein and 8% fat. We've hand-picked formulas that meet all the needs of a Husky puppy:
1
Wellness Complete Health Puppy formula strives to help your puppy meet the "5 signs of wellness" — clean skin and coat, sustainable energy, digestive health, healthy eyes, teeth, and gums, and strong immune health. Added benefits include DHA for brain and eye development, antioxidants from blueberries and spinach, and taurine for a healthy heart. This puppy-specific formula is an excellent choice to nourish your Siberian Husky Puppy.
Main Ingredients: Deboned Chicken, Chicken Meal, Peas, Chickpeas, Lentils, Chicken Fat
Protein: 32%
Fat: 18%
Fiber: 5.5%
Calories: 490 kcal/cup
2
Coined "Nature's Evolutionary Diet," Blue Buffalo Wilderness provides nutritious ingredients that support brain and eye development, healthy muscle growth, strong bones and teeth, dental health, healthy skin and coat, and immune system health. Promising to provide a recipe with no by-products, preservatives, or artificial flavors, this formula provides some of the highest quality ingredients on the market.
Main Ingredients: Deboned Chicken, Chicken Meal, Peas, Pea Protein, Tapioca Starch
Protein: 35%
Fat: 14%
Fiber: 6%
Calories: 412 kcal/cup
3
Made in Merrick's Texas facility, this raw infused puppy formula is perfect for a growing Siberian Husky. With raw, freeze-dried poultry and easy-to-digest ingredients, this protein-packed, nutritious formula contains nature's freshest ingredients like blueberries, sweet potatoes, salmon oil, and organic alfalfa.
Main Ingredients: Deboned Chicken, Chicken Meal, Sweet Potatoes, Potatoes, Peas
Protein: 30%
Fat: 12%
Fiber: 3.5%
Calories: 350 kcal/cup
Best Dog Foods for Adult Siberian Huskies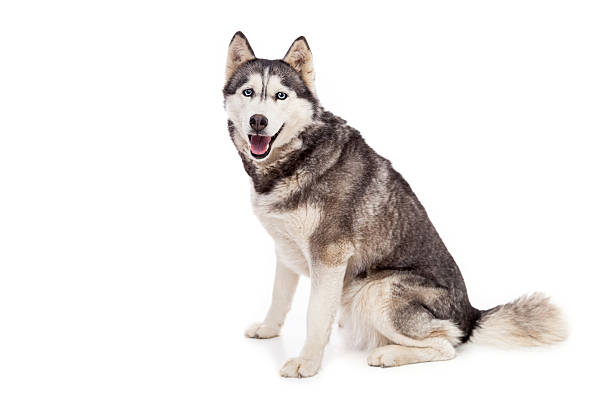 Most owners begin making the switch to an adult dog food when their puppy has achieved about 90 percent of his or her adult growth. The AAFCO recommends a minimum of 18 percent protein for maintenance in adult dogs and 5 percent fat. Most top-quality dog foods will exceed these percentages, as you will see in our recommendations below.
1
Orijen's "biologically appropriate" recipe is carefully prepared to sustain flavor and nutrients. Just like Merrick, Orijen freeze-dries their ingredients to provide fresh-tasting food without the use of preservatives. It's low-glycemic, high in protein, and takes just minutes to prepare.
From the Original recipe to Regional and Tundra formulas, Orijen offers some of the most nutritious, fresh dog food you can find.
Main Ingredients: Chicken (ground with bone), Turkey (ground with bone), Whole Herring, Chicken Liver, Chicken Heart, Whole Eggs, Spinach greens
Protein: 36%
Fat: 35%
Fiber: 5%
Calories: 449 kcal/cup
2
If your Siberian Husky enjoys fish, he or she will love this smoked salmon recipe. Loaded with nutrients that will energize and nourish your dog, Taste of the Wild Pacific Stream contains omega fatty acids for healthy skin and coat, pre- and probiotics for improved digestion, and antioxidants from fruits and vegetables.
Consumers rave about the family-owned company with reviews that say dogs love the taste and smell of the food.
Main Ingredients: Salmon, Ocean Fish Meal, Sweet Potatoes, Potatoes, Peas, Canola Oil
Protein: 25%
Fat: 15%
Fiber: 3%
Calories: 360 kcal/cup
3
We love Wellness CORE for Huskies because of its high protein percentage, grain-free ingredients, and countless additional benefits. With glucosamine and chondroitin for joint health and omega fatty acids for healthy skin and coat, each bite is coated with probiotics to improve digestion. The kibble is completely free of meat by-products, wheat gluten, corn, soy, artificial flavors, preservatives, and colors.
Main Ingredients: Deboned Turkey, Turkey Meal, Chicken Meal, Peas, Potatoes
Protein: 34%
Fat: 16%
Fiber: 4%
Calories: 421 kcal/cup
Best Dog Foods for Senior Siberian Huskies
As your Siberian Husky ages, he or she will likely become less active and require diet changes to accommodate slowing metabolism. If your dog is a healthy weight, look for a dog food that has high amounts of protein to help maintain his or her muscle strength. However, if your Siberian Husky has become overweight as he or she has gotten older, you may need to decrease the dog's portion sizes or opt for a specialty food that targets weight loss.
If you choose a weight-loss formula, make sure it still offers your dog enough protein and nutrients.
1
Ziwi Peak naturally preserves and protects ingredients through air drying. This New Zealand-made formula is free of antibiotics, growth hormones, grain, corn, and soy. The calorie-dense, limited ingredient dog food contains New Zealand green muscles to help support an aging Husky's joints. The high protein percentage is perfect for a senior Siberian Husky that is losing muscle strength.
Main Ingredients: Venison Meat, Venison Liver, Lung, Tripe, Heart, and Kidney, New Zealand Green-Lipped Mussel, Lecithin (fat)
Protein: 45%
Fat: 25%
Fiber: 2%
Calories: 267 kcal/scoop
2
Prepared with dehydrated whole foods, The Honest Kitchen prides itself on offering dogs natural, healthy, and human-grade ingredients. The formula is made in the USA with no by-products, preservatives, or GMO ingredients, so you can be certain you're feeding your Husky only top-notch ingredients.
The Beef Recipe is low-calorie and low-fat for senior dogs who may be overweight.
Main Ingredients: Beef, Organic Oats, Organic Barley, Organic Flaxseed, Potatoes, Carrots, Eggs, Apples
Protein: 22%
Fat: 8.5%
Fiber: 5.8%
Calories: 441 kcal/cup
Additional Dietary and Health Considerations
Siberian Huskies are a generally healthy breed as long as they remain active and have a nutritious, protein-packed diet with ingredients that serve their specific health needs. If your Husky is experiencing one of the more serious, common health issues – like hip dysplasia, zinc deficiency, or hypothyroidism – work with a veterinarian to develop a diet that is best suited to their needs.
For more information and brand recommendations, check out our guide on the best dog food for large breeds.
Below is a list of Products reviewed in this article
Chewy Sales