Best Dog Food for German Shepherd
The German Shepherd is a large dog breed known for their wolf-like features and distinctive coat pattern. Their fierce devotion to their owners, size, and trainability make them a favorite among law enforcement and active families. To maintain their muscular, strong bodies, German Shepherds require a nutritious, protein-rich diet.
To make selecting the right dog food for your German Shepherd easier, we've outlined the top-rated, highest-quality foods on the market.
Disclosure: Please note that this post contains affiliate links, which will direct you to our partner sites. If you purchase the pet foods we recommend through those links, we may earn a small commission – at no extra cost to you.
Top 3 Dog Foods For German Shepherds

---
30% Off + Free Shipping
on dog food for German Shepherds
German Shepherd Diet and Nutrition
German Shepherds need a diet high in meat-based protein to support muscle strength as well as healthy fats to sustain energy. Active German Shepherds need roughly 1,740 to 2,100 calories, according to the NRCNA.  However, individual dietary needs depend on activity level, metabolism, health, and sensitivities. 
What to Feed a German Shepherd
When comparing the best dog foods for your GSD, take extra time to look for the following:
Meat Proteins – Whole meat, such as chicken, beef, fish, and lamb should be included in the first several ingredients. Protein can also come from meat meals, a concentrated form of meat in which the moisture has been removed. AAFCO recommends that German Shepherds eat a food with at least 22% protein as puppies and at least 18% protein as adults.
Healthy source of fat – Chicken fat, canola oil, and flaxseed are all healthy sources of fats and include additional health benefits. AAFCO recommends eight percent fat for German Shepherd puppies and five percent fat for adults.
Omega-3's – This fatty acid helps keep a German Shepherd's skin and coat healthy.
DHA – One of the three Omega-3s is DHA, which supports brain and eye development.
Carbs – To keep a German Shepherd's blood sugar steady, the dog food should be low in carbs and may include an alternate, low-glycemic form of carbs, such as sweet potatoes.
Proper Calcium to Phosphorus Ratio – Puppy foods should have a calcium to phosphorus ratio of about 1.2 parts calcium to 1 part phosphorus. Having a deficiency or excess of calcium in your dog's diet can lead to serious orthopedic problems, like painful bone spurs.
Since German Shepherds need a high-quality dog food to sustain their level of activity, it's best to avoid:
Animal by-products, fillers, and preservatives
Common allergens like grains, soy, and wheat
A brand with a history of recalls
Best Dog Food For German Shepherds
Every dog is different so you need to purchase a food that will provide for your dog's individual needs. Some of the most highly recommended, nutritious dog foods for German Shepherd puppies, adults, and seniors are outlined below.
German Shepherd Puppy Food
German Shepherds grow quickly, so they should only be fed a puppy-specific formula for about six months before they start eating an adult dog food. Feeding them a puppy food for too long can cause rapid growth in the bones and joints, which can cause developmental orthopedic disease down the line.
Plan on feeding your German Shepherd puppy three to four meals a day, depending on the formula you choose.
1
Orijen Puppy food prides itself on providing a formula that aligns with nature – serving puppies a "biologically appropriate" amount of protein and nutrients to best nourish their growing bodies. This food contains quality protein sources, is low-glycemic, and is USA-made in Kentucky kitchens with fresh regional ingredients.
Main Ingredients: Boneless Chicken, Chicken Meal, Chicken Liver, Whole Herring, Boneless Turkey
Protein: 40%
Fat: 20%
Fiber: 3%
Calories: 454 kcal/cup
2
Taste of the Wild combines nature's best ingredients to create a substantial, nutritious meal for your dog. It's easy to digest and contains high-quality meat, antioxidants from real fruits and vegetables, and omega-3 and omega-6 fatty acids. We recommend this formula for puppies with sensitive stomachs since it is free of grain, corn, wheat, fillers, artificial flavors, colors, and preservatives.
Main Ingredients: Buffalo, Lamb Meal, Sweet Potatoes, Egg Product, Pea Protein
Protein: 28%
Fat: 17%
Fiber: 5%
Calories: 370 kcal/cup
3
Wellness CORE is highly rated among dog owners and veterinarians with its nutrient-packed ingredients and digestive support. Containing high-grade, real meat for muscle strength, prebiotics and probiotics for digestion, and flaxseed for healthy skin, your German Shepherd will gobble down this wholesome puppy food.
Main Ingredients: Deboned Chicken, Chicken Meal, Turkey Meal, Potatoes, Peas
Protein: 36%
Fat: 18%
Fiber: 5%
Calories: 417 kcal/cup
Adult German Shepherd Foods
As your German Shepherd transitions to an adult dog food, consider going grain-free to avoid common allergens and irritants. You may need to work with your veterinarian to find the best fit, but generally, German Shepherds enjoy foods with beef, bison, and chicken, as well as fruits and vegetables.
Depending on your dog's activity level and metabolism, a full-grown German Shepherd should eat two to three meals per day. Take a look at these top-selling options below.
1
Orijen Adult Dog Grain-Free Dry Dog Food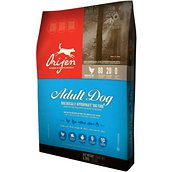 Orijen is hands down the most respected and high-quality dog food on the market, known for carefully preparing each bag with top-notch ingredients. They checks all the boxes for a German Shepherd, containing high protein content from quality sources, grain-free ingredients, and essential vitamins and minerals.
While it is pricey, the value is unbeatable.  If you have the budget for Orijen, you shouldn't need to look anywhere else.
Main Ingredients: Chicken, Turkey, Whole Herring, Chicken Liver, Chicken Heart, Whole Eggs
Protein: 36%
Fat: 35%
Fiber: 5%
Calories: 449 kcal/cup
2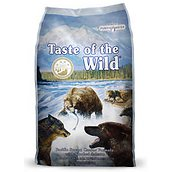 Taste of the Wild Wetlands is a fan-favorite among online shoppers. The dry dog food is made in the US and is grain-free, making it suitable for dogs with skin allergies and sensitive stomachs. For a more affordable option than Orijen, Taste of the Wild is a trustworthy brand that dogs tend to love.
Main Ingredients: Duck, Duck Meal, Chicken Meal, Sweet Potatoes, Chicken Fat, Egg Product
Protein: 32%
Fat: 18%
Fiber: 4%
Calories: 375 kcal/cup
3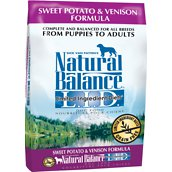 Dog food consumers rave about Dick Van Patten's Natural Balance dog foods. Most of the options are for dogs of all ages and have limited ingredients, which can help avoid common allergens. Natural Balance is made in the US and is available commercially, as well as online. Give this one a try if your dog has a sensitive stomach or itches and scratches a lot.
Main Ingredients: Sweet Potatoes, Salmon, Menhaden Fish Meal, Potato Protein, Canola Oil
Protein: 21%
Fat: 10%
Fiber: 5%
Calories: 350 kcal/cup
4
Created to "mirror the diet of ancestral wolves," BLUE Wilderness meets the specific needs of German Shepherds, containing a high protein percentage, antioxidants, vitamins, and minerals. With formulas for all life stages and sizes, we recommend this brand to sustain a very active, healthy German Shepherd.
Main Ingredients: Deboned Chicken, Chicken Meal, Turkey Meal, Tapioca, Starch, Peas, Pea Protein
Protein: 34%
Fat: 15%
Fiber: 6%
Calories: 409 kcal/cup
Seinor German Shepherd Foods
Large breeds typically start to show symptoms of aging at five years or older. Whether your dog is losing muscle strength or experiencing joint pain, the right formula can help keep an aging German Shepherd active and healthy.
1
Nutro calls this formula a "nutritional powerhouse," and we'd have to agree. Containing premium-quality protein, fruits, and vegetables, as well as glucosamine and chondroitin to promote joint health, this dog food has everything an aging German Shepherd needs to remain healthy.
Main Ingredients: Chicken, Chicken Meal, Whole Brown Rice, Brewers Rice, Rice Bran, Lamb Meal, Salmon Meal
Protein: 26%
Fat: 11%
Fiber: 4%
Calories: 314 kcal/cup
2
Diamond Naturals is a mild dog food that's easy to digest for senior German Shepherds. Packed with protein, superfoods, glucosamine, and chondroitin, the formula helps to maintain energy, strong muscles, and healthy joints. It's made in the US and is free of corn, wheat, and fillers.
Main Ingredients: Whole Grain Brown Rice, Chicken, Chicken Meal, Peas, Egg, Oatmeal
Protein: 25%
Fat: 11%
Fiber: 4%
Calories: 318 kcal/cup
Additional Dietary and Health Considerations  
With a nutritious, protein-packed diet, German Shepherds are one of the strongest, most active household pets. However, digestive issues are especially common among this breed, which can cause diarrhea, intestinal inflammation, and ulcers, among other gastrointestinal problems. To avoid painful symptoms, try a food for dogs with sensitive stomachs and refer to a veterinarian if symptoms worsen, or if your German Shepherd experiences any other dietary or health issues.
Below is a list of Products reviewed in this article
Chewy Sales