What Is The Best Dog Food for a Maltese?
Skip To Recommendations 

The Maltese has been a beloved companion in the Mediterranean region for over 2000 years. Today the Maltese is one of the smallest breeds of dogs. They are easily recognizable by their pure white coat which will grow long and reach the floor if groomed carefully. They are lively, playful dogs and make excellent house dogs. Maltese tend to be a healthy, long-lived breed but they do have a few health issues that can be affected by diet.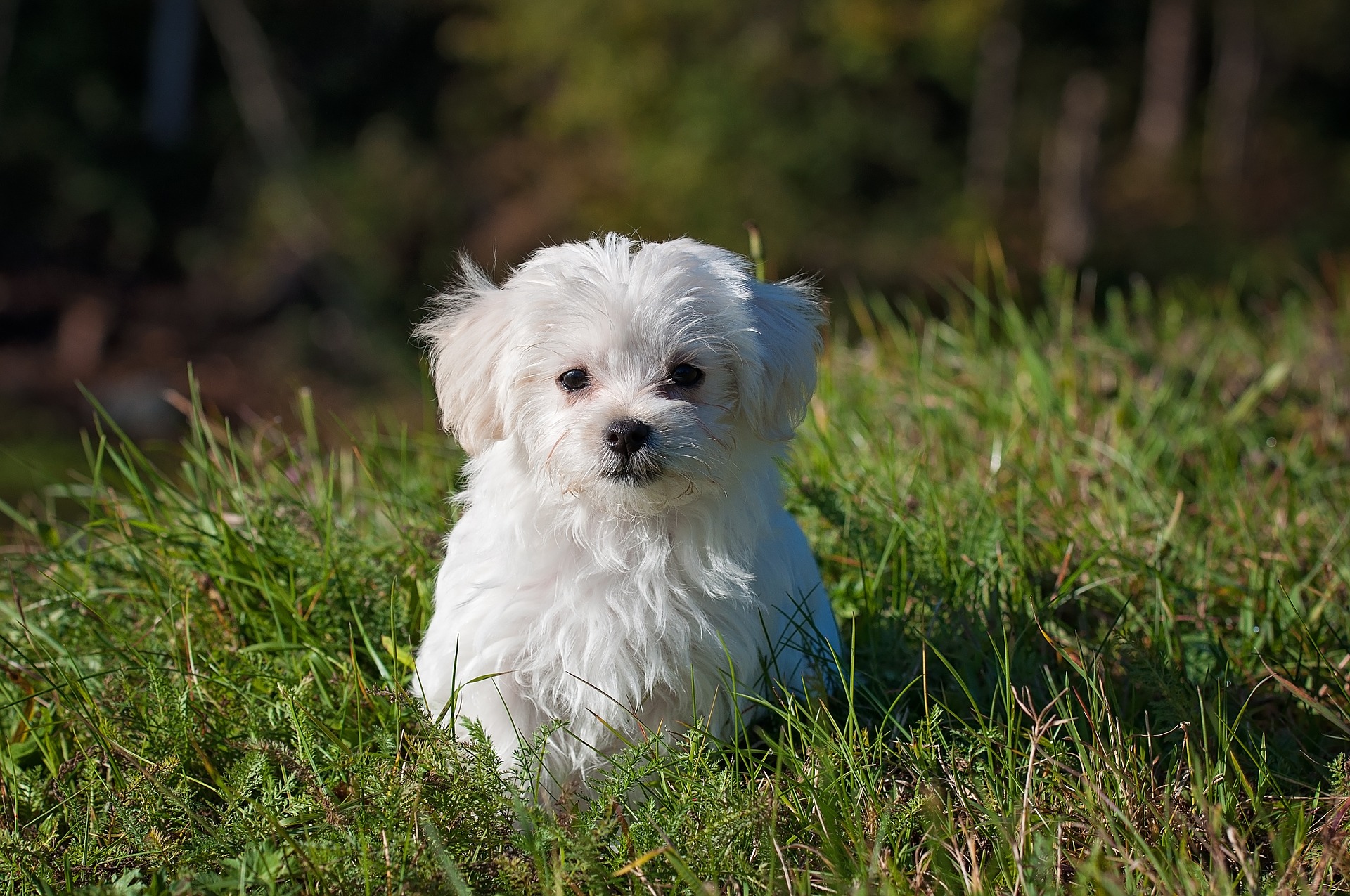 Nutritional Needs
The Maltese typically makes a perfect pet for cuddling and being someone's best friend. They are often ideal for living in cities and apartments since they don't require a great deal of exercise. The breed generally weighs between 4 and 7 pounds according to the American Kennel Club, though Maltese in Europe may be slightly heavier, weighing closer to 10 pounds. The Maltese usually stands between 7 and 12 inches tall at the shoulder.

---
20% Off First Order + Free Shipping
on dog food for Maltese
By weight, the National Research Council of the National Academies recommends an average daily caloric intake of 404 calories for an active adult Maltese weighing 10 pounds. Dogs that have been spayed/neutered, or that are older, may need fewer calories. Some dogs may need more calories depending on their level of activity and their individual metabolism. Growing puppies, for example, consume more calories than adult dogs and so do young adult dogs. A young adult Maltese weighing about 10 pounds, for example, and getting lots of exercise would need about 436 calories per day. However, if your Maltese tends to lie around the house all day with little opportunity to exercise, he would need fewer calories. These are only estimates. Every dog's metabolism is different so one dog may need more – or fewer – calories than another.
Like all dogs, Maltese require good quality protein. The Association of American Feed Control Officials (AAFCO) recommends a minimum of 22 percent protein for growth (puppies) and 18 percent protein for maintenance in adult dogs. These percentages are recommended for dogs in general. Most good quality dog foods will exceed these percentages. Fat is an important source of energy for dogs and should comprise at least 8 percent of the diet for Maltese puppies and 5 percent of the diet for adults. Most dog foods today have more fat than these percentages. Fat also adds flavor to dog food and makes it very appealing to your dog. Fats are also one of the sources of fatty acids such as omega-3 and omega-6 which are good for your dog's skin, coat, heart, and brain.
Special Issues
Maltese can have some health issues that are affected by diet. The breed can be prone to juvenile hypoglycemia (low blood sugar in puppies), Inflammatory Bowel Disease (IBD), Microvascular Dysplasia (MVD), dental problems, tear staining, and luxating patellas.
Many small/Toy breed puppies are prone to juvenile hypoglycemia. When these puppies are very young they may not be able to adequately regulate their body's blood sugar levels. For this reason it's advisable to feed small breed puppies 3-4 meals per day so they can have a steady supply of energy from their food. You may even need to add a biscuit or treat between meals. It's also a good idea to keep some Karo syrup or a product like NutriCal (easily obtained from your vet or a pet store) on hand so you can provide your puppy with some sugar quickly in case he seems to be crashing. By the time your Maltese is several months old he should be able to regulate his blood sugar normally and this potential problem should have passed. You can generally start feeding your Maltese puppy about three meals per day by the time he is six months old.
The most common signs of Inflammatory Bowel Disease are diarrhea and vomiting but these symptoms can occur with many gastrointestinal problems, even temporary problems like eating something out of the garbage. With IBD dogs often have mucus or blood in their stool; they can have a fever; lose weight; and show other symptoms that may come and go. If you notice some of these symptoms you should take your dog to the vet for a diagnosis. Diet can play an important role in managing your dog's IBD. Diets low in fat are usually recommended. You may also want to find a food that is gluten-free. Avoiding grains such as oats, wheat, barley, and rye can also be recommended. Dogs often have individual things that they can and can't eat so you will need to find out some things by trial and error. Some people feed a homemade diet for dogs with IBD but it is certainly possible to find a good commercial dog food for dogs with this condition. You may have success with a limited ingredient diet.
Microvascular Dysplasia is a liver disorder that is very prevalent in Maltese. Most Maltese do not show symptoms and live a long, healthy life without treatment being necessary. However, if your dog does happen to show symptoms they are similar to liver shunt. Your dog may show digestive signs such as diarrhea, constipation, vomiting, weight loss, for example. Dogs that show symptoms for MVD can usually have the condition managed with a low protein diet and drug treatment prescribed by your veterinarian. There are some good prescription dog food diets for dogs with liver problems. There are tests to identify the condition so your vet can tell you, definitely, if your dog has MVD or another condition.
Luxating patellas are a common problem in Maltese, as with many small breeds. This is similar to a slipped kneecap in humans. The patella (found on the hind leg) will slip and catch out of position when the dog is moving. The dog may give a small yelp or bunny hop when it occurs. Then the patella will slide back into place. In some cases the problem never gets worse but in other cases the problem may become chronic and your dog may need pain management from your veterinarian. In extreme cases your dog may need surgery to fix the problem. The problem is very treatable and, following surgery, the dog should be running around playing again after a few weeks. This is only diet-related because keeping your Maltese slim and healthy reduces the long-term risk of joint problems. So, watch your Maltese's weight and try to make sure he keeps good muscle tone.
Many dogs can have problems with tear staining but the stains tend to be most noticeable on white dogs like the Maltese. Tear stains are usually due to a low grade infection that can slightly alter the pH in the dog's tears. Many Maltese breeders recommend talking to your vet about using an oral antibiotic such as Tylan powder to help clear up the infection and change the pH. There are lots of other suggestions for dealing with the problem but dietary methods include adding a teaspoon of apple cider vinegar to your dog's food per day to help change the body's pH. (Some people who use this method advise that the apple cider vinegar needs to be organic with the "mother" still in the vinegar, etc. Use your own judgment.) Other people suggest giving your dog ¼ teaspoon of buttermilk powder twice a day. You can also give your dog distilled water to drink instead of tap water to make sure that nothing in his water is affecting his body chemistry.
In order to help avoid your Maltese becoming overweight or obese, we also recommend measuring how much you feed your dog, leaving the food down for 15-20 minutes, and then removing the food dish. If you have more than one dog, keep an eye on your dogs while they eat. Often dogs eat at different paces and one dog may be greedy and eat his slow friend's food, too. Feed your dogs separately if necessary so both dogs can eat at their own pace.
Maltese can have some other health issues but the ones discussed here can be affected by diet. The food you feed your Maltese can make a big difference with some of these health issues.
Ingredients To Look For
As with all breeds, the Maltese requires good quality protein in their diet. Of course, not all protein and fat are the same. It's important that these nutrients come from good quality ingredients. You can give your dog lots of protein but if it's not from a good quality source, his body won't be able to use it efficiently. Your Maltese will not be able to grow a beautiful coat or have bright shining dark eyes if you do not feed him good quality ingredients.
Ideally, a good dog food will feature a couple of meat proteins in the first several ingredients. The first ingredient should not be grain or some other carbohydrate. Both whole meats and meat meals are good sources of protein. Whole meats refer to ingredients such as whole chicken, beef, fish, and lamb. However, whole meats also contain lots of water. If the water from these meats were removed, they would be found lower on the ingredient list. This is because dog food companies are required by law to list ingredients by weight before cooking. The water in whole meats makes them weigh more. Some people don't like meat meals as much as whole meats but they are a concentrated form of the meat in which the water has already been removed. They contain several times as much protein as a whole meat. Meat meals are usually very good as one of the first ingredients in a premium quality dog food. They are found in many good dog foods. Less desirable are meat "digests" or "by-products."
Dogs also need fat from good sources. Some vitamins are only fat-soluble and your dog needs them in his diet. But fat, like protein, varies in quality depending on the source. You should look for named fat sources such as chicken fat. Other named fats also provide needed nutrients such as fish oil which can provide omega-3 fatty acid to help keep the skin and coat healthy.
You should try to avoid artificial preservatives such as BHA, BHT, and ethoxyquin, if possible. Avoid artificial flavors, sweeteners, and colorings. Your dog doesn't need them and in some cases they have been linked to health problems like cancer. It's not always easy to avoid some of the less desirable ingredients, however, since they can be labeled in ways that are harder to recognize.
Advice for feeding puppies is similar to feeding adult dogs in many ways. You need to look for foods with good quality ingredients, such as meat protein and named fats. Many good quality puppy foods include a compound called DHA (Docosahexaenoic acid) which has been shown to help with brain development in puppies (and children). It's also very important for puppy foods to have the proper ratio of calcium to phosphorus. Nutritionists recommend that dogs have calcium and phosphorus in the ratio of 1.2 parts of calcium for each 1 part of phosphorous (1.2:1). This is particularly important while puppies are growing. You can usually find the calcium to phosphorus ratio for a puppy food on a pet food company's web site. Note that if you add supplements to your puppy's diet such as milk, cheese, yogurt, etc. while he is growing, you will disturb this ratio and it can result in health problems for your puppy now or in the future. If you are feeding your puppy a good quality food you should not need to add any supplements to it during the first year. Adding extra meat to your puppy's diet while feeding a puppy food will add more phosphorus to the diet and also upset the ratio.
Some nutritionists do not recommend feeding grain free foods to large and giant breed puppies. This is because these foods often have very high protein percentages, high fat percentages, high calories, and the calcium to phosphorus ratio can be off. All of these things can cause large and giant breed puppies to grow too rapidly, leading to bone and joint problems. You may or may not want to feed a grain free food to your Maltese puppy. They don't really have the same issues to worry about as larger breeds in terms of rapid bone growth. If you would like to feed a grain free food to your Maltese puppy, make sure you check the calcium to phosphorus ratio and watch the calories.
The general recommendation for all puppies is that you should be able to feel their ribs but not see them. Puppies should not be allowed to become roly-poly. Exercise is good. Encourage your puppy to play. Just use good sense and don't let him do anything potentially dangerous.
Recommended Brands of Food
Many people are unaware that small breeds like the Maltese actually burn more calories than large breed dogs. It makes sense it you think about it. A small dog has to work harder to do the same things that a bigger dog does easily. That's probably why a small dog often gives the impression of being such a dynamo while a big dog may seem easy going. If you compare the calories in dog food for small breeds to a food for large breeds, you'll see that there are usually more calories in the small breed food even if they have similar ingredients.
Small breeds like the Maltese usually need food that comes in smaller kibble shapes, too. This may seem like an unimportant feature of dog food, but kibble comes in all different shapes and sizes. Some sizes and/or shapes can be difficult for some dogs to chew, especially if you have a Toy dog. So, pay attention to the size and shape of the kibble when choosing food for your dog.
There are lots of good foods that you could choose to feed your Maltese but we have selected several that you might consider.
Fromm Gold Small Breed Adult Dry Dog Food
No wheat, made in small batches from a family-owned company that has been in business in Wisconsin for over 100 years.
First five ingredients: Duck, Chicken Meal, Chicken, Oatmeal, Pearled Barley
Guaranteed Analysis
Crude Protein (min) 26.00%
Crude Fat (min) 17.00%
Crude Fiber (max) 3.50%
Moisture (max) 10.00%
Dry Matter Basis: Protein 28.9 percent; fat 18.9 percent; fiber 3.9 percent; carbohydrates 39.6 percent.
Metabolizable Energy (calculated) 416 kcal/cup
Metabolizable Energy (calculated) 3,963 kcal/kg
AAFCO-approved for growth and maintenance.
---
What About Maltese Puppies?
You won't have to feed Maltese puppies very much per day. We do recommend that you divide the food into meals and feed at regular times instead of free feeding. Feeding regular meals encourages dogs to eat their food when you serve it instead of becoming picky about their food or overeating. If you have more than one dog we recommend that you make sure each dog is eating his or her own food and not stealing food from other dogs. In some cases you may need to feed a dog separately to make sure he or she is getting all of his food since some dogs eat faster/slower than other dogs.
Some good puppy foods you may consider for your Maltese puppy include:
Wellness Small Breed Complete Health Puppy Turkey, Oatmeal & Salmon Meal Recipe Dry Dog Food 
DHA for brain development, antioxidants, live microorganisms for better digestion.
First five ingredients: Deboned Turkey, Chicken Meal, Oatmeal, Salmon Meal, Ground Barley
Guaranteed Analysis
| | | |
| --- | --- | --- |
| Crude Protein | Not Less Than | 28.00% |
| Crude Fat | Not Less Than | 18.00% |
| Crude Fiber | Not More Than | 4.00% |
| Moisture | Not More Than | 11.00% |
Dry Matter Basis: Protein 31.5 percent; fat 20.2 percent; fiber 4.5 percent; carbohydrates 34.8 percent.
Calorie Content: This food contains 3,790 kcal per kilogram or 480 kcal per cup ME (metabolizable energy) on an as fed basis (calculated).
AAFCO-approved for growth and gestation/lactation.
---
Of course, if your Maltese puppy has any particular health issues, you would need to take them into account when choosing a food. These foods are selected for small breed puppies. We think they are good quality foods but there are other good puppy foods and all life stage foods if you don't like these suggestions.
Best Dog Foods for the Senior Maltese
It's not unusual for many Maltese to live into their teen years. This means that you will probably need to consider what kind of food to feed your dog as he gets older. As your dog ages it's a good idea to plan an annual senior check-up with your vet. Many older dogs begin to put on pounds as they become less active. For this reason, most senior dog foods have fewer calories and they can skimp on protein. You should watch your older dog's weight as he gets older to make sure he doesn't become overweight. In some cases you can simply cut back on the portions of his regular dog food to help him stay fit or increase his exercise.
On the other hand, some very old dogs often start to have some problems metabolizing nutrients, including protein. It can become hard for them to keep good muscle tone and weight as they age. For this reason, you may wish to avoid many dog foods labeled "senior." These foods are often formulated for older dogs that have gained weight. If this is the case with our senior dog, look for a senior dog food with plenty of protein. As long as your older dog doesn't have any problems with his kidneys or with phosphorus there's no reason to avoid higher levels of protein as was once believed.
Keep in mind that some Maltese can require special diets when they are younger and they will  probably continue to need these diets as they age. A dog with inflammatory bowel disease (IBD) will probably need a diet that is low in fat. Gluten-free diets are also usually recommended, along with avoiding grains such as oats, wheat, barley, and rye. If your Maltese has Microvascular Dysplasia, a liver disorder that can be common in the breed, you will probably need to feed a diet that is low protein. You should take these issues into consideration when choosing a senior dog food for your Maltese.
We often recommend Orijen Senior for older dogs because it has lots of good quality meat protein that many senior dogs need as they age. If your Maltese does not suffer from IBD or other health problems that would suggest he should avoid high protein foods, we still think this is a good food, but it may not be suitable for all senior Maltese. Orijen Senior features fresh chicken meat (13%), fresh whole eggs (7%), fresh turkey meat (7%), fresh whole herring (7%), and fresh chicken liver (6%) as the first five ingredients. It helps keep older dogs in good muscle even as they become less active. Made of 85 percent poultry, fish and eggs, the food is low-glycemic and has low carbs (only 19 percent) to help keep your older dog's blood sugar steady. The food also contains natural sources of glucosamine and chondroitin to keep your dog's joints healthy. The food is 38 percent crude protein and 15 percent crude fat. It has 8 percent crude fiber and 8 percent crude ash. It checks in at 435 kcal per 8 ounce cup. We think this is a very good food for many senior dogs who often need extra protein as they get older. Orijen Senior is now made in Kentucky. There have been some changes in the ingredients but we do not see any loss of quality in this food. (We know Orijen is expensive but this food really stands out for senior dogs.) This food is AAFCO-approved for maintenance.
If you have a senior dog that does need to watch his waistline, you might consider Weruva's Caloric Harmony Venison and Salmon Meal Dinner with Pumpkin. This food (and several others in this product line) is potato-free with no corn or wheat, easy to digest, and low-glycemic. It contains pumpkin and oatmeal for healthy gut motility. The first five ingredients are: Venison, Venison Meal, Salmon Meal, Herring Meal, and Oatmeal. Meat protein comes from grass-fed venison. The dry matter basis for this food is an estimated 37.8 percent protein;14.4 percent fat; 3.9 percent fiber; and 35 percent carbs.  The calorie count (calculated) is Metabolizable Energy (ME) 3320 kcal/kg; 348 kcal/cup. Those look like good figures for senior dogs that need more protein without extra fat. This food is not specifically made for older dogs but we think Weruva's Caloric Harmony foods have some ingredients and percentages that make them a good choice for senior dogs that need to watch their weight.
Some older dogs can begin to lose interest in their food. This is sometimes due to bad teeth, so it's a good idea to have your veterinarian check your Maltese's teeth to make sure that your dog doesn't have dental problems. Older dogs can also begin to have weakened or duller senses. They do not see or smell their food as well as they did when they were younger. For this reason, you may need to make their food more appealing. You can warm it or add a tasty topping to it, for example. Another way to make food more appealing to a senior dog is by feeding canned food. Here are some canned foods we like for senior dogs. All of these canned foods are carrageenan-free.
Nature's Variety Instinct Originals Small Breed Canned Diet For Dogs
Nature's Variety Instinct has two canned formulas made especially for small breeds – one in chicken and one in salmon. These canned foods are grain free and gluten free. The chicken formula has 143 kcal/5.5 ounce can. The guaranteed analysis shows 8 percent crude protein, 3.5 percent crude fat, and 3 percent crude fiber, with 78 percent moisture. The first five ingredients in the food are: Chicken Broth, Chicken, Chicken Liver, Peas, and Cod. These foods are not specifically made for senior dogs but we think they would be good choices for older small breed dogs who need some tasty food to encourage them to eat.
You can also try some of the foods from Party Animal, such as Cocolicious Organic Turkey & Chicken. First Mate, Tiki Dog, and Weruva also have very good canned foods. First Mate recommends these canned foods for senior dogs.
Updated September 04, 2015