Nature's Recipe Dog Food
Brief Overview
Nature's Recipe is one of the most common brands of dog food on the market. It has been around for 30 years. According to Nature's Recipe's website, the brand was created because there was a shortage of high-quality pet food on the market. "Being natural wasn't about being trendy," Nature's Recipe wrote on the website. "It was about doing the right thing. We did it for ourselves and for those around us because we believe food is an essential part of a good, long life with our best friends."
Today, Nature's Recipe dog food recipes are marketed as having the perfect balance of nutrition with premium protein sources and no corn or wheat. They even have a product line that's focused solely on limited pure ingredients.
At first sight, Nature's Recipe looks like a truly premium dog food brand. However, Iams' deceptive marketing tactics taught us that you should never take a pet food company's claims at face value. That's why we're providing a deeper insight into this brand, so you can make an educated decision when it comes to putting your dog on Nature's Recipe's formulas.
Who manufactures Nature's Recipe?
Nature's Recipe is owned, manufactured, and marketed by Del Monte Foods, one of the largest food producers in the United States.
Disclosure: Please note that this post contains affiliate links, which will direct you to our partner sites. If you purchase the pet foods we recommend through those links, we may earn a small commission – at no extra cost to you.
Nature's Recipe Recalls 2017
Please Read First: If this statement is still here we are actively watching for new recalls. Below you will find a history of recalls. If you would like to know as SOON as we find out about a recalls visit:https://dogfood.guru/dog-food-recalls/ and fill out our Recall Alert form. We will ONLY email this list in the event of an actual recall. Once we stop watching for Recalls I will remove this statement.
We also encourage everyone to bookmark the site for future reference.
Latest Recalls List (From newest to oldest):
In October 2012, Nature's Recipe announced a recall for their Oven Baked Biscuits With Real Chicken with the best-by dates of between 10/11/13 and 10/12/13 due to a possible contamination of Salmonella.
Learn how we Monitor for Recalls: https://dogfood.guru/dog-food-recalls/
Nature's Recipe Coupons 2017

---
30% Off First Order + Free Shipping
Nature's Recipe Reviews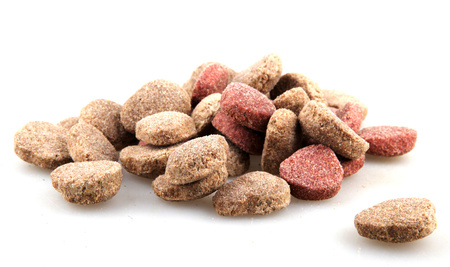 If your dog has a sensitive digestive system, you might want to be careful when feeding your dog Nature's Recipe dog food. Many dog owners have observed changes in their dogs' digestive health after putting them on the Nature's Recipe diet. The dogs would have runny diarrhea and excessive gas. This could be attributed to the fact that grain (a source of gluten) is added to most Nature's Recipe formulas.
We find the brand to be decent. Meat or meat meal is usually the first and/or second ingredient in most Nature's Recipe dog food formulas. Also, you can find dried egg (another source of protein), flaxseed (a good source of fiber), and middle-of-the-road sources of carbohydrates such as rice, potatoes, and oatmeal in most formulas.
Nature's Recipe has many different formulas, and you can probably find one perfectly suited to your dog's size, age, and special needs. There are better dog food brands on the market, but we believe that your dog would be okay living on Nature's Recipe dog food.
How would you rate Nature's Recipe?
[gdrts_multi_stars_rating_auto series="gdsr-dog-food-reviews" style_size=40 style_type="font" style_font_name="star"]
Our Pure Essentials Grain Free Large Breed Chicken & Sweet Potato Recipe review:
Nature's Recipe seems to be especially proud of their Pure Essentials product line. The Pure Essentials recipes are marketed as having limited ingredients, premium nutrition, and fresh-picked fruits and garden-quality vegetables. You know what we like to say: the ingredient list never lies. So let's take a look at what's in Pure Essentials Grain Free Large Breed Chicken & Sweet Potato Recipe.
This grain-free kibble has real USA-raised chicken as the first ingredient, and is completely free of corn, artificial preservatives, and by-products. This formula is designed to help reduce sensitivities, acquire healthy skin & coat, and promote healthy muscle development, so this would be an ideal formula to feed large breed puppies and high-energy large breed adult dogs.
Since raw meat loses 80% of its water content and nutrients after being cooked, we're a little weary of the fact that chicken is the first ingredient. However, chicken meal is the next ingredient. Any type of meat meal contains 300% more protein than raw meat does, so we're confident that the chicken meal provides enough protein in this formula. The crude protein content is 28%, which is the right amount for a healthy dog.
The following three ingredients, potatoes, sweet potatoes, and potato protein, offer enough carbohydrates for a high-energy dog to burn off during a romp at the dog park.
This formula contains one controversial ingredient: menadione sodium bisulfite complex. It's a man-made version of vitamin K. A lot of dog owners dislike the fact that this ingredient is synthetic chemical rather than the natural version of vitamin K (which is naturally found in green leafy vegetables).
All in all, we find this formula a good one to feed your large dog.
Where can you buy Nature's Recipe?
Nature's Recipe dog food is available at a bunch of dog food websites (such as Wag.com or PetFoodDirect.com), big pet stores (such as PetCo or PetSmart), and independent pet food retailers all over the U.S. You can find the nearest retailer with their store locator.