Fromm Dog Food
Fromm has been around for ages. By ages, we mean 110 years. Yep, that's right. Fromm was founded in 1904, and the same family still owns the company to this day. Fromm dog food is a holistic brand that offers high-quality recipes containing fresh meat, produce, eggs, and real Wisconsin cheese. You guessed it: this company is based in Wisconsin. We consider Fromm dog food to be of high quality, especially because each ingredient in every recipe has a purpose: to help provide the perfect balance of nutrients. In a bit, we'll go into more detail in our Fromm dog food review below.
Like any old-fashioned company, Fromm keeps their food production in-house – or should we say in-state? All of their dry pet food and treats are produced in their own USDA-inspected plant in Wisconsin. Their canned food, however, is produced in an USDA-inspected plant in South Dakota. Absolutely none of their ingredients are from China. However, they use vitamins and minerals imported from Europe. Fromm takes pride in the fact that all of their other ingredients are sourced in the USA. The dry pet food is formulated by none other than Tom Nieman, the president, and owner of Fromm. He has a chemical engineering degree, and he inherited the company from his grandmother Erna Fromm in 1983.
Disclosure: Please note that this post contains affiliate links, which will direct you to our partner sites. If you purchase the pet foods we recommend through those links, we may earn a small commission – at no extra cost to you.
Fromm Dog Food Recalls 2019
Please Read First: If this statement is still here we are actively watching for new recalls. Below you will find a history of recalls. If you would like to know as SOON as we find out about a recalls visit our Recall Alerts page. We will only email this list in the event of an actual recall.
We also encourage everyone to bookmark the site for future reference.
March 2017: Fromm Family Pet Foods Recalls Gold Canned Dog Food
Learn how we monitor for recalls.
Fromm Dog Food Consumer Ratings
[gdrts_multi_stars_rating_auto series="gdsr-dog-food-reviews" style_size=40 style_type="font" style_font_name="star"]
Fromm Dog Food Review
A lot of pet owners are pleased with Fromm dog food. They have reported seeing improvement in their dogs' coats, digestive health, and energy levels.
It's no surprise because Fromm dog food is packed with high-quality animal proteins, allergen-free fruits and vegetables, and important grains. Not only is the president and owner of Fromm a qualified chemical engineer, but the company also works closely with nutritionists, biochemists, vets, and food production engineers to come up with the best holistic recipes for dogs.
It looks like they know what they're doing because the ingredient list usually looks great. Animal protein is always the #1 (and sometimes #2 too) ingredient. Quality grains, such as brown rice and oatmeal, are usually among the top ingredients.
However, there are a few ingredients we're a little worried about: pearled barley, tomato pomace, and brewers dried yeast.
Pearled barley is a starchy carbohydrate that's high in fiber, but some dog owners see it as an inexpensive grain filler. Tomato pomace is a by-product of tomatoes that are also high in fiber, but some dog owners are hesitant to feed it to their dogs because tomatoes are toxic to dogs and they see it as nothing more than cheap filler. Brewers dried yeast is a by-product from the beer-making process, and that might scare off some dog owners. However, it's chock full of nutrients.
Even though those three ingredients are controversial, each one provides enough nutritional value to justify Fromm putting it into their dog food.
All in all, we think that Fromm is a solid dog food brand.
Fromm Dog Food Product Lines
Fromm offers four product lines of dog food, including: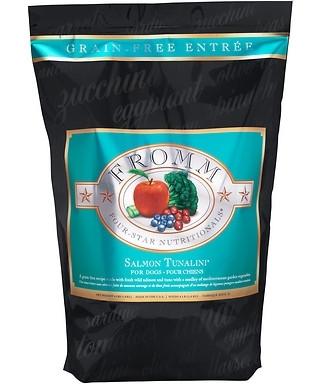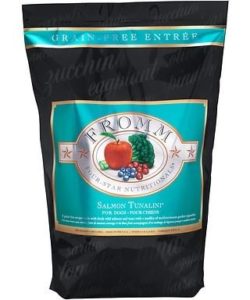 Four Star
Offering both dry and canned dog foods, as well as treats, the Four Star product line is loaded with the freshest ingredients and flavor your pup will love. Some of the most popular Four Star formulas are the Beef Frittata Veg, the Surf & Turf, and the Chicken au Frommage.
Gold
We recommend the Gold product line often for small, medium, and large breeds alike. It's a top seller with size and age-specific formulas.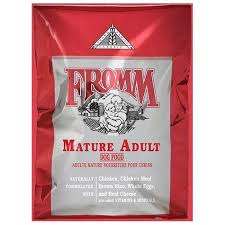 Classic
Fromm calls the Classic product line "simply balanced and complete," including three age-specific formulas: Puppy, Adult, and Mature Adult.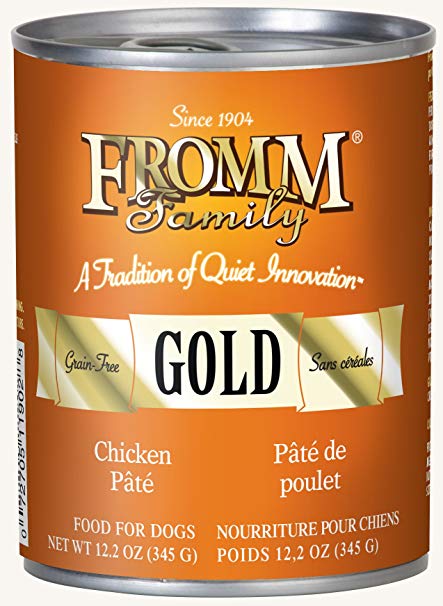 Pâté
Pâté is Fromm's line of canned wet foods, including sixteen different formulas to choose from. Some of the consumer favorites in this line are Chicken and Sweet Potato Pâté, Salmon and Chicken Pâté, and Turkey and Pumpkin Pâté.
In-Depth Look at Fromm Classics Adult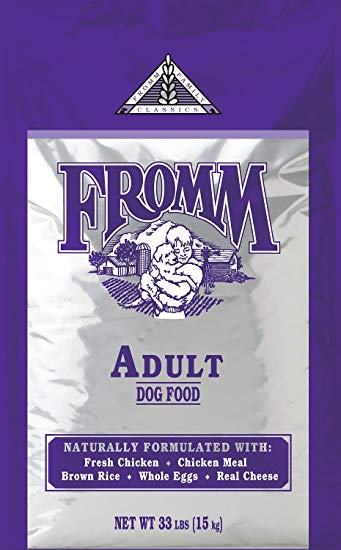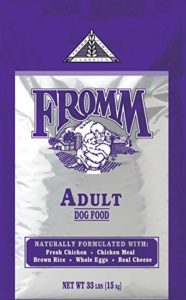 Less is more. That's why we're particularly interested in their Classics product line. The formulas in this product line were passed down from generation to generation in the Fromm family. Have the formulas remained the same? Let's take a look at Fromm Classics Adult Dog Food.
While the top 13 ingredients (out of 25) are natural ingredients that were definitely around in 1904 when the formula was created, some of the ingredients that come after them seem to have been added on over the years. They don't look bad, though. It looks like every ingredient serves a purpose. For example, taurine is the 19th ingredient. It's an amino acid that's crucial to a dog's health.
Chicken, chicken meal, brown rice, pearled barley, and oatmeal are the top 5 ingredients. Being that those ingredients are an excellent source of protein and energy, we trust that your adult dog will benefit well from this formula.
It also doesn't hurt that real Wisconsin cheese is the 11th ingredient in this formula. Not only will this give your dog extra protein and fatty acids, but it'll also make him a cultured foodie!
Where Can You Buy Fromm Dog Food?
Fromm's high standards also apply to its retailers. Because they're choosy, Fromm dog food is not available in grocery stores at large outlet centers. They prefer to go with certain pet specialty stores around the US and the world because "it is [their] opinion that pet specialty stores understand [their] types of products best and are able to help you the customer make the best possible choice for your pet."
If you're wondering if there are any pet specialty stores near you that carry Fromm dog food, you're in luck because Fromm has a retailer locator on their website, and their formulas are available on Amazon.
Not interested in Fromm? To check out other top dog food brands, take a look at our Victor Dog Food Review or our Acana Dog Food Review.
Below is a list of Products reviewed in this article
Updated February 12, 2019