Best Dog Food For A Poodle
Skip To Detailed Recommendations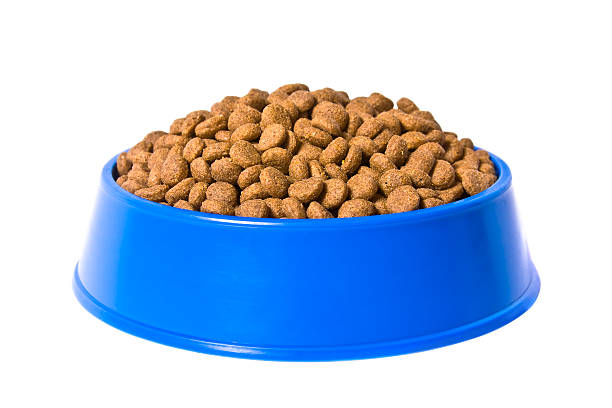 Poodles tend to have an undeserved reputation as a "frou-frou" dog, but they're more than a show dog – they make wonderful pets! Poodles are extraordinarily intelligent, easy to train, sociable, and energetic. They have a certain dignity, but they also love to be the center of attention. And as a moderately active pet, poodles require a healthy (and delicious!) diet. So, what's the best dog food for a poodle? We know it can be difficult selecting the "perfect" dog food for your pup, so we've compiled recommendations to make browsing a bit easier.
Disclosure: Please note that this post contains affiliate links, which will direct you to our partner sites. If you purchase the pet foods we recommend through those links, we may earn a small commission – at no extra cost to you.
Quick Look : Top 3 Best Dog Foods for Poodles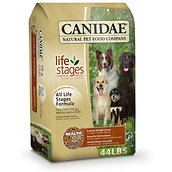 Canidae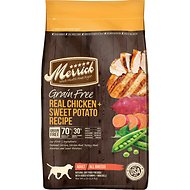 Merrick
Acana

---
30% Off + Free Shipping
on dog food for Poodles
Poodle Diet and Nutrition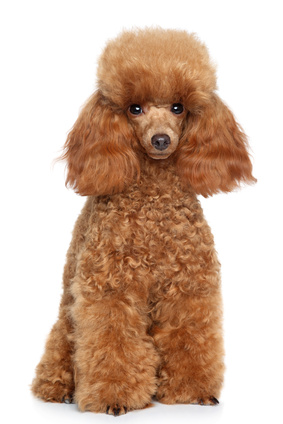 Poodles are active dogs that need moderate daily exercise, whether it's a walk around the neighborhood or participating in dog sports.
Standard Poodles are around 22 to 27 inches, while Miniature Poodles are in the 13 to 15″ range. Toy Poodles are 10 inches and smaller at the shoulder. You can expect a male Standard Poodle to weigh 45 to 70 pounds; females weigh 45 to 60 pounds. Miniatures weigh 15 to 17 pounds, and Toy Poodles weigh six to nine pounds.
Since Poodles can vary so much in size, you will have to take your dog's individual size and growth needs into consideration when choosing their food. You will also need to adjust your dog's food intake based on his activity level, age, and individual metabolism.
Your poodle should be able to eat any of the premium dog foods listed below. Keep in mind, Poodle puppies shouldn't require a large breed puppy food unless your breeder advises you otherwise. Toy and Miniature poodles can certainly eat foods formulated for small breeds.
What To Feed A Poodle
You can start feeding Poodle puppies three meals per day when they are a few months old. Toy and Miniature Poodles will often do well on two to three meals per day as adults. However, we advise only feeding Standard Poodles two meals a day because they can be prone to bloat.
Some Poodle owners advocate free feeding their Poodles. We don't usually recommend free feeding (leaving dog food sitting out all the time) since many dogs will nibble and snack themselves right into obesity. However, by all accounts, some Poodles can be picky eaters. They may not eat enough at the regular meals you set down for them. If this is the case – and your Poodle appears thin or seems to be losing weight – then it would be appropriate to try free feeding your dog. We do caution that once you start free feeding your Poodle, it can be hard to convince him to go back to eating scheduled meals.
As with any dog, you should feed your Poodle a good quality dog food. Poodles can often be sensitive to food additives such as artificial colors, preservatives, and sweeteners. We always recommend that you avoid foods with these ingredients (for all breeds, not just Poodles!).
Laslty, you will also need to be careful when you switch foods if you have a Poodle. Make any changes in your Poodle's diet slowly to avoid gastrointestinal upset.
---
Best Dog Food for A Poodle Puppy
Poodle puppies can usually begin eating a puppy or all life stage food after they are weaned. If you have questions about how to feed your puppy, we recommend talking to the breeder. They usually have the most experience with raising their puppies and can guide you, especially when it comes to avoiding common health problems specific to the breed.
Note: Puppy foods should have a calcium to phosphorus ratio of about 1.2 parts calcium to 1 part phosphorus, though there is some slight room for variation such as 1.5:1.2. It's also important that dog and puppy foods do not have an excess (or deficiency) of calcium since this can affect bone growth.
1
Canidae Grain Free Pure Foundations Puppy Formula is a limited ingredient dog food with nine ingredients plus vitamins and minerals. It's grain free with probiotics to help digestion, antioxidants for a healthy immune system, and omega 3 and 6 to support healthy skin and a beautiful coat.
Main Ingredients: Chicken, Menhaden Fish Meal, Lentils, Peas, Potatoes
Protein: 30%
Fat: 12%
Fiber: 4%
Calories: 520 kcal/cup
2
This grain-free, high-protein food can be a good choice for some puppies. Wellness CORE is completely free of soy, wheat-gluten, artificial preservatives, colors, flavors, meat by-products, and fillers. It has DHA for brain and eye development and the proper calcium level for puppies.
If you have a Toy or Miniature Poodle, you may prefer to feed a puppy food made especially for a small breed. We recommend Wellness Small Breed Complete Health Puppy Turkey, Oatmeal & Salmon Recipe.
Main Ingredients: Deboned Chicken, Chicken Meal, Turkey Meal
Protein: 36%
Fat: 18%
Fiber: 5%
Calories: 417 kcal/cup
---
 Best Dog Food For A Poodle Adult
1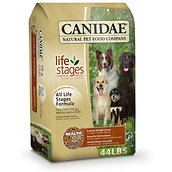 Canidae All Life Stages is one of the best dog foods for poodles of all ages. With multiple protein sources, the recipe offers a delicious flavor and is nutritionally adequate. Added health benefits include probiotics for digestive health, omega fatty acids for skin and coat, and antioxidants for immune support.
Main Ingredients: Chicken Meal, Turkey Meal, Lamb Meal, Brown Rice, White Rice
Protein: 24%
Fat: 14.5%
Fiber: 4%
Calories: 468 kcal/cup
2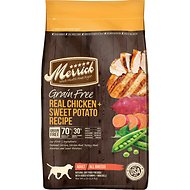 If your Poodle has allergies, Merrick Grain-Free is a solid choice. Real chicken and veggies provide your pup with the nourishment he needs, while eliminating common allergens like grains, preservatives, and by-products.
Main Ingredients: Deboned Chicken, Chicken Meal, Turkey Meal, Sweet Potatoes, Peas
Protein: 38%
Fat: 17%
Fiber: 3.5%
Calories: 402 kcal/cup
3
Acana is owned by the same company as Orijen, Champion Pet Foods. Both brands have nearly impeccable reputations, and offer top-of-the-line formulas with fresh, healthy ingredients. We love Acana Grasslands for active Poodles because it is free of the harmful additives and fillers that many commerical dog foods use.
Main Ingredients: Deboned Lamb, Deboned Duck, Whole Eggs, Lamb Meal, Goat Meal
Protein: 33%
Fat: 17%
Fiber: 6%
Calories: 388 kcal/cup
---
Best Dog Food For A Senior Poodle
Poodles can live up to 15 years, so you will need to consider what kind of food to feed your dog as he gets older. It's common for aging dogs to gain weight, so it's important to monitor his weight and feed him a nutritionally adequate, healthy food. In some cases, you can simply cut back on the portions of his regular dog food to help him stay fit, as well as increase his exercise.
1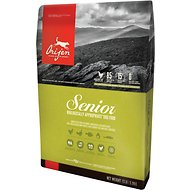 Orijen Senior is one of the few foods for older dogs that doesn't skimp on protein. If you have an older Poodlethat is starting to have problems metabolizing nutrients, including protein, this could be a good food for your dog since it features plenty of top quality meat protein that should be easier for your dog to digest.
Main Ingredients: Deboned Chicken, Deboned Turkey, Atlantic Flounder, Whole Eggs, Whole Atlantic Mackerel
Protein: 38%
Fat: 15%
Fiber: 8%
Calories: 414 kcal/cup
2
This food (and several others in this product line) is potato-free with no corn or wheat, easy to digest, and low-glycemic. It contains pumpkin and oatmeal for healthy gut motility.
Main Ingredients: Venison, Venison Meal, Salmon Meal, Herring Meal, Oatmeal
Protein: 37.8%
Fat: 14.4%
Fiber: 3.9%
Calories: 348 kcal/cup
---
Additional Dietary And Health Considerations
As a breed, Poodles can be prone to various allergies, including food allergies, as well as other skin problems. If your dog seems to be having skin problems or gastrointestinal difficulties (gas, diarrhea, vomiting), it's a good idea to see your veterinarian. The problem may not be food-related. If it is food-related, your veterinarian can help you identify your dog's particular food triggers.
Poodles can experience several health issues that may make them more prone to obesity. Hypothyroidism (low thyroid) and Cushing's Disease can both appear in Poodles. Symptoms may include weight gain. If you notice your Poodle gaining weight without an increase in their food, check for other signs of these health problems or see your veterinarian.
As with other breeds that can have problems with hip dysplasia, it's important to make sure you do not let your Poodle become overweight. Canine obesity leads to many health problems and it worsens any tendency toward hip dysplasia and arthritis. While puppies may play enthusiastically, you should not allow them to injure themselves while playing or put too much stress on their joints and growth plates while they are growing. On the other hand, you should make sure that adult dogs get regular exercise so they maintain good muscle tone. This includes older dogs as they reach their senior years.
Once you've found the best dog food for your Poodle, it may be time to consider dog supplements. Does your pup need them?
Below is a list of Products reviewed in this article