The Ultimate Poodle Food Buyer's Guide
Poodles! Many people love Poodles – or hate them. In reality, Poodles tend to have an undeserved reputation as a "frou-frou" dog because of the grooming sometimes associated with them, especially for the show ring. The truth is that the Poodle originated as a water retriever, either in Germany or France (there is some dispute). The largest of the Poodles, the Standard Poodle, has traditionally been used as a retriever or gun dog, especially for duck hunting, though sometimes for finding upland birds. There has been a renewed interest in Poodles as bird dogs in the United States and Canada since the early 1990s. Standard Poodles can participate in hunting trials with the Canadian Kennel Club and the American Kennel Club today. The United Kennel Club has long recognized Standard Poodles as a sporting breed.
Historically, the Poodle may have originated in Germany ("Pudel" coming from the low German word meaning "to splash about"). Or, they may have developed from the French Barbet crossed with the Hungarian water dog. The Barbet is a rare breed today but it was widespread at one time and likely contributed to the development of many curly-coated water dogs, such as the Portuguese Water Dog. It may have been less of a breed and more of a type of dog, the way types of "collies" and "terriers" were common in Britain. The Barbet and the Poodle appear to have been considered the same breed at one time. You can see why there is some confusion about where the Poodle originated. At any rate, the Standard Poodle was recognizable by the 15th and 16th centuries and can be seen in paintings of the time. It's thought that the Standard Poodle was smaller than it is today and was crossed with other breeds to make it larger and sturdier.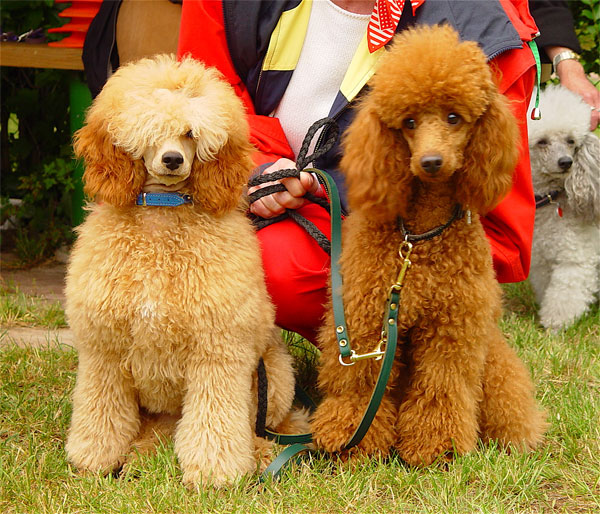 By contrast, other Poodles were bred down in size to produce Miniature and Toy Poodles. By most accounts the Toy Poodle was developed in England in the 18th century. There are reports that the Miniature Poodle was used for truffle hunting since their small size meant they were unlikely to damage the truffles. These smaller dogs were also popular as companion dogs. These dogs made wonderful companions and many of them were used as circus dogs. Poodles are one of the smartest of all breeds. They are born performers and they easily learn tricks so they were popular attractions in circuses.
You can find quite a comprehensive view of Poodle history at this site. Note that the site takes a broad view of the subject and includes any dog that might possibly be a Poodle but it's an interesting site with some good information and visuals.
Poodles have excelled as companion dogs for centuries. They are extraordinarily intelligent, easy to train, sociable, and energetic. A Poodle has a certain dignity but they also love to be the center of attention. They are usually reserved when meeting strangers but they will gradually warm to new people.
Because of their intelligence Poodles can learn to do almost anything. They make outstanding obedience dogs and they enjoy agility, rally, flyball, dock diving, tracking, and even sports like Schutzhund. They also enjoy activities with their owners such as hiking, camping, and swimming.
If you have children, the Standard Poodle is usually recommended both because of their size and their more tolerant attitude. They usually have a kind nature and enjoy playing games with kids. As always, you should supervise small children when they are around any dog. Make sure that you teach children how to safely interact with dogs so they don't pull tails or ears. Like all dogs, your Poodle will need to have a place where he can go to get away at times and relax by himself. Miniature and Toy Poodles may have less patience with young children. They can be good pets for older kids or teenagers.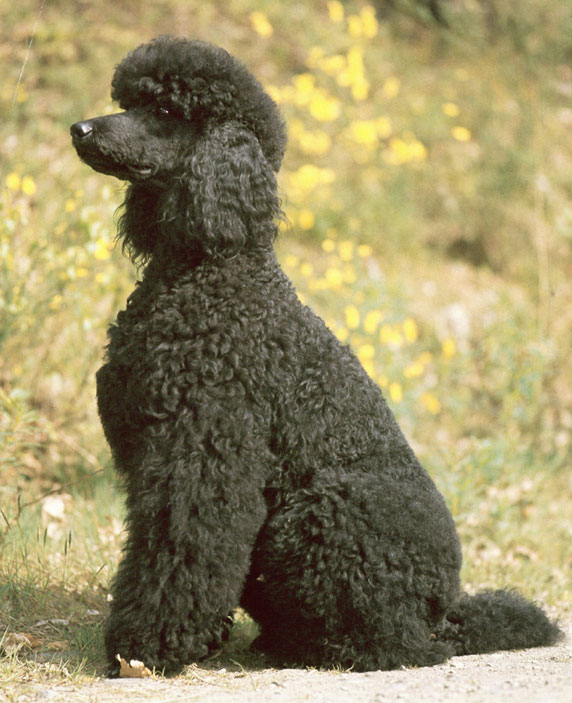 Poodles do not like to be left alone and they are not kennel dogs or dogs that you can leave out in the yard. This is a breed that forms a close bond with their family. They need to be around their people. Poodles are frequently mischievous but they can get into real trouble if they are ignored or left alone too much.
One of the nice things about Poodles is that they are known as a hypoallergenic breed. In fact, all dogs shed but the Poodle sheds a minimal amount and has minimal dander. They are less likely to trigger allergies than many other breeds. Poodles have a single, dense coat of curly hair (instead of the double coat that most breeds have) so when they shed and lose dander, it stays trapped in their coat instead of floating in the air to trigger an allergic reaction. They do need to be groomed regularly and most people will keep their Poodle clipped. This will remove the dead hair and dander. There is no need to keep your pet Poodle in a fancy dog show clip. Most pet owners keep their Poodle in a pet clip which is very simple and easy to care for.
The Poodle was one of the earliest breeds recognized by the AKC in 1887. Poodles have remained popular over the decades. Today the Poodle is the 7th most popular breed in the United States, per the AKC. In the U.S. the breed has three size varieties but they are all the same breed – Toy, Miniature, and Standard. In countries that use the FCI (Fédération Cynologique Internationale World Canine Organization) standard for the breed, there is an additional Medium size between the Standard and the Miniature Poodle.
Quick Look : Top 8 Best Dog Foods for Poodles
Food
Price
Nutrition
Rating

Canidae All Life Stages Chicken, Turkey, Lamb & Fish Meals Formula
Read Reviews Where To Buy

$1.90/lb

Merrick Grain Free Real Chicken & Sweet Potato Dry Dog Food
Read Reviews Where To Buy

$2.283/lb

*New Formula* ACANA Grasslands Regional Formula Grain Free Dry Dog Food
$3.08/lb

$1.41/lb

$1.81/lb

Wellness CORE Grain Free Small Breed Formula
Read Reviews Where To Buy

$2.92/lb
Merrick Lil' Plates Grain Free Real Chicken and Sweet Potato Recipe
Read Reviews Where To Buy
$3.07/lb

$2.99/lb
Nutritional Needs
Poodles are usually active dogs. Your Poodle will need moderate daily exercise. Many of these dogs participate in obedience, rally, agility, flyball and other dog sports. They make excellent therapy dogs. As you might expect, most Poodles are natural retrievers. They are usually easy to train.
Standard Poodles are over 15 inches at the shoulder; most are in the 22-27″ range. Miniature Poodles are over 10 inches and not over 15 inches at the shoulder; most are in the 13-15″ range. Toy Poodles are 10 inches and under at the shoulder. You can expect a male Standard Poodle to weigh 45 to 70 pounds; females weigh 45 to 60 pounds. Miniatures weigh 15 to 17 pounds. Toy Poodles weigh 6 to 9 pounds.
According to the National Research Council of the National Academies, an active adult Standard Poodle weighing 60 pounds requires an average daily caloric intake of 1504 kcal. Dogs that have been spayed/neutered, or that are older, may need slightly fewer calories. Some dogs may need more calories depending on their level of activity and their individual metabolism. For example, if you do flyball or agility with your Poodle (60-lb dog), you might need to feed him somewhere around 1671 kcal or more, depending on how strenuous the work is. Growing puppies consume more calories than adult dogs and so do young adult dogs. A young Standard Poodle puppy (4-12 months) weighing 30 pounds needs an estimated 993 kcal per day. You always need to adjust your dog's food intake based on his activity level and other factors.
If you have an adult Toy Poodle weighing 9 pounds, you could feed 362 Kcal/day, with a few more calories if you and your dog are participating in agility or another sport. You might have to reduce the calories slightly if your dog is spayed/neutered or overweight. A growing Toy Poodle puppy (4-12 months) may need 219 kcal/day.
An adult Miniature Poodle weighing 15 pounds may need about 532 kcal/day. You can increase the calories if your Miniature Poodle is more active; decrease them if your dog is overweight or spayed/neutered. A growing Miniature Poodle puppy (4-12 months) will probably need around 436 kcal/day.
Since Poodles can vary so much in size, you will have to take your puppy or dog's individual size and growth needs into consideration when choosing their food. Most Poodles should be able to eat any good premium dog food for all life stages. Standards are not bred to be a large breed dog so Poodle puppies shouldn't require a large breed puppy food unless your breeder advises you that your puppy could grow to be very large. However, some Standard Poodles do become very large adults so they may benefit from eating large breed puppy dog food and even large breed adult food. You may find that Toy Poodles and Miniature Poodles do well on foods formulated especially for small breeds. With Poodles it's always important to consider the needs of the individual dog.
Feeding Your Poodle
We should mention a couple of points here. First, the Poodle is an old breed. Second, the Poodle has been a very popular breed for a long time. Third, you may find that there is more information online about the Poodle than nearly any other breed. Some of the information is very good; some of it is less good. All things considered, you can find tons of material online about Poodles, including how and what to feed them. When reading this information, be careful and always check the sources. You will find good suggestions but you can also find ideas that might be harmful to your dog. So, read with care.
According to some of the information we found, you should start feeding Poodle puppies three meals per day when they are about three months old. Toy and Miniature Poodles will often do well on two meals per day as adults. Or you can continue to feed them three meals per day. Since Standard Poodles can be prone to bloat, we recommend feeding them two meals per day as well.
Some owners, concerned about dog food ingredients, prefer to cook for their dogs or feed a raw food diet. You can certainly feed dogs a healthy diet using these methods but that discussion is beyond the topics covered here. You can find more information about cooking for your dog and raw diets on sites such as Dogaware.com.
Some Poodle owners advocate free feeding their Poodles. We don't usually recommend free feeding (leaving dog food sitting out all the time) since many dogs will nibble and snack themselves right into obesity. However, by all accounts, some Poodles can be picky eaters. They may not eat enough at the regular meals you set down for them. If this is the case – and your Poodle appears thin or seems to be losing weight – then it would be perfectly normal to try free feeding your dog. We do caution that once you start free feeding your Poodle, it can be hard to convince him to go back to eating scheduled meals.
As a breed, Poodles can be prone to various allergies, including food allergies, as well as other skin problems. If your dog seems to be having skin problems or gastrointestinal difficulties (gas, diarrhea, vomiting), it's a good idea to see your veterinarian. The problem may not be food-related. If it is food-related, your veterinarian can help you identify your dog's particular food triggers.
Poodles can experience several health issues that may make them more prone to obesity. Hypothyroidism (low thyroid) and Cushing's Disease can both appear in Poodles. Symptoms may include weight gain. If you notice your Poodle gaining weight without an increase in their food, check for other signs of these health problems or see your veterinarian.
As with other breeds that can have problems with hip dysplasia, it's important to make sure you do not let your Poodle become overweight. Canine obesity leads to many health problems and it worsens any tendency toward hip dysplasia and arthritis. Keep puppies and adult dogs lean. While puppies may play enthusiastically, you should not allow them to injure themselves while playing or put too much stress on their joints and growth plates while they are growing. On the other hand, you should make sure that adult dogs get regular exercise so they maintain good muscle tone. This includes older dogs as they reach their senior years. This is also a good way to make sure dogs maintain a healthy weight.
As with any dog, you should feed your Poodle a good quality dog food. Poodles can often be sensitive to food additives such as artificial colors, preservatives, and sweeteners. We always recommend that you avoid foods with these ingredients but it's especially important to do so with Poodles.
You will also need to be extra careful when you switch foods if you have a Poodle. Make any changes in your Poodle's diet slowly to avoid gastrointestinal upset.
Poodle Health Problems
Poodle health issues have been extensively studied. Poodle fanciers have always been some of the most dedicated of all dog owners. Along with keeping meticulous records about their dogs and pedigrees, they have donated generously to health projects and testing. Poodles, in all varieties, are among the most well-researched of all dog breeds in terms of their health problems. Some of the issues found in Poodles are common to all dogs while others are specific to Poodles or only to one variety of Poodle. Health tests already exist to allow breeders to screen dogs for some of these problems. DNA tests now allow researchers to find abnormal genes and will pave the way to develop more tests to eradicate some genetic diseases.
If you are considering getting a Poodle of any variety, we recommend reading the Poodle Club of America's section on Health Concerns for more information.
The club recommends the following tests for Poodles, especially if you are thinking of breeding your Poodle:
Standard Poodle
Eye Examination by a boarded ACVO Ophthalmologist
Health Elective (One of the following tests)
OFA Thyroid evaluation from an approved laboratory
OFA SA Evaluation from an approved dermapathologist
Congenital Cardiac Exam – OR
Advanced Cardiac Exam
Miniature Poodle
Progressive Retinal Atrophy (PRA) DNA Test
DNA Based test from an approved laboratory
Eye Examination by a boarded ACVO Ophthalmologist
Toy Poodle
Progressive Retinal Atrophy (PRA) DNA Test
DNA based test from an approved laboratory
Eye Examination by a boarded ACVO Ophthalmologist
Patellar Luxation
You can see the OFA ratings for the Poodle (all varieties) on the OFA site here.
Evaluations through December 2016
Registry

Rank

Evaluations

Percent
Abnormal

Percent
Normal

Percent
Carrier

Percent
Equivocal

ADVANCED CARDIAC

N/A

42

.0

100.0

.0

.0

BAER HEARING TEST

N/A

7

.0

100.0

.0

.0

CARDIAC

75

3112

.1

99.5

.0

.4

CENTRONUCLEAR MYOPATHY

N/A

1

.0

100.0

.0

.0

D LOCUS

N/A

3

.0

100.0

.0

.0

DEGENERATIVE MYELOPATHY

39

1161

.5

89.9

9.6

.0

DENTITION DATABASE

10

335

5.7

94.3

.0

.0

ELBOW

78

3253

2.9

96.9

.0

.2

EYES

104

3687

1.0

99.0

.0

.0

GANGLIOSIDOSIS

N/A

30

.0

100.0

.0

.0

HIPS

94

27040

12.0

86.7

.0

1.3

HYPERURICOSURIA

N/A

2

.0

100.0

.0

.0

LEGG-CALVE-PERTHES

6

1138

.4

99.6

.0

.0

NEONATAL ENCEPHALOPATHY

1

1131

.0

90.7

9.3

.0

NEONATAL ENCEPHALOPATHY W/SEIZURES

1

878

.0

77.6

22.4

.0

PATELLA

43

3466

3.4

96.6

.0

.0

PRIMARY LENS LUXATION

N/A

1

.0

100.0

.0

.0

PROGRESSIVE RETINAL ATROPHY

8

1286

.5

90.0

9.6

.0

RCD4 PROGRESSIVE RETINAL ATROPHY

5

73

.0

91.8

8.2

.0

SEBACEOUS ADENITIS

1

5883

2.9

89.9

.0

7.2

SHOULDER

N/A

41

.0

100.0

.0

.0

THYROID

84

4243

1.9

88.9

.0

9.1

VON WILLEBRANDS

6

1671

.1

96.3

3.6

.0
Table from the Orthopedic Foundation for Animals (OFA)
Other tables on the OFA site show that elbow dysplasia in Poodles has improved dramatically since owners and breeders began having them x-rayed around 1985. Likewise, the number of Poodles with hip dysplasia has been reduced and the number of dogs with Excellent hips has been more than doubled since 1980. Many of the other tests recommended for the breed are newer than the x-rays for elbow and hip dysplasia but they may also result in this kind of improvement in the breed over time.
You will notice that some tests have very few results. This occurs in all breeds. Sometimes it's because a test is new for a breed. In other cases it's because the test is not particularly recommended for a breed but a breeder or owner decides to have it done for their dog anyway, out of curiosity or caution. In some cases, a number of tests are offered in one location at one time (sometimes at a reduced rate) – such as at a dog show. Some people may take advantage of these offers and get their dog tested for everything even if some of the problems do not occur in their breed. Vets and vet techs who are breeders will also sometimes test their dogs for conditions that aren't known to occur in a breed because they can have the tests done for free or at a reduced cost. In these cases you end up with results for health problems that are not known to occur in a breed. The only problem with doing this is that at some point a researcher may come along, see these results, and conclude that x problem must occur in the breed or people would not test for them. Next thing you know, someone publishes a book claiming that the problem exists in a breed. So, be careful about believing statements that xyz health problems exists in a certain breed unless you can confirm it with people who are experienced with the breed. It only takes one person claiming a breed has a health problem in a book or online for a breed to be labeled with that problem forever, even if it's definitely not true. You will never be able to remove these claims from the Internet.
We should also mention that Poodle breeders have been at the forefront of canine genetic research. Likewise, Poodles have been one of the breeds extensively studied by researchers interested in canine diseases, both to benefit dogs and to see how this information may benefit human health.
Per the Poodle Club of America, Poodles can have the following issues:
Addison's. Addison's disease is also known as hypoadrenocorticism. With this condition the adrenal gland doesn't produce enough adrenal hormones. These hormones are essential for life so this is a very serious disease. Adrenal insufficiency can be primary or secondary. The primary form affects the salt/potassium balance in the body and the glucorticoid. Secondary adrenocorticism usually only affects the clubocorticoids. The cause of primary adrenocorticism isn't understood but it may be an immune mediated process. The secondary form may occur when prednisone or cortisone (given for medical reasons) are suddenly stopped. It can sometimes occur because of pituitary cancer or other things that interfere with the production of hormones that stimulate the adrenal glands.
In most cases, dogs with Addison's disease will start to show symptoms such as vomiting. Lethargy and poor appetite can also be seen. Since these symptoms occur with so many health problems, it can be easy to miss the signs. More serious symptoms occur when the dog's potassium levels become high enough to affect his heart function. Under stress, the dog may suffer severe shock symptoms which can lead to a rapid death. With high potassium levels the dog can have a heart arrhythmia or the heart may stop.
Atrial Septal Defects in Standard Poodles. ASD is considered to be a relatively rare congenital heart malformation in which the heart has a hole between its upper chambers. Breeds at risk include the Boxer, the Doberman Pinscher, the Samoyed, and the Newfoundland. It's also been recognized in the Standard Poodle. It appears to run in families which suggests a genetic link. There are no particular symptoms for this issue if the hole is small. However, you may notice signs such as coughing, difficulty breathing, exercise intolerance, and possible collapse or fainting if the hole is larger or the problem progresses. In worse cases, dogs can die from heart failure. If your dog has some of these ASD symptoms, surgery can repair the hole.
Bloat. As with many larger breeds, the Standard Poodle can be susceptible to bloat or gastric dilatation and volvulus (GDV). In this condition the stomach fills with gas or fluid. Torsion (twisting) happens when the stomach rotates and twists, closing itself off. At this point the dog's blood supply to the stomach becomes shut off. (Some cases involve the spleen torsioning.) This is a life-threatening situation. Immediate veterinary help is needed. Symptoms can include restlessness, getting up and down, pacing, vomiting (sometimes foamy vomit), trying to vomit unsuccessfully, and/or a swollen or hard stomach. If you notice any of these symptoms with your Poodle you need to take him/her to the veterinarian without delay! Make sure you have an emergency plan in place so you know where to go even if it's the middle of the night.
In the past, even with immediate treatment, the prognosis for dogs affected by bloat was guarded. However, current research shows that dogs receiving immediate treatment and good post-op care have about a 90 percent rate of recovery. Researchers are still unclear about all of the factors that may cause this condition though it is strongly suggested that at-risk breeds, such as the Standard Poodle, be fed multiple small meals per day. Food with higher percentages of fat may be a contributing factor, too, since these foods can take longer to digest. It is usually recommended that dogs should not engage in strenuous exercise immediately before or after eating. Most people recommend that dogs don't fill up on water just before or after eating or exercising. Fearful/nervous dogs also seem to be more at risk for bloating. Dogs that have had close relatives known to bloat may also have a greater risk of bloating, though whether this is due to environmental factors or genetics is not clear.
Chronic Active Hepatitis. Chronic active hepatitis (CAH) is a liver disease which involves the inflammation of the liver and the death of liver tissue. Dogs that have this disease will have a slow, progressive liver failure. According to researchers, the disease appears to have a familial predisposition. It occurs in a number of breeds such as the Bedlington and the Doberman but the genetics may be different in various breeds. Symptoms in Poodles do not usually appear until later in life, around 5 to years of age, after there is already significant liver damage. Early signs of the disease include loss of appetite, vomiting, diarrhea, vomiting yellow bile, weight loss, depression, drinking more water, increased urination, and sluggishness. As the disease worsens, the dog may have a jaundiced appearance (the whites of the eyes can appear yellow). The dog may also have blood clotting problems. Fluids may build up in the dog's abdomen giving a potbellied appearance or the dog may appear to be pregnant. The dog's behavior may change and s/he may stand and stare at the wall; stand in a corner; or seem confused. These changes are due to toxins that build up in the body that are no longer being filtered by the liver. A yearly blood screening can help your vet assess the health of your dog and notice any signs of liver problems. If your vet detects any elevated readings, s/he can do more specific tests to determine if your dog has Chronic active hepatitis. Dogs with this health problem can often be treated with medications and a special diet, depending on how much damage the liver has already sustained at the time of diagnosis. There is no cure but treatment and maintenance are possible.
Cushings. Cushings disease, or hyperadrenocorticism, is a fairly common health problem that usually affects older dogs. Poodles are one of the breeds at higher risk for Cushings. In Poodles there are three forms of Cushings. The most common form of Cushings is Pituitary Dependent of PD. This form results from a slow-growing cancer located on the pituitary gland. It causes the adrenal glands to produce too much cortisol because the tumor triggers too much ACTH (adrenocorticotrophic hormone) to be produced.
Cushings can also be Non Pituitary. In this form there is a tumor in one or both of the adrenal glands. In this case, too much cortisol is produced because of the tumor. The tumor is often malignant, in which case it is called an adenocarcinoma. These tumors are aggressive and they can spread to other parts of the body and to organs. If the tumor is non-cancerous it is called an adenoma.
Finally, Cushings can occur as a result of the long-term use of cortisone or prednisone. These drugs are steroids and their long-term use can cause problems.
The warning signs of Cushings include a big appetite, drinking lots of water, frequent urination, a pot belly, thin skin, hair loss on the body, thinning of the hair and a drastic change in the texture of the hair.
Cushings usually appears in older dogs but it can start at a younger age. In some dogs it can be a slow progression. Your veterinarian has tests to find out if your dog has Cushings. If you think your dog may have Cushings you can ask your veterinarian to test for it so you can get a diagnosis.
Epilepsy. Any breed or mix can be affected by canine epilepsy. It's believed to affect 4 to 5 percent of the canine population. Among dog breeds, it's known to exist in as many as 30 breeds, but idiopathic epilepsy (cause unknown) or seizures can affect any dog. In Poodles, idiopathic epilepsy is usually considered to be inherited. It can result in either mild or severe seizures. Seizures can sometimes involve episodes of odd behavior such as frantic running, as though being chased; staggering; or hiding. While seizures are often frightening to watch, the long-term prognosis for a dog with idiopathic epilepsy is usually very good.
Seizures in dogs can be caused by other things besides epilepsy. Causes can include metabolic disorders, infectious diseases that affect the brain, tumors, poisons, head injuries, and more. If your dog has a seizure due to one of these causes, the prognosis will depend on the issue and how quickly it is diagnosed and treated. Whenever a dog has a seizure you should take it seriously and notify your veterinarian. Don't panic. Some dogs can have one seizure in their life and never have another one. You should watch your dog carefully and observe how long it lasts and other details so you can report them to your veterinarian. If this is the first time your dog has had a seizure, you should take him to your veterinarian to have a check-up.
For more information on canine epilepsy, visit http://www.canine-epilepsy.com/.
Hip Dysplasia. As with many larger breeds, the Standard Poodle can have problems with hip dysplasia. If you look at a photo of the dog's hip joint you will see that it's a ball and socket. If the joint is malformed, the head of the femur will not align with the cup of the socket. This misalignment can range from mild to severe. In milder cases, with a good diet and proper exercise, the dog can lead a full, active life. In more severe cases, surgical correction or even euthanasia may be the only options. Diagnosis is done with x-rays. Breeders in the U.S. generally use PennHip or OFA for certification.
Hypothyroidism. Hypothyroidism or low thyroid is another condition that affects many dogs. It occurs when the thyroid gland produces too little thyroid hormone. Symptoms include skin problems, weight gain, excessive hunger, irregular heat cycles, coarse coat texture, an inability to stay warm, and lethargy. All of these systems in the body are regulated by the thyroid hormone. Treatment of hypothyroidism is simple. Dogs are given an inexpensive daily synthetic thyroid hormone pill. (It's the same pill that people with low thyroid take.)
Noticing your dog's problems can be the hardest part of this condition. The symptoms can appear gradually or you may simply think that your dog is getting older and fatter. If you notice your dog putting on weight and having changes in his/her skin and coat or energy level, you should ask your veterinarian to run a thyroid test. The test is done by taking a blood sample. Female Poodles should be tested after they reach sexual maturity and between heat cycles to get a good result. Most labs can do T-3 and T-4 screening. Complete thyroid testing includes: TT4, TT3, FT4, FT3, T4AA, T3AA, TGAA and cTSH; OFA Thyroid Registry Panel, FT4D, cTSH and TgAA.
If your dog has hypothyroidism you'll be amazed at the difference it can make in his life once he is diagnosed and starts treatment. He'll be like his old self again.
Legg-Calve-Perthes. Legg-Calve-Perthes occurs when the blood supply to the femoral head is interrupted. This results in the death of the bone cells. Eventually this will lead to the femoral head growing new bone and remodeling or to collapse, creating an irregular fit in the hip socket. As you can guess, this is a painful process for the dog. It's similar to hip dysplasia for larger breeds. The specific cause of Legg-Calve-Perthes is not known but it's thought to have a genetic mode of inheritance.
Neonatal Encephalopathy with Seizures (NEwS). Neonatal Encephalopathy with Seizures is a fatal brain disease in newborn Standard Poodles. Affected puppies are weak, uncoordinated, and mentally dull from the time they are born. If they survive more than a few days they may have stunted growth. Walking is difficult for them. Seizures usually develop by 4-5 weeks. Most of these puppies die or they are euthanized by the time they reach weaning age. The gene that causes this mutation has been identified and there is now a DNA test available to help breeders identify dogs that are carriers of the abnormal gene. By not breeding carriers together, NEwS puppies will not be produced.
Patellar Luxation. Patellar Luxation or luxating patella involves the dislocation or slipping of the patella (kneecap). It most commonly occurs in toy and miniature dogs (though it can occur in larger dogs). The patella is the small bone that protects the front of the stifle joint in the hind leg. It is held in place by ligaments. As the knee joint moves, the patella slides in a groove in the femur (thigh bone). The kneecap can become dislocated and move toward the inside (medial) or outside (lateral) part of the leg. This can happen due to injury or because of congenital deformities (present from birth). Patellar luxation can affect one or both legs.
The most common occurrence of luxating patella is the medial form in toy and miniature dogs. A dog can be predisposed to a luxating patella if he has a shallow femoral groove, weak ligaments, and a poor alignment of tendons and muscles that hold the joint. You can usually tell that your dog has a luxating patella because he will have a hop to his gait. His affected rear leg may seem to lock up momentarily and then release. Your dog may occasionally limp or carry the affected leg. He may have difficulty straightening the knee joint or show signs or pain in his stifle. There are several different grades of patellar luxation, depending on the severity of the problem. Your vet can determine how severe the problem is.
Progressive retainal atrophy (PRA). PRA includes a group of diseases that affect the retina at the back of the eye. In these diseases, the retinal cells become increasingly abnormal over time. The usual outcome in most cases is blindness. PRA occurs in over 100 dog breeds including the Toy and Miniature Poodle.
PRA is an inherited condition. In the Toy and Miniature Poodle one type of PRA is predominant though at least one other type of PRA is found less frequently. The predominant form of PRA is the progressive rod-cone degeneration (prcd) form. In this form, rod cells in the retina slowly lose their function. The dog has diminished vision in dim light and a diminished field of vision. Later, retinal cone cells lose their function, too, leading to diminished vision in daylight and eventually total blindness. The age of onset and the rate of disease progression can vary among different breeds and even within the same breed and same litter. However, for most Toy and Miniature Poodles, prcd-PRA is usually diagnosed when the dog is around 3 years old through an eye exam by a veterinary ophthalmologist. Some dogs can retain some useful vision throughout their lives while others may go blind by the middle of life. There is not treatment or cure for PRA.
There is now a DNA test available to detect the genetic mutation that causes prcd-PRA in dogs. It is a simple recessive so affected dogs have to have two copies of the abnormal gene. The DNA test can identify Toy and Miniature Poodles as clear, carrier (one copy of the abnormal gene and one normal gene) or affected. The test is very important for breeders.
The Poodle Club of America cautions that not all retinal disease is PRA and not all PRA is the form that can currently be detected by the DNA test that's available. It's essential that dogs have an accurate diagnosis. A Poodle can test as prcd-PRA normal, for example, and still be affected by a different form of PRA. The club recommends yearly eye exams for breeding dogs by a veterinary ophthalmologist, even after prcd-PRA testing.
Optic Nerve Hypoplasia. Optic Nerve Hypoplasia is a congenital failure in the development of the optic nerve. This leads to blindness and abnormal pupil response in the affected eye.
Other eye disorders that can occur in Poodles include entropion, corneal dystrophy, cataracts, and juvenile cataracts.
Sebaceous Adenitis. Sebaceous Adenitis (SA) is a common disorder in Standard Poodles. It involves the inflammation of the sebaceous glands that normally lubricate the skin and hair follicles. The mode of inheritance is not completely understood but it's believed to be inherited. Sebaceous Adenitis has been identified in more than 30 breeds and in mixed breeds. While SA is associated with Standard Poodles, it has also been reported in Toy and Miniature Poodles.
Symptoms of SA include scaling, flaking, and thickening of the skin; hair loss – often giving the coat a "moth-eaten" appearance. Sometimes the dog has an odor and sores caused by secondary infections. The disease can be difficult to diagnose since it's often mistaken for hypothyroidism, allergies, or other conditions that affect the skin.
There is no cure for SA but oil baths and other treatments can help the symptoms. The only diagnostic test for Sebaceous Adenitis at the present time is a skin biopsy evaluated by a dermatopathologist. Standard Poodles used for breeding should have a yearly skin biopsy.
Sebeceous Adenitis poses special problems for breeders since the age of onset can vary. Some affected dogs can be subclinical with no outward symptoms of the disease. OFA maintains a registry for SA-tested Poodles. It also lists approved dermatopathologists and labs for SA analysis.
Von Willebrand's Disease (vWD). Von Willebrand's Disease (vWD) is an inherited bleeding disorder. The disorder affects different breeds and there are different kinds of vWD. In all cases, the common denominator in vWD is a reduction in the amount or function of von Willebrand factor (vWF), which is manifested through abnormal platelet function and prolonged bleeding time.
Different breeds show different variations of the disease. Some individual dogs even appear to "acquire" vWD. Today there is a DNA test to determine whether a Poodle carries an abnormal gene for the form of vWD found in Poodles. You can read more about vWD here.
Most of these issues are not affected by diet but hypothyroidism can be a contributing factor to food allergies and skin infections. It is easily diagnosed and treated but if your dog is not diagnosed he could display symptoms associated with allergies and skin infections. Common food allergens for dogs include: beef, dairy products, chicken, lamb, fish, chicken eggs, corn, wheat, and soy. Symptoms of food allergies include itching and scratching which leads to redness, hair loss, damaged skin, and skin infections. Dogs can also have food sensitivities which result in diarrhea, vomiting, flatulence, and a generally upset stomach. Sometimes diagnosing and treating your dog's hypothyroidism will get rid of most or all of these digestive problems – but sometimes it won't get rid of an allergy or food sensitivity after it is already established. If you suspect that your dog has a food allergy or sensitivity, it's best if you work with your veterinarian to address it.
Hip dysplasia and arthritis can often be worsened by weight gain. If your dog is overweight or obese, it puts extra pressure on your dog's bones and joints. Watching your dog's weight, keeping him slim and fit, and making sure that he always gets appropriate exercise throughout his life can help your dog avoid these health problems. Your dog's environment, including his diet, play a big role in determining whether or not he will have hip dysplasia or other bone and joint problems.
Bloat is also greatly influenced by how and what you feed your dog. Multiple small meals are recommended rather than one or two large meals.
If you are thinking of getting a Poodle you should talk to breeders about these health issues. Some issues are more common than others – some health problems are very rare. There are health and genetic tests available for many conditions. Good breeders take advantage of these tests for dogs that they plan to breed so ask about the results.
Information for Poodle lifespan depends on where you obtain the information. According to most sources, Standard Poodles live about 12 years (median), which is slightly higher than most dogs of their size. Toy Poodles live about 14 years and 8 months (median), which is longer than most small breeds. Miniature Poodles live about 13 years and 11 months (median), which is longer than most dogs of similar size. The leading cause of death for Standard Poodles is cancer. The leading cause of death for Toy and Miniature Poodles is described as old age.
Ingredients to Look for and Some to Avoid
As with most dogs, when choosing a food for your Poodle you should look for a food that has good sources of protein and fat.
Ideally you will select a dog food that features two or three meat proteins in the first several ingredients listed. Both whole meats and meat meals are good sources of protein. Whole meats refer to foods such as whole chicken, beef, fish, and lamb. Some people don't like meat meals as much as whole meats but they are a concentrated form of the meat in which the moisture has been removed. They contain several times as much protein as a whole meat. Meat meals are usually quite acceptable as one of the first ingredients in a good quality dog food. They are used by many good dog food brands.
Many dog foods today, even some of the most expensive and highly touted, use lots of plant proteins such as lentils and peas. These foods often have high protein percentages on the label. When you read the guaranteed analysis it's important to consider how much of the protein in the food comes from meat and how much comes from plants. Your dog is able to digest meat protein more easily than plant protein. Meat protein is a much more natural source of protein for your dog than plant protein.
Dogs also need good sources of fat. You should look for named fat sources such as chicken fat. Other named fats also provide needed nutrients such as fish oil which can provide omega-3 fatty acid to help keep the skin and coat healthy. Puppies can benefit from DHA which is Docosahexaenoic acid. This is a specific form of omega-3 fatty acid that helps with brain and eye development. Older dogs seem to benefit from medium chain triglycerides which feature medium chain fatty acids (MCFAs). These have been found to help older dogs feel and act younger. They are often made from a combination of coconut oil and other oils.
If you want to avoid corn, soy, and wheat in your dog food, your Poodle may still be able to eat an alternative grain such as barley or oats. Or you can feed a grain free dog food that uses an alternate source of carbs that is low glycemic such as sweet potatoes. You don't have to feed a dog food with an excessively high percentage of protein but it's a good idea to keep the carb percentage low to moderate.
If your Poodle has a food allergy or food sensitivity, you may need to work with your veterinarian to identify the food triggers unless they are very obvious. There are lots of good foods with alternative meat proteins today as well as limited ingredient diets which we will discuss below.
Recommended Dog Food For Poodles
Every dog is an individual. Even dogs in the same breed can have different food needs. Some dogs need more calories than others. Some dogs will do better with more protein or fat than other dogs. We are providing several suggested foods for your Poodle which meet our standards but you may have to use a trial and error method to see which food your dog does best on.
When you are trying a new food, be sure to allow several days to slowly transition to the food, mixing in a little of your dog's old food each day. Of course, if your dog shows signs that he doesn't like the food or doesn't tolerate it, you will have to make adjustments. This is particularly important for Poodles since they can have a sensitive digestive system. If your dog eats the food but you don't like his condition after a few weeks, you can change him back – slowly – to his previous food. It's best not to go directly to another new food. You can upset your dog's gastrointestinal system if you keep changing to too many new foods in a short period of time. Once your dog has settled back with his old food, you can once again try a new food. You should allow at least a couple of weeks between foods before trying another new food so you can give your dog's system a chance to rest and recover. This also gives the new food a fair chance.
If you try a new food and your dog doesn't seem enthusiastic about it, you might also try another food from the same product line that uses a different kind of meat protein or other ingredients. As long as the guaranteed analysis and nutrient percentages are similar, the food should be similar to the original food you selected.
When you are feeding a new food and your dog is eating it without problems, it's important for you to assess his physical condition. Is he gaining or losing weight on the new food? Does his coat look healthy? Are his eyes bright? Does he seem to have good energy or is he more lethargic than usual? And, the big question for any dog lover – what does his poop look like? As most dog lovers know, you can tell a lot about a dog's health by checking his poop. Does it look normal and firm? If he having regular bowel movements. Those are good signs. If your dog is having runny poop or diarrhea; or if he is having trouble with his bowel movements, it could be because of the new food. These are all things you should note during the first few weeks of feeding a new food. Even if your dog LOVES the food, if he's not thriving, you may have to rethink his diet or how much you are feeding him.
All of the foods listed are free of corn, wheat, and soy unless otherwise noted. Obviously, since we are dealing with three Poodle sizes, we have made suggestions for smaller and larger dogs, where appropriate.
Best Dog Foods for Poodle Adults
Food
Price
Nutrition
Rating

Canidae All Life Stages Chicken, Turkey, Lamb & Fish Meals Formula
Read Reviews Where To Buy

$1.90/lb

Merrick Grain Free Real Chicken & Sweet Potato Dry Dog Food
Read Reviews Where To Buy

$2.283/lb

*New Formula* ACANA Grasslands Regional Formula Grain Free Dry Dog Food

$3.08/lb

Fromm Adult Gold Dog Food
$1.41/lb

$1.81/lb

Wellness CORE Grain Free Small Breed Formula
Read Reviews Where To Buy

$2.92/lb
Merrick Lil' Plates Grain Free Real Chicken and Sweet Potato Recipe
Read Reviews Where To Buy
$3.07/lb

$2.99/lb
This Canidae formula is an all life stages food so you can feed it to dogs of all ages. The first five ingredients are: Chicken meal, turkey meal, lamb meal, brown rice, and white rice. The food does contain grains (rice, oatmeal, barley) but your Poodle should be able to eat these grains unless he has a particular food allergy or sensitivity to one of them. The food contains no corn, wheat, or soy. The food is naturally preserved and it contains pre- and probiotics for healthy digestion, along with antioxidants and omega 6 and omega 3 fatty acids for good skin and coat. The guaranteed analysis shows 24 percent crude protein; 14.5 percent crude fat; and 4 percent crude fiber. It has 468 kcal/cup. We think this is a good food for dogs that do well on moderate protein and fat. Canidae has had a good reputation for many years.
If you would like a higher protein percentage for your Standard Poodle, many dog owners like Merrick Grain Free foods. The first five ingredients in this food are Deboned Chicken, Chicken Meal, Turkey Meal, Sweet Potatoes, and Potatoes. This recipe is an all life stage food with 460 kcal per cup ME (metabolizable energy) on an as fed basis (calculated). It has 70 percent meat ingredients, 30 percent vegetables, vitamins, and minerals. It is grain free – no corn, wheat, or soy. No gluten. No ingredients from China. It has 38 percent crude protein and 17 percent crude fat, with 3.5 percent crude fiber. It also has glucosamine and chondroitin added, as well as omega-3 and omega-6 fatty acids. Merrick uses local growers from Texas, where the food is made. We think this food has good quality protein and other ingredients for a very active Poodle. Not everyone will like a protein percentage this high but if you do, give this food a try.
If your Poodle is very active (doing agility or other sports, for example), we can also recommend Acana foods. Champion Pet Foods has completed their new kitchen in Kentucky and they have reformulated some of their dog and cat foods to reflect what is now "regional" to the Kentucky area. So, it's still the same award-winning company, but Acana is being made in Kentucky. We've had a chance to review the Acana dog and cat foods and there are some changes in the meat proteins but the foods still look good. If you visit the Acana web site you can view the old and new formulas to see the changes (we really like being able to compare the formulas). The current (old) Grasslands formula, for example, is heavy on lamb, duck, whitefish, and lentils. The new formula will feature goat meal and catfish meal, in addition to the lamb and duck. The old formula has 31 percent crude protein, 17 percent crude fat, 5 percent crude fiber, and 10 percent moisture. The new formula has 33 percent crude protein, 17 percent crude fat, 6 percent crude fiber, and 12 percent moisture. The food has 60 percent animal protein ingredients and 40 percent vegetables, fruits, and botanicals. No grains, potatoes, or tapioca. If you're looking for a good grain free dog food for your Standard Poodle that is low in carbohydrates, we think that the Acana foods are a good choice. Acana foods typically have slightly less meat protein than Orijen (made by the same company), but we think they're a good choice for many dogs. Most people still seem to like the Acana foods now that they are being made in Kentucky but if you have questions about them, we recommend talking to people who feed these foods to their dogs for their opinions.
If you would like a food with a little less protein, we also like Fromm Adult Gold. This formula has duck, chicken meal, and chicken as the first three ingredients. It has 24 percent crude protein, 16 percent crude fat, and 3.5 percent crude fiber, with 408 kcal/cup. It is AAFCO-approved for growth and maintenance. The food includes salmon oil – a great source of omega-3 fatty acid for healthy skin and coat; probiotics, and prebiotics. No corn, wheat, or soy. The food is also made at the family's own facilities in Wisconsin. The Fromm family has been making dog food and dog products for over 100 years and they have a great reputation. The food includes brown rice and pearled barley in the first five ingredients. It does contain oatmeal and potatoes so if you are trying to keep the carbs very low you may not like this food. However, we think the ingredients are good quality and many dogs will do well on this food. You can see the technical analysis for the food, with the dry matter basis figures on the site.
If you have a Toy or Miniature Poodle you may need a food specifically made for a small breed. Small dogs use up more energy for ordinary activities than larger dogs and this is true with Toy and Miniature Poodles compared to Standard Poodles. For this reason, dog foods made for small breeds typically have more calories per ounce than other dog foods. Small dogs also have small stomachs so they can't eat a lot of food at one time but with the food packed with more calories and nutrition, they can have plenty of the nutrients they need. Here are a couple of foods we particularly like for smaller breeds.
Fromm Small Breed Adult Gold makes a good food for small dogs like Toy and Miniature Poodles. It has kibble pieces that are small in size so small dogs can eat them easily. The first five ingredients in this food are duck, chicken meal, chicken, oatmeal, and pearled barley. Even dogs that have problems with cereals/grains like corn and wheat can often safely eat oatmeal and barley. These ingredients provide good sources of dietary fiber for your dog's digestion, too. The food is also enhanced with probiotics to aid digestion and salmon oil to keep the skin healthy. The food has 26 percent protein, 17 percent fat, and 3.5 percent fiber according to the guaranteed analysis. (Technical analysis here.) This is a food for growth and maintenance with 416 calories per cup. The dogs we know that eat Fromm foods really like them. Fromm also makes lots of other formulas (dry and canned) if your Poodle doesn't like this formula.
If you prefer a food with no grains or cereals for your Toy or Miniature Poodle, then Wellness CORE Grain Free Small Breed Formula always gets good reviews. Small breeds have higher energy needs than other dogs and Wellness CORE Grain Free Small Breed formula is high in protein and calories to meet those needs. The first three ingredients are deboned turkey, turkey meal, and chicken meal. The food features a smaller kibble size to make eating easier; omega fatty acids from salmon oil for good skin and coat; glucosamine and chondroitin for joint health; probiotics, botanicals, and antioxidants. It is naturally gluten-free. And it has no grain, corn, soy, wheat-gluten, or artificial preservatives, colors or flavors. This grain free food also has a minimum of 36 percent crude protein for people who like a higher protein content; and 16 percent crude protein. It has 396 kcal/cup. There's a lot to like here if you're looking for a good grain free dog food for your Poodle. This food does contain potatoes which some people will find objectionable.
The first five ingredients in this food are Deboned Chicken, Chicken Meal, Turkey Meal, Sweet Potatoes, Potatoes. This recipe is an all life stage food except for growth of large breed dogs with 430 kcal per cup ME (metabolizable energy) on an as fed basis (calculated). It has 70 percent meat ingredients, 30 percent vegetables, vitamins, and minerals. It is grain free – no corn, soy, or wheat. No gluten. No ingredients from China . It has 38 percent crude protein and 17 percent crude fat, with 3.5 percent crude fiber. It also has glucosamine and chondroitin added, as well as omega-3 and omega-6 fatty acids. It's very similar to Merrick's regular Grain Free Real Chicken and Sweet Potato Recipe but it's formulated for small dogs. Merrick uses local growers from Texas, where the food is made. We think this food has quality protein and other ingredients for Poodles. Not everyone will like a protein percentage this high but if you do, give this food a try. Merrick's Lil' Plates kibble also comes in salmon, lamb, and beef formulas, as well as bowls/wet recipes.
Health Extension Pet Care makes their own foods, including Health Extension Little Bites for toy and small dogs. The company has never had a recall. All of their dog foods contain Fish Oil, Primrose Oil, Glucosamine, Chondroitin, Colostrum, Blue Green Algae, Prebiotics, and Probioitcs. Organic chicken is now the number one ingredient in their dog foods. They never use by-products, gluten, wheat, corn, soy, or any artificial flavors, colors, or preservatives. No BHA, BHT, or ethoxyquin. No added sugars. Per the company web site, every Health Extension diet is formulated to meet the nutritional levels of the AAFCO Dog Food Nutritional standards for all stages of a dog's life. The first five ingredients in Little Bites are: Organic Deboned Chicken, Chicken Meal, Ground Brown Rice, Chicken Fat (preserved with Mixed Tocopherols and Ascorbic Acid), and Lamb Meal. The food has dry matter basis figures of 26.7 percent protein; 20 percent fat; 4.4 percent fiber; and 40 percent carbohydrates, with 418 Kcal/cup; and 3678 Kcal/kg. All of Health Extension's meats come from the United States with the exception of lamb which is raised in New Zealand. Little Bites has smaller kibble pieces which make it easier for small dogs to eat. According to the company, their deboned chicken is the same chicken that people eat. You can see our review of this food here. We think this would be a good food for many Toy and Miniature Poodles. The company also makes several good grain free foods if your dog would prefer them.
Best Dog Foods for Poodle Puppies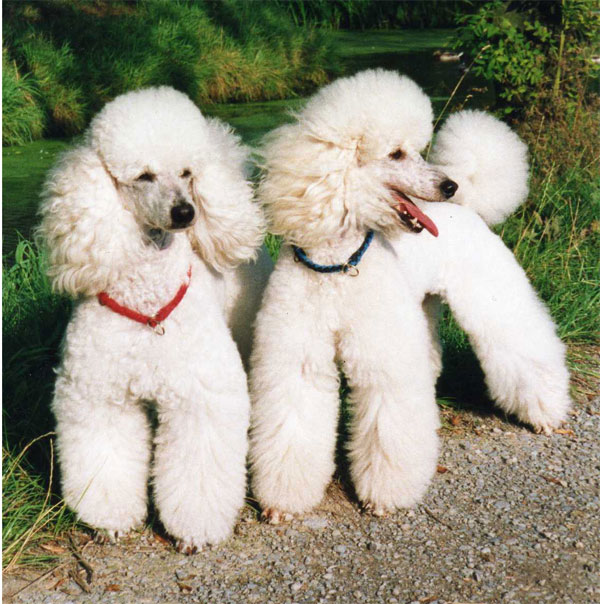 Poodle puppies can usually begin eating a puppy food after they are weaned or they can eat a good all life stage food. If you have questions about how to feed your puppy, we recommend talking to your puppy's breeder. They usually have the most experience with raising their puppies and can guide you, especially when it comes to avoiding hip dysplasia and other joint problems.
Puppy foods should have a calcium to phosphorus ratio of about 1.2 parts calcium to 1 part phosphorus, though there is some slight room for variation such as 1.5:1.2. It's also important that dog and puppy foods do not have an excess (or deficiency) of calcium since this can affect bone growth. If you are feeding your puppy a food that is properly formulated, you should not add any extra calcium, such as milk, cottage cheese, or other calcium supplements. Doing so can lead to serious health problems such as OCD (osteochondritis dissecans) – an inflammatory condition with diseased cartilage that may require surgery – and other orthopedic problems.
Here are some of the puppy foods we like for Poodle puppies. Note that an All Life Stage food can also be fed, as long as the nutrients are appropriate for your puppy.
Canidae Grain Free Pure Foundations Puppy Formula is a limited ingredient food with nine ingredients plus vitamins and minerals and probiotics. It's grain free with probiotics to help digestion; antioxidants for a healthy immune system; and omega 3 and 6 to support healthy skin and a beautiful coat. The first five ingredients are Chicken, menhaden fish meal, lentils, peas, potatoes. The recipe is supposed to be especially good for puppies with sensitive digestion. The food has 30 percent crude protein, 12 percent crude fat, 4 percent crude fiber, and 10 percent moisture. This food checks in at 520 kcal/cup, so it's high in calories but active, growing puppies can usually burn them off. Just remember that you don't need to feed a lot of food with these very nutrient-dense foods. If your puppy does well on this puppy food, Canidae has some good adult foods – both grain free and foods with grains.
This grain free, high protein food can be a good choice for some puppies. No grain, corn, soy, wheat-gluten or artificial preservatives, colors or flavors. No meat by-products or fillers. It has DHA for brain and eye development, antioxidants, and probiotics. And it has the proper calcium level for puppies. The first three ingredients are Deboned Chicken, Chicken Meal, and Turkey Meal. It has 417 kcal/cup.
If you have a Toy or Miniature Poodle, you may prefer to feed a puppy food made especially for a small breed. Here is a food we like for small breed puppies.
We like Wellness Small Breed Complete Health Puppy Turkey, Oatmeal & Salmon recipe for small, growing puppies like Toy and Miniature Poodles. The first five ingredients feature Deboned Turkey, Chicken Meal, Oatmeal, Salmon Meal, and Ground Barley which are easy to digest. The formula contains DHA for healthy brain development, antioxidants, microbes to support digestion, and a mix of omega-3 and omega-6 fatty acids for healthy skin and coat. The food has 28 percent crude protein, 19 percent crude fat, 4.25 percent crude fiber, with 489 kcal per cup, meaning the food has a lot of energy per ounce for your little Poodle puppy. Toy and Miniature Poodle puppies burn a lot of energy growing and play. With a smaller digestive tract and stomach, these puppies may not be able to consume a lot of food at each meal but you can be sure they will get enough nutrition with this kind of food. Wellness also makes a number of adult formulas for small breeds.
Best Dog Foods for the Senior Poodle
It's not unusual for many Poodles to live into their teen years. This means that you will probably need to consider what kind of food to feed your dog as he gets older. As your dog ages it's a good idea to plan an annual senior check-up with your vet. Many older dogs begin to put on pounds as they become less active. For this reason, most senior dog foods have fewer calories and they can skimp on protein. You should watch your older dog's weight as he gets older to make sure he doesn't become overweight. In some cases you can simply cut back on the portions of his regular dog food to help him stay fit or increase his exercise.
On the other hand, some very old dogs often start to have some problems metabolizing nutrients, including protein. It can become hard for them to keep good muscle tone and weight as they age. For this reason, you may wish to avoid many dog foods labeled "senior." These foods are often formulated for older dogs that have gained weight. Instead, look for a senior dog food that we like which has lots of protein. As long as your older dog doesn't have any problems with his kidneys or with phosphorus, there is no reason to avoid higher protein levels.
Orijen Senior is one of the few foods for older dogs that doesn't skimp on protein. If you have an older Poodle that is starting to have problems metabolizing nutrients, including protein, this could be a good food for your dog since it features plenty of top quality meat protein that should be easier for your dog to digest. This food features fresh chicken meat (13%), fresh whole eggs (7%), fresh turkey meat (7%), fresh whole herring (7%), and fresh chicken liver (6%) as the first five ingredients. It helps keep older dogs in good muscle even as they become less active. Made of 85 percent poultry, fish and eggs, the food is low-glycemic and has low carbs (only 19 percent) to help keep your older dog's blood sugar steady. The food also contains natural sources of glucosamine and chondroitin to keep your dog's joints healthy. The food is 38 percent crude protein and 15 percent crude fat. As long as your older dog has no kidney problems, there is no reason to avoid higher protein percentages. It has 8 percent crude fiber and 8 percent crude ash. It checks in at 435 kcal per 8 ounce cup. We think this is a very good food for senior dogs who often need extra protein as they get older. Orijen Senior is now made in Kentucky. There have been some changes in the ingredients but we do not see any loss of quality in this food. (We know Orijen is expensive but this food really stands out for senior dogs.) This food is AAFCO-approved for maintenance.
If you have a senior dog that does need to watch his waistline, you might consider Weruva's Caloric Harmony Venison and Salmon Meal Dinner with Pumpkin. This food (and several others in this product line) is potato-free with no corn or wheat, easy to digest, and low-glycemic. It contains pumpkin and oatmeal for healthy gut motility. The first five ingredients are: Venison, Venison Meal, Salmon Meal, Herring Meal, and Oatmeal. Meat protein comes from grass-fed venison. The dry matter basis for this food is an estimated 37.8 percent protein;14.4 percent fat; 3.9 percent fiber; and 35 percent carbs. The calorie count (calculated) is Metabolizable Energy (ME) 3320 kcal/kg; 348 kcal/cup. Those look like good figures for senior dogs that need more protein without extra fat. This food is not specifically made for older dogs but we think Weruva's Caloric Harmony foods have some ingredients and percentages that make them a good choice for senior dogs that need to watch their weight.
Best Dog Foods for Poodles with Skin Problems/Allergies
If your Poodle is having skin problems or problems with food allergies, you will probably want to avoid foods that contain known food allergens such as beef, dairy products, chicken, lamb, fish, chicken eggs, corn, wheat, and soy. If your dog is having food allergies – which usually manifest as itching, redness, chewing, and hair loss – you will need to identify the trigger for his allergy. You can try to guess the trigger or work with your veterinarian on a food trial and elimination diet for your dog. You may need to find a novel protein for your dog – a protein that he has not eaten previously. Natural Balance has a selection of limited ingredient diets that can be helpful for dogs with food allergies. You might try giving your dog the rabbit formula, kangaroo formula, venison formula, or bison formula. He should be able to eat a meat protein that he has not eaten previously without having an allergic reaction.
This limited ingredient diet food has limited sources of protein and carbs. It's also grain free and complete and balanced for puppies, adults, and senior dogs. The food should be easy for your Poodle to digest and it contains no artificial flavors, colors, or preservatives.
Wild Calling! Xotic Essentials Rabbit Meal Recipe
Any dog suffering from skin problems or food allergies may benefit from Wild Calling's Xotic Essentials recipes. Formulas like their rabbit meal recipe use exotic meats that are rare in today's pet food market so your dog hasn't eaten them before – less chance of having an allergic reaction. The foods are also highly digestible. Wild Calling also uses what they call LITe (limited ingredient technology). They don't use any of the ingredients commonly found in most dog foods such as chicken, grain, gluten, egg, yeast, corn, wheat or soy. If your dog has a food allergy, he may benefit from Wild Calling. The foods are formulated for rotational feeding and they offer several Xotic Essentials recipes, such as kangaroo and bison, so your dog doesn't get over-exposed to one kind of meat protein. This is an All Life Stage food. We think that dogs with skin problems and food allergies can definitely benefit from these recipes.
Another food that is often recommended for dogs with food allergies and skin problems is Zignature. It comes in proteins such as trout & salmon, kangaroo, turkey, duck, venison, and others. It's available in dry and canned versions. Foods are potato- and grain-free, and chicken-free. They do not use common bonding agents (thickeners and ingredients to hold the food together) in their foods which are high in simple carbs and starches. They only use low glycemic carbs such as chickpeas that add extra protein and fiber to the food. They work with Tuffy's in Minnesota and Performance Pet in South Dakota to make their foods. Many people like Zignature very much. If you have a dog with food allergies, this is a brand that you might consider. This duck formula is a good example with hypo-allergenic meat first, no corn, wheat, soy, dairy or chicken, chicken eggs or chicken by-products.
Best Dog Foods for Poodles with Sensitive Stomachs
If your dog has a sensitive stomach it can be an indication of a food sensitivity, which is different from a food allergy. A dog with a food sensitivity will have gastrointestinal issues such as vomiting, diarrhea, or frequent flatulence.
A dog with a sensitive stomach can often be helped by feeding the right dog food. Sticking to a limited ingredient diet food with as few ingredients as possible can reduce the chance of your dog having a bad reaction to something in the food.
Many people recommend Wellness Simple for dogs with food sensitivities. The formulas feature only five main ingredients to keep things very simple for your Poodle. Wellness makes formulas that are both grain free and some that have grains such as oatmeal. The food is easy to digest and contains probiotics and prebiotics to help the gastrointestinal system. It also contains omega fatty acids for good skin and coat. Formulas feature duck, salmon, turkey, and lamb. Wellness Simple comes in dry and canned formulas.
We also recommend Natural Balance L.I.D. Limited Ingredient Diets Sweet Potato & Fish Formula Dry Dog Food. This food is grain free with limited ingredients. It has good quality, alternative ingredients that are easily digestible for a dog with a sensitive stomach. And it contains no artificial flavors, colors, or preservatives. The first five ingredients are: Sweet Potatoes, Salmon, Fish Meal, Potato Protein, Canola Oil (preserved with mixed tocopherols). It has 21 percent crude protein, 10 percent crude fat, 5 percent crude fiber, and 10 percent moisture. It has 350 kcal/cup and it's a maintenance formula. If your dog can't eat some of the ingredients in this food, Natural Balance has lots of other LID recipes that you might check.
If your dog can't eat these ingredients, you might try one of the Weruva foods or Acana Singles. Weruva also has lots of foods with pumpkin which can sometimes help a dog with stomach issues.
Best Dog Foods for Overweight Poodles
If your dog becomes overweight, it may be due to overfeeding and not enough exercise. You can help your dog lose weight by cutting back on his portions and encouraging him to get more exercise.
If your dog needs to lose more than one or two pounds, however, you may need to consider a weight control dog food.
We do not recommend a weight control dog food for a puppy or a very old dog. These foods generally have fewer calories and may have some other differences in nutrients that make them inappropriate for growing puppies or older dogs who need special nutrition.
If you have a Poodle who needs to lose weight, we recommend Fromm Gold Weight Management. It can be hard to find a good weight control dog food but Fromm is a quality brand with good ingredients. This food has 25 percent crude protein and 10 percent crude fat so it's not that much different from some of the adult foods we've recommended. It has 341 Kcal/cup. Fed in moderation, it should help most overweight Poodles lose weight or maintain a healthy weight. The first five ingredients are: Turkey Liver, Chicken Meal, Pearled Barley, Oatmeal, and Dried Tomato Pomace. Fromm also has a grain free weight control formula called Fromm Gold Coast Grain Free Weight Management Dog Food with the same crude protein and fat percentages if you prefer a grain free weight control food for your dog.
If your dog needs to lose weight, you should proceed slowly. No crash dieting. You should aim for your dog to lose no more than 3 to 5 percent of his body weight per month or about one percent each week.
Conclusion
Poodles are wonderful dogs. For many people they make ideal pets. They are extremely intelligent, easy to train, fun-loving, active, affectionate, dignified (at times), and always ready to be the center of attention. They even come in different sizes. Standard Poodles make good family dogs while Toy and Miniature Poodles can be good dogs if you have older children or teens. The Poodle has beguiled people for hundreds of years, capable of doing anything needed. So, forget about the fancy haircut and get to know this clever breed.