Best Dog Food for Goldendoodles
Skip To Detailed Recommendations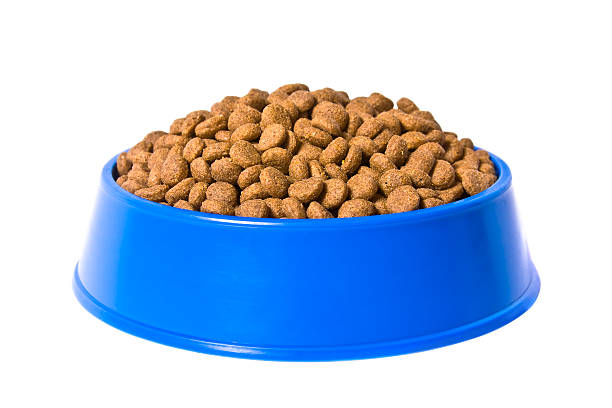 From pocket-sized to long-legged, the Goldendoodle is among the most adorable and beloved designer dogs. The hybrid between a Golden Retriever and Poodle is a fun-loving, energetic breed, ranging in size from toy to miniature to standard. Aside from a loving family and a yard to run and play in, a Goldendoodle needs a nutritious, protein-packed dog food. To make your selection a bit easier, we will review our top dog food suggestions for Goldendoodle puppies, adults, and seniors. 
Disclosure: Please note that this post contains affiliate links, which will direct you to our partner sites. If you purchase the pet foods we recommend through those links, we may earn a small commission – at no extra cost to you.
Top 3 Best Dog Foods for Goldendoodles
Most Popular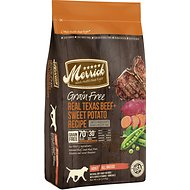 Merrick
Protein: 38%
Fat: 17%
Fiber: 3.5%
Calories: 460 kcal/cup
Protein: 33%
Fat: 17%
Fiber: 6%
Calories: 388 kcal/cup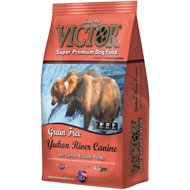 Victor Yukon
Protein: 32%
Fat: 15%
Fiber: 3.8%
Calories: 398 kcal/cup

---
30% Off + Free Shipping
on dog food for Goldendoodles
Goldendoodle Diet & Nutrition
Like their parent breeds, Goldendoodles are usually active and easy to train. They need moderate daily exercise, but it shouldn't be a chore since they love to run and play outside.
According to the National Research Council of the National Academies, an active adult Goldendoodle weighing 45 pounds requires an average daily caloric intake of 1212 kcal. Factors like age, size, activity level, and metabolism, as well as whether or not the dog has been spayed/neutered, will influence how many daily calories the dog needs.
What to Feed a Goldendoodle

When choosing a food for your Goldendoodle, you should look for a formula that has quality sources of protein and fat. Ideally, the dog food will feature several of the following benefits:
Meat Protein – Whole meat, such as chicken, beef, fish, and lamb should be included in the first several ingredients listed. Protein can also come from meat meals, a concentrated form of meat in which the moisture has been removed.
Plant Protein – Meat protein is easier for dogs to digest, but many top dog food brands include peas and lentils to increase the protein and nutrient percentage. When selecting a dog food with high amounts of protein, review the guaranteed analysis to see how much protein is coming from plants versus meat. (Preferably, there will be more meat protein.)  
Fat – Chicken fat, canola oil, and flaxseed are all healthy sources of fats and include additional health benefits.
Omega-3s – This fatty acid helps keep a Goldendoodle's skin and coat healthy.
DHA – One of the three Omega-3s is DHA, which supports brain and eye development.
Carbs – To keep a Goldendoodle's blood sugar steady, the dog food should be low in carbs and may include an alternate, low-glycemic form of carbs, such as sweet potatoes.
Alternative Grains – If your dog has a sensitivity to grains, try a dog food with barley or oats.
Proper Calcium to Phosphorus Ratio – Puppy foods should have a calcium to phosphorus ratio of about 1.2 parts calcium to 1 part phosphorus. Having a deficiency or excess of calcium in your dog's diet can lead to serious orthopedic problems, like painful bone spurs.
To ensure your Goldendoodle is digesting food properly, you may need to avoid:
Common allergens like corn, soy, wheat, dairy products, beef, chicken, lamb, fish, chicken eggs
Artificial preservatives, colors, and flavors
Excessive amounts of any nutrient
---
Best Puppy Foods for Goldendoodles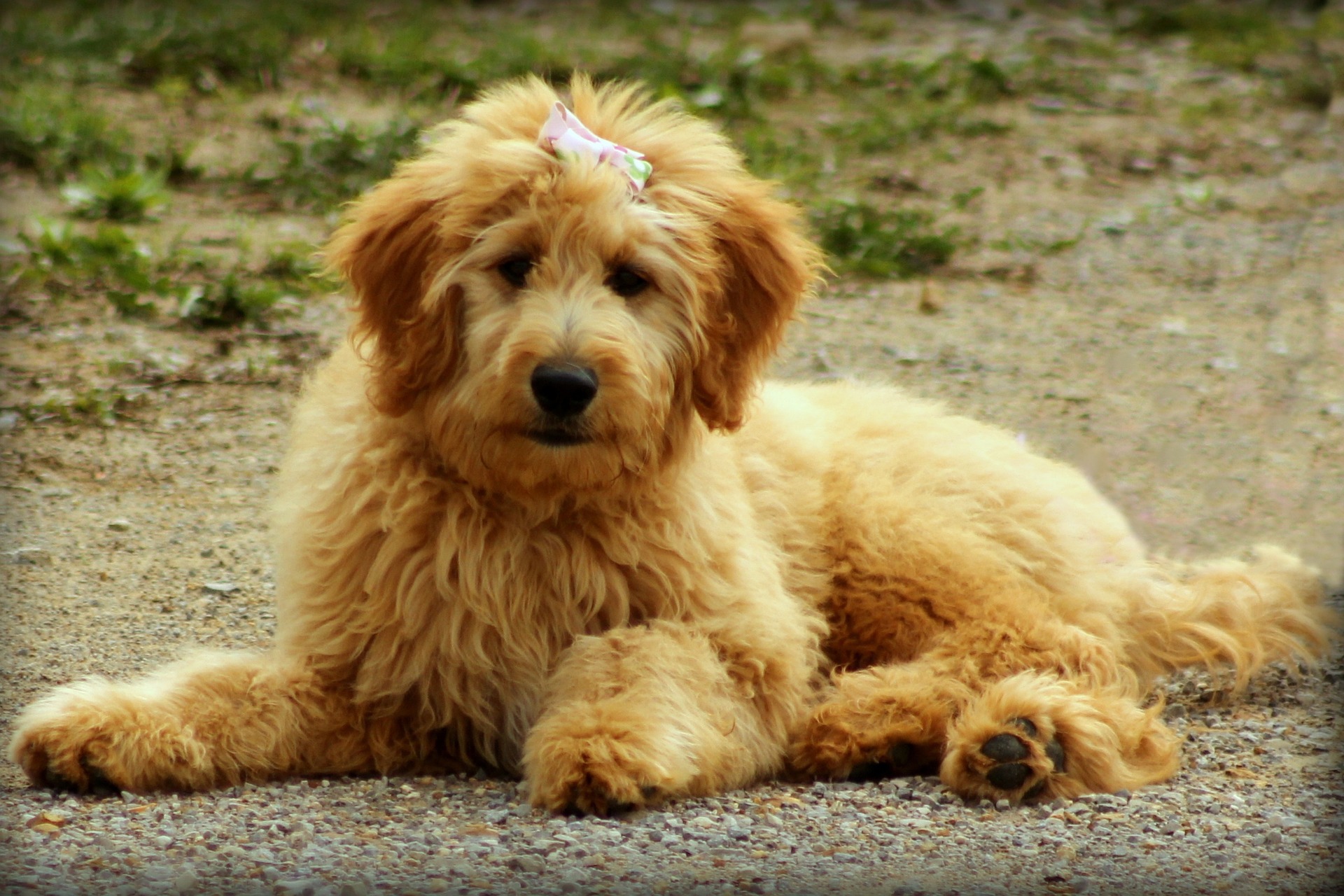 After Goldendoodles are weaned, they can start eating a puppy food, followed by an all life stage food after a few months. Goldendoodle puppies need three to four meals per day, split between approximately 990 calories. After six months, dogs can switch to two feedings per day.
If you have questions about how to feed your puppy, we recommend talking to your puppy's breeder. They usually have the most experience with concerns specific to Goldendoodles and can guide you, especially when it comes to avoiding common health issues like hip dysplasia.
Note that your puppy can also eat an all life stage food, as long as the nutrients are appropriate for your Goldendoodle's needs. To determine which puppy food is best for your Goldendoodle, check out the features and benefits outlined in these top-rated formulas.
Canidae Grain Free Pure Foundations Puppy Formula is a limited ingredient food with nine ingredients plus vitamins and minerals. It contains probiotics to help digestion, antioxidants for a healthy immune system, and omega-3 and omega-6 fatty acids to support healthy skin and a beautiful coat. While it's high in calories, active, growing Goldendoodles can usually burn them off.
If your puppy is satisfied with this formula, Canidae also has excellent adult food options.
Main Ingredients: Chicken, Menhaden Fish Meal, Lentils, Peas, Potatoes
Protein: 30%
Fat: 12%
Fiber: 4%
Calories: 520 kcal/cup

To keep your growing Goldendoodle healthy and energized, CORE focuses on serving formulas that contain natural ingredients and are loaded with quality protein. Created to support all your puppy's needs, CORE also supports brain and eye development, the immune system, bone growth, muscle growth, and digestive health.
Main Ingredients: Deboned Chicken, Chicken Meal, Turkey Meal, Potatoes, Peas, Potato Protein
Protein: 36%
Fat: 18%
Fiber: 5%
Calories: 417 kcal/cup
---
Best Dog Foods for Adult Goldendoodles
Full-grown Goldendoodles should eat an adult or all life stages formula and consume two meals daily. To avoid common allergens, most of the foods we've selected are free of corn, wheat, and soy. Keep in mind, you may have to try more than one formula to find which one is best for your pet. As he or she ages, the dog's diet may need to change to accommodate new dietary needs.

Merrick is power-packed with nutrients and is well-suited for Goldendoodles who live an active lifestyle. Made with local Texas ingredients, this formula is loaded with meat protein, vegetables, vitamins, and minerals. The easy-to-digest food is free of corn, soy, and gluten. Added benefits include glucosamine and chondroitin for joint health, as well as omega-3 and omega-6 fatty acids for healthy skin and coat.
If you're comfortable feeding your full-grown Goldendoodle tons of protein, Merrick Grain Free Dog Food is a top-notch selection.
Main Ingredients: Deboned Chicken, Chicken Meal, Turkey Meal, Sweet Potatoes, Potatoes
Protein: 38%
Fat: 17%
Fiber: 3.5%
Calories: 460 kcal/cup

Boasting America's best and freshest ingredients, ACANA is prepared in the Kentucky Dogstar Kitchens with entirely regional ingredients. Now featuring goat meal and catfish meal, the recipe has 70 percent animal protein ingredients and 30 percent vegetables, fruits, and botanicals. It's grain-free, low-carb, and "all about the meat."
Main Ingredients: Deboned Lamb, Deboned Duck, Whole Eggs, Lamb Meal, Goat Meal, Catfish Meal, Whole Green Peas
Protein: 33%
Fat: 17%
Fiber: 6%
Calories: 388 kcal/cup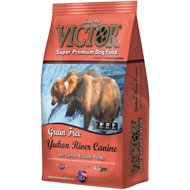 Victor Yukon is part of Mid America Pet food, a family-owned and operated company located in east Texas. Using regional ingredients, the salmon and sweet potato formula is protein-rich and free of irritants like corn, wheat, soy, gluten, and grain by-products. If your Goldendoodle doesn't like fish, there are sixteen other reasonably priced formulas available.
Main Ingredients: Salmon, Menhaden Fish Meal, Sweet Potato, Peas, Canola Oil, Dehydrated Alfalfa Meal
Protein: 32%
Fat: 15%
Fiber: 3.8%
Calories: 398 kcal/cup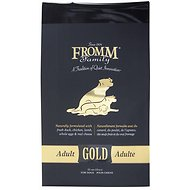 If you are looking for a food with a little less protein, we suggest Fromm Adult Gold.  It is AAFCO-approved for growth and maintenance and is suitable for moderately active dogs. Including salmon oil for healthy skin and coat and pre- and probiotics for easy digestion, you can rest assured that this recipe is a safe and nutritious option. In fact, Fromm recipes are prepared at the family's facilities in Wisconsin, and they've been running a reputable business for more than 100 years.
Main Ingredients: Duck, Chicken Meal, Chicken, Brown Rice, Pearled Barley, Oatmeal, Menhaden Fish Meal
Protein: 24%
Fat: 16%
Fiber: 3.5%
Calories: 408 kcal/cup
---
Best Dog Foods for Senior Goldendoodles
To properly care for an aging Goldendoodle, plan on adjusting your dog's diet, as well as visiting the vet for an annual senior check-up. Commonly, older dogs lose muscle strength, have a difficult time metabolizing nutrients, and gain weight as they become less active. So, your Goldendoodle will need a diet that consists of fewer calories and increased protein to help maintain a healthy weight and muscle tone.
As long as your older dog doesn't have kidney problems or issues with phosphorus, a higher protein diet can be safe and beneficial.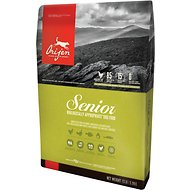 Orijen Senior provides excellent quality protein for your older dog. This food features free-run chicken and turkey, wild-caught fish, and nest-laid eggs. Made from 80 percent meats and fish, the food is low-glycemic and low-carb to help keep your dog's blood sugar steady. The food also contains natural sources of glucosamine and chondroitin to support joint health.
While Orijen is known for being pricey, its protein-packed, grade-A ingredients make it a worthy investment.
Main Ingredients: Deboned Chicken, Deboned Turkey, Yellowtail Flounder, Whole Eggs, Whole Atlantic Mackerel
Protein: 38%
Fat: 15%
Fiber: 8%
Calories: 445 kcal/cup

Bright Mind 7+ from Purina is highly acclaimed among consumers and is packed with nutrients to help improve your older Goldendoodle's quality of life. Containing DHA, EPA, B vitamins and arginine, the formula targets common cognitive issues senior dogs experience. Whether you normally like Purina foods or not, we have heard nothing but positive comments about this formula.
Main Ingredients: Turkey, Chicken Meal, Barley, Oatmeal, Brown Rice
Protein: 29%
Fat: 14%
Fiber: 5%
Calories: 423 kcal/cup
---
Additional Dietary and Health Considerations
While Goldendoodles are generally a healthy, active breed, there is always the possibility of running into common health issues like food allergies and sensitivities or obesity, which can lead to joint issues like hip dysplasia and arthritis. If you have questions about hypoallergenic dog food, overeating, or weight loss, it is best to reach out to a veterinarian to determine a proper treatment and diet.
Below is a list of Products reviewed in this article
Chewy Sales