What Is The Best Dog Food For A Yorkie?
Skip To Detailed Recommendations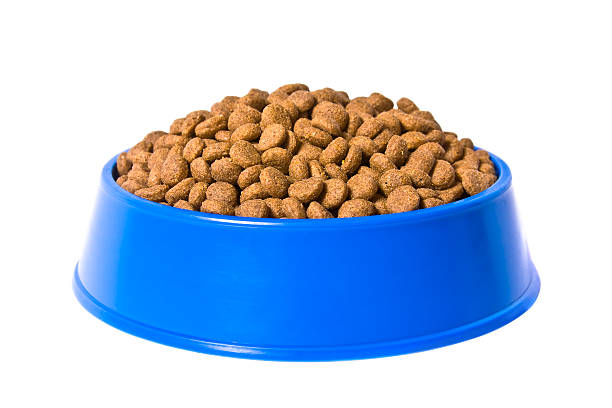 Yorkshire Terriers are one of the most popular of all small dog breeds. They're tiny dogs with a bold, feisty personality. However, Yorkies do have some special dietary needs. Here are some things to consider when choosing the best dog food for a Yorkie.
Disclosure: Please note that this post contains affiliate links, which will direct you to our partner sites. If you purchase the pet foods we recommend through those links, we may earn a small commission – at no extra cost to you.
Quick Look: The Best Dog Food For A Yorkie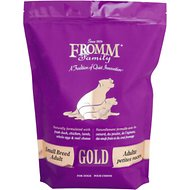 Fromm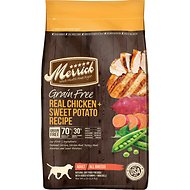 Merrick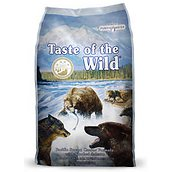 Taste Of The Wild

---
30% Off First Order + Free Shipping
on dog food for Yorkies
Yorkie Diet and Nutrition
Because Yorkies are so small (generally weighing 4 to 7 pounds as adults), they have a small stomach to match their size. This means they cannot eat large meals. You will need to feed your Yorkie several small meals per day. Yorkies can also be especially prone to hypoglycemia or low blood sugar so feeding your Yorkshire Terrier several small meals per day will help avoid this problem. This is especially true with young puppies.
Choose a food with small bites
If you are feeding your Yorkie a kibble dog food, make sure you choose a food with small, bite-size pieces of kibble. This makes it easier for your Toy dog to eat and digest the food.
Choose a calorie-dense food
Toy and small breed dogs often need dog food that is more calorie-dense than food for larger dogs. Pound for pound, small dogs use more energy and burn more calories than bigger dogs. Many dog foods designed for small and Toy dogs are packed with more calories than food for larger dogs. Look for foods that are especially formulated for Toy and small dogs so they have all the calories your Yorkie needs. These foods often have too many calories for big dogs who can become overweight if they eat them.
What To Feed A Yorkie
There is some slight evidence suggesting that kibble is better for a dog's teeth than canned foods but the difference is so slight that this probably shouldn't be the deciding factor in what you feed your Yorkie. There are many ways to keep your dog's teeth clean and healthy. You can give him tartar control biscuits, safe chew toys, and dental toys for dogs. Since Yorkies can be particularly prone to dental disease, you should brush their teeth regularly with a toothbrush and toothpaste made for dogs.
From a price viewpoint, canned food is more expensive but if you are feeding one small dog, it can be cost effective to purchase canned food as you need it instead of large bags of kibble. However, it's usually easier to store and carry bags of kibble. Many times the choice comes down to what your dog prefers to eat.
Grain-Free?
Grain free foods are popular right now and many people like the idea of feeding a dog food that is closer to what a dog would eat in the wild. However, you should be aware that "grain free" doesn't mean carbohydrate-free. Dog foods are typically made up of protein, fat, and some kind of carbohydrates, even if they don't use grains. Some of these carbs are not necessarily better for your dog than some grains, so it's important to read the labels. As long as your Yorkie doesn't have food allergies, he should be able to eat foods with or without grains.
---
 Best Dog Food For A Yorkie Puppy 
1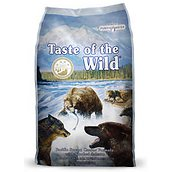 We love recommending Taste of The Wild recipes to dog owners. Overall, it's a well-respected business that serves high-quality dog food. Pacific Stream Dry Puppy Food is packed with the nutrients your Yorkie puppy needs to grow and develop, like omega fatty acids for skin and coat, as well as probiotics to promote healthy digestion.
Main Ingredients: Salmon, Ocean Fish Meal, Sweet Potatoes, Peas, Potatoes
Protein: 27%
Fat: 15%
Fiber: 5%
Calories: 360 kcal/cup
2
Blue Buffalo as a brand focuses on providing your pup with adequate nutrition – not the fillers and artificial ingredients you find in lots of commericia dog foods. This Blue Buffalo formula is great for a Yorkie, in particular. Small dogs burn a lot of calories, so they need a puppy food that is nutrient-dense like this one, as well as a food with smaller kibble.
Main Ingredients: Deboned Chicken, Chicken Meal, Oatmeal, Barley, Menhaden Fish Meal
Protein: 29%
Fat: 17%
Fiber: 5%
Calories: 415 kcal/cup
---
 Best Dog Food For A Yorkie Adult
Some of the best dog foods for Yorkshire Terriers include:
1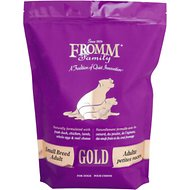 Even the pickiest canines typically enjoy Fromm. It's full of safe, healthy, and tasty ingredients that your Yorkie will love. This Fromm formula includes everything your pup needs to grow into a healthy adult – taurine for heart and eye health, alfalfa for bone strength, and probiotics for digestive health.
Main Ingredients: Duck, Chicken Meal, Chicken, Oatmeal, Pearled Barley, Brown Rice
Protein: 26%
Fat: 17%
Fiber: 3.5%
Calories: 416 kcal/cup
2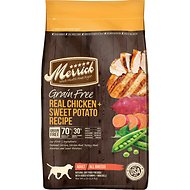 Merrick is an affordable, healthy brand that's made in the USA. This recipe is grain-free and provides the nourishment your Yorkie needs. With freeze-dried chicken, sweet potatoes, and tons of other fruits and veggies, we're confident your pup will love this recipe.
Main Ingredients: Deboned Chicken, Chicken Meal, Turkey Meal, Sweet Potatoes, Potatoes
Protein: 38%
Fat: 17%
Fiber: 3.5%
Calories: 430 kcal/cup
3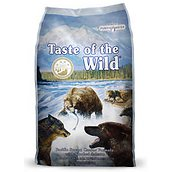 Looks familiar? This Pacific Stream recipe is the "adult version" of the puppy food we've recommended for your Yorkie. With similar ingredients, it's a great way to seamlessly transition your dog from puppy food to an adult recipe without shocking their system.
Main Ingredients: Salmon, Ocean Fish Meal, Sweet Potatoes, Potatoes, Peas
Protein: 25%
Fat: 15%
Fiber: 3%
Calories: 360 kcal/cup
---
 Best Dog Food For A Yorkie Senior
1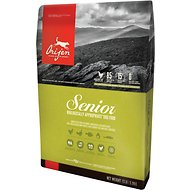 Orijen is consistenly an industry leader when it comes to providing safe, healthy, and delicious food for your pup. We love Orijen senior as a maintenence food for older dogs who are still fairly active and healthy.
Main Ingredients: Fresh Chicken Meat, Fresh Whole Eggs, Fresh Turkey Meat, Fresh Whole Herring, Fresh Chicken Liver
Protein: 38%
Fat: 15%
Fiber: 8%
Calories: 435 kcal/cup
2
If your aging pup needs an alternative meat protein, Weruva's Caloric Harmony hits it out of the park. Made with grass-fed venison, you can be sure you're offering your Yorkie the nutrition he or she needs.
Main Ingredients: Venison, Venison Meal, Salmon Meal, Herring Meal, Oatmeal
Protein: 37.8%
Fat: 14.4%
Fiber: 3.9%
Calories: 348 kcal/cup
---
Additional Dietary and Health Considerations
Just like any dog breed, Yorkies can have health problems like hypoglycemia (low blood sugar swings), skin allergies, retinal dysplasia, and liver issues. If your pup starts to show signs or symptoms of sickness, consult your veterinarian. A vet will also be able to point you in the right direction when it comes to what kind of special dietary needs your dog might have.
Looking for more dog food recommendations for your Yorkie? Wellness also has complete lines of dog food formulated for Toy and small breeds called Complete Health Toy Breed and Complete Health Small Breed. Other brands which we can recommend include Victor, Acana, and, for people interested in organic dog food, Castor & Pollux and Newman's Own.
Below is the list of products reviewed in this article