Kirkland Dog Food
There's a stigma associated with store-brand products, including dog food. They're seen as low-quality. Well, Costco's own brand of dog food does not fall in this category!
Allow us to introduce Kirkland, an above-average dog food brand that comes in both wet and dry varieties based on age, weight, and size. It's not one of the best brands on the market, but it's definitely one of the best in its price range.
Or Check our Top Dog food recommendations 
Most Popular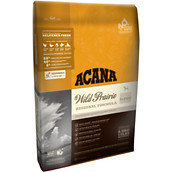 Best food Acana
Grain-Free
Ranch-raised beef & pork.
No added corn, soy, wheat or tapioca.
Made in the USA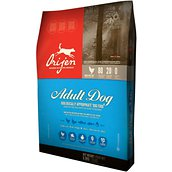 Best food Orijen
85% meat ingredients
Coated with freeze-dried liver
Made in the USA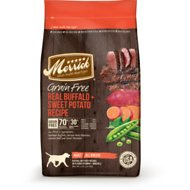 Best food Merrick
Grain-free recipe
real beef and sweet potato.
65% protein and healthy fat
35% fiber, produce, vitamins
Who manufactures Kirkland?
Even though Kirkland is a Costco dog food brand, it's manufactured by Diamond Pet Foods. Some dog owners are not happy with this, because Diamond Pet Foods is notorious for adding sub-par ingredients to their products.
Kirkland Quality
All of Kirkland's dog food formulas carry the AAFCO statement which shows that the formula meets the required nutrient profiles for dogs of all life stages or for adult maintenance. Additionally, all of the Kirkland formulas include a variety of high-quality ingredients. Whereas many dog food manufacturers use fillers like wheat, soy, and corn, Kirkland does not use these grains – nor does it use animal digest or by-products. Kirkland's products are free from artificial sweeteners and colorings.
The top ingredients in Kirkland's foods are whole protein sources like lamb and lamb meal, though other protein sources like egg and fish meal are used as well. In addition to healthy proteins, Kirkland also uses flaxseed and fish meal as a source of omega-3 and omega-6 fats. Additionally, Kirkland has begun to add certain nutrients to their formulas including taurine, a nutrient that is essential for heart health.
Recent Kirkland Recalls
Please Read First: If this statement is still here we are actively watching for new recalls. Below you will find a history of recalls. If you would like to know as SOON as we find out about a recalls visit:https://dogfood.guru/dog-food-recalls/ and fill out our Recall Alert form. We will ONLY email this list in the event of an actual recall. Once we stop watching for Recalls I will remove this statement.
We also encourage everyone to bookmark the site for future reference.
Kirkland Reviews
Store-brand food products are notorious for containing preservatives, cheap filler, and other yucky ingredients. Does this ring true for Kirkland dog food?
We're pleased to say NO! Kirkland dog food contains absolutely no by-products or artificial ingredients. In fact, it provides the right balance of nutrition to dogs of all life stages and special needs. A source of protein is usually the first ingredient. For example, in Kirkland's Adult Dog Chicken, Rice, & Vegetable formula, the first five ingredients are:
Chicken
Chicken meal
Whole grain brown rice
Cracked pearled barley
Chicken fat
Even though the first ingredient, chicken, will lose 80% of its water and nutritional value after being cooked, the second ingredient, chicken meal, will make up for it. Meat meal contains 300% more protein than raw meat does.
As good as Kirkland dog food is, it's not perfect. It contains a good amount of whole grain brown rice, which most dog owners find to be low in nutrition. It also contains brewers dried yeast (further down the ingredient list), an ingredient that can cause allergic reactions in some dogs.
Some dog owners might not like the fact that cracked pearled barley is the fourth ingredient. It provides only modest nutritional value, but it's still chock full of fiber and other good nutrients.
Chicken fat sounds gross, but it's actually a quality ingredient because it's high in omega-6 fatty acid.
All in all, we consider Kirkland dog food to be an above-average brand. We highly suggest you to check out the ingredient list and evaluate the protein, fat, and fiber content before buying a bag so you can decide whether or not you agree with us.
Formulas to Choose From
As is true with most dog food manufacturers, Kirkland offers their customers several different formulas to choose from. These formulas are designed to meet the nutritional needs of dogs in different stages of life from puppy to adult and they come in several different flavors. Below you will find a list of the formulas Kirkland has to offer:
Kirkland Signature Puppy
Kirkland Signature Small Dog
Kirkland Signature Mature Dog
Kirkland Chicken and Rice Dog (Lamb)
Kirkland Signature Healthy Weight Formula
Kirkland Beef and Vegetables (canned)
Kirkland Signature Adult Dog Chicken (canned)
Kirkland Lamb and Rice (canned)
Our  Signature Dog Food Chicken, Rice, & Vegetable Formula Review: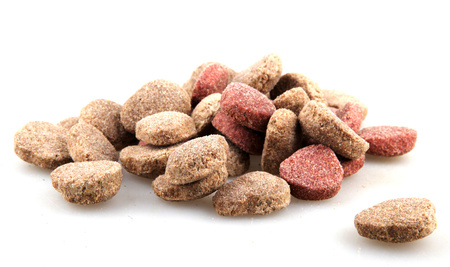 Let's take a look at what's in a bag of Kirkland Signature Dog Food Chicken, Rice, & Vegetable Formula. It contains decent-quality grains, good meat content, and chelated minerals to help with absorption. This formula is marketed as:
Super premium
Good for the skin and coat
Enriched with antioxidants, vitamin E, selenium, and zinc
Good for cleaning teeth and reducing plaque with the crunchy texture of the kibble
Good for the joints with glucosamine and chondroitin
The top five ingredients are chicken, chicken meal, whole grain brown rice, cracked pearled barley, and chicken fat. It contains brewers rice, which some dog owners have an issue with. They consider brewers rice as cheap filler (even though it's a good source of fiber).
Even though the meat content is good, some dog owners take issue with the fact that this formula contains a considerable amount of grains. On the bright side, those grains are decent-quality and serve a purpose (like provide carbohydrates or fiber). Brown rice and barley fall in this category. The formula does contain white rice and rice bran, which aren't as desirable as the other two grains are. At least this formula has no cheap useless fillers like corn or wheat.
If your dog has food sensitivities, you might be better off feeding him another formula (or brand) that doesn't contain rice or barley. Some dogs have a hard time digesting those grains.
If your dog's the type that can eat anything, you should definitely check out this formula (make sure you have a Costco membership first)!
Where can you buy Kirkland?
Costco, Costco, and Costco! Kirkland dog food is sold exclusively at Costco (and on their website). Quite frankly, we're a little disappointed that it's not available anywhere else because this is a solid brand.
Diamond Naturals Large Breed Puppy Formula
Kirkland dog food is exclusively sold at Costco. But if you don't have a Costco in the area where you live, you can try food by Diamond Naturals as they are made under the same brand. One of the most popular dog foods from Diamond Naturals is the Large Breed Puppy formula.
This formula is made with 27% protein that mostly comes from lamb, lamb meal, and whole grain brown rice. But for large breed puppies, protein is not enough to sustain a happy and healthy life.
This is why this formula is rich in Omega fatty acids such as Omega 3. Your puppy can benefit from this dog food for better joints, skin, and a shiny coat.
But we all know how young the digestive system of puppies is. This is the main reason this Diamond Naturals food comes with a probiotic blend similar to the one used in Kirkland for easier digestion and nutrient absorption. The probiotic blend is proprietary to the brand.
How would you rate Kirkland?:
[gdrts_multi_stars_rating_auto series="gdsr-dog-food-reviews" style_size=40 style_type="font" style_font_name="star"]
If you can't make up your mind yet non which food to buy for your dog – go ahead and check our top recommendations 
Most Popular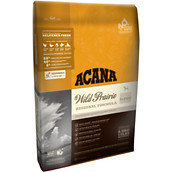 Best food Acana
Grain-Free
Ranch-raised beef & pork.
No added corn, soy, wheat or tapioca.
Made in the USA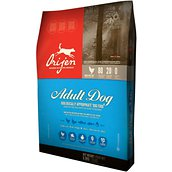 Best food Orijen
85% meat ingredients
Coated with freeze-dried liver
Made in the USA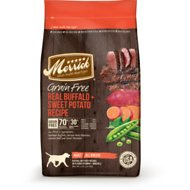 Best food Merrick
Grain-free recipe
real beef and sweet potato.
65% protein and healthy fat
35% fiber, produce, vitamins