What Is The Best Dog Food for an Azawakh?
If you've never heard of the Azawakh, don't feel bad. As a formal breed, the Azawakh only dates back to the 1970s. They are still very rare in North America and Europe today. The breed is currently in the AKC's Miscellaneous class where breeds are placed while they are awaiting full AKC recognition. The breed is also known as the Tuareg Sloughi in some places.
However, historically, the Azawakh is quite ancient. This breed has an old and somewhat unique origin. DNA evidence suggests that the dogs originated with the pariah dogs of sub-Saharan African (i.e., the bush dogs or Basenji) or the Sahel region thousands of years ago. They also appear to be closely related to the Sloughi of the Maghreb. Despite certain similarities in appearance, the Azawakh is only distantly related to the other sighthounds. The Azawakh has a rare allele that is found only in foxes, jackals, Italian wolves, the Sloughi dogs, and a few other unrelated and somewhat rare breeds that are mostly found in Japan. The presence of this allele suggests that the Azawakh separated from other canine populations very early, when this gene was more common; or they may have crossbred with a local African canid that had the gene, such as jackals. Geographical and archaeological evidence in the Sahara, along with the breed's unique genetics, suggest that the Azawakh population has probably been mostly isolated from other dog populations for thousands of years.
The Azawakh shares many similarities with the pariah dogs of the Sahel region which contributed to their origin. They are highly suspicious of the unknown. They have a strong guarding instinct. They exhibit pack hunting behavior. They have complex social hierarchies. They display unique vocalizations. They have extra pre-molar teeth. And, they have a strong instinct to dig dens. Many of these traits are common to dogs in general, but they are noticeably stronger in dogs, like the pariah dogs – and the Azawakh – that are closer to primitive canine populations.
For the last couple of thousand years the Azawakh has been bred by the Tuareg, Fula, and other nomadic tribes of the Sahara and sub-Saharan Sahel in Mali, Niger, Burkina Faso, and southern Algeria. The nomads have used the Azawakh as a guard dog and to hunt gazelle and hare. The Azawakh can cover ground when hunting these animals at speeds up to 40 miles per hour. Due to the austerity of the environment and the fact that the people of this region have historically culled puppies heavily, only the fittest of the Azawakh dogs have survived. This has produced a breed that is rugged and independent.
You can read more about the history of the Azawakh on this site.
Unlike most other sighthounds, the Azawakh is more of a pack hunter. They take down prey by bumping it with their hindquarters when it is worn out. As a guard dog, when the Azawakh senses danger it will bark to bring the other pack members. They will gather with the alpha dog and chase the intruder or attack. This is quite unlike most other sighthound behavior.
In appearance, the Azawakh is graceful and bears a cursory similarity to the middle Eastern sighthounds. Its muscles and bone structure resemble the Saluki, though there is little or no genetic relationship. In Africa, the Azawakh is found in a wide range of colors and white markings are common. The breed has a light, supple gait and an upright, double-suspension gallop.
If you are interested in the Azawakh as a pet, they are hard to find in North America right now but the breed is trying to grow. There are only a few thousand Azawakh in the world and a few hundred in the United States. Contact the American Azawakh Association for information about litters or rescue dogs available.
In terms of temperament, the Azawakh tends to form a close, intense bond with their people. At the same time, they can be completely independent. They are extremely loyal and devoted but they can do things on their own. They are protective dogs and are often reserved with strangers. They often prefer not to be touched by people they don't know but they are not usually aggressive dogs unless they are threatened. (However, individual dogs may range in their reaction to strangers from indifferent to friendly.) Compared to other sighthound breeds, they are fiercely protective of their people and territory. The Azawakh is extremely gentle, deeply affectionate, and playful with the people they accept as part of their family circle. They are very intelligent and are said to have amazing memories. They have been described as "emotional" dogs. We might call them sensitive or touchy. Azawakh do need to be socialized from a young age. We also recommend some basic obedience training with a firm but gentle approach. They do well with positive reinforcement – lots of praise and rewards.
While it's said that many Azawakh dislike rain and cold weather, heat doesn't phase them. Since the breed is from sub-Saharan Africa, they don't seem to notice hot weather that would be intolerable for many breeds. They are happy to run in 100 degree temperatures.
This is a breed with high energy and they need plenty of daily exercise.
In the U.S. the Azawakh is mainly kept as a companion and family pet today but some people enjoy testing their dog's natural hunting skills. Coursing (both free coursing and open field coursing) can be fun for your Azawakh. Lure coursing is another activity you may enjoy with your dog, along with oval track racing and sprint racing. The Azawakh can also take part in regular companion and performance events offered by the AKC. The breed is known to do well in events such as obedience, agility, and canine freestyle (dog dancing).
As already mentioned, the Azawakh forms complex social hierarchies. They especially enjoy the companionship of other Azawakhs.
While this is an ancient breed that has been partnering with humans for millennia, it's important to keep in mind that the Azawakh retains many unique, primitive traits that set it apart from other dogs. They are loving and gentle at home but they are always a little different from other breeds. People who love this breed appreciate this difference.
For more information about the Azawakh, visit the American Azawakh Association web site.
Disclosure: Please note that this post contains affiliate links, which will direct you to our partner sites. If you purchase the pet foods we recommend through those links, we may earn a small commission – at no extra cost to you.
Quick Look : Top 4 Best Dog Foods for Scottish Deerhounds
Nutritional Needs
The Azawakh is a medium-large breed. Male Azawakhs typically stand 25 to 29 inches tall at the withers. Females stand 23 to 27 inches at the withers. Males weigh 44 to 55 pounds while females weigh 33 to 44 pounds. In correct weight, three to five ribs should be visible with this breed. You can see the breed standard for the Azawakh here.
As mentioned earlier, the Azawakh is a very active, energetic dog. They have plenty of energy and need to use it. You will need to take this activity level into consideration when determining how many calories your dog needs, especially if your dog is coursing or the two of you are doing any other training.
Growing puppies and young adults use a lot of energy. They require a diet that features good quality protein. According to the National Research Council of the National Academies, a normally active adult Azawakh weighing 44 pounds requires an average daily caloric intake of 1192 calories. Dogs that have been spayed/neutered, or that are older, may need slightly fewer calories. Some dogs may need more calories depending on their level of activity and their individual metabolism. If your Azawakh is coursing on the weekends you may need to bump up your dog's daily calories to somewhere between 1324 and 1986 kcal/day (44 lb dog) – or more – depending on how much training/running he is doing. Growing puppies will also consume more calories than adult dogs and so do young adult dogs. An Azawakh puppy weighing 25 pounds (4-12 months of age) needs an estimated 866 calories per day.
Although the Azawakh doesn't weigh a lot, this is a very tall breed so we consider them a large breed. We recommend large breed foods for the Azawakh, especially for growing puppies. Studies have shown that this helps prevent bone and joint problems later in life. Hip dysplasia is virtually unknown in the breed thanks to the stringent natural selection carried out over millennia, but we think that food that encourages slow growth, such as large breed puppy foods, are a good idea. It's also important to pay special attention to the calcium and phosphorus levels in the food. Adult dogs can eat food made for large breed dogs or all life stage foods. Foods made for large breeds and large breed puppies usually have slightly fewer calories than other dog foods.
Breeders recommend that you do not add supplements to a good, balanced commercial puppy food. Over-supplementation or supplementation of the wrong thing can upset the nutrient balance of a food. This is particularly important with puppies when bones are developing. Adding extra calcium or other supplements to your puppy's diet can lead to skeletal problems later and perhaps a need for surgery.
Most breeders recommend feeding a good puppy food until your puppy reaches about 90 percent of his adult size. You can also feed an all life stage dog food (sometimes AAFCO-approved for "growth and reproduction") to puppies. Just make sure to check the nutrients to make sure they are suitable for puppies – especially the calcium levels and calcium to phosphorus ratio. You should talk to your breeder about the food they recommend for their puppies since they usually have experience with how their puppies grow and develop. Not all puppies will grow at the same rate, even in the same breed, so your puppy's breeder is usually your best source of advice.
Protein is very important for your dog's diet. The Association of American Feed Control Officials (AAFCO) recommends a minimum of 22 percent protein for growth (puppies) and 18 percent protein for maintenance in adult dogs. Most good quality dog foods will far exceed these percentages. Fat is an important source of energy for dogs and should comprise at least 8 percent of the diet for Azawakh puppies and 5 percent of the diet for adults. Most dog foods today, regardless of the quality, have much more fat than this recommended amount. Choosing food with good quality sources of protein and fat is as important as the percentages.
As with many sighthounds, the Azawakh doesn't have much body fat. Like Salukis and other slim, racy breeds, you should not try to make the Azawakh eat more or look "rounded" or plump. Look at the breed standard for the Azawakh. Three to five ribs are supposed to show when this breed is healthy and fit. Sighthounds will always appear thin to people who are unfamiliar with them. If you overfeed them to satisfy people who don't know any better, you will compromise their health and well-being.
Feeding Your Azawakh
As with some of the other sighthound breeds (Borzoi), the Azawakh has developed over the centuries living on a relatively low protein diet. (Sighthound breeds often seem to develop in areas where meat is scarce.) The dogs were accustomed to eating millet and goat milk, like the people, with some occasional meat from hunting. If you feed your Azawakh food with the high protein percentages found in many dog foods today, your dog may have digestive problems. The Azawakh may also appreciate some fruits and vegetables in his diet, such as bananas and carrots. Your dog may also enjoy a little cooked wild rice, millet, or pasta added to his food occasionally.
According to some Azawakh breeders, puppies can grow too quickly if they are fed a high protein Western diet. Wobbler syndrome has occurred (rarely) in some Azawakh and some breeders blame the condition on too much protein or over-nutrition.
According to sources we found, it's usually advisable to feed the Azawakh foods with low to moderate protein percentages (around ≈ 22 percent) and low fat percentages (around ≈ 9 percent). This is true for both adult dogs and puppies. The Azawakh often does well eating animal protein sources such as chicken, fish, and eggs. They can eat grains such as pearled barley, oatmeal, and brown rice. Good foods for the Azawakh should also have omega fatty acids (3 and 6), glucosamine and chondroitin, prebiotics, probiotics, antioxidants, along with vitamins and minerals. Common vegetables such as carrots and sweet potatoes (and others); and fruits and berries such as apples, cranberries, and blueberries round out healthy ingredients for their nutrition.
While the Azawakh is not a giant breed they are medium-large and they do have the deep chest that predisposes many of the sighthound breeds to bloat. Bloat (gastric volvulus and dilatation) is a condition in which the stomach expands with air. The stomach twists on itself, cutting off blood flow and causing gastic torsion (a potentially fatal condition). Bloat require immediate emergency treatment from a veterinarian. There are some online sources that suggest the Azawakh may be somewhat prone to bloating. We recommend following the same feeding protocol used for other sighthounds. Feed several small meals per day throughout your Azawakh's life. Puppies may need 4-5 meals per day. Adult Azawakhs may need 3-4 small meals per day. Feeding one large meal per day can encourage dogs to eat fast, gulping in air which can be a trigger for bloat. Many other ideas about what does and does not contribute to bloat are still in dispute, but everyone seems to agree that multiple small meals spread throughout the day are beneficial.
Again, you should resist the urge to try to "fatten" your Azawakh by giving him extra food. These dogs naturally have low body fat. They are supposed to be lean in appearance. Feed your Azawakh an appropriate amount of food and don't try to make him gain more weight even if your veterinarian or neighbors protest. If your vet is concerned, show him photos of how the breed is supposed to look.
Some Azawakh can have allergies but you should not assume that all allergies are food-related. Keep in mind that there are different kinds of allergies: inhalant, contact, flea bite, and food. Many dog lovers automatically think of food allergies when you mention allergies, but flea bite allergies and inhalant allergies actually account for far more allergic reactions in dogs than food allergies. So, if your Azawakh seems to be having an allergic reaction, with itching, scratching, redness, etc., it may not be due to the food he's eating. On the other hand, it could be food-related.
Working with your veterinarian can help you identify the kind of allergy your Azawakh has. If it turns out that your Azawakh does have a food allergy, your veterinarian can help you identify the specific ingredients that trigger your dog's reaction so you can avoid it. However, you should be aware that if your dog does have a food allergy, there is a good chance that he will develop reactions to more foods/ingredients as he gets older. You will probably have to change food again in the future so be alert to your dog's reaction to his food.
If your Azawakh has problems with diarrhea, vomiting, flatulence, or a gurgly stomach when he eats, this is not a food allergy. It's probably a food sensitivity. If you've seen the movie Along Came Polly with Ben Stiller and Jennifer Aniston, you probably recall the scene where they eat at an ethnic restaurant and Ben Stiller's character is in agony. Some people – and dogs – have food sensitivities to certain foods, spices, etc. If your Azawakh has a food sensitivity you will need to try to determine the cause so you can avoid the ingredient(s). It's often a good idea to feed a dog with a food sensitivity a food with a minimal number of ingredients so there is less chance of giving him something that could upset his gastrointestinal system. Keep his food simple and fairly bland.
Whether you feed your dog a food with or without grains is a personal choice. Many people choose grain free dog foods because their dogs have digestive problems, food allergies or sensitivities, or skin problems. You may want to avoid the most common grains, such as corn and wheat which are often over-used in dog foods, but there are many good dog foods that use alternative grains/cereals such as oats and barley. You can try a couple of foods, with and without grains, and see how your dog does on the foods so you can make your decision.
Keep in mind that food allergies are based on the proteins in foods and not carbohydrates. The most common dog food allergens are: beef, dairy, chicken, lamb, fish, corn, wheat, and soy. While we usually think of ingredients such as corn and wheat as sources of carbohydrates, these cereals/grains also contain proteins. When dogs (or people) have allergies to these ingredients, they are reacting to the proteins and not the carbs. There can be other good reasons to avoid lots of carbohydrates in your dog's food, but allergies are usually protein-related.
Otherwise, try to feed your Azawakh a good quality diet that has good sources of meat protein. It's easier for a dog to digest good meat protein than protein that comes from poor quality sources of animal protein that may be found in some cheaper dog foods. Dogs also digest animal protein more easily than plant protein for the most part. (Sure, a pet food company can cook peas and lentils to a mushy consistency to make them easier to digest but your dog will get more complete nutrition from animal protein and it will agree with him better.) This doesn't mean you have to buy the most expensive dog food available but you should look for good quality foods with good quality ingredients. They are better for both the short-term and long-term health of your dog.
It's also a good idea to select a food that has fewer carbohydrates. Contrary to popular belief, this doesn't necessarily mean grain free. Many grain free dog foods are loaded with carbs. Potatoes and sweet potatoes, for example, can send carb percentages very high. And some dog foods with grains have modest amounts of carbohydrates. We recommend doing a little math when you're considering a dog food and figuring out the dry matter basis so you can tell what the actual protein, fat, and carbohydrate percentages are in a food.
For medium and larger size dogs, it's usually easier on the pocketbook to feed kibble instead of canned food. Kibble costs less per ounce than canned food. Canned food can have more protein than kibble but some dry dog foods today have extremely high percentages of meat protein. They can also be very expensive. Again, some of these things are personal choices that you have to make for yourself depending on your budget. You can find very good kibbles with good meat protein for reasonable prices, especially if you order online from sites like Chewy.com. We always recommend that you figure the dry matter basis for the foods you are considering, whether they are canned or kibble, so you can make a good comparison of the protein, fat, fiber, carbs, and other nutrients.
Theoretically, when you buy and feed better quality dog food you feed your dog less food. Unfortunately, we do not find that to always be the case. If you are used to feeding two scoops of the old food, for example, you may continue to dish out two scoops of the new ultra super max premium dog food – which has double the calories. And your dog happily eats all the food. Next thing you know, Fido is the size of a house. If you are switching foods, make sure you check the label and see how many calories the food has. Have a good idea how much food you need to feed so you don't accidentally overfeed your dog. It's very easy for a dog to become overweight before you really notice!
And, of course, keep plenty of fresh water available for your dog at all times. Grain free foods with higher protein percentages, especially, can make dogs very thirsty, so keep the water bowl full.
Azawakh Health Problems
Like many native breeds, the Azawakh is considered to be very healthy at this time. However, as with all dogs, some health problems are found in the breed.
Through natural selection and the breeding practices of the tribes that raise them, the Azawakh is an extremely sound coursing hound. It's rare for these dogs to have a serious injury from coursing. They also heal very quickly from injuries. For the same reasons, the breed has no known incidence of hip dysplasia at this time. This is not unusual for the sighthound breeds.
There is reported to be a small incidence of adult-onset idiopathic epilepsy in the breed. "Idiopathic" is, by definition, of unknown origin, so it's hard to say what the cause of these cases may be. They could be completely random – due to injury, bacteria/virus, fever, poisoning, etc. There is no way to know and no particular reason to suppose that the epilepsy is genetic or breed-related.
The Azawakh is sensitive to anesthesia, like other sighthounds. You should make sure that your veterinarian is aware of this fact.
Other health issues that can appear in the Azawakh include autoimmune mediated thyroiditis, eosinophilic myositis, heart problems, hypothyroidism, and skin problems.
As with some other primitive breeds (Basenji, Salukis, Carolina Dogs, Tibetan Mastiff, and others), the Azawakh has a single estrus each year. Many domestic dog breeds today experience estrus once every 6-9 months.
The Azawakh has an average lifespan of 12 to 15 years.
At this time the American Azawakh Association does not list recommended health tests for the breed. However, a few Azawakhs are included in the OFA database. You should keep in mind that the Azawakh has not yet received full AKC recognition yet and there are currently very few dogs of this breed in the country. Health testing for the breed will likely increase in the future.
Along with good breeding practices, health testing, and good vet care, many dog lovers try to keep their dogs healthy by feeding dog food that has more natural ingredients. There is a belief that this can help keep a dog's immune system stronger. Many people recommend feeding a food that is free of some of the most common food irritants such as corn, soy, and wheat. These are not the most common dog food allergens – beef, dairy products, and chicken, for example, lead to more food allergies for dogs than corn, soy, and wheat. But many people like to avoid soy and grains in dog foods. There are many good grain free dog foods today if you want to feed one to your dog. Avoiding artificial colors, flavors, sweeteners, and preservatives is also suggested as a way to help keep the immune system stronger.
Ingredients to Look for and Some to Avoid
As with most dogs, when choosing a food for your Azawakh you should look for a food that has good sources of protein and fat.
Ideally you will select a dog food that features two or three meat proteins in the first several ingredients listed. It's not unusual today to see a food list both chicken and chicken meal, for example, as the first two ingredients. Both whole meats and meat meals are good sources of protein. Whole meats refer to foods such as whole chicken, beef, fish, and lamb. Some people don't like meat meals as much as whole meats but they are a concentrated form of the meat in which the moisture has been removed. They contain several times as much protein as a whole meat. Meat meals are usually quite acceptable as one of the first ingredients in a good quality dog food. They are used by many good dog food brands. Some companies will go a step further and also add a related organ meat. For example, if the first two ingredients are whole chicken and chicken meal, they may also add chicken liver. That's fine. This is one way of adding more protein to the food. Most dogs will enjoy foods that have liver added. It is best if the liver is named. We don't like to see generic liver. It's important to remember that liver, hearts, kidneys, lungs, and so on are technically meat by-products so you always want the dog food manufacturer to be as specific as possible about the ingredients they are using.
Many dog foods today, even some of the most expensive and highly touted, use lots of plant proteins such as lentils and peas. These foods often have high protein percentages on the label. When you read the guaranteed analysis it's important to consider how much of the protein in the food comes from meat and how much comes from plants. Your dog is able to digest meat protein more easily than plant protein. Meat protein is a much more natural source of protein for your dog than plant protein.
Dogs also need good sources of fat. You should look for named fat sources such as chicken fat. Other named fats also provide needed nutrients such as fish oil which can provide omega-3 fatty acid to help keep the skin and coat healthy. Puppies can benefit from DHA which is Docosahexaenoic acid. This is a specific form of omega-3 fatty acid that helps with brain and eye development. Older dogs seem to benefit from medium chain triglycerides which feature medium chain fatty acids (MCFAs). These have been found to help older dogs feel and act younger. They are often made from a combination of coconut oil and other oils.
If you want to avoid corn, soy, and wheat in your dog food, your Azawakh may still be able to eat an alternative grain such as barley or oats. Or you can feed a grain free dog food that uses an alternate source of carbs that is low glycemic. You don't have to feed a dog food with an excessively high percentage of protein but it's a good idea to keep the carb percentage low to moderate.
If your Azawakh has a food allergy or food sensitivity, you may need to work with your veterinarian to identify the food triggers unless they are very obvious. There are lots of good foods with alternative meat proteins today as well as limited ingredient diets which we will discuss below.
Recommended Dog Food For Azawakhs
Azawakhs should be able to eat most good quality dog foods but every dog is an individual. Even dogs in the same breed can have different food needs. Some dogs need more calories than others. Some dogs will do better with more protein or fat than other dogs. We are providing several suggested foods for your Azawakh which meet our standards but you may have to use a trial and error method to see which food your dog does best on. Even among Azawakhs some dogs are more energetic than others.
When you are trying a new food, be sure to allow several days to slowly transition to the food, mixing in a little of your dog's old food each day. Of course, if your dog shows signs that he doesn't like the food or doesn't tolerate it, you will have to make adjustments. If your dog eats the food but you don't like his condition after a few weeks, you can change him back – slowly – to his previous food. It's best not to go directly to another new food. You can upset your dog's gastrointestinal system if you keep changing to too many new foods in a short period of time. Once your dog has settled back with his old food, you can once again try a new food. You should allow at least a couple of weeks between foods before trying another new food so you can give your dog's system a chance to rest and recover. This also gives the new food a fair chance.
If you try a new food and your dog doesn't seem enthusiastic about it, you might also try another food from the same product line that uses a different kind of meat protein or other ingredients. As long as the guaranteed analysis and nutrient percentages are similar, the food should be similar to the original food you selected.
When you are feeding a new food and your dog is eating it without problems, it's important for you to assess his physical condition. Is he gaining or losing weight on the new food? Does his coat look healthy? Are his eyes bright? Does he seem to have good energy or is he more lethargic than usual? And, the big question for any dog lover – what does his poop look like? As most dog lovers know, you can tell a lot about a dog's health by checking his poop. Does it look normal and firm? If he having regular bowel movements? Those are good signs. If your dog is having runny poop or diarrhea; or if he is having trouble with his bowel movements, it could be because of the new food. These are all things you should note during the first few weeks of feeding a new food. Even if your dog LOVES the food, if he's not thriving, you may have to rethink his diet or how much you are feeding him.
Very often, if a dog has loose stool or other gastrointestinal problems with a food, even if he really likes the food, it can be because you are 1) feeding too much of the food; or 2) the food is too rich. What does too rich mean? It means the food may have too many calories for your dog's needs. It might have too much fat for your dog. Or, the protein percentage may be too high. You can also check the fiber percentage. Maybe it's too high. If cutting back on the portions doesn't help, you need to try changing the food.
We have tried to select foods for Azawakhs that have protein that is low to moderate and with low to moderate fat. Most of the foods we have selected here do not contain corn, wheat, or soy, unless noted. You may have to try a couple of foods to find which one is best for your dog. You should also keep in mind that your dog's dietary needs can change as he grows and ages so you may have to change foods to suit him.
Best Dog Foods for Azawakh Adults
Quick Look : Top 4 Best Dog Foods for Scottish Deerhounds

Dr. Gary's Best Breed is a small, independent company. Foods are made in small batches using a unique, slow-cooking process at low temperatures that is said to make the carbohydrates easier to digest and ensure optimum absorption of the nutrients. The formulas are made using only EU (European Union)-approved ingredients, which sometimes have to meet a higher standard than USDA ingredients. The foods contain no animal by-products, cheap fillers, any kind of gluten, and no artificial preservatives, flavors, or colors. No corn or wheat. Best Breed uses only ethoxyquin-free sources of fish and chicken raised without antibiotics. (All poultry in the U.S. is raised free of added hormones.) The large breed diet is formulated to promote the health of large breed dogs. It's especially good for dogs with sensitive digestive systems. The first five ingredients in the large breed formula are: Chicken Meal, Oatmeal, Brown Rice, Dried Beet Pulp, and Chicken Fat [Preserved with Natural Mixed Tocopherols (Vitamin E)]. It has 25 percent crude protein and 13 percent crude fat, with 456 Kcal/cup. This is an all life stage dog food. We think this large breed formula has the ingredients and nutrient percentages that would make it a good choice for adult Azawakhs.

Now Fresh Grain Free Large Breed Adult Recipe is made by Petcurean. You may be more familiar with some of the other product lines from this Canadian company, such as Go!, Spike, or Summit. This food for large dogs is made from 100 percent fresh turkey, salmon, duck and 100 percent fresh omega 3 & 6 oils from coconuts and canola. It has no corn, wheat, or soy, and no other grains, gluten, or beef. It uses no rendered meats, no by-products, and no artificial preservatives.
This formula features New Zealand green mussels and glucosamine and chondroitin for healthy joints which should be beneficial for Azawakhs. It has added L-Carnitine for a healthy heart and to help turn fat into lean muscle. It has taurine for good vision and heart function. And it has added pre- and probiotics for better digestion. The first ingredient is deboned turkey. It contains 363 kcal/cup and has 27 percent crude protein and 13 percent crude fat. These levels should help your Azawakh stay at a good weight. We think this food has some good features for a large breed in terms of bone and joint health and heart health, as well as quality ingredients.

This recipe does include grains, such as brown rice, oatmeal, and barley, but these grains have some health benefits. They are not empty carbs or filler ingredients. Oatmeal and barley provide some good dietary fiber, for example. The first five ingredients in this food are Deboned Chicken, Whitefish, Chicken Meal, Ground Brown Rice, and Oatmeal. The food has 25 percent crude protein, 11 percent crude fat, 5 percent crude fiber, and 11 percent moisture. It also contains added glucosamine and chondroitin which many people consider helpful for large breed dogs who can experience joint problems. The food has 363 kcal per cup.

Designed specifically for large dogs over 50 pounds, Fromm Large Breed Adult Gold is one of our favorite dog foods for large dogs. It contains duck, chicken meal, and chicken as the first three ingredients. Chicken cartilage is added for a natural form of glucosamine to keep joints supple which is important for big dogs. The food contains no wheat, corn, or soy that might irritate the digestive system. Fromm Large Breed Adult Gold features moderate protein and fat which may be better for large dogs like Azawakhs. The food is moderate in terms of calories (378 kcal/cup) which helps your large dog stay slim.
We also like the fact that Fromm is a family-owned company in Wisconsin and they make their food in small batches fresh every morning. These are good ingredients from a respected company in a formula that should be good for your large dog.
Best Dog Foods for

Azawakh

Puppies
Azawakh puppies can usually begin eating a puppy food right after they are weaned or they can eat a good all life stage food. If you have questions about how to feed your puppy, we recommend talking to your puppy's breeder. They usually have the most experience with raising Azawakh puppies and can guide you.
Puppy foods should have a calcium to phosphorus ratio of about 1.2 parts calcium to 1 part phosphorus. It's also important that dog and puppy foods do not have an excess of calcium since this can affect bone growth. This is especially true for large breed puppies like Azawakhs. If you are feeding your puppy a food that is properly formulated, you should not add any extra calcium, such as milk, cottage cheese, or other calcium supplements. Doing so can lead to serious health problems such as OCD (osteochondritis dissecans) and other orthopedic problems.
Keep in mind that all life stage dog foods are formulated to be nutritionally adequate for growing puppies. Foods for puppies may also have the AAFCO statement that they are approved for "growth and reproduction."
Here are some of the puppy foods we like for Azawakh puppies.

Many breeders recommend Canidae to their puppy owners and feed it themselves. The name of this food is a little confusing. Although it says "Life Stages" it is a large breed puppy food. It's specially designed for puppies that will grow to be larger dogs as adults. Duck meal is high in omega-3 fatty acid which is good for reducing joint inflammation. Lentils are a non-grain, gluten free source of carbs. The food is also lower in protein and fat so it helps keep large breed puppies like Azawakhs slim – which can help prevent joint problems later in life.
As a puppy food, Canidae Life Stages Large Breed Puppy formula also contains high levels of DHA to help with cognitive development. And the food has no corn, wheat, soy, fillers, antibiotics, hormones, artificial flavors, colors, or preservatives. These are all things we look for in a good food for Azawakh puppies.

This large breed puppy formula features lamb meal and oatmeal. It includes probiotics, healthy fiber, and digestive enzymes to help your Azawakh puppy digest the food better and absorb more nutrition. Other natural ingredients include chicken and fish meals. The first five ingredients in the food are: Lamb Meal, Ground Brown Rice, Ground White Rice, Chicken Meal, and Dried Beet Pulp. The formula supports muscle and bone development to help your Azawakh puppy enjoy good health now and as an adult. The food also features DHA to help your puppy with brain and eye development. Protein and fat are at lower levels desirable for growing large breed puppies. The food has 23 percent crude protein and 12 percent crude fat. And the calcium to phosphorus ratio is appropriate.
Fromm Gold Large Breed Puppy formula  and Precise Holistic puppy formulas for large & giant breed puppies are also recommended.
Best Dog Foods for the Senior

Azawakh
It's not unusual for many Azawakhs to live into their teen years. This means that you will probably need to consider what kind of food to feed your dog as he gets older. As your dog ages it's a good idea to plan an annual senior check-up with your vet. Many older dogs begin to put on pounds as they become less active, even Azawakhs. For this reason, most senior dog foods have fewer calories and they can skimp on protein. You should watch your older dog's weight as he gets older to make sure he doesn't become overweight. In some cases you can simply cut back on the portions of his regular dog food to help him stay fit or increase his exercise.
On the other hand, some very old dogs often start to have some problems metabolizing nutrients, including protein. It can become hard for them to keep good muscle tone and weight as they age. For this reason, you may wish to avoid many dog foods labeled "senior." These foods are often formulated for older dogs that have gained weight. Instead, look for a senior dog food that has lots of protein. As long as your older dog doesn't have any problems with his kidneys or with phosphorus, there is no reason to avoid higher protein levels.
It's very important that senior dogs have good quality protein. Good quality protein is easier to digest and metabolize than poor quality protein. It provides the older dog with more nutrition that he can use. So, plan on giving your older Azawakh the very best food possible with excellent sources of protein.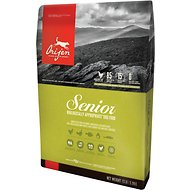 Orijen Senior provides plenty of excellent quality protein for your older dog. This food features free-run chicken and turkey, wild-caught fish, and nest-laid eggs. It helps keep older dogs in good muscle even as they become less active. Made of 80 percent meats and fish, the food is low-glycemic and has low carbs to help keep your older dog's blood sugar steady. The food also contains natural sources of glucosamine and chondroitin to keep your dog's joints healthy. The food is 38 percent crude protein and 15 percent crude fat. It checks in at 445 kcal per 250ml/120g cup. We think this is a very good food for senior dogs who often need extra protein as they get older. (We know Orijen is expensive but this food really stands out for senior dogs.)
Another food you may want to consider for older dogs is Weruva's Caloric Harmony Venison and Salmon Meal Dinner with Pumpkin. This food (and several others in this product line) is potato-free with no corn or wheat, easy to digest, and low-glycemic. It contains pumpkin and oatmeal for healthy gut motility. The first five ingredients are: Venison, Venison Meal, Salmon Meal, Herring Meal, and Oatmeal. Meat protein comes from grass-fed venison. The dry matter basis for this food is an estimated 37.8 percent protein;14.4 percent fat; 3.9 percent fiber; and 35 percent carbs. The calorie count (calculated) is Metabolizable Energy (ME) 3320 kcal/kg; 348 kcal/cup. This food is not specifically made for senior dogs but we think those look like good figures for senior dogs that need more good quality protein without extra fat.
Best Dog Foods for

Azawakhs

with Skin Problems
If your Azawakh is having skin problems or problems with food allergies, you will probably want to avoid foods that contain known food allergens such as beef, dairy products, chicken, lamb, fish, chicken eggs, corn, wheat, and soy. If your dog is having food allergies – which usually manifest as itching, redness, chewing, hair loss, and sometimes ear problems – you will need to identify the trigger for his allergy. You can try to guess the trigger or work with your veterinarian on a food trial and elimination diet for your dog. You may need to find a novel protein for your dog – a protein that he has not eaten previously. Natural Balance has a selection of limited ingredient diets that can be helpful for dogs with food allergies. You might try giving your dog the rabbit formula, kangaroo formula, venison formula, or bison formula. He should be able to eat a meat protein that he has not eaten previously without having an allergic reaction.

Dick Van Patten's Natural Balance L.I.D. Limited Ingredient Diets® Potato & Rabbit Dry Dog Formula
This limited ingredient diet food has limited sources of protein and carbs. It's also grain free and complete and balanced for puppies, adults, and senior dogs. The food should be easy for your Azawakh to digest and it contains no artificial flavors, colors, or preservatives.

Any dog suffering from skin problems or food allergies may benefit from Wild Calling's Xotic Essentials recipes. Formulas like their rabbit meal recipe use exotic meats that are rare in today's pet food market so your dog probably hasn't eaten them before – and has less chance of having an allergic reaction. The foods are also highly digestible. Wild Calling also uses what they call LITe (limited ingredient technology). They don't use any of the ingredients commonly found in most dog foods such as chicken, grain, gluten, egg, yeast, corn, wheat or soy. If your Azawakh has a food allergy, he may benefit from Wild Calling. The foods are formulated for rotational feeding and they offer several Xotic Essentials recipes, such as kangaroo and bison, so your dog doesn't get over-exposed to one kind of meat protein. This is an All Life Stage food. We think that dogs with skin problems and food allergies can definitely benefit from these recipes.

Another food that is often recommended for dogs with food allergies and skin problems is Zignature. It comes in proteins such as trout & salmon, kangaroo, turkey, duck, venison, and others. It's available in dry and canned versions. Foods are potato- and grain-free, and chicken-free. They do not use common bonding agents (thickeners and ingredients to hold the food together) in their foods which are high in simple carbs and starches. They only use low glycemic carbs such as chickpeas that add extra protein and fiber to the food. They work with Tuffy's in Minnesota and Performance Pet in South Dakota to make their foods. Many people like Zignature very much. If you have a dog with food allergies, this is a brand that you might consider. This duck formula is a good example with hypo-allergenic meat first, no corn, wheat, soy, dairy or chicken, chicken eggs or chicken by-products.
Best Dog Foods for

Azawakhs

with Sensitive Stomachs
Many dogs are susceptible to food sensitivities that affect their digestion and excretion. If your dog has a sensitive stomach it can be an indication of a food sensitivity, which is different form a food allergy. A dog with a food sensitivity will have gastrointestinal issues such as vomiting or diarrhea. Or it could be something more serious.
A dog with a sensitive stomach can often be helped by feeding the right dog food. Sticking to a limited ingredient diet food with as few ingredients as possible can reduce the chance of your dog having a bad reaction to something in the food.
Many people recommend Wellness Simple for dogs with food sensitivities. The formulas feature only five main ingredients to keep things very simple for your Azawakh. Wellness makes formulas that are both grain free and some that have easy-to-digest grains such as oatmeal. The food is easy to digest and contains probiotics and prebiotics to help the gastrointestinal system. It also contains omega fatty acids for good skin and coat. Formulas feature duck, salmon, turkey, and lamb. Wellness Simple comes in dry and canned formulas.
We also recommend Natural Balance L.I.D. Limited Ingredient Diets Sweet Potato & Fish Formula Dry Dog Food. This food is grain free with limited ingredients. It has good quality, alternative ingredients that are easily digestible for a dog with a sensitive stomach. And it contains no artificial flavors, colors, or preservatives. The first five ingredients are: Sweet Potatoes, Salmon, Fish Meal, Potato Protein, Canola Oil (preserved with mixed tocopherols). It has 21 percent crude protein, 10 percent crude fat, 5 percent crude fiber, and 10 percent moisture. It has 350 kcal/cup and it's a maintenance formula. If your dog can't eat some of the ingredients in this food, Natural Balance has lots of other LID recipes that you might check.
If your dog can't eat these ingredients, you might try one of the Weruva foods or Acana Singles. Weruva also has lots of foods with pumpkin which can sometimes help a dog with stomach issues.
Best Dog Foods for Overweight

Azawakhs
Azawahks are such an active, energetic breed that you may never have a problem with your dog becoming overweight. However, some dogs do slow down as they get older. You can often help your Azawakh lose weight by cutting back on his portions and encouraging him to get more exercise.
If your Azawakh needs to lose more than a few pounds, however, you may need to consider a weight control dog food.
We do not recommend a weight control dog food for a puppy or a very old dog. These foods generally have fewer calories and may have some other differences in nutrients that make them inappropriate for growing puppies or older dogs who need special nutrition. Many weight control foods contain a lot of filler ingredients or empty carbohydrates which makes it hard to recommend them.
If you do have an Azawakh who needs to lose weight, we can recommend Fromm Gold Weight Management. It can be hard to find a good weight control dog food but Fromm is a quality brand with good ingredients. This food has 25 percent crude protein and 10 percent crude fat so it's not that much different from some of the adult foods we've recommended. It has 341 Kcal/cup. Fed in moderation, it should help most overweight Azawakhs lose weight or maintain a healthy weight. The first five ingredients are: Turkey Liver, Chicken Meal, Pearled Barley, Oatmeal, and Dried Tomato Pomace.
Fromm also has a grain free weight control formula called Fromm Gold Coast Grain Free Weight Management Dog Food with the same crude protein and fat percentages if you prefer a grain free weight control food for your dog.
If your dog needs to lose weight, you should proceed slowly. No crash dieting. You should aim for your dog to lose no more than 3 to 5 percent of his body weight per month or about one percent each week.
Conclusion
The Azawakh has lived for millennia with the tribes of the Azawakh Valley in the Nigerian basin of Africa. These elegant, graceful dogs are both protectors and hunters. They are fiercely loyal to and affectionate with their families but also able to be independent. They are typically reserved with strangers. Able to course at speeds approaching 40 mph, the Azawakh is known for its great endurance in the hottest of climates. The breed is little known in North America and Europe at this time but as people learn about its history, beauty, and character, that should change.
Below is a list of Products reviewed in this article