Best Dog Food for a French Bulldog
With their erect bat ears and wrinkled faces, French Bulldogs can be spotted a mile away. They're as adorable as they are adaptable, "Frenchies" are a small breed, known for being playful, fun-loving, and intelligent.
Frenchies are quiet, companionable, and moderately active – but love lounging around the house. Along with moderate exercise, this breed requires a high-quality diet. To help you select the formula with the right ingredients for your dog, we've reviewed the top-rated, most nutritious dog foods for French Bulldogs.
Disclosure: Please note that this post contains affiliate links, which will direct you to our partner sites. If you purchase the pet foods we recommend through those links, we may earn a small commission – at no extra cost to you.
Top 3 Best Dog Foods for French Bulldogs
French Bulldog Diet and Nutrition
French Bulldogs weigh up to 28 pounds, females usually weighing less than males. They typically stand about 11 to 13 inches tall at the withers and are compact, muscular dogs with a heavy bone structure. They're generally lively, but their individual metabolism and level of activity will determine how many calories they need. Generally, French Bulldogs eat dog food made for small or medium breeds, consuming anywhere from two to four meals per day, depending on the dog's age and health requirements.
Frenchies are a brachycephalic breed (short-nosed), so being overweight poses several health risks. For one, extra weight can make it harder for these dogs to breathe comfortably. We recommend measuring how much you're feeding instead of free feeding (leaving food out all the time.)
What to Feed a French Bulldog
Every dog has different dietary and nutritional needs, but an average French Bulldog should eat a formula that includes several of the following benefits:
Meat Protein – Whole meat, such as chicken, beef, fish, and lamb should be included in the first several ingredients listed. Protein can also come from meat meals, a concentrated form of meat in which the moisture has been removed. The AAFCO recommends 22 percent protein for puppies and 18 percent protein for full-grown dogs.
Fat – Chicken fat, canola oil, and flaxseed are all healthy sources of fats and include additional health benefits. AAFCO recommends eight percent fat for French Bulldog puppies and five percent fat for adults.
Omega-3's – This fatty acid helps keep a French Bulldog's skin and coat healthy.
DHA – One of the three Omega-3s is DHA, which supports brain and eye development.
Carbs – To keep a French Bulldog's blood sugar steady, the dog food should be low in carbs and may include an alternate, low-glycemic form of carbs, such as sweet potatoes.
Proper Calcium to Phosphorus Ratio – Puppy foods should have a calcium to phosphorus ratio of about 1.2 parts calcium to 1 part phosphorus. Having a deficiency or excess of calcium in your dog's diet can lead to serious orthopedic problems, like painful bone spurs.
Since French Bulldogs often have stomach sensitivities, it's best to avoid:
Excessive protein
Animal by-products, fillers, and preservatives
Common allergens like grains, soy, and wheat
Best Dog Foods for French Bulldog
As your French Bulldog tries new foods, you'll start to notice whether or not the dog has allergies or sensitivities to certain ingredients. Your veterinarian can help to identify the food triggers to avoid when you are shopping for new dog food. Below, we'll discuss quality dog food options with alternative meat proteins, limited ingredients, and healthy, nutrient-filled formulas that will best serve your French Bulldog.
French Bulldog Puppy Food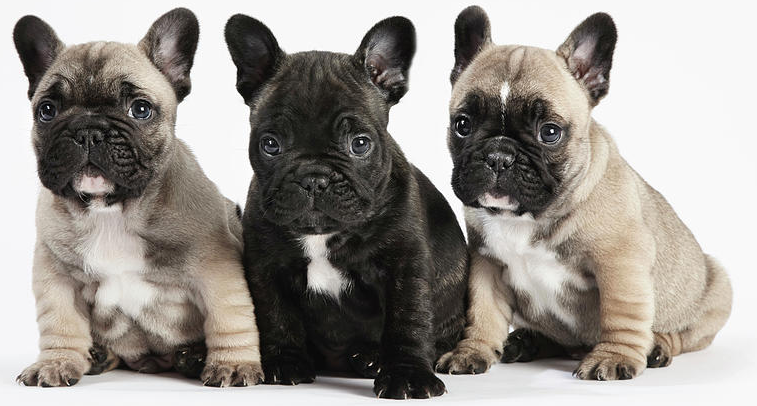 While your French Bulldog is a puppy, it's essential to find a food that will properly nourish your dog, as well as one that he or she enjoys. A young French Bulldog puppy (four to 12 months), weighing an average of 12 pounds, needs around 500 calories per day, split between three or four meals.  Here's a quick look at our top choices for French Bulldog puppy food.
1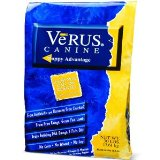 VeRUS Puppy Advantage is an easy-to-digest, holistic food for small breed puppies. The formula contains DHA for proper brain development and probiotics for digestion, as well as omega-3 fish oils, vitamins, and chelated minerals. Free of unhealthy chemicals or additives, VeRUS provides great nourishment for a growing French Bulldog.
Main Ingredients: Chicken Meal (cage-free, US-grown, antibiotic free), Ground Oats, Ground Brown Rice, Chicken Fat
Protein: 23 percent
Fat: 15 percent
Fiber: 4 percent
Calories: 399 kcal/cup
2
Canidae Grain Free Pure Foundations Puppy Formula is a limited ingredient food that includes probiotics to help digestion, antioxidants for a healthy immune system, and omega-3 and 6 fatty acids to support healthy skin and a beautiful coat. The recipe is especially helpful for puppies with sensitive digestion. Since this formula is nutrient-dense and higher in calories, smaller amounts of food go a long way.
Main Ingredients: Chicken, Menhaden Fish Meal, Lentils, Peas, Potatoes
Protein: 30 percent
Fat: 12 percent
Fiber: 4 percent
Calories: 520 kcal/cup
Adult French Bulldog Food
As your French Bulldog reaches 90 percent of his or her full growth,  you will need to adjust your dog's diet and food. According to the National Research Council of the National Academies, an active adult French Bulldog weighing 25 pounds requires an average daily caloric intake of 780 kcal, split between two meals. The following top choices for French Bulldog adult dog food range from limited ingredient formulas to natural and easy-to-digest recipes.
1
Nulo is a newer, nationally known brand with incredible benefits for French Bulldogs. With the highest animal-based protein (80-84 percent) out of any dog food on the market, Nulo doesn't use any poultry or meat by-products in their dog foods. This formula is free of artificial colors, flavors, and preservatives and is AAFCO-approved for maintenance.
Nulo is also one of the few companies using probiotics that seem to actually survive the manufacturing process. (Check their site to read more.)
Main Ingredients: Deboned Salmon, Turkey Meal, Menhaden Fish Meal, Whole Peas, and Sweet Potato
Additional Benefits: low-carb, low-glycemic, free of corn, wheat, soy, potatoes, tapioca, glutens, and GMO's
Protein: 30 percent
Fat: 16 percent
Fiber: 4.5 percent
Calories: 424 kcal/cup
2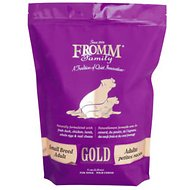 If your French Bulldog can eat grains, this formula is a great choice. It contains probiotics to help with digestion and is completely free of wheat, corn, and soy. This well-respected brand is family-owned and makes their food in small batches every morning.
Main Ingredients: Duck, Chicken Meal, Chicken, Grains (brown rice, pearled barley, and oatmeal)
Protein: 24 percent
Fat: 16 percent
Calories: 408 kcal/cup
3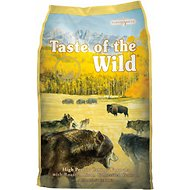 This is a great and very affordable choice for your French Bulldog if you're on a budget. Coming in at more than 4.5 stars on Chewy.com, Taste of the Wild hits the sweet spot when it comes to quality and price.
Taste of the Wild's High Prairie dog food is USA-made and grain-free. This food is good for Frenchies with skin allergies or sensitive stomachs since it doesn't include common allergens.
Main Ingredients: Lamb Meal, Chicken Meal, Sweet Potatoes, Peas, Potatoes, Canola Oil, Egg Product, Roasted Bison, Roasted Venison
Protein: 32 percent
Fat: 18 percent
Fiber: 4 percent
Calories: 370 kcal/cup
4
This formula is one of the most natural dog foods you can find with nearly all organic ingredients. Since it's free of grain, corn, soy, and wheat, it's safe and easily digestible by French Bulldogs with sensitive stomachs.
Main Ingredients: Organic Chicken, Organic Chicken Meal, Organic Sweet Potatoes, Organic Chickpeas, Organic Peas, Organic Tapioca, Organic Pea Protein, Organic Sunflower Seed Meal, Organic Coconut Oil, Organic Chicken Fat
Protein: 26 percent
Fat: 15 percent
Fiber: 5 percent
Calories: 368 kcal/cup
Senior French Bulldogs
An aging French Bulldog will start to become less active and lose muscle strength, so it's important to provide your pet with a protein-rich, nutritious food to keep him or her healthy. Many older dogs begin to put on pounds, but in some cases, you can simply cut back on the portion sizes or have the dog exercise more.
On the other hand, elderly dogs often start to have problems with metabolizing nutrients, including protein. It can become hard for them to keep a healthy muscle tone and weight as they age. For this reason, you may wish to avoid dog foods labeled "senior." These foods are often formulated for older dogs that have gained weight. If your French Bulldog is not overweight, we suggest looking for senior dog food that has plenty of protein. As long as your dog doesn't have any problems with his kidneys, there is no reason to avoid higher protein levels.
1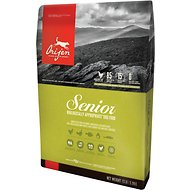 Made with 80 percent meat and fish, Orijen Senior Dog food contains quality protein, is low-glycemic, and is low-carb to help keep your older dog's blood sugar steady. With natural sources of glucosamine and chondroitin, this food also supports joint health.
Main Ingredients: Deboned Chicken, Deboned Turkey, Yellowtail Flounder, Whole Eggs, Whole Atlantic Mackerel, Chicken Liver, Turkey Liver, Chicken Heart, Turkey Heart
Protein: 38 percent
Fat: 15 percent
Fiber: 8 percent
Calories: 445 kcal/cup
Additional Dietary and Health Considerations
With the right dog food and moderate exercise, your French Bulldog should live a happy and healthy life. Among the breed, it is common for dogs to become overweight, which may lead to other health risks. We recommend measuring how much you are feeding your dog and monitoring how much he or she is eating instead of free feeding or leaving food out all the time.
If your French Bulldog has dietary or health issues, consult your veterinarian for specialty food suggestions. You can find out more information about French Bulldog health issues by visiting the website for the French Bulldog Club of America, the AKC parent club for the breed.
Chewy Sales
Below is a list of Products reviewed in this article