What Is The Best Dog Food for a Corgi?
The Ultimate Corgi Food Buyer's Guide
Corgis are probably best known as the palace pals of Queen Elizabeth II. There is actually much more to these little herding dogs. First, there are two distinctly different Corgi breeds: the Cardigan Welsh Corgi and the Pembroke Welsh Corgi.
The dogs were considered one breed until the 1930s. There are noticeable physical differences in the breeds. Cardigans are larger, with rounded ears, and a long tail, among other things. The Pembroke is smaller with a short, often natural bobbed tail, with pointed ears. Their face has a foxier appearance than the Cardigan's face.
Historically, the two kinds of Corgis probably had separate origins, with the Cardigan herding cattle in Wales from at least the 12th century. The Pembroke may have been an early cross with the Swedish Valhund, a small herding dog kept by Viking invaders. Corgis are active, energetic, bold, and playful. Like many herding dogs, they will nip to round up children or other pets.
Corgis are becoming rare today, though Pembrokes are easier to find than Cardigans.
Quick Look : Top 4 Best Dog Foods for Corgis
Corgi Diet & Nutrition
According to the standard for the breeds, Corgis typically weigh 25-27 pounds and stand 10 to 12.5 inches tall. At this height, they are usually stout for their size and feel substantial.
Corgis are active dogs and tend to make good watchdogs. They can use up a lot of calories. Growing puppies and young adults will use up more energy than mature adults. They require a diet that features good quality protein. According to the National Research Council of the National Academies, an active adult Corgi weighing 25 pounds requires an average daily caloric intake of 780 calories. Dogs that have been spayed/neutered, or that are older, may need slightly fewer calories. Some dogs may need more calories depending on their level of activity and their individual metabolism. Growing puppies, for example, consume more calories than adult dogs and so do young adult dogs. A young adult Corgi puppy weighing 20 pounds needs an estimated 733 calories per day.
Since the Corgi (both breeds) is small to medium in size, you should be able to feed them a good quality food for medium or small dogs. They should also do well on All Life Stage dog foods as well as foods designed for special life stages (puppy, adult, senior).

---
20% Off + Free Shipping
on dog food for Corgis
Feeding Your Corgi
Corgis can usually eat most good quality dog foods. However, they do require good quality nutrition. This is really not a breed that can get by on cheaper dog foods.
We suggest that you measure the amount of food you feed and only leave the food sitting out for about half an hour. Then put it away. This should give your dog time to eat. If you free feed and leave the food sitting out all the time dogs usually nibble which puts on pounds. Most dogs do well eating two meals per day. Puppies can usually eat three meals per day until they are old enough to start eating on an adult schedule.
Corgi Health Problems
We would like to emphasize that many Corgis really love their food. Becoming overweight or obese is a real health issue for Corgis and can lead to serious problems such as back trouble, hip and elbow problems, breathing difficulties, heart problems, bloat, and other difficulties. Please make sure that you don't overfeed your Corgi. You can read more about problems associated with obesity in Corgis here with the story of Reba, the 70-lb Corgi.
Corgis are considered a "dwarf" breed because of their short legs and some other factors. Some dogs can experience health problems related to their dwarf stature. Some health problems found in the breed include von Willebrand's disease (vWD disease is a bleeding disorder found in many breeds and mixes); canine hip dysplasia (CHD or HD); degenerative myelopathy (DM); and some inherited eye disorders such as progressive retinal atrophy (PRA).
There is genetic testing for many of these problems to help breeders, but there is no sure-fire way to prevent some health issues from occurring. Some dog lovers try to protect their dogs by feeding a dog food with more natural ingredients to try to keep their dog's immune system as strong as possible. Many people recommend feeding a food that is free of some of the most common food irritants such as corn, soy, and wheat. These are not the most common dog food allergens – beef, dairy products, and chicken, for example, lead to more food allergies for dogs than corn, soy, and wheat. But many people like to avoid soy and grains in dog foods. There are many good grain free dog foods today if you want to feed one to your dog.
Avoiding artificial colors, flavors, sweeteners, and preservatives is also suggested as a way to help keep the immune system stronger.
Ingredients to Look for and Some to Avoid
Protein and fat are the main ingredients in the diet for a Corgi, as they are for most dogs. However, not all protein and fat are the same. It's important that the protein and fat in the dog food comes from good sources if you want your dog to be healthy.
Ideally you will select a dog food that features two or three meat proteins in the first several ingredients listed. Both whole meats and meat meals are good sources of protein. Whole meats refer to foods such as whole chicken, beef, fish, and lamb. Some people don't like meat meals as much as whole meats but they are a concentrated form of the meat in which the moisture has been removed. They contain several times as much protein as a whole meat. Meat meals are usually quite acceptable as one of the first ingredients in a good quality dog food. They are used by many good dog food brands.
Dogs also need good sources of fat. You should look for named fat sources such as chicken fat. Other named fats also provide needed nutrients such as fish oil which can provide omega-3 fatty acid to help keep the skin and coat healthy. Puppies can benefit from DHA which is Docosahexaenoic acid. This is a specific form of omega-3 fatty acid that helps with brain and eye development. Older dogs seem to benefit from medium chain triglycerides which feature medium chain fatty acids (MCFAs). These have been found to help older dogs feel and act younger. They are often made from a combination of coconut oil and other oils.
If you want to avoid corn, soy, and wheat in your dog food, your Corgi may still be able to eat rice, barley, oats, or some other grain or cereal. Or you can feed a grain free dog food that uses an alternate source of carbs such as sweet potatoes. You don't have to feed a dog food with an excessively high percentage of protein but it's a good idea to keep the carb percentage low to moderate.
Recommended Dog Food For An Adult Corgi
While the Queen has someone who personally cooks and prepares meals for her Corgis, many of us don't have that luxury. We have to feed our own dogs and that often means choosing a kibble. We are recommending a variety of foods for Corgis. Some have grains and some don't. We have selected foods without corn, wheat, and soy unless otherwise noted. You may have to try a couple of foods to find which one is best for your Corgi. You should also keep in mind that your dog's diet needs can change as he grows and ages so you may have to change foods to accommodate him.
Best Dog Foods for Corgi Adults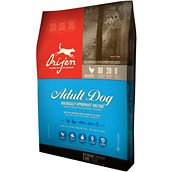 As small to medium-sized dogs, Corgis are lucky in the fact that they can eat many foods that don't have to be specifically designed for "small" dogs. You can choose a good adult dog food for your Corgi, and Orijen is consistently rated as one of the best foods around. This is particularly true if you are looking for a grain free food with lots of protein. Orijen prides itself on being a "biologically appropriate" food for dogs, meaning that it is based on what your dog needs as a carnivore. The first three ingredients in Orijen adult are Boneless chicken, chicken meal, and chicken liver. The food features 80 percent meat and 20 percent fruit, vegetables, and botanicals. It has no grains, potatoes, or GMO ingredients, which many people will be pleased to see. This is a low-carb, low-glycemic food, which is also appealing to many dog lovers. Other animal proteins in this food include turkey, Northern Walleye, wild herring, salmon, and nest-laid eggs. The food has 38 percent crude protein and 18 percent crude fat, and checks in with 478 kcal per 250ml/120g cup. This is a rich food so you won't have to feed your Corgi very much. Remember to watch how much you feed your Corgi since obesity can be a problem. Orijen Adult Dog food is highly recommended.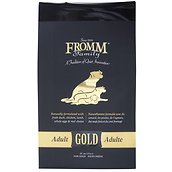 This holistic dog food is designed for normally active adult dogs. Fromm Adult Gold is one of our favorite dog foods for dogs that can eat good quality grains. It contains duck, chicken meal, and chicken as the first three ingredients. Grains include brown rice, pearled barley, and oatmeal, which can provide good dietary fiber and some vitamins and minerals. The food also has probiotics to help with digestion. The food contains no wheat, corn, or soy that might irritate the digestive system. Fromm Adult Gold features 24 percent crude protein and 16 percent crude fat. The food is moderate in terms of calories (408 kcal/cup).
We also like the fact that Fromm is a family-owned company in Wisconsin with a good reputation and they make their food in small batches fresh every morning. These are good ingredients from a respected company.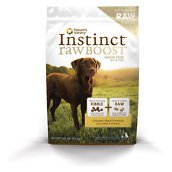 If you haven't tried Nature's Variety Instinct Raw Boost dog foods, we are big fans of these formulas. They have the ease and benefits of a kibble with the added taste boost that comes from freeze-dried raw bites included. There is no fuss or special container needed to keep the food. Since the raw bites are freeze-dried, they keep their nutrients just as they are. The food is 74 percent animal ingredients and oils; and 26 percent vegetables, fruits, vitamins, minerals. It has no grains or glutens. If you are looking for a good grain free food for your Corgi that has lots of good meat protein, we think this is a good food to try. The food also has lots of omega-3 and omega-6 fatty acids for healthy skin and coat and other health benefits; as well as probiotics for digestion. The first three ingredients in the food are Chicken Meal, chicken, and chicken fat. It has 38 percent crude protein and 20.5 percent crude fat. Calories check in at 454 kcal/cup. You won't have to feed your Corgi very much of this food and it should keep him feeling full. Just don't overfeed.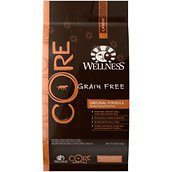 Wellness CORE Grain Free Original Formula is another one of our favorite grain free foods for Corgis and for all breeds. The first three ingredients are deboned turkey, turkey meal, and chicken meal. The food is high in protein (34 percent crude protein) and moderate in fat (16 percent crude fat). It checks in at 421 kcal/cup. It has no meat by-products or filler ingredients. It also includes glucosamine and chondroitin for healthy joints; antioxidants, omega fatty acids, and probiotics. We also like the chicken fat and salmon oil for good coat and skin, as well as contributing to your dog's healthy heart. And it's naturally gluten-free. We think this is a very good grain free dog food for a Corgi. Wellness CORE also has a fish formula and canned dog food if your Corgi would prefer different recipes. We think this is a good grain free food for many dogs.
Best Dog Foods for Corgis Puppies
As with all puppies, it's important to make sure that food for Corgi puppies has the correct calcium to phosphorus ratio. This ratio should be very close to the following: 1.2:1. That is 1.2 parts calcium to 1 part phosphorus. (There is some slight room for variation, such as 1.5:1, but the ratio should be close to this.) You can usually find this information in the nutritional analysis for a dog food. It may or may not be included on the label but you can usually find it on the company web site.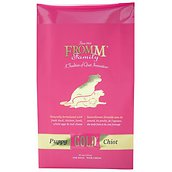 Similar to Fromm's Gold Adult formula, this puppy formula contains no corn, wheat, or soy. The first three ingredients are duck, chicken meal, and chicken. The food is formulated for growing puppies. Protein and fat in the food are moderate (27 percent crude protein and 18 percent crude fat), and so are the calories, to help large breed puppies grow slowly. The food checks in at 417 kcal/cup. The technical analysis for the food shows the correct calcium to phosphorus ratio for puppies. Fromm Puppy Gold formula also has added DHA-rich salmon oil for good brain and eye development in puppies. The USDA-inspected ingredients for the food are delivered fresh each morning. We think this is a good all-around healthy puppy food for Corgis and other growing puppies.
Corgi breeders often recommend Canidae for their dogs and puppies. Canidae Grain Free PURE Foundations Dry Puppy Formula Dog Food only has nine ingredients (plus vitamins and minerals and probiotics). The first three ingredients are chicken, menhaden fish meal, and lentils. The food has 30 percent crude protein and 12 percent crude fat. This food checks in at 520 kcal/cup, so it's high in calories but very active, growing Corgi puppies can usually burn them off. Just remember that you don't need to feed a lot of food with these very nutrient-dense foods and do not overfeed your Corgi. The food also contains antioxidants for a healthy immune system and omega-3 and omega-6 fatty acids for a healthy skin and coat.
Canidae also has some good All Life Stages foods with and without grains that you might consider for your Corgi puppies. Those foods are lower in calories than Canidae Grain Free PURE.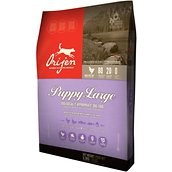 Orijen Puppy Large is similar to their adult formulas. It is a biologically appropriate dog food that features 80 percent whole prey – chicken, turkey, eggs, fish; and 20 percent fruits and vegetables. It contains zero percent grains and potatoes. It is a non-GMO food. The chicken and turkey are cage-free and the fish is wild-caught. This is a low-glycemic dog food to support healthy blood sugar levels. The first three ingredients are boneless chicken, chicken meal, and chicken liver. The food is fairly moderate in fat (16 percent crude fat) and high in protein (38 percent crude protein). It also provides the correct calcium to phosphorus ratio and natural DHA from fish for good brain development in puppies. Orijen Puppy Large has 456 kcal per 250ml cup (120g). This food has very good quality ingredients. Many dog lovers will like this grain free food for their Corgi puppies.
Best Dog Foods for the Senior Corgi
Corgis typically live to be around 12 years of age, though some may live longer. Your Corgi may start showing signs of aging by the time he is about 8-9 years old. As your Corgi gets older, it's a good idea to plan an annual senior check-up with your vet. Many older dogs begin to put on pounds as they become less active. For this reason, most senior dog foods have fewer calories and they can skimp on protein. You should watch your older Corgi's weight as he gets older to make sure he doesn't become overweight. In some cases you can simply cut back on the portions of his regular dog food to help him stay fit or increase his exercise, though Corgis will probably complain if you do this.
If you decide that your older Corgi needs a senior dog food, here's a food we like.
Older dogs can have difficulty metabolizing nutrients, especially protein. Orijen Senior provides plenty of excellent quality protein for your older Corgi. This food features free-run chicken and turkey, wild-caught fish, and nest-laid eggs. It helps keep older dogs in good muscle even as they become less active. Made of 80 percent meats and fish, the food is low-glycemic and has low carbs to help keep your older dog's blood sugar steady. The food also contains natural sources of glucosamine and chondroitin to keep your Corgi's bones and joints healthy. The food is 38 percent crude protein and 15 percent crude fat. It checks in at 445 kcal per 250ml/120g cup. We think this is a very good food for senior dogs who often need extra protein as they get older. We really like it better than senior dog foods that cut calories and reduce protein for older dogs, as so many of them do.
Best Dog Foods for Corgis with Skin Problems/Allergies
If your Corgi is having skin problems or problems with food allergies, you will probably want to avoid foods that contain known food allergens such as beef, dairy products, chicken, lamb, fish, chicken eggs, corn, wheat, and soy. You may need to find a novel protein for your dog – a protein that he has not eaten previously. Natural Balance has a selection of limited ingredient diets that can be helpful for dogs with food allergies. You might try giving your dog the rabbit formula, kangaroo formula, venison formula, or bison formula. He should be able to eat a meat protein that he has not eaten previously without having an allergic reaction. Wild Calling! is another brand we like.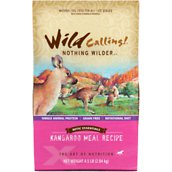 Any dog suffering from skin problems or food allergies may benefit from Wild Calling!'s Xotic Essentials recipes. Formulas like their kangaroo meal recipe use exotic meats that are rare in today's pet food market so your dog hasn't eaten them before – less chance of having an allergic reaction. The foods are also highly digestible. Wild Calling! also uses what they call LITe (limited ingredient technology). They don't use any of the ingredients commonly found in most dog foods such as chicken, grain, gluten, egg, yeast, corn, wheat or soy. If your Corgi has a food allergy, he can really benefit from Wild Calling! The foods are formulated for rotational feeding and they offer several Xotic Essentials recipes, such as rabbit and bison, in addition to kangaroo, so your dog doesn't get over-exposed to one kind of meat protein. This is an All Life Stage food. We think that dogs with skin problems and food allergies can definitely benefit from these recipes.
Best Dog Foods for Corgis with Sensitive Stomachs
Many breeds of dog are susceptible to food sensitivities that affect their digestion and excretion. The Corgi is no exception.
If your dog does have a sensitive stomach it can be an indication of a food sensitivity, which is different form a food allergy. A dog with a food sensitivity will have gastrointestinal issues such as vomiting or diarrhea. Or it could be something more serious.
A dog with a sensitive stomach can often be helped by feeding the right dog food. Sticking to a limited ingredient diet food with as few ingredients as possible can reduce the chance of your dog having a bad reaction to something in the food.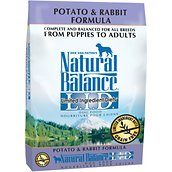 If your Corgi can eat potatoes, we recommend Dick Van Patten's Natural Balance L.I.D. Limited Ingredient Diets Potato & Rabbit Dry Dog Formula. This limited ingredient diet food has limited sources of protein and carbs. It's also grain free and complete and balanced for puppies, adults, and senior dogs. The food is easy for your Corgi to digest and it contains no artificial flavors, colors, or preservatives. Natural Balance has several LID diets. Be sure to check the ingredients to see which ones your dog can eat.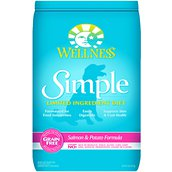 We know that some dogs have issues with potatoes and other ingredients, so we also recommend Wellness Simple for dogs with food sensitivities. The formulas feature only five main ingredients to keep things very simple for your Corgi. Wellness makes formulas that are both grain free and some that have grains such as oatmeal. The food is easy to digest and contains probiotics and prebiotics to help the gastrointestinal system. It also contains omega fatty acids for good skin and coat. Formulas feature duck, salmon, turkey, and lamb. Wellness Simple comes in dry and canned formulas. You might find one of these formulas that your Corgi can eat.
Finally, Acana Singles are worth mentioning if you have a dog with a sensitive stomach or a dog with food allergies. These limited ingredient foods can be good for some dogs with sensitive digestion. Again, be sure to check the ingredients to be sure they are suitable for your dog. Acana is made by Champion Petfoods in Canada, the same company that makes Orijen.
Best Dog Foods for Overweight Corgis
Weight management is important for all dogs. It's particularly important for a breed like the Corgi which, according to many owners and breeders, has a proven history of overeating and gaining weight.
If your Corgi dog is five to 10 pounds overweight, you can probably help him lose a few pounds by managing his regular dog food and portions. Stop the treats and scraps at the table. Help him get some additional exercise. However, if your Corgi is more than a few pounds overweight, you probably need to consider changing his food to a weight control dog food.
We do not recommend a weight control dog food for a puppy or a very old dog. These foods generally have fewer calories and may have some other differences in nutrients that make them inappropriate for growing puppies or older dogs who need special nutrition. If you have a puppy or very old dog that needs to lose weight, please talk to your veterinarian.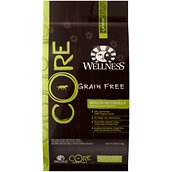 If you have a Corgi who needs to lose weight, we recommend Wellness CORE Grain Free Reduced Fat Formula. This food is high in protein (33 percent) and low in fat (10 percent). It's also gluten-free and grain free. It has 25 percent less protein than the original Wellness CORE formula. The food contains deboned turkey, turkey meal, and chicken meal. The food also includes antioxidants, omega fatty acids, glucosamine and probiotics. In fact, the ingredients look very similar to the original CORE formula. It has no corn, wheat, or soy.
If your dog needs to lose weight, you should proceed slowly. No crash dieting. You should aim for your dog to lose no more than 3 to 5 percent of his body weight per month or about one percent each week.
Conclusion
Whether you are getting a new Corgi puppy or bringing home an older dog, Corgis are great companions. We hope we have provided you with the information you need to feed your friend the best food possible.