What Is The Best Dog Food for a Corgi?
Skip To Detailed Recommendations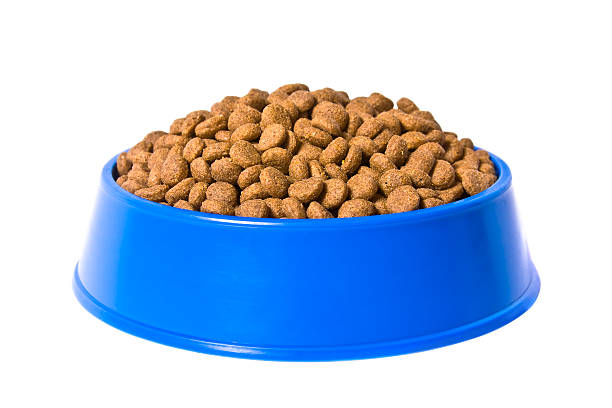 Corgis are probably best known as the palace pals of Queen Elizabeth II, but there's more to these little herding dogs. From royal to domestic-living, there are two distinctly different Corgi breeds: the Cardigan Welsh Corgi and the Pembroke Welsh Corgi.
So, what's the best dog food for a Corgi? Here's a look at our recommendations from puppies to adults and seniors.
Disclosure: Please note that this post contains affiliate links, which will direct you to our partner sites. If you purchase the pet foods we recommend through those links, we may earn a small commission – at no extra cost to you.
Quick Look: Top 4 Best Dog Foods for Corgis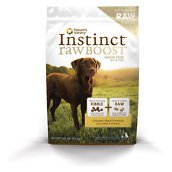 Nature's Variety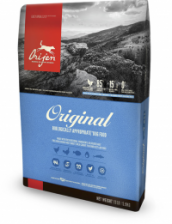 Orijen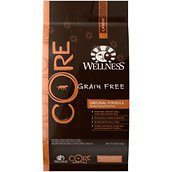 Core Wellness
Cardigans are larger, with rounded ears, and a long tail, while the Pembroke is smaller with a short, often natural bobbed tail, and pointed ears. Their face has a foxier appearance than the Cardigan's face. Corgis are active, energetic, bold, and playful. In addition to moderate exercise, Corgis need to follow a healthy diet.

---
30% Off On your first Auto-Order
on dog food for Corgis
Corgi Diet & Nutrition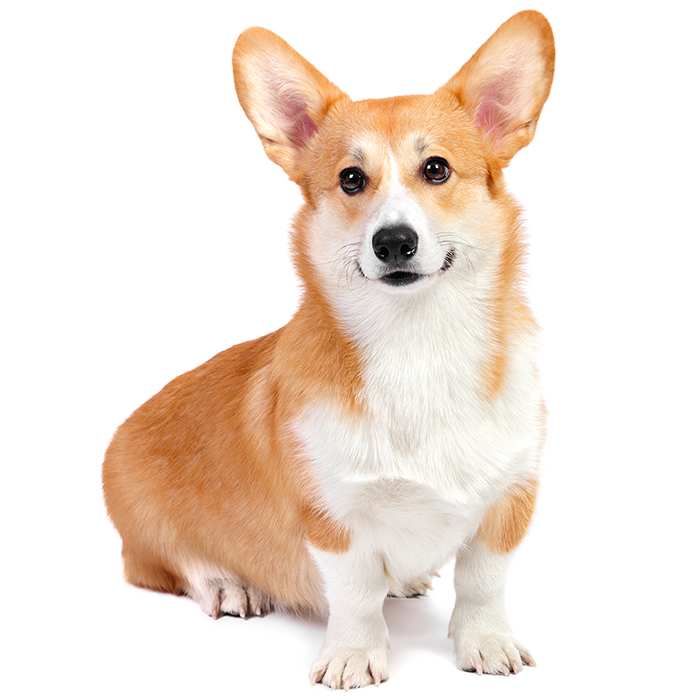 According to the standard for the breed, Corgis typically weigh 25 and 27 pounds and stand 10 to 12.5 inches tall. At this height, they are usually stout for their size.
Corgis are active dogs, requiring a high-quality diet to sustain them. Each dog's dietary needs are different and dependent on age, individual metabolism, level of activity, and whether or not they've been spayed/neutered. According to the National Research Council of the National Academies, an active adult Corgi weighing 25 pounds requires an average daily caloric intake of 780 calories. Growing puppies, for example, consume more calories than adult dogs and so do young adult dogs. A young adult Corgi puppy weighing 20 pounds needs an estimated 733 calories per day.
Since the Corgi is small to medium in size, you should be able to feed them a good quality food formulated for either size. They should also do well on All Life Stage dog foods as well as foods designed for special life stages (puppy, adult, senior).
What To Feed Your Corgi
A Corgi's diet consists mainly of protein and fat, so it's important to ensure the dog food you choose for your pup is packed with the proper nutrients – especially in the first five ingredients.
As you feed your Corgi, we suggest avoiding free feeding. Most dogs do well eating two meals per day. Puppies can usually eat three meals per day until they are old enough to start eating on an adult schedule.
Ingredients To Look For:
Protein – Ideally you will select a dog food that features two or three meat proteins in the first several ingredients listed. Both whole meats and meat meals are good sources of protein. Whole meats refer to foods such as whole chicken, beef, fish, and lamb, while meat meals are a concentrated form of the meat in which the moisture has been removed.
Fat – Dogs also need good sources of fat. You should look for named fat sources such as chicken fat. Other named fats also provide needed nutrients such as fish oil which can provide omega-3 fatty acid to help keep the skin and coat healthy. Puppies can benefit from DHA which is Docosahexaenoic acid. This is a specific form of omega-3 fatty acid that helps with brain and eye development. Older dogs seem to benefit from medium chain triglycerides which feature medium chain fatty acids (MCFAs). These have been found to help older dogs feel and act younger. They are often made from a combination of coconut oil and other oils.
Avoid – If you want to avoid corn, soy, and wheat in your dog food, your Corgi may still be able to eat rice, barley, oats, or some other grain or cereal. Or you can feed a grain free dog food that uses an alternate source of carbs such as sweet potatoes. You don't have to feed a dog food with an excessively high percentage of protein but it's a good idea to keep the carb percentage low to moderate.
---
 Best Dog Food For A Corgi Puppy
As with all puppies, it's important to make sure that food for Corgi puppies has the correct calcium to phosphorus ratio. This ratio should be very close to the following: 1.2:1. That is 1.2 parts calcium to 1 part phosphorus. (There is some slight room for variation, such as 1.5:1, but the ratio should be close to this.) You can usually find this information in the nutritional analysis on the label and/or the company website.
Here's a look at the top foods for your Corgi puppy:
1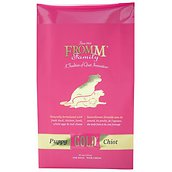 Similar to Fromm's Gold Adult formula, this puppy formula contains no corn, wheat, or soy. The food is formulated for growing puppies. The technical analysis for the food shows the correct calcium to phosphorus ratio for puppies. Fromm Puppy Gold formula also has added DHA-rich salmon oil for good brain and eye development in puppies, and the USDA-inspected ingredients for the food are delivered fresh each morning.
Main Ingredients: Chicken, Chicken Meal, Chicken Broth, Oat Groats, Pearled Barley
Protein: 27%
Fat: 18%
Fiber: 5.5%
Calories: 417 kcal/cup
2
Corgi breeders often recommend Canidae for their dogs and puppies. Canidae Grain Free PURE Foundations Dry Puppy Formula Dog Food only has nine ingredients (plus vitamins and minerals and probiotics).  The food also contains antioxidants for a healthy immune system and omega-3 and omega-6 fatty acids for healthy skin and coat.
Main Ingredients: Chicken, Menhaden Fish Meal, Lentils, Peas, Potatoes
Protein: 30%
Fat: 12%
Fiber: 4%
Calories: 520 kcal/cup
---
 Best Dog Food For A Corgi Adult
While the Queen has someone who personally cooks and prepares meals for her Corgis, many of us don't have that luxury. Fortunately, we're sharing the top foods for your Corgi pup. We have selected foods without corn, wheat, and soy unless otherwise noted. Keep in mind, you may have to try a couple of foods to find which one is best for your Corgi. You should also keep in mind that your dog's diet needs can change as he grows and ages so you may have to change foods to accommodate him.
1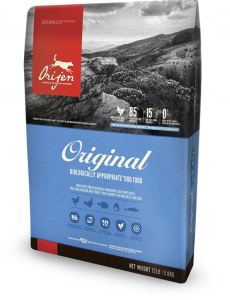 Orijen is consistently rated as one of the best foods around, priding itself on being a "biologically appropriate" food for dogs, meaning that it is based on what your dog needs as a carnivore. The food features 80 percent meat and 20 percent fruit, vegetables, and botanicals. It has no grains, potatoes, or GMO ingredients, which many people will be pleased to see. This is a low-carb, low-glycemic food, which is also appealing to many dog lovers. Orijen Original is highly recommended.
Main Ingredients: Chicken, Turkey, Whole Eggs, Chicken Liver, Whole Herring
Protein: 38%
Fat: 18%
Fiber: 8%
Calories: 470 kcal/cup
2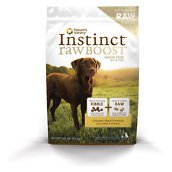 If you haven't tried Nature's Variety Instinct Raw Boost dog foods, we are big fans of these formulas. They have the ease and benefits of aibble with the added taste boost that comes from freeze-dried raw bites included. Since the raw bites are freeze-dried, they keep their nutrients just as they are.  It has no grains or glutens.  The food also has lots of omega-3 and omega-6 fatty acids for healthy skin and coat and other health benefits; as well as probiotics for digestion.
Main Ingredients: Chicken, Turkey Meal, Chicken Meal, Peas, Chickpeas
Protein: 37%
Fat: 20.5%
Fiber: 4%
Calories: 491 kcal/cup
3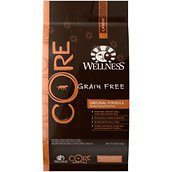 Wellness CORE Grain-Free Original Formula is another one of our favorite grain-free foods for Corgis and for all breeds. It has no meat by-products or filler ingredients. It also includes glucosamine and chondroitin for healthy joints; antioxidants, omega fatty acids, and probiotics. We also like the chicken fat and salmon oil for good coat and skin, as well as contributing to your dog's healthy heart. Wellness CORE also has a fish formula and canned dog food if your Corgi would prefer different recipes.
Main Ingredients: Deboned Turkey, Turkey Meal, Chicken Meal, Peas, Potatoes
Protein: 34%
Fat: 16%
Fiber: 4%
Calories: 421 kcal/cup
---
 Best Dog Food For A Corgi Senior
Corgis typically live to be around 12 years of age, though some may live longer. Your Corgi may start showing signs of aging by the time he is about eight to nine-years-old. As your Corgi gets older, it's a good idea to plan an annual senior check-up with your vet. Many older dogs begin to put on pounds as they become less active. For this reason, most senior dog foods have fewer calories and they can skimp on protein. You should watch your older Corgi's weight as he gets older to make sure he doesn't become overweight. In some cases, you can simply cut back on the portions of his regular dog food to help him stay fit or increase his exercise.
If you decide that your older Corgi needs a senior dog food, here's a food we like:
1
Older dogs can have difficulty metabolizing nutrients, especially protein. Orijen Senior provides plenty of excellent quality protein for your older Corgi. This food features free-run chicken and turkey, wild-caught fish, and nest-laid eggs. It helps maintain muscle strength even as they become less active. Made of 80 percent meats and fish, the food is low-glycemic and has low carbs to help keep your older dog's blood sugar steady. The food also contains natural sources of glucosamine and chondroitin to keep your Corgi's bones and joints healthy.
Main Ingredients: Deboned Chicken, Deboned Turkey, Atlantic Flounder, Whole Eggs, Whole Atlantic Mackerel
Protein: 38%
Fat: 15%
Fiber: 8%
Calories: 445 kcal/cup
---
 Additional Dietary and Health Considerations
We would like to emphasize that many Corgis really love their food. Becoming overweight or obese is a real health issue for Corgis and can lead to serious problems such as back trouble, hip and elbow problems, breathing difficulties, heart problems, bloat, and other difficulties. Please make sure that you don't overfeed your Corgi.
Many people recommend feeding a food that is free of some of the most common food irritants such as corn, soy, and wheat. These are not the most common dog food allergens – beef, dairy products, and chicken, for example, lead to more food allergies for dogs than corn, soy, and wheat. But many people like to avoid soy and grains in dog foods. There are many good grain free dog foods today if you want to feed one to your dog. Avoiding artificial colors, flavors, sweeteners, and preservatives is also suggested as a way to help keep the immune system stronger.
For more of the best dog foods for a Corgi, check out our Small Breed Dog Food Buyer's Guide.
Below is a list of Products reviewed in this article (Click on any product to find the updated price)