Best Dog Food for a Kuvasz
Kuvasz Food Buyer's Guide
Originally hailing from Hungary, the Kuvasz is an ancient livestock guarding breed. Historically they have also been used as royal guard dogs. Today, the Kuvasz is increasingly kept as a companion. Intelligent, intensely loyal, and patient, they can be aloof or independent at times, and they may take a wait and see attitude toward strangers. They are not always easy dogs to train since for centuries they were encouraged to think for themselves when guarding livestock. Socialization and training are essential for this large, protective breed.
In case you are wondering, the plural of Kuvasz is Kuvaszok. You always have to be careful with Hungarian plurals!
Historically, the progenitors of the breed probably accompanied the Magyar tribes which settled in Hungary around 2000 BC. The Magyars used these early dogs as livestock guardians. Fossilized remains of some of these dogs have been discovered dating back to the 9th century which are nearly identical to the modern Kuvasz. Once settled in the Carpathian Basin, the tribes adopted a more agrarian lifestyle. Other Hungarian breeds, such as the Komondor, were used in the valleys with drier climates. The Kuvasz worked in the higher mountains where the pastures were wet. By the 15th century the Kuvasz was highly prized and some of the dogs were kept at the royal court. Puppies were given to high ranking visitors as a royal gift. The popularity of the breed later waned at the court but the breed was still kept for its traditional role of protecting livestock.
Sadly, as with many other breeds in Europe, World War II had a devastating effect on the Kuvasz. Most of the Kuvasz in Hungary died during the war. Because of the breed's reputation for protecting their families, they were deliberately sought and out killed by German and Soviet soldiers during the war. Some German officers took Kuvasz dogs with them. By the end of the war and the Soviet invasion of Hungary, the Kuvasz was nearly extinct. Fewer than 30 Kuvasz were left in the country. According to some sources, only 12 dogs may have remained.
Since that time, dedicated breeders have worked to restore the Kuvasz in Hungary. The gene pool has been very limited so there has been some speculation that other breeds, such as the Great Pyrenees, may have been used to help the breed continue. You can read more about the history of the breed on the web site for the Kuvasz Club of America.
Most people agree that the Kuvasz is not a dog for first-time dog owners. It usually takes someone who has prior experience with dogs to provide the kind of home and training this breed needs. They are smart but not easy to train. They are not interested in learning tricks. They require training and socialization. They are protective and independent. They don't always get along well with strange dogs or other animals. They can also be prone to barking. This is not an apartment dog. Plus, the Kuvasz does have a lot of hair and they do shed.
On the other hand, the Kuvasz can be a wonderful dog for the right owner. They continue to be excellent livestock guardians for sheep or large estates. You can often see farms with sheep or cattle keeping several Kuvasz to roam the grounds for protection. The Kuvasz will also have a close bond with their owner and the family as well as anyone else they consider part of their circle. This breed is bred to take care of his entire "flock." At times the Kuvasz may even feel the need to discourage rough play among children or try to herd someone away from the group if they are too rowdy. It's up to a responsible own to set limits to this kind of behavior for their Kuvasz. This breed needs to have clear, firm, gentle commands.
The Kuvasz can be a good, gentle companion with children provided they are raised and socialized with them. However, you should not assume that your Kuvasz will be accepting of all children. For example, if your Kuvasz perceives other children as a threat to "his" kids, he could act in a way to protect his family's children. It's important to supervise when other children are playing with your kids. You should always supervise when small children are playing with or near dogs. Make sure you teach your children how to behave around dogs. Teach them to treat animals with kindness.
The Kuvasz was first recognized by the AKC in 1931. AKC describes the breed as loyal, fearless, and sweet. Today the breed is the 165th most popular dog in the United States, per the AKC.
Disclosure: Please note that this post contains affiliate links, which will direct you to our partner sites. If you purchase the pet foods we recommend through those links, we may earn a small commission – at no extra cost to you.
Top 4 Best Dog Foods for Kuvasz

---
30% Off + Free Shipping
on dog food for Kuvasz
Kuvasz Diet & Nutrition
The Kuvasz is a large, distinguished white dog with a double coat. The dog's skin is black. Males weigh between 100 and 115 pounds with a medium bone structure. Females weigh between 70 and 90 pounds. Males usually stand 28 to 30 inches tall; females stand 26 to 28 inches tall, per the Kuvasz Club of America, the AKC parent breed club. You can find the breed standard here.
Growing puppies and young adults use a lot of energy. They require a diet that features good quality protein. According to the National Research Council of the National Academies, an active adult Kuvasz weighing 100 pounds requires an average daily caloric intake of 2206 calories. Dogs that have been spayed/neutered, or that are older, or that are less active may need slightly fewer calories. Some dogs may need more calories depending on their level of activity and their individual metabolism. Growing puppies, for example, consume more calories than adult dogs and so do young adult dogs. A young Kuvasz puppy weighing 60 pounds needs an estimated 1671 calories per day.
Kuvasz are considered to be a giant breed, though there are larger breeds. Because this is a giant breed, it is important for puppies to grow slowly. Studies have shown that this helps prevent bone and joint problems later in life. It's also important to pay special attention to the calcium and phosphorus levels in the food. For these reasons, we recommend feeding a good large breed puppy food to Kuvasz puppies. Adult dogs can eat food made for large breed dogs or all life stage foods. Foods made for large breeds and large breed puppies usually have slightly fewer calories than other dog foods. This is done because added weight on the skeletal structure of a giant breed dog is thought to contribute to hip dysplasia and other joint and musculo-skeletal problems. It's important for giant breed puppies and adults to stay slim and not carry excess weight.
Breeders recommend that you do not add supplements to a good, balanced commercial puppy food. Over-supplementation or supplementation of the wrong thing can upset the nutrient balance of a food. This is particularly important with puppies when bones are developing. Adding extra calcium or other supplements to your puppy's diet can lead to skeletal problems later and perhaps a need for surgery.
Feeding Your Kuvasz
The Kuvasz can usually eat most good quality dog foods. However, they do require good quality nutrition. This is really not a breed that can get by on cheaper dog foods. Your dog's health depends on the nutrition you provide so cutting corners is not recommended.
According to the Kuvasz Club of America:
The general guideline for feeding is twice daily meals of a well balanced quality dog food (3-4 cups). This can be varied depending on age and activity level. High caloric intake, high protein foods, and vitamin supplementation are NOT recommended. The Kuvasz is an efficient processor of food. This makes sense, since they often live in the pasture or fields with their "charges". Over supplementing, and too high a level of "nutrition" in some special foods can cause too rapid and imbalance growth.
Most sources recommend feeding the Kuvasz foods with moderate protein and fat percentages. This is true for both adult dogs and puppies. Many large breed dog foods may meet these requirements but you should be careful to read labels and check percentages. Kuvasz often do well eating animal protein sources such as chicken, fish, and eggs. They can eat grains such as pearled barley, oatmeal, and brown rice. Good foods for the Kuvasz should also have omega fatty acids (3 and 6), glucosamine and chondroitin, prebiotics, probiotics, antioxidants, along with vitamins and minerals. Common vegetables such as carrots and sweet potatoes (and others); and fruits and berries such as apples, cranberries, and blueberries round out healthy ingredients for their nutrition.
As a large/giant breed, the Kuvasz can be susceptible to bloat (discussed below), along with joint problems associated with being a giant breed. This kind of diet, fed in multiple small meals during the day, is believed to help avoid problems.
We suggest that you measure the amount of food you feed and only leave the food sitting out for about half an hour for adult dogs. Then put it away. This should give your dog time to eat. We recommend feeding adult Kuvasz two meals per day throughout their lives. You can feed Kuvasz puppies 3-4 small meals per day while they are growing.
Large breeds like the Kuvasz are often at special risk for bloating. (You can view a video of a dog with bloat here. This is not a Kuvasz. This video may be upsetting for some people to watch but the dog is fine now. We do suggest you watch the video if you would like to see what some of the signs of bloat look like. You can read the symptoms of bloat here.)
Feeding one large meal per day can encourage dogs to eat fast, gulping in air which can be a trigger for bloat. Many other ideas about what does and does not contribute to bloat are still in dispute, but everyone seems to agree that multiple small meals spread throughout the day are beneficial.
As with all puppies, it's better for Kuvasz puppies to be slim instead of roly-poly. Fat puppies often end up with bone and joint problems later in life. Keeping your Kuvasz lean throughout his life is much better for his overall health.
Kuvasz Health Problems
Considering the fact that the Kuvasz was on the verge of extinction following World War II, and the dogs we have today are basically descended from fewer than 30 Kuvasz remaining in Hungary after the war, the breed is remarkably healthy today. This doesn't mean that the Kuvasz, as a breed, has no health issues. All breeds and dogs can have health problems. But things are not bad.
If you are considering buying a Kuvasz, we recommend that you read this information for new owners on the Kuvasz Club of America web site. It covers some of the health information you need to know about the breed.
The following health tests are recommended for the Kuvasz, especially if you are considering breeding your dog. If you are buying a Kuvasz, you should ask the breeder if their dogs have been tested and what the results showed:
Patellar Luxation (optional)
Eye Examination by a boarded ACVO Ophthalmologist (optional)
Cardiac Evaluation (optional)
Progressive Retinal Atrophy (PRA) DNA Test (optional)
As with most large/giant breeds, the Kuvasz can have issues with hip dysplasia. The OFA database currently shows that the Kuvasz is ranked 48th among all breeds for hips, with 78.8 percent of dogs tested (reporting results) Normal; 19.1 percent abnormal; and 2.1 percent equivocal. Hip dysplasia is believed to be a polygenetic trait – it's not simply a matter of breeding together two dogs with Excellent hips to produce puppies with Excellent hips. Multiple genes are involved. It's also greatly affected by nutrition and environment. Even if a breeder sells someone a puppy with wonderful hips, if the puppy is overfed and does things that put his hips at risk, he may develop hip dysplasia and ultimately arthritis.
Elbow dysplasia is also found in the breed. Elbow dysplasia actually includes a number of possible conditions affecting this joint such as osteochondrosis, fragmentation of the coronoid process, and others. These conditions usually appear while the joint is growing in a puppy. They all result in a painful limp and can lead to severe arthritis. Fortunately, this condition can often be helped or permanently cured with surgery. According to the OFA database, the Kuvasz currently ranks 47th for elbows, with 93.6 dogs tested (reporting results) Normal; and 6.4 percent abnormal.
Some Kuvasz may have autoimmune thyroiditis. This usually appears as low thyroid. While this condition is never desirable, it is easy to treat with an inexpensive daily pill once it is diagnosed. Symptoms of hypothyroidism in dogs include lethargy/mental dullness, hair loss, weight gain/obeisty, dry hair/excessive shedding, hyperpigmentation of the skin, intolerance to cold, slow heart rate, high blood cholesterol, and anemia. Some dogs with hypothyroidism will have all of these symptoms but other dogs may only have a few symptoms. If you suspect your dog has a thyroid issue, your veterinarian can run one of several blood tests to find out for sure. Among dogs tested for thyroid in the OFA database, the Kuvasz ranks 9th, with 77.2 percent reporting Normal and 10.7 percent reporting abnormal. Some 12.1 percent had equivocal results.
Other issues that may appear in the Kuvasz include luxating patellas – similar to a slipped kneecap in humans. Many Kuvasz breeders do test for this problem. According to the OFA database, the breed is ranked 107th for patellas with 99.4 percent of dogs tested (with results reported) reported as Normal; 0.6 percent were reported as abnormal.
Eye issues can be a problem for some Kuvasz but these tests are optional per the breed club. The general eye exam results in the OFA database show that there have been too few Kuvasz evaluated for the breed to receive a ranking (15 dogs evaluated). However, all of the dogs tested so far have had normal eyes.
Another eye issue, Progressive Retinal Atrophy (PRA), does have enough Kuvasz for a ranking. The Kuvasz is ranked 18th for this condition. Among dogs tested and reporting, 73 percent were Normal and 27 percent were carriers. This were no abnormals. This means that none of the dogs had the symptoms of PRA but, since this is a genetic disease, the DNA test was able to identify which dogs carried the gene that would pass PRA to their puppies. PRA affects many breeds. Having a test to detect carriers is very important so breeders can make knowledgeable decisions. You can read more about PRA here.
Breeders may also have their dogs tested for cardiac issues. The Kuvasz currently ranks 88th in the OFA database with 98.6 percent of dogs tested and reporting as Normal; 1.4 percent of dogs were equivocal.
You can see the full OFA database results for the Kuvasz here.
We have already mentioned bloat as a possible health problem for some Kuvasz.
For more health information about the Kuvasz, please visit the breed club web site and read their health section. The Kuvasz is a relatively long-lived breed, living 10-12 years. Some dogs live into their teen years. This is quite old for large/giant breed dogs.
Most Kuvasz won't have these health problems but they can occur in the breed. Many dog lovers try to protect their dogs and keep them healthy by feeding a dog food with more natural ingredients so their immune system will stay as strong as possible. Many people recommend feeding a food that is free of some of the most common food irritants such as corn, soy, and wheat. These are not the most common dog food allergens – beef, dairy products, and chicken, for example, lead to more food allergies for dogs than corn, soy, and wheat. But many people like to avoid soy and grains in dog foods. There are many good grain free dog foods today if you want to feed one to your dog.
Avoiding artificial colors, flavors, sweeteners, and preservatives is also suggested as a way to help keep the immune system stronger.
Ingredients to Look for and Some to Avoid
Protein and fat are the main ingredients in the diet for the Kuvasz, as they are for most dogs. However, not all proteins and fats are the same. It's important that the protein and fat in the dog food comes from good sources if you want your dog to be healthy.
Ideally you will select a dog food that features two or three meat proteins in the first several ingredients listed. Both whole meats and meat meals are good sources of protein. Whole meats refer to foods such as whole chicken, beef, fish, and lamb. Some people don't like meat meals as much as whole meats but they are a concentrated form of the meat in which the moisture has been removed. They contain several times as much protein as a whole meat. Meat meals are usually quite acceptable as one of the first ingredients in a good quality dog food. They are used by many good dog food brands.
Dogs also need good sources of fat. You should look for named fat sources such as chicken fat. Other named fats also provide needed nutrients such as fish oil which can provide omega-3 fatty acid to help keep the skin and coat healthy. Puppies can benefit from DHA which is Docosahexaenoic acid. This is a specific form of omega-3 fatty acid that helps with brain and eye development. Older dogs seem to benefit from medium chain triglycerides which feature medium chain fatty acids (MCFAs). These have been found to help older dogs feel and act younger. They are often made from a combination of coconut oil and other oils.
If you want to avoid corn, soy, and wheat in your dog food, your Kuvasz may still be able to eat rice, barley, oats, or some other grain or cereal. Oats and barley, for example, can be good sources of dietary fiber. Or you can feed a grain free dog food that uses an alternate source of carbs such as sweet potatoes. You don't have to feed a dog food with an excessively high percentage of protein but it's a good idea to keep the carb percentage low to moderate.
Recommended Dog Food For An Adult Kuvasz
Every dog is an individual. Even dogs in the same breed can have different food needs. Some dogs need more calories than others. Some dogs will do better with more protein or fat than other dogs. We are providing several suggested foods for your Kuvasz which meet our standards but you may have to use a trial and error method to see which food your dog does best on.
When you are trying a new food, be sure to allow several days to slowly transition to the food, mixing in a little of your dog's old food each day. Of course, if your dog shows signs that he doesn't like the food or doesn't tolerate it, you will have to make adjustments. If your dog eats the food but you don't like his condition after a few weeks, you can change him back – slowly – to his previous food. It's best not to go directly to another new food. You can upset your dog's gastrointestinal system if you keep changing to too many new foods in a short period of time. Once your dog has settled back with his old food, you can once again try a new food. You should allow at least a couple of weeks between foods before trying another new food so you can give your dog's system a chance to rest and recover. This also gives the new food a fair chance.
If you try a new food and your dog doesn't seem enthusiastic about it, you might also try another food from the same product line that uses a different kind of meat protein or other ingredients. As long as the guaranteed analysis and nutrient percentages are similar, the food should be similar to the original food you selected.
When you are feeding a new food and your dog is eating it without problems, it's important for you to assess his physical condition. Is he gaining or losing weight on the new food? Does his coat look healthy? Are his eyes bright? Does he seem to have good energy or is he more lethargic than usual? And, the big question for any dog lover – what does his poop look like? As most dog lovers know, you can tell a lot about a dog's health by checking his poop. Does it look normal and firm? If he having regular bowel movements. Those are good signs. If your dog is having runny poop or diarrhea; or if he is having trouble with his bowel movements, it could be because of the new food. These are all things you should note during the first few weeks of feeding a new food. Even if your dog LOVES the food, if he's not thriving, you may have to rethink his diet or how much you are feeding him.
We have tried to select foods for the Kuvasz that have moderate protein and fat levels. All of the foods listed are free of corn, wheat, and soy unless otherwise noted.
Best Dog Foods for Kuvasz Adults

Dr. Gary's Best Breed is a small, independent company. Foods are made in small batches using a unique, slow-cooking process at low temperatures that is said to make the carbohydrates easier to digest and ensure optimum absorption of the nutrients. The formulas are made using only EU (European Union)-approved ingredients, which sometimes have to meet a higher standard than USDA ingredients. The foods contain no animal by-products, cheap fillers, any kind of gluten, and no artificial preservatives, flavors, or colors. No corn or wheat. Best Breed uses only ethoxyquin-free sources of fish and chicken raised without antibiotics. (All poultry in the U.S. is raised free of added hormones.) The large breed diet is formulated to promote the health of large breed dogs. It's especially good for dogs with sensitive digestive systems. The first five ingredients in the large breed formula are: Chicken Meal, Oatmeal, Brown Rice, Dried Beet Pulp, and Chicken Fat [Preserved with Natural Mixed Tocopherols (Vitamin E)]. It has 25 percent crude protein and 13 percent crude fat, with 456 Kcal/cup. This is an all life stage dog food.

Now Fresh Grain Free Large Breed Adult Recipe is made by Petcurean. You may be more familiar with some of the other product lines from this Canadian company, such as Go!, Spike, or Summit. This food for large dogs is made from 100 percent fresh turkey, salmon, duck and 100 percent fresh omega 3 & 6 oils from coconuts and canola. It has no corn, wheat, or soy, and no other grains, gluten, or beef. It uses no rendered meats, no by-products, and no artificial preservatives.
This formula features New Zealand green mussels and glucosamine and chondroitin for healthy joints which should be beneficial for Kuvasz. It has added L-Carnitine for a healthy heart and to help turn fat into lean muscle. It has taurine for good vision and heart function. And it has added pre- and probiotics for better digestion. The first ingredient is deboned turkey. It contains 363 kcal/cup and has 27 percent crude protein and 13 percent crude fat. These levels should help your Kuvasz stay at a good weight. We think this food has some good features for a large breed in terms of bone and joint health and heart health, as well as quality ingredients.

This recipe does include grains, such as brown rice, oatmeal, and barley, but these grains have some health benefits. They are not empty carbs or filler ingredients. Oatmeal and barley provide some good dietary fiber, for example. The first five ingredients in this food are Deboned Chicken, Whitefish, Chicken Meal, Ground Brown Rice, and Oatmeal. The food has 25 percent crude protein, 11 percent crude fat, 5 percent crude fiber, and 11 percent moisture. It also contains added glucosamine and chondroitin which many people consider helpful for large breed dogs who can experience joint problems. The food has 363 kcal per cup.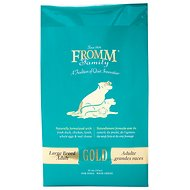 Designed specifically for large dogs over 50 pounds, Fromm Large Breed Adult Gold is one of our favorite dog foods for large dogs. It contains duck, chicken meal, and chicken as the first three ingredients. Chicken cartilage is added for a natural form of glucosamine to keep joints supple which is important for big dogs. The food contains no wheat, corn, or soy that might irritate the digestive system. Fromm Large Breed Adult Gold features moderate protein and fat which may be better for large dogs like Kuvasz. The food is moderate in terms of calories (378 kcal/cup) which helps your large dog stay slim.
We also like the fact that Fromm is a family-owned company in Wisconsin and they make their food in small batches fresh every morning. These are good ingredients from a respected company in a formula that should be good for your large dog.
Best Dog Foods for Kuvasz Puppies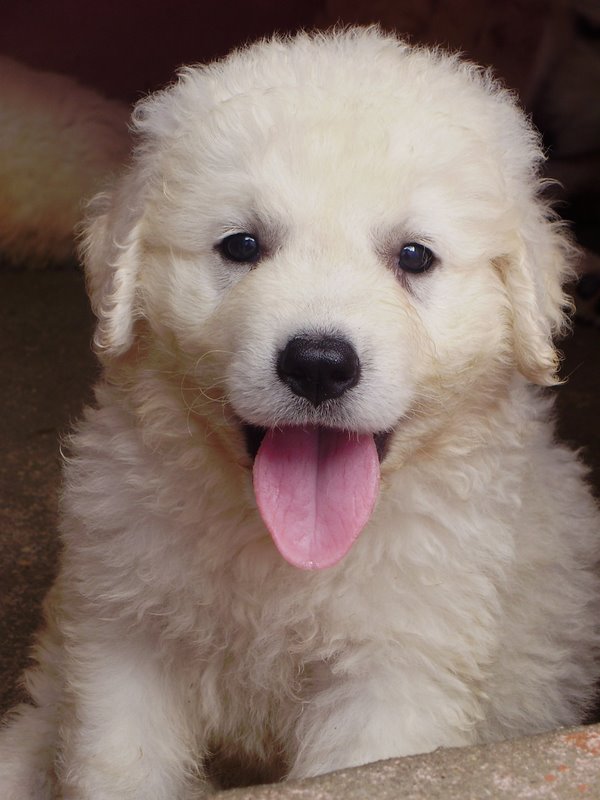 Kuvasz puppies can usually begin eating a puppy food right after they are weaned or they can eat a good all life stage food. If you have questions about how to feed your puppy, we recommend talking to your puppy's breeder. They usually have the most experience with raising Kuvasz puppies and can guide you.
Puppy foods should have a calcium to phosphorus ratio of about 1.2 parts calcium to 1 part phosphorus. It's also important that dog and puppy foods do not have an excess of calcium since this can affect bone growth. This is especially true for large breed puppies like Kuvasz. If you are feeding your puppy a food that is properly formulated, you should not add any extra calcium, such as milk, cottage cheese, or other calcium supplements. Doing so can lead to serious health problems such as OCD (osteochondritis dissecans) and other orthopedic problems.
Here are some of the puppy foods we like for Kuvasz puppies. Remember that an all life stage food can also be fed, as long as the nutrients are appropriate for your puppy.

Many breeders recommend Canidae to their puppy owners and feed it themselves. The name of this food is a little confusing. Although it says "Life Stages" it is a large breed puppy food. It's specially designed for puppies that will grow to be over 50 pounds as adults. Duck meal is high in omega-3 fatty acid which is good for reducing joint inflammation. Lentils are a non-grain, gluten free source of carbs. The food is also lower in protein and fat so it helps keep large breed puppies like Kuvasz slim – which can help prevent joint problems later in life.
As a puppy food, Canidae Life Stages Large Breed Puppy formula also contains high levels of DHA to help with cognitive development. And the food has no corn, wheat, soy, fillers, antibiotics, hormones, artificial flavors, colors, or preservatives. These are all things we look for in a good food for Kuvasz puppies.

This large breed puppy formula features lamb meal and oatmeal. It includes probiotics, healthy fiber, and digestive enzymes to help your Kuvasz puppy digest the food better and absorb more nutrition. Other natural ingredients include chicken and fish meals. The first five ingredients in the food are: Lamb Meal, Ground Brown Rice, Ground White Rice, Chicken Meal, and Dried Beet Pulp. The formula supports muscle and bone development to help your Kuvasz puppy enjoy good health now and as an adult. The food also features DHA to help your puppy with brain and eye development. Protein and fat are at lower levels desirable for growing large breed puppies. The food has 23 percent crude protein and 12 percent crude fat. And the calcium to phosphorus ratio is appropriate.
Fromm Gold Large Breed Puppy formula  and Precise Holistic puppy formulas for large & giant breed puppies are also recommended.
Best Dog Foods for the Senior Kuvasz
The Kuvasz is one of the longer-lived large/giant breeds so you will probably need to consider a good dog food for senior dogs as your dog ages. Once your Kuvasz reaches the ages of about 7 years old it's a good idea to have your Kuvasz checked by a veterinarian. Many vets recommend an annual senior check up. By getting an early start your vet will have a good baseline for your dog's later health. An annual senior check-up is a good way to detect small problems before they become big problems.
Many older dogs can start to put on some extra pounds after the prime of life. They can slow down and get less exercise at this time. If your Kuvasz starts to put on weight with age, you can usually help him lose any extra weight by controlling his portions or increasing his exercise. We recommend avoiding senior dog foods that have less protein than regular adult dog food. Some dog food companies combine senior foods with weight control dog foods since both kinds of food may have less fat and fewer calories. This kind of food may be all right for pudgy dogs that are just past their prime years but we do not recommend them for elderly dogs who may have a hard time holding their weight. These foods are often high in carbohydrates and/or fiber – neither of which is very beneficial for a very old dog. For these old dogs, more calories and higher protein are recommended, especially foods that are easy to digest.
It's very important that senior dogs have good quality protein. Good quality protein is easier to digest and metabolize than poor quality protein. It provides the older dog with more nutrition that he can use. So, plan on giving your older Kuvasz the very best food possible with excellent sources of protein.

One food we like for senior dogs is Now Fresh Large Breed Grain Free Senior Recipe. This food is made with 100 percent fresh turkey, salmon, and duck, and it has zero grains, gluten, wheat, beef, corn, or soy. No rendered meats, by-products, or artificial preservatives. It features New Zealand green mussels and glucosamine/chondroitin to support hip and joint health. The first five ingredients are: De-boned turkey, potatoes, peas, whole dried egg, and tapioca. The food has (guaranteed analysis): 25 percent crude protein, 11 percent crude fat, 4.5 percent crude fiber, and 10 percent moisture. ME (Calculated) = 3122 kcal/kg or 328 kcal/cup. This is a maintenance dog food.
Orijen Senior is another good food for older dogs. It has a very high protein percentage with good quality protein. Many senior dogs do well on this food. It features free-run chicken and turkey, wild-caught fish, and nest-laid eggs. It helps keep older dogs in good muscle even as they become less active. Made of 80 percent meats and fish, the food is low-glycemic and has low carbs to help keep your older dog's blood sugar steady. The food also contains natural sources of glucosamine and chondroitin to keep your dog's joints healthy. The food is 38 percent crude protein and 15 percent crude fat. It checks in at 445 kcal per 250ml/120g cup. We think this is a very good food for senior dogs who often need extra protein as they get older. (We know Orijen is expensive but this food really stands out for senior dogs.)
Best Dog Foods for the Kuvasz with Skin Problems
While Kuvasz are not especially prone to food allergies, some individual dogs can have sensitive skin. If your Kuvasz is having skin problems or problems with food allergies, you will probably want to avoid foods that contain known food allergens such as beef, dairy products, chicken, lamb, fish, chicken eggs, corn, wheat, and soy. If your dog is having food allergies – which usually manifest as itching, redness, chewing, and hair loss – you will need to identify the trigger for his allergy. You can try to guess the trigger or work with your veterinarian on a food trial and elimination diet for your dog. You may need to find a novel protein for your dog – a protein that he has not eaten previously. Natural Balance has a selection of limited ingredient diets that can be helpful for dogs with food allergies. You might try giving your dog the rabbit formula, kangaroo formula, venison formula, or bison formula. He should be able to eat a meat protein that he has not eaten previously without having an allergic reaction. We think that Kuvasz, in particular, will like the rabbit formula, since that is one of their natural prey animals.

This limited ingredient diet food has limited sources of protein and carbs. It's also grain free and complete and balanced for puppies, adults, and senior dogs. The food is easy for your Kuvasz to digest and it contains no artificial flavors, colors, or preservatives.

Any dog suffering from skin problems or food allergies may benefit from Wild Calling's Xotic Essentials recipes. Formulas like their rabbit meal recipe use exotic meats that are rare in today's pet food market so your dog probably hasn't eaten them before – and there is less chance of having an allergic reaction. The foods are also highly digestible. Wild Calling also uses what they call LITe (limited ingredient technology). They don't use any of the ingredients commonly found in most dog foods such as chicken, grain, gluten, egg, yeast, corn, wheat or soy. If your Kuvasz has a food allergy, he may benefit from Wild Calling. The foods are formulated for rotational feeding and they offer several Xotic Essentials recipes, such as kangaroo and bison, so your dog doesn't get over-exposed to one kind of meat protein. This is an All Life Stage food. We think that dogs with skin problems and food allergies can definitely benefit from these recipes.

Another food that is often recommended for dogs with food allergies and skin problems is Zignature. It comes in proteins such as trout & salmon, kangaroo, turkey, duck, venison, and others. It's available in dry and canned versions. Foods are potato- and grain-free, and chicken-free. They do not use common bonding agents (thickeners and ingredients to hold the food together) in their foods which are high in simple carbs and starches. They only use low glycemic carbs such as chickpeas that add extra protein and fiber to the food. They work with Tuffy's in Minnesota and Performance Pet in South Dakota to make their foods. Many people like Zignature very much. If you have a dog with food allergies, this is a brand that you might consider. This duck formula is a good example with hypo-allergenic meat first, no corn, wheat, soy, dairy or chicken, chicken eggs or chicken by-products.
Best Dog Foods for Kuvasz with Sensitive Stomachs
Many dogs are susceptible to food sensitivities that affect their digestion and excretion. If your dog has a sensitive stomach it can be an indication of a food sensitivity, which is different form a food allergy. A dog with a food sensitivity will have gastrointestinal issues such as vomiting or diarrhea. Or it could be something more serious.
A dog with a sensitive stomach can often be helped by feeding the right dog food. Sticking to a limited ingredient diet food with as few ingredients as possible can reduce the chance of your dog having a bad reaction to something in the food.
Many people recommend Wellness Simple for dogs with food sensitivities. The formulas feature only five main ingredients to keep things very simple for your Kuvasz. Wellness makes formulas that are both grain free and some that have grains such as oatmeal. The food is easy to digest and contains probiotics and prebiotics to help the gastrointestinal system. It also contains omega fatty acids for good skin and coat. Formulas feature duck, salmon, turkey, and lamb. Wellness Simple comes in dry and canned formulas.
We don't know of a dog food that is made to help prevent bloating, but it's possible that a food for sensitive stomachs – one that is easy to digest – could be beneficial.
We also recommend Natural Balance L.I.D. Limited Ingredient Diets Sweet Potato & Fish Formula Dry Dog Food. This food is grain free with limited ingredients. It has good quality, alternative ingredients that are easily digestible for a dog with a sensitive stomach. And it contains no artificial flavors, colors, or preservatives. The first five ingredients are: Sweet Potatoes, Salmon, Fish Meal, Potato Protein, Canola Oil (preserved with mixed tocopherols). It has 21 percent crude protein, 10 percent crude fat, 5 percent crude fiber, and 10 percent moisture. It has 350 kcal/cup and it's a maintenance formula. If your dog can't eat some of the ingredients in this food, Natural Balance has lots of other LID recipes that you might check.
If your dog can't eat these ingredients, you might try one of the Weruva foods or Acana Singles. Weruva also has lots of foods with pumpkin which can sometimes help a dog with stomach issues.
Best Dog Foods for Overweight Kuvasz
Being overweight or obese is usually the result of overfeeding or not getting enough exercise. You can help your Kuvasz lose weight by cutting back on his portions and encouraging him to get more exercise.
If your Kuvasz needs to lose more than a few pounds, however, you may need to consider a weight control dog food.
We do not recommend a weight control dog food for a puppy or a very old dog. These foods generally have fewer calories and may have some other differences in nutrients that make them inappropriate for growing puppies or older dogs who need special nutrition.
If you have a Kuvasz who needs to lose weight, we recommend Fromm Gold Weight Management. It can be hard to find a good weight control dog food for a giant breed dog but Fromm is a quality brand with good ingredients. This food has 25 percent crude protein and 10 percent crude fat so it's not that much different from some of the adult foods we've recommended. It has 341 Kcal/cup. Fed in moderation, it should help most overweight Kuvasz lose weight or maintain a healthy weight. The first five ingredients are: Turkey Liver, Chicken Meal, Pearled Barley, Oatmeal, and Dried Tomato Pomace.
Fromm also has a grain free weight control formula called Fromm Gold Coast Grain Free Weight Management Dog Food with the same crude protein and fat percentages if you prefer a grain free weight control food for your dog.
If your dog needs to lose weight, you should proceed slowly. No crash dieting. You should aim for your dog to lose no more than 3 to 5 percent of his body weight per month or about one percent each week.
Conclusion
The Kuvasz is an ancient breed but it's probably not very well-known in the United States today. Because of its thick white coat, these dogs may be mistaken for Great Pyrenees at times, but they are quite different. We're very lucky to still have the Kuvasz at all today, considering how close the breed came to extinction during World War II. The Kuvasz is loyal, fearless, devoted to their families, and very sweet but they are not the right dog for everyone. If you are interested in this intelligent, protective breed, which definitely requires training and socialization, we encourage you to talk to a good breeder and learn more about them.
Below is a list of Products reviewed in this article