The Best Food For Bernese Mountain Dogs – Answered
The Ultimate Bernese Mountain Dog Food Buyer's Guide
The Bernese Mountain Dog is one of the four alpine herding breeds from Switzerland known as Sennenhunds. The other breeds are the Greater Swiss Mountain Dog, the Entlebucher (or Entlebucher Mountain Dog), and the Appenzeller. The breeds vary in size but, like the Bernese Mountain Dog, they are black with tan/rust points and a white throat (tri-color).
The Berner, as they are often called, is a large, heavy dog. It's been used for driving cattle, pulling carts, and as an all-purpose farm dog for centuries. The Bernese Mountain Dog and the other Sennenhunds are descended from alpine dogs that were likely crossed with mastiff-type dogs brought by the Romans. (This is the most likely story, although there is some doubt about it.)
Today the Bernese Mountain Dog is mostly kept as a family dog. They do require good socialization and training. Berners enjoy being outdoors, though they have good house manners. They are affectionate dogs and get along well with children and other pets. They are considered good-natured, calm, and strong. The breed was recognized by the AKC in 1937. Today they are the 29th most popular breed in the United States and the breed is growing in popularity.
Disclosure: Please note that this post contains affiliate links, which will direct you to our partner sites. If you purchase the pet foods we recommend through those links, we may earn a small commission – at no extra cost to you.
Quick Look : Top 4 Best Dog Foods for Bernese Mountain Dogs

---
30% Off + Free Shipping
on Dog Food for Bernese Mountain Dogs
Bernese Mountain Dog Diet & Nutrition
Male Bernese Mountain Dogs stand about 25-27 ½ inches tall at the withers; female BMDs are about 23-26 inches tall at the withers. The breed is substantial. Males generally weigh 80-120 pounds and females weigh 75-100 pounds. Consider that the Berner is not much taller than a Golden Retriever or Irish Setter but they can be 40 pounds heavier and you will have an idea of just how substantial these dogs can be. The Berner does have large, heavy bones so you should not assume that their extra pounds are fat. They are very strong dogs. Historically they have pulled carts and done other heavy work on farms.
In terms of activity, the Bernese Mountain Dog Club of America, the AKC parent club for the breed in the U.S., says that Berners require a minimum of 30 minutes of moderately vigorous exercise per day, though individual dogs may vary. You will need to take this into consideration when choosing a food and determining how much to feed. BMDCA suggests that Berners need about four cups of premium food per day, but this will depend on the food you are feeding.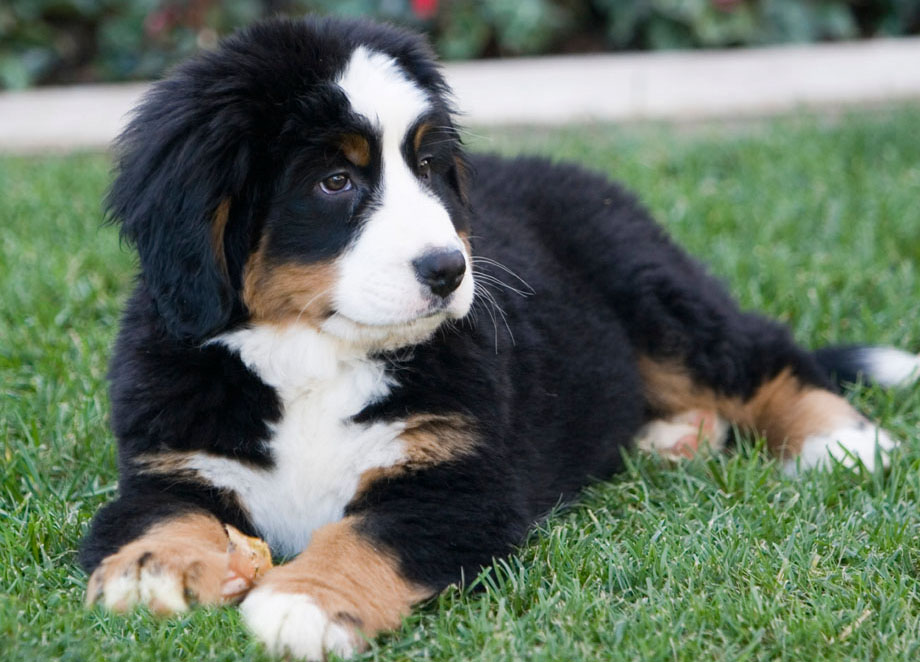 As with all breeds, growing puppies and young adults use a lot of energy. They require a diet that features good quality protein. According to the National Research Council of the National Academies, an active adult Bernese Mountain Dog weighing 100 pounds requires an average daily caloric intake of 2206 calories. Dogs that have been spayed/neutered, or that are older, may need slightly fewer calories. Some dogs may need more calories depending on their level of activity and their individual metabolism. Growing puppies, for example, consume more calories than adult dogs and so do young adult dogs. A Berner puppy weighing 60 pounds (at around 8 months) needs an estimated 1671 calories per day.
Since this is a large breed that can have issues with hip and elbow dysplasia, as well as other orthopedic problems as adults, it's important for puppies to grow slowly. Bernese Mountain Dog puppies mature very slowly. They are still considered to be puppies when they are two years old and not fully mature until they are three years. Most large breed puppies do well eating food that is formulated for large breed puppies. However, after looking at a number of web sites for Bernese Mountain Dog breeders, we did not find any breeders that specifically recommended large breed puppy food for Berner puppies, which seems odd. However, we did find repeated advice to feed both puppies and adults good quality food with a relatively low protein level – between 18 and 26 percent; and a moderate fat content – less than 16 percent. There is a widespread belief in the BMD community that dog foods that are higher in protein and fat are too much for many Berners, especially if the dogs are not actively working or performance dogs. Too much protein can cause the dogs to develop hotspots; and too much fat causes the dogs to gain wait or develop diarrhea.
We still think that large breed, slow-growing puppies like Bernese Mountain Dog puppies might benefit from large breed puppy food but this is something that you should discuss with your puppy's breeder.
Feeding Your Bernese Mountain Dog
There is a lot of information online about feeding Bernese Mountain Dogs but most of it reflects the individual owner or breeder's own philosophy about feeding dogs. You can find sites that walk you through raw feeding Berners, adding supplements to their diet, and so on. Some sites provide general information about choosing better dog foods. Even the web site for the Bernese Mountain Dog Club of America is curiously silent about what to feed your BMD, though they do into great detail about most other things. Consequently, we'll give you some thoughts here.
As already discussed, Bernese Mountain Dogs are a large breed. Very large. Adults can usually eat most good quality dog foods as long as they don't have a food allergy or sensitivity. Many people with Berners feel that dogs and puppies should be fed food that is between 18-26 percent protein and no more than 16 percent fat. These are moderate percentages compared to many super premium foods today. As long as your dog doesn't have an allergy to grains, your Berner can eat foods that are grain-inclusive or grain free. However, we would suggest keeping the carbohydrates moderate. There is no reason to fill your Berner up with lots of carbs which can lead to weight gain.
As always, we recommend that you choose a food with good quality nutrition and good sources of protein. Experts usually recommend that you choose a food that has two or three meat protein sources listed in the first five ingredients. (Ingredients on a dog food label are listed in order of weight before cooking so there are more of the first few ingredients in the food.)
We always recommend that you figure the dry matter basis for the foods you are considering, whether they are canned or kibble, so you can make a good comparison of the protein, fat, fiber, carbs, and other nutrients.
We also suggest that you measure the amount of food you feed your dog instead of free feeding. Free feeding – or leaving the food sitting out all day – tends to encourage dogs to overeat which can lead to obesity. Most adult dogs do well eating two meals per day. Puppies usually do well eating three meals per day until they are old enough to switch to an adult schedule.
If you are still uncertain about what to feed your Bernese Mountain Dog, we recommend checking with your dog's breeder. We also like the site DogAware.com.
And, of course, keep plenty of fresh water available for your dog at all times.
Bernese Mountain Dog Health Problems
The Bernese Mountain Dog Club of America is known for having one of the most dedicated clubs in the United States when it comes to tracking health issues in their breed. The health and genetic database – www.bernergarde.com – contains information for over 70,000 dogs including health data collected from sources worldwide.
Like all dogs, the Bernese Mountain Dog is subject to some health problems. The largest number of Berners die from cancer. Bloat can strike dogs in the breed. Berners are also subject to hip and elbow dysplasia, as well as other joint and skeletal problems such as Osteochondritis Dissecans (OCD). Autoimmune diseases can occur in the breed, along with allergies, especially those that are food-related. Some Berners can experience inflammatory bowel disease and sensitive digestion. Cataracts, Progressive Retinal Atrophy (PRA), and Degenerative Myelopathy (DM) can occur in some dogs. Hypothyroidism occurs in Berners. Sub-aortic Stenosis (SAS) – a condition where dogs have a partial obstruction to the flow of blood leaving the left side of the heart – can occur in Bernese Mountain Dogs. And Von Willebrand's Disease (vWD), a bleeding disorder, can occur.
Obviously, not every dog will have these health issues. There are health and genetic tests for some of these problems and breeders can try to avoid breeding dogs that have certain issues. You can see why Bernese Mountain Dog people take the health of their dogs so seriously.
The lifespan of the Bernese Mountain Dog is only 7-8 years. Some dogs do live longer but, like many very large dogs, the Berner does not have a long life. Breeders are working to improve this lifespan.
The care and food you give your Bernese Mountain Dog can definitely affect how long he lives. Along with good breeding practices, health testing, and good vet care, many dog lovers try to keep their dogs healthy by feeding dog food that has more natural ingredients. There is a belief that this can help keep a dog's immune system stronger. Many people recommend feeding a food that is free of some of the most common food irritants such as corn, soy, and wheat. These are not the most common dog food allergens – beef, dairy products, and chicken, for example, lead to more food allergies for dogs than corn, soy, and wheat. But many people like to avoid soy and grains in dog foods. There are many good grain free dog foods today if you want to feed one to your dog. Avoiding artificial colors, flavors, sweeteners, and preservatives is also suggested as a way to help keep the immune system stronger.
Ingredients to Look for and Some to Avoid
Protein and fat are the main ingredients in the diet for the Bernese Mountain Dog, as they are for most dogs. However, not all proteins and fats are the same. It's important that the protein and fat in the dog food comes from good sources if you want your dog to be healthy.
Ideally you will select a dog food that features two or three meat proteins in the first several ingredients listed. Both whole meats and meat meals are good sources of protein. Whole meats refer to foods such as whole chicken, beef, fish, and lamb. Some people don't like meat meals as much as whole meats but they are a concentrated form of the meat in which the moisture has been removed. They contain several times as much protein as a whole meat. Meat meals are usually quite acceptable as one of the first ingredients in a good quality dog food. They are used by many good dog food brands. "Meat meal" is not the same thing as a named meal such as chicken meal. These terms have specific meanings according to AAFCO which determines what they are allowed to contain. If you are in doubt about what a term means, you can always check the AAFCO meaning– though be warned that AAFCO definitions make everything sound pretty awful.
Dogs also need good sources of fat. You should look for named fat sources such as chicken fat. Other named fats also provide needed nutrients such as fish oil which can provide omega-3 fatty acid to help keep the skin and coat healthy. Puppies can benefit from DHA which is Docosahexaenoic acid. This is a specific form of omega-3 fatty acid that helps with brain and eye development. Older dogs seem to benefit from medium chain triglycerides which feature medium chain fatty acids (MCFAs). These have been found to help older dogs feel and act younger. They are often made from a combination of coconut oil and other oils.
If you want to avoid corn, soy, and wheat in your dog food, your Berner may still be able to eat rice, barley, oats, or some other grain or cereal. Oats and barley, for example, can be good sources of dietary fiber. Or you can feed a grain free dog food that uses an alternate source of carbs such as sweet potatoes. You don't have to feed a dog food with an excessively high percentage of protein but it's a good idea to keep the carb percentage low to moderate.
Recommended Dog Food For An Adult Bernese Mountain Dog
Every dog is an individual. Even dogs in the same breed can have different food needs. Some dogs need more calories than others. Some dogs will do better with more protein or fat than other dogs.
Keeping in mind that most Berner people recommend moderate protein and fat, we are recommending a variety of foods here. Some have grains and some don't. We have selected foods without corn, wheat, and soy unless otherwise noted. You may have to try a couple of foods to find which one is best for your dog. You should also keep in mind that your dog's diet needs can change as he grows and ages so you may have to change foods to accommodate him. It's possible a few foods designed for large breed dogs may work their way onto our list but those foods usually have protein and fat percentages that fall in the desired range.
Best Dog Foods for Bernese Mountain Dog Adults
Fromm makes foods that are grain free and some that have grains. Their Adult Gold formula has duck, chicken meal, and chicken as the first three ingredients. It has 24 percent crude protein and 16 percent crude fat, and 3.5 percent crude fiber, with 408 kcal/cup. It is AAFCO-approved for growth and maintenance. The food includes salmon oil – a great source of omega-3 fatty acid for healthy skin and coat; probiotics, and prebiotics. No corn, wheat, or soy. The food is also made at the family's own facilities in Wisconsin. The Fromm family has been making dog food and dog products for over 100 years and they have a great reputation. The food includes brown rice and pearled barley in the first five ingredients. It also contains oatmeal and potatoes so if you are trying to keep the carbs very low you may not like this food. However, we think the ingredients are good quality and many dogs will do well on this food. It also falls within the protein and fat percentages most often recommended for Bernese Mountain Dogs. If you prefer a grain free dog food for your Berner, check out Fromm Grain Free Heartland Gold Large Breed Adult. It has 24 percent crude protein, 12 percent crude fat, 6 percent crude fiber, and 10 percent moisture with 380 kcal/cup. The first five ingredients are beef, pork meat meal, peas, lentils, and chickpeas.
Canine Caviar Open Meadow Holistic Entrée for All Life Stages
We can also recommend Open Meadow Holistic for a large breed like the Bernese Mountain Dog. It has 25 percent crude protein, 15 percent crude fat, 5.7 percent crude fiber, and 8 percent moisture. It has 541 kcal per cup. The first five ingredients in this holistic food are Dehydrated Lamb, Pearl Millet, Lamb Fat (preserved with mixed tocopherols), Coconut, and Sun-Cured Alfalfa. No wheat or glutens. No potato or tapioca. No added hormones. No GMO or ethoxyquin. No meat or poultry by-products. We think Canine Caviar makes very good foods. Their foods are very expensive (this food is currently on sale on Chewy.com for $62.99 for a 24-lb bag with free shipping), so it would cost a lot to feed it to a large dog like a Bernese Mountain Dog but it's a good food.
Wellness Large Breed Complete Health Adult Deboned Chicken & Brown Rice Recipe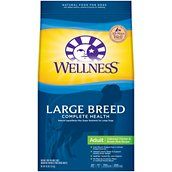 This recipe does include grains, such as brown rice, oatmeal, and barley, but these grains have some health benefits. They are not empty carbs or filler ingredients. Oatmeal and barley provide some good dietary fiber, for example. The first five ingredients in this food are Deboned Chicken, Whitefish, Chicken Meal, Ground Brown Rice, and Oatmeal. The food has 25 percent crude protein, 11 percent crude fat, 5 percent crude fiber, and 11 percent moisture. It also contains added glusamine and chondroitin which many people consider helpful for large breed dogs who can experience joint problems. The food has 363 kcal per cup. Wellness also makes a grain free CORE recipe but the crude protein percentage is 34 percent.
We love Annamaet – and there's a lot to love. This particular food is corn, wheat, and soy-free. It uses algae as a source of omega-3 fatty acids. It has L-Carnitine to help metabolize fat into muscle. This formula uses wild-caught salmon and free-range venison and it's often recommended for dogs with food allergies, especially to chicken. The first five ingredients in the food are: Salmon Meal, Brown Rice, Millet, Venison Meal, and Rolled Oats. The food has crude protein 24 percent, crude fat 13 percent, crude fiber 4 percent, moisture 10 percent. It has 406 kcal per cup. Annamaet also has several other foods that could be good for Bernese Mountain Dogs. We think these foods would be a good choice for someone looking for a good quality food for a large dog.
Best Dog Foods for Bernese Mountain Dog Puppies
Bernese Mountain Dog puppies can usually begin eating a puppy food after they are weaned or they can eat a good all life stage food. Some people like to feed a puppy food for a few months and then switch over to an all life stage food when their puppy is a few months old. If you have questions about how to feed your puppy, we recommend talking to your puppy's breeder. They have the most experience with raising Berner puppies and can guide you.
With all puppies – and especially breeds where hip dysplasia or other joint problems can be an issue, it's important to pay attention to the calcium in the dog food. The recommended calcium to phosphorus ratio should be about 1.2 parts calcium to 1 part phosphorus, though there is some slight room for variation such as 1.5:1. Most puppy foods should have a calcium to phosphorus ratio in this neighborhood. It's also important that dog and puppy foods do not have an excess (or deficiency) of calcium since this can affect bone growth. Do not supplement with any added calcium such as yogurt or other dairy products. Giving your puppy extra calcium can lead to bone problems later.
Here are some of the puppy foods we like for Bernese Mountain Dog puppies.
Canine Caviar Limited Ingredient Diet Puppy Holistic Entrée Grain-Free Dry Dog Food
Canine Caviar provides a lot of desirable elements in their puppy food. No corn, no wheat, no soy. It's grain free, gluten-free, GMO-free, and it's considered a limited ingredient diet. It contains no by-products, tapioca, or potatoes. We've already mentioned this food for adult Berners but since it's an all life stage food, it can also be a good choice for Bernese Mountain Dog puppies. The meat is hormone-free, pesticide-free, and antibiotic-free. Canine Caviar also has several other formulas so you can rotate the proteins.
Castor & Pollux also has a good puppy food. The first ingredient is certified organic free-range chicken. No corn, wheat, or soy. Organic ingredients are produced without chemical pesticides, synthetic fertilizers, artificial preservatives, added growth hormones or antibiotics. The first five ingredients in this food are: Organic Chicken, Chicken Meal, Organic Peas, Organic Barley, and Organic Brown Rice. The food has 26 percent crude protein, 12 percent crude fat, 3.5 percent crude fiber, 10 percent moisture. The food is specifically formulated to meet AAFCO nutrient profiles for growth. Castor & Pollux isn't entirely organic but most of the ingredients are organic and we think this is a good food for large breed puppies.
Best Dog Foods for the Senior Bernese Mountain Dog
A Bernese Mountain Dog that is 7-8 years old is an old dog. You can learn more about senior Berners here and caring for them as they get older here. It's important that you do not allow your Bernese Mountain Dog to put on a lot of extra weight as he gets older. At the same time, losing weight often signals that your dog is becoming ill. It's important to find a good balance with your Berner's weight – and a good food – as he gets older.
Older dogs often begin to have problems metabolizing protein and other nutrients. For this reason we often recommend Orijen Senior Dog for older dogs. It has 38 percent crude protein and 15 percent crude fat, with 445 kcal per cup. So, it provides an older dog lots of protein and moderate fat. However, this food may not be the best choice for a Bernese Mountain Dog considering many breeders and owners seem to recommend Berners have lower levels of protein during their lives.
For Bernese Mountain Dogs and other breeds that, for whatever reason, may not want so much protein as they get older, we are recommending Victor Senior/Healthy Weight Formula. Victor is very popular with many people who have tried it, though it's been a regional Texas food until recently. Now it's widely available and you can buy it online. The first five ingredients in this food are: Beef Meal, Whole Grain Brown Rice, Whole Grain Millet, Sardine Meal (Source of DHA-Docosahexaenoic Acid), and Chicken Meal. The food has 27 percent crude protein, 11.5 percent crude fat, 4.5 percent crude fiber, and 9 percent moisture, with added glucosamine and chondroitin. It has 370 kcal per cup. Victor provides directions for feeding older dogs and for feeding to help your dog lose weight. We think this food should be suitable if you don't want to feed your older dog higher amounts of protein. We did check other foods for senior dogs but we didn't feel comfortable recommending foods with 21 percent crude protein or foods that had oatmeal as the first ingredient, etc.
Best Dog Foods for Bernese Mountain Dogs with Skin Problems/Allergies
Any dog can have skin problems due to allergies. If your dog is having skin trouble, it's a good idea to take your dog to the vet and get a diagnosis. This can ultimately save you a lot of money – and help your dog. You don't want to keep buying expensive dog foods thinking your dog has a food allergy if he really has a problem that's not food-related.
If your dog's skin problems are food allergies, here is a food we think might help. It is free of ingredients that commonly result in allergic reactions.
Wild Calling! Xotic Essentials Rabbit Meal Recipe
Any dog suffering from skin problems or food allergies may benefit from Wild Calling!'s Xotic Essentials recipes. Formulas like their rabbit meal recipe use exotic meats that are rare in today's pet food market so your dog hasn't eaten them before – less chance of having an allergic reaction. The foods are also highly digestible. They don't use any of the ingredients commonly found in most dog foods such as chicken, grain, gluten, egg, yeast, corn, wheat or soy. The foods are formulated for rotational feeding and they offer several Xotic Essentials recipes, such as kangaroo and bison, so your dog doesn't get over-exposed to one kind of meat protein. This is an All Life Stage food. We think that dogs with skin problems and food allergies can definitely benefit from these recipes. (Note that it is no longer possible to buy products containing kangaroo ingredients in California as of January 2017. We have heard that the California assembly may reconsider this law. The Australian government is working to try to have the ban lifted.) The first five ingredients in the rabbit formula are: Rabbit Meal, Sweet Potato, Rabbit, Lentils, and Tapioca. The food has 23 percent crude protein, 14 percent crude fat, 5 percent crude fiber, and 9 percent moisture. It has 415 kcal per cup. So, this food falls within the protein and fat percentages suggested for Bernese Mountain Dogs.
Best Dog Foods for Bernese Mountain Dogs with Sensitive Stomachs
Some Bernese Mountain Dogs can have a sensitive digestive system. If your Berner has a sensitive stomach it can be an indication of a food sensitivity, which is different form a food allergy. A dog with a food sensitivity will have gastrointestinal issues such as vomiting or diarrhea.
A dog with a sensitive stomach can often be helped by feeding the right dog food. Sticking to a limited ingredient diet food with as few ingredients as possible can reduce the chance of your dog having a bad reaction to something in the food.
If your Berner can eat potatoes, we recommend Natural Balance L.I.D. Limited Ingredient Diets Potato & Duck Formula Dry Dog Food. This food is grain free with limited ingredients. It has good quality, alternative ingredients that are easily digestible for a dog with a sensitive stomach. And it contains no artificial flavors, colors, or preservatives. Natural Balance has several L.I.D. foods so you can check them out to see if one would help your dog.
Best Dog Foods for Overweight Bernese Mountain Dogs
Dogs most often become overweight because of overfeeding and not enough exercise. You can help your dog lose weight by cutting back on his portions and encouraging him to get more exercise. You should also pay attention to how many treats and cookies you are giving your dog.
If your dog needs to lose more than a couple of pounds, however, you may need to consider a weight control dog food.
We do not recommend a weight control dog food for a puppy or a very old dog. These foods generally have fewer calories and may have some other differences in nutrients that make them inappropriate for growing puppies or older dogs who need special nutrition.
If you have a Bernese Mountain dog that needs to lose weight we recommend either Victor Senior/Healthy Weight Formula or Fromm Weight Management Gold.
The first five ingredients in this food are Turkey liver, chicken meal, pearled barley, oatmeal, and dried tomato pomace. The food has 25 percent crude protein, 10 percent crude fat, 7 percent crude fiber, and 10 percent moisture. It has 341 kcal/cup. With any weight control dog food, if the fat percentage is too low, your dog will feel hungry between meals. A hungry dog will beg you for food and you will both be unhappy. You'll probably give him more food and he won't lose weight. So, if you're looking for a weight control food, it's usually best to look for one that does not have extremely low fat percentages. If a food has 9 percent crude fat or less, your dog is going to tell you that he's starving.
If your dog needs to lose weight, you should proceed slowly. No crash dieting. You should aim for your dog to lose no more than 3 to 5 percent of his body weight per month or about one percent each week.
Conclusion
We hope this information about choosing dog food and feeding Bernese Mountain Dogs is helpful. They are a wonderful breed and many people love them. We can't guarantee that feeding your Berner a healthy premium dog food will help him live longer, but it probably can't hurt.
Below is a list of Products reviewed in this article