What Is The Best Dog Food for a Doberman Pinscher?
Skip To Detailed Recommendations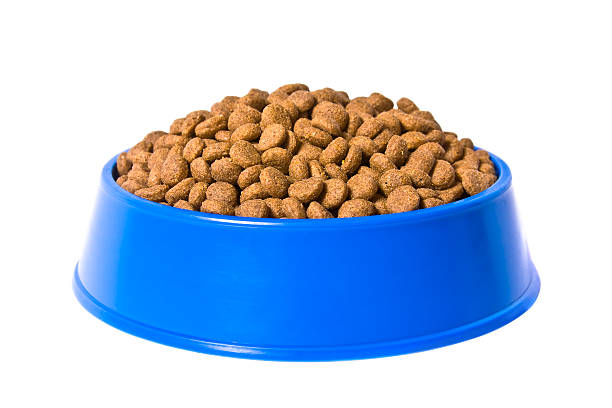 Doberman Pinschers are highly respected today as watchdogs and military K9s. Loyal, energetic, and fearless, they make excellent guard dogs and wonderful companions. These pups are often rated as one of the most intelligent breeds and, in the hands of a good trainer, can excel in many activities. They are particularly well-suited to obedience, search and rescue, agility, and service work. They are not a breed for everyone, however. Dobermans are very athletic dogs, requiring regular daily exercise, mental challenges, and a nutritious diet in order to be healthy and happy. So, what's the best dog food for a Doberman Pinscher? Here's a look at our top recommendations.
Disclosure: Please note that this post contains affiliate links, which will direct you to our partner sites. If you purchase the pet foods we recommend through those links, we may earn a small commission – at no extra cost to you.
Quick Look: The Best Dog Food for a Doberman Pinscher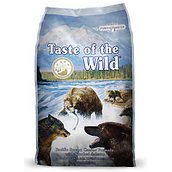 Taste Of The Wild
Canidae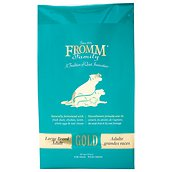 Fromm

---
30% Off First Order + Free Shipping
on dog food for Doberman Pinschers
Doberman Pinscher Diet and Nutrition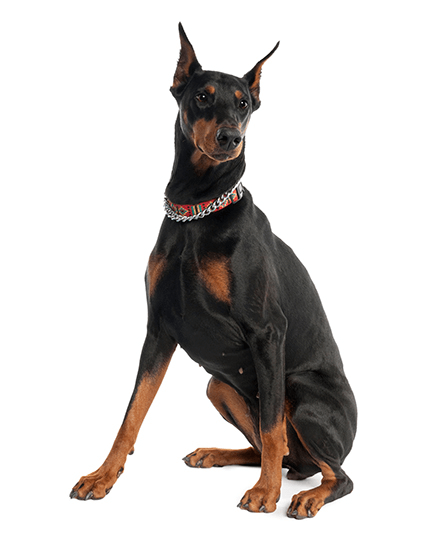 Doberman Pinschers typically weigh between 70 and 100 pounds and stand between 25 and 28 inches tall at the withers (females are on the smaller end). While they are large breeds, they are also lean, powerful, and athletic, as well as graceful and quick.
Whether your Doberman is your household pet or a working dog, it's important that he stays in good shape. This is an active breed, so they need plenty of exercise and a sufficient diet.
By weight, the National Research Council of the National Academies recommends an average daily caloric intake of about 2,100 calories for an active adult Doberman weighing 90 pounds. However, each dog's calorie requirements are dependant on age, individual metabolism, level of activity, and whether or not they've been spayed/neutered.  Growing puppies and young adult dogs, for example, consume more calories than adult dogs. A young adult Doberman weighing about 70 pounds and getting lots of exercise would need about 1,876 calories per day (and more as he grows and gains weight). However, if your Doberman tends to lie around the house all day with little opportunity to exercise, he would need fewer calories.
What To Feed A Doberman Pinscher
Like all dogs, Dobermans require a healthy dog food.  It is up to you what you feed your pup, but there are a few key ingredients to look for when you're on the hunt for the best dog food for a Doberman Pinscher.
Remember to keep meals small and feed two to three meals per day so your dog doesn't have an empty stomach for long periods of time. Some owners like to give some cookies late at night to help tide the dog over between supper and breakfast and keep something in the stomach during the night.
Ingredients To Look For
Protein – Ideally, a good dog food will feature a couple of meat proteins in the first several ingredients. Both whole meats and meat meals are good sources of protein. Whole meats refer to ingredients such as whole chicken, beef, fish, and lamb, while meat meals are a concentrated form of meat in which the moisture is removed. The Association of American Feed Control Officials (AAFCO) recommends a minimum of 22 percent protein for growth (puppies) and 18 percent protein for maintenance in adult dogs.
Fat –  Fat is an important source of energy for dogs and should comprise at least eight percent of the diet for Doberman puppies and five percent of the diet for adults. Fat also adds flavor to dog food and serves as a source of omega-3 and omega-6 fatty acids, which are good for your dog's skin, coat, heart, and brain.
---
Best Dog Food For A Doberman Pinscher Puppy
As you consider which dog food to feed your Doberman Pinscher puppy, keep in mind that many breeders recommend feeding your Doberman puppy an adult/all life stages formula dog food when he reaches about six months old. This practice is followed by many large and giant breed dog breeders. You can feed your Doberman puppy two to three small meals per day until he is about four months old, then cut back to about two meals per day until he is old enough to eat an adult diet.
Some high-quality puppy foods we love recommending for Doberman Pinscher puppies are outlined below:
1
This recipe is packed with high-quality protein and nutrients to give your Doberman puppy what he or she needs to grow and develop into a healthy adult. Formulated specifically for large breeds, it has all the necessary ingredients to sustain your pup and none of the unhealthy additives you have to worry about.

Main Ingredients: Deboned Chicken, Chicken Meal, Peas, Dried Ground Potatoes, Turkey Meal
Protein: 35%
Fat: 14%
Fiber: 5.5%
Calories: 387 kcal/cup
2
This NutriSource Large Breed Puppy formula contains four key ingredients to help keep your puppy in tip-top shape, as well as nourish him or her in this phase of growth. Made with "humanely certified chicken raised on farms," you can be sure these ingredients are fresh and safe.
Main Ingredients: Chicken, Chicken Meal, Brown Rice, White Rice, Barley
Protein: 26%
Fat: 14%
Fiber: 5%
Calories: 400 kcal/cup
3
The Holistic Select Large & Giant Breed Puppy formula is designed to support your lil' guy's digestive system. It's not always easy to find a food that agrees with your puppy's stomach, but these carefully-chosen ingredients like live yogurt cultures and digestive enzymes are great if you're looking for a new recipe.
Main Ingredients: Lamb Meal, Chicken Meal, Potatoes, Chickpeas, Lentils, Peas
Protein: 27%
Fat: 16%
Fiber: 6%
Calories: 453 kcal/cup
---
Best Dog Food For A Doberman Pincher Adult
As your Doberman develops into a full-grown adult, you should consider switching your pup to an adult or all life stages formula. These recipes are formulated to help maintain your dog's health, as well as give him the proper amount of nutrients to sustain him throughout the day.
Here's a look at foods we love for Doberman Pincher adults:
1

Taste of the Wild is one of the best-selling dog food brands – and for good reason. This formula, in particular, is loaded with health benefits to maintain your Doberman's strength and overall health. With antioxidants for immune health, prebiotics for digestive health, and omega fatty acids for a healthy and shiny coat, Taste of the Wild Pacific Stream is a solid choice for Dobermans.
Main Ingredients: Salmon, Ocean Fish Meal, Sweet Potatoes, Potatoes, Peas
Protein: 25%
Fat: 15%
Fiber: 3%
Calories: 360 kcal/cup
2

This Canidae formula is made to be nutritionally adequate for pups of all ages, so it's one you can feed your Doberman when he or she is a puppy or senior, as well. Made with high-quality protein, fruits and veggies, and omega fatty acids, this all life stages recipe is one of the best for a large breed.
Main Ingredients: Chicken Meal, Turkey Meal, Lamb Meal, Brown Rice, White Rice
Protein: 24%
Fat: 14.5%
Fiber: 4%
Calories: 468 kcal/cup
3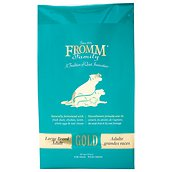 The Fromm brand has an excellent reputation as a family-founded company. They've always valued serving top-notch, fresh ingredients. It is specially formulated for larger dogs and is superbly balanced with protein, fat, and carbs.
Main Ingredients: Chicken, Chicken Meal, Chicken Broth, Oat Groats
Protein: 23%
Fat: 12%
Fiber: 5.5%
Calories: 377 kcal/cup
---
 Best Dog Food For A Doberman Pinscher Senior
Later on in your Doberman's life, you may need to switch him or her to a senior diet in order to sustain your pup's changing, aging body. As you'll see below, these senior recipes have a lower protein percentage because it can be difficult for older Dobermans to digest such high amounts of protein. However, these numbers are still healthy and will be sure to satisfy your senior pup.
1
Blue Buffalo Large Breed Senior is a great formula to care for your aging Doberman. It contains glucosamine and chondroitin to help with joint support, as well as L-Carnitine to help keep muscles strong and healthy. There are no artificial colors, flavors, or preservatives, as well as no corn, wheat, or soy.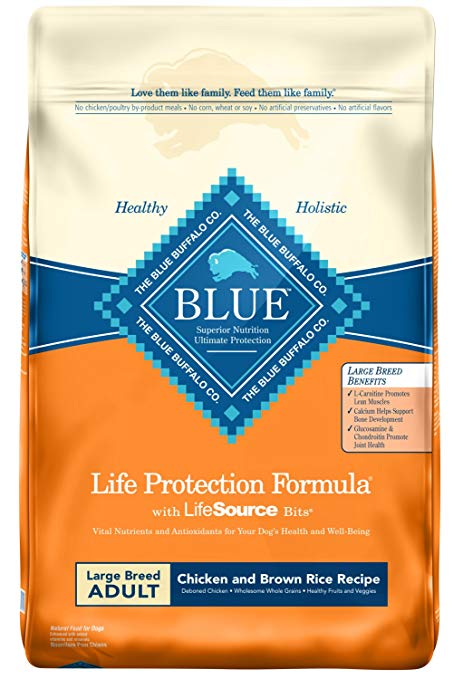 Main Ingredients: Deboned Chicken, Brown Rice, Barley, Oatmeal, Chicken Meal
Protein: 20%
Fat: 10%
Fiber: 7%
Calories: 344 kcal/cup
2
Nutro focuses on creating natural diets for dogs that closely replicate a wild canine diet, supplementing it with added nutrients. This formula also includes glucosamine and chondroitin for joint health, as well as "U.S.-farm-raised chicken" to help keep aging muscles strong and healthy.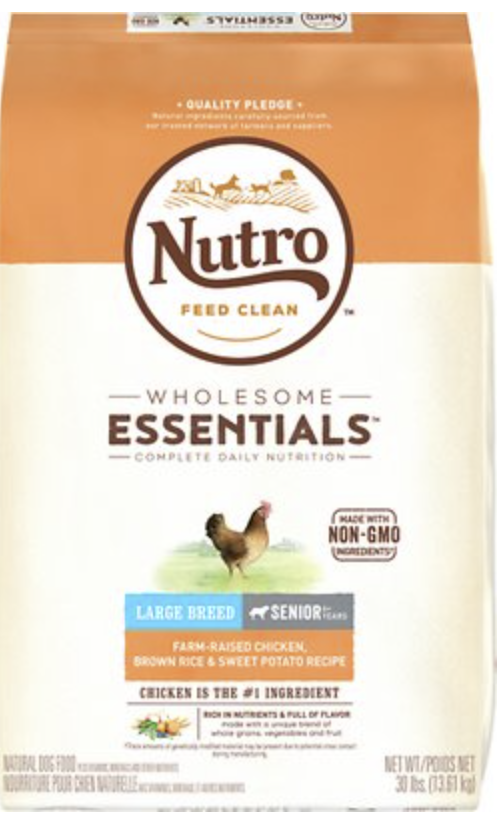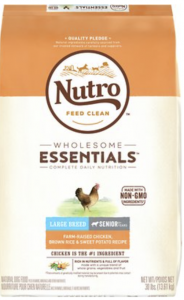 Main Ingredients: Chicken, Brewers Rice, Chicken Meal, Split Peas, Whole Grain Sorghum
Protein: 22%
Fat: 12%
Fiber: 4%
Calories: 315 kcal/cup
---
Addtional Dietary and Health Considerations
As a breed, Doberman Pinschers can be affected by several serious health issues. According to a UK health survey conducted by the Kennel Club, the leading health problems among the breed are cancer (26 percent), old age (22 percent), and cardiac problems (15 percent). Again, feeding your Doberman a good diet to keep the immune system strong and keeping him fit with regular exercise may help deter some of these problems.
Other issues found in the breed less commonly include hypothyroidism and hip dysplasia. With hip dysplasia, in particular, it is important to make sure that your dog does not become overweight or obese. Putting on added weight can aggravate a tendency toward hip dysplasia and worsen the condition. For example, some dogs could score a borderline or mildly dysplastic rating from the Orthopedic Foundation for Animals (OFA) but with good management of the dog's diet, keeping the dog slim, the dog might never experience any discomfort.
On the other hand, a similar dog allowed to become overweight or obese could experience arthritis and some of the pain associated with joint disease. Hypothyroidism can cause a dog to gain weight so if your dog begins to suddenly gain weight without any obvious reasons, it can be a tip-off than there is a problem with the thyroid. You should ask your veterinarian to run the appropriate tests for the condition.
Looking for additional options for the best dog food for a Doberman Pinscher? Here's a look at some other large breed dog foods we love.
Below is the list of products reviewed in this article