What Is The Best Dog Food for a Great Dane?
Skip To Detailed Recommendations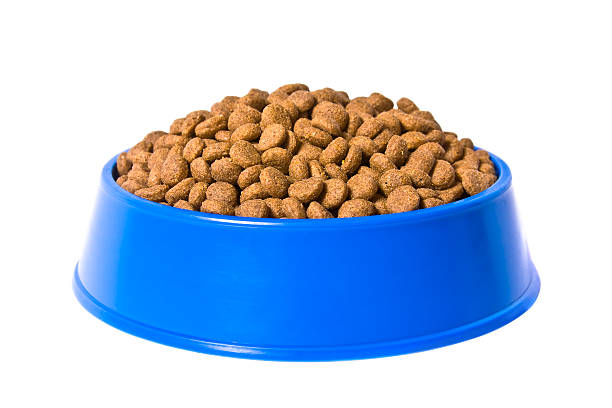 The giant Great Dane is one of the largest breeds in the world. They are also gentle, affectionate dogs that can make very good companions. Once used for hunting wild boar, deer, and bear in Europe during the Middle Ages, today the Great Dane is a family pet. Weighing well over 100 pounds, food is an important issue with Great Danes, both as puppies and as adults. So, what's the best dog food for a Great Dane? Here's a look at expert recommendations for pups of all ages.
Disclosure: Please note that this post contains affiliate links, which will direct you to our partner sites. If you purchase the pet foods we recommend through those links, we may earn a small commission – at no extra cost to you.
Quick Look: The Best Dog Food For A Great Dane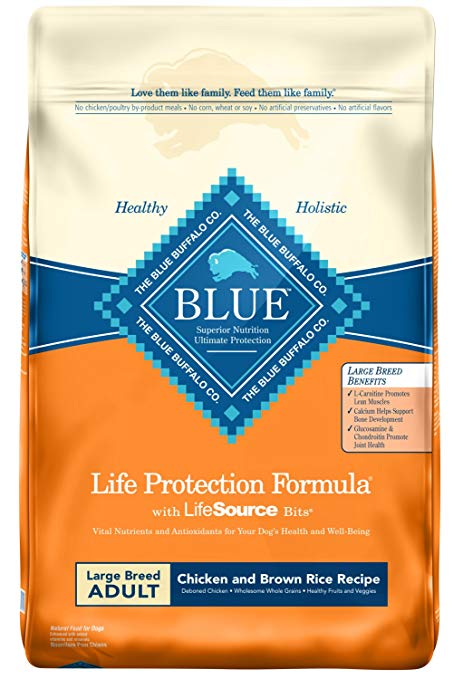 Blue Buffalo
Most Popular
Wellness CORE
Nutro

---
30% Off First Order + Free Shipping
on dog food for Great Danes
Great Dane Diet and Nutrition
Breed standards for the Great Dane typically call for females to weigh a minimum of 100 pounds and males to weigh a minimum of 120 pounds. It is not unusual for males and females to weigh more than these weights. However, just as small breeds use up more energy per pound than other dogs, giant breeds like the Great Dane tend to have a slower metabolism and use less energy per pound than the average dog. While the Great Dane does eat plenty of food, they probably don't eat as much as you might expect. The breed is laid back and calm in temperament as adults. They are dignified, friendly, and gentle. Great Danes do require exercise, but it needs to be moderate in nature.
Great Danes actually weigh so much that they are right off the weight/calorie charts of the National Research Council of the National Academies, but a little math and a calculator allow us to determine that an active adult Great Dane weighing 120 pounds requires an average daily caloric intake of about 2507 calories. Dogs that have been spayed/neutered, or that are older, may need fewer calories. Some dogs may need more calories depending on their level of activity and their individual metabolism. Growing puppies, for example, consume more calories than adult dogs and so do young adult dogs. A young adult Great Dane weighing about 100 pounds, for example, and getting lots of exercise would need about 3061 calories per day. However, if your Great Dane tends to lie around the house all day, he would probably need fewer calories.
What To Feed Your Great Dane
Protein is very important for your Great Dane's diet, just as it is for every dog. The Association of American Feed Control Officials (AAFCO) recommends a minimum of 22 percent protein for growth (puppies) and 18 percent protein for maintenance in adult dogs. These percentages are recommended for dogs in general. Most good quality dog foods will exceed these percentages. Fat is an important source of energy for dogs and should comprise at least 8 percent of the diet for Great Dane puppies and 5 percent of the diet for adults. Most dog foods today have more fat than these percentages. Fat also adds flavor to dog food and makes it very appealing to your dog.
Many Great Dane experts recommend protein and fat percentages of about 23 percent protein and 12 percent fat for Great Danes. Many premium dog foods today have much higher protein and fat percentages than these figures so it's not always easy to find a good quality food with these percentages. You don't want to skimp and buy a lower quality food just to have the lower protein and fat percentages. Your Great Dane still needs to have a good quality food.
Ingredients To Look For:
As with most dogs, Great Danes need protein and fat in their diets. However, not all protein and fat are the same. Protein and fat need to come from good quality ingredients. And in the case of Great Danes, they need lower percentages of protein and fat than other dogs, especially as growing puppies.
Protein – Ideally, a good dog food will feature a couple of meat proteins in the first five (or so) ingredients. Whole meats like chicken, lamb, fish, and beef as well as meat meals, a concentrated form of meat in which the moisture is removed, are good sources of protein.  Meat meals are usually very good as one of the first ingredients in a premium quality dog food. Less desirable are the terms "digest" or "by-products."
Fat – Dogs also need good sources of fat. Some vitamins are only fat-soluble and your dog needs them in his diet. But fat, like protein, varies in quality depending on the source. You should look for named fat sources such as chicken fat. Other named fats also provide needed nutrients such as fish oil which can provide omega-3 fatty acid to help keep the skin and coat healthy.
---
The Best Dog Food for a Great Dane Puppy
Great Dane puppies tend to grow fast and keep growing for a long time. Even when a Great Dane is a year old, he is still growing. The breed is prone to musculoskeletal and joint problems so it's important to limit a growing puppy's exercise and make sure that they are fed a diet that is specially designed for a giant breed puppy.
1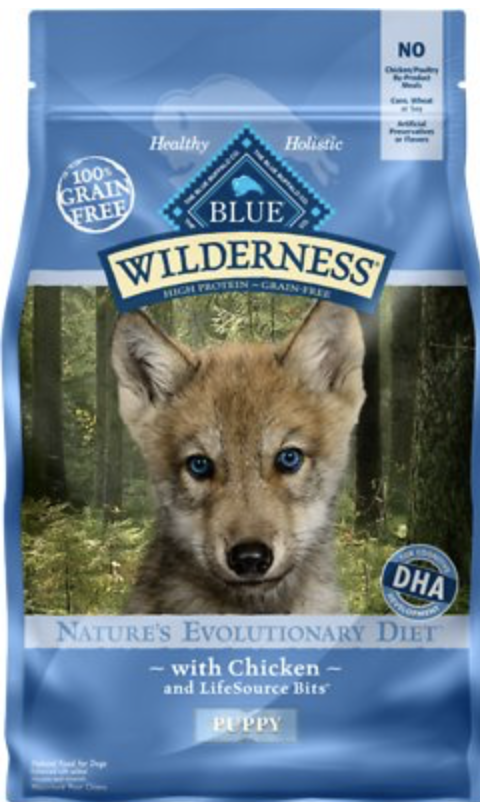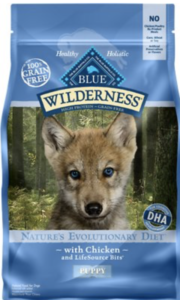 Blue Buffalo Wilderness is especially formulated for large breeds like the Great Dane. This recipe is packed with nutrients from fresh protein, fruit, and healthy carbohydrates. It has the proper amount of calcium and phosphorus for a growing puppy, too.
Main Ingredients: Deboned Chicken, Chicken Meal, Peas, Pea Protein, Tapioca Starch
Protein: 35%
Fat: 14%
Fiber: 6%
Calories: 411 kcal/cup
2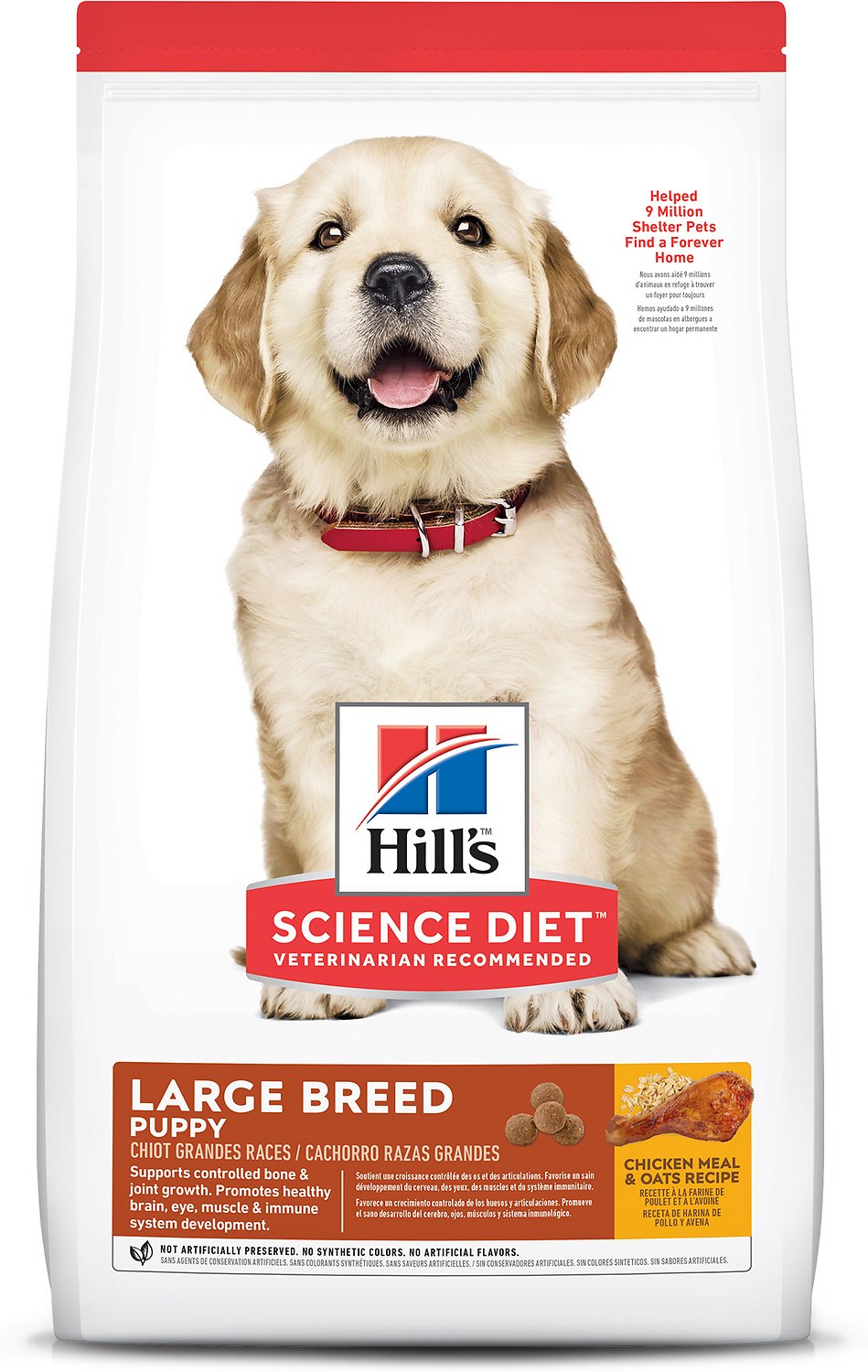 Hill's Science is one of the most highly recommended brands by veteranarians. This large breed formula has all the necessary nutrients and health benefits your Great Dane pup needs like calcium, glucosamine and chondroitin, and vitamin E.
Main Ingredients: Chicken Meal, Whole Grain Wheat, Whole Grain Oats, Whole Grain Sorghum, Corn Gluten Meal
Protein: 26%
Fat: 16%
Fiber: 3%
Calories: 353 kcal/cup
---
The Best Dog Food for a Great Dane Adult
Some dogs will like certain foods better than others. And your dog may do better on one food than another. Try a couple of foods listed here and see how your dog likes them and if he seems to do well physically on the food. If your dog still doesn't like any of the foods, there are always more. Just try to keep your Great Dane on the lean side; don't let him over-exercise as a puppy and young dog, and feed frequent small meals to try to avoid bloat.
1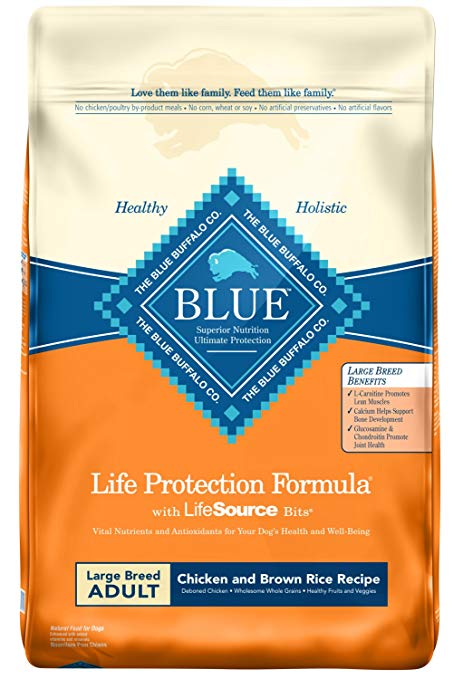 Another Blue Buffalo formula we love is the Chicken & Brown Rice recipe for large breed adults. It contains the appropriate amounts of protein and other nutrients, ensuring your Great Dane is satisfied and energized. This formula offers your pup glucosamine and chondroitin for joint health, quality protein for muscle strength, and vitamins and minerals for strong bones and teeth.
Main Ingredients: Deboned Chicken, Chicken Meal, Brown Rice, Oatmeal, Barley
Protein: 22%
Fat: 12%
Fiber: 6%
Calories: 353 kcal/cup
2
If you're looking for a formula that's a bit higher in protein for your Great Dane, Wellness CORE is a high-quality option. It's one of the most highly-acclaimed brands because of its fresh ingredients and added health benefits. The Large Breed recipe contains glucosamine and chondroitin for joint health, antioxidants for immune health, and probiotics for digestion.

Main Ingredients: Deboned Chicken, Chicken Meal, Turkey Meal, Potatoes, Peas
Protein: 34%
Fat: 12%
Fiber: 6%
Calories: 346 kcal/cup
3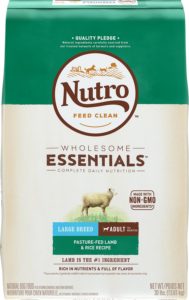 Nutro is a great option if your Great Dane needs an alternate source of protein. This recipe includes lamb, a healthy, delicious option for your pup. With balanced nutrients, Nutro offers your dog glucosamine and chondroitin for joints, omega fatty acids for healthy skin and coat, and absolutely no artificial flavors or preservatives.
Main Ingredients: Deboned Lamb, Whole Brown Rice, Rice Bran, Chicken Meal, Whole Grain Oatmeal
Protein: 21%
Fat: 13%
Fiber: 3.5%
Calories: 318 kcal/cup
---
The Best Dog Food for a Great Dane Senior
As your Great Dane ages, you will likely need to look into finding him a new food. Senior dogs start to lose muscle strength and experience an overall decline in  health, so it's important to find a formula that is tailored to your pup's needs. Here are two of the best dog foods for a Great Dane senior.
1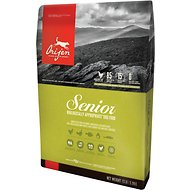 Orijen is one of the best and most well-known brands on the market. If your Great Dane is healthy in his older years with strong kidneys, he should be okay to eat a dog food with a protein percentage this high.
Main Ingredients: Deboned Chicken, Deboned Turkey, Atlantic Flounder, Whole Eggs, Whole Atlantic Mackerel
Protein: 38%
Fat: 15%
Fiber: 8%
Calories: 414 kcal/cup
2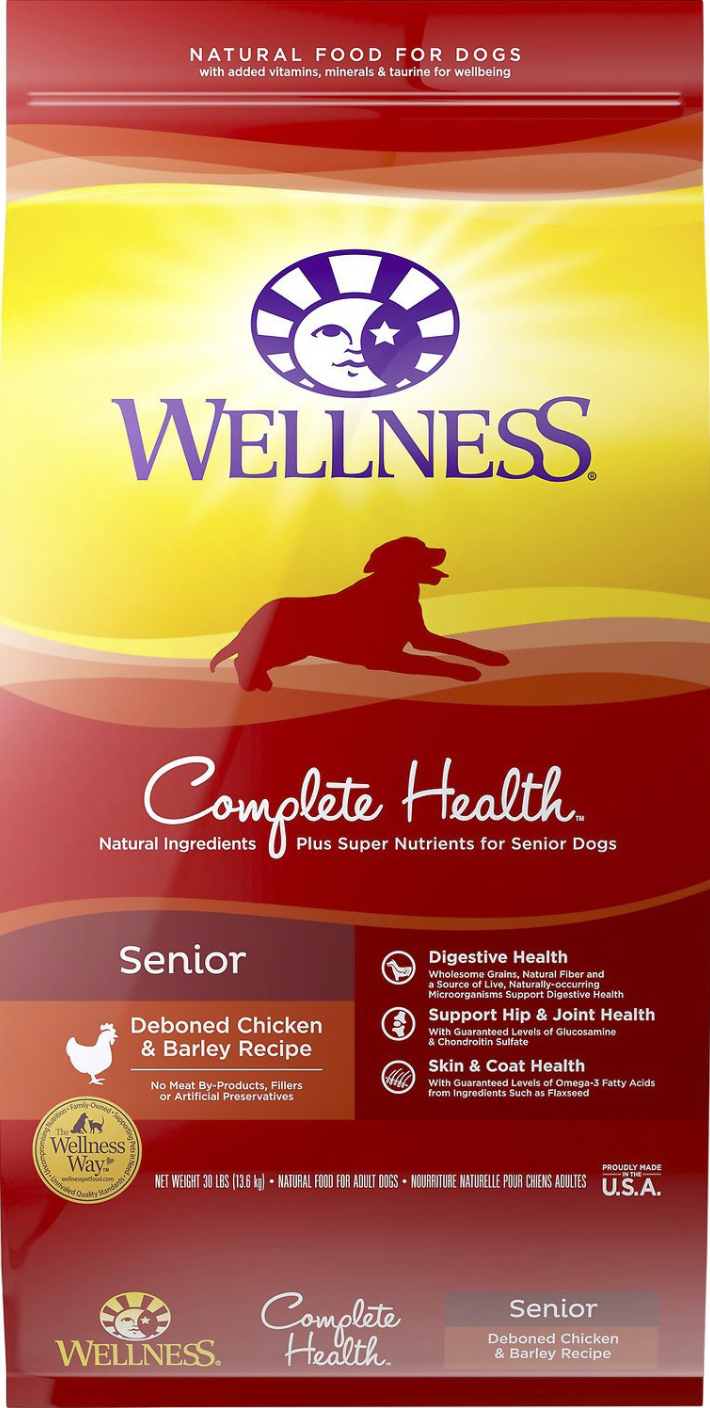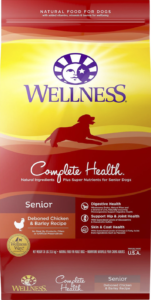 Wellness Complete Health offers a recipe that is especially formulated for aging dogs, offering them taurine to support heart health and glucosamine and chondroitin to continue to care for joints. This formula is also completely void of by-products, articficial flavors, and preservatives.
Main Ingredients: Deboned Chicken, Chicken Meal, Oatmeal, Ground Barley, Ground Brown Rice
Protein: 22%
Fat: 10%
Fiber: 4.25%
Calories: 416 kcal/cup
---
Additional Dietary and Health Considerations
Great Danes have a couple of important health issues that can be affected by their diet. One is the rate of growth in puppies. Great Danes are subject to hip dysplasia and arthritis as they age. Hypertrophic Osteodystrophy (HOD) and Pano (Panosteitis) are also conditions that can affect puppies during their rapid growth stage. You can find out more about these health issues here because it's so important for Great Dane puppies to grow slowly, it's usually best to feed a puppy food made especially for giant breed puppies. These foods have lower percentages of protein and fat than many puppy foods – which is necessary for slow growth. They also pay special attention to the calcium and phosphorus ratio in the food which is also important for giant breed puppies.
Great Danes can also be subject to bloat. It is the number one killer in the breed. Bloat is gastric dilatation and volvulus and it involves the stomach filling with air or gas and twisting, cutting off the blood supply internally. It can be fatal if the dog is not taken to the vet immediately. It tends to occur in large, deep-chested breeds. Many experts suggest feeding several small meals per day instead of one or two large meals. This is supposed to help keep something in the stomach instead of air or gas. You can also keep snacks and treats on hand to give your Great Dane if he seems hungry. Dogs prone to bloat should not go too long between meals.
For additional recommendations for the best dog food for a Great Dane, check out these Giant Breed Dog Foods.
Below is the list of products reviewed in this article