What Is The Best Dog Food for a Pug?
Skip To Recommendations 

It is hard to think of a cuter breed than the wrinkly little Pug. Although the AKC and other kennel clubs place the Pug in the Toy group, they are the largest breed among the Toy dogs, weighing from 14 to 18 pounds (or more). Pugs are intelligent, charming, affectionate dogs that make excellent companions for people who live in apartments or want a smaller dog. They require only moderate exercise and light grooming. The breed does have some health issues that can occur. Some of the issues may be mitigated by a good diet.
Disclosure: Please note that this post contains affiliate links, which will direct you to our partner sites. If you purchase the pet foods we recommend through those links, we may earn a small commission – at no extra cost to you.
Nutritional Needs
As mentioned, the breed standard for the Pug calls for them to weigh between 14 and 18 pounds, but some Pugs will weigh more. Most Pugs enjoy their meals so they tend to weigh too much rather than too little. Weight gain and obesity are health issues that often occur with Pugs, especially with dogs that don't get much exercise. While it's true that Pugs don't require a lot of exercise, they should get some regular exercise each day just to stay fit.
By weight, the National Research Council of the National Academies, recommends an average daily caloric intake of about 727 calories for a Pug weighing 18 pounds. Dogs that have been spayed/neutered, or that are older, may need fewer calories. Some dogs may need more calories depending on their level of activity and their individual metabolism. Growing puppies, for example, consume more calories than adult dogs and so do young adult dogs. A young adult Pug weighing about 16 pounds, for example, and getting lots of exercise would need about 698 calories per day. However, if your Pug tends to lie around the house all day, he would probably need fewer calories.

---
30% Off First Order + Free Shipping
on dog food for Pugs
Protein is very important for your Pug's diet, just as it is for every dog. The Association of American Feed Control Officials (AAFCO) recommends a minimum of 22 percent protein for growth (puppies) and 18 percent protein for maintenance in adult dogs. These percentages are recommended for dogs in general. Most good quality dog foods will exceed these percentages. Fat is an important source of energy for dogs and should comprise at least 8 percent of the diet for Pug puppies and 5 percent of the diet for adults. Most dog foods today have more fat than these percentages. Fat also adds flavor to dog food and makes it very appealing to your dog. Fats are also one of the sources of fatty acids such as omega-3 and omega-6 which are good for your dog's skin, coat, heart, and brain.
Special Issues
Although people usually associate hip dysplasia with larger breeds, this condition can occur in small breeds like the Pug, too. The Orthopedic Foundation for Animals (OFA) ranks the Pug as the breed second most likely to have hip dysplasia, behind the Bulldog, which probably surprises most people. According to OFA, approximately 64 percent of Pugs tested had some degree of hip dysplasia. Hip dysplasia means that the ball and socket of the hip joint do not fit together smoothly, whether because of genetics, injury/trauma, or for some other reason. The problem can lead to problems with mobility or arthritis later in life – but this does not always occur. Many dogs can have some degree of hip dysplasia and never show any outward signs. Keeping your dog lean and not letting him become overweight or obese can help. Some people claim that joint supplements like glucosamine and chondroitin help prevent arthritis and mobility problems. You can look for dog foods that are made for joint support and watch your dog's weight.
Some Pugs can also have skin problems with demodectic mange or allergies. Both of these conditions are ultimately thought to be related to the immune system but some owners find some help for their dogs by managing the diet. Grain free or low carb diets are thought to help in some cases. If your Pug has food allergies or food sensitivities, you should work with your veterinarian to identify the trigger(s) so you can choose foods he can safely eat.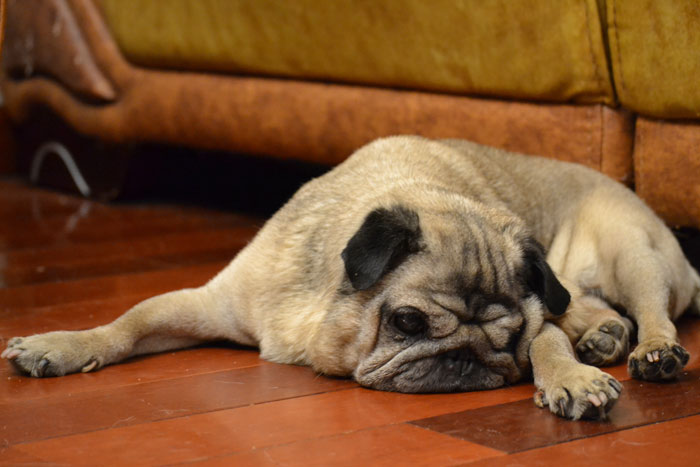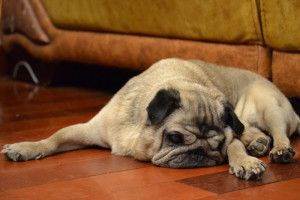 Pugs are also a brachycephalic (short-nosed) breed. They have shorter air passages and they have a hard time cooling themselves in hot or humid weather. While this issue isn't food-related, it does mean that Pugs shouldn't over-exercise, especially when it's hot or humid. Pugs do need exercise so they don't become overweight or obese. Owners need to pay special attention to their dog's weight and condition – and how much they are feeding their Pug – since exercise can be problematic.
Although Pugs are considered Toy dogs, they are usually very sturdy and often weigh 20 pounds or more. For this reason they should be able to eat dog food for small to medium-sized dogs, unless you have a very small Pug. You can use your best judgment about whether to feed your Pug a food specifically for small breeds since these foods usually have more calories per ounce than other dog foods. If you dog has several issues – for example, he needs something for joint mobility and he has allergies and he is a small size – you might have to choose which issue is most important. Most dog foods do not cover more than one or two special conditions.
Ingredients To Look For
Like all dogs, Pugs need protein and fat in their diets. Of course, not all protein and fat is the same. It's important that these nutrients come from good quality ingredients. You can go through a dumpster and find protein and fat but you probably don't want to feed it to your dog.
Ideally, a good dog food will feature a couple of meat proteins in the first several ingredients. The first ingredient shouldn't be grain or some other carbohydrate. Both whole meats and meat meals are good sources of protein. Whole meats refer to ingredients such as whole chicken, beef, fish, and lamb. However, whole meats also contain lots of water. If the water from these meats were removed, they would be found lower on the ingredient list. This is because dog food companies are required by law to list ingredients by weight before cooking and the water in whole meats makes them weigh more. Some people don't like meat meals as much as whole meats but they are a concentrated form of the meat in which the water has already been removed. They contain several times as much protein as a whole meat. Meat meals are usually very good as one of the first ingredients in a premium quality dog food. They are found in many good dog foods. Less desirable are the terms "digest" or "by-products." If you see these terms on the label of a dog food, you should ask some questions.
Dogs also need fat from good sources. Some vitamins are only fat-soluble and your dog needs them in his diet. But fat, like protein, varies in quality depending on the source. You should look for named fat sources such as chicken fat. Other named fats also provide needed nutrients such as fish oil which can provide omega-3 fatty acid to help keep the skin and coat healthy.
Recommended Brands of Food
All of the foods listed here are good dog foods. We have listed a variety in case your dog has certain issues or you have preferences about what you like to feed. The foods also vary in price.
Most of these foods also come in formulas for average or medium-sized dogs, too, since Pugs are somewhere between a small and medium size.
If you are looking for some good grain free dog foods, here are a few that we like, though they are not specifically for small dogs:
What about the puppies?
Obviously young pug pups can't necessarily start out on the same dog food as their parents. You'll need to make a couple minor adjustments when deciding on dog food for pug puppies. Luckily the brands have adjusted their recipes just for those wrinkly adolescent bellies.
The foods listed here are kibbles but you can certainly feed your Pug a canned food if you prefer. There is little truth to the belief that canned foods cause more dental problems for dogs. If you brush your dog's teeth regularly and have your vet take care of them, you shouldn't have any particular problems from feeding canned dog food.
Try some of these foods and see how your Pug likes them. Pugs are not usually fussy about food, but your dog might not like a certain food. Or, he might not thrive on a particular food for some reason. If that happens, just try one of the other foods and see how your dog does. And remember, if your Pug does have a special health issue such as allergies or joint problems that needs a special diet, there are many good foods available today that can help your dog.