Best Dog Food for a Great Pyrenees
The Ultimate Great Pyrenees Food Buyer's Guide
Skip To Detailed Recommendations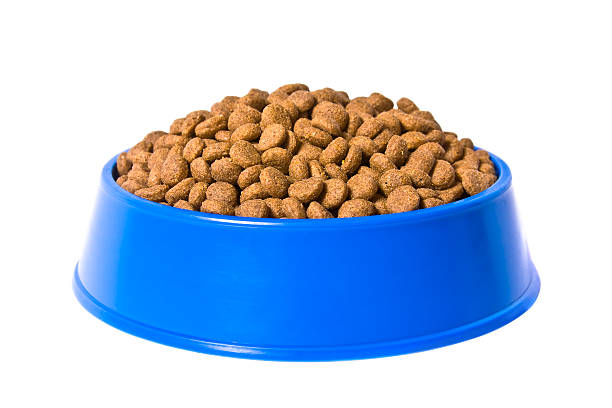 From guard dog to family dog, the Great Pyrenees resembles a polar bear – but his roots are in the mountains, where the breed was used for hundreds of years to guard livestock.  The dogs are protective, confident, calm, and patient – as well as strong-willed and independent. Great Pyrenees are so intelligent and gentle, they can even be trained as service dogs for epilepsy patients. And while they may not be nibbling on mountain snacks anymore, they still need a high-quality, nutritious diet. So, what's the best dog food for a Great Pyrenees? Here's a comprehensive look at what to consider as you shop for your pup, as well as the top-rated dog foods for this breed.
Disclosure: Please note that this post contains affiliate links, which will direct you to our partner sites. If you purchase the pet foods we recommend through those links, we may earn a small commission – at no extra cost to you.
The Best Dog Food for a Great Pyrenees

---
30% Off + Free Shipping
on dog food for Great Pyrenees
Great Pyrenees Diet & Nutrition
Though the Great Pyrenees is a giant breed, he's not supposed to be the size of a polar bear. With moderate, daily exercise and a nutritious diet, your pup can live a fit and healthy lifestyle. Standing at 25 to 32 inches tall and approximately 85 to 100 pounds (males are larger than females), the Great Pyrenees requires a high caloric intake to sustain their energy.
According to the National Research Council of the National Academies, an active adult Great Pyrenees weighing 100 pounds requires 2200 calories per day, while a puppy weighing 60 pounds needs 1670 calories per day. Keep in mind, each dog has individual needs that are impacted by their age, activity level, and metabolism, as well as if they have been spayed/neutered.
Because this is a giant breed, it is important for puppies to grow slowly. Studies have shown that this helps prevent bone and joint problems later in life. It's also important to pay special attention to the calcium and phosphorus levels in the food. For these reasons, we recommend feeding a good large breed puppy food to Great Pyrenees puppies. Adult dogs can eat food made for large breed dogs or all life stage foods. Foods made for large breeds and large breed puppies usually have slightly fewer calories than other dog foods. This is done because added weight on the skeletal structure of a giant breed dog is thought to contribute to hip dysplasia and other joint and musculoskeletal problems. It's important for giant breed puppies and adults to stay slim and not carry excess weight.
Feeding Your Great Pyrenees
Feeding your Great Pyrenees may feel like a game of trial and error. As you browse for the best dog food for a Great Pyrenees, consider the ingredients outlined below, as they are key to proving your pup with the proper nutrition.
Note: The Great Pyrenees breed is not one that should be free fed. When feeding your dog, we suggest measuring enough food for one meal and only leaving it out for half an hour. This should give your dog time to eat.  Most adult dogs do well eating two meals per day. Puppies can usually eat three meals per day until they are old enough to start eating on an adult schedule.
Ingredients to Look for:
Protein – Ideally, the best dog food for a Great Pyrenees will feature two or three meat proteins in the first several ingredients listed. Look for whole meats like chicken, beef, fish, and lamb – or meat meals, a concentrated form of meat in which the moisture is removed.
Fat – Also be on the lookout for named fat sources, such as chicken fat. Other named fats also provide needed nutrients such as fish oil which can provide omega-3 fatty acid to help keep the skin and coat healthy. Puppies can benefit from DHA which is Docosahexaenoic acid. This is a specific form of omega-3 fatty acid that helps with brain and eye development.
Avoid – If you want to avoid corn, soy, and wheat in your dog food, your Great Pyrenees may still be able to eat rice, barley, oats, or some other grain or cereal. Oats and barley, for example, can be good sources of dietary fiber. Or you can feed a grain free dog food that uses an alternate source of carbs such as sweet potatoes.
---
Best Dog Food for a Great Pyrenees Puppy
Each of our recommendations for the Great Pyrenees puppy is specially formulated for young large/giant breed dogs, including the proper protein percentage and calcium to phosphorus ratio, which should be 1.2 parts calcium to 1 part phosphorus. These percentages ensure your puppy grows at a steady rate, rather than too quickly which can cause orthopedic developmental problems.
1
This large breed puppy formula contains no corn, wheat, or soy. The food is formulated for puppies who will grow to be over 50 pounds as adult dogs. Protein and fat in the food are moderate, and so are the calories, to help large breed puppies grow slowly. The technical analysis for the food shows the correct calcium to phosphorus ratio for large breed puppies. Fromm Large Breed Puppy Gold formula also has added DHA-rich salmon oil for good brain and eye development in puppies. The USDA-inspected ingredients for the food are delivered fresh each morning. We think this food should help large breed puppies grow slowly so they can avoid bone and joint problems as they get older.
Main Ingredients: Chicken, Chicken Meal, Chicken Broth, Oat Groats
Protein: 26%
Fat: 14%
Fiber: 5.5%
Calories: 384 kcal/cup
2
This Blue Buffalo formula is by far one of the best dog foods for a Great Pyrenees puppy. With the appropriate protein and fat levels, as well as added DHA for brain and eye development, the recipe is great for a growing pup. It also has the proper calcium to phosphorus ratio, omega-3 and 6 fatty acids for healthy skin and coat, and antioxidants to support the immune system.
Main Ingredients: Deboned Chicken, Chicken Meal, Brown Rice, Oatmeal, Barley
Protein: 26%
Fat: 15%
Fiber: 5%
Calories: 386 kcal/cup
3
Orijen Puppy Large is a biologically appropriate dog food that features 80 percent whole prey – chicken, turkey, eggs, fish; and 20 percent fruits and vegetables. It contains zero percent grains and potatoes. It is a non-GMO food. The chicken and turkey are cage-free and the fish is wild-caught. This is a low-glycemic dog food to support healthy blood sugar levels.  It also provides the correct calcium to phosphorus ratio and natural DHA from fish for good brain development in puppies.
Main Ingredients: Boneless Chicken, Chicken Meal, Chicken Liver, Whole Herring, Boneless Turkey
Protein: 38%
Fat: 16%
Fiber: 3%
Calories: 456 kcal
---
Best Dog Food for a Great Pyrenees Adult
We are recommending a variety of foods for the Great Pyrenees. We have selected foods without corn, wheat, and soy unless otherwise noted. You may have to try a couple of foods to find which one is best for your dog. You should also keep in mind that your dog's diet needs can change as he grows and ages so you may have to change foods to accommodate him.
1
Fromm Large Breed Adult Gold is one of our favorite dog foods for large dogs. Chicken cartilage is added for a natural form of glucosamine to keep joints supple which is important for large dogs like the Great Pyrenees. The food contains no wheat, corn, or soy that might irritate the digestive system. Fromm Large Breed Adult Gold features moderate protein and fat which is better for large dogs like the Great Pyrenees. The food is moderate in terms of calories which helps your giant dog stay slim.
Main Ingredients: Chicken, Chicken Meal, Chicken Broth, Oat Groats
Protein: 23%
Fat: 12%
Fiber: 5.5%
Calories: 377 kcal/cup
2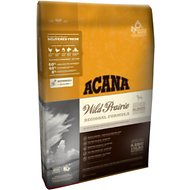 Acana is made by Champion Pet Foods, the same com
pany that makes Orijen. Their Regional formulas, like Wild Prairie Regional, are 60 percent meat/fish from local sources.  Acana is made in Champion's own facilities and the company has an excellent reputation. It is AAFCO-approved for all life stages. We think this food, or one of the other Acana Regional formulas, would be very good for a Great Pyrenees.
Main Ingredients: Deboned Chicken, Chicken Meal, Green Peas, Turkey Meal, Chicken Liver Oil
Protein: 31%
Fat: 17%
Fiber: 5%
Calories: 434 kcal
3
Victor is made by Mid America Pet Food – a company that co-packs for some other well-known brands. The company is located in Texas and it's been in business for a long time. They were purchased by an investor last year and Victor dog food is becoming more widely available now. All of their foods are free of corn, wheat, soy, gluten, and grain by-products. They use no artificial colors, flavors, or preservatives.
Main Ingredients: Salmon, Menhaden Fish Meal, Sweet Potato, Peas, Canola Oil
Protein: 33%
Fat: 15%
Fiber: 3.8%
Calories: 398 kcal/cup
4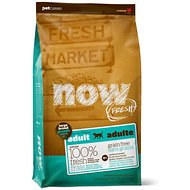 This food for large dogs is made from 100 percent fresh turkey, salmon, duck, and 100 percent fresh omega 3 & 6 oils from coconuts and canola. It has no corn, wheat, or soy, and no other grains, gluten, or beef and uses no rendered meats, by-products, or artificial preservatives. The food features New Zealand green mussels and glucosamine and chondroitin for healthy joints. It has added L-Carnitine for a healthy heart and to help turn fat into lean muscle, as well as added pre- and probiotics for better digestion.
Main Ingredients: Deboned Turkey
Protein: 27%
Fat: 13%
Fiber: 3%
Calories: 363 kcal/cup
---
Best Dog Foods for a Great Pyrenees Senior
The best dog food for a Great Pyrenees may change as your pup ages. Many older dogs, including the Great Pyrenees, begin to put on pounds as they get older. For this reason, most senior dog foods have fewer calories and they can skimp on protein. You should watch your older Great Pyrenees' weight as he gets older to make sure he doesn't become overweight. In some cases, you can simply cut back on the portions of his regular dog food to help him stay fit or increase his exercise.
On the other hand, very old dogs often start to have some problems metabolizing nutrients, including protein. It can become hard for them to keep good muscle tone and weight as they age. For this reason, you may wish to avoid many dog foods labeled "senior." These foods are often formulated for older dogs that have gained weight. Instead, look for a senior dog food that we like which has lots of protein. As long as your older dog doesn't have any problems with his kidneys, there is no reason to avoid higher protein levels.
1
Orijen Senior provides plenty of excellent quality protein for your older Great Pyrenees. This food features free-run chicken and turkey, wild-caught fish, and nest-laid eggs. It helps keep older dogs in good muscle even as they become less active. Made of 80 percent meats and fish, the food is low-glycemic and has low carbs to help keep your older dog's blood sugar steady. The food also contains natural sources of glucosamine and chondroitin to keep your Great Pyrenees's joints healthy. The food is 38 percent crude protein and 15 percent crude fat. It checks in at 445 kcal per 250ml/120g cup. We think this is a very good food for senior dogs who often need extra protein as they get older.
Main Ingredients: Deboned Chicken, Deboned Turkey, Atlantic Flounder, Whole Eggs, whole Atlantic Mackerel
Protein: 38%
Fat: 15%
Fiber: 8%
Calories: 414 kcal/cup
---
Additional Dietary and Health Concerns
The Great Pyrenees has few genetic health problems but is generally long-lived compared to other giant breed dogs.
To help keep your dog healthy and avoid these health issues, it's important to feed your dog natural ingredients to support the immune system. Many people also recommend feeding a food that is free of the most common food irritants such as corn, soy, and wheat, as well as artificial colors, flavors, sweeteners, and preservatives. You can find more information about Great Pyrenees health issues on the website for the Great Pyrenees Club of America.
Whether you are getting a new Great Pyrenees puppy or bringing home an older dog, Great Pyrenees are intelligent, loyal companions. We hope we have provided you with the information you need to feed your friend the best food possible.
Below is a list of Products reviewed in this article
Chewy Sales
Updated February 26, 2019