The Ultimate Akita Food Buyer's Guide
The national dog of Japan, the Akita is large, powerful, dignified, and deeply loyal. Most of the world recognizes two separate Akita breeds: the Japanese Akita, also called the Akita Ken or Akita Inu ("inu" meaning "dog" in Japanese); and the American Akita, often referred to simply as the Akita. In the United States and Canada these two versions of the breed are considered to be one single breed*. The Japanese Akita comes in fewer colors while the American Akita comes in all ordinary dog colors. There are some other physical differences between the two versions of the breed. For the purposes of this article we'll consider both versions of the Akita together unless otherwise noted. (The different names are confusing enough without trying to discuss them separately.)
*The American Kennel Club and the Canadian Kennel Club consider the Akita one breed. The Japanese Akita does exist in the United States and it has a parent club recognized by the Japan Kennel Club, the United Kennel Club in the United States, and other clubs around the world. However, the issue has not been fully settled in North America as long as the AKC and the CKC only recognize one Akita breed.
DNA research has shown that the Akita is one of the oldest of all breeds of dogs in the world today. (This paper is also helpful.) Like their smaller Japanese cousins the Shiba Inu, the Akita is a spitz breed – one of six spitz breeds found in Japan. According to oral Japanese history, the ancestors of today's Akita – the Matagi dog – were used to hunt bear, wild boar, and deer in Japan. The Matagi was an ancient native dog in Japan so this lends credence to the DNA evidence. As late as the 1950s Akitas were still kept for these purposes. Today's Akita was primarily developed from dogs in the northern part of the island of Honshu in the Akita prefecture which provided the dogs with their name.
In the early 20th century there was some crossbreeding between the Akita and large European dogs such as the Mastiff, the Great Dane, the Saint Bernard, and the Tosa Inu. These crosses were made because there was some interest at the time in developing a fighting dog. During World War II there were crosses made between Akitas and German Shepherds. At that time there was an order that all non-military dogs must be culled so it was hoped that crossing the dogs with German Shepherds would be a way to save the breed for the future.
Many people today know the Akita because of the very moving story of Hachiko, one of the most beloved of all Akitas. Hachiko was born in 1923 and he was owned by a professor in Tokyo. The professor lived in a Tokyo suburb and commuted to the city to work every day, taking the train. Hachiko would go with the professor to and from the station each day. However, in May 1925, when Hachiko was on 1 ½ years old, the professor experienced a fatal brain hemorrhage at work and never came home. Hachiko waited for him to return on the train that day but he never returned. The dog continued to go back and forth to the train station each day for the next nine years. He allowed the professor's family to care for him but he never ceased his trips to the train station. In 1934 a bronze statue was dedicated to Hachiko at the train station not long before he died. He was known around the world for his loyalty and dedication. The statue was melted for armaments during World War II but it was re-dedicated after the war. Each year there is a ceremony at the station honoring the dog's devotion. Hachiko became a national symbol of loyalty in Japan.
The first Japanese breed standard for Akitas was written in the 1930s. In 1931 the Japanese government designated the Akita (and several other native breeds) as a national "monument" or treasure. Helen Keller traveled to Japan in 1937 and was presented with the first two Akitas to come to the United States.
In Japan people are said to feel a spiritual connection to the Akita. When someone is sick it's not unusual for people to give them a small statue of an Akita, symbolizing strength and health, as a way to encourage them to get well.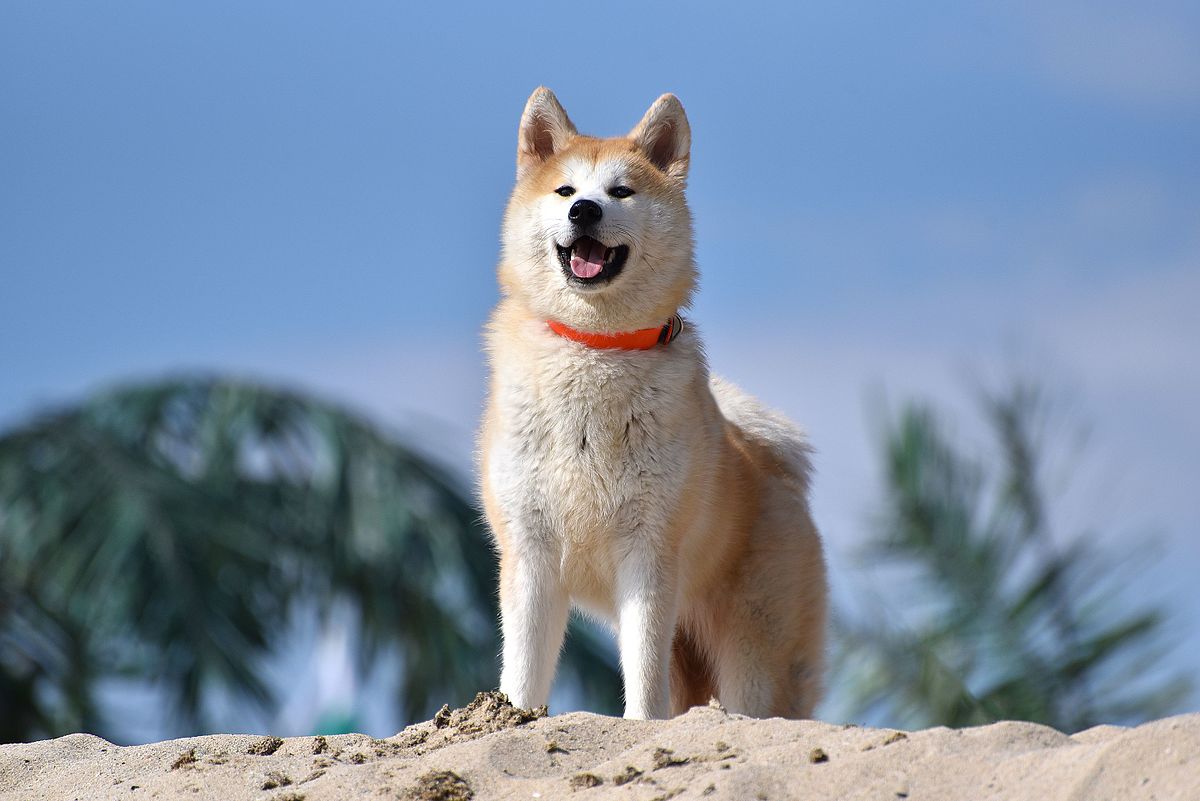 The breed nearly became extinct during World War II. Many dogs in Japan had no food during and after the war. Some Akitas were killed for food and their fur was used to keep people warm. (World War II was devastating for many dog breeds – not to mention people – in Europe as well.) The Japanese government eventually ordered the remaining dogs to be killed in an effort to try to prevent disease from spreading. Some owners turned their Akitas loose in the mountains to try to save them. The Akitas that were loose in the mountains interbred with the original Matagi dogs. As already mentioned, some Akitas were saved by interbreeding with German Shepherds so the resulting puppies could claim to be military dogs. Thanks to these efforts some Akitas were able to survive the war in Japan.
After the war, during the Occupation, Akitas began to make a come back. Breeders began to breed for a standard appearance and the number of Akitas grew again. Many U.S. service people stationed in Japan were drawn to the breed and brought dogs back to America.
It was at this time that the breed began to split into the Japanese and American types. American soldiers in Japan liked larger dogs that were bear-like. These were often dogs that had been influenced by breeding with German Shepherds. The Japanese preferred the smaller, fox-like Akita Inu dogs. Both types share a common history and ancestry but there are noticeable differences between them. The American style dogs are bigger with bigger bone and they are somewhat intimidating. While the American dogs come in any color and can have black masks or pinto coloration, the Japanese Akitas can only be fawn, sesame, red, white, or brindle. The Japanese dogs are typically lighter-boned dogs with a finer head, a little reminiscent of a fox.
The AKC recognized the Akita in 1955 but it remained in the Miscellaneous Class until 1972. (AKC does not give full recognition to a breed until there are enough breeders and dogs spread out geographically in the U.S. to support the breed.) The Akita is in the Working Group. Today it is the 46th most popular breed in the United States, according to AKC registration statistics.
Akitas are moderately active and they need regular exercise. Their very large size generally means they are a better fit for a home with a yard than a small space. They do not always get along well with other dogs, especially other dogs of the same sex. They tend to be territorial regarding their homes. They are usually aloof with strangers but very affectionate with their family. At home they tend to be very clean dogs.
The Akita does tend to be dominant in temperament so this is not generally a good breed for the first time dog owner. If you are not confident about telling a dog what to do, they will not obey you. Early socialization and training are essential for this breed. As far as training goes, Akitas are intelligent but they can also be independent. It's important to treat them with respect. You should be firm but gentle when training them.
Akitas are said to be good with children but you should always be cautious with dogs and children, especially small children. You should supervise interaction between dogs and small kids. Even if your Akita adores your own children that doesn't guarantee that he will be tolerant of your children's little friends when they visit, so please supervise all interaction!
The Akita has a thick double coat but there are two different coat types in the breed – a standard coat and a long coat. Long coats are not shown at dog shows but they do exist. They are called Moku. Their coat is 3-4 inches long and softer than the normal Akita coat. This kind of coat is not seen on Akitas very often. Despite their thick coat, the Akita doesn't need much grooming. They do shed a lot and have heavy shedding periods 2-3 times per year. Brushing daily will cut down on loose hair. They don't require frequent bathing.
Today the Akita is mostly kept as a pet. They participate in dog shows, obedience trials, tracking, agility, weight pulls, hunting tests, and do Schutzhund.
Disclosure: Please note that this post contains affiliate links, which will direct you to our partner sites. If you purchase the pet foods we recommend through those links, we may earn a small commission – at no extra cost to you.
Quick Look : Top 4 Best Dog Foods for Akitas

---
30% Off + Free Shipping
on dog food for Akitas
Akita Diet & Nutrition
Male Akitas typically stand 26-28 inches tall at the withers and weigh between 100 and 130 pounds. Female Akitas usually stand 24-26 inches tall at the withers and weigh between 70 and 100 pounds. The Japanese style Akita is slightly smaller and weighs a little less. You can see the breed standard for the Akita here.
Growing puppies and young adults use a lot of energy. They require a diet that features good quality protein. According to the National Research Council of the National Academies, an active adult Akita weighing 100 pounds requires an average daily caloric intake of 2206 calories. Dogs that have been spayed/neutered, or that are older, or that are less active may need slightly fewer calories. Some dogs may need more calories depending on their level of activity and their individual metabolism. Growing puppies, for example, consume more calories than adult dogs and so do young adult dogs. A young Akita puppy weighing 60 pounds needs an estimated 1671 calories per day.
Akita are considered to be a giant breed. Because this is a giant breed, it is important for puppies to grow slowly. Studies have shown that this helps prevent bone and joint problems later in life. It's also important to pay special attention to the calcium and phosphorus levels in the food. For these reasons, we recommend feeding a good large breed puppy food to Akita puppies. Adult dogs can eat food made for large breed dogs or all life stage foods. Foods made for large breeds and large breed puppies usually have slightly fewer calories than other dog foods. This is done because added weight on the skeletal structure of a giant breed dog is thought to contribute to hip dysplasia and other joint and musculo-skeletal problems. It's important for giant breed puppies and adults to stay slim and not carry excess weight.
Most breeders and canine nutritionists recommend that you do not add supplements to a good, balanced commercial puppy food. Over-supplementation or supplementation of the wrong thing can upset the nutrient balance of a food. This is particularly important with puppies when bones are developing. Adding extra calcium or other supplements to your puppy's diet can lead to skeletal problems later and perhaps a need for surgery.
Feeding Your Akita
The Akita can usually eat most good quality dog foods but you have to make sure the food has good nutrition. According to the Akita Club of America, Akitas require a good quality meat-based diet and don't thrive on soybean-based dog foods. (We found this fact emphasized repeatedly with breeders – avoid soy-based diets.) Older Akitas should be fed a "Lite" dog food to lessen the onset of kidney disease which can be a problem in older Akitas. (More on this subject below.)
Akitas will often do well with moderate protein and fat percentages. This is true for both adult dogs and puppies. Many large breed dog foods may meet these requirements but you should be careful to read labels and check percentages. Akitas often do well eating animal protein sources such as chicken, fish, and eggs. They can eat grains such as pearled barley, oatmeal, and brown rice. Good foods for the Akita should also have omega fatty acids (3 and 6), glucosamine and chondroitin, prebiotics, probiotics, antioxidants, along with vitamins and minerals. Common vegetables such as carrots and sweet potatoes (and others); and fruits and berries such as apples, cranberries, and blueberries round out healthy ingredients for their nutrition.
As a large/giant breed, the Akita can be susceptible to bloat (discussed below), along with joint problems associated with being a giant breed. This kind of diet, fed in several small meals during the day, is believed to help avoid problems.
We suggest that you measure the amount of food you feed and only leave the food sitting out for about half an hour for adult dogs. Then put it away. This should give your dog time to eat. We recommend feeding adult Akitas two meals per day throughout their lives. You can feed Akita puppies 3-4 small meals per day while they are growing.
According to virtually all sources, including breeders, Akitas are notoriously food aggressive. You should be aware of this issue from the time your Akita is a young puppy and work to prevent it. Don't let your puppy get in the habit of growling at you when you are around his food bowl. It may not seem to be a big problem when your Akita puppy is three months old but it most definitely will be a problem when your dog is an adult and weighs 100 pounds.
Large breeds like the Akita are often at special risk for bloating. (You can view a video of a dog with bloat here. This video may be upsetting for some people to watch but the dog is fine now. We do suggest you watch the video if you would like to see what some of the signs of bloat look like. You can read the symptoms of bloat here.)
Feeding one large meal per day can encourage dogs to eat fast, gulping in air which can be a trigger for bloat. Many other ideas about what does and does not contribute to bloat are still in dispute, but everyone seems to agree that multiple small meals spread throughout the day are beneficial.
As with all puppies, it's better for Akita puppies to be slim instead of roly-poly. Fat puppies often end up with bone and joint problems later in life. Keeping your Akita lean throughout his life is much better for his overall health.
Akita Health Problems
According to the Akita Club of America, hypothyroidism is common in the breed. This condition is easily treated once it is diagnosed by your dog's veterinarian. Symptoms can include skin and coat problems, itching, lethargy, a musky odor, or a sudden onset of aggression. Hypothyroidism can be diagnosed with a blood test so make your veterinarian aware if you suspect this issue.
Progressive retinal atrophy, an eye disease, can also occur in the breed. It can result in impaired night vision and eventually lead to blindness.
Hip and elbow dysplasia can also occur in Akitas, as they do with many giant breeds. Keeping your Akita lean, especially as a growing puppy, can help reduce the chances that he will develop hip and joint problems later in life.
Akitas are also prone to a number of autoimmune diseases and other conditions which affect the immune system. Note that many of these diseases are relatively rare in the breed but they are possible. (If a condition is mentioned once for a breed in a veterinary publication it is usually associated forever with the breed, even if no dog ever has it again. Be cautious about believing everything you read online about diseases and health problems connected to breeds. Focus on the main health problems that occur in a breed.)
As a breed, Akitas have a particular sensitivity to certain vaccinations, drugs, anesthetics, insecticides, and other medications. This is documented in veterinary literature but you should remind your veterinarian when he sees your dog.
Akitas may also have pseudohyperkalemia, which is a rise in the amount of potassium that occurs when blood is drawn. This can result in a false reading for hyperkalemia in laboratory tests. This is documented in veterinary literature so your vet should be aware of it but you can remind him/her. This condition occurs in many east Asian dog breeds.
The Akita Club of America recommends the following health tests for Akitas, especially if a dog is being considered for breeding:
Eye Examination by a boarded ACVO Ophthalmologist each year until 6, thereafter every 2 years
Here are the current Orthopedic Foundation for Animals (OFA) statistics for Akitas.
Evaluations through December 2016
Registry

Rank

Evaluations

Percent
Abnormal

Percent
Normal

Percent
Carrier

Percent
Equivocal

ADVANCED CARDIAC

N/A

1

.0

100.0

.0

.0

CARDIAC

128

84

.0

100.0

.0

.0

DEGENERATIVE MYELOPATHY

N/A

31

3.2

93.5

3.2

.0

DENTITION DATABASE

N/A

14

.0

100.0

.0

.0

ELBOW

101

2593

1.3

98.6

.0

.1

EYES

99

672

1.0

99.0

.0

.0

HIPS

79

17246

13.5

84.7

.0

1.8

LEGG-CALVE-PERTHES

N/A

13

.0

100.0

.0

.0

PATELLA

82

1093

1.5

98.5

.0

.0

SEBACEOUS ADENITIS

N/A

8

12.5

75.0

.0

12.5

SHOULDER

N/A

3

.0

100.0

.0

.0

THYROID

33

779

6.0

82.2

.0

11.8
Statistics from the OFA database.

Other information from the OFA database shows that the Akita's hips have been strongly trending toward "Excellent" since 1980 when x-raying for hip dysplasia began.
The percentage of Akitas with abnormal elbows (a sign of elbow dysplasia) has likewise been sharply trending downward. These reports show that breeder selection for better hips and elbows have been improving the breed.
If you are thinking of getting an Akita you should talk to the breeder about the health issues described here. Many dogs will be perfectly healthy and breeders strive to produce healthy puppies but you should discuss health guarantees and understand the breeder's philosophy toward health matters. The Akita Club of America supports research into many of these conditions and progress is being made.
For more health information about the Akita, please visit the breed club web site and read their health section. The Akita is a long-lived breed, living 12-15 years. Many dogs live into their teen years. This is old for any dog and especially so for a giant breed.
The Akita Club of America also supports genetic diversity research and their web site includes a good section on Geriatrics.
Most Akitas won't have the health problems described here – certainly not all of them! – but they can occur in the breed. Many dog lovers try to protect their dogs and keep them healthy by feeding a dog food with more natural ingredients so their immune system will stay as strong as possible. Many people recommend feeding a food that is free of some of the most common food irritants such as corn, soy, and wheat. These are not the most common dog food allergens – beef, dairy products, and chicken, for example, lead to more food allergies for dogs than corn, soy, and wheat. But many people like to avoid soy and grains in dog foods. There are many good grain free dog foods today if you want to feed one to your dog.
Avoiding artificial colors, flavors, sweeteners, and preservatives is also suggested as a way to help keep the immune system stronger. Artificial flavors can include things such as caramel and so-called "natural flavor" in foods. The term "natural," as defined (or not defined) by the FDA tends to be so wide open that it can allow some unwelcome ingredients to be used for flavoring. In other cases, natural flavor may be perfectly harmless. But you don't know because the term is so vague. Artificial preservatives include BHA, BHT, ethoxyquin, TBHQ, propyl gallate, and propylene glycol. Natural preservatives such as vitamin C, vitamin E, and certain plant extracts are preferred.
Ingredients to Look for and Some to Avoid
As with most dogs, when choosing a food for your Akita you should look for a food that has good sources of protein and fat.
Ideally you will select a dog food that features two or three meat proteins in the first several ingredients listed. It's not unusual today to see a food list both chicken and chicken meal, for example, as the first two ingredients. Both whole meats and meat meals are good sources of protein. Whole meats refer to foods such as whole chicken, beef, fish, and lamb. Some people don't like meat meals as much as whole meats but they are a concentrated form of the meat in which the moisture has been removed. They contain several times as much protein as a whole meat. Meat meals are usually quite acceptable as one of the first ingredients in a good quality dog food. They are used by many good dog food brands. Some companies will go a step further and also add a related organ meat. For example, if the first two ingredients are whole chicken and chicken meal, they may also add chicken liver. That's fine. This is one way of adding more protein to the food. Most dogs will enjoy foods that have liver added. It is best if the liver is named. We don't like to see generic liver. It's important to remember that liver, hearts, kidneys, lungs, and so on are technically meat by-products so you always want the dog food manufacturer to be as specific as possible about the ingredients they are using.
Many dog foods today, even some of the most expensive and highly touted, use lots of plant proteins such as lentils and peas. These foods often have high protein percentages on the label. When you read the guaranteed analysis it's important to consider how much of the protein in the food comes from meat and how much comes from plants. Your dog is able to digest meat protein more easily than plant protein. Meat protein is a much more natural source of protein for your dog than plant protein.
Dogs also need good sources of fat. You should look for named fat sources such as chicken fat. Other named fats also provide needed nutrients such as fish oil which can provide omega-3 fatty acid to help keep the skin and coat healthy. Puppies can benefit from DHA which is Docosahexaenoic acid. This is a specific form of omega-3 fatty acid that helps with brain and eye development. Older dogs seem to benefit from medium chain triglycerides which feature medium chain fatty acids (MCFAs). These have been found to help older dogs feel and act younger. They are often made from a combination of coconut oil and other oils.
If you want to avoid corn, soy, and wheat in your dog food, your Akita may still be able to eat an alternative grain such as barley or oats. (Keep in mind that most sources recommend that Akitas should avoid soy-based diets, so we would suggest trying to keep soy out of their diets.) Or you can feed a grain free dog food that uses an alternate source of carbs that is low glycemic. You don't have to feed a dog food with an excessively high percentage of protein but it's a good idea to keep the carb percentage low to moderate.
If your Akita has a food allergy or food sensitivity, you may need to work with your veterinarian to identify the food triggers unless they are very obvious. There are lots of good foods with novel meat proteins today as well as limited ingredient diets which we will discuss below.
Recommended Dog Food For Akitas
Akitas should be able to eat most good quality dog foods but every dog is an individual. Even dogs in the same breed can have different food needs. Some dogs need more calories than others. Some dogs will do better with more protein or fat than other dogs. We are providing several suggested foods for your Akita which meet our standards but you may have to use a trial and error method to see which food your dog does best on.
When you are trying a new food, be sure to allow several days to slowly transition to the food, mixing in a little of your dog's old food each day. Of course, if your dog shows signs that he doesn't like the food or doesn't tolerate it, you will have to make adjustments. If your dog eats the food but you don't like his condition after a few weeks, you can change him back – slowly – to his previous food. It's best not to go directly to another new food. You can upset your dog's gastrointestinal system if you keep changing to too many new foods in a short period of time. Once your dog has settled back with his old food, you can once again try a new food. You should allow at least a couple of weeks between foods before trying another new food so you can give your dog's system a chance to rest and recover. This also gives the new food a fair chance.
If you try a new food and your dog doesn't seem enthusiastic about it, you might also try another food from the same product line that uses a different kind of meat protein or other ingredients. As long as the guaranteed analysis and nutrient percentages are similar, the food should be similar to the original food you selected.
When you are feeding a new food and your dog is eating it without problems, it's important for you to assess his physical condition. Is he gaining or losing weight on the new food? Does his coat look healthy? Are his eyes bright? Does he seem to have good energy or is he more lethargic than usual? And, the big question for any dog lover – what does his poop look like? As most dog lovers know, you can tell a lot about a dog's health by checking his poop. Does it look normal and firm? If he having regular bowel movements? Those are good signs. If your dog is having runny poop or diarrhea; or if he is having trouble with his bowel movements, it could be because of the new food. These are all things you should note during the first few weeks of feeding a new food. Even if your dog LOVES the food, if he's not thriving, you may have to rethink his diet or how much you are feeding him.
Coat quality is often a determining factor in the diet chosen for any breed. Good quality protein and essential fatty acids such as omega-3 and omega-6 fatty acids will help keep your dog's skin and coat healthy. It's also important for your dog to have omega-3 and omega-6 in a good ratio. Omega-6 is widespread in plants and it's usually plentiful in everything your dog eats. Omega-3 comes from fish, flaxseed, and some other sources. However, dogs don't digest it very easily from plant sources. Dog foods that provide omega-3 from fish sources, especially cold water fish, are usually better options. There is still some debate about exactly the best ration of omega-6 to omega-3 for dogs, but better quality dog foods will usually have a ratio between 5:1 and 10:1.
Very often, if a dog has loose stool or other gastrointestinal problems with a food, even if he really likes the food, it can be because you are 1) feeding too much of the food; or 2) the food is too rich. What does too rich mean? It means the food may have too many calories for your dog's needs. It might have too much fat for your dog. Or, the protein percentage may be too high. You can also check the fiber percentage. Maybe it's too high. If cutting back on the portions doesn't help, you need to try changing the food.
You should also remember that dogs are a little like people. Their appetites can vary depending on things like the weather and their mood at times. Most dogs will eat more in the winter and less in the summer, especially if you live in a climate with wide changes in the temperature. So, if your dog is not eating as much when it's hot in the summer, it doesn't necessarily indicate anything to be alarmed about. If your dog is eating more food in the winter – and putting on weight – you may want to see if your dog's favorite food has a formula with a little less fat or fewer calories so he won't gain too much weight. Then go back to his favorite formula when he's more active in warm weather.
Most of the foods we have selected here do not contain corn, wheat, or soy, unless noted. You may have to try a couple of foods to find which one is best for your dog. You should also keep in mind that your dog's dietary needs can change as he grows and ages so you may have to change foods to suit him.
Best Dog Foods for Akita Adults


Dr. Gary's Best Breed is a small, independent company. Foods are made in small batches using a unique, slow-cooking process at low temperatures that is said to make the carbohydrates easier to digest and ensure optimum absorption of the nutrients. The formulas are made using only EU (European Union)-approved ingredients, which sometimes have to meet a higher standard than USDA ingredients. The foods contain no animal by-products, cheap fillers, any kind of gluten, and no artificial preservatives, flavors, or colors. No corn or wheat. Best Breed uses only ethoxyquin-free sources of fish and chicken raised without antibiotics. (All poultry in the U.S. is raised free of added hormones.) The large breed diet is formulated to promote the health of large breed dogs. It's especially good for dogs with sensitive digestive systems. The first five ingredients in the large breed formula are: Chicken Meal, Oatmeal, Brown Rice, Dried Beet Pulp, and Chicken Fat [Preserved with Natural Mixed Tocopherols (Vitamin E)]. It has 25 percent crude protein and 13 percent crude fat, with 456 Kcal/cup. This is an all life stage dog food.

Now Fresh Grain Free Large Breed Adult Recipe is made by Petcurean. You may be more familiar with some of the other product lines from this Canadian company, such as Go!, Spike, or Summit. This food for large dogs is made from 100 percent fresh turkey, salmon, duck and 100 percent fresh omega 3 & 6 oils from coconuts and canola. It has no corn, wheat, or soy, and no other grains, gluten, or beef. It uses no rendered meats, no by-products, and no artificial preservatives.
This formula features New Zealand green mussels and glucosamine and chondroitin for healthy joints which should be beneficial for Akitas. It has added L-Carnitine for a healthy heart and to help turn fat into lean muscle. It has taurine for good vision and heart function. And it has added pre- and probiotics for better digestion. The first ingredient is deboned turkey. It contains 363 kcal/cup and has 27 percent crude protein and 13 percent crude fat. These levels should help your Akita stay at a good weight. We think this food has some good features for a large breed in terms of bone and joint health and heart health, as well as quality ingredients.

This recipe does include grains, such as brown rice, oatmeal, and barley, but these grains have some health benefits. They are not empty carbs or filler ingredients. Oatmeal and barley provide some good dietary fiber, for example. The first five ingredients in this food are Deboned Chicken, Whitefish, Chicken Meal, Ground Brown Rice, and Oatmeal. The food has 25 percent crude protein, 11 percent crude fat, 5 percent crude fiber, and 11 percent moisture. It also contains added glucosamine and chondroitin which many people consider helpful for large breed dogs who can experience joint problems. The food has 363 kcal per cup.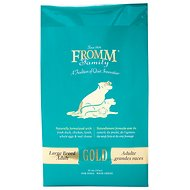 Designed specifically for large dogs over 50 pounds, Fromm Large Breed Adult Gold is one of our favorite dog foods for large dogs. It contains duck, chicken meal, and chicken as the first three ingredients. Chicken cartilage is added for a natural form of glucosamine to keep joints supple which is important for big dogs. The food contains no wheat, corn, or soy that might irritate the digestive system. Fromm Large Breed Adult Gold features moderate protein and fat which may be better for large dogs like Akita. The food is moderate in terms of calories (378 kcal/cup) which helps your large dog stay slim.
We also like the fact that Fromm is a family-owned company in Wisconsin and they make their food in small batches fresh every morning. These are good ingredients from a respected company in a formula that should be good for your large dog.
Best Dog Foods for Akita Puppies
Akita puppies can usually begin eating a puppy food right after they are weaned or they can eat a good all life stage food. If you have questions about how to feed your puppy, we recommend talking to your puppy's breeder. They usually have the most experience with raising Akita puppies and can guide you.
Puppy foods should have a calcium to phosphorus ratio of about 1.2 parts calcium to 1 part phosphorus. It's also important that dog and puppy foods do not have an excess of calcium since this can affect bone growth. This is especially true for large breed puppies like the Akita. If you are feeding your puppy a food that is properly formulated, you should not add any extra calcium, such as milk, cottage cheese, or other calcium supplements. Doing so can lead to serious health problems such as OCD (osteochondritis dissecans) and other orthopedic problems.
Here are some of the puppy foods we like for Akita puppies. Remember that an all life stage food can also be fed, as long as the nutrients are appropriate for your puppy.

Many breeders recommend Canidae to their puppy owners and feed it themselves. The name of this food is a little confusing. Although it says "Life Stages" it is a large breed puppy food. It's specially designed for puppies that will grow to be over 50 pounds as adults. Duck meal is high in omega-3 fatty acid which is good for reducing joint inflammation. Lentils are a non-grain, gluten free source of carbs. The food is also lower in protein and fat so it helps keep large breed puppies like Akita slim – which can help prevent joint problems later in life.
As a puppy food, Canidae Life Stages Large Breed Puppy formula also contains high levels of DHA to help with cognitive development. And the food has no corn, wheat, soy, fillers, antibiotics, hormones, artificial flavors, colors, or preservatives. These are all things we look for in a good food for Akita puppies.

This large breed puppy formula features lamb meal and oatmeal. It includes probiotics, healthy fiber, and digestive enzymes to help your Akita puppy digest the food better and absorb more nutrition. Other natural ingredients include chicken and fish meals. The first five ingredients in the food are: Lamb Meal, Ground Brown Rice, Ground White Rice, Chicken Meal, and Dried Beet Pulp. The formula supports muscle and bone development to help your Akita puppy enjoy good health now and as an adult. The food also features DHA to help your puppy with brain and eye development. Protein and fat are at lower levels desirable for growing large breed puppies. The food has 23 percent crude protein and 12 percent crude fat. And the calcium to phosphorus ratio is appropriate.
Fromm Gold Large Breed Puppy formula  and Precise Holistic puppy formulas for large & giant breed puppies are also recommended.
Best Dog Foods for the Senior Akita
The Akita is a long-lived breed, especially for a giant dog, so you will probably need to consider a good dog food for senior dogs as your dog ages. Once your Akita reaches the ages of about 7 years old it's a good idea to have your Akita checked by a veterinarian. Many vets recommend an annual senior check up. By getting an early start your vet will have a good baseline for your dog's later health. An annual senior check-up is a good way to detect small problems before they become big problems.
Many older dogs can start to put on some extra pounds after the prime of life. They can slow down and get less exercise at this time. If your Akita starts to put on weight with age, you can usually help him lose any extra weight by controlling his portions or increasing his exercise. We recommend avoiding senior dog foods that have less protein than regular adult dog food. Some dog food companies combine senior foods with weight control dog foods since both kinds of food may have less fat and fewer calories. This kind of food may be all right for pudgy dogs that are just past their prime years but we do not recommend them for elderly dogs who may have a hard time holding their weight. These foods are often high in carbohydrates and/or fiber – neither of which is very beneficial for a very old dog. For these old dogs, more calories and higher protein are recommended, especially foods that are easy to digest.
The Akita Club of America specifically recommends "Lite" dog foods for senior dogs "to lessen the onset of kidney disease which is a problem in older Akitas." We didn't find any information online that would suggest that Akitas are any more prone to kidney disease than other dogs. However, some senior and light diets can contain less phosphorus than other dog foods. This can be beneficial for dogs that are in the early stages of renal disease. If your older Akita (or any dog) has renal disease, we would recommend reading the Dogaware.com site. It provides information about dry matter protein percentages and phosphorus percentages for many foods, including senior and light dog foods.
Otherwise, we recommend the foods below for older Akitas. It's very important that senior dogs have good quality protein. Good quality protein is easier to digest and metabolize than poor quality protein. It provides the older dog with more nutrition that he can use.
One food we like for senior dogs is Now Fresh Large Breed Grain Free Senior Recipe. This food is made with 100 percent fresh turkey, salmon, and duck, and it has zero grains, gluten, wheat, beef, corn, or soy. No rendered meats, by-products, or artificial preservatives. It features New Zealand green mussels and glucosamine/chondroitin to support hip and joint health. The first five ingredients are: De-boned turkey, potatoes, peas, whole dried egg, and tapioca. The food has (guaranteed analysis): 25 percent crude protein, 11 percent crude fat, 4.5 percent crude fiber, and 10 percent moisture. ME (Calculated) = 3122 kcal/kg or 328 kcal/cup. This is a maintenance dog food.
Orijen Senior is another good food for older dogs. It has a very high protein percentage with good quality protein. Many senior dogs do well on this food. It features free-run chicken and turkey, wild-caught fish, and nest-laid eggs. It helps keep older dogs in good muscle even as they become less active. Made of 80 percent meats and fish, the food is low-glycemic and has low carbs to help keep your older dog's blood sugar steady. The food also contains natural sources of glucosamine and chondroitin to keep your dog's joints healthy. The food is 38 percent crude protein and 15 percent crude fat. It checks in at 445 kcal per 250ml/120g cup. We think this is a very good food for senior dogs who often need extra protein as they get older. (We know Orijen is expensive but this food really stands out for senior dogs.)
Best Dog Foods for the Akita with Skin Problems
While Akita are not especially prone to food allergies, some individual dogs can have sensitive skin. If your Akita is having skin problems or problems with food allergies, you will probably want to avoid foods that contain known food allergens such as beef, dairy products, chicken, lamb, fish, chicken eggs, corn, wheat, and soy. If your dog is having food allergies – which usually manifest as itching, redness, chewing, and hair loss – you will need to identify the trigger for his allergy. You can try to guess the trigger or work with your veterinarian on a food trial and elimination diet for your dog. You may need to find a novel protein for your dog – a protein that he has not eaten previously. Natural Balance has a selection of limited ingredient diets that can be helpful for dogs with food allergies. You might try giving your dog the rabbit formula, kangaroo formula, venison formula, or bison formula. He should be able to eat a meat protein that he has not eaten previously without having an allergic reaction. We think that Akita, in particular, will like the rabbit formula, since that is one of their natural prey animals.

This limited ingredient diet food has limited sources of protein and carbs. It's also grain free and complete and balanced for puppies, adults, and senior dogs. The food is easy for your Akita to digest and it contains no artificial flavors, colors, or preservatives.

Any dog suffering from skin problems or food allergies may benefit from Wild Calling's Xotic Essentials recipes. Formulas like their rabbit meal recipe use exotic meats that are rare in today's pet food market so your dog probably hasn't eaten them before – and there is less chance of having an allergic reaction. The foods are also highly digestible. Wild Calling also uses what they call LITe (limited ingredient technology). They don't use any of the ingredients commonly found in most dog foods such as chicken, grain, gluten, egg, yeast, corn, wheat or soy. If your Akita has a food allergy, he may benefit from Wild Calling. The foods are formulated for rotational feeding and they offer several Xotic Essentials recipes, such as kangaroo and bison, so your dog doesn't get over-exposed to one kind of meat protein. This is an All Life Stage food. We think that dogs with skin problems and food allergies can definitely benefit from these recipes.
Another food that is often recommended for dogs with food allergies and skin problems is Zignature. It comes in proteins such as trout & salmon, kangaroo, turkey, duck, venison, and others. It's available in dry and canned versions. Foods are potato- and grain-free, and chicken-free. They do not use common bonding agents (thickeners and ingredients to hold the food together) in their foods which are high in simple carbs and starches. They only use low glycemic carbs such as chickpeas that add extra protein and fiber to the food. They work with Tuffy's in Minnesota and Performance Pet in South Dakota to make their foods. Many people like Zignature very much. If you have a dog with food allergies, this is a brand that you might consider. This duck formula is a good example with hypo-allergenic meat first, no corn, wheat, soy, dairy or chicken, chicken eggs or chicken by-products.
Best Dog Foods for Akitas with Sensitive Stomachs
Many dogs are susceptible to food sensitivities that affect their digestion and excretion. If your dog has a sensitive stomach it can be an indication of a food sensitivity, which is different form a food allergy. A dog with a food sensitivity will have gastrointestinal issues such as vomiting or diarrhea. Or it could be something more serious.
A dog with a sensitive stomach can often be helped by feeding the right dog food. Sticking to a limited ingredient diet food with as few ingredients as possible can reduce the chance of your dog having a bad reaction to something in the food.
Many people recommend Wellness Simple for dogs with food sensitivities. The formulas feature only five main ingredients to keep things very simple for your Akita. Wellness makes formulas that are both grain free and some that have grains such as oatmeal. The food is easy to digest and contains probiotics and prebiotics to help the gastrointestinal system. It also contains omega fatty acids for good skin and coat. Formulas feature duck, salmon, turkey, and lamb. Wellness Simple comes in dry and canned formulas.
We don't know of a dog food that is made to help prevent bloating, but it's possible that a food for sensitive stomachs – one that is easy to digest – could be beneficial.
We also recommend Natural Balance L.I.D. Limited Ingredient Diets Sweet Potato & Fish Formula Dry Dog Food. This food is grain free with limited ingredients. It has good quality, alternative ingredients that are easily digestible for a dog with a sensitive stomach. And it contains no artificial flavors, colors, or preservatives. The first five ingredients are: Sweet Potatoes, Salmon, Fish Meal, Potato Protein, Canola Oil (preserved with mixed tocopherols). It has 21 percent crude protein, 10 percent crude fat, 5 percent crude fiber, and 10 percent moisture. It has 350 kcal/cup and it's a maintenance formula. If your dog can't eat some of the ingredients in this food, Natural Balance has lots of other LID recipes that you might check.
If your dog can't eat these ingredients, you might try one of the Weruva foods or Acana Singles. Weruva also has lots of foods with pumpkin which can sometimes help a dog with stomach issues.
Best Dog Foods for Overweight Akitas
Being overweight or obese is usually the result of overfeeding or not getting enough exercise. You can help your Akita lose weight by cutting back on his portions and encouraging him to get more exercise. Akitas are not wildly active dogs but they do need regular daily exercise so make sure your dog is getting plenty of exercise and keep an eye on how much you are feeding him.
If your Akita needs to lose more than a few pounds, however, you may need to consider a weight control dog food.
We do not recommend a weight control dog food for a puppy or a very old dog. These foods generally have fewer calories and may have some other differences in nutrients that make them inappropriate for growing puppies or older dogs who need special nutrition.
If you have an Akita who needs to lose weight, we recommend Fromm Gold Weight Management. It can be hard to find a good weight control dog food for a giant breed dog but Fromm is a quality brand with good ingredients. This food has 25 percent crude protein and 10 percent crude fat so it's not that much different from some of the adult foods we've recommended. It has 341 Kcal/cup. Fed in moderation, it should help most overweight Akita lose weight or maintain a healthy weight. The first five ingredients are: Turkey Liver, Chicken Meal, Pearled Barley, Oatmeal, and Dried Tomato Pomace.
Fromm also has a grain free weight control formula called Fromm Gold Coast Grain Free Weight Management Dog Food with the same crude protein and fat percentages if you prefer a grain free weight control food for your dog.
Some dogs may object when you cut their portions or put them on a reduced calorie dog food. You can help your Akita feel fuller by adding green beans (no or low sodium) to his meals. Healthy snacks such as carrots and apple pieces can also help your dog with his food cravings, especially when you are just starting to make changes to his diet.
If your dog needs to lose weight, you should proceed slowly. No crash dieting. You should aim for your dog to lose no more than 3 to 5 percent of his body weight per month or about one percent each week.
Conclusion
Akitas are an ancient breed with a fascinating history. Split into two versions today, the Akita is large, dignified, and intensely loyal. This is not the right breed for everyone. They have a strong, dominant personality and require good training and socialization. They can be territorial and they often don't get along with other dogs in the home. At the same time, the Akita's devotion and love for his family makes him the perfect breed for some people. If you are interested in an Akita we urge you to contact reputable breeders and find out more about the breed. Be sure to meet Akitas in person to learn about them.
Below is a list of Products reviewed in this article