Best Dog Food For Dachshunds
The Ultimate Dachshund Dog Food Buyer's Guide
A popular breed today, Dachshunds can be playful, saucy, and clever small breed dogs, but they also have a reputation for being fearless. The breed was originally bred in Germany in the 16th century to go down holes to hunt fierce badgers.
It takes a lot of courage to come face to face with a badger and Dachshunds are still very brave today. The breed has smooth, longhaired, and wire haired coat types, and there are standard and miniature varieties. They often make an excellent pet for someone who lives in apartment.
Dachshunds were rated as the 11th most popular dog breed on the most recent list of America's favorite dogs. Further investigation puts them as the 5th most popular small breed dog behind Beagles, Poodles, Yorkshire Terriers and French Bulldogs.
Disclosure: Please note that this post contains affiliate links, which will direct you to our partner sites. If you purchase the pet foods we recommend through those links, we may earn a small commission – at no extra cost to you.
Quick Look : Top 4 Best Dog Foods for Dachshunds

---
30% Off + Free Shipping
on dog food for Dachshunds
Dachshund Diet & Nutrition
Skip to Full Brand Reviews 

Standard Dachshunds typically weigh 16-32 pounds and miniature Dachshunds weigh 11 pounds and under qualifying them for small breed status. Regardless of size or coat type, all Dachshunds are the same breed. Although there are some health problems in the breed (see below), as a whole Dachshunds tends to be very long-lived. They typically live longer than dogs of most other breeds. As with all dogs, it's important for a Dachshund to have a nutritious diet and regular exercise, as well as regular veterinary care.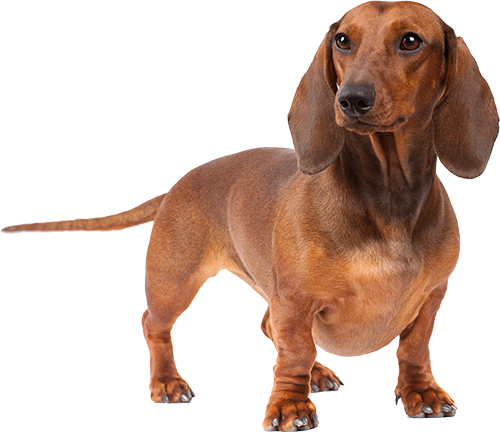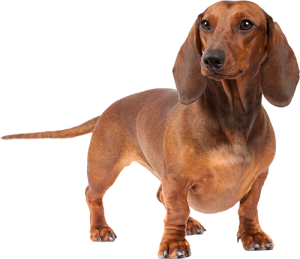 By weight, the National Research Council of the National Academies recommends an average daily caloric intake of 922 calories for an active adult standard Dachshund weighing 30 pounds. An active adult miniature Dachshund weighing 10 pounds would need an average daily caloric intake of 404 calories. Dogs that have been spayed/neutered, or that are older, may need fewer calories. Some dogs may need more calories depending on their level of activity and their individual metabolism. Growing puppies, for example, consume more calories than adult dogs and so do young adult dogs. A young adult standard Dachshund weighing about 30 pounds, for example, and getting lots of exercise would need about 993 calories per day. A young adult toy Dachshund weighing about 10 pounds, getting lots of exercise, would need about 436 calories per day. However, if your Dachshund tends to lie around the house all day with little opportunity to exercise, he would need fewer calories. These are only estimates. Every dog's metabolism is different so one dog may need more – or fewer – calories than another.
Like all dogs, Dachshunds require good quality protein. The Association of American Feed Control Officials (AAFCO) recommends a minimum of 22 percent protein for growth (puppies) and 18 percent protein for maintenance in adult dogs. These percentages are recommended for dogs in general. Most good quality dog foods will exceed these percentages. Fat is an important source of energy for dogs and should comprise at least 8 percent of the diet for Dachshund puppies and 5 percent of the diet for adults. Most dog foods today have more fat than these percentages. Fat also adds flavor to dog food and makes it very appealing to your dog. Fats are also one of the sources of fatty acids such as omega-3 and omega-6 which are good for your dog's skin, coat, heart, and brain.
Dachshund Health Problems
Although they are a small to medium-sized breed, Dachshunds have a very deep chest (called a "keel.") They can bloat the same way that other deep-chested breeds can. The exact causes of bloat – and how to prevent it – are not well understood, but you can follow some recommendations such as feeding your Dachshunds several very small meals per day. Do not let your Dachshund engage in lots of exercise just before or after eating.
We also recommend dog foods that are described as "easy to digest" for Dachshunds or made for sensitive digestion since these foods may be helpful for dogs that are prone to bloating. Otherwise you should look for foods that are made with good quality ingredients.
Dachshunds are a long, low-slung breed and they are often prone to back problems such as intervertebral disk disease (IVDD). Obesity, injury from jumping, over-exercising, and other things can put additional strain on the spine. It's estimated that about 25 percent of Dachshunds will have problems with IVDD. It's important that you don't let your Dachshund become overweight. Measure the portions you feed your dog and remove the food dish after 15-20 minutes. If you have more than one dog, keep an eye on your dogs while they eat to make sure no one is stealing food. Some dogs eat faster (or slower) than others, meaning a food thief will often happily eat two meals.
Patellar luxation also occurs in the breed, as it does with many smaller dogs. This is similar to a displaced kneecap in a human. It is momentarily painful and the joint of the rear leg can lock into an extended position which causes the dog to give a bunny hop. When the muscles relax the leg will move back into place. In extreme chronic cases a dog may need surgery to correct the problem but dogs recover quickly. As with back problems, if your Dachshund is overweight or obese it will make this condition worse, so try to keep your dog slim. Good muscle tone from regular exercise is also helpful.
Some Dachshunds can also have problems with thyroid issues, which can lead to weight gain. If you notice your dog gaining weight rapidly it's probably not a food issue, especially if accompanied by some hair loss and lethargy. Ask your vet to test your dog's thyroid levels. Low thyroid in dogs is usually easily treated, so your dog should be back to normal again soon. Dachshunds can also have problems with allergies, though this seems to be an issue in the general dog population and not specific to certain breeds. Some Dachshunds can also have dental problems. Any of these things could be affected by diet or benefit from a change in your dog's diet – or become worse if you feed a food that disagrees with your dog. Just keep in mind that some of your Dachshunds health issues can be affected by what he eats.
According to a 2004 breed health survey, the median age at death for Dachshunds was 12 years and 8 months – more than a year longer than other breeds in the survey. Dachshunds are known to be a very long-lived breed. It is not unusual for them to live well into their teens. The most common cause of death in the survey was old age followed by cancer. The oldest dogs in the survey died between 16 and 17 years of age.
Ingredients to Look for and Some to Avoid
Dachshunds require good quality protein in their diet, like every dog. Of course, not all protein and fat are the same. It's important that these nutrients come from good quality ingredients. You can give your dog lots of protein but if it's not from a good quality source, his body won't be able to use it efficiently.
Ideally, a good dog food will feature a couple of meat proteins in the first several ingredients. The first ingredient should not be grain or some other carbohydrate. Both whole meats and meat meals are good sources of protein. Whole meats refer to ingredients such as whole chicken, beef, fish, and lamb. However, whole meats also contain lots of water. If the water from these meats were removed, they would be found lower on the ingredient list. This is because dog food companies are required by law to list ingredients by weight before cooking. The water in whole meats makes them weigh more. Some people don't like meat meals as much as whole meats but they are a concentrated form of the meat in which the water has already been removed. They contain several times as much protein as a whole meat. Meat meals are usually very good as one of the first ingredients in a premium quality dog food. They are found in many good dog foods. Less desirable are meat "digests" or "by-products."
Dogs also need fat from good sources. Some vitamins are only fat-soluble and your dog needs them in his diet. But fat, like protein, varies in quality depending on the source. You should look for named fat sources such as chicken fat. Other named fats also provide needed nutrients such as fish oil which can provide omega-3 fatty acid to help keep the skin and coat healthy.
You should try to avoid artificial preservatives such as BHA, BHT, and ethoxyquin, if possible. Avoid artificial flavors, sweeteners, and colorings. Your dog doesn't need them. It's not always easy to avoid some of the less desirable ingredients, however, since they can be labeled in ways that are harder to recognize.
You've been reading a lot. Take a break and watch this funny Dachshund video.
What should I know about Dachshund puppies?
Advice for feeding puppies is similar to feeding adult dogs in many ways. You need to look for foods with good quality ingredients, such as meat protein and named fats. Many good quality puppy foods include a compound called DHA (Docosahexaenoic acid) which has been shown to help with brain development in puppies (and children). It's also very important for puppy foods to have the proper ratio of calcium to phosphorus. Nutritionists recommend that dogs have calcium and phosphorus in the ratio of 1.2 parts of calcium for each 1 part of phosphorous (1.2:1). This is particularly important while puppies are growing. You can usually find the calcium to phosphorus ratio for a puppy food on a pet food company's web site. Note that if you add supplements to your puppy's diet such as milk, cheese, yogurt, etc. while he is growing, you will disturb this ratio and it can result in health problems for your puppy now or in the future. If you are feeding your puppy a good quality food you should not need to add any supplements to it during the first year. Adding extra meat to your puppy's diet while feeding a puppy food will add more phosphorus to the diet and also upset the ratio.
Some nutritionists do not recommend feeding grain free foods to large and giant breed puppies. This is because these foods often have very high protein percentages, high-fat percentages, high calories, and the calcium to phosphorus ratio can be off. All of these things can cause large and giant breed dogs to grow too rapidly, leading to bone and joint problems. If you would like to feed a grain free food to your small-breed Dachshund puppy, just watch the calories.
The general recommendation for all puppies is that you should be able to feel their ribs but not see them. Puppies should not be allowed to become roly-poly. Exercise is good. Encourage your puppy to play. Just use good sense and don't let him do anything potentially dangerous.
Recommended Dog Food For Adult Dachshunds
1
Already considered the top dog food in the industry from a nutritional standpoint Orijen also gets rave customer reviews from Dachshund owners who feed their Doxies the Adult Dog mix.
This food is Made in Canada which from a pet food standpoint actually seems to exceed the quality standards of foods made in the USA.
It checks the grain-free box which we recommend for Dachshunds in good health.
In addition, you'll find named meats and protein sources in the top 10 ingredients which is rare these days. Just because they lead the list you'll need to remember that upon cooking 80% of the weight of the meat is removed when moisture is subtracted from the equation. That's normal for all dog foods though.
The only real reason you shouldn't buy this food is price. Unfortunately it leads the way in price and comes close to matching the cost per pound ratio of most wet foods. We found it for $78.99 for a 28.6lb bag at Chewy.com which comes out to $2.76/lb. Dachshunds typically eat about 1 cup of food per day which equates to about half a pound of food. That means that one bag of Orijen dog food should last your Dachshund close to 2 months. If you have the budget for Orijen you shouldn't need to look anywhere else.
2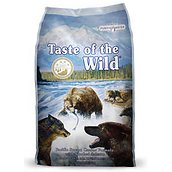 By far the most popular online dog food brand, Taste of the Wild hits the sweet spot where quality and price come together.
Taste of the Wild's Pacific Stream kibble offering is Made in the USA and, like Orijen, is also grain-free. This is great for Dachshunds with skin allergies or sensitive stomachs as it removes a lot of the typical ingredients that cause itching and bloat.
Some customers have reported that the High Prairie formula is actually better for keeping up weight on Dachshunds as Pacific Stream pet owners have occasionally noticed their Doxie's losing weight. If you notice the same we'd try making the switch.
Their 30lb bag retails (on sale) for $43.99 at Chewy right now which is the best online price we could find.
Given that you're not sacrificing that much quality for this brand we think this is a very affordable dog food for your Dachshund if you're on a budget.
3
Blue Buffalo is famous for advertising comparison charts between their dog food and other leading brands. They make a good case for a good dog food for Dachshunds as their small-breed option caters to the more diminutive statured pooches.
Not to mention that their Life Protection formula boasts the grain-free option we recommend for Dachshunds along with high quality meats and the all important Made in the USA seal.
Coming in at $2.03/lb Blue Buffalo Small Breed Life Protection can be found for $42.63 per 30lb bag which lands roughly in the middle of our top 2.
4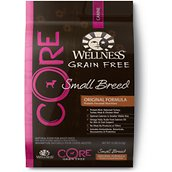 Last, but not least (we're not just saying that) is Wellness CORE. We really love this food and if not for the popularity of the other brands would put this food at the top of our list.
Their formula is based off a meat dependent ancestral diet of high protein and packs probiotics and fatty acids that leave your Dachshunds coat gleeming.
Add on to that a gluten-free ingredient list and Wellness CORE offers some unique properties that you don't see in the previous options.
This dog food is also on the pricier end though which can be difficult for pet owners to manage. The bags come in 12lb offerings on sale at Chewy for $29.99.
Are we forgetting something?
Several pet food companies make dog food specifically designed for Dachshunds. It's always debatable whether or not dog food can be so exactly tailored to one breed of dog. A recent article that appeared in an AKC e-newsletter ("Discover Nutrition as Unique as Your Purebred Dog," By Jill Cline, MS, PhD Nutritional Insights Manager at Royal Canin USA) emphasizes that different breeds do indeed need different foods. However, it's worth noting that the author works for Royal Canin – a company that makes foods for different breeds.
Is Royal Canin Dachshund breed specific dog food a good choice?
Royal Canin makes foods specifically for Dachshunds. According to Royal Canin, the food is designed for adult Dachshunds over 10 months of age; for superior bone and joint support. It also takes into account the Dachshund's tendency toward obesity; and the kibble is formulated to encourage good chewing. According to the company, the protein is also highly digestible. This is not an endorsement of this food. We are simply reporting what the company claims.
Customer reviews on online pet food retailer sites seem to give this food good ratings, but in general we're not thrilled with the ingredient list which is the only thing that matters.
Is Eukanuba Dachshund breed specific dog food a good choice?
Eukanuba also makes a food specifically for Dachshunds, though it is also recommended for several other breeds of similar size.
This brand doesn't float our boat either. Marketing breed-specific dog foods is mostly a trap lower quality brands use to make owners think they're getting a targeted food for their Dachshund at a low price.
Stick to our recommendations above as these foods aren't even that much more affordable.
---
What About For Dachshund Puppies?
Dachshund puppies won't require many calories per day but the food should be good quality. We do recommend that you divide the food into meals and feed at regular times instead of free feeding. Feeding regular meals encourages dogs to eat their food when you serve it instead of becoming picky about their food or overeating. If you have more than one dog we recommend that you make sure each dog is eating his or her own food and not stealing food from other dogs. In some cases you may need to feed a dog separately to make sure he or she is getting all of his food since some dogs eat faster/slower than other dogs.
Best Dog Foods for Dachshund Puppies – No Surprise Here
If you perused the adult recommendations above then you'll recognize our suggestions for Dachshund puppy food. Although there are other good dog foods for Dachshunds we've always liked the offerings from Orijen, Taste of the Wild and Blue Buffalo. Conveniently they offer puppy mixes that complement the adult life-stage listed above.
Obviously, if your Dachshund has any issues with allergies or other health problems, you will need to find a more specialized food and avoid food triggers. Check with your veterinarian for individualized food options, but here are non-prescription dog foods we like for skin allergies and sensitive stomach.
---
Best Dog Foods for Senior Dachshunds
Since Dachshunds do tend to be a long-lived breed, you will probably need to consider what kind of food to feed your Doxie as he gets older. As your dog ages it's a good idea to plan an annual senior check-up with your vet. Many older dogs begin to put on pounds as they become less active. For this reason, most senior dog foods have fewer calories and they can skimp on protein. Some of them are full of filler carbohydrates and do double-duty as weight control dog foods – not at all appropriate if your senior dog is having problems holding his weight.
You should watch your older dog's weight as he gets older to make sure he doesn't become overweight. Obesity can lead to many additional health problems, especially in senior animals, such as diabetes, respiratory problems, arthritis, heart disease, and more. In some cases you can simply cut back on the portions of his regular dog food to help him stay fit or increase his exercise.
In older Dachshunds, especially, if your dog puts on too many pounds, it can exacerbate any tendency toward back problems.
On the other hand, some very old dogs can start to lose muscle as they begin to have problems metabolizing nutrients, including protein. You may start to see your dog having some muscle wasting and problems using his hind legs. If your Dachshund falls in this category, you may need to avoid senior foods that are low in protein and high in carbohydrates. Instead, look for a food that is higher in good quality protein. As long as your dog does not have have kidney problems there's no reason to avoid protein as he gets older. Again, we emphasize that it is important for older dogs to see a vet for regular check-ups. This can help spot problems before they become serious. It helps to know that your Dachshund's kidneys are in good shape, that he doesn't have any dental problems, or other issues that would be affected by his diet.
We often recommend Orijen Senior Dog Orijen Senior Dry Dog Food, 13 lb for older dogs. This is a very good kibble with a high meat protein percentage which is suitable for many senior dogs that need more and better protein as they age. It features fresh chicken meat (13%), fresh whole eggs (7%), fresh turkey meat (7%), fresh whole herring (7%), and fresh chicken liver (6%) as the first five ingredients. It helps keep older dogs in good muscle even as they become less active. Made of 85 percent poultry, fish and eggs, the food is low-glycemic and has low carbs (only 19 percent) to help keep your older dog's blood sugar steady. The food also contains natural sources of glucosamine and chondroitin to keep your dog's joints healthy. The food is 38 percent crude protein and 15 percent crude fat. It has 8 percent crude fiber and 8 percent crude ash. It checks in at 435 kcal per 8 ounce cup. Orijen Senior is now made in Kentucky. There have been some changes in the ingredients but we do not see any loss of quality in this food. (We know Orijen is expensive but this food really stands out for senior dogs.) This food is AAFCO-approved for maintenance.
If you have a Miniature Dachshund or if you need to tempt your Standard Dachshund to eat (older dogs do need to be encouraged to eat at times), there are also some good canned foods that we like for older dogs.
We like Nature's Variety Instinct for older dogs. Nature's Variety Instinct has two canned formulas made especially for small breeds – one in chicken and one in salmon. These canned foods are grain free and gluten free. The chicken formula has 143 kcal/5.5 ounce can. The guaranteed analysis shows 8 percent crude protein, 3.5 percent crude fat, and 3 percent crude fiber, with 78 percent moisture. The first five ingredients in the food are: Chicken Broth, Chicken, Chicken Liver, Peas, and Cod. It also contains omega-3 and omega-6 for healthy skin and coat and good heart function.
There are lots of good canned foods for dogs. Unfortunately, many canned foods made by well-known companies contain carrageenan as a thickener and stabilizer, which we would rather not recommend. (Carrageenan has been linked to digestive problems in some research.) Or the foods include wheat or soy which, again, we would rather not recommend. (You can make these personal decisions for your own dog.)
Here are some of the more natural canned foods we like. Tiki Dog has very good canned foods. First Mate recommends these canned foods  for senior dogs. Weruva has some very good canned foods. You should also check out their Dogs in the Kitchen line of foods which is slightly less expensive. Be sure to read the nutritional information for the Weruva and Dogs in the Kitchen foods since the different foods vary greatly in terms of protein, fat, ash, carbs, and other nutrients. If your dog has a health condition that requires him to be fed a limited amount of potassium, for example, you can check the percentages on this site.
If you have a food that you like for your senior Dachshund, you may want to consider adding one of these canned foods as a topping. This is a good way to add a little extra protein to a senior dog's diet. It can also help encourage a senior dog to eat if his appetite is not as robust as it used to be. Many senior dogs do begin to lose interest in food. This can happen for a number of reasons. Older dogs can have dental problems that make it hard for them to eat. Your dog's teeth are the first thing to check if he seems to have lose interest in his food. Your vet can often solve this problem by taking care of a bad tooth and your dog will be diving back into his food again. Another reason older dogs can lose interest in food is because, with age, their senses can begin to dull. They no longer smell or see their food as well as they did when they were younger. Warming the food, adding a little water or gravy to kibble, adding a tasty topping, or feeding a canned food are ways to encourage senior dogs to keep eating. Making food as tasty and interesting as possible is important for older dogs.
Best Dog Foods for Dachshund with Skin Allergies – The Top Dog
---
Best Dog Foods for Dachshund with Sensitive Stomachs – The Top Dog
---
More Great Dachshund Resources:
Dachshund Blogs
Crusoe The Celebrity Dachshund
Everything About Dachshunds
Sausage Tails
Dachshund Forums
Dachshund Talk
I Heart Dog
If you liked this article then you're sure to like our article on great dog foods for small dogs or our new and improved reviews page breaking down dog food brands by rating.
What do you feed your pet Dachshund? We'd love to hear which brand(s) have or haven't been working for you in the comments below!
Below is the list of products reviewed in this article