What Is The Best Dog Food for a Havanese?
The Ultimate Havanese Food Buyer's Guide
Small and sturdy with a long, silky coat, the Havanese is known for being intelligent, curious, friendly, and playful.
The breed has a colorful history. A member of the Bichon family of dogs, the little dogs are believed to have been brought by sailors to Cuba from Tenerife in the Canary Islands off the coast of Portugal in the 1600s. Crossbred with Poodles and other Bichon-type dogs, the Cuban dogs were very adaptable. They were popular with all members of society. At various times the dogs were known as Blanquito de la Habana ("little white dogs of Havana") and the Havana Silk Dogs. Few Havanese were able to leave the country after the Cuban Revolution in the 1950s and the gene pool was small. However, the breed has been growing rapidly in recent years.
Today the Havanese is the 25th most popular breed in the United States according to the AKC. Affectionate and gentle, the breed makes an excellent family dog and is considered easy to train.
Disclosure: Please note that this post contains affiliate links, which will direct you to our partner sites. If you purchase the pet foods we recommend through those links, we may earn a small commission – at no extra cost to you.

---
30% Off + Free Shipping
on dog food for Havanese
Havanese Diet & Nutrition
According to the standard for the breed, the Havanese typically stands between 8 ½ and 11 ½ inches tall at the withers. The dogs generally weigh between 7 and 14 pounds.
Unlike some Toy dogs, the Havanese is very active and lively. At times in Cuba they were used to herd chickens and for other simple farm work. Most Havanese do not get this much exercise today but they do enjoy daily exercise. They cannot be exposed to cold weather for long periods or live outdoors, however. The Havanese is happy to cuddle beside you indoors. They are usually considered to be "velcro" dogs because they love to be with their families.
Growing puppies and young adults use a lot of energy. They require a diet that features good quality protein. According to the National Research Council of the National Academies, an active adult Havanese weighing 10 pounds requires an average daily caloric intake of 404 calories. Dogs that have been spayed/neutered, or that are older, may need slightly fewer calories. Some dogs may need more calories depending on their level of activity and their individual metabolism. Growing puppies, for example, consume more calories than adult dogs and so do young adult dogs. A young adult Havanese puppy weighing 6 pounds needs an estimated 466 calories per day.
Because of the breed's small size, we recommend feeding a small breed dog food. Small breed dogs burn up more energy per pound than medium and larger dogs. Most small breed dog foods are packed with more calories per ounce than ordinary dog foods. Some All Life Stage dog foods are also suitable if they have the nutrients and calories your Havanese requires. You should always read the label and other nutritional information before buying a dog food.
Feeding Your Havanese
The Havanese can usually eat most good quality dog foods. However, they do require good quality nutrition. This is really not a breed that can get by on cheaper dog foods. Your dog's health depends on the nutrition you provide so cutting corners is not recommended.
We suggest that you measure the amount of food you feed and only leave the food sitting out for about half an hour. Then put it away. This should give your dog time to eat. If you free feed and leave the food sitting out all the time dogs usually nibble which puts on pounds. Most adult dogs do well eating two meals per day. Puppies can usually eat three meals per day until they are old enough to start eating on an adult schedule.
Havanese Health Problems
The Havanese is usually considered to be a healthy, sturdy breed with relatively few serious health problems. It is not unusual for a Havanese to live between 14 and 16 years. However, like all dogs, some health issues are known in the breed.
Health issues that may occur in some dogs include luxating patellas (similar to a slipped kneecap in a human), heart disease, liver disease, retinal dysplasia, and cataracts. Some Havanese also have problems with tearing – tears from their eyes that leave stains on their face. This can be especially noticeable on dogs with white coats.
You can find more information about Havanese health issues on the web site for the Havanese Club of America, Inc.
Health testing parents and puppies helps to control and reduce some health problems. Many dog lovers also try to protect their dogs by feeding a dog food with more natural ingredients to try to keep their dog's immune system as strong as possible. Many people recommend feeding a food that is free of some of the most common food irritants such as corn, soy, and wheat. These are not the most common dog food allergens – beef, dairy products, and chicken, for example, lead to more food allergies for dogs than corn, soy, and wheat. But many people like to avoid soy and grains in dog foods. There are many good grain free dog foods today if you want to feed one to your dog.
Avoiding artificial colors, flavors, sweeteners, and preservatives is also suggested as a way to help keep the immune system stronger.
Ingredients to Look for and Some to Avoid
Protein and fat are the main ingredients in the diet for the Havanese, as they are for most dogs. However, not all proteins and fats are the same. It's important that the protein and fat in the dog food comes from good sources if you want your dog to be healthy.
Ideally you will select a dog food that features two or three meat proteins in the first several ingredients listed. Both whole meats and meat meals are good sources of protein. Whole meats refer to foods such as whole chicken, beef, fish, and lamb. Some people don't like meat meals as much as whole meats but they are a concentrated form of the meat in which the moisture has been removed. They contain several times as much protein as a whole meat. Meat meals are usually quite acceptable as one of the first ingredients in a good quality dog food. They are used by many good dog food brands.
Dogs also need good sources of fat. You should look for named fat sources such as chicken fat. Other named fats also provide needed nutrients such as fish oil which can provide omega-3 fatty acid to help keep the skin and coat healthy. Puppies can benefit from DHA which is Docosahexaenoic acid. This is a specific form of omega-3 fatty acid that helps with brain and eye development. Older dogs seem to benefit from medium chain triglycerides which feature medium chain fatty acids (MCFAs). These have been found to help older dogs feel and act younger. They are often made from a combination of coconut oil and other oils.
If you want to avoid corn, soy, and wheat in your dog food, your Havanese may still be able to eat rice, barley, oats, or some other grain or cereal. Oats and barley, for example, can be good sources of dietary fiber. Or you can feed a grain free dog food that uses an alternate source of carbs such as sweet potatoes. You don't have to feed a dog food with an excessively high percentage of protein but it's a good idea to keep the carb percentage low to moderate.
Recommended Dog Food For An Adult Havanese
Every dog is an individual. Even dogs in the same breed can have different food needs. Some dogs need more calories than others. Some dogs will do better with more protein or fat than other dogs.
We are recommending a variety of foods for the Havanese. Some have grains and some don't. We have selected foods without corn, wheat, and soy unless otherwise noted. Some of the foods are specifically made for small breeds. You may have to try a couple of foods to find which one is best for your dog. You should also keep in mind that your dog's diet needs can change as he grows and ages so you may have to change foods to accommodate him.
Best Dog Foods for Havanese Adults
Because of their small size, we recommend a good small breed dog food for the Havanese like Fromm Small Breed Adult Gold. Fromm is a family business that has been making dog food for generations in Wisconsin. The first three ingredients in this food are duck, chicken meal, and chicken. It has some grains such as oatmeal, pearled barley, and rice, but we think these are good fibers and good for digestion. The food is also enhanced with probiotics to aid digestion and salmon oil for the Havanese's beautiful coat. This is a food for growth and maintenance with 416 calories per cup. We hear great things about Fromm from everyone who feeds it. We really like the ingredients in this food.
Victor Yukon River Salmon & Sweet Potato Grain-Free Dry Dog Food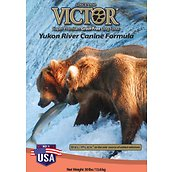 We have heard great things about Victor dog food from lots of people. Victor is made by Mid America Pet Food – a company that co-packs for some other well-known brands. The company is located in Texas and it's been in business for a long time. They were purchased by an investor last year and Victor dog food is becoming more widely available now. They currently have six highly active and sporting dog formulas; five formulas for normally active dogs; and four grain free formulas. All of their foods are free of corn, wheat, soy, gluten, and grain by-products. They use no artificial colors, flavors, or preservatives. The Yukon River Salmon formula has 32 percent crude protein, 15 percent crude fat, and 34 percent crude carbs. Seventy-six percent of the protein in the food comes from fish. We think this is a food you might consider for your Havanese, or check out one of Victor's other formulas.
Merrick Classic Small Breed Recipe Adult Dry Dog Food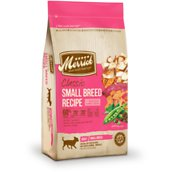 Merrick has some great foods for dogs. The first three ingredients in this food are deboned chicken, chicken meal, and turkey meal. The recipe is 50 percent meat and desirable fats, 25 percent vegetables, vitamins, and minerals, and 25 percent whole grains like brown rice, barley, and oats. This is all-natural pet food made from high quality ingredients. No by-products, no artificial preservatives. They also use local growers from Texas, where the food is made. Yes, we know that Purina recently purchased Merrick which makes some people nervous. But until we see any sign that the food has changed, we still think this is a great food for your dog.
Castor & Pollux Organix Small Breed Grain Free Adult Dog Food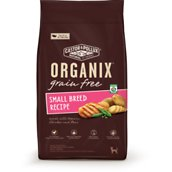 If you are seeking an organic dog food for your Havanese then you have probably discovered there are not many truly all-organic foods. Some dog foods may have a few organic ingredients, but it's hard to find one that is entirely organic. Castor & Pollux Organix Small Breed Grain Free Adult Dog Food is made in the U.S. The first ingredient is organic, free-range chicken. Nearly all of the ingredients are organic. It is also grain free with organic peas, organic flaxseed, and other organic ingredients grown without chemical pesticides, synthetic fertilizers, artificial preservatives, added growth hormones, or antibiotics. They use no corn or wheat. This is one of the most natural dog foods you can find. If you are looking for a dog food without added chemicals for your Havanese, this food may be perfect for you.
Best Dog Foods for Havanese Puppies
Small breed puppies like the Havanese grow quickly from a young age. They typically reach adult size rather early. This means that they usually do best on a small breed puppy food that contains more calories than ordinary puppy foods. However, it's still important that the calcium to phosphorus ratio be correct for small breeds. The recommended ratio should be about 1.2 parts calcium to 1 part phosphorus, though there is some slight room for variation such as 1.5:1. Most puppy foods should have a calcium to phosphorus ratio in this neighborhood. It's also important that dog and puppy foods do not have an excess (or deficiency) of calcium since this can affect bone growth.
Here are some of the puppy foods we like for Havanese puppies. Note that an All Life Stage food can also be fed, as long as the nutrients are appropriate for your puppy.
Canine Caviar Limited Ingredient Diet Puppy Holistic Entrée Grain-Free Dry Dog Food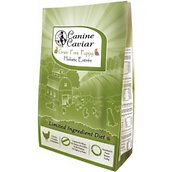 No question about it: this is an expensive food. However, it has a lot desirable points. No corn, no wheat, no soy. It's grain free, gluten-free, GMO-free, and it's considered a limited ingredient diet. It contains no by-products, tapioca, or potatoes. It's specifically designed for small and medium breed dogs so it's nutrient-dense. It has a single protein and carbohydrate source and the meat is hormone-free, pesticide-free, and antibiotic-free. There's more, but you get the idea. If you are trying to be very careful with your Havanese puppy, then this LID holistic puppy food from Canine Caviar is definitely a food you may want to consider. Canine Caviar also has several other formulas so you can rotate the proteins.
VeRUS Puppy Advantage Chicken Meal, Oats and Brown Rice Holistic Formula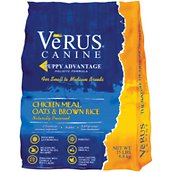 VeRUS Puppy Advantage is an excellent holistic food for small breed puppies. The first ingredient is chicken meal followed by easy-to-digest ground oats and ground brown rice. The formula contains DHA for proper brain development, omega-3 fatty acid from fish oils, non-Chinese sourced vitamins and chelated minerals. The food also includes a freeze-dried live probiotic that is unique among dog food manufacturers. The chicken used in their food is cage-free, U.S.-grown and guaranteed to be antiobiotic-free. VeRUS has none of the undesirable ingredients that are sometimes found in pet foods. We really like this puppy food for Havanese puppies. Any dog lover who may be concerned about chemicals or additives in pet foods should check into VeRUS. Note: VeRUS says that their chicken is hormone-free. ALL poultry raised in the United States is hormone-free. It has been illegal to add hormones to poultry in the United States since the 1950s.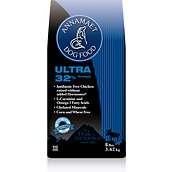 Annamaet Ultra is an All Life Stage formula that is suitable for puppies and small breeds as well as performance dogs. It has 32 percent crude protein and 20 percent crude fat. The calcium to phosphorus ratio makes it a good fit for growing puppies. It comes in at 480 kcal/cup. The first ingredient is chicken meal, followed by brown rice, and chicken fat preserved with mixed tocopherols in the form of Vitamin E. Annamaet uses algae as a source of omega-3 fatty acid for good skin and coat, and healthy heart development. The food also contains DHA for good brain development. It also features chelated minerals so they are more easily digested. The chicken is raised free of antibiotics. This food is ultra dense in energy which makes it a good choice for growing small breed puppies like Havanese. Since this is an All Life Stage food, you can go on feeding it as your puppy gets older and becomes an adult. People who feed this food seem to love it. Whole Dog Journal and other sources give it high marks.
Best Dog Foods for the Senior Havanese
As noted, it's not unusual for the Havanese to live well into their teen years. This means that you will probably need to consider what kind of food to feed your dog as he gets older. As your dog ages it's a good idea to plan an annual senior check-up with your vet. Many older dogs begin to put on pounds as they become less active. For this reason, most senior dog foods have fewer calories and they can skimp on protein. You should watch your older Havanese's weight as he gets older to make sure he doesn't become overweight. In some cases you can simply cut back on the portions of his regular dog food to help him stay fit or increase his exercise.
On the other hand, elderly dogs often start to have some problems metabolizing nutrients, including protein. It can become hard for them to keep good muscle tone and weight as they age. For this reason, you may wish to avoid many dog foods labeled "senior." These foods are often formulated for older dogs that have gained weight. Instead, look for a senior dog food that we like which has lots of protein. As long as your older dog doesn't have any problems with his kidneys, there is no reason to avoid higher protein levels.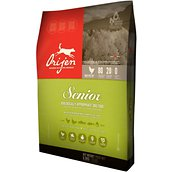 Orijen Senior provides plenty of excellent quality protein for your older Havanese. This food features free-run chicken and turkey, wild-caught fish, and nest-laid eggs. It helps keep older dogs in good muscle even as they become less active. Made of 80 percent meats and fish, the food is low-glycemic and has low carbs to help keep your older dog's blood sugar steady. The food also contains natural sources of glucosamine and chondroitin to keep your Havanese's joints healthy. The food is 38 percent crude protein and 15 percent crude fat. It checks in at 445 kcal per 250ml/120g cup. We think this is a very good food for senior dogs who often need extra protein as they get older.
Best Dog Foods for Havanese with Skin Problems/Allergies
Some Havanese can have allergies that manifest as itchy skin; or they can have other skin problems. In some cases changing your dog's food can help. For example, red yeast is often the cause of the staining that occurs on a dog's face from tears. Sometimes switching dog food to a food without some of the common allergens can make the staining stop. The tears themselves can be due to hair irritating your dog's eyes or other common problems. Keeping your dog's hair in a top knot or keeping the hair around the face cut shorter can help.
If your Havanese has skin problems or food allergies, here is a food we think might help. It is free of ingredients that commonly result in allergic reactions.
Wild Calling! Xotic Essentials Rabbit Meal Recipe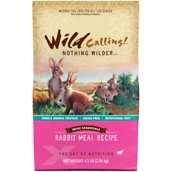 Any dog suffering from skin problems or food allergies may benefit from Wild Calling!'s Xotic Essentials recipes. Formulas like their rabbit meal recipe use exotic meats that are rare in today's pet food market so your dog hasn't eaten them before – less chance of having an allergic reaction. The foods are also highly digestible. Wild Calling! also uses what they call LITe (limited ingredient technology). They don't use any of the ingredients commonly found in most dog foods such as chicken, grain, gluten, egg, yeast, corn, wheat or soy. If your Havanese has a food allergy, he can really benefit from Wild Calling! The foods are formulated for rotational feeding and they offer several Xotic Essentials recipes, such as kangaroo and bison, so your dog doesn't get over-exposed to one kind of meat protein. This is an All Life Stage food. We think that dogs with skin problems and food allergies can definitely benefit from these recipes.
Best Dog Foods for Havanese with Sensitive Stomachs
Some dogs are susceptible to food sensitivities that affect their digestion and excretion. If your dog has a sensitive stomach it can be an indication of a food sensitivity, which is different form a food allergy. A dog with a food sensitivity will have gastrointestinal issues such as vomiting or diarrhea. Or it could be something more serious.
A dog with a sensitive stomach can often be helped by feeding the right dog food. Sticking to a limited ingredient diet food with as few ingredients as possible can reduce the chance of your dog having a bad reaction to something in the food.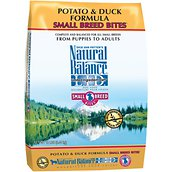 If your Havanese can eat potatoes, we recommend Natural Balance L.I.D. Limited Ingredient Diets Potato & Duck Small Breed Bites Dry Dog Formula. This food is grain free with limited ingredients. It has good quality, alternative ingredients that are easily digestible for a dog with a sensitive stomach. And it contains no artificial flavors, colors, or preservatives.
However, we understand that some dogs have issues with potatoes so we also recommend AvoDerm Grain Free LID Revolving Menu Small Breed Beef Recipe. AvoDerm's LID formulas are grain free, gluten-free, with one single animal protein source to minimize the chance of a reaction. The carbs in the food are garbanzo beans and peas. You can feed one formula or feed the AvoDerm LID foods in rotation – whichever works best for your Havanese. Don't worry about the avocados in these foods. They will not harm your dog. They are a good source of fiber, vitamins A, C, and E, as well as fatty acids and other nutrients.
Best Dog Foods for Overweight Havanese
If your Havanese becomes overweight, it may be due to overfeeding and not enough exercise. You can help your Havanese lose weight by cutting back on his portions and encouraging him to get more exercise.
If your Havanese needs to lose more than one or two pounds, however, you may need to consider a weight control dog food.
We do not recommend a weight control dog food for a puppy or a very old dog. These foods generally have fewer calories and may have some other differences in nutrients that make them inappropriate for growing puppies or older dogs who need special nutrition.
If you have a Havanese who needs to lose weight we recommend Merrick Grain Free Healthy Weight Recipe. We like the fact that this food has 32 percent crude protein. The crude fat percentage is between 8 and 11 percent with 5 percent crude fiber so your dog should not feel like he's starving. It is AAFCO-approved for a maintenance diet. The food has 3,210 kcal per kilogram or 360 kcal per cup ME (metabolizable energy) on an as fed basis (calculated). It is grain free and made from 55 percent beef and poultry. And it contains no corn, wheat, or soy and no ingredients from China.
If your dog needs to lose weight, you should proceed slowly. No crash dieting. You should aim for your dog to lose no more than 3 to 5 percent of his body weight per month or about one percent each week.
Conclusion
Whether you are getting a new Havanese puppy or bringing home an older dog, Havanese are wonderful, spirited companions. We hope we have provided you with the information you need to feed your friend the best food possible.
Below is a list of Products reviewed in this article
Updated December 11, 2015