Best Dog Food for a Beagles
The Ultimate Beagle Food Buyer's Guide
Skip To Detailed Recommendations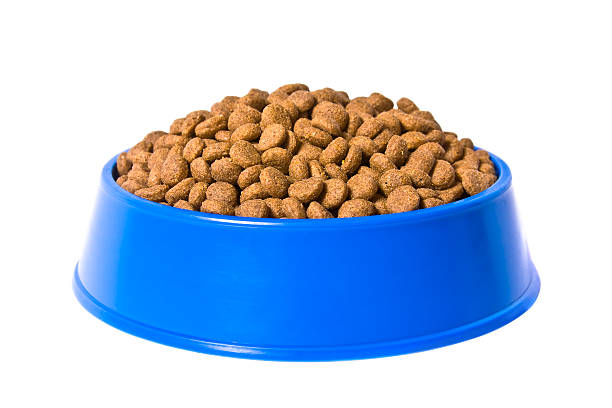 Beagles are a classic small breed American dog: friendly, curious, playful, and a great family dog. They are often described as a nose attached to a stomach. This is because the Beagle has a terrific sense of smell – they have been bred to hunt small game for centuries, and they are likely to take off following an interesting scent if they discover one.
Not only do Beagles enjoy food, but a little food goes a long way with this breed. You probably won't have any problem finding good dog foods to feed your Beagle, but here are a few tips.
Disclosure: Please note that this post contains affiliate links, which will direct you to our partner sites. If you purchase the pet foods we recommend through those links, we may earn a small commission – at no extra cost to you.
Top 4 Best Dog Foods for Beagles
Most Popular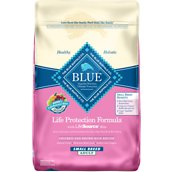 Blue Buffalo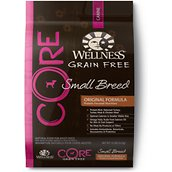 Wellness Grain-Free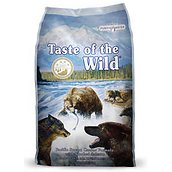 Taste of the Wild

---
30% Off + Free Shipping
on dog food for Beagles
Beagle Diet & Nutrition
Beagles actually come in two sizes – the 13 inch Beagle and the 15 inch Beagle. This size is measured at the withers (where the top of the shoulder blades meet). Although the breed standard doesn't give a desired weight for the breed, most show Beagles probably weigh about 20 to 25 pounds, depending on their height. Pet Beagles may weigh a little more. (Okay, some weigh a lot more.) As mentioned, Beagles tend to really enjoy their food, sometimes too much. Obesity can be a serious problem among Beagles. By nature and breeding, Beagles are active little hunting dogs but since this is the 21st century, many Beagles today are pets and they often don't get enough exercise. It's very important to watch how much you feed your Beagle. Being overweight or obese can cause serious health problems and shorten your dog's life.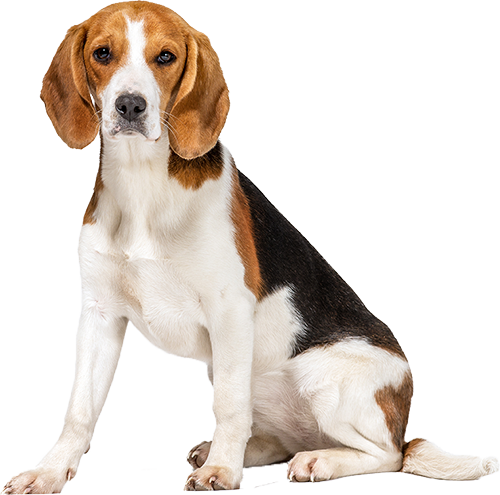 By weight, the National Research Council of the National Academies recommends an average daily caloric intake of about 1010 calories for a Beagle weighing 25 pounds. Dogs that have been spayed/neutered, or that are older, may need fewer calories. Some dogs may need more calories depending on their level of activity and their individual metabolism. Growing puppies, for example, consume more calories than adult dogs and so do young adult dogs. A young adult Beagle weighing about 25 pounds, for example, and getting lots of exercise would need about 1090 calories per day. However, if your Beagle tends to lie around the house all day, he would probably need fewer calories.
What to Feed Your Beagle
Beagles need good quality protein, like all dogs. The Association of American Feed Control Officials (AAFCO) recommends a minimum of 22 percent protein for growth (puppies) and 18 percent protein for maintenance in adult dogs. These percentages are recommended for dogs in general. Most good quality dog foods will exceed these percentages. Fat is an important source of energy for dogs and should comprise at least 8 percent of the diet for Beagle puppies and 5 percent of the diet for adults. Most dog foods today have more fat than these percentages. Fat also adds flavor to dog food and makes it very appealing to your dog. Fats are also one of the sources of fatty acids such as omega-3 and omega-6 which are good for your dog's skin, coat, heart, and brain.
Of course, not all protein and fat are the same. Here's what to look for when you're selecting a dog food with the right ingredients:
Ingredients
Meat protein – Ideally, a good dog food will feature a couple of meat proteins in the first several ingredients. Both whole meats and meat meals are good sources of protein. Whole meats refer to ingredients such as whole chicken, beef, fish, and lamb, while meat meals are a conctrated form of meat in which the moisture has been removed. They contain several times as much protein as a whole meat.
Fat – Dogs also need fat from good sources. Some vitamins are only fat-soluble and your Beagle needs them in his diet. But fat, like protein, varies in quality depending on the source. You should look for named fat sources such as chicken fat. Other named fats also provide needed nutrients such as fish oil which can provide omega-3 fatty acid to help keep the skin and coat healthy.
Avoid: Artifical flavors, colors, preservatives, meat digests, and meat by-products.
---
Best Dog Food for Beagle Puppies
We recommend that you divide the food into meals and feed at regular times instead of free feeding. Feeding regular meals encourages dogs to eat their food when you serve it instead of becoming picky about their food or overeating. If you have more than one dog we recommend that you make sure each dog is eating his or her own food and not stealing food from other dogs. In some cases you may need to feed a dog separately to make sure he or she is getting all of his food since some dogs eat faster/slower than other dogs.
1
Orijen is consistently recognized as one of the best dog food brands, offering top-quality meat protein and other fresh and flash-frozen ingredients. This recipe was created to mimic a natural canine diet, leaving out preservatives and unnecessary additives.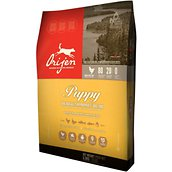 Main Ingredients: Fresh Chicken Meat, Fresh Turkey Meat, Fresh Whole Eggs, Fresh Whole Herring, Fresh Chicken Liver
Protein: 38%
Fat: 20%
Fiber: 5%
Calories: 520 kcal/cup
2
This food is formulated specifically for puppies, with nourishing ingredients like omega-3 and omega-6 fatty acids for healthy skin and coat, probiotics for digestion, and antioxidants for immune system health.
Main Ingredients: Salmon, Ocean Fish Meal, Sweet Potatoes, Peas, Potatoes
Protein: 27%
Fat: 15%
Fiber: 5%
Calories: 360 kcal/cup
3
This Blue Buffalo formula is loaded with health benefits from fresh, protein-rich ingredients to DHA for brain and eye development. It is completely void of unhealthy additives like meat by-products, soy, corn, and wheat.
Main Ingredients: Deboned Chicken, Chicken Meal, Oatmeal, Barley, Menhaden Fish Meal
Protein: 29%
Fat: 17%
Fiber: 5%
Calories: 415 kcal/cup
---
Best Dog Foods For Adult Beagles
We have listed a variety in case your dog has certain issues or you have preferences about what you like to feed. There are certainly other good brands of dog food, but these are some that we (and other Beagle owners) have tried and liked.
1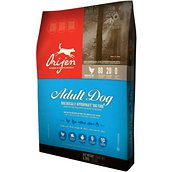 Already considered the top dog food in the industry from a nutritional standpoint Orijen also gets rave customer reviews from Beagle owners who feed their Beagles the Adult Dog mix.
It's grain-free, which we recommend for Beagles in good health. In addition, you'll find named meats and protein sources in the top 10 ingredients which is rare these days. Just because they lead the list you'll need to remember that upon cooking 80% of the weight of the meat is removed when moisture is subtracted from the equation. That's normal for all dog foods though.
We found it for $78.99 for a 28.6lb bag at Chewy.com.
Main Ingredients: Chicken, Turkey, Whole Herring, Chicken Liver, Chicken Heart
Protein: 36%
Fat: 35%
Fiber: 5%
Calories: 434 kcal/cup
2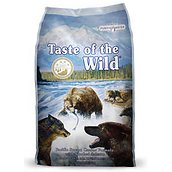 By far the most popular online dog food brand, Taste of the Wild is both affordable and high-quality.
Taste of the Wild's Pacific Stream kibble offering is Made in the USA and, like Orijen, is also grain-free. This is great for Beagles with skin allergies or sensitive stomachs as it removes a lot of the typical ingredients that cause itching and bloat.
Their 30lb bag retails (on sale) for $43.99 at Chewy right now.
Main Ingredients: Salmon, Ocean Fish Meal, Sweet Potatoes, Potatoes, Peas
Protein: 25%
Fat: 15%
Fiber: 3%
Calories: 360 kcal/cup
3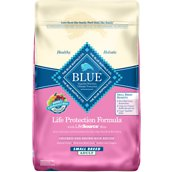 Blue Buffalo is famous for advertising comparison charts between their dog food and other leading brands. They make a good case for a good dog food for Beagles as their small-breed option caters to the more diminutive statured pooches.
Not to mention that their Life Protection formula boasts the grain-free option we recommend for Beagles along with high-quality meats and the all-important Made in the USA seal.
Blue Buffalo Small Breed Life Protection can be found for $42.63 per 30lb bag.
Main Ingredients: Deboned Chicken, Chicken Meal, Brown Rice, Oatmeal, Barley
Protein: 26%
Fat: 15%
Fiber: 4%
Calories: 397 kcal/cup
4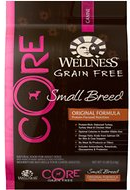 Last, but not least (we're not just saying that) is Wellness CORE. Their formula is based off a meat-dependent ancestral diet of high protein and packs probiotics and fatty acids that leave your Beagles coat gleaming.
Add on to that a gluten-free ingredient list and Wellness CORE offers some unique properties that you don't see in the previous options. This dog food is also on the pricier end though which can be difficult for pet owners to manage. The bags come in 12lb offerings on sale at Chewy for $29.99.
Main Ingredients: Deboned Turkey, Turkey Meal, Chicken Meal, Potatoes, Peas
Protein: 36%
Fat: 16%
Fiber: 5%
Calories: 396 kcal/cup
---
Best Dog Foods for Senior Beagles
Your old Beagle might be overweight or having issues with their joints. In those cases you'll want to look for a more specialized diet. For an otherwise healthy senior beagle we like Canidae Life Stages best. Although it's designed to work for any life-stage it hits the mark best as an option for older dogs.
1
Obviously, if your Beagle has any issues with allergies or other health problems, you will need to find a more specialized food and avoid food triggers. Check with your veterinarian for individualized food options, but here are non-prescription dog foods we like for skin allergies and a sensitive stomach.
Main Ingredients: Chicken, Chicken Broth, Brown Rice, Lamb, Ocean Whitefish, Barley
Protein: 6%
Fat: 4.5%
Fiber: 2.0%
Calories: 351 kcal/cup
---
Additional Dietary and Health Considerations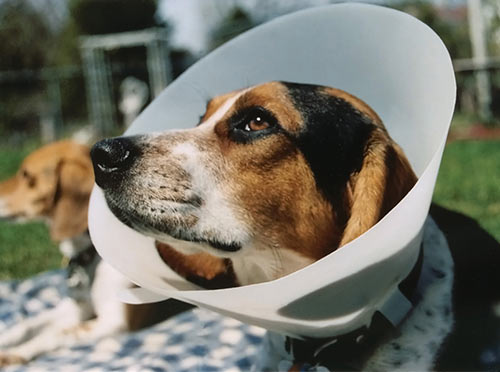 Beagles are generally healthy dogs. There are a few health issues in the breed, but most of them aren't related to diet. One health issue that may be affected by diet is hypothyroidism. Hypothyroidism is usually easy to treat (once diagnosed). Dogs can take a daily dose of thyroid hormone in pill form. The pills are inexpensive. Some owners with hypothyroid dogs also like to feed them a grain free and/or low carb diet.
Otherwise, the only special issue related to your Beagle's diet is the amount of food he eats. Remember that Beagles are inclined to gain weight easily so watch your dog's portions. Make sure your dog is getting plenty of exercise each day, even as he gets older. And watch the treats! Treats have calories, too, and they add pounds.
For additional dog food recommendations, check out these top ranked small breeds: Yorkies, Dachshunds, and Shih Tzus.
Below is a list of Products reviewed in this article
Chewy Sales