Halo Dog Food
Brief Overview
Whenever we see Ellen DeGeneres, we think of Halo dog food. It's because Ellen DeGeneres is a part owner of this holistic dog food brand. Halo was founded in the mid 1980s by a devoted cat owner named Andi Brown, who wanted to provide wholesome nutrition to pets everywhere. Today, Halo remains an esteemed brand that provides wholesome dog food. (Ellen acquired part of the business in 2008 because she loved it so much!)
Who manufactures Halo?
The Halo dog food brand is owned and manufactured by Halo Pets. According to Halo Pets's VP of Marketing Communications, Halo is entirely made in the United States. Their protein sources (chicken, salmon, and beef) hail from US ranches. The only exceptions are lamb, which is shipped from New Zealand, and pea protein, which comes from Canada.
Disclosure: Please note that this post contains affiliate links, which will direct you to our partner sites. If you purchase the pet foods we recommend through those links, we may earn a small commission – at no extra cost to you.
Halo Recalls 2017
Please Read First: If this statement is still here we are actively watching for new recalls. Below you will find a history of recalls. If you would like to know as SOON as we find out about a recalls visit:https://dogfood.guru/dog-food-recalls/ and fill out our Recall Alert form. We will ONLY email this list in the event of an actual recall. Once we stop watching for Recalls I will remove this statement.
We also encourage everyone to bookmark the site for future reference.
Latest Recalls List (From newest to oldest):
We're pleased to announce that Halo has never been involved in any dog food recalls!
Learn how we Monitor for Recalls: https://dogfood.guru/dog-food-recalls/
Halo Dog Food Coupons 2017

---
30% Off First Order + Free Shipping
on Halo Dog Food
Halo Reviews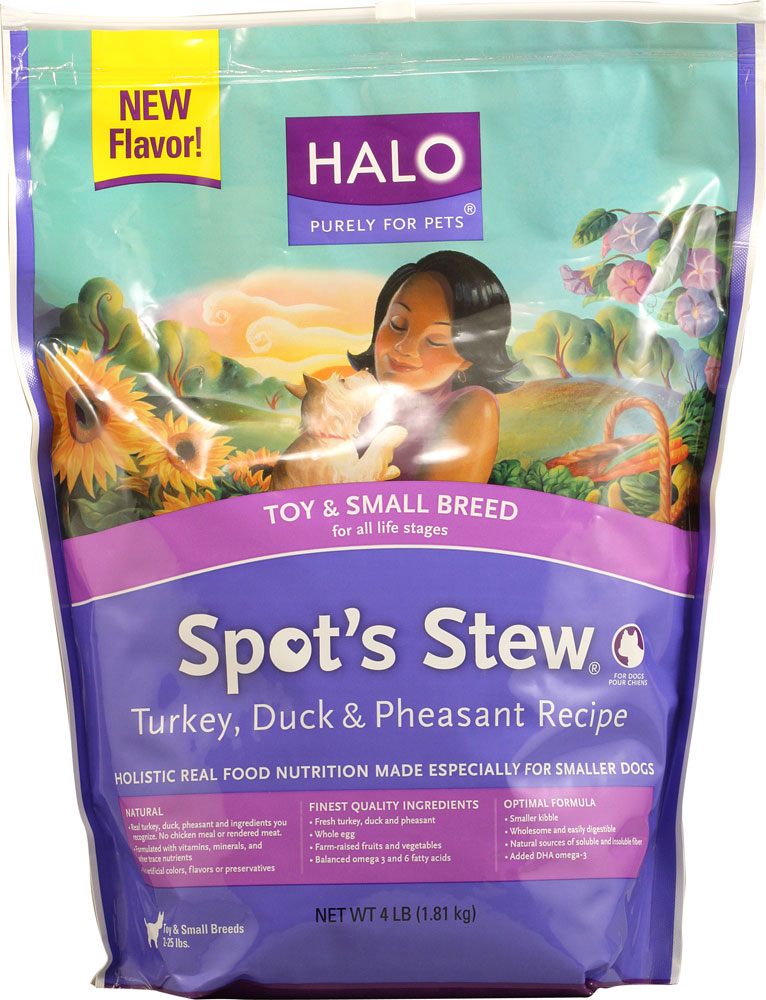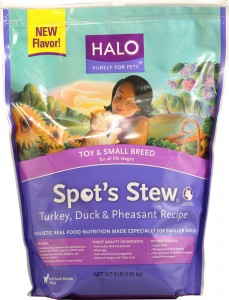 Halo Pets's VP of Marketing Communications, David Yaskulka, once said, "The single most important focus is on the ingredients themselves." He went on to say that Halo Pets aimed to create ingredient lists that looked like farmer's market shopping lists, and those ingredients must be fit for human consumption. Their reason behind this is to help "humanize" pet food, a trend they hope will catch on in the near future.
Are they practicing what they're preaching? Let's find out!
We took a look at the top five ingredients in Halo dog food and the quality of those ingredients and concluded that Halo is truly one of the best dog food brands on the market.
The first five ingredients are:
Chicken
Eggs
Pea protein
Oats,
Vegetable broth.
Those ingredients provide a good source of protein and carbohydrates. Not only that, but Halo dog food doesn't contain any artificial ingredients or by-products whatsoever.
How would you rate Halo?:
[gdrts_multi_stars_rating_auto series="gdsr-dog-food-reviews" style_size=40 style_type="font" style_font_name="star"]
Our  Spot's Stew review:
Here's an interesting story: Andi Brown (the founder of Halo Pets) had a cat named Spot. One day, Spot got sick and Andi discovered that it was because Spot wasn't getting enough nutrients from his kibble. She decided to rectify the situation by cooking homemade stew with organic chicken and vegetables for Spot every day. The cat got better in no time!
Today, Halo has a wet dog food product line called Spot's Stew. There's a particular recipe we want to take a closer look at: Spot's Stew For Dogs Wholesome Chicken Recipe.
Of course, this recipe doesn't just contain organic chicken and vegetables. However, the first nine ingredients are exactly the type of ingredients you'd find in a homemade stew: chicken broth, chicken, chicken liver, carrots, celery, zucchini, yellow squash, pasta, and egg whites. (Is anyone else getting hungry?)
Like any stew, this recipe has 85% moisture. The protein content is only at 4.5%, the crude fat is at 2.5%, and the crude fiber tops off at 1.5%. Even though the quality of the ingredients is top-notch, one can doesn't provide much nutritional value. That's why the feeding instructions delineate one ounce per pound of body weight. So if your dog weighs 20 pounds, s/he will need 4 cans of Spot's Stew For Dogs Wholesome Chicken Recipe to get the full benefits of this recipe.
Where can you buy Halo?
---

30% Off First Order + Free Shipping

---

Free Shipping on Orders over $35
You can buy dog food directly from Halo at their online store. If you're not in the mood to shop online, you can head over to Petco, Whole Foods, or an independent pet store to grab a bag of Halo dog food. Halo has a store locator on their website for you to use to find the nearest retailer.