What Is The Best Dog Food for a Bichon Frise?
Skip To Detailed Recommendations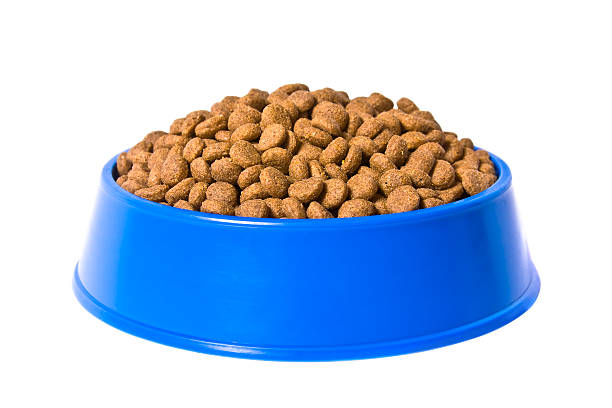 The Bichon Frise is a small companion dog that is easy to recognize by its fluffy white coat. They are playful, loving, and gentle. They are also known for being intelligent and outgoing. The breed is part of a family of bichon-type dogs that include the Havanese, the Coton de Tulear, and other small companion dogs. The Bichon Frise is believed to be descended from the Barbet or water spaniel from the Mediterranean. They are also related to the Poodle. Bichons make excellent house and apartment dogs and get along very well with children and other pets. In addition to a loving home and family, this adorable breed needs a healthy diet. So, what's the best dog food for a Bichon Frise?
Disclosure: Please note that this post contains affiliate links, which will direct you to our partner sites. If you purchase the pet foods we recommend through those links, we may earn a small commission – at no extra cost to you.
Quick Look: The Best Dog Food for a Bichon Frise
Most Popular
Wellness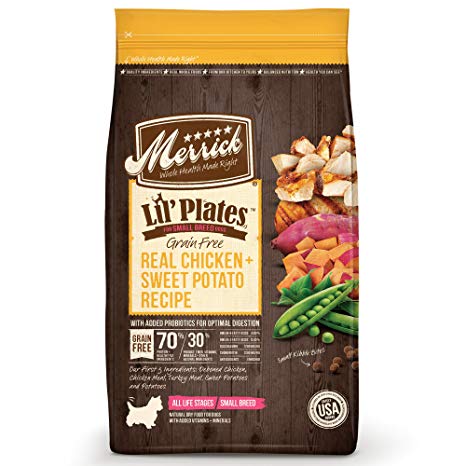 Merrick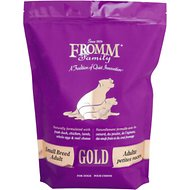 Fromm

---
30% Off + Free Shipping
on Dog Food for Bichons
Bichon Frise Diet and Nutrition
A Bichon Frise typically weighs between 10 and 20 pounds and stands anywhere from nine to 12 inches tall (males are larger). And although they are small dogs, they can be very active.
Along with being playful at home, they require regular exercise and a healthy diet. According to the National Research Council of the National Academies, an active adult Bichon Frise weighing 15 pounds requires an average daily caloric intake of 530 calories, while a Bichon Frise puppy needs around 370 calories per day. Keep in mind, a dog's age, activity level, and individual metabolism – as well as if he or she has been spayed/neutered – will determine how many daily calories the dog should eat.
Bichons are small dogs so many people prefer to feed a dog food that is made for small breeds. Pound for pound, small breeds like the Bichon burn more calories than larger dogs. Small breed dog foods typically have more calories per ounce of food to help meet these calorie needs. Small breeds also tend to grow quickly during their first few months.
What To Feed Your Bichon Frise
According to owners, some Bichons Frises can have gastrointestinal problems such as diarrhea due to a sensitive digestive system. If this is the case with your dog, you may need to feed a food for sensitive digestion or find out if your dog has food allergies or sensitivities.
Some Bichon Frises can be inclined to overeat, so it's a good idea to measure how much you are feeding your dog and watch his weight. Most people recommend feeding the Bichon two meals per day as an adult. Bichon puppies can eat three or four meals per day until they are old enough to switch to an adult diet. As you shop for the best dog food for a Bichon Frise, consider the ingredients listed below.
Ingredients to look for:
Protein – Ideally you will select a dog food that features two or three meat proteins in the first several ingredients listed. Both whole meats and meat meals are good sources of protein. Whole meats refer to foods such as whole chicken, beef, fish, and lamb, while meat meals are a concentrated form of meat in which the moisture is removed.
Fat – Dogs also need good sources of fat. You should look for named fat sources such as chicken fat. Other named fats also provide needed nutrients such as fish oil which can provide omega-3 fatty acid to help keep the skin and coat healthy. Puppies can benefit from DHA which is Docosahexaenoic acid. This is a specific form of omega-3 fatty acid that helps with brain and eye development.
Avoid – If you want to avoid corn, soy, and wheat in your dog food, your Bichon Frise may still be able to eat an alternative grain. You can also feed a grain free dog food that uses an alternate source of carbs such as sweet potatoes. You don't have to feed a dog food with an excessively high percentage of protein but it's a good idea to keep the carb percentage low to moderate.
If your Bichon Frise has a food allergy or food sensitivity, you may need to work with your veterinarian to identify the food triggers unless they are very obvious. There are lots of good foods with alternative meat proteins, as well as limited ingredient diets, which we will discuss below.

---
Best Dog Foods for a Bichon Frise Puppy
Bichon Frise puppies can usually begin eating a puppy food or all life stage food after they are weaned. If you have questions about how to feed your puppy, we recommend talking to your puppy's breeder. They usually have the most experience with raising Bichon Frise puppies and can guide you.
Puppy foods should have a calcium to phosphorus ratio of about 1.2 parts calcium to 1 part phosphorus, though there is some slight room for variation such as 1.5:1.2. It's also important that dog and puppy foods do not have an excess (or deficiency) of calcium since this can affect bone growth.
Here are some of the puppy foods we like for Bichon Frise puppies.
1
Canidae Grain Free Pure Foundations Puppy Formula is a limited ingredient food with nine ingredients plus vitamins, minerals, and probiotics. We think that a limited ingredient food may be a good choice for Bichon puppies. It's grain free with probiotics to help digestion; antioxidants for a healthy immune system; and omega 3 and 6 to support healthy skin and a beautiful coat. The recipe is supposed to be especially good for puppies with sensitive digestion. 
Main Ingredients: Chicken, Menhaden Fish Meal, Lentils, Peas, Potatoes
Protein: 30%
Fat: 12%
Fiber: 4%
Calories: 520 kcal/cup
2
Canine Caviar Limited Ingredient Diet Puppy food has no corn, no wheat, and no soy. It's grain-free, gluten-free, and GMO-free. The food contains no by-products, tapioca, or potatoes. It has a single protein (dehydrated chicken) and carbohydrate source (split peas), and the meat is hormone-free, pesticide-free, and antibiotic-free. It also has the proper calcium level for puppies. If you are trying to be very careful with your Bichon puppy, then this LID holistic puppy food from Canine Caviar is definitely a food you may want to consider. Canine Caviar also has several other formulas so you can rotate the proteins.
Main Ingredients: Dehydrated Chicken, Split Peas, Chicken Fat, Coconut, Sun-Cured Alfalfa
Protein: 31%
Fat: 20%
Fiber: 5.7%
Calories: 599 kcal/cup
---
Best Dog Food For a Bichon Frise Adult
We have suggested a variety of foods here for Bichon Frises. These foods do not contain corn, wheat, or soy. You may have to try a couple of foods to find which one is best for your dog. You should also keep in mind that your dog's dietary needs can change as he grows and ages so you may have to change foods to suit him.
1
Wellness CORE Grain Free Small Breed formula is high in protein and calories to meet the needs of smaller dogs. It has no meat by-products or filler ingredients. It also includes glucosamine and chondroitin for healthy joints, as well as antioxidants and probiotics. And it has no grain, corn, soy, wheat gluten, or artificial preservatives, colors, or flavors. It also has a smaller-sized kibble that makes the food easier for small dogs to eat.
Main Ingredients: Deboned Turkey, Turkey Meal, Chicken Meal, Potatoes, Peas
Protein: 36%
Fat: 16%
Fiber: 5%
Calories: 396 kcal/cup
2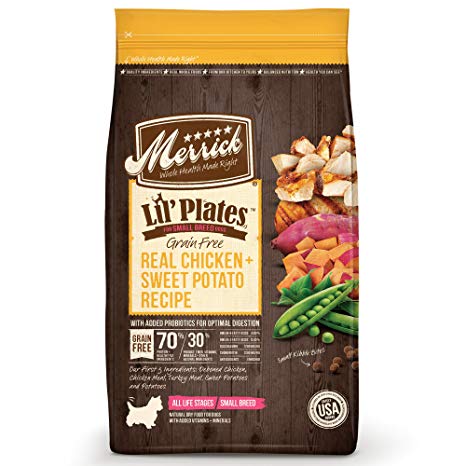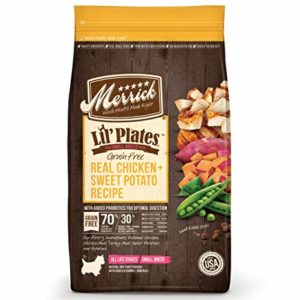 Merrick Lil' Plates has 70 percent meat ingredients, 30 percent vegetables, vitamins, and minerals. It is grain- and gluten-free with absolutely no ingredients from China. It also has glucosamine and chondroitin added, as well as omega-3 and omega-6 fatty acids. Not everyone will like a protein percentage this high but if you do, give this food a try. Merrick's Lil' Plates kibble also comes in salmon and beef formulas.
Main Ingredients: Deboned Chicken, Chicken Meal, Turkey Meal, Sweet Potatoes, Potatoes
Protein: 38%
Fat: 17%
Fiber: 3.5%
Calories: 430 kcal/cup
3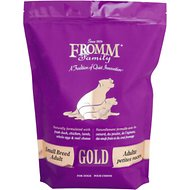 Fromm Small Breed Adult Gold makes a good food for small dogs like the Bichon. It has kibble pieces that are small in size so small dogs can eat them easily. Even dogs that have problems with cereals/grains like corn and wheat can often safely eat oatmeal and barley. These ingredients provide good sources of dietary fiber for your dog's digestion, too. The food is also enhanced with probiotics to aid digestion and salmon oil to keep the skin healthy.
Main Ingredients: Duck, Chicken Meal, Chicken, Oatmeal, Pearled Barley
Protein: 26%
Fat: 17%
Fiber: 3.5%
Calories: 416 kcal/cup
4
Orijen is consistently rated as one of the best foods around. This is particularly true if you are looking for a grain-free food with lots of protein. Orijen prides itself on being a "biologically appropriate" food for dogs, meaning that it is based on what your dog needs as a carnivore. The food features 85 percent poultry/fish/eggs and 15 percent fruit, vegetables, and botanicals, with no grains, potatoes, or GMO ingredients. This is a low-carb, low-glycemic food, which is also appealing to many dog lovers.
Main Ingredients: Chicken, Turkey (ground with bone), Whole Herring, Chicken Liver, Chicken Heart
Protein: 36%
Fat: 35%
Fiber: 5%
Calories: 449 kcal/cup
---
Best Dog Foods for the Senior Bichon Frise
It's not unusual for many Bichon Frises to live into their teen years. This means that you will probably need to consider what kind of food to feed your Bichon Frise as he gets older. As your dog ages, it's a good idea to plan an annual senior check-up with your vet. Many older dogs begin to put on pounds as they become less active. For this reason, most senior dog foods have fewer calories and they can skimp on protein. You should watch your older dog's weight as he gets older to make sure he doesn't become overweight. In some cases, you can simply cut back on the portions of his regular dog food to help him stay fit or increase his exercise.
1
Orijen Senior provides plenty of excellent quality protein for your older Bichon Frise. It helps keep older dogs in good muscle even as they become less active. Made of 85 percent meats and fish, the food is low-glycemic and has low carbs to help keep your older dog's blood sugar steady. The food also contains natural sources of glucosamine and chondroitin to keep your Bichon Frise's joints healthy.
Main Ingredients: Deboned Chicken, Deboned Turkey, Atlantic Flounder, Whole Eggs, Whole Atlantic Mackerel
Protein: 38%
Fat: 15%
Fiber: 8%
Calories: 414 kcal/cup
2
This food (and several others in this product line) is potato-free with no corn or wheat, easy to digest, and low-glycemic. It contains pumpkin and oatmeal for healthy gut motility.
Main Ingredients: Venison, Venison Meal, Salmon Meal, Herring Meal, Oatmeal
Protein: 37.8%
Fat: 14.4%
Fiber: 3.9%
Calories: 348 kcal/cup
---
Additional Dietary and Health Considerations
Bichons Frises are generally considered to be a healthy breed, especially if you check around and get a dog from a reputable breeder. Like most breeds, there are some health problems that can crop up but, according to the Bichon Frise Club of American, most of the common issues in the breed are not life-threatening.
Health problems that sometimes appear include allergies, bladder infections and bladder stones, patellar luxation and disc degeneration, early tooth loss and gingivitis, and eye problems such as cataracts.
Other health problems that sometimes occur in Bichons but which are less common include some cancers, mitral valve disease (a cardiac problem), liver shunt, gastrointestinal problems, and metabolic health problems such as diabetes, Cushing's disease, and pancreatitis. These health issues do not occur very frequently but they are possible. You can find helpful information about Bichon Frise health issues on the Bichon Frise Club of America website.
Most people who meet a Bichon Frise fall in love instantly. They make wonderful pets and they get along with just about everyone and every other kind of animal. We hope that this look at foods for the Bichon helps you as you make your new friend feel at home.
For more recommendations for the best dog food for a Bichon Frise, check out our small breed dog food buyers guide.
Below is a list of Products reviewed in this article