Instinct Dog Food
Brief Overview
Dogs are built to eat poultry, fish, whole meat, and other wholesome ingredients. It's their instinct to roam the wild and hunt for food, after all! Nature's Variety wanted to give dogs a type of dog food that closely resembled their natural diet with the right balance of protein and vitamins, so they created a brand of dry, wet, and raw dog food called Instinct. Today, Instinct remains arguably one of the best dog food brands on the market. Not only that, but it's also one of the leaders in the raw dog food market.
Who manufactures Instinct?
Nature's Variety owns and manufactures Instinct dog food. Nature's Variety is a small privately-owned company based in St. Louis with manufacturing plants in Lincoln, Nebraska.
Disclosure: Please note that this post contains affiliate links, which will direct you to our partner sites. If you purchase the pet foods we recommend through those links, we may earn a small commission – at no extra cost to you.
Instinct Recalls 2017
Please Read First: If this statement is still here we are actively watching for new recalls. Below you will find a history of recalls. If you would like to know as SOON as we find out about a recalls visit:https://dogfood.guru/dog-food-recalls/ and fill out our Recall Alert form. We will ONLY email this list in the event of an actual recall. Once we stop watching for Recalls I will remove this statement.
We also encourage everyone to bookmark the site for future reference.
Latest Recalls List (From newest to oldest):
(February 2013), a batch of Instinct Raw Organic Chicken Formula was recalled because pieces of plastic were found in the food.
In 2012, two formulas of dog kibble were found to have expired sooner than expected, so Nature's Variety issued a voluntary recall.
In 2010, the frozen chicken formula in the raw frozen diet product line was recalled because of a possible Salmonella contamination.
Learn how we Monitor for Recalls: https://dogfood.guru/dog-food-recalls/
Instinct Dog Food Coupons 2017

---
30% Off First Order + Free Shipping
on Instinct Dog Food
Instinct Reviews
Instinct is a 100% grain-free and gluten-free pet food brand. That fact alone has them scoring major brownie points with us. Not only that, but they also offer raw dog food, even in freeze-dried form.
Instinct dog food is marketed as "100% free of corn, soy, chemicals, wheat, allergens, and artificial colors & preservatives". After analyzing the ingredients in Instinct dog food, we've found their claims to be completely true.
The first five ingredients are:
Chicken meal
Tapioca
Chicken fat
Pumpkin seeds
Menhaden
That's an odd combination, but they have a good reason for making those the top five ingredients.
For starters, chicken meal is an excellent source of protein. It provides 300% more proteins and nutrients than raw chicken does.
Tapioca is a starch normally used in higher-end dog food. It's gluten-free, non-GMO, and perfectly safe to eat. The reason for adding tapioca to dog food is to bind the kibble together.
Chicken fat sounds gross, but it's actually a quality ingredient. It's an excellent source of linoleic acid, an Omega-6 fatty acid.
Right now, you're probably wondering, "why on earth would anyone put pumpkin seeds in dog food?" Well, Instinct has a good reason, and it's because pumpkin seeds are chock full of essential fatty acids for dogs. Also, they serve as a natural remedy for worms, benign prostatic hyperplasia, urinary tract problems, and kidney stones.
Menhaden is a type of fish, which provides a good amount of Omega-3 fatty acids and protein.
Some of the ingredients farther down the list include protein sources like freeze dried turkey, chicken eggs, and salmon and vitamin sources like carrots, apples, and butternut squash. Each ingredient found in Instinct dog food is wholesome and nutritious. It's clear that Nature's Variety values the quality of their ingredients.
All in all, we highly recommend dry, wet, and raw Instinct dog food for dogs of all life stages.
How would you rate Instinct?:
[gdrts_multi_stars_rating_auto series="gdsr-dog-food-reviews" style_size=40 style_type="font" style_font_name="star"]
Our Raw Boost Chicken Meal Formula Review: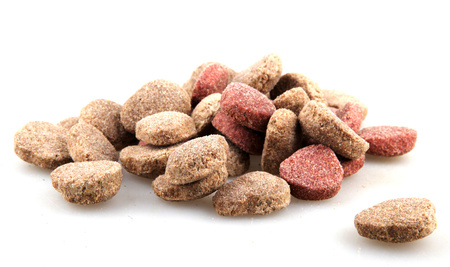 Some Instinct dog food formulas include both high-protein kibble and freeze-dried raw meat. This combination provides a good balance of protein and other nutrients. The Instinct Raw Boost product line has a variety of meats, including Instinct Raw Boost Chicken Meal Formula.
This formula boasts 74% pure animal ingredients and nutritional oils, 26% vegetables, fruits, and other wholesome ingredients, and 0% grain or gluten. According to Instinct's website, the kibble "provides grain-free and nutrient dense nutrition" and the freeze dried raw pieces "provide pure nutrition for digestive health".
With the first five ingredients being chicken meal, chicken, chicken fat, chicken eggs, and chickpeas, you can easily figure out that this formula is chock full of protein and iron. In fact, the crude protein content is 38% (and the crude fat is at 20.5%). It's an excellent formula to feed healthy high-energy dogs and lazy overweight dogs alike.
Quite honestly, this is one of the best, most nutritious dog food formulas we've ever seen. If you have the money, we highly recommend you to splurge on some of this stuff! (If you don't, just take a look at our Instinct dog food coupons below!)
Where can you buy Instinct?
---

30% Off First Order + Free Shipping

---

Free Shipping on Orders over $35
According to Instinct's website, they proudly partner with pet specialty stores and veterinarians. You can use the store locator on their website to find the nearest pet store that carries Instinct dog food.