The Field Spaniel Food Buyer's Guide
The Field Spaniel is probably one of the spaniel breeds you have never seen or heard about unless you happen to catch a fleeting glimpse of one at a dog show. Very few Field Spaniels are bred or registered today. However, this isn't the first time in the breed's history that its numbers have been few. The breed virtually died out in the mid 20th century and was resurrected from a few remaining dogs.
The spaniel family of dogs is very large but it can be divided into land and water dogs. The land dogs are normally divided into generic cocker spaniels and springer spaniels. At one time the only difference in these dogs was their size. They were all the same dogs, appearing in the same litters. Breeders and hunters would separate them according to their height and weight. Eventually they began to refine the spaniel breeds and encourage them to specialize more.
Historically the Field Spaniel relied heavily on Cocker Spaniels (which we would call today English Cocker Spaniels) for their original gene pool. These dogs were interbred with larger, longer spaniels from Sussex. According to some sources Irish Water Spaniels and/or English Water Spaniels (now extinct) were also included in the early mix, along with Norfolk or English Springer Spaniels, and even Basset Hounds. Breeders wanted a long, low dog. At this time, during the mid 19th century, it wasn't unusual to interbreed Cocker Spaniels and Field Spaniels. The puppies that resulted would be shown at dog shows according to whichever breed they most resembled. (This was true for many breeds at that time. Many breeds were crossed and the resulting dogs were exhibited according to their appearance. This is why it's often a mistake to put too much credence in early pedigrees and genetics.) In the case of Cocker Spaniels and Field Spaniels, dogs were often labeled one breed or the other based on color and weight. As the spaniels became more restrictive about their breed categories, the Field Spaniels were typically black, liver, or roan in color. They were considered to be larger springer-type dogs weighing over 28 pounds, as opposed to the smaller cockers.
In the latter half of the 19th century dog shows became popular, the Kennel Club in England opened its doors, and individual breed clubs began keeping stud books with pedigrees for breeds, starting with sporting dogs. Breed standards were developed. In many cases breed standards were intelligent and written by people with experience hunting over dogs in the field. For example, the English Setter breed standard written by Edward Laverack (considered the modern founder of the breed) in 1872 has not changed much in either the UK or the U.S. since he originally wrote it. Many breeds still have breed standards that have changed little since they were originally written. Breeding to these standards – assuming they were written by knowledgeable people – helps preserve breeds so they continue to look the way they were intended.
Field Spaniels, however, were not so lucky at the time. They were being bred based on what would win in the show ring instead of what would be functional in the field. Their dark colors and long, low build made them unpopular with hunters. (The dark colors in a short dog made them hard to see in tall brush.) For a time Field Spaniels were extremely popular with the public but by 1900 the breed's popularity had passed. The breed had become excessively long and low because those dogs were winning at shows. Crossbreeding with Basset Hounds brought in some health problems. The breed was ridiculed in the press. By the 1920s there were only a few dedicated breeders remaining and their numbers dwindled. Meanwhile, Cocker Spaniels and English Springers became more popular.
The remaining Field Spaniel breeders had to set about trying to fix the breed. They wanted to preserve the beautiful, noble head of the Field Spaniel while breeding the dogs to be taller and not as long. This would make the breed more functional. Gradually the Field Spaniel regained its quality but not its popularity. The World Wars in Europe also kept the breed's numbers from rebounding.
The AKC recognized the Field Spaniel in 1894. Popular at first, only a few dogs were registered in the U.S. from the late 1920s until 1941. There were no Field Spaniels registered in the U.S. from 1942 until 1967 when dogs were imported from Britain and the breed was revived in America. Most Field Spaniels today in Britain and the U.S. are descended from a few dogs considered good examples of the breed in the 1950s. Today the Field Spaniel is the 147th most popular breed in the U.S. according to AKC registrations. In the UK the Kennel Club lists them as a Vulnerable Native Breed because of their low numbers.
Today the breed is gaining popularity. The modern Field Spaniel is a handsome and versatile dog with good health, a good temperament, and they maintain their hunting ability. People who know the breed say they can be, by turns, silly, goofy, or mellow. The breed has a moderately long, silky coat with no undercoat. In the home they are loving, gentle family companions and known for being patient with children. They like to be close to their family. They do best if they have a job to do, such as hunting or agility. Otherwise they can become bored from too much inactivity and find ways to get into trouble.
With socialization, the Field Spaniel gets along well with other dogs. They are usually docile dogs but they are somewhat independent. They are not as excitable as some of the other spaniel breeds, such as the Cocker Spaniel. They are considered easy to train. Field Spaniels are good at agility, rally, tracking, obedience, as well as field work.
You can find more about raising a Field Spaniel puppy on this site.
As hunters the Field Spaniel is respected for having a great nose and lots of enthusiasm. They hunt at a moderate pace. Today there is no separation in the breed between field and show dogs. Many Field Spaniel owners show and hunt with their dogs.
Field Spaniels are very smart dogs. They are "soft," sensitive dogs so they need owners who are gentle. They don't respond well to anger or harsh training methods.
Disclosure: Please note that this post contains affiliate links, which will direct you to our partner sites. If you purchase the pet foods we recommend through those links, we may earn a small commission – at no extra cost to you.
Quick Look : Top 4 Best Dog Foods for a Field Spaniel
Food
Price
Nutrition
Rating
Canidae All Life Stages Chicken, Turkey, Lamb & Fish Meals Formula
Read Reviews Where To Buy 
$1.36/lb

Merrick Grain Free Real Chicken & Sweet Potato Dry Dog Food
Read Reviews Where To Buy 

$2.16/lb

*New Formula* ACANA Grasslands Regional Formula Grain Free Dry Dog Food

$3.08/lb

$1.41/lb

---
30% Off + Free Shipping
on dog food for Field Spaniels
Nutritional Needs for the Field Spaniel
Field Spaniels should be medium-sized dogs. The ideal height for male Field Spaniels is 18 inches at the withers. Female Field Spaniels should be 17 inches at the withers. A typical mature 18-inch male should weigh 50 to 55 pounds (23 to 25 Kg); a 17-inch mature female 40-45 pounds (18 to 21 Kg). In size, this places them between the English Cocker and the English Springer. The dog must be large enough to negotiate dense cover by going through it, yet mobile enough to maintain good speed while working. The breed is solidly built, with moderate bone, and firm smooth muscles. We encourage you to read the breed's AKC standard here. It's well-written and interesting to read, especially considering the way the breed had to be revamped in the early 20th century.
Many people actively hunt with Field Spaniels. If you do, you should take your dog's activity level into consideration when figuring how many calories your dog will need in his diet, especially if your dog is very active. The same is true if your dog is competing in other events such as agility. Any kind of competition or stressful activity means your dog may need more calories or a change in his diet.
According to the National Research Council of the National Academies, a typically active adult Field Spaniel weighing 50 pounds requires an average daily caloric intake of 1312 kcal. Dogs that have been spayed/neutered, or that are older, may need slightly fewer calories. Some dogs may need more calories depending on their level of activity and their individual metabolism. For example, if you hunt with your Field Spaniel (50 lbs) doing moderate field work, you might need to feed him somewhere around 2186 kcal per day. Growing puppies consume more calories than adult dogs and so do young adult dogs. A young Field Spaniel puppy (4-12 months) weighing 25 pounds needs an estimated 866 kcal per day. You always need to adjust your dog's food intake based on his activity level and other factors.
Since Field Spaniels are a medium-sized dog, it's not hard to find many good foods that are appropriate for their size. You also have many choices for Field Spaniel puppies since they don't normally have any special food requirements – they are not large breed, small breed, etc.
You can choose a puppy food that is made for all puppies. Most breeders recommend feeding this food until your puppy reaches about 90 percent of his adult size. You can also feed an all life stage dog food (sometimes AAFCO-approved for "growth and reproduction") to puppies. Just be sure to check the nutrients to make sure they are suitable for puppies – especially the calcium levels and calcium to phosphorus ratio. You should talk to your breeder about the food they recommend for their puppies since they usually have experience with how their puppies grow and develop.
Feeding Your Field Spaniel
As with any dog, you should feed your Field Spaniel a good quality dog food. Food that is high in animal protein is usually a good choice.
Hip dysplasia is a concern in the breed, especially in British bloodlines. For this reason it's particularly important not to overfeed your Field Spaniel. Being overweight or obese increases the risk of hip dysplasia, even if a dog's parents had good or excellent rated hips. This applies to puppies as well as adult dogs. Chubby puppies may be cute but being overweight as a puppy puts added stress on the puppy's joints and growing bones. This can lead to skeletal problems such as dysplasia and arthritis later in life. So, don't let your Field Spaniel puppy become a little porker no matter how much he likes to eat.
You should also be careful not to let a puppy injure himself with wild play or exercise. A heavy fall, landing on the hip, can affect your dog's bones and joints later. Don't let your puppy engage in stressful repetitive action such as running alongside you on pavement when you ride a bike or running beside you when you jog. You can do this when your puppy is an adult dog and the growth plates for his bones have closed but it's damaging for a young puppy's bones and joints.
Low thyroid or hypothyroidism also appears in the breed. While this condition is easily treated once it's diagnosed, it often goes hand in hand with a dog having a weakened immune system. This can predispose a dog to allergies, including food allergies. Ear infections are reported to be fairly common in Field Spaniels, as they are for many of the spaniel breeds. (This is true for many breeds with long, floppy ears that cut off air to the ear canals.) Additionally, food allergies can often be exhibited as an ear problem (itchy, inflamed ears, for example). Secondary bacterial or yeast infections can then develop in the ears. Chronic ear problems usually need help from a veterinarian since they can be so hard to treat and clear up. If your Field Spaniel does have food allergies or food sensitivities, you will need to take this into account when choosing a food for your dog. Triggers can be common allergens or, in some cases, they can be something that is peculiar to your dog. It could be an herb or spice in the food.
(My dogs have no known food allergies yet once, when I bought a very highly regarded and expensive dog food, two of my dogs immediately started itching and scratching. Their ears became inflamed. They were suffering! I have no idea what ingredient they were reacting to in the food since the meat protein and carbs were not unusual. I got rid of the food, went back to their old food, and they never had another reaction. I just avoid that brand now. But that's how idiosyncratic food allergies/sensitivities can be.)
Whether you feed your dog a food with or without grains is a personal choice. Many people choose grain free dog foods because their dogs have digestive problems, food allergies or sensitivities, or skin problems. You may want to avoid the most common grains, such as corn and wheat which are often over-used in dog foods, but there are many good dog foods that use alternative grains/cereals such as oats and barley. You can try a couple of foods, with and without grains, and see how your dog does on the foods so you can make your decision.
Keep in mind that food allergies are based on the proteins in foods and not carbohydrates. The most common dog food allergens are: beef, dairy, chicken, lamb, fish, corn, wheat, and soy. In the case of ingredients such as corn and wheat, dogs are allergic to the proteins in these cereals/grains and not the carbohydrates. (There can be other reasons to avoid foods with high carb percentages.) If your Field Spaniel does have skin and coat problems due to allergies, it's a good idea to work with your veterinarian so you can identify exactly which allergens trigger reactions in your dog. This makes it much easier to avoid problematic foods.
Adult Field Spaniels usually do well eating two meals per day. You can feed Field Spaniel puppies 3-4 meals when they are very young, then move to three meals per day as they get older. By the time they are about a year old they should be eating two meals per day.
Field Spaniel Health Problems
The Field Spaniel Society of America provides a good page on health issues in the breed. They include some issues which, while they might not be common at this time in Field Spaniels, are known to exist in related spaniel breeds. They do this as a precaution.
Hip dysplasia and low thyroid are known problems in the breed (see above). Other conditions are less common but they are known to exist in American Cockers, Sussex Spaniels, and English Springer Spaniels so the FSSA wants breeders and owners to be aware of the possibility of these issues and test for them in Field Spaniels. We applaud the FSSA for taking this proactive course for the breed. This is especially important for a breed with a small gene pool. (Field Spaniel people like to say they have a gene puddle instead of a pool because it's so small.)

The Field Spaniel Society of America recommends the following health tests for Field Spaniels, especially if a dog is being considered for breeding:
Eye Examination by a boarded ACVO Ophthalmologist- recommend testing at 2, 4, 6, and 8 years of age.
Congenital Cardiac Exam OR Advanced Cardiac Exam
The Orthopedic Foundation for Animals (OFA) has the following results in its database for Field Spaniels.
Evaluations through December 2016
Registry

Rank

Evaluations

Percent
Abnormal

Percent
Normal

Percent
Carrier

Percent
Equivocal

ADVANCED CARDIAC

N/A

6

.0

100.0

.0

.0

CARDIAC

57

322

.3

97.8

.0

1.9

DENTITION DATABASE

N/A

5

.0

100.0

.0

.0

ELBOW

116

350

.3

99.4

.0

.3

EYES

40

215

2.3

97.7

.0

.0

HIPS

54

1200

17.8

80.7

.0

1.5

PATELLA

113

183

.5

99.5

.0

.0

THYROID

61

441

3.4

88.7

.0

7.9
Results for Field Spaniels from the OFA database
The most common eye problems in Field Spaniels are folds in the retina, ectropion, and entropion. Progressive retinal atrophy, an inherited disease that shows up during adulthood in many spaniels and leads to blindness, occurs very rarely in Field Spaniels.
Heart defects can occur in Field Spaniels. They can be inherited or congenital (present from birth but not genetic).
Epilepsy is widespread in the general canine population so it can occur in Field Spaniels. It's often a general term used for seizures but seizures can have many different causes such as a high fever, poison, a tumor, genetics, and so on. Early onset epilepsy as an inherited disease is almost unknown in Field Spaniels. Late onset epilepsy (appearing for the first time in dogs 7-10 years old with no prior history of seizures) has been reported in Field Spaniels. The FSSA Health Committee is working with the University of Missouri to map the Field Spaniel genome with the hope that they may find any mutated genes that might be contributing to late onset seizure disorder in the breed.
According to health surveys, the leading cause of death for Field Spaniels is cancer. Cancer is the leading cause of death for all dogs, especially older dogs. The median lifespan for the breed is between 11 and 12 years.
Ingredients to Look for and Some to Avoid
As with most dogs, when choosing a food for your Field Spaniel you should look for a food that has good sources of protein and fat.
Ideally you will select a dog food that features two or three meat proteins in the first several ingredients listed. It's not unusual today to see a food list both chicken and chicken meal, for example, as the first two ingredients. Both whole meats and meat meals are good sources of protein. Whole meats refer to foods such as whole chicken, beef, fish, and lamb. Some people don't like meat meals as much as whole meats but they are a concentrated form of the meat in which the moisture has been removed. They contain several times as much protein as a whole meat. Meat meals are usually quite acceptable as one of the first ingredients in a good quality dog food. They are used by many good dog food brands. Some companies will go a step further and also add a related organ meat. For example, if the first two ingredients are whole chicken and chicken meal, they may also add chicken liver. That's fine. This is one way of adding more protein to the food. Most dogs will enjoy foods that have liver added. It is best if the liver is named. We don't like to see generic liver. It's important to remember that liver, hearts, kidneys, lungs, and so on are technically meat by-products so you always want the dog food manufacturer to be as specific as possible about the ingredients they are using.
Many dog foods today, even some of the most expensive and highly touted, use lots of plant proteins such as lentils and peas. These foods often have high protein percentages on the label. When you read the guaranteed analysis it's important to consider how much of the protein in the food comes from meat and how much comes from plants. Your dog is able to digest meat protein more easily than plant protein. Meat protein is a much more natural source of protein for your dog than plant protein.
Dogs also need good sources of fat. You should look for named fat sources such as chicken fat. Other named fats also provide needed nutrients such as fish oil which can provide omega-3 fatty acid to help keep the skin and coat healthy. Puppies can benefit from DHA which is Docosahexaenoic acid. This is a specific form of omega-3 fatty acid that helps with brain and eye development. Older dogs seem to benefit from medium chain triglycerides which feature medium chain fatty acids (MCFAs). These have been found to help older dogs feel and act younger. They are often made from a combination of coconut oil and other oils.
If you want to avoid corn, soy, and wheat in your dog food, your Field Spaniel may still be able to eat an alternative grain such as barley or oats. Or you can feed a grain free dog food that uses an alternate source of carbs that is low glycemic. You don't have to feed a dog food with an excessively high percentage of protein but it's a good idea to keep the carb percentage low to moderate.
If your Field Spaniel has a food allergy or food sensitivity, you may need to work with your veterinarian to identify the food triggers unless they are very obvious. There are lots of good foods with unusual meat proteins today as well as limited ingredient diets which we will discuss below.
Recommended Dog Food For Field Spaniels
Field Spaniels should be able to eat most good quality dog foods. Every dog is an individual. Even dogs in the same breed can have different food needs. Some dogs need more calories than others. Some dogs will do better with more protein or fat than other dogs. We are providing several suggested foods for your Field Spaniel which meet our standards but you may have to use a trial and error method to see which food your dog does best on. Even among Field Spaniels, some dogs are more energetic than others.
When you are trying a new food, be sure to allow several days to slowly transition to the food, mixing in a little of your dog's old food each day. Of course, if your dog shows signs that he doesn't like the food or doesn't tolerate it, you will have to make adjustments. If your dog eats the food but you don't like his condition after a few weeks, you can change him back – slowly – to his previous food. It's best not to go directly to another new food. You can upset your dog's gastrointestinal system if you keep changing to too many new foods in a short period of time. Once your dog has settled back with his old food, you can once again try a new food. You should allow at least a couple of weeks between foods before trying another new food so you can give your dog's system a chance to rest and recover. This also gives the new food a fair chance.
If you try a new food and your dog doesn't seem enthusiastic about it, you might also try another food from the same product line that uses a different kind of meat protein or other ingredients. As long as the guaranteed analysis and nutrient percentages are similar, the food should be similar to the original food you selected.
When you are feeding a new food and your dog is eating it without problems, it's important for you to assess his physical condition. Is he gaining or losing weight on the new food? Does his coat look healthy? Are his eyes bright? Does he seem to have good energy or is he more lethargic than usual? And, the big question for any dog lover – what does his poop look like? As most dog lovers know, you can tell a lot about a dog's health by checking his poop. Does it look normal and firm? If he having regular bowel movements? Those are good signs. If your dog is having runny poop or diarrhea; or if he is having trouble with his bowel movements, it could be because of the new food. These are all things you should note during the first few weeks of feeding a new food. Even if your dog LOVES the food, if he's not thriving, you may have to rethink his diet or how much you are feeding him.
Very often, if a dog has loose stool or other gastrointestinal problems with a food, even if he really likes the food, it can be because you are 1) feeding too much of the food; or 2) the food is too rich. What does too rich mean? It means the food may have too many calories for your dog's needs. It might have too much fat for your dog. Or, the protein percentage may be too high. You can also check the fiber percentage. Maybe it's too high. If cutting back on the portions doesn't help, you need to try changing the food.
You should also remember that dogs are a little like people. Their appetites can vary depending on things like the weather and their mood at times. Most dogs will eat more in the winter and less in the summer, especially if you live in a climate with wide changes in the temperature. So, if your dog is not eating as much when it's hot in the summer, it doesn't necessarily indicate anything to be alarmed about. If your dog is eating more food in the winter – and putting on weight – you may want to see if your dog's favorite food has a formula with a little less fat or fewer calories so he won't gain too much weight. Then go back to his favorite formula when he's more active in warm weather.
Most of the foods we have selected here do not contain corn, wheat, or soy, unless noted. You may have to try a couple of foods to find which one is best for your dog. You should also keep in mind that your dog's dietary needs can change as he grows and ages so you may have to change foods to suit him.
Best Dog Foods for Field Spaniel Adults
Food
Price
Nutrition
Rating
Canidae All Life Stages Chicken, Turkey, Lamb & Fish Meals Formula
Read Reviews Where To Buy 
$1.36/lb

Merrick Grain Free Real Chicken & Sweet Potato Dry Dog Food
Read Reviews Where To Buy 

$2.16/lb

New Formula* ACANA Grasslands Regional Formula Grain Free Dry Dog Food

$3.08/lb

$1.41/lb

This Canidae formula is an all life stages food so you can feed it to dogs of all ages. The first five ingredients are: Chicken meal, turkey meal, lamb meal, brown rice, and white rice. The food does contain grains (rice, oatmeal, barley) but even many dogs that have problems with corn or wheat can eat these grains which provide dietary fiber. The food contains no corn, wheat, or soy. The food is naturally preserved and it contains pre- and probiotics for healthy digestion, along with antioxidants and omega 6 and omega 3 fatty acids for good skin and coat. The guaranteed analysis shows 24 percent crude protein; 14.5 percent crude fat; and 4 percent crude fiber. It has 468 kcal/cup. We think this is a good food for dogs that do well on moderate protein and fat. Canidae has had a good reputation for many years.

If you would like a higher protein percentage for your Field Spaniel, many dog owners like Merrick Grain Free foods. The first five ingredients in this food are Deboned Chicken, Chicken Meal, Turkey Meal, Sweet Potatoes, and Potatoes. This recipe is an all life stage food with 460 kcal per cup ME (metabolizable energy) on an as fed basis (calculated). It has 70 percent meat ingredients, 30 percent vegetables, vitamins, and minerals. It is grain free – no corn, wheat, or soy. No gluten. No ingredients from China. It has 38 percent crude protein and 17 percent crude fat, with 3.5 percent crude fiber. It also has glucosamine and chondroitin added, as well as omega-3 and omega-6 fatty acids. Merrick uses local growers from Texas, where the food is made. We think this food has good quality protein and other ingredients for a very active Field Spaniel. Not everyone will like a protein percentage this high but if you do, give this food a try.

If your Field Spaniel is very active (doing field work or agility, for example), we can also recommend Acana foods. Champion Pet Foods has completed their new kitchen in Kentucky and they have reformulated some of their dog and cat foods to reflect what is now "regional" to the Kentucky area. So, it's still the same award-winning company, but Acana is being made in Kentucky. We've had a chance to review the Acana dog and cat foods and there are some changes in the meat proteins but the foods still look good. If you visit the Acana web site you can view the old and new formulas to see the changes (we really like being able to compare the formulas). The current (old) Grasslands formula, for example, is heavy on lamb, duck, whitefish, and lentils. The new formula will feature goat meal and catfish meal, in addition to the lamb and duck. The old formula has 31 percent crude protein, 17 percent crude fat, 5 percent crude fiber, and 10 percent moisture. The new formula has 33 percent crude protein, 17 percent crude fat, 6 percent crude fiber, and 12 percent moisture. The food has 60 percent animal protein ingredients and 40 percent vegetables, fruits, and botanicals. No grains, potatoes, or tapioca. If you're looking for a good grain free dog food for your Field Spaniel that is low in carbohydrates, we think that the Acana foods are a good choice. Acana foods typically have slightly less meat protein than Orijen (made by the same company), but we think they're a good choice for many dogs. Most people still seem to like the Acana foods now that they are being made in Kentucky but if you have questions about them, we recommend talking to people who feed these foods to their dogs for their opinions.

If you would like a food with a little less protein, we also like Fromm Adult Gold. This formula has duck, chicken meal, and chicken as the first three ingredients. It has 24 percent crude protein, 16 percent crude fat, and 3.5 percent crude fiber, with 408 kcal/cup. It is AAFCO-approved for growth and maintenance. The food includes salmon oil – a great source of omega-3 fatty acid for healthy skin and coat; probiotics, and prebiotics. No corn, wheat, or soy. The food is also made at the family's own facilities in Wisconsin. The Fromm family has been making dog food and dog products for over 100 years and they have a great reputation. The food includes brown rice and pearled barley in the first five ingredients. It does contain oatmeal and potatoes so if you are trying to keep the carbs very low you may not like this food. However, we think the ingredients are good quality and many dogs will do well on this food. You can see the technical analysis for the food, with the dry matter basis figures on the site. Fromm also makes their popular Four Star line of dog foods which feature favorites such as Chicken a la Veg and Hasen Duckenfeffer.
If you hunt with your Field Spaniel, we have found that many hunters recommend Purina ProPlan Sport, Eukanuba Performance, and even Taste of the Wild. All of these foods have higher protein AND fat percentages which make them good choices for dogs in the field that are running off a lot of calories while hunting or training. Some people will have qualms about the Purina ProPlan because it contains various forms of corn and animal digest. The Eukanuba also contains corn. Nevertheless, these are very good foods if your dog can eat them. We do not hesitate to recommend them and we know MANY people who have been feeding these foods for decades with excellent results. Both companies have invested millions of dollars in pet food nutrition and research – research which is utilized by smaller companies today. If you would like to feed ProPlan for the nutrition but you don't like the ingredients, they do have some natural foods that are grain free with no corn, wheat or soy, no artificial colors, flavors, or preservatives, and no poultry by-product meal.
If you like Taste of the Wild, do read the labels carefully. The ingredients and nutrient percentages vary a great deal between formulas.
Remember, if you feed these foods with higher calories and more fat while your dog is working, you will probably want to cut back on the calories and fat during the off season. Otherwise your Field Spaniel can easily put on extra pounds when he's not getting as much exercise.
Best Dog Foods for Field Spaniel Puppies
Field Spaniel puppies can usually begin eating a puppy food right after they are weaned or they can eat a good all life stage food. If you have questions about how to feed your puppy, we recommend talking to your puppy's breeder. They usually have the most experience with raising Field Spaniel puppies and can guide you.
Puppy foods should have a calcium to phosphorus ratio of about 1.2 parts calcium to 1 part phosphorus. It's also important that dog and puppy foods do not have an excess of calcium since this can affect bone growth. If you are feeding your puppy a food that is properly formulated, you should not add any extra calcium, such as milk, cottage cheese, or other calcium supplements. Doing so can lead to serious health problems such as OCD (osteochondritis dissecans) and other orthopedic problems.
Keep in mind that all life stage dog foods are formulated to be nutritionally adequate for growing puppies. Foods for puppies may also have the AAFCO statement that they are approved for "growth and reproduction."
Here are some of the puppy foods we like for Field Spaniel puppies.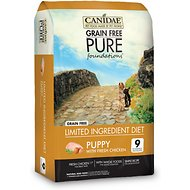 This is one of our favorite foods for all puppies. Canidae Grain Free Pure Foundations Puppy Formula is a limited ingredient food with nine ingredients plus vitamins and minerals and probiotics. It's grain free with probiotics to help digestion; antioxidants for a healthy immune system; and omega 3 and 6 to support healthy skin and a beautiful coat. The first five ingredients are chicken, menhaden fish meal, lentils, peas, and potatoes. The recipe is supposed to be especially good for puppies with sensitive digestion. The food has 30 percent crude protein, 12 percent crude fat, 4 percent crude fiber, and 10 percent moisture. This food checks in at 520 kcal/cup, so it's high in calories but active, growing Field Spaniel puppies can usually burn them off. Just remember that you don't need to feed a lot of food with these very nutrient-dense foods. If your Field Spaniel puppy does well on this puppy food, Canidae has some good adult foods – both grain free and foods with grains.
Similar to Fromm's Gold Adult formula, this puppy formula contains no corn, wheat, or soy. The first three ingredients are duck, chicken meal, and chicken. The food has moderate protein and fat to encourage puppies to grow slowly. The food has 417 kcal/cup. The technical analysis for the food shows the correct calcium to phosphorus ratio for puppies. The food has 27 percent crude protein; 18 percent crude fat; and 3.5 percent crude fiber. Fromm Puppy Gold formula also has added DHA-rich salmon oil for good brain and eye development in puppies. The USDA-inspected ingredients for the food are delivered fresh each morning. We think this food could be a good choice for Field Spaniel puppies.
Best Dog Foods for the Senior Field Spaniel
It's not unusual for many Field Spaniels to live into their teen years. This means that you will probably need to consider what kind of food to feed your dog as he gets older. As your dog ages it's a good idea to plan an annual senior check-up with your vet. Many older dogs begin to put on pounds as they become less active. For this reason, most senior dog foods have fewer calories and they can skimp on protein. You should watch your older dog's weight as he gets older to make sure he doesn't become overweight. In some cases you can simply cut back on the portions of his regular dog food to help him stay fit or increase his exercise.
On the other hand, some very old dogs often start to have some problems metabolizing nutrients, including protein. It can become hard for them to keep good muscle tone and weight as they age. For this reason, you may wish to avoid many dog foods labeled "senior." These foods are often formulated for older dogs that have gained weight. Instead, look for a senior dog food that has lots of protein. As long as your older dog doesn't have any problems with his kidneys or with phosphorus, there is no reason to avoid higher protein levels.
It's very important that senior dogs have good quality protein. Good quality protein is easier to digest and metabolize than poor quality protein. It provides the older dog with more nutrition that he can use. So, plan on giving your older Field Spaniel the very best food possible with excellent sources of protein.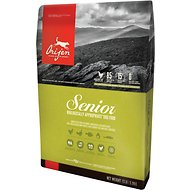 Orijen Senior provides plenty of excellent quality protein for your older dog. This food features free-run chicken and turkey, wild-caught fish, and nest-laid eggs. It helps keep older dogs in good muscle even as they become less active. Made of 80 percent meats and fish, the food is low-glycemic and has low carbs to help keep your older dog's blood sugar steady. The food also contains natural sources of glucosamine and chondroitin to keep your dog's joints healthy. The food is 38 percent crude protein and 15 percent crude fat. It checks in at 445 kcal per 250ml/120g cup. We think this is a very good food for senior dogs who often need extra protein as they get older. (We know Orijen is expensive but this food really stands out for senior dogs.)
Another food you may want to consider for older dogs is Weruva's Caloric Harmony Venison and Salmon Meal Dinner with Pumpkin. This food (and several others in this product line) is potato-free with no corn or wheat, easy to digest, and low-glycemic. It contains pumpkin and oatmeal for healthy gut motility. The first five ingredients are: Venison, Venison Meal, Salmon Meal, Herring Meal, and Oatmeal. Meat protein comes from grass-fed venison. The dry matter basis for this food is an estimated 37.8 percent protein;14.4 percent fat; 3.9 percent fiber; and 35 percent carbs. The calorie count (calculated) is Metabolizable Energy (ME) 3320 kcal/kg; 348 kcal/cup. This food is not specifically made for senior dogs but we think those look like good figures for senior dogs that need more good quality protein without extra fat.
Best Dog Foods for Field Spaniels with Skin Problems
If your Field Spaniel is having skin problems or problems with food allergies, you will probably want to avoid foods that contain known food allergens such as beef, dairy products, chicken, lamb, fish, chicken eggs, corn, wheat, and soy. If your dog is having food allergies – which usually manifest as itching, redness, chewing, hair loss, and sometimes ear problems – you will need to identify the trigger for his allergy. You can try to guess the trigger or work with your veterinarian on a food trial and elimination diet for your dog. You may need to find a novel protein for your dog – a protein that he has not eaten previously. Natural Balance has a selection of limited ingredient diets that can be helpful for dogs with food allergies. You might try giving your dog the rabbit formula, kangaroo formula, venison formula, or bison formula. He should be able to eat a meat protein that he has not eaten previously without having an allergic reaction.

This limited ingredient diet food has limited sources of protein and carbs. It's also grain free and complete and balanced for puppies, adults, and senior dogs. The food should be easy for your Field Spaniel to digest and it contains no artificial flavors, colors, or preservatives.

Any dog suffering from skin problems or food allergies may benefit from Wild Calling's Xotic Essentials recipes. Formulas like their rabbit meal recipe use exotic meats that are rare in today's pet food market so your dog probably hasn't eaten them before – and has less chance of having an allergic reaction. The foods are also highly digestible. Wild Calling also uses what they call LITe (limited ingredient technology). They don't use any of the ingredients commonly found in most dog foods such as chicken, grain, gluten, egg, yeast, corn, wheat or soy. If your Field Spaniel has a food allergy, he may benefit from Wild Calling. The foods are formulated for rotational feeding and they offer several Xotic Essentials recipes, such as kangaroo and bison, so your dog doesn't get over-exposed to one kind of meat protein. This is an All Life Stage food. We think that dogs with skin problems and food allergies can definitely benefit from these recipes.
Another food that is often recommended for dogs with food allergies and skin problems is Zignature. It comes in proteins such as trout & salmon, kangaroo, turkey, duck, venison, and others. It's available in dry and canned versions. Foods are potato- and grain-free, and chicken-free. They do not use common bonding agents (thickeners and ingredients to hold the food together) in their foods which are high in simple carbs and starches. They only use low glycemic carbs such as chickpeas that add extra protein and fiber to the food. They work with Tuffy's in Minnesota and Performance Pet in South Dakota to make their foods. Many people like Zignature very much. If you have a dog with food allergies, this is a brand that you might consider. This duck formula is a good example with hypo-allergenic meat first, no corn, wheat, soy, dairy or chicken, chicken eggs or chicken by-products.
Best Dog Foods for Field Spaniels with Sensitive Stomachs
Many dogs are susceptible to food sensitivities that affect their digestion and excretion. If your dog has a sensitive stomach it can be an indication of a food sensitivity, which is different form a food allergy. A dog with a food sensitivity will have gastrointestinal issues such as vomiting or diarrhea. Or it could be something more serious.
A dog with a sensitive stomach can often be helped by feeding the right dog food. Sticking to a limited ingredient diet food with as few ingredients as possible can reduce the chance of your dog having a bad reaction to something in the food.
Many people recommend Wellness Simple for dogs with food sensitivities. The formulas feature only five main ingredients to keep things very simple for your Field Spaniel. Wellness makes formulas that are both grain free and some that have grains such as oatmeal. The food is easy to digest and contains probiotics and prebiotics to help the gastrointestinal system. It also contains omega fatty acids for good skin and coat. Formulas feature duck, salmon, turkey, and lamb. Wellness Simple comes in dry and canned formulas.
We also recommend Natural Balance L.I.D. Limited Ingredient Diets Sweet Potato & Fish Formula Dry Dog Food. This food is grain free with limited ingredients. It has good quality, alternative ingredients that are easily digestible for a dog with a sensitive stomach. And it contains no artificial flavors, colors, or preservatives. The first five ingredients are: Sweet Potatoes, Salmon, Fish Meal, Potato Protein, Canola Oil (preserved with mixed tocopherols). It has 21 percent crude protein, 10 percent crude fat, 5 percent crude fiber, and 10 percent moisture. It has 350 kcal/cup and it's a maintenance formula. If your dog can't eat some of the ingredients in this food, Natural Balance has lots of other LID recipes that you might check.
If your dog can't eat these ingredients, you might try one of the Weruva foods or Acana Singles. Weruva also has lots of foods with pumpkin which can sometimes help a dog with stomach issues.
Best Dog Foods for Overweight Field Spaniels
Field Spaniels are usually very active as young dogs but they may begin to slow down as they get older. This can lead to weight gain. You can often help your Field Spaniel lose weight by cutting back on his portions and encouraging him to get more exercise.
If your Field Spaniel needs to lose more than a few pounds, however, you may need to consider a weight control dog food.
We do not recommend a weight control dog food for a puppy or a very old dog. These foods generally have fewer calories and may have some other differences in nutrients that make them inappropriate for growing puppies or older dogs who need special nutrition. Many weight control foods contain a lot of filler ingredients or empty carbohydrates which makes it hard to recommend them.
If you have a Field Spaniel who needs to lose weight, we can recommend Fromm Gold Weight Management. It can be hard to find a good weight control dog food but Fromm is a quality brand with good ingredients. This food has 25 percent crude protein and 10 percent crude fat so it's not that much different from some of the adult foods we've recommended. It has 341 Kcal/cup. Fed in moderation, it should help most overweight Field Spaniels lose weight or maintain a healthy weight. The first five ingredients are: Turkey Liver, Chicken Meal, Pearled Barley, Oatmeal, and Dried Tomato Pomace.
Fromm also has a grain free weight control formula called Fromm Gold Coast Grain Free Weight Management Dog Food with the same crude protein and fat percentages if you prefer a grain free weight control food for your dog.
If your dog needs to lose weight, you should proceed slowly. No crash dieting. You should aim for your dog to lose no more than 3 to 5 percent of his body weight per month or about one percent each week.
Conclusion
It took some time for breeders to produce the Field Spaniel we have today but these dogs are charming, active, playful, and friendly. They are a little more reserved than some of the spaniel breeds and they do need socialization but they love to be with their owners. Field Spaniels make wonderful therapy dogs, hunting dogs, family pets, and they are great at lots of canine sports. They love to learn and they are eager to please. What more could you ask for in a companion? Field Spaniels are relatively rare today so check around and try to meet some.
Below is a list of products reviewed in this article