Best Dog Food for Miniature Schnauzers
The Ultimate Miniature Schnauzer Food Buyer's Guide
Skip To Detailed Recommendations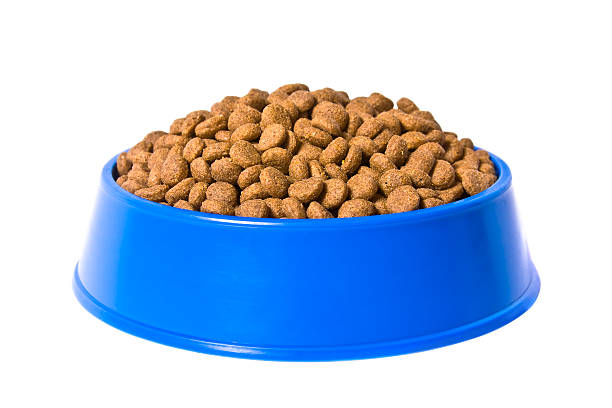 Alert, friendly, and fearless, the Miniature Schnauzer is a cross between the standard Schnauzer and Miniature Poodle. These small dogs were bred in Germany in the latter half of the 19th century. Where Standard Schnauzers were used for all-around farm work, farmers bred Miniature Schnauzers to be ratters.
Today, the Miniature Schnauzer is popular around the world, known for being a devoted pet. Their playful, easy-to-train temperament make them perfect family watchdogs in both the city or in the country. To keep them healthy and energized, Miniature Schnauzers need a nutritious, protein-filled dog food. Find the right formula for your pup with our detailed recommendations.
Disclosure: Please note that this post contains affiliate links, which will direct you to our partner sites. If you purchase the pet foods we recommend through those links, we may earn a small commission – at no extra cost to you.
Best Dog Foods for Miniature Schnauzers

---
30% Off + Free Shipping
on dog food for Miniature Schnauzers
Miniature Schnauzer Diet & Nutrition
Miniature Schnauzers typically weigh between 11 and 18 pounds, standing 13 to 14 inches tall at the withers. Females are usually slightly smaller than males.
The small breed is active, requiring daily exercise to release energy. According to the National Research Council of the National Academies, an active adult Mini Schnauzer weighing 15 pounds requires an average daily caloric intake of about 530 calories. However, calorie requirements are influenced by a dog's activity level, individual metabolism, and age, as well as if the dog has been spayed/neutered. Growing puppies and young adult dogs, for example, consume and burn off more calories than adult dogs do.
Small breeds like the Miniature Schnauzer typically use up more calories per pound than medium and larger breeds. For this reason, we advise feeding a food that is specifically formulated for small breeds. These foods are usually more nutrient dense, so a small dog doesn't have to eat a lot of food to get the calories and other nutrients he needs.
What to Feed a Miniature Schnauzer
Miniature Schnauzers need a high quality, nutritious dog food from a trusted brand. Protein and fat are the main ingredients in the diet for a Miniature Schnauzer, as they are for most dogs. However, not all protein and fat are the same.

Ingredients:
Protein – Ideally you will select a dog food that features two or three meat proteins in the first several ingredients listed. Look for whole meats like chicken, beef, fish, and lamb, or meat meals – a concentrated form of meat in which the moisture has been removed.
Fat – Look for named fat sources such as chicken fat, canola oil, or flaxseed. Healthy fats give your Miniature Schnauzer energy, make the food taste good, and provide omega-3 fatty acids to help keep the skin and coat healthy. A specific form of omega-3 is DHA, which helps with brain and eye development.
Fruits and Vegetables – While dogs don't require fruits and vegetables in their diet, they are perfectly healthy filler ingredients that add flavor and nutrients. Most kibbles will contain a mixture of both, but be sure to check this list of fruits and veggies your pup can eat before you decide to give him anything.
Carbs – Carbs are another ingredient dogs don't need to survive, but they are in most dog foods to help balance out the amount of nutrients in the recipe. Complex carbs also give your dog energy, so look for low glycemic options like brown rice, sweet potatoes, pearled barley, and oats.
If your dog has a sensitivity or allergy to corn, soy, and wheat, your Miniature Schnauzer may still be able to eat rice, barley, oats, or another grain or cereal. You can also try a grain-free dog food that uses an alternate source of carbs such as sweet potatoes. Either way – keep the carb percentage low to moderate.
Dog Food Recommendations
To help you choose a delicious, healthy formula for your Miniature Schnauzer, we've selected the top dog foods to nourish your pup – from his time as a puppy to his older years. Keep in mind, you may have to try a couple of foods to find which one is best for your Miniature Schnauzer. And as your dog ages, his dietary requirements may change – so you may need to adjust his formula to accommodate his needs.
---
Best Dog Foods for Miniature Schnauzer Puppies
Puppies can usually eat three meals per day until they are old enough to start eating on an adult schedule. Note that an all life stage food can also be fed, as long as the nutrients are appropriate for your puppy.
As with all developing dogs, it's important to make sure that food you choose has the correct calcium to phosphorus ratio (1.2 parts calcium to 1 part phosphorus.) Having a deficiency or excess of calcium in your dog's diet can lead to serious orthopedic problems, like painful bone spurs. You can usually find this information in the nutritional analysis for a dog food.
Below, we've outlined our dog food recommendations for your Miniature Schnauzer puppy – each formula containing balanced nutrition and added benefits for growth and development.
1

Similar to Fromm's Small Breed Adult Gold formula, this puppy formula contains no corn, wheat, or soy. The food is formulated for growing puppies. The technical analysis for the food shows the correct calcium to phosphorus ratio for puppies. Fromm Puppy Gold formula also has added DHA-rich salmon oil for brain and eye development. The USDA-inspected ingredients are delivered fresh each morning. Fromm Puppy Gold is also recommended for pregnant and nursing mothers.
Main Ingredients: Duck, Chicken Meal, Chicken, Oatmeal, Pearled Barley
Protein: 27%
Fat: 18%
Fiber: 3.5%
Calories: 417 kcal/cup
2

This formula is loaded with health benefits: DHA for healthy brain development; antioxidants for the immune system; microbes to support digestion; and a mix of omega-3 and omega-6 fatty acids for healthy skin and coat. With his smaller digestive tract and stomach, he may not be able to consume a lot of food at each meal, but you can be sure he will get enough nutrition with this kind of food.
Main Ingredients: Deboned Turkey, Chicken Meal, Salmon Meal, Oatmeal, Ground Barley
Protein: 28%
Fat: 18%
Fiber: 4%
Calories: 480 kcal/cup
3

Any dog lover who may be concerned about chemicals or additives should check into VeRUS. Made with natural ingredients like fish oil, non-Chinese sourced vitamins, and chelated minerals, VeRUS is a safe and healthy option for your pup. The chicken used in their food is cage-free, USA-grown, and guaranteed to be antibiotic-free. Plus, this food includes a freeze-dried live probiotic that is unique among dog food manufacturers.
Main Ingredients: Chicken Meal, Ground Oats, Ground Brown Rice, Chicken Fat
Protein: 26%
Fat: 16%
Fiber: 4%
Calories: 425 kcal/cup
---
Best Dog Foods for Miniature Schnauzer Adults
Once Miniature Schnauzers are full grown, they can start eating two meals per day. We suggest that you measure the amount of food you feed your dog and only leave the food sitting out for about half an hour before putting it away. This should give your dog enough time to eat without putting him at risk of overeating.
Each of these formulas was selected with your dog's health in mind – containing protein-rich ingredients and filling, tasty kibble. Your pup will thank you!
1

Orijen is consistently rated one of the best foods around. This is particularly true if you are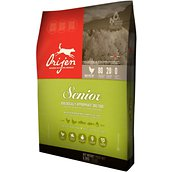 looking for a grain-free food with lots of protein. And remember – you don't have to feed your dog a lot of food when you have a very nutrient-dense food like Orijen.
Main Ingredients: Chicken, Turkey, Whole Herring, Chicken Liver, Chicken Heart
Protein: 36%
Fat: 35%
Fiber: 5%
Calories: 478 kcal/cup
2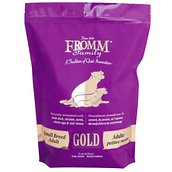 Fromm is a family business that has been making dog food for generations in Wisconsin. This recipe is great for healthy digestion with great sources of fiber like oatmeal, pearled barley, and rice. The food is also enhanced with probiotics to aid digestion and salmon oil for healthy skin and coat.
Main Ingredients: Duck, Chicken Meal, Chicken, Oatmeal, Pearled Barley, Brown Rice
Protein: 26%
Fat: 17%
Fiber: 3.5%
Calories: 416 kcal/cup
3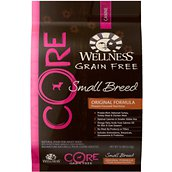 If you prefer a grain and gluten-free food for your Miniature Schnauzer, this recipe always receives solid reviews. It covers all of the bases for your pup: probiotics for digestion; antioxidants for immune health; salmon oil for healthy skin and coat; and glucosamine and chondroitin for joint health. Plus, we love how the food features smaller kibble to make eating easier.
Main Ingredients: Deboned Turkey, Turkey Meal, Chicken Meal
Protein: 36%
Fat: 16%
Fiber: 5%
Calories: 396 kcal/cup
4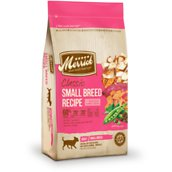 Merrick foods are made in Texas with ingredients from local growers. The regional ingredients in this recipe contain 50 percent meat and desirable fats; 25 percent vegetables, vitamins, and minerals; and 25 percent whole grains like brown rice, barley, and oats. This is an all-natural pet food with no trace of by-products and artificial preservatives.
Main Ingredients: Deboned Chicken, Chicken Meal, Turkey Meal, Brown Rice, Peas
Protein: 30%
Fat: 15%
Fiber: 3.5%
Calories: 440 kcal/cup
---
Best Dog Foods for Senior Miniature Schnauzers
Miniature Schnauzers typically live to be 12 to 14 years of age, though some may live longer. As your dog starts to show signs of aging (around 8 or 9 years old), it's a good idea to plan an annual senior check-up with your vet.
Typically, older dogs become less active, increasing their risk of losing muscle strength and becoming overweight. However, opting for a low-cal or senior dog food may not offer your Miniature Schnauzer enough protein. Instead, look for a food that is higher in good quality protein. As long as your dog does not have kidney problems, there's no reason to avoid protein as he gets older.
1

Orijen Senior provides plenty of excellent quality protein for your older Miniature Schnauzer. Made of 85 percent poultry, fish, and eggs, the food is low-glycemic and low-carb to help keep your older dog's blood sugar steady. The food also contains natural sources of glucosamine and chondroitin for joint support. This food is AAFCO-approved for maintenance.
Main Ingredients: Fresh Chicken Meat, Fresh Whole Eggs, Fresh Turkey Meat, Fresh Whole Herring, Fresh Chicken Liver
Protein: 38%
Fat: 15%
Fiber: 8%
Calories: 435 kcal/cup
2
If you have a senior dog that needs to watch his waistline, you might consider Weruva's Caloric Harmony Venison and Salmon Meal Dinner with Pumpkin. This food (and several others in this product line) is free of potatoes, corn, and wheat. With easy-to-digest ingredients, it contains pumpkin and oatmeal for healthy gut motility, as well as meat protein from grass-fed venison. These are great figures for senior dogs that need more protein without extra fat.
Main Ingredients: Venison, Venison Meal, Salmon Meal, Herring Meal, Oatmeal
Protein: 37.8%
Fat: 14.4%
Fiber: 3.9%
Calories: 348 kcal/cup
---
Additional Dietary and Health Considerations
Miniature Schnauzers are considered to be a generally healthy breed but, like all dogs, they can experience some health problems like cataracts, hyperlipidemia, pancreatitis, liver shunts, and stones in the urinary tract. Several of these issues deal with fat, which is why it's important to ensure your Miniature Schnauzer isn't over-eating and consumes a healthy diet.
For additional dog food recommendations, check out our Small Breed Dog Food Buyer's Guide. Health issues that can surface in Miniature Schnauzers include
Below is a list of Products reviewed in this article