ZiwiPeak Dog Food
Brief Overview
ZiwiPeak is a New Zealand pet food that produces air-dried raw food (similar to dehydrated food) and canned or moist foods for dogs and cats. According to the company, their foods are 100 percent natural. They call their food a "raw equivalent" diet, as close as possible to a raw, natural, wild diet without freezing or thawing. They say they use no preservatives, fillers or grains and nothing artificial.
Disclosure: Please note that this post contains affiliate links, which will direct you to our partner sites. If you purchase the pet foods we recommend through those links, we may earn a small commission – at no extra cost to you.
Who manufactures ZiwiPeak?
ZiwiPeak was founded by Peter and Kimberly Mitchell in New Zealand. The Mitchells are now in Carmel, California heading the U.S. part of ZiwiPeak. Geoff Morgan is the CEO in New Zealand. All air-dried food is produced in New Zealand. Cans for the U.S. and Canada are produced in the U.S. from New Zealand ingredients. Cans for other continents (Europe, Asia, the Middle East, Australia, and New Zealand) are produced in New Zealand.
ZiwiPeak Recalls 2017
Please Read First: If this statement is still here we are actively watching for new recalls. Below you will find a history of recalls. If you would like to know as SOON as we find out about a recalls visit:https://dogfood.guru/dog-food-recalls/ and fill out our Recall Alert form. We will ONLY email this list in the event of an actual recall. Once we stop watching for Recalls I will remove this statement.
We also encourage everyone to bookmark the site for future reference.
Latest Recalls List (from newest to oldest):
We did not find any recalls for ZiwiPeak pet foods.
Learn how we monitor for Recalls: https://dogfood.guru/dog-food-recalls/
ZiwiPeak Pet Food Coupons 2017

---
30% Off First Order + Free Shipping
on Ziwipeak Dog Food
ZiwiPeak Dog Food Reviews
ZiwiPeak's air dried dog food is called ZiwiPeak 'Daily-Dog' Air-Dried Cuisine. It comes in beef, lamb, venison, and venison and fish formulas. According to the company, their foods are 100 percent natural and what they call a "raw equivalent" diet based on the wild prey meat diet. Foods are never frozen or thawed. The air dried process makes the dry food similar to a dehydrated food, although it's not necessary to add water to rehydrate the food when you feed it. The company says they use no preservatives, fillers or grains and nothing artificial in their foods.
According to ZiwiPeak they use real meat, heart, liver, and kidney in their foods, so the 90 percent meat is a meat and organ meat diet. The remaining 10 percent of the food consists of ingredients such as cold-washed green tripe and bone, hoki fish in the fish formula and green-lipped mussels, with selected vitamins and minerals. The company says that the food is over 95 percent digestible for your dog. All of the ingredients come from New Zealand and they say they use food from farms with no antibiotics and where the livestock is grass-fed. The company says that all they add to the food, other than the meat and organs, are essential vitamins and minerals. Their foods are also GMO-free and they do not use products that contain ethoxyquin, BHA, BHT, or other artificial preservatives; and their cans use food lining that is BPA-free. ZiwiPeak says your dog won't need other supplements when you feed their food because their food contains everything a dog needs.
Foods are grain free and contain no potatoes. ZiwiPeak foods are also AAFCO approved and meet other certification standards for export.
Foods also contain green-lipped mussels. According to the company, New Zealand is the only country where green-lipped mussels are found. They are a big industry in New Zealand. Green-lipped mussels are recognized for providing glucosamine and chondroitin as well as omega-3 and 6 fatty acids.
Protein in their air dried foods is around 37 percent and the fat is around 32 percent, give or take a little.
Obviously, if you like the prey diet for dogs, you're going to love ZiwiPeak. Lots of meat and organs, no grains, and an emphasis on natural ingredients. This is an excellent food. We like the fact that ZiwiPeak provides full nutrient profiles for each air dried food on their site so you can see the nutrients in the food yourself. For instance, you should check the calcium to phosphorus ratio for each food closely if you are considering feeding one of these foods to a growing puppy, especially a large breed puppy. Some of the foods have ratios that are more appropriate for puppies than others even though the foods are AAFCO approved for all life stages. Do keep in mind that these foods are higher in fat, especially if your dog has any kind of problem with fat in the diet. But, overall, great foods.
How would you rate ZiwiPeak?
[gdrts_multi_stars_rating_auto series="gdsr-dog-food-reviews" style_size=40 style_type="font" style_font_name="star"]
Our ZiwiPeak's 'Daily-Dog' Air-Dried Lamb Cuisine Review: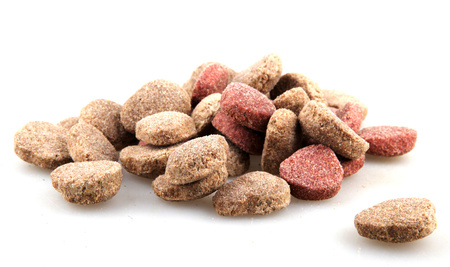 New Zealand is famous for producing probably the best lamb in the world. Some dog food companies in the United States import their lamb from New Zealand. So, we were interested in learning more about a New Zealand dog food that uses lamb from the best possible sources.
We've already discussed the fact that ZiwiPeak uses meat from grass-fed, pasture-raised sources, so that goes for the lamb used in the food, too. The air dried food is made from 100 percent natural, fresh raw meat. Along with the lamb meat, the food contains liver, tripe, heart and kidneys from lambs. That's 56 percent lamb meat and 34 percent organs from lamb, so a total of 90 percent meat and organ meat. Plus 3 percent of the food (minimum) is the green-lipped mussel discussed above which is a great for joints and as a source of healthy fatty acids.
On a dry matter basis the food contains 35 percent protein, 34 percent fat, 1 percent fiber (because it's air dried which removes the moisture like dehydration), and 10 percent carbohydrates. In this case, the fat provides a lot of the energy for your dog that is often provided by the carbs in a typical commercial dog food. We would guess that dogs eating this food probably have a lot of energy to burn. There are 1102 calories per 8 ounce cup with this food. You need to keep in mind that it's an air dried (i.e., dehydrated) food, so a little goes a very long way.
The first five ingredients in this food are:
Lamb meat
Liver
Tripe
Heart and kidney
Chicory inulin
Lamb meat is 59 percent protein, 36 percent fat, and 5 percent carbohydrates. It's a good source of Vitamin B6, Pantothenic Acid, Phosphorus and Manganese, and a very good source of Vitamin A, Riboflavin, Niacin, Vitamin B12, Iron, Zinc, Copper and Selenium. It's also a good source of omega-6 fatty acid. It's a great meat for dogs.
Liver (from lamb) is an organ meat and it's full of vitamins. It's 63 percent protein, 33 percent fat, and 4 percent carbs. It's a good source of Thiamin, and a very good source of Vitamin A, Riboflavin, Niacin, Vitamin B6, Folate, Vitamin B12, Pantothenic Acid, Iron, Phosphorus, Zinc, Copper and Selenium.
Tripe (from lamb) is the third ingredient. Most tripe that you buy in the United States is from cows. Tripe is the lining of the stomach and it can come from different animals. It's used in human cooking around the world – though not so much in the U.S. Raw tripe (not the bleached stuff in cans) is stinky and juicy and dogs love it. Tripe is also highly nutritious. It's a good source of protein, fat, and many of the same vitamins and minerals that are in lamb meat; but it also has digestive juices – it is the stomach lining, afterall.
The fourth ingredient is the heart and kidney from lamb. These organ meats are considered offal. Today many people in "advanced" countries would throw them away when preparing meat but our ancestors were wiser and knew that these organs were some of the best parts of an animal to eat. They are very rich foods and packed with vitamins and minerals for good nutrition. They are excellent foods for your dog. Raw diets – and a raw equivalent diet like ZiwiPeak – make good use of organ meats. In raw diets organ meats such as liver, heart, and kidneys are used in smaller amounts than the meat portion of the diet and that's what we find here in this food. They are too rich and too nutrient-dense to eat in large amounts at each meal.
The fifth ingredient is chicory inulin. Inulin is a dietary fiber (fructan) and prebiotic that comes from the chicory root (among other sources). It has become a popular addition to many dog foods in the last few years because of its prebiotic properties.
The food also contains fish oil – a good source of omega-3 fatty acids; kelp, a good source of trace minerals such as iodine, and chelated minerals which are usually found in better dog foods.
There's much to like in this food, especially if you like the raw equivalent diet. We think this is a very good food and we like the fact that there are just a few ingredients in the food. We also like the fact that all of the ingredients appear to come from excellent sources and there is no heavy processing here. Highly recommended.
Where can you buy ZiwiPeak?
---

30% Off First Order + Free Shipping

---

Free Shipping on Orders over $35
You can buy ZiwiPeak dog food from many online retailers such as Chewy.com, Petflow.com, Amazon.com, and Petfooddirect.com. You can also find it at some pet food retailers, especially in larger cities.