Low Sodium Dog Food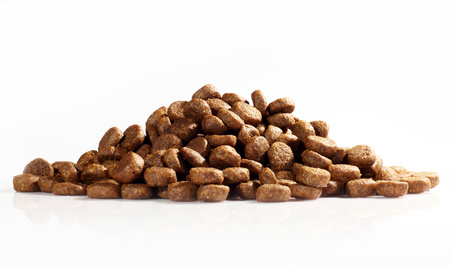 You may already be aware of the dangers associated with too much sodium in your own diet, but did you know that it can have a devastating effect on your dog's health as well? Sodium is particularly dangerous for dogs that are suffering from cardiac problems such as heart murmurs, enlarged heart, valve changes and other abnormalities. If your dog suffers from any of these issues, you need to start looking for a low-sodium dog food.
Nutritional Needs for Sodium
You should realize that sodium is an essential mineral so you do not want to remove it from your dog's diet entirely. Sodium helps to maintain fluid balance in your dog's body and it is also important for healthy nerve and muscle cell function. Natural sources of sodium in your dog's food may include meat, poultry, eggs and fish – some dog food formulas may also add table salt as a palatant.
According to the Association of American Feed Control Officials (AAFCO), the recommended amount of sodium in dry dog foods is about 0.3%. High sodium intake may lead to increased water consumption, but the excess sodium is typically excreted in urine. In healthy dogs, high sodium intake has not been shown to significantly increase blood pressure the way it is in humans. This being the case, sodium content in commercial pet foods is not a key concern for healthy dogs.
Sodium and Heart Problems
Though a healthy dog's body is capable of processing and excreting excess sodium, this may not be true for dogs suffering from heart conditions. For dogs that show no signs of heart disease, foods with a sodium content of 0.35% to 0.5% are adequate. Dogs in the early stages of heart failure, however, should be given food with no more than 0.35% sodium and dogs in advanced heart failure need to be restricted to 0.10%. If your dog is suffering from heart problems, excess sodium could result in high blood pressure or the accumulation of body fluid – both of these conditions can become very dangerous.
Recommended Low-Sodium Dog Foods
If your dog is suffering from advanced heart failure, you may need to put him on a prescription diet to meet his needs for a low-sodium food. There are also some commercial dog foods available that have low sodium. Some of the recommended brands include:
Remember, the food you offer your dog will have a significant impact on his health so you need to choose wisely. Don't rush the decision and always consult your veterinarian before making a switch.