What Is The Best Dog Food for a Basset Hound?
Many people look at the charming Basset Hound and see a comical dog that is long and low, with long ears. He's a dog that can make you laugh with his pitiful expressions. In actuality, the Basset is a very old French hunting breed dating back to the Middle Ages or earlier.
They are scent hounds with a nose that is second only to that of the Bloodhound. They are a good choice for accompanying a hunter on foot and people still use them for hunting today. Basset Hounds make wonderful family pets. They are patient, friendly, playful dogs and they get along well with children and other pets.
The breed was first recognized by the AKC in 1935 and today they are ranked 40th in popularity in the United States. The breed does have a few health issues that can be assisted by modifying the diet.
Disclosure: Please note that this post contains affiliate links, which will direct you to our partner sites. If you purchase the pet foods we recommend through those links, we may earn a small commission – at no extra cost to you.

---
30% Off + Free Shipping
on dog food for Basset Hounds
Basset Hound Nutrition & Diet
Basset Hounds typically weigh between 45 and 75 pounds (males 55-75 pounds; females 45-65 pounds). Males stand 12 to 15 inches tall at the shoulder; females stand 11 to 14 inches tall at the shoulder. So Bassets are not very tall but they pack a lot of weight into a long, low body frame. The breed is a dwarf breed, such as the Corgi, Dachshund, and other similar breeds. While this is normal for the breed, it does mean that some dogs can have a tendency toward elbow dysplasia and arthritis in the elbow joint so this should be considered when choosing a dog food. Choosing foods with added glucosamin and chondroitin can be a good idea. Basset Hounds have an average lifespan of 11-12 years which is not unusual for dogs of this weight.
By weight, the National Research Council of the National Academies recommends an average daily caloric intake of 1740 calories for an active adult Basset Hound weighing 70 pounds. Dogs that have been spayed/neutered, or that are older, may need fewer calories. Some dogs may need more calories depending on their level of activity and their individual metabolism. Growing puppies, for example, consume more calories than adult dogs and so do young adult dogs. A young adult Basset Hound weighing about 60 pounds, for example, and getting lots of exercise would need about 1671 calories per day. However, if your Basset tends to lie around the house all day with little opportunity to exercise, he would need fewer calories. These are only estimates. Every dog's metabolism is different so one dog may need more – or fewer –  calories than another.
Like all dogs, Basset Hounds require good quality protein. The Association of American Feed Control Officials (AAFCO) recommends a minimum of 22 percent protein for growth (puppies) and 18 percent protein for maintenance in adult dogs. These percentages are recommended for dogs in general. Most good quality dog foods will exceed these percentages. Fat is an important source of energy for dogs and should comprise at least 8 percent of the diet for Basset Hound puppies and 5 percent of the diet for adults. Most dog foods today have more fat than these percentages. Fat also adds flavor to dog food and makes it very appealing to your dog. Fats are also one of the sources of fatty acids such as omega-3 and omega-6 which are good for your dog's skin, coat, heart, and brain.
Dogs that are more active will require higher levels of energy from their food. This is usually supplied by the fat in the diet, but good protein is also very important. If your Basset Hound is participating in dog sports such as agility, hunting, obedience, tracking, search and rescue, or other things, he may need more calories for the energy he is using. Dogs that are putting in lots of hours in training and exercise often need more calories in their diet.
Basset Hound Health Issues
Newly-released health information for Basset Hounds in the UK. You can also visit the Basset Hound Club of America web site for health information about the breed. According to the club, the more common genetic disorders reported in Basset Hounds include: glaucoma; thrombopathia; von Willebrand's disease; hypothyroidism; patellar luxation; hip dysplasia; and elbow dysplasia (osteochondritis dissecans, fragmented medial coronoid process, ununited anconeal process).
Along with elbow dysplasia, already discussed, the breed is prone to bloat (gastric dilatation). Bloat is a common problem in many deep-chested breeds. It can be life-threatening. It occurs when air fills the dog's stomach and the stomach twists, cutting off the blood supply. Emergency veterinary care is often required to save the dog's life. For breeds that are prone to bloat, it's important to feed several small meals per day instead of one large meal. You should avoid using raised feed pans. It's suggested that dogs should not engage in heavy exercise right after eating. Foods containing citric acid may also be a contributing factor, so read the label.
According to one study, "feeding dry dog food containing rendered meat meal with bone products among the first four ingredients decreases the risk of bloat by 53 percent," but most owners shun this kind of ingredient in their dog's food. Another study suggests that eating foods that produce gas, such as soybeans or brewers yeast, may also increase your dogs chance of bloating. Although not mentioned in the article, we have to wonder if lentils would also be included among ingredients that increase gas.
For dogs that are subject to any kind of dysplasia or arthritis, it is especially important to watch the dog's weight. Don't allow your Basset Hound to become overweight or obese or it can worsen any tendency toward elbow and hip dysplasia. Putting unnecessary additional weight on your dog's bones can increase the chances that he will develop problems with dysplasia. You will need to watch his weight and calories, along with making sure he is getting enough exercise. This usually isn't a problem with puppies and young dogs, but as your Basset Hound gets older he may start to become more of a couch potato. Make sure he continues to get regular exercise as he gets older so he doesn't become overweight. Adult dogs can sometimes benefit from added supplements such as chondroitin and glucosamine. Some adult dog foods add these supplements to their formulas. Alternatively, you can buy them at your local drugstore and add them to your adult dog's diet. (Note that we do not recommend supplements for puppies for various reasons.)
We recommend measuring how much you feed, leaving the food down for 15-20 minutes, and then removing the food dish. If you have more than one dog, keep an eye on your dogs while they eat. Often dogs eat at different speeds and one dog may be greedy and eat his slow friend's food, too. Feed your dogs separately if necessary so both dogs can eat at their own pace.
Basset Hounds can also have problems with ear infections, as you might guess with their long ears. Along with keeping the ears clean and dry inside the ear canal, feeding dog food that has fewer carbohydrates is often recommended for dogs with ear infections. Note that this doesn't simply mean avoiding grains. It means fewer carbs – which can be things other than grains. Some grain free dog foods can be quite high in carbohydrates. Ear infections are often related to autoimmune issues, so you should have your dog seen by a veterinarian. Your vet may want to run some tests.
Basset Hounds can also have issues with dermatitis or skin allergies. Again, this is an issue that is sometimes related to autoimmune disease or, in some cases, specifically hypothyroidism. You can feed dog foods that are lower in carbohydrates and/or try to identify ingredients that might be food triggers for your dog; but it's also important for your veterinarian to see your dog so she can assess whether your dog has other health issues.
If your dog gains weight rapidly – especially if he is losing hair or seems lethargic – he may have a thyroid problem. This is not related to overeating. You should ask your vet to test his thyroid levels. Fortunately a thyroid problem is easily treated once it is diagnosed. Soy and some other ingredients may interfere with thyroid medication (which is a synthetic thyroid hormone), so you will probably want to avoid feeding dog foods that contain soy products. There are lots of good dog foods that are soy-free.
Note that some supplements can be harmful to dogs when given in high doses so be careful when adding supplements to your dog's diet. For example, adding supplements containing lots of kelp, which is high in iodine, can interfere with your dog's thyroid levels. More is not always better.
If your dog has allergies, he may itch and scratch and start to have some lesions and bald spots. A food intolerance can show up as gastrointestinal problems such as vomiting or diarrhea or a lot of flatulence. If you see some of these signs, talk to your vet about doing a food trial to find out if your dog has an allergy or a food intolerance.
The food you feed your Basset Hound can make a big difference with many of these health issues.
Ingredients To Look For
Like all dogs, Basset Hounds require good quality protein in their diet, like every dog. Of course, not all protein and fat are the same. It's important that these nutrients come from good quality ingredients. You can give your dog lots of protein but if it's not from a good quality source, his body won't be able to use it efficiently.
Ideally, a good dog food will feature a couple of meat proteins in the first several ingredients. The first ingredient should not be grain or some other carbohydrate. Both whole meats and meat meals are good sources of protein. Whole meats refer to ingredients such as whole chicken, beef, fish, and lamb. However, whole meats also contain lots of water. If the water from these meats were removed, they would be found lower on the ingredient list. This is because dog food companies are required by law to list ingredients by weight before cooking. The water in whole meats makes them weigh more. Some people don't like meat meals as much as whole meats but they are a concentrated form of the meat in which the water has already been removed. They contain several times as much protein as a whole meat. Meat meals are usually very good as one of the first ingredients in a premium quality dog food. They are found in many good dog foods. Less desirable are meat or animal "digests" or "by-products."
Dogs also need fat from good sources. Some vitamins are only fat-soluble and your dog needs them in his diet. But fat, like protein, varies in quality depending on the source. You should look for named fat sources such as chicken fat. Other named fats also provide needed nutrients such as fish oil which can provide omega-3 fatty acid to help keep the skin and coat healthy.
You should try to avoid artificial preservatives such as BHA, BHT, and ethoxyquin, if possible. Avoid artificial flavors, sweeteners, and colorings. Your dog doesn't need them. It's not always easy to avoid some of the less desirable ingredients, however, since they can be labeled in ways that are harder to recognize.
Advice for feeding puppies is similar to feeding adult dogs in many ways. While Basset Hounds are not a giant breed dog, since they can have issues with dysplasia and arthritis, they share some issues with large/giant breeds and you can use some of the same advice for feeding Basset Hound puppies. Slow growth is preferred. You need to look for foods with good quality ingredients, such as meat protein and named fats. Many good quality puppy foods include a compound called DHA (Docosahexaenoic acid) which has been shown to help with brain development in puppies (and children). It's also important for puppy foods to have the proper ratio of calcium to phosphorus. Nutritionists recommend that dogs have calcium and phosphorus in the ratio of 1.2 parts of calcium for each 1 part of phosphorous (1.2:1). This is particularly important while puppies are growing. You can usually find the calcium to phosphorus ratio for a puppy food on a pet food company's web site. Note that if you add supplements to your puppy's diet such as milk, cheese, yogurt, etc. while he is growing, you will disturb this ratio and it can result in health problems for your puppy now or in the future. If you are feeding your puppy a good quality food you should not need to add any supplements to it during the first year. Adding extra meat to your puppy's diet while feeding a puppy food will add more phosphorus to the diet and also upset the ratio.
The general recommendation for all puppies is that you should be able to feel their ribs but not see them. Puppies should not be allowed to become roly-poly. Exercise is good. Encourage your puppy to play. Just use good sense and don't let him do anything potentially dangerous.
Recommended Brands of Food
We have chosen some dog foods that you may want to consider for your Basset Hound. These foods take into account the fact that Bassets are a large breed (though they are low to the ground) and that they can be prone to dysplasia. We have also selected for foods that are corn, wheat, and soy-free. We always try to choose foods that do not have artificial preservatives, coloring, or flavors/sweeteners. These are just suggested foods. There are lots of other good foods and your dog may have different needs.
Best Dog Foods for Basset Hound Adults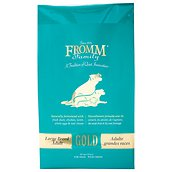 Designed specifically for large dogs over 50 pounds, Fromm Large Breed Adult Gold is one of our favorite dog foods for large dogs. It contains duck, chicken meal, and chicken as the first three ingredients. Chicken cartilage is added for a natural form of glucosamine to keep joints supple which is important for large dogs. The food contains no wheat, corn, or soy that might irritate the digestive system. Fromm Large Breed Adult Gold features moderate protein and fat which is better for large dogs. The food is moderate in terms of calories (378 kcal/cup) which helps your big dog stay slim.
We also like the fact that Fromm is a family-owned company in Wisconsin and they make their food in small batches fresh every morning. These are good ingredients from a respected company in a formula that should be good for your big dog. Your Basset Hound should stay healthy and fit with this large breed food.
ACANA Wild Prairie Regional Formula Grain-Free Dry Dog Food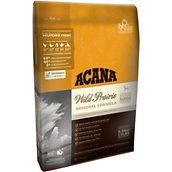 Acana is made by Champion Pet Foods, the same company that makes Orijen. Their Regional formulas, like Wild Prairie Regional, are 60 percent meat/fish from local sources. The first five ingredients are deboned chicken, chicken meal, green peas, turkey meal, and chicken liver oil. Acana is made in Champion's own facilities and the company has an excellent reputation. This particular food has 31 percent crude protein and 17 percent crude fat; with 5 percent crude fiber. Metabolic Energy for ACANA Wild Prairie Dog Food is 3615 kcal/kg (434 kcal per 250ml cup) with 30% of energy from protein, 40% from fat and 30% from fruits and vegetables. It is AAFCO-approved for all life stages. We think this food, or one of the other Acana Regional formulas, would be very good for Basset Hounds.
Victor Yukon River Salmon & Sweet Potato Grain-Free Dry Dog Food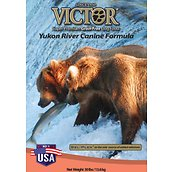 We have heard great things about Victor dog food from lots of people. Victor is made by Mid America Pet Food – a company that co-packs for some other well-known brands. Mid America is a family-owned and operated company located in east Texas. According to the company, more than 80 percent of the ingredients used in their foods come from a 200-mile radius of their facility. They currently have six highly active and sporting dog formulas; five formulas for normally active dogs; and five grain free formulas. All of their foods are free of corn, wheat, soy, gluten, and grain by-products. They use no artificial colors, flavors, or preservatives. The Yukon River Salmon formula has 32 percent crude protein, 15 percent crude fat, and 34 percent crude carbs. Seventy-six percent of the protein in the food comes from fish. We think this is a food you might consider for your Basset Hound, or check out one of Victor's other formulas.
Now Fresh Grain Free Large Breed Adult Recipe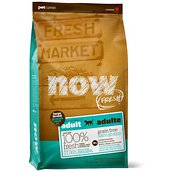 Now Fresh Grain Free Large Breed Adult Recipe is made by Petcurean. You may be more familiar with some of the other product lines from this Canadian company, such as Go!, Spike, or Summit. This food for large dogs is made from 100 percent fresh turkey, salmon, duck and 100 percent fresh omega 3 & 6 oils from coconuts and canola. It has no corn, wheat, or soy, and no other grains, gluten, or beef. It uses no rendered meats, no by-products, and no artificial preservatives.
The food does feature New Zealand green mussels and glucosamine and chondroitin for healthy joints. It has added L-Carnitine for a healthy heart and to help turn fat into lean muscle. It has taurine for good vision and heart function. And it has added pre- and probiotics for better digestion. The first ingredient is deboned turkey. The food contains 363 kcal/cup and has 27 percent crude protein and 13 percent crude fat. These levels should help your Basset Hound stay at a prime weight. We think this food has some good features for Basset Hounds in terms of bone and joint health and heart health, as well as quality ingredients.
Best Dog Foods for Basset Hound Puppies
We think that Basset Hound puppies have some special needs that are similar to large breed puppies. They often do well on good quality large breed puppy foods. These foods should have precise levels of calcium and phosphorus compared to other puppy foods which is important for large breed puppies. This ratio should be very close to the following for large breed dogs: 1.2:1. That is 1.2 parts calcium to 1 part phosphorus. You can usually find this information in the nutritional analysis for a dog food. It may or may not be included on the label but you can usually find it on the company web site.
Here are some of the puppy foods we like for Basset Hound puppies.
Fromm Large Breed Puppy Gold Formula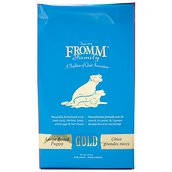 Similar to Fromm's Large Breed Gold Adult formula, this large breed puppy formula contains no corn, wheat, or soy. The first three ingredients are duck, chicken meal, and chicken. The food is formulated for puppies who will grow to be over 50 pounds as adult dogs. Protein and fat in the food are moderate, and so are the calories, to help large breed puppies grow slowly. The technical analysis for the food shows the correct calcium to phosphorus ratio for large breed puppies. Fromm Large Breed Puppy Gold formula also has added DHA-rich salmon oil for good brain and eye development in puppies. The USDA-inspected ingredients for the food are delivered fresh each morning. We think this food should help Basset Hound puppies grow slowly so they can avoid bone and joint problems as they get older.
Canidae – Life Stages Large Breed Puppy Duck Meal, Brown Rice & Lentils Formula Dry Dog Food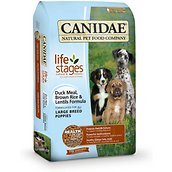 Many breeders recommend Canidae to their puppy owners and feed it themselves. You can feed an All Life Stages food or you can feed a large breed puppy food such as Canidae's Life Stages Large Breed Puppy formula which features duck meal, brown rice, and lentils. It's specially designed for puppies that will grow to be over 50 pounds as adults. Duck meal is high in omega-3 fatty acid which is good for reducing joint inflammation. Lentils are a non-grain, gluten free source of carbs. The food is also lower in protein and fat so it helps keep large breed puppies slim – which can help prevent dysplasia later in life.
As a puppy food, Canidae Life Stages Large Breed Puppy formula also contains high levels of DHA to help with cognitive development. And the food has no corn, wheat, soy, fillers, antibiotics, hormones, artificial flavors, colors, or preservatives. These are all things we look for in a good food for large breed puppies.
Best Dog Foods for the Senior Basset Hound
Many Basset Hounds live into their teen years. This means that you will probably need to consider what kind of food to feed your dog as he gets older. As your dog ages it's a good idea to plan an annual senior check-up with your vet. Many older dogs begin to put on pounds as they get older. For this reason, most senior dog foods have fewer calories and they can skimp on protein. You should watch your older dog's weight as he gets older to make sure he doesn't become overweight. In some cases you can simply cut back on the portions of his regular dog food to help him stay fit or increase his exercise.
On the other hand, very old dogs often start to have some problems metabolizing nutrients, including protein. It can become hard for them to keep good muscle tone and weight as they age. For this reason, you may wish to avoid many dog foods labeled "senior." These foods are often formulated for older dogs that have gained weight. Instead, look for a senior dog food that we like which has lots of protein. As long as your older dog doesn't have any problems with his kidneys or with phosphorus, there is no reason to avoid higher protein levels.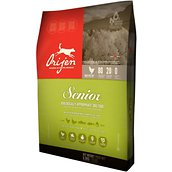 Orijen Senior provides plenty of excellent quality protein for your older Basset Hound. This food features free-run chicken and turkey, wild-caught fish, and nest-laid eggs. It helps keep older dogs in good muscle even as they become less active. Made of 80 percent meats and fish, the food is low-glycemic and has low carbs to help keep your older dog's blood sugar steady. The food also contains natural sources of glucosamine and chondroitin to keep your big dog's joints healthy. The food is 38 percent crude protein and 15 percent crude fat. It checks in at 445 kcal per 250ml/120g cup. We think this is a good food for senior dogs who often need extra protein as they get older.
Best Dog Foods for Basset Hounds with Skin Problems/Allergies
Like other dogs, some Basset Hounds can have skin problems such as allergies. If your dog is having skin trouble, it's a good idea to take your dog to the vet and get a diagnosis. This can ultimately save you a lot of money – and help your dog. You don't want to keep buying expensive dog foods thinking your dog has a food allergy if he really has a problem that's not food-related.
If your dog's skin problems are food allergies, here is a food we think might help. It is free of ingredients that commonly result in allergic reactions.
Wild Calling! Xotic Essentials Rabbit Meal Recipe
Any dog suffering from skin problems or food allergies may benefit from Wild Calling!'s Xotic Essentials recipes. Formulas like their rabbit meal recipe use exotic meats that are rare in today's pet food market so your dog hasn't eaten them before – less chance of having an allergic reaction. The foods are also highly digestible. Wild Calling! also uses what they call LITe (limited ingredient technology). They don't use any of the ingredients commonly found in most dog foods such as chicken, grain, gluten, egg, yeast, corn, wheat or soy. The foods are formulated for rotational feeding and they offer several Xotic Essentials recipes, such as kangaroo and bison, so your dog doesn't get over-exposed to one kind of meat protein. This is an All Life Stage food. We think that dogs with skin problems and food allergies can definitely benefit from these recipes. Note that products containing kangaroo parts can no longer be imported into California as of January 2017.
Best Dog Foods for Basset Hounds with Sensitive Stomachs
Some dogs are susceptible to food sensitivities that affect their digestion and excretion. If your Basset Hound has a sensitive stomach it can be an indication of a food sensitivity, which is different from a food allergy. A dog with a food sensitivity will have gastrointestinal issues such as vomiting or diarrhea. Or it could be something more serious.
A dog with a sensitive stomach can often be helped by feeding the right dog food. Sticking to a limited ingredient diet food with as few ingredients as possible can reduce the chance of your dog having a bad reaction to something in the food.
If your Basset Hound can eat potatoes, we recommend Natural Balance L.I.D. Limited Ingredient Diets Potato & Duck Formula Dry Dog Food. This limited ingredient diet food has limited sources of protein and carbs. It's also grain free and complete and balanced for puppies, adults, and senior dogs. The food should be easy for your Basset Hound to digest and it contains no artificial flavors, colors, or preservatives. Natural Balance has several LID diets, including some specifically for large breeds, but they are similar in purpose. Check the ingredients to see which ones your dog can eat.
Best Dog Foods for Overweight Basset Hounds
If your Basset Hound becomes overweight, it may be due to overfeeding and not enough exercise. You can help your dog lose weight by cutting back on his portions and encouraging him to get more exercise. Don't forget to watch the treats, too.
If your Basset Hound needs to lose more than a few pounds, however, you may need to consider a weight control dog food.
We do not recommend a weight control dog food for a puppy or a very old dog. These foods generally have fewer calories and may have some other differences in nutrients that make them inappropriate for growing puppies or older dogs who need special nutrition.
If you have a Basset Hound that needs to lose weight we recommend Merrick Grain Free Healthy Weight Recipe. We like the fact that this food has 32 percent crude protein. The crude fat percentage is between 8 and 11 percent with 5 percent crude fiber so your dog should not feel like he's starving. It is AAFCO-approved for a maintenance diet. The food has 3,210 kcal per kilogram or 360 kcal per cup ME (metabolizable energy) on an as fed basis (calculated). It is grain free and made from 55 percent beef and poultry. And it contains no corn, wheat, or soy and no ingredients from China.
Another weight management food you might consider if your dog can eat grains is Fromm Weight Management Gold. The first three ingredients in the food are turkey liver, chicken meal, and pearled barley. It has 25 percent crude protein and 10 percent crude fat, with 7 percent crude fiber. The food has 341 kcal/cup and it's AAFCO-approved for maintenance.
If your dog needs to lose weight, you should proceed slowly. No crash dieting. You should aim for your dog to lose no more than 3 to 5 percent of his body weight per month or about one percent each week.
Conclusion
Basset Hounds are a fun, playful breed though they can often show a sad expression. They make excellent family pets. Despite their slow appearance, they can be wonderful hunters and use a lot of energy in training and dog sports. Most Bassets have a hearty appetite so you will need to watch how much your dog is eating. If you are in doubt about how much to feed, see if you can feel your dog's ribs. You should be able to feel them but not see them. Otherwise, feed several small meals per day and take other precautions to avoid bloat.
Below is a list of Products reviewed in this article
Updated February 24, 2016