Best Dog Food for a Golden Retriever
Skip To Detailed Recommendations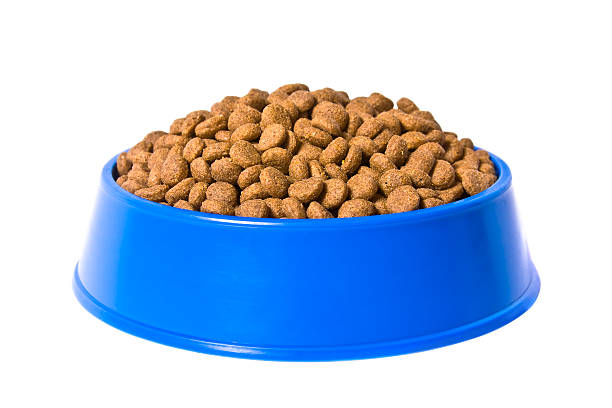 The beautiful, gentle Golden Retriever is one of the most popular breeds in the world today. They are noted for being smart and easy to train, as well as being good with children. For many people, they make an ideal family dog, especially for an active family. Goldens are large dogs and require plenty of exercise, as well as a healthy, nutritious diet. So, what's the best dog food for a Golden Retriever?
Check out our recommendations below to help you select the right formula for your pup.
Disclosure: Please note that this post contains affiliate links, which will direct you to our partner sites. If you purchase the pet foods we recommend through those links, we may earn a small commission – at no extra cost to you.
The Best Dog Food for Golden Retrievers
Most Popular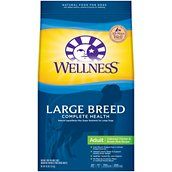 Wellness Complete Health
Wellness CORE

---
30% Off First Order + Free Shipping
on dog food for Golden Retrievers
Golden Retriever Diet And Nutrition
Golden Retrievers typically weigh between 55 and 75 pounds and stand between 21 ½ and 24 inches tall at the withers. Male Goldens are usually larger than females. Golden Retrievers are members of the Sporting group. As a breed, Golden Retrievers have an average lifespan for dogs of their size, reaching about 11 years of age.
By weight, the National Research Council of the National Academies recommends an average daily caloric intake of 1740 calories for an active adult Golden Retriever weighing 70 pounds. Dogs that have been spayed/neutered, or that are older, may need fewer calories. Some dogs may need more calories depending on their level of activity and their individual metabolism. Growing puppies, for example, consume more calories than adult dogs and so do young adult dogs. A young adult Golden Retriever weighing about 70 pounds, for example, and getting lots of exercise would need about 1876 calories per day. However, if your Golden tends to lie around the house all day with little opportunity to exercise, he would need fewer calories. Goldens, in particular, can excel at many dog sports such as hunting, agility, obedience, water sports, tracking, search and rescue, guide dog work, and many other things. Dogs that are putting in lots of hours in training and exercise often need more calories in their diet.
What To Feed Your Golden Retriever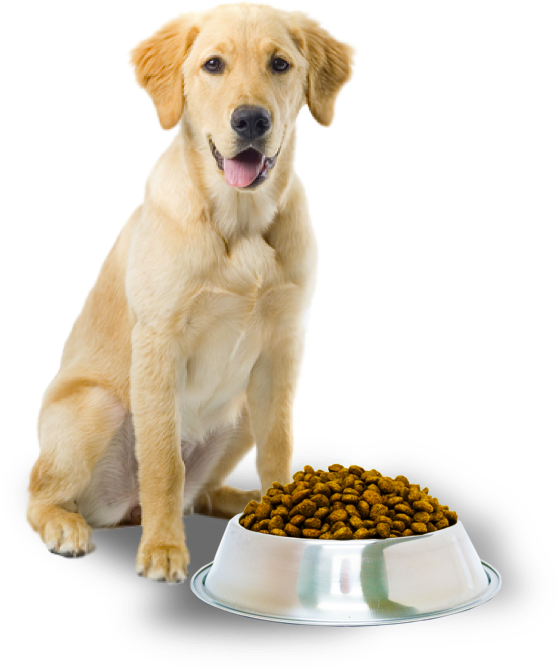 The Association of American Feed Control Officials (AAFCO) recommends a minimum of 22 percent protein for growth (puppies) and 18 percent protein for maintenance in adult dogs. These percentages are recommended for dogs in general. Most good quality dog foods will exceed these percentages. Fat is an important source of energy for dogs and should comprise at least 8 percent of the diet for Golden Retriever puppies and 5 percent of the diet for adults. Most dog foods today have more fat than these percentages. Fat also adds flavor to dog food and makes it very appealing to your dog. Fats are also one of the sources of fatty acids such as omega-3 and omega-6 which are good for your dog's skin, coat, heart, and brain.
Ingredients to look for:
Golden Retrievers require good quality protein in their diet, like every dog. Of course, not all protein and fat are the same. It's important that these nutrients come from good quality ingredients. You can give your dog lots of protein but if it's not from a good quality source, his body won't be able to use it efficiently.
Protein – Ideally, a good dog food will feature a couple of meat proteins in the first several ingredients. Both whole meats and meat meals (concentrated form of meat in which the water is removed) are good sources of protein. Whole meats refer to ingredients such as whole chicken, beef, fish, and lamb.
Fat – Dogs also need fat from good sources. Some vitamins are only fat-soluble and your dog needs them in his diet. But fat, like protein, varies in quality depending on the source. You should look for named fat sources such as chicken fat. Other named fats also provide needed nutrients such as fish oil which can provide omega-3 fatty acid to help keep the skin and coat healthy.
Avoid – You should try to avoid artificial preservatives such as BHA, BHT, and ethoxyquin, if possible. Avoid artificial flavors, sweeteners, and colorings. It's not always easy to avoid some of the less desirable ingredients, however, since they can be labeled in ways that are harder to recognize.
Recommended Brands of Food
We have chosen some adult dog foods that you may want to consider for your Golden Retriever. These foods take into account the fact that Goldens are a large breed and that they can be prone to hip and joint issues. We have also selected for foods that are soy-free, in case your dog has any thyroid issues. We always try to choose foods that do not have artificial preservatives, coloring, or flavors/sweeteners.
---
Best Dog Foods for Golden Retriever Puppies
These foods are selected for large breed puppies and are without soy, corn, and wheat. It's also very important for puppy foods to have the proper ratio of calcium to phosphorus. Nutritionists recommend that dogs have calcium and phosphorus in the ratio of 1.2 parts of calcium for each 1 part of phosphorous (1.2:1). This is particularly important while puppies are growing. You can usually find the calcium to phosphorus ratio for a puppy food on a pet food company's website. Note, you should not need to add any supplements to your puppy's diet as long as you're feeding him a high-quality food.
1
The Fromm Gold Large Breed Puppy food is a new formula that's AAFCO-approved for gestation/lactation and growth. It's loaded with health benefits like probiotics for digestion and salmon oil for a healthy skin and coat. With plenty of meat protein to nourish your growing Golden Retriever, this is a nutritious option.
Main Ingredients: Duck, Chicken Meal, Chicken, Oatmeal, Pearled Barley
Protein: 26%
Fat: 14%
Fiber: 5.5%
Calories: 384 kcal/cup
2

The Wellness Large Breed puppy formula contains all the ingredients your pup needs in his early stages of development. With the proper calcium and phosphorus levels, as well as DHA for brain and eye development, Wellness is one of the most popular options for large breed pups.
Main Ingredients: Deboned Chicken, Chicken Meal, Peas, Ground Brown Rice, Salmon Meal
Protein: 29%
Fat: 13%
Fiber: 5%
Calories: 366 kcal/cup
3

Nutro Ultra knows what a large breed needs in his earlier years. The recipe offers sources of glucosamine and chondroitin, antioxidants, and healthy protein, with absolutely no artificial colors, flavors, or preservatives.
Main Ingredients: Chicken, Chicken Meal, Whole Brown Rice, Brewers Rice, Whole Grain Oatmeal
Protein: 26%
Fat: 13%
Fiber: 4%
Calories: 353 kcal/cup
---
Best Dog Foods for Adult Golden Retrievers
Once your dog has reached his full growth, you can start feeding his a large breed adult dog food. The top three best dog foods for Golden Retrievers are outlined below.
1

Wellness Complete Health Adult is a lot like the puppy formula, but it has optimal nutrient levels for a full-grown Golden Retriever. It's AAFCO-approved for maintenance, contains tocopherols to support eye health, and has ingredients for healthy joints.
Main Ingredients: Deboned Chicken, Whitefish, Chicken Meal, Ground Brown Rice, Oatmeal
Protein: 25%
Fat: 11%
Fiber: 5%
Calories: 336 kcal/cup
2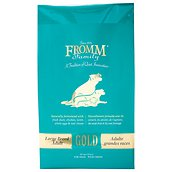 Fromm Gold Large Breed is made by a family-owned company and contains some of the freshest, safest ingredients on the market. It's AAFCO approved for maintenance and offers your pup probiotics for digestion and DHA for healthy skin and coat.
Main Ingredients: Chicken, Chicken Meal, Chicken Broth, Oat Groats, Pearled Barley
Protein: 23%
Fat: 12%
Fiber: 5.5%
Calories: 377 kcal/cup
3
Wellness Core Large Breed formula is made with premium ingredients that don't have any by-products or fillers. This recipe contains glucosamine and chondroitin for healthy joints, as well as antioxidants, omega fatty acids, and probiotics for digestive health. Golden Retrievers that have a high activity level will do well on this food.
Main Ingredients: Deboned Chicken, Chicken Meal, Turkey Meal, Potatoes, Peas
Protein: 34%
Fat: 12%
Fiber: 6%
Calories: 346 kcal/cup
---
Best Dog Foods for Senior Golden Retrievers
As your Golden Retriever ages, it's important to reconsider what you're feeding him. He may need a senior formula or something with higher protein to maintain muscle tone. Chat with your vet about what's best for your pet, but two of the top-selling formulas for senior Goldens are outlined below.
1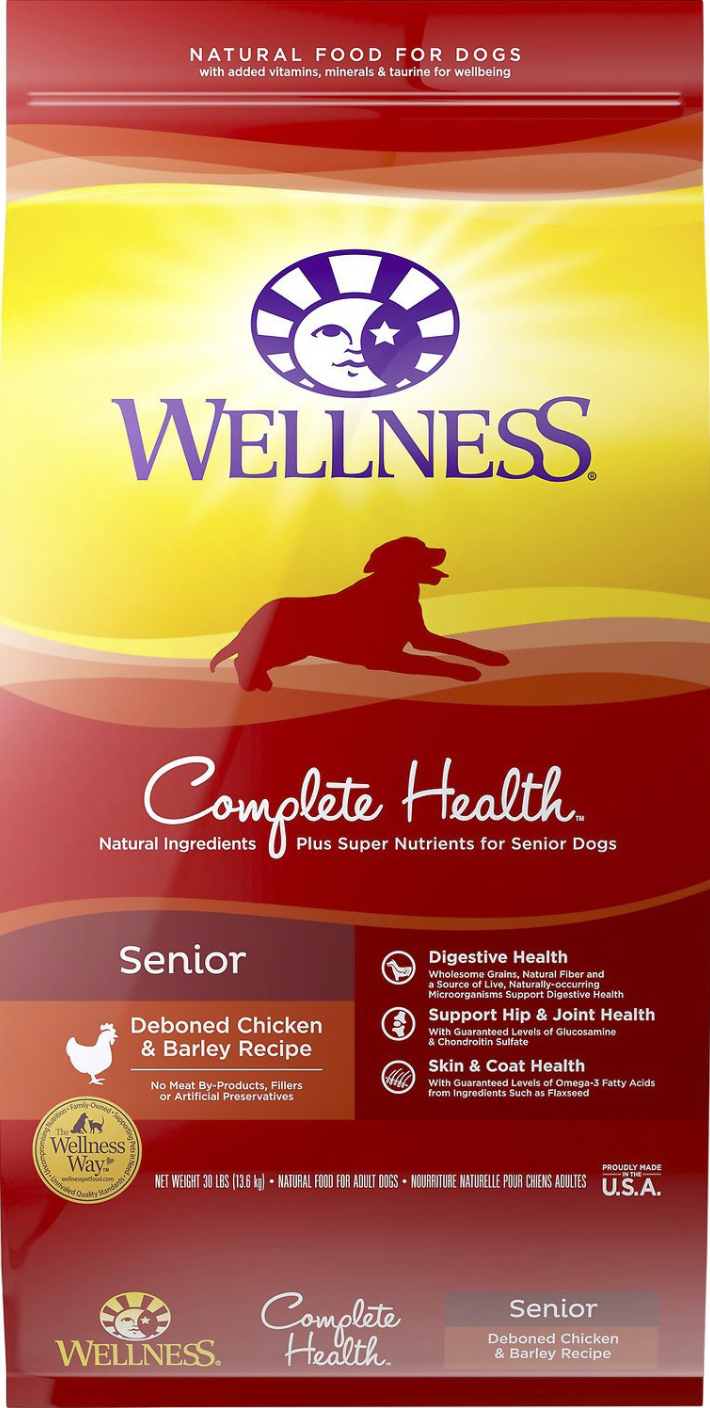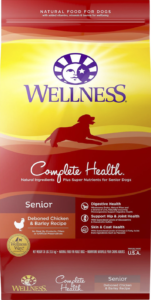 Wellness Complete health provides healthy, fresh ingredients for your senior Golden Retriever. With glucosamine and chondroitin, this recipe will keep your older dog's joints healthy. Additional benefits include taurine for heart health, as well as easy-to-digest ingredients that are free of wheat, soy, meat by-products, corn, artificial flavors, colors, and preservatives.
Main Ingredients: Deboned Chicken, Chicken Meal, Oatmeal, Ground Barley, Ground Brown Rice
Protein: 22%
Fat: 10%
Fiber: 4.25%
Calories: 416 kcal/cup
2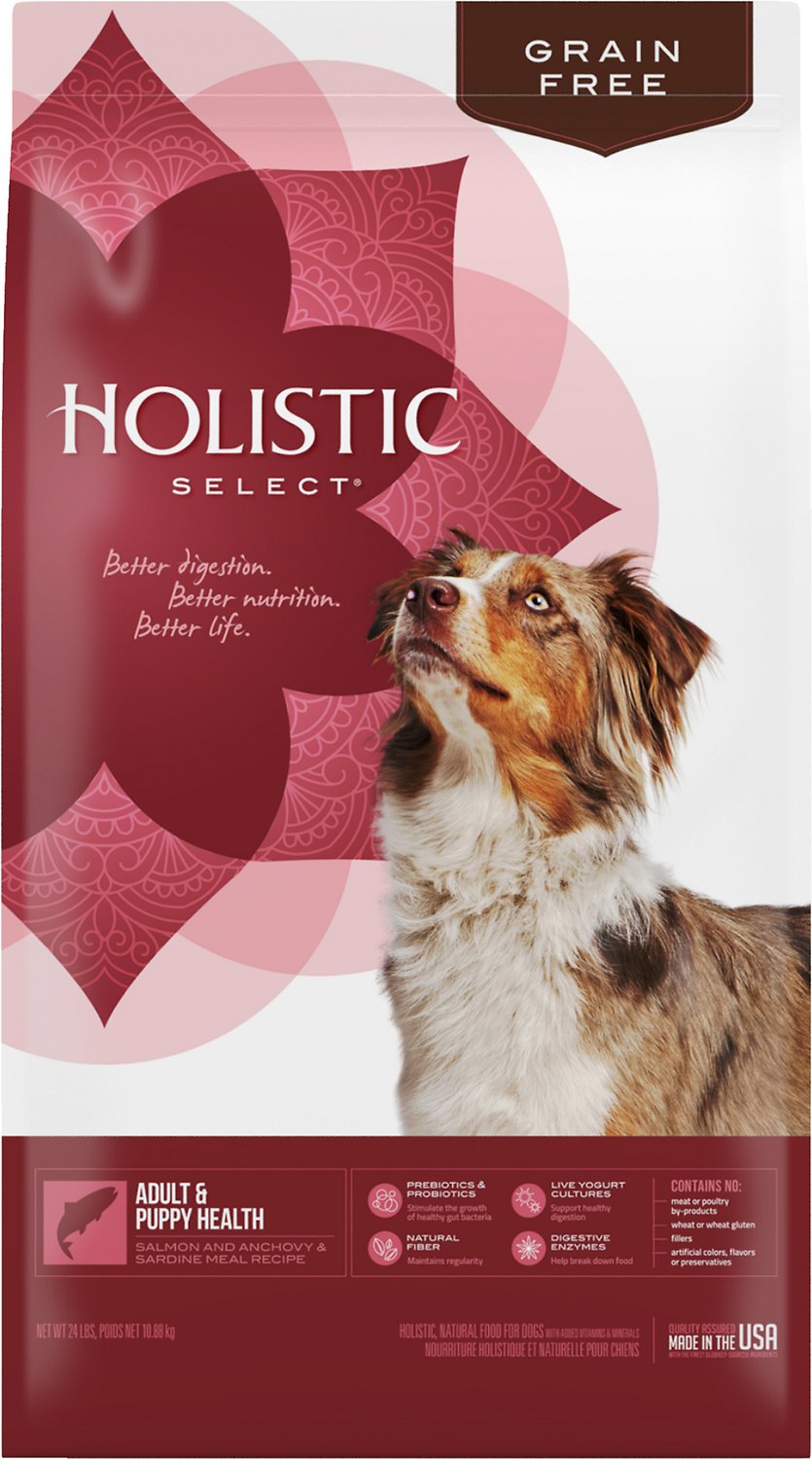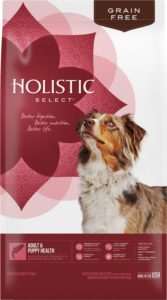 Holistic Select is highly touted by customers, earning 4.7 stars on Chewy. With alternative meat proteins like salmon, older dogs should with sensitivities or allergies should be able to enjoy this recipe. Higher protein levels keep your Golden Retriever's muscles toned, and probiotics, as well as other digestive enzymes, help your senior dog's digestive system.
Main Ingredients: Salmon, Anchovy and Sardine Meal, Potatoes, Peas, Menhaden Fish Meal
Protein: 29%
Fat: 14%
Fiber: 5.5%
Calories: 448 kcal/cup
---
Additional Dietary and Health Concerns
Hips, elbows, eyes, and hearts are considered the "big four" for Golden Retrievers in terms of health. The food you feed your Golden Retriever can make a big difference when it comes to his health. Commonly, this breed is prone to hip/elbow dysplasia, hypothyroidism, and food allergies.
When it comes to hip/elbow dysplasia, it's especially important to feed your Golden Retriever a diet for large breed puppies to encourage slow growth. Rapid growth in puppies is one of the factors that can lead to dysplasia and bone/joint problems later in life. Obesity is another factor, which is why you should help your dog maintain a healthy weight and active lifestyle.
Some Golden Retrievers can also have issues with allergies and with hypothyroidism. If your dog gains weight rapidly – especially if he is losing hair or seems lethargic – he may have a thyroid problem. This is usually not a food issue, so your vet will need to prescribe a medication to help.
If your dog has allergies, he may itch and scratch and start to have some lesions and bald spots. A food intolerance can show up as gastrointestinal problems such as vomiting or diarrhea or a lot of flatulence. If you see some of these signs, talk to your vet about doing a food trial to find out if your dog has an allergy or a food intolerance.
For more dog food suggestions for your Golden Retriever, head over to the Large Breed Dog Food Buyer's Guide.
Below is a list of Products reviewed in this article
Chewy Sales