What Is The Best Dog Food For A Papillon?

The Ultimate Papillon Food Buyer's Guide
Often referred to as the "butterfly dog" because of their widespread ears, the Papillon is one of the oldest of the European toy breeds. They have been bred to be a small companion dog at least as far back as 15th century. Dogs of this type can be seen in paintings from the Italian Renaissance. At the time the dogs were considered dwarf or toy spaniels. They were popular at the French court and with newly wealthy middle class families in Belgium and Holland. The toy spaniels of that era had long ears but otherwise resembled the Papillons of today. The drop-earred variety is still seen today and is known as the "Phalene." Other Papillons have erect ears, with the butterfly look. The erect ears seem to have first appeared in the breed in the late 1800s. The breed was first recognized by the AKC in 1915.
Papillons are typically outgoing, friendly, elegant little dogs. They normally get along well with other dogs and with cats. They can be a good pet for most people but care should be taken if you have a home with small children or with large, boisterous dogs. The Papillon is a small, somewhat delicate breed and they can be seriously injured or even killed by unintentional rough play. A small Papillon racing around may look like prey to a big dog. Papillons love to be with people and will happily curl up in your lap to spend time with you. Otherwise, these are active, lively dogs. They will normally bark to give an alert but they are not particularly yappy little dogs. They are considered easy to groom and easy to train. Today the Papillon is the 49th most popular breed in the United States.
Disclosure: Please note that this post contains affiliate links, which will direct you to our partner sites. If you purchase the pet foods we recommend through those links, we may earn a small commission – at no extra cost to you.
Quick Look : Top 4 Best Dog Foods for Papillons
Food
Price
Nutrition
Rating

Merrick Grain Free Real Texas Beef & Sweet Potato Dry Dog Food
Read Reviews Where To Buy

$2.92/lb
*New Formula* ACANA Grasslands Regional Formula Grain Free Dry Dog Food

$3.08/lb
Victor Yukon River Salmon & Sweet Potato Grain-Free Dry Dog Food
Read Reviews Where To Buy
$2.03/lb
$1.81/lb

---
30% Off + Free Shipping
on dog food for Papillons
Nutritional Needs
Papillons stand between 8 and 11 inches tall at the withers. Show dogs may weigh between 3-9 pounds but you can expect pet male dogs to weigh 8-10 pounds; and pet females to weigh 7-9 pounds. The dog's weight should be appropriate for his/her height.
Papillons are surprisingly versatile, energetic dogs considering their size. Not only are they playful throughout their lives, but they participate in agility, obedience, therapy dog work, tracking, and other dog activities often associated with larger dogs. If you and your Papillon train or participate in any of these events, you should take this into consideration when figuring how many calories your Pap needs in his daily diet.
According to the National Research Council of the National Academies, an active adult Papillon weighing 10 pounds requires an average daily caloric intake of 392 kcal. Dogs that have been spayed/neutered, or that are older, may need slightly fewer calories. Some dogs may need more calories depending on their level of activity and their individual metabolism. For example, if you train with your Papillon (weighing 10 pounds) and do agility, you might need to feed him somewhere around 436 kcal. Growing puppies consume more calories than adult dogs and so do young adult dogs. A young Papillon puppy (4-12 months) weighing 7 pounds needs an estimated 334 kcal per day. You always need to adjust your dog's food intake based on his activity level and other factors.
Since Papillons are a toy breed, you should look for dog foods specially formulated for toy/small breed dogs. Likewise, Papillon puppies can benefit from eating puppy foods formulated for toy/small breed puppies. Or you can feed an all life stage food to puppies. These foods are also formulated for growth so they can safely be fed to puppies.
If you feed a puppy food, most breeders recommend feeding this food until your puppy reaches about 90 percent of his adult size. Many Paps will start to look like an adult as early as six months of age but they will continue to grow and mature until they are a year or even older. Some breeders, instead, recommend a puppy food for the first few months and then suggest switching to an adult food by the time the puppy is about six months of age. You should talk to your breeder about the food they recommend for their puppies since they usually have experience with how their puppies grow and develop.
Feeding Your Papillon
As with other toy/small breeds, the Papillon has a high metabolic rate. Pound for pound, they burn more calories than larger dogs. For this reason, dog foods formulated for small breeds (and small breed puppies) usually have more calories per ounce than other dog foods. If your Pap spends an hour playing with a Boston Terrier, your little dog will use up more calories than the larger dog. That's why toy/small breed foods are usually recommended for Paps and Papillon puppies.
Papillons also have very small stomachs so they can't eat a lot at one meal. It's recommended that adult dogs have at least two small meals per day. Puppies normally need about four small meals per day when they are first weaned. As with many toy puppies, Papillons can develop hypoglycemia, or low blood sugar, if they do not have small, frequent meals or snacks when they are very young. They will outgrow this tendency as their bodies develop and they are able to regulate their own blood sugar levels. You can reduce your puppy's meals to three meals per day by the time he is about six months old. When he reaches one year, you can feed him two meals per day, as an adult.
It's important to remember that puppies don't grow at a steady rate. They can experience growth spurts, just as children do. At other times they can seem to stop growing for weeks or months before they start growing again.
As with any dog, you should feed your Papillon a good quality dog food. Food that is high in animal protein is usually a good choice.
Whether you feed your dog a food with or without grains is a personal choice. Many people choose grain free dog foods because their dogs have digestive problems, food allergies or sensitivities, or skin problems. You may want to avoid the most common grains, such as corn and wheat which are often over-used in dog foods, but there are many good dog foods that use alternative grains/cereals such as oats and barley. If you still prefer to feed a grain free dog food, that should also work for your Papillon. Try a couple of foods, with and without grains, and see how your dog does on the foods so you can make your decision.
Whether you choose to feed a dry or wet/canned food is also a personal choice, especially when you have a toy dog. For many people with larger dogs, the cost of feeding a steady diet of wet/canned food can be prohibitive, especially with good quality foods. However, with a small dog like a Papillon, the cost of feeding a wet/canned diet is much more affordable. There are many very good wet/canned dog foods for you to consider.
Papillon Health Problems
According to the Papillon Club of America, the AKC parent club for the breed, Papillons are known as a healthy and long-lived breed. Most Papillons are said to stay active and playful well into their teen years. The breed has few hereditary diseases but individual dogs can have some problems that are common to other small breeds. These problems include patellar luxation (similar to a slipped kneecap in humans), open fontanels (a soft spot at the top of the skull at birth that gradually closes as the puppy grows), and problems with the dog's bite or palate.
Another health issue seen in the breed include Progressive Retinal Atrophy (PRA). This is an hereditary eye disease found in many breeds which has only recently been discovered in Papillons. It is still quite rare in the breed. Breeders can now test their dogs for this condition and register them with the Canine Eye Research Foundation (CERF).
Papillons are one of the breeds that are sensitive to anesthesia. You should discuss this issue with your veterinarian before scheduling any kind of surgery or dental procedure. The Papillon Club of America recommends the use of safer anesthetics such as isoflurane if your Pap needs an anesthetic.
Collapsed trachea is sometimes seen in Papillons. This condition is often associated with small dogs that pull against the leash, putting too much pressure on their throat. For this reason many owners prefer to use a wide martingale collar for their Pap or a small harness.
As with many toy breeds, some Papillons can have dental problems. It's important to take care of your Pap's teeth on a regular basis.
Some Papillons can have problems with allergies, including food allergies.
According to the club, it's not unusual for these little dogs to live to be 17 years of age. The average age at the time of death is said to be almost 12 years.
Ingredients to Avoid and Some to Look For
As with most dogs, when choosing a food for your Papillon you should look for a food that has good sources of protein and fat.
Ideally you will select a dog food that features two or three meat proteins in the first several ingredients listed. Both whole meats and meat meals are good sources of protein. Whole meats refer to foods such as whole chicken, beef, fish, and lamb. Some people don't like meat meals as much as whole meats but they are a concentrated form of the meat in which the moisture has been removed. They contain several times as much protein as a whole meat. Meat meals are usually quite acceptable as one of the first ingredients in a good quality dog food. They are used by many good dog food brands.
Many dog foods today, even some of the most expensive and highly touted, use lots of plant proteins such as lentils and peas. These foods often have high protein percentages on the label. When you read the guaranteed analysis it's important to consider how much of the protein in the food comes from meat and how much comes from plants. Your dog is able to digest meat protein more easily than plant protein. Meat protein is a much more natural source of protein for your dog than plant protein.
Dogs also need good sources of fat. You should look for named fat sources such as chicken fat. Other named fats also provide needed nutrients such as fish oil which can provide omega-3 fatty acid to help keep the skin and coat healthy. Puppies can benefit from DHA which is Docosahexaenoic acid. This is a specific form of omega-3 fatty acid that helps with brain and eye development. Older dogs seem to benefit from medium chain triglycerides which feature medium chain fatty acids (MCFAs). These have been found to help older dogs feel and act younger. They are often made from a combination of coconut oil and other oils.
If you want to avoid corn, soy, and wheat in your dog food, your Papillon may still be able to eat an alternative grain such as barley or oats. Or you can feed a grain free dog food that uses an alternate source of carbs that is low glycemic such as sweet potatoes. You don't have to feed a dog food with an excessively high percentage of protein but it's a good idea to keep the carb percentage low to moderate.
If your Papillon has a food allergy or food sensitivity, you may need to work with your veterinarian to identify the food triggers unless they are very obvious. There are lots of good foods with alternative meat proteins today as well as limited ingredient diets which we will discuss below.
Recommended Dog Food For An Adult Papillon
Unless your Pap has a food allergy or sensitivity or some other health problem, he should be able to eat most good quality dog foods. If your dog has a food allergy or food sensitivity you will need to try to avoid foods with ingredients that are triggers for your dog. We have listed some foods we recommend for dogs with food allergies and food sensitivities below.
We have suggested a variety of foods here for Papillons. Most of the foods we have selected do not contain corn, wheat, or soy, unless noted. Some of the foods suggested are also low-glycemic since young Papillons (especially puppies) can have problems with hypoglycemia. These foods should help prevent your dog/puppy from having sugar levels that rise and fall between meals. You may have to try a couple of foods to find which one is best for your dog. You should also keep in mind that your dog's dietary needs can change as he grows and ages so you may have to change foods to suit him.
Best Dog Foods for Papillon Adults
Food
Price
Nutrition
Rating

Merrick Grain Free Real Texas Beef & Sweet Potato Dry Dog Food
Read Reviews Where To Buy

$2.92/lb
*New Formula* ACANA Grasslands Regional Formula Grain Free Dry Dog Food

$3.08/lb
Victor Yukon River Salmon & Sweet Potato Grain-Free Dry Dog Food
Read Reviews Where To Buy
$2.03/lb
$1.81/lb

Merrick Lil' Plates Grain Free Real Chicken & Sweet Potato Recipe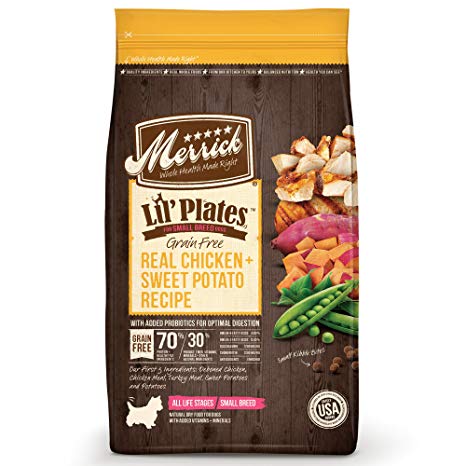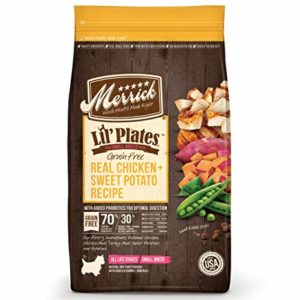 Merrick Lil' Plates Grain Free Real Chicken & Sweet Potato Recipe has 70 percent poultry and fish ingredients. It has smaller kibble pieces so it's easier for small dogs to eat. The first three ingredients in the food are Deboned Chicken, Chicken Meal, and Turkey Meal. The food has added glucosamine and chondroitin (1200 mg/kg each), and added DHA, omega 3 and omega 6 fatty acids for healthy heart, skin, and coat. And it has added probiotics. Gluten free, no corn no wheat, no soy, high protein, grain free. It has 38 percent crude protein and 17 percent crude fat, with 3.5 percent crude fiber with 430 kcal/cup. We think this is a good food for many small breed dogs. Merrick has a complete line of "Lil' Plates" foods for small dogs, including both dry and wet recipes.
*New Formula* ACANA Grasslands Regional Formula Grain Free Dry Dog Food
Champion Pet Foods has completed their new kitchen in Kentucky and they have reformulated some of their dog and cat foods to reflect what is "regional" to the Kentucky area. So, it's still the same award-winning company, but some Acana foods will be made in Kentucky. We've had a chance to review the Acana dog and cat foods and there are some changes in the meat proteins but the foods still look good. If you visit the Acana web site you can view the old and new formulas to see the changes (we really like being able to compare the formulas). The old Grasslands formula, for example, was heavy on lamb, duck, whitefish, and lentils. The new formula features goat meal and catfish meal, in addition to the lamb and duck. The old formula has 31 percent crude protein, 17 percent crude fat, 5 percent crude fiber, and 10 percent moisture. The new formula has 33 percent crude protein, 17 percent crude fat, 6 percent crude fiber, and 12 percent moisture. The food has 70 percent animal protein ingredients and 30 percent vegetables, fruits, and botanicals. No grains, potatoes, or tapioca. If you're looking for a good grain free dog food for your Papillon that is low in carbohydrates, we think that the Acana foods are a good choice. Acana foods typically have slightly less meat protein than Orijen (made by the same company), but we think they're a good choice for many dogs.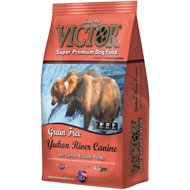 Victor Yukon River Salmon & Sweet Potato Grain-Free Dry Dog Food
Victor dog food has something of a cult following. People who feed it really seem to love it. It's made by Mid America Pet Food – a company that co-packs for some other well-known brands. Mid America is a family-owned and operated company located in east Texas. According to the company, more than 80 percent of the ingredients used in their foods come from a 200-mile radius of their facility. They currently have seventeen formulas available. They have foods that are free of corn, wheat, soy, gluten, and grain by-products. They use no artificial colors, flavors, or preservatives. The Yukon River Salmon formula has 32 percent crude protein, 15 percent crude fat, and 34 percent crude carbs. Seventy-six percent of the protein in the food comes from fish. We think that many Paps would do well on this food. Or you could check out one of Victor's other foods. People who feed Victor are devoted to this brand. Considering the ingredients, their foods are very reasonably priced.
Because of their small size, we recommend a good small breed dog food for Papillons like Fromm Small Breed Adult Gold. Fromm is a family business that has been making dog food for generations in Wisconsin. The first three ingredients in this food are duck, chicken meal, and chicken. It has some grains such as oatmeal, pearled barley, and rice, but we think these are good fibers and good for digestion. The food is also enhanced with probiotics to aid digestion and salmon oil which is good for the heart, skin, and coat. This is a food for growth and maintenance with 416 calories per cup. We hear great things about Fromm from everyone who feeds it.
Best Dog Foods for Papillon Puppies
Papillon puppies can usually begin eating a puppy food right after they are weaned or they can eat a good all life stage food. Some people like to feed a puppy food for a few months and then switch over to an all life stage food when their puppy is a few months old. If you have questions about how to feed your puppy, we recommend talking to your puppy's breeder. They usually have the most experience with raising Papillon puppies and can guide you.
Puppy foods should have a calcium to phosphorus ratio of about 1.2 parts calcium to 1 part phosphorus, though there is some slight room for variation such as 1.5:1.2. It's also important that dog and puppy foods do not have an excess (or deficiency) of calcium since this can affect bone growth. If you are feeding your puppy a food that is properly formulated, you should not add any extra calcium, such as milk, cottage cheese, or other calcium supplements. Doing so can lead to serious health problems such as OCD (osteochondritis dessecans) – painful bone spurs that may require surgery – and other orthopedic problems.
Here are some of the puppy foods we like for Papillon puppies. Remember that an all life stage food can also be fed, as long as the nutrients are appropriate for your puppy.
Canidae Grain Free Pure Foundations Puppy Formula
Canidae Grain Free Pure Foundations Puppy Formula is a limited ingredient food with nine ingredients plus vitamins and minerals and probiotics. It's grain free with probiotics to help digestion; antioxidants for a healthy immune system; and omega 3 and 6 to support healthy skin and a beautiful coat. The first five ingredients are Chicken, menhaden fish meal, lentils, peas, potatoes. The recipe is supposed to be especially good for puppies with sensitive digestion. The food has 30 percent crude protein, 12 percent crude fat, 4 percent crude fiber, and 10 percent moisture. This food checks in at 520 kcal/cup, so it's high in calories but active, growing Papillon puppies can usually burn them off. Just remember that you don't need to feed a lot of food with these very nutrient-dense foods. If your Papillon puppy does well on this puppy food, Canidae has some good adult foods – both grain free and foods with grains.
Annamaet Ultra is an all life stage formula that is suitable for puppies and small breeds as well as performance dogs. It has 32 percent crude protein and 20 percent crude fat. The calcium to phosphorus ratio makes it a good fit for growing puppies. It comes in at 480 kcal/cup. The first ingredient is chicken meal, followed by brown rice, and chicken fat preserved with mixed tocopherols in the form of Vitamin E. Annamaet uses algae as a source of omega-3 fatty acid for good skin and coat, and healthy heart development. The food also contains DHA for good brain development. It also features chelated minerals so they are more easily digested. The chicken is raised free of antibiotics. This food is ultra dense in energy which makes it a good choice for growing small breed puppies like Papillons. Since this is an all life stage food, you can go on feeding it as your puppy gets older and becomes an adult. People who feed this food seem to love it.
Best Dog Foods for the Senior Papillon
It's not unusual for many Papillons to live into their teen years. This means that you will probably need to consider what kind of food to feed your Papillon as he gets older. As your dog ages it's a good idea to plan an annual senior check-up with your vet.
Unlike many breeds, most Papillons do not usually gain much extra weight as they get older. Many senior dog foods are formulated with the belief that older dogs are overweight and need to lose pounds so they often have less fat and fewer calories than regular dog food. If you have an older Papillons, be sure to carefully read dog food labels so you don't accidentally buy a food that has too few calories for your older dog.
Senior Papillons, like many older dogs, can start to have problems metabolizing nutrients, including protein. They may start to lose muscle tone and weight as they get older. Look for a senior dog food that has plenty of protein that is easy to digest. As long as your older dog doesn't have any problems with his kidneys or with phosphorus, there is no reason to avoid higher protein levels.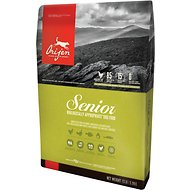 Orijen Senior provides plenty of excellent quality protein for your older Pap . This food features deboned chicken, deboned turkey, yellowtail flounder, whole eggs, and whole Atlantic mackerel. It helps keep older dogs in good muscle even as they become less active. Made of 85 percent meats and fish, the food is low-glycemic and has low carbs to help keep your older dog's blood sugar steady. The food also contains natural sources of glucosamine and chondroitin to keep your Pap 's joints healthy. The food is 38 percent crude protein and 15 percent crude fat. It checks in at 414 kcal per 8 ounce cup. We think this is a very good food for senior dogs who often need extra protein as they get older. (We know Orijen is expensive but this food really stands out for senior dogs.)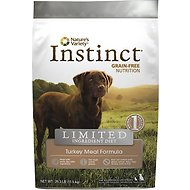 Many older Papillons can also thrive with wet/canned foods. As dogs age, their senses can start to dull, including their sense of taste and their sense of smell. Dry dog food may not be as appealing anymore. If your Pap is no longer very interested in kibble, try feeding him a good canned food. We like Nature's Variety Instinct Limited Ingredient Canned Dog Food – Turkey for older dogs. This food has one animal protein source and no grains or glutens. The ingredients are easy to digest. It has no potatoes, dairy, eggs, chicken, beef, or fish. It has added omega 3 and omega 5 for healthy skin and coat. And, since it's formulated for dogs with food sensitivities, it's easy on an older dog's digestive system. It's still high in protein and the canned formula should be appealing to many older dogs. Instinct has several other canned LID diets available as well as a LID kibble for small breed dogs.
Best Dog Foods for Papillons with Skin Problems/Allergies
As mentioned earlier, Papillons can have some allergies and skin problems. If your dog needs to avoid common proteins, you can try this food.
Wild Calling! Xotic Essentials Rabbit Meal Recipe
Any dog suffering from skin problems or food allergies may benefit from Wild Calling!'s Xotic Essentials recipes. Formulas like their rabbit meal recipe use exotic meats that are rare in today's pet food market so your dog hasn't eaten them before – less chance of having an allergic reaction. The foods are also highly digestible. Wild Calling! also uses what they call LITe (limited ingredient technology). They don't use any of the ingredients commonly found in most dog foods such as chicken, grain, gluten, egg, yeast, corn, wheat or soy. If your Papillon has a food allergy, he may benefit from Wild Calling! The foods are formulated for rotational feeding and they offer several Xotic Essentials recipes, such as kangaroo and bison, so your dog doesn't get over-exposed to one kind of meat protein. This is an All Life Stage food. We think that dogs with skin problems and food allergies can definitely benefit from these recipes.
Another food that is often recommended for dogs with food allergies and skin problems is Zignature. It comes in proteins such as trout & salmon, kangaroo, turkey, duck, venison, and others. It's available in dry and canned versions. Foods are potato- and grain-free, and chicken-free. They do not use common bonding agents (thickeners and ingredients to hold the food together) in their foods which are high in simple carbs and starches. They only use low glycemic carbs such as chickpeas that add extra protein and fiber to the food. They work with Tuffy's in Minnesota and Performance Pet in South Dakota to make their foods. Many people like Zignature very much. If you have a dog with food allergies, this is a brand that you might consider. This duck formula is a good example with hypo-allergenic meat first, no corn, wheat, soy, dairy or chicken, chicken eggs or chicken by-products.
Best Dog Foods for Papillons with Sensitive Stomachs
If your dog has a sensitive stomach it can be an indication of a food sensitivity, which is different from a food allergy. A dog with a food sensitivity will have gastrointestinal issues such as vomiting or diarrhea. Or it could be something more serious.
A dog with a sensitive stomach can often be helped by feeding the right dog food. Sticking to a limited ingredient diet food with as few ingredients as possible can reduce the chance of your dog having a bad reaction to something in the food.
We recommend Natural Balance L.I.D. Limited Ingredient Diets Sweet Potato & Fish Formula Small Breed Bites Dry Dog Food. This food is grain free with limited ingredients. It has good quality, alternative ingredients that are easily digestible for a dog with a sensitive stomach. And it contains no artificial flavors, colors, or preservatives. The first five ingredients are: Sweet Potatoes, Salmon, Salmon Meal, Canola Oil, and Potato Fiber. It has 21 percent crude protein, 10 percent crude fat, 4.5 percent crude fiber, and 10 percent moisture. It has 380 kcal/cup and it's an all life stage formula. If your dog can't eat some of the ingredients in this food, Natural Balance has lots of other LID recipes that you might check.
If your dog can't eat these ingredients, you might try one of the Weruva foods or Acana Singles. Weruva also has lots of foods with pumpkin which can sometimes help a dog with stomach issues.
Best Dog Foods for Overweight Papillons
As we noted earlier, according to the Papillon Club of America, most Papillons do not gain extra weight or become obese, but it's probably possible. If it does occur, it may be due to overfeeding and not enough exercise. You can help your dog lose weight by cutting back on his portions and encouraging him to get more exercise. Try reducing snacks or giving your Pap low-calorie snacks such as apple pieces instead of treats with more calories.
Papillons are such small dogs that we do not recommend doing anything to encourage them to lose more than a slight amount of weight. If your Papillon is genuinely overweight, you should probably see your veterinarian. Your dog could have a health problem.
We do not recommend a weight control dog food for a puppy or a very old dog. These foods generally have fewer calories and may have some other differences in nutrients that make them inappropriate for growing puppies or older dogs who need special nutrition.
Conclusion
The Papillon is a delightful little dog that makes a wonderful companion. These little dogs generally get along well with everyone and with all kinds of pets, as long as you are careful not to let them play with a larger, rougher friend (canine or human). Your Pap enjoys nothing more than spending time with you. Happy and intelligent, these dogs are long-lived and, for the most part, quite healthy. We hope the information provided here about their diet helps you choose the best food for your Papillon.
Below is a list of Products reviewed in this article
Updated November 16, 2016