Royal Canin Dog Food
Brief Overview
Unlike many pet food manufacturers today who try to sell pet food based on the idea that dogs are like people, Royal Canin says they believe pets are not people. They are, instead, unique animals with unique nutritional needs. They produce foods based on science and research. The company says they place their emphasis on the nutrients in the food rather than simply looking at the ingredients. In addition, Royal Canin researches nutritional formulas for specific breeds and health symptoms.
Disclosure: Please note that this post contains affiliate links, which will direct you to our partner sites. If you purchase the pet foods we recommend through those links, we may earn a small commission – at no extra cost to you.
Who manufactures Royal Canin?
Royal Canin was founded in 1968 in France by a veterinarian who wanted to produce a science-based pet food. After much growth and a series of sales, Royal Canin was purchased by Mars, Incorporated in 2001. Their global headquarters is still in France and the food is sold around the world. In the United States their headquarter is in St. Charles, Missouri. They have manufacturing facilities in Missouri and South Dakota. The company says that all the pet food they distribute and sell in the U.S. is made in company-owned plants located in the U.S. and Canada.
Royal Canin Recalls 2017
Please Read First: If this statement is still here we are actively watching for new recalls. Below you will find a history of recalls. If you would like to know as SOON as we find out about a recalls visit:https://dogfood.guru/dog-food-recalls/ and fill out our Recall Alert form. We will ONLY email this list in the event of an actual recall. Once we stop watching for Recalls I will remove this statement.
We also encourage everyone to bookmark the site for future reference.
Latest Recalls List (From newest to oldest):
Royal Canin had a recall in 2007 due to melamine in the rice protein concentrate used in some of their dry pet foods (dog and cat foods). This also included some foods sold only through veterinary clinics. We did not find any recalls since that time in the FDA database.
Learn how we Monitor for Recalls: https://dogfood.guru/dog-food-recalls/
Royal Canin Dog Food Coupons 2017

---
30% Off First Order + Free Shipping
on Royal Canin Dog Food
Royal Canin Reviews
Royal Canin produces dry and wet (canned) foods for specific breeds and specific health problems. Some of these foods are only sold through veterinarians. They also produce dog food for dogs of different sizes: x-small, mini, medium, maxi, and giant. Their breed formulas include Boxer, Chihuahua, Cocker Spaniel, Dachshund, English Bulldog, Golden Retriever and others. They make dozens of different kinds of foods for all ages and conditions of dogs. https://www.royalcanin.us/products/products
From what we can tell in browsing through a number of Royal Canin dog foods online, it looks like each one is unique in terms of ingredients and guaranteed analysis. The foods appear to be designed specifically for dogs of certain ages or breeds, as stated by Royal Canin. The information provided about health conditions agrees with what we know about breeds and their potential health issues. Most of the percentages for the foods (protein and fat, for example), look very generous. Ingredients in the foods look better than average. No, these are not "natural" or "holistic" ingredients that you will find in some dog foods. But Royal Canin has always maintained that they are devoted to scientific principles of nutrition rather than what makes owners feel good. These foods look like they would be good for dogs even if they do not contain ingredients that people want to eat.
Typical ingredients include chicken meal, chicken by-product meal, brown rice, brewers rice, oat groats, corn and/or wheat gluten meal, and chicken fat, as well as dried beet pulp, fish oil, and dried egg product. Royal Canin also appears to use chelated or proteinated minerals which are easier for dogs to digest. Chelated minerals are usually found in better quality dog foods because they are more expensive for manufacturers to buy. Some foods add L-Carnitine and other amino acids which help dogs convert fat to lean muscle. Some of the foods also feature chondroitin sulfate and/or glucosamine which are beneficial for joints. The foods are AAFCO approved for various life stages.
According to Royal Canin, they only use high quality chicken by-products such as hearts, livers, and lungs. The company says they take a number of things into consideration when formulating their foods such as kibble size, shape, and texture; the digestibility of grains; and the quality of by-products.
Royal Canin has a very good reputation, aided by their veterinary formulas which are often the only foods a dog with a health problem can eat. Royal Canin isn't a trendy brand. They don't make "natural" dog foods or try to appeal to pet owners who want dogs to eat gourmet foods. But they are respected by owners and vets who prefer foods that emphasize good nutrition based on science.
Royal Canin Consumer Ratings:
[gdrts_multi_stars_rating_auto series="gdsr-dog-food-reviews" style_size=40 style_type="font" style_font_name="star"]
Our Royal Canin German Shepherd 24 Review: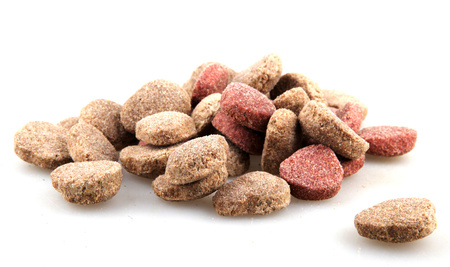 We have randomly selected Royal Canin German Shepherd 24 for our review of a Royal Canin dog food. This food is one of a growing list of breed specific dog foods offered by Royal Canin in adult and puppy formulas. This particular food is designed for purebred German Shepherds over 15 months of age. Royal Canin rightly points out that German Shepherds can have a fragile digestive system. The breed can have soft stools, digestive upset, and they sometimes bloat – a condition that can be life-threatening and which is thought to be related to food and the way the dogs eat, as well as the deep chests of the dogs, among other things. Royal Canin also points out that German Shepherds have skin that is very alkaline and sensitive. Our information about German Shepherds from breeders and others agrees with most of these statements.
Royal Canin says that their German Shepherd 24 dog food has been formulated to be more easily digestible. They also say it has soluble and insoluble fibers to help the food move through the digestive tract. The company also says the food has omega-3 fatty acid to help the sensitive skin of the German Shepherd. And the food has antioxidants, such as vitamin E, to help dogs like German Shepherds which are susceptible to muscular stress. The kibble in the food is also designed to slow down the rate of chewing and slow how fast the dogs eat.
The first five ingredients in the food are Chicken meal, brown rice, oat groats, chicken fat, and barley. The food is AAFCO approved for maintenance. It contains 343 calories per cup of food. On a dry matter basis the food has 26.7 percent protein, 19.4 percent fat, 4.6 percent fiber, and 40.4 percent carbohydrates. Keep in mind that each Royal Canin formula is formulated for a specific dog breed and is based on research. These percentages might be too high or too low for another breed.
Chicken meal is the first ingredient and it's a good source of protein for most dogs unless a dog has an allergy to chicken, of course. Chicken typically has 80 percent protein and 20 percent fat. It's a good source of vitamin B6 and phosphorus, and a very good source of niacin and selenium. Since this is chicken meal, it's already had most of the moisture removed. Since it's condensed, it contains several times as much protein per ounce as whole chicken.
The second ingredient is brown rice. Brown rice is mostly carbohydrates – 85 percent carbs, 7 percent fat, and 8 percent protein. It contains selenium and manganese. It's more nutritious than white rice but also a little harder for some dogs to digest. Brown rice (and white rice) is relatively high on the glycemic index so it gets in the bloodstream fast and provides quick energy. In order to be really beneficial to your dog, it needs to be balanced with other grains that have a lower glycemic value and which are slower to digest.
The third ingredient is oat groats. For those who don't know, oat groats are the whole oat grain. They include the hull, the cereal germ, the bran, and the endosperm that is usually milled. They are very nutritious but they aren't easy to chew, so it's important that they are soaked before cooking. Oat groats provide lots of nutrition and they are digested slowly, so they would work with a high glycemic carb such as brown rice. Oat groats are 76 percent carbs, 6 percent fat, and 18 percent protein.
The fourth ingredient is chicken fat. Chicken fat is a named fat source and a good source of fat for dogs. It's 100 percent fat. It's a good source of omega-3 and omega-6 fatty acids.
The fifth ingredient is barley. Barley is 90 percent carbs, 3 percent fat, and 7 percent protein. It's another cereal grain. It's a good source of dietary fiber and manganese. Barley is another low glycemic carbohydrate, though it does contain gluten.
Other ingredients in the food to note include rice (which is probably white rice), pork meal (more protein), wheat gluten (protein), dried beet pulp (fiber), fish oil, glucosamine and chondroitin, and the natural preservative/antioxidant rosemary. We don't find any of these ingredients objectionable with the possible exception of wheat gluten which is an allergen for some dogs. Most of these ingredients appear in lots of dog foods and are very beneficial.
The food also contains soy protein isolate and powdered cellulose. We like these ingredients much less. Soy protein isolate is "a highly refined or purified form of soy protein with a minimum protein content of 90% on a moisture-free basis." https://en.wikipedia.org/wiki/Soy_protein This ingredient has various uses in different foods, among them boosting the protein percentage in pet food. It's not that unusual for pet food companies to add ingredients to increase the protein percentage in their foods (instead of adding more meat protein). However, the problem with soybeans and some other ingredients is that they can be bad for dogs. Soy can completely mess up your female dog's hormonal cycle, for example, even if she is spayed. Male dogs can think that she's in season. If you breed dogs, soy in the food can make your female dog's cycle unpredictable or prevent conception.
Powdered cellulose in dog food usually refers to plant fibers and/or wood pulp. This is done with the blessing of the FDA.  It may not technically be harmful but some dogs have problems eating food that contains cellulose and, frankly, we don't like it in dog food. It's in lots of human foods, too, so keep that in mind the next time you see it on a label.
Overall, we like the Royal Canin philosophy of making scientifically nutritious dog food. But there are a few ingredients in this food that we can't get on board with, even if they are technically not harmful to dogs (or people). Royal Canin German Shepherd 24 is probably a good food for most German Shepherds but we have some issues with it.
Where can you buy Royal Canin?
---

30% Off First Order + Free Shipping

---

Free Shipping on Orders over $35
You can buy Royal Canin dog foods at many specialty pet food stores and online from pet food retailers. If your dog has a specific health problem, talk to your veterinarian about one of Royal Canin's veterinary formulas.