Best Dog Food for an Ibizan Hound
The Ibizan Hound (pronounced i-bee'-thin by dog people) is a sighthound from the island of Ibiza in the Mediterranean, off the coast of Spain. This is an old breed but no one is quite sure how old it is. On Ibiza the dogs are used to hunt rabbits and other small game. In the U.S. the Ibizan frequently enjoys lure coursing. Ibizans are very active so they may not be the best dogs if you live in an apartment. They are usually quiet unless there is a good reason to bark. Ibizans are usually sensitive dogs and they make good pets around children and other dogs. They can be independent and a little stubborn, like many hounds, but they respond well to positive reinforcement training. They do require a lot of daily exercise and they have a strong prey drive. If you have a fenced yard, make sure it is well-enclosed. These dogs are known for finding escape routes so they can pursue rabbits and other small animals.
Historically, some fanciers believe that the Ibizan Hound dates back thousands of years to the time of the Pharaohs in ancient Egypt. It's true that there are paintings in tombs in Egypt with dogs that resemble the Ibizan. Other similar sighthound breeds also make this claim, such as the Pharaoh Hound from Malta. Many of these sighthound breeds claim that the Phoenicians, famous world travelers in their time, took dogs from Egypt and left them on various islands in the Mediterranean (and elsewhere) as they traded. We don't have proof of this assertion but no one seems to know how various hounds that look like dogs in Egyptian art arrived on isolated Mediterranean islands. DNA evidence does not back up the idea that these are ancient breeds. The latest DNA evidence shows that the Ibizan Hound is closely related to the Pharaoh Hound and the Cirneco dell'Etna from Sicily. This is another sighthound breed that has historically been used to hunt rabbits. They are the smallest of the Mediterranean hunting hounds. It's easy to see the resemblance among these three breeds. DNA suggests they share a common origin but whether they originally came from Egypt and how they were spread around the Mediterranean are still unknowns.
The Ibizan Hound was also known in Spain and France. People would come to Ibiza to get dogs and take them back to the mainland because the dogs were such good hunters. The dogs were used to hunt rabbits and other small game. These are fast dogs, able to hunt over different kinds of terrain. They could hunt by sight, scent, and by sound, making them effective hunters. Farmers on the island typically only kept the best, keenest hunters to help feed their families through hunting. Most farmers would have one Ibizan but well-to-do farmers might keep two hounds. This was the tradition for hundreds of years in Ibiza but in recent decades, as lifestyles modernized on the island, the Ibizan Hound has been increasingly kept for sport hunting. Packs of dogs can be seen with between five and 15 hounds. There are also hunting trials to ascertain the best hounds.
The Ibizan Hound was brought to the United States in 1956. The breed was recognized by the American Kennel Club in 1978 and first appeared at the Westminster Kennel Club in 1980.
At home, Ibizans are considered to be playful, affectionate, loyal dogs. Owners describe them as being clowns. They are good with children and other dogs – though it's always good for adults to supervise when children play with dogs. Ibizans are extremely agile and athletic dogs. They do require plenty of daily exercise. You MUST have an escape-proof yard. These dogs are quite capable of leaping a fence from a standstill. Ibizans are sweet-natured, gentle dogs but if they see a rabbit, hold on! They have a super prey-drive.
Most Ibizans you will see have a short, smooth coat. They don't shed much and they are easy to groom. There are some wire-haired Ibizans but they are uncommon. Longhairs also exist but they are also uncommon.
Ibizans don't bark very much but they do make reasonably good watch dogs. They will alert you when something is wrong.
In terms of trainability, they are similar to many hounds. They tend to be independent-thinkers and they can be stubborn. They can be great problem-solvers, like figuring out how to escape the yard, but they don't always listen to what you want them to do. Ibizans are very intelligent dogs. Plus they are more emotionally sensitive than most hounds. Despite being somewhat independent, their sensitivity can make them easier to train. But you cannot use harsh training methods. They respond to patience and positive reinforcement. This is a sweet, gentle breed and you must take that into consideration when training.
Today the Ibizan Hound is the 152nd most popular breed in the U.S., according to AKC registration statistics.
Disclosure: Please note that this post contains affiliate links, which will direct you to our partner sites. If you purchase the pet foods we recommend through those links, we may earn a small commission – at no extra cost to you.
Top 4 Best Dog Foods for a Ibizan Hound
Food
Price
Nutrition
Rating
Canidae All Life Stages Chicken, Turkey, Lamb & Fish Meals Formula
Read Reviews Where To Buy 
$1.36/lb

Merrick Grain Free Real Chicken & Sweet Potato Dry Dog Food
Read Reviews Where To Buy 

$2.16/lb

*New Formula* ACANA Grasslands Regional Formula Grain Free Dry Dog Food

$3.08/lb

$1.41/lb

---
30% Off + Free Shipping
on dog food for Ibizan Hounds
Nutritional Needs
Male Ibizans are 23 ½ inches tall to 27 ½ inches. Females are 22 ½ inches to 26 inches tall. Expect males to weigh about 50 pounds. Females usually weigh about 45 pounds. You can see from these figures that the Ibizan doesn't weigh a lot for their height. They have a light body and they are usually very slim without excess weight.
Ibizan Hounds have a certain deer-like elegance. Athletic and agile, they can burn up lots of calories in a day. In addition to lure coursing, they can be good at obedience, agility, rally, hunting, and even work as a service dog. If your dog is lure coursing or the two of you are training for agility or other activities, you should take that into account when determining how many daily calories your dog needs.
Growing puppies and young adults use a lot of energy. They require a diet that features good quality protein. According to the National Research Council of the National Academies, a normally active adult Ibizan Hound weighing 50 pounds requires an average daily caloric intake of about 1312 calories. Dogs that have been spayed/neutered, or that are older, may need slightly fewer calories. Some dogs may need more calories depending on their level of activity and their individual metabolism. If your Ibizan Hound (50 pounds) is participating in lure coursing on the weekends you may need to bump up your dog's daily calories to somewhere between 1457 and 2915 kcal/day, depending on how much work he is doing. Growing puppies will also consume more calories than adult dogs and so do young adult dogs. an Ibizan Hound puppy weighing 25 pounds (4-12 months of age) needs an estimated 866 calories per day.
With their typical height and weight, we consider the Ibizan Hound a medium-sized breed. Judging by the breed's OFA data, it doesn't appear that hip dysplasia is a significant problem in the breed. You shouldn't need any special foods for puppies or adults based on the Ibizan Hounds growth rate or size.
Dog breeders in general recommend that you do not add supplements to a good, balanced commercial puppy food. Over-supplementation or supplementation of the wrong thing can upset the nutrient balance of a food. This is particularly important with puppies when bones are developing. Adding extra calcium or other supplements to your puppy's diet can lead to skeletal problems later and perhaps a need for surgery.
Most breeders recommend feeding a good puppy food until your puppy reaches about 90 percent of his adult size. You can also feed an all life stage dog food (sometimes AAFCO-approved for "growth and reproduction") to puppies. Just make sure to check the nutrients to make sure they are suitable for puppies – especially the calcium levels and calcium to phosphorus ratio. You should talk to your breeder about the food they recommend for their puppies since they usually have experience with how their puppies grow and develop. Not all puppies will grow at the same rate, even in the same breed, so your puppy's breeder is usually your best source of advice.
Protein is very important for your dog's diet. The Association of American Feed Control Officials (AAFCO) recommends a minimum of 22 percent protein for growth (puppies) and 18 percent protein for maintenance in adult dogs. Most good quality dog foods will far exceed these percentages. Fat is an important source of energy for dogs and should comprise at least 8 percent of the diet for Ibizan Hound puppies and 5 percent of the diet for adults. Most dog foods today, regardless of the quality, have much more fat than this recommended amount. Choosing food with good quality sources of protein and fat is as important as the percentages.
Feeding Your Ibizan Hound
While some people like to feed their Ibizans a raw or homemade diet, you should be able to choose a good commercial dog food for your puppy or dog. The breed can eat many good quality dog foods. However, like any dog, they do require good quality nutrition.
According to sources we found, the Ibizan is considered to be a primitive breed, largely unchanged for centuries on Ibiza. They lived a simple life with farmers and ate a simple diet that likely had modest amounts of meat protein. For this reason, we recommend a similar moderate, healthy diet today, with good but moderate amounts of meat protein. This is a very active breed and they do need plenty of calories for all the energy they use but you still have to watch the fat and calories. We suggest animal protein sources such as chicken, fish, rabbit, and eggs. Grains such as pearled barley, oatmeal, and brown rice should be all right. Good foods for the Ibizan should also have omega fatty acids (3 and 6), glucosamine and chondroitin, prebiotics, probiotics, antioxidants, along with vitamins and minerals. Common vegetables such as carrots and sweet potatoes (and others); and fruits and berries such as apples, cranberries, and blueberries round out healthy ingredients for their nutrition.
You can avoid filler ingredients, artificial preservatives, sweeteners, dyes, and over-used grains such as corn and wheat. But unless you are philosophically opposed to all grains and cereals, there doesn't seem to be a reason to avoid grains like oatmeal, barley, or even a little rice. If you wish to avoid grains completely or your dog has allergies to certain grains, you can also choose grain free foods that do not have any oatmeal, barley, or rice.
The Ibizan Hound is a medium-sized breed but they are one of the breeds with a deeper chest that can be predisposed to bloat. Bloat (gastric volvulus and dilatation) is a condition in which the stomach expands with air. The stomach twists on itself, cutting off blood flow and causing gastic torsion (a potentially fatal condition). Bloat require immediate emergency treatment from a veterinarian. We recommend following the same feeding protocol used for other sighthounds. Feed several small meals per day throughout your Ibizan Hound's life. Puppies may need 4-5 meals per day. Adult Ibizans may need 3-4 small meals per day. Feeding one large meal per day can encourage dogs to eat fast, gulping in air which can be a trigger for bloat. Many other ideas about what does and does not contribute to bloat are still in dispute, but everyone seems to agree that multiple small meals spread throughout the day are beneficial.
Again, you should resist the urge to try to "fatten" your Ibizan Hound by giving him extra food. These dogs naturally have low body fat. They are supposed to be lean in appearance. Feed your Ibizan Hound an appropriate amount of food and don't try to make him gain more weight even if your veterinarian or neighbors protest. If your vet is concerned, show him photos of how the breed is supposed to look. (We have great respect for vets but the Ibizan Hound is a relatively rare breed. It's possible that your vet may not be familiar with them.)
Good quality, moderate puppy foods are also recommended.
From the breed health information we found, it appears that some Ibizan Hounds can have problems with allergies, but that it's not a widespread problem in the breed. However, it's always possible that your dog could be one of the dogs that has an allergy. Keep in mind that there are different kinds of allergies: inhalant, contact, flea bite, and food. Many dog lovers automatically think of food allergies when you mention allergies, but flea bite allergies and inhalant allergies actually account for far more allergic reactions in dogs than food allergies. So, if your Ibizan Hound seems to be having an allergic reaction, with itching, scratching, redness, etc., it may not be due to the food he's eating. Or, it might be food-related.
Working with your veterinarian can help you identify the kind of allergy your dog has. If it turns out that your Ibizan Hound does have a food allergy, your veterinarian can help you identify the specific ingredients that trigger your dog's reaction so you can avoid it. However, you should be aware that if your dog does have a food allergy, there is a good chance that he will develop reactions to more foods/ingredients as he gets older. You will probably have to change food again in the future so be alert to your dog's reaction to his food.
If your Ibizan Hound has problems with diarrhea, vomiting, flatulence, or a gurgly stomach when he eats, this is not a food allergy. It's probably a food sensitivity. If you've seen the movie Along Came Polly with Ben Stiller and Jennifer Aniston, you probably recall the scene where they eat at an ethnic restaurant and Ben Stiller's character is in agony. Some people – and dogs – have food sensitivities to certain foods, spices, etc. If your Ibizan Hound has a food sensitivity you will need to try to determine the cause so you can avoid the ingredient(s). It's often a good idea to feed a dog with a food sensitivity a food with a minimal number of ingredients so there is less chance of giving him something that could upset his gastrointestinal system. Keep his food simple and fairly bland.
Whether you feed your dog a food with or without grains is a personal choice. Many people choose grain free dog foods because their dogs have digestive problems, food allergies or sensitivities, or skin problems. You may want to avoid the most common grains, such as corn and wheat which are often over-used in dog foods, but there are many good dog foods that use alternative grains/cereals such as oats and barley. You can try a couple of foods, with and without grains, and see how your dog does on the foods so you can make your decision.
Keep in mind that food allergies are based on the proteins in foods and not carbohydrates. The most common dog food allergens are: beef, dairy, chicken, lamb, fish, corn, wheat, and soy. While we usually think of ingredients such as corn and wheat as sources of carbohydrates, these cereals/grains also contain proteins. When dogs (or people) have allergies to these ingredients, they are reacting to the proteins and not the carbs. There can be other good reasons to avoid lots of carbohydrates in your dog's food, but allergies are usually protein-related.
Otherwise, try to feed your Ibizan Hound a good quality diet that has good sources of meat protein. It's easier for a dog to digest good meat protein than protein that comes from poor quality sources of animal protein that may be found in some cheaper dog foods. Dogs also digest animal protein more easily than plant protein for the most part. (Sure, a pet food company can cook peas and lentils to a mushy consistency to make them easier to digest but your dog will get more complete nutrition from animal protein and it will agree with him better.) This doesn't mean you have to buy the most expensive dog food available but you should look for good quality foods with good quality ingredients. They are better for both the short-term and long-term health of your dog.
It's also a good idea to select a food that has fewer carbohydrates. Contrary to popular belief, this doesn't necessarily mean grain free. Many grain free dog foods are loaded with carbs. Potatoes and sweet potatoes, for example, can send carb percentages very high. And some dog foods with grains have modest amounts of carbohydrates. We recommend doing a little math when you're considering a dog food and figuring out the dry matter basis so you can tell what the actual protein, fat, and carbohydrate percentages are in a food.
For medium and larger size dogs, it's usually easier on the pocketbook to feed kibble instead of canned food. Kibble costs less per ounce than canned food. Canned food can have more protein than kibble (on a dry matter basis) but some dry dog foods today have extremely high percentages of meat protein. They can also be very expensive. Again, some of these things are personal choices that you have to make for yourself depending on your budget. You can find very good kibbles with good meat protein for reasonable prices, especially if you order online from sites like Chewy.com and Amazon.com. We always recommend that you figure the dry matter basis for the foods you are considering, whether they are canned or kibble, so you can make a good comparison of the protein, fat, fiber, carbs, and other nutrients.
Theoretically, when you buy and feed better quality dog food you feed your dog less food. Unfortunately, we do not find that to always be the case. If you are used to feeding two scoops of the old food, for example, you may continue to dish out two scoops of the new ultra super max premium dog food – which has double the calories. And your dog happily eats all the food. Next thing you know, Fido is the size of a house. If you are switching foods, make sure you check the label and see how many calories the food has. Have a good idea how much food you need to feed so you don't accidentally overfeed your dog. It's very easy for a dog to become overweight before you really notice!
And, of course, keep plenty of fresh water available for your dog at all times. Grain free foods with higher protein percentages, especially, can make dogs very thirsty, so keep the water bowl full.
Ibizan Hound Health Problems
As with many of the sighthound breeds, the Ibizan Hound has few hereditary diseases. However, like most dogs, the breed does have some potential health problems, even if most of them are rare.
Health problems that can appear in individual dogs include seizures, allergies, axonal dystrophy, cataracts, retinal dysplasia, and deafness. As with other sighthounds, the Ibizan Hound is very sensitive to barbiturate anesthesia.
The Ibizan Hound Club of the United States (IHCUS) recommends the following health tests for Ibizan Hounds:
Eye Examination by a boarded ACVO Ophthalmologist
Here are the current Orthopedic Foundation for Animals (OFA) statistics for the Ibizan Hound.
Evaluations through December 2016
Registry

Rank

Evaluations

Percent
Abnormal

Percent
Normal

Percent
Carrier

Percent
Equivocal

ADVANCED CARDIAC

N/A

2

.0

100.0

.0

.0

BAER HEARING TEST

8

247

1.6

98.4

.0

.0

CARDIAC

3

61

4.9

91.8

.0

3.3

DEGENERATIVE MYELOPATHY

N/A

3

33.3

66.7

.0

.0

ELBOW

N/A

51

.0

100.0

.0

.0

EYES

15

104

3.8

96.2

.0

.0

HIPS

177

431

2.1

97.9

.0

.0

PATELLA

N/A

2

.0

100.0

.0

.0

THYROID

16

96

9.4

85.4

.0

5.2
Statistics from the OFA database
You can see from these tests that most of the results and rankings for the breed are very good.
The typical lifespan of the Ibizan Hound is 12 to 14 years.
Ingredients to Look for and Some to Avoid
As with most dogs, when choosing a food for your Ibizan Hound you should look for a food that has good sources of protein and fat.
Ideally you will select a dog food that features two or three meat proteins in the first several ingredients listed. It's not unusual today to see a food list both chicken and chicken meal, for example, as the first two ingredients. Both whole meats and meat meals are good sources of protein. Whole meats refer to foods such as whole chicken, beef, fish, and lamb. Some people don't like meat meals as much as whole meats but they are a concentrated form of the meat in which the moisture has been removed. They contain several times as much protein as a whole meat. Meat meals are usually quite acceptable as one of the first ingredients in a good quality dog food. They are used by many good dog food brands. Some companies will go a step further and also add a related organ meat. For example, if the first two ingredients are whole chicken and chicken meal, they may also add chicken liver. That's fine. This is one way of adding more protein to the food. Most dogs will enjoy foods that have liver added. It is best if the liver is named. We don't like to see generic liver. It's important to remember that liver, hearts, kidneys, lungs, and so on are technically meat by-products so you always want the dog food manufacturer to be as specific as possible about the ingredients they are using.
Many dog foods today, even some of the most expensive and highly touted, use lots of plant proteins such as lentils and peas. These foods often have high protein percentages on the label. When you read the guaranteed analysis it's important to consider how much of the protein in the food comes from meat and how much comes from plants. Your dog is able to digest meat protein more easily than plant protein. Meat protein is a much more natural source of protein for your dog than plant protein.
Dogs also need good sources of fat. You should look for named fat sources such as chicken fat. Other named fats also provide needed nutrients such as fish oil which can provide omega-3 fatty acid to help keep the skin and coat healthy. Puppies can benefit from DHA which is Docosahexaenoic acid. This is a specific form of omega-3 fatty acid that helps with brain and eye development. Older dogs seem to benefit from medium chain triglycerides which feature medium chain fatty acids (MCFAs). These have been found to help older dogs feel and act younger. They are often made from a combination of coconut oil and other oils.
If you want to avoid corn, soy, and wheat in your dog food, your Ibizan Hound may still be able to eat an alternative grain such as barley or oats. Or you can feed a grain free dog food that uses an alternate source of carbs that is low glycemic. You don't have to feed a dog food with an excessively high percentage of protein but it's a good idea to keep the carb percentage low to moderate.
If your Ibizan Hound has a food allergy or food sensitivity, you may need to work with your veterinarian to identify the food triggers unless they are very obvious. There are lots of good foods with less common meat proteins today as well as limited ingredient diets which we will discuss below.
Along with good breeding practices, health testing, and good vet care, many dog lovers try to keep their dogs healthy by feeding dog food that has more natural ingredients. There is a belief that this can help keep a dog's immune system stronger. Many people recommend feeding a food that is free of some of the most common food irritants such as corn, soy, and wheat. These are not the most common dog food allergens – beef, dairy products, and chicken, for example, lead to more food allergies for dogs than corn, soy, and wheat. But many people like to avoid soy and grains in dog foods. There are many good grain free dog foods today if you want to feed one to your dog. Avoiding artificial colors, flavors, sweeteners, and preservatives is also suggested as a way to help keep the immune system stronger.
Recommended Dog Food For Ibizan Hounds
Ibizan Hounds should be able to eat most good quality dog foods but every dog is an individual. Even dogs in the same breed can have different food needs. Some dogs need more calories than others. Some dogs will do better with more protein or fat than other dogs. We are providing several suggested foods for your Ibizan Hound which meet our standards but you may have to use a trial and error method to see which food your dog does best on. Even among Ibizan Hounds some dogs will use more energy than others.
When you are trying a new food, be sure to allow several days to slowly transition to the food, mixing in a little of your dog's old food each day. Of course, if your dog shows signs that he doesn't like the food or doesn't tolerate it, you will have to make adjustments. If your dog eats the food but you don't like his condition after a few weeks, you can change him back – slowly – to his previous food. It's best not to go directly to another new food. You can upset your dog's gastrointestinal system if you keep changing to too many new foods in a short period of time. Once your dog has settled back with his old food, you can once again try a new food. You should allow at least a couple of weeks between foods before trying another new food so you can give your dog's system a chance to rest and recover. This also gives the new food a fair chance.
If you try a new food and your dog doesn't seem enthusiastic about it, you might also try another food from the same product line that uses a different kind of meat protein or other ingredients. As long as the guaranteed analysis and nutrient percentages are similar, the food should be similar to the original food you selected.
When you are feeding a new food and your dog is eating it without problems, it's important for you to assess his physical condition. Is he gaining or losing weight on the new food? Does his coat look healthy? Are his eyes bright? Does he seem to have good energy or is he more lethargic than usual? And, the big question for any dog lover – what does his poop look like? As most dog lovers know, you can tell a lot about a dog's health by checking his poop. Does it look normal and firm? If he having regular bowel movements? Those are good signs. If your dog is having runny poop or diarrhea; or if he is having trouble with his bowel movements, it could be because of the new food. These are all things you should note during the first few weeks of feeding a new food. Even if your dog LOVES the food, if he's not thriving, you may have to rethink his diet or how much you are feeding him.
Very often, if a dog has loose stool or other gastrointestinal problems with a food, even if he really likes the food, it can be because you are 1) feeding too much of the food; or 2) the food is too rich. What does too rich mean? It means the food may have too many calories for your dog's needs. It might have too much fat for your dog. Or, the protein percentage may be too high. You can also check the fiber percentage. Maybe it's too high. If cutting back on the portions doesn't help, you need to try changing the food.
You should also remember that dogs are a little like people. Their appetites can vary depending on things like the weather and their mood at times. Most dogs will eat more in the winter and less in the summer, especially if you live in a climate with wide changes in the temperature. So, if your dog is not eating as much when it's hot in the summer, it doesn't necessarily indicate anything to be alarmed about. If your dog is eating more food in the winter – and putting on weight – you may want to see if your dog's favorite food has a formula with a little less fat or fewer calories so he won't gain too much weight. Then go back to his favorite formula when he's more active in warm weather.
We have tried to select foods for Ibizan Hounds with moderate protein and moderate fat levels. Most of the foods we have selected here do not contain corn, wheat, or soy, unless noted. You may have to try a couple of foods to find which one is best for your dog. You should also keep in mind that your dog's dietary needs can change as he grows and ages so you may have to change foods to suit him.
Best Dog Foods for Ibizan Hound Adults
Food
Price
Nutrition
Rating
Canidae All Life Stages Chicken, Turkey, Lamb & Fish Meals Formula
Read Reviews Where To Buy 
$1.36/lb

Merrick Grain Free Real Chicken & Sweet Potato Dry Dog Food
Read Reviews Where To Buy 

$2.16/lb

*New Formula* ACANA Grasslands Regional Formula Grain Free Dry Dog Food

$3.08/lb

$1.41/lb

This Canidae formula is an all life stages food so you can feed it to dogs of all ages. The first five ingredients are: Chicken meal, turkey meal, lamb meal, brown rice, and white rice. The food does contain grains (rice, oatmeal, barley) but even many dogs that have problems with corn or wheat can eat these grains which provide dietary fiber. The food contains no corn, wheat, or soy. The food is naturally preserved and it contains pre- and probiotics for healthy digestion, along with antioxidants and omega 6 and omega 3 fatty acids for good skin and coat. The guaranteed analysis shows 24 percent crude protein; 14.5 percent crude fat; and 4 percent crude fiber. It has 468 kcal/cup. We think this is a good food for dogs that do well on moderate protein and fat. Canidae has had a good reputation for many years.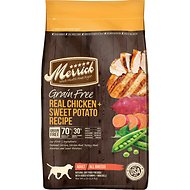 If you would like a higher protein percentage for your Ibizan Hound, many dog owners like Merrick Grain Free foods. The first five ingredients in this food are Deboned Chicken, Chicken Meal, Turkey Meal, Sweet Potatoes, and Potatoes. This recipe is an all life stage food with 460 kcal per cup ME (metabolizable energy) on an as fed basis (calculated). It has 70 percent meat ingredients, 30 percent vegetables, vitamins, and minerals. It is grain free – no corn, wheat, or soy. No gluten. No ingredients from China. It has 38 percent crude protein and 17 percent crude fat, with 3.5 percent crude fiber. It also has glucosamine and chondroitin added, as well as omega-3 and omega-6 fatty acids. Merrick makes their food in Texas at their own facilities. We think this food has good quality protein and other ingredients for a very active Ibizan Hound. Not everyone will like a protein percentage this high but if you do, give this food a try.

If your Ibizan Hound is very active (lure coursing or doing agility, for example), we can also recommend Acana foods. Champion Pet Foods has completed their new kitchen in Kentucky and they have reformulated some of their dog and cat foods to reflect what is now "regional" to the Kentucky area. So, it's still the same award-winning company, but Acana is being made in Kentucky. There are some changes in the meat proteins but the foods still look good. If you visit the Acana web site you can view the old and new formulas to see the changes (we really like being able to compare the formulas). The current (old) Grasslands formula, for example, is heavy on lamb, duck, whitefish, and lentils. The new formula will feature goat meal and catfish meal, in addition to the lamb and duck. The old formula has 31 percent crude protein, 17 percent crude fat, 5 percent crude fiber, and 10 percent moisture. The new formula has 33 percent crude protein, 17 percent crude fat, 6 percent crude fiber, and 12 percent moisture. The food has 60 percent animal protein ingredients and 40 percent vegetables, fruits, and botanicals. No grains, potatoes, or tapioca. If you're looking for a good grain free dog food for your Ibizan Hound that is low in carbohydrates, we think that the Acana foods are a good choice. Acana foods typically have slightly less meat protein than Orijen (made by the same company), but we think they're a good choice for many dogs. Most people still seem to like the Acana foods now that they are being made in Kentucky but if you have questions about them, we recommend talking to people who feed these foods to their dogs for their opinions.

If you would like a food with a little less protein, we also like Fromm Adult Gold. This formula has duck, chicken meal, and chicken as the first three ingredients. It has 24 percent crude protein, 16 percent crude fat, and 3.5 percent crude fiber, with 408 kcal/cup. It is AAFCO-approved for growth and maintenance. The food includes salmon oil – a great source of omega-3 fatty acid for healthy skin and coat; probiotics, and prebiotics. No corn, wheat, or soy. The food is also made at the family's own facilities in Wisconsin. The Fromm family has been making dog food and dog products for over 100 years and they have a great reputation. The food includes brown rice and pearled barley in the first five ingredients. It does contain oatmeal and potatoes so if you are trying to keep the carbs very low you may not like this food. However, we think the ingredients are good quality and many dogs will do well on this food. You can see the technical analysis for the food, with the dry matter basis figures on the site. Fromm also makes their popular Four Star line of dog foods which feature favorites such as Chicken a la Veg and Hasen Duckenfeffer.
Best Dog Foods for

Ibizan Hound

Puppies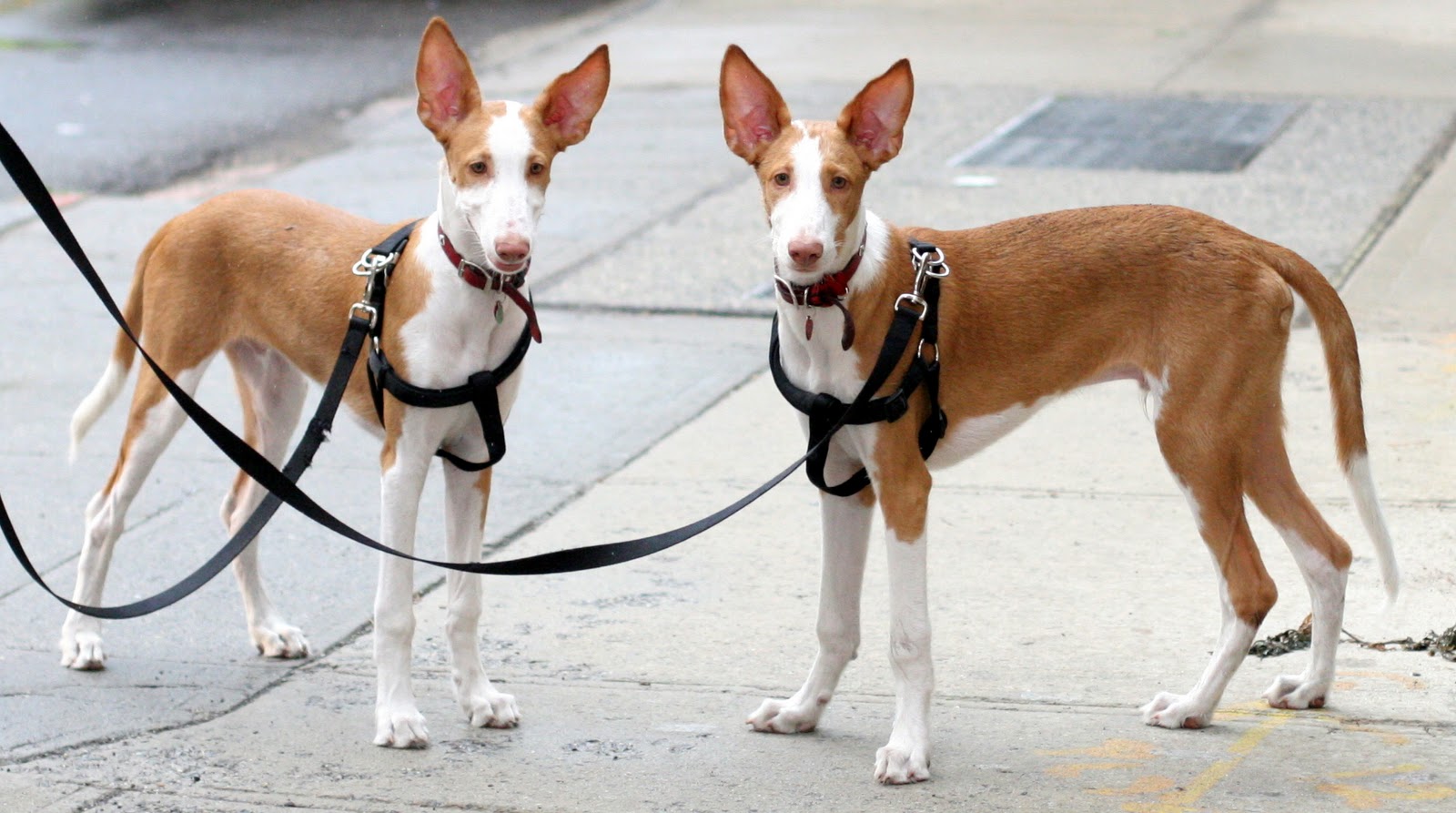 Ibizan Hound puppies can usually begin eating a good puppy food or they can eat a good all life stage food. If you have questions about how to feed your puppy, we recommend talking to your puppy's breeder. They usually have the most experience with raising Ibizan Hound puppies and can guide you.
Puppy foods should have a calcium to phosphorus ratio of about 1.2 parts calcium to 1 part phosphorus. It's also important that dog and puppy foods do not have an excess of calcium since this can affect bone growth. If you are feeding your puppy a food that is properly formulated, you should not add any extra calcium, such as milk, cottage cheese, or other calcium supplements. Doing so can lead to serious health problems such as OCD (osteochondritis dissecans) and other orthopedic problems.
Keep in mind that all life stage dog foods are formulated to be nutritionally adequate for growing puppies. Foods for puppies may also have the AAFCO statement that they are approved for "growth and reproduction."
Here are some of the puppy foods we like for Ibizan Hound puppies.

Canidae Grain Free Pure Foundations Puppy Formula
This is one of our favorite foods for all puppies. Canidae Grain Free Pure Foundations Puppy Formula is a limited ingredient food with nine ingredients plus vitamins and minerals and probiotics. It's grain free with probiotics to help digestion; antioxidants for a healthy immune system; and omega 3 and 6 to support healthy skin and a beautiful coat. The first five ingredients are chicken, menhaden fish meal, lentils, peas, and potatoes. The recipe is supposed to be especially good for puppies with sensitive digestion. The food has 30 percent crude protein, 12 percent crude fat, 4 percent crude fiber, and 10 percent moisture. This food checks in at 520 kcal/cup, so it's high in calories but active, growing Ibizan Hound puppies can usually burn them off. Just remember that you don't need to feed a lot of food with these very nutrient-dense foods. If your Ibizan Hound puppy does well on this puppy food, Canidae has some good adult foods – both grain free and foods with grains.
Similar to Fromm's Gold Adult formula, this puppy formula contains no corn, wheat, or soy. The first three ingredients are duck, chicken meal, and chicken. The food has moderate protein and fat to encourage puppies to grow slowly. The food has 417 kcal/cup. The technical analysis for the food shows the correct calcium to phosphorus ratio for puppies. The food has 27 percent crude protein; 18 percent crude fat; and 3.5 percent crude fiber. Fromm Puppy Gold formula also has added DHA-rich salmon oil for good brain and eye development in puppies. The USDA-inspected ingredients for the food are delivered fresh each morning. We think this food could be a good choice for Ibizan Hound puppies.
Best Dog Foods for the Senior

Ibizan Hound
It's not unusual for many Ibizan Hounds to live into their teen years. This means that you will probably need to consider what kind of food to feed your dog as he gets older. As your dog ages it's a good idea to plan an annual senior check-up with your vet. Many older dogs begin to put on pounds as they become less active. For this reason, most senior dog foods have fewer calories and they can skimp on protein. You should watch your older dog's weight as he gets older to make sure he doesn't become overweight. In some cases you can simply cut back on the portions of his regular dog food to help him stay fit or increase his exercise.
On the other hand, some very old dogs often start to have some problems metabolizing nutrients, including protein. It can become hard for them to keep good muscle tone and weight as they age. For this reason, you may wish to avoid many dog foods labeled "senior." These foods are often formulated for older dogs that have gained weight. Instead, look for a senior dog food that has lots of protein. As long as your older dog doesn't have any problems with his kidneys or with phosphorus, there is no reason to avoid higher protein levels.
Keep in mind that there's no rule that says you have to switch your older dog to a senior dog food. If your older dog is doing well on his regular food, there's no reason to change. Just monitor his condition and make sure he continues to look and act like a fit, healthy dog. And it's a good idea to have that senior check-up annually so your vet can confirm that his body is healthy inside as well as outside.
It's very important that senior dogs have good quality protein. Good quality protein is easier to digest and metabolize than poor quality protein. It provides the older dog with more nutrition that he can use. So, plan on giving your older Ibizan Hound the very best food possible with excellent sources of protein.
Nulo Freestyle Senior Trout & Sweet Potato Recipe
Nulo has only recently become a nationally-known brand and so not everyone is familiar with it. Their foods have 80-84 percent animal-based protein, meaning they have one of, if not the highest, amount of animal-based protein of any dog food. Nulo is also one of the few companies using probiotics that seem to actually survive the manufacturing process. (Check their site to read more.) Their foods are also low carb and low-glycemic. They don't use corn, wheat, soy, potatoes, tapioca, glutens or genetically modified organisms. And there are no poultry or meat by-products in the foods and no artificial colors, flavors, or preservatives. This senior dog food is high in animal meat (82 percent of the protein comes from animal sources), it's grain free, and it includes gludosamine and chondroitin for hip and joint health. It also has L-Carnitine to help your senior dog's metabolism – in case he's not quite as fit as he used to be, L-Carnitine helps turn fat into muscle. The food doesn't have white potatoes or tapioca either. Plus it's low carb and low glycemic. No egg or chicken proteins – not every dog likes them or can eat them. The first five ingredients in this food are: Deboned Trout, Turkey Meal, Salmon Meal, Yellow Peas, and Sweet Potato. It has 30 percent crude protein and 12 percent crude fat. And it has 396 kcal/cup. This food is AAFCO-approved for maintenance. We think the ingredients look good and many senior Ibizans should do well on this food. This is probably one of the best senior dog foods available today.
Another food you may want to consider for older dogs is Weruva's Caloric Harmony Venison and Salmon Meal Dinner with Pumpkin. This food (and several others in this product line) is potato-free with no corn or wheat, easy to digest, and low-glycemic. It contains pumpkin and oatmeal for healthy gut motility. The first five ingredients are: Venison, Venison Meal, Salmon Meal, Herring Meal, and Oatmeal. Meat protein comes from grass-fed venison. The dry matter basis for this food is an estimated 37.8 percent protein;14.4 percent fat; 3.9 percent fiber; and 35 percent carbs. The calorie count (calculated) is Metabolizable Energy (ME) 3320 kcal/kg; 348 kcal/cup. This food is not specifically made for senior dogs but we think those look like good figures for senior dogs that need more good quality protein without extra fat.
Best Dog Foods for

Ibizan Hounds

with Skin Problems
If your Ibizan Hound is having skin problems or problems with food allergies, you will probably want to avoid foods that contain known food allergens such as beef, dairy products, chicken, lamb, fish, chicken eggs, corn, wheat, and soy. If your dog is having food allergies – which usually manifest as itching, redness, chewing, hair loss, and sometimes ear problems – you will need to identify the trigger for his allergy. You can try to guess the trigger or work with your veterinarian on a food trial and elimination diet for your dog. You may need to find a novel protein for your dog – a protein that he has not eaten previously. Natural Balance has a selection of limited ingredient diets that can be helpful for dogs with food allergies. You might try giving your dog the rabbit formula, kangaroo formula, venison formula, or bison formula. He should be able to eat a meat protein that he has not eaten previously without having an allergic reaction.

This limited ingredient diet food has limited sources of protein and carbs. It's also grain free and complete and balanced for puppies, adults, and senior dogs. The food should be easy for your Ibizan Hound to digest and it contains no artificial flavors, colors, or preservatives.

Any dog suffering from skin problems or food allergies may benefit from Wild Calling's Xotic Essentials recipes. Formulas like their rabbit meal recipe use exotic meats that are rare in today's pet food market so your dog probably hasn't eaten them before – and has less chance of having an allergic reaction. The foods are also highly digestible. Wild Calling also uses what they call LITe (limited ingredient technology). They don't use any of the ingredients commonly found in most dog foods such as chicken, grain, gluten, egg, yeast, corn, wheat or soy. If your Ibizan Hound has a food allergy, he may benefit from Wild Calling. The foods are formulated for rotational feeding and they offer several Xotic Essentials recipes, such as kangaroo and bison, so your dog doesn't get over-exposed to one kind of meat protein. This is an All Life Stage food. We think that dogs with skin problems and food allergies can definitely benefit from these recipes.
Another food that is often recommended for dogs with food allergies and skin problems is Zignature. It comes in proteins such as trout & salmon, kangaroo, turkey, duck, venison, and others. It's available in dry and canned versions. Foods are potato- and grain-free, and chicken-free. They do not use common bonding agents (thickeners and ingredients to hold the food together) in their foods which are high in simple carbs and starches. They only use low glycemic carbs such as chickpeas that add extra protein and fiber to the food. They work with Tuffy's in Minnesota and Performance Pet in South Dakota to make their foods. Many people like Zignature very much. If you have a dog with food allergies, this is a brand that you might consider. This duck formula is a good example with hypo-allergenic meat first, no corn, wheat, soy, dairy or chicken, chicken eggs or chicken by-products.
Best Dog Foods for

Ibizan Hounds

with Sensitive Stomachs
Many dogs are susceptible to food sensitivities that affect their digestion and excretion. If your dog has a sensitive stomach it can be an indication of a food sensitivity, which is different form a food allergy. A dog with a food sensitivity will have gastrointestinal issues such as vomiting or diarrhea. Or it could be something more serious.
A dog with a sensitive stomach can often be helped by feeding the right dog food. Sticking to a limited ingredient diet food with as few ingredients as possible can reduce the chance of your dog having a bad reaction to something in the food.
Many people recommend Wellness Simple for dogs with food sensitivities. The formulas feature only five main ingredients to keep things very simple for your Ibizan Hound. Wellness makes formulas that are both grain free and some that have grains such as oatmeal. The food is easy to digest and contains probiotics and prebiotics to help the gastrointestinal system. It also contains omega fatty acids for good skin and coat. Formulas feature duck, salmon, turkey, and lamb. Wellness Simple comes in dry and canned formulas.
We also recommend Natural Balance L.I.D. Limited Ingredient Diets Sweet Potato & Fish Formula Dry Dog Food. This food is grain free with limited ingredients. It has good quality, alternative ingredients that are easily digestible for a dog with a sensitive stomach. And it contains no artificial flavors, colors, or preservatives. The first five ingredients are: Sweet Potatoes, Salmon, Fish Meal, Potato Protein, Canola Oil (preserved with mixed tocopherols). It has 21 percent crude protein, 10 percent crude fat, 5 percent crude fiber, and 10 percent moisture. It has 350 kcal/cup and it's a maintenance formula. If your dog can't eat some of the ingredients in this food, Natural Balance has lots of other LID recipes that you might check.
If your dog can't eat these ingredients, you might try one of the Weruva foods or Acana Singles. Weruva also has lots of foods with pumpkin which can sometimes help a dog with stomach issues.
Best Dog Foods for Overweight

Ibizan Hounds
Even a sighthound can begin to put on a little extra weight at times. The most common reason dogs gain weight is because owners are over-feeding them so if your dog is starting to look a little fat, check to see how much you are feeding. See if you can cut back on the calories or treats. Many people don't realize that some treats and snacks are loaded with calories. When you add them to the calories your dog is consuming in his meals, your dog may be eating far more calories than he needs each day. Or, maybe your Ibizan Hound needs a little more exercise. Most dogs are happy to get more exercise if you take part in it with them.

If your Ibizan Hound needs to lose more than a couple of pounds, however, you may need to consider a weight control dog food.
We do not recommend a weight control dog food for a puppy or a very old dog. These foods generally have fewer calories and may have some other differences in nutrients that make them inappropriate for growing puppies or older dogs who need special nutrition. Many weight control foods contain a lot of filler ingredients or empty carbohydrates which makes it hard to recommend them.
If you have an Ibizan Hound who needs to lose weight, we can recommend we can recommend Fromm Gold Weight Management. It can be hard to find a good weight control dog food but Fromm is a quality brand with good ingredients. This food has 25 percent crude protein and 10 percent crude fat so it's not that much different from some of the adult foods we've recommended. It has 341 Kcal/cup. Fed in moderation, it should help most overweight Ibizan Hounds lose weight or maintain a healthy weight. The first five ingredients are: Turkey Liver, Chicken Meal, Pearled Barley, Oatmeal, and Dried Tomato Pomace.
Fromm also has a grain free weight control formula called Fromm Gold Coast Grain Free Weight Management Dog Food with the same crude protein and fat percentages if you prefer a grain free weight control food for your dog.

If your dog needs to lose weight, you should proceed slowly. No crash dieting. You should aim for your dog to lose no more than 3 to 5 percent of his body weight per month or about one percent each week.
Conclusion
The elegant, athletic Ibizan Hound is a bit of a mystery. The breed is undoubtedly very old but just how he came to be on his Mediterranean island or if he's really a descendant of the dogs kept by the Egyptian pharaohs is still unknown. Today this wonderful rabbit hunter makes a great family companion. He's good with children, loves to grace your sofa, and has a terrific time racing around large yards or engaging in lure coursing for fun. He also loves to entertain you with his clownish ways. We hope more people will get to known these gentle dogs.
Below is a list of products reviewed in this article