What Is The Best Dog Food for a Cavalier King Charles Spaniel?
Skip To Detailed Recommendations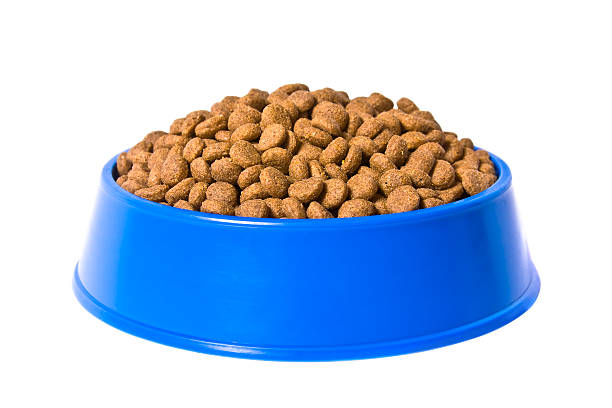 Small, playful, and affectionate, the Cavalier King Charles Spaniel is considered a toy breed. Cavaliers, as they are often are friendly pups, and they are especially good with children. This makes them excellent family dogs.
Their small size means they are good pets in both the city and in rural areas, though they do require some daily exercise and a nutritious dog food. So, how do you decide which dog food to feed your Cavalier? Here's a look at our recommendations for the best dog food for a Cavalier puppy, adult, and senior.
Disclosure: Please note that this post contains affiliate links, which will direct you to our partner sites. If you purchase the pet foods we recommend through those links, we may earn a small commission – at no extra cost to you.
Top 4 Best Dog Foods for Cavaliers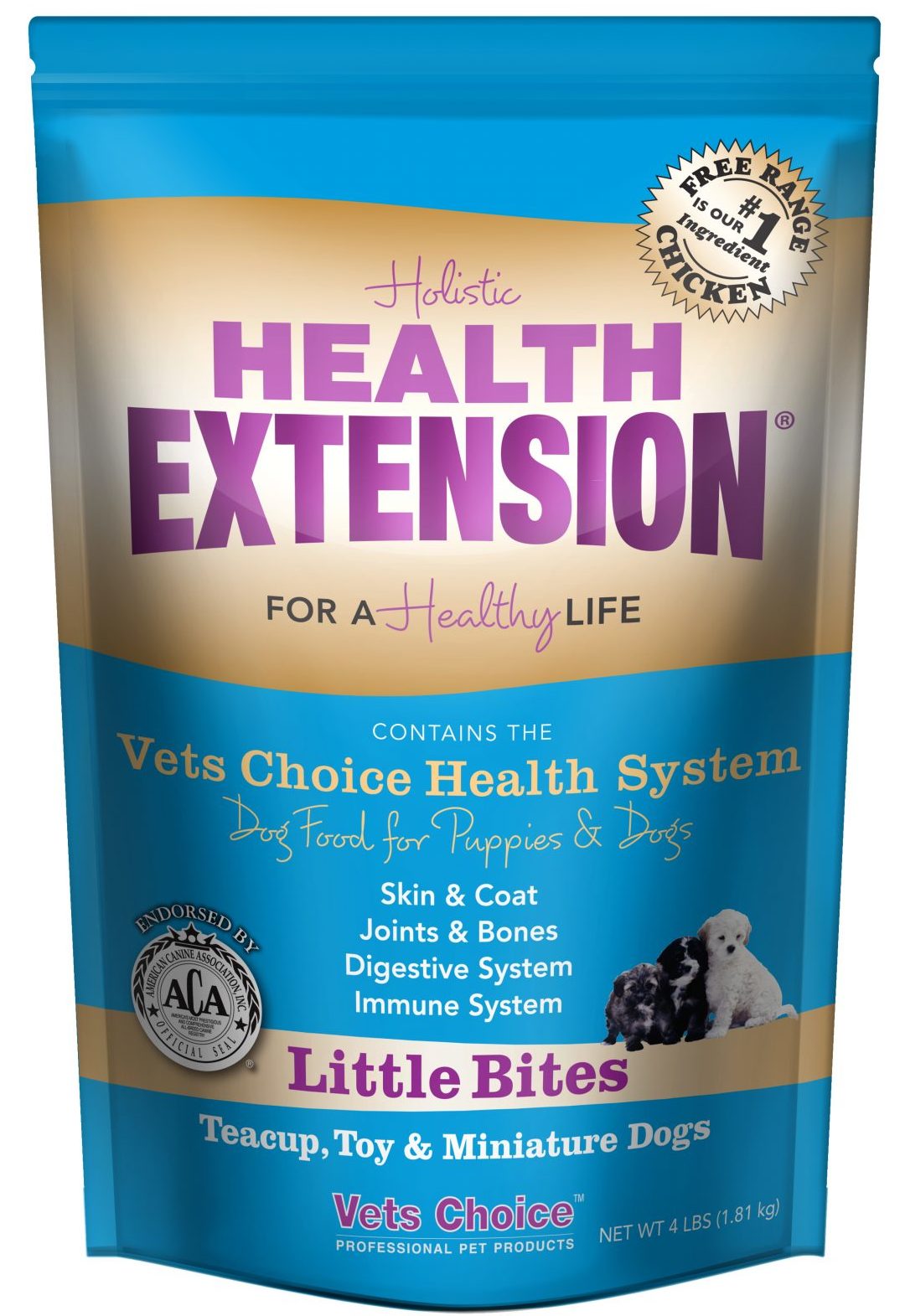 Health Extension
Most Popular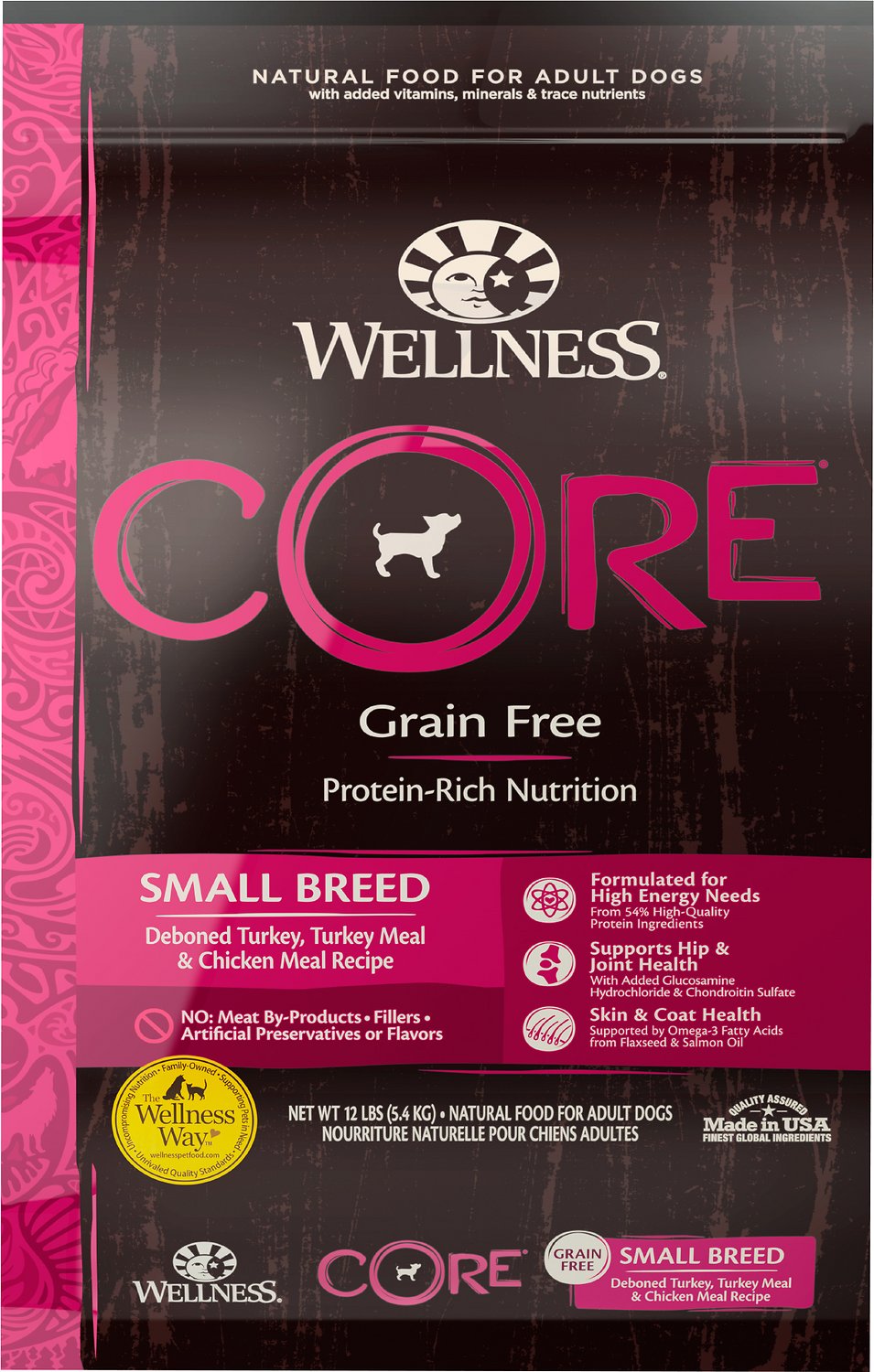 Wellness CORE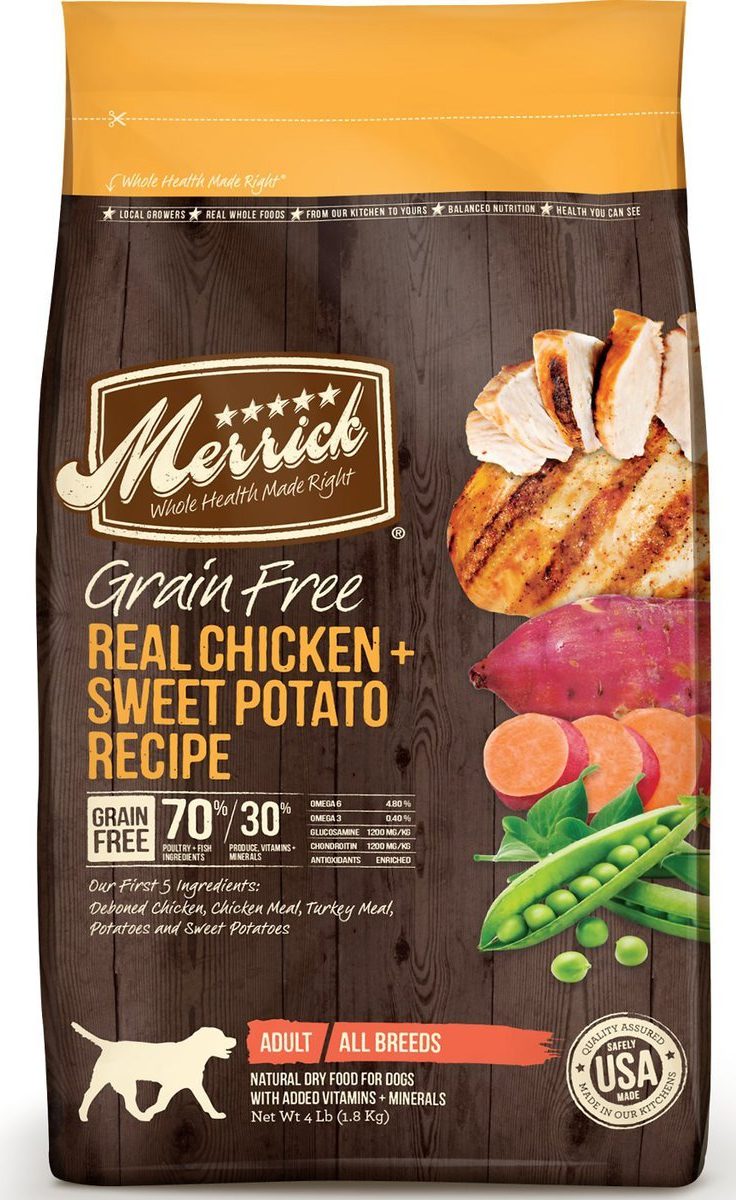 Merrick

---
30% Off + Free Shipping
on dog food for Cavaliers
Cavalier King Charles Spaniel Diet & Nutrition
According to the standard for the breed, the Cavalier typically weighs between 13 and 18 pounds (male and female). They usually stand between 12 and 13 inches tall.
Cavaliers have always been lap dogs. They are very adaptable in terms of exercise. They are content to snuggle next to you or go for long walks. However, Cavaliers often tend to retain strong hunting instincts from their Spaniel ancestors and they will chase things that move. Some owners report that Cavaliers will go on point, even if they are only pointing at a butterfly. They do require more daily exercise than some smaller toy dogs, but their needs are still quite moderate.
Growing puppies and young adults use a lot of energy. They require a diet that features good quality protein. According to the National Research Council of the National Academies, an active adult Cavalier weighing 15 pounds requires an average daily caloric intake of 532 calories. Dogs that have been spayed/neutered, or that are older, may need slightly fewer calories. Some dogs may need more calories depending on their level of activity and their individual metabolism. Growing puppies, for example, consume more calories than adult dogs and so do young adult dogs. A young adult Cavalier puppy weighing 10 pounds needs an estimated 990 calories per day.
Feeding Your Cavalier King Charles Spaniel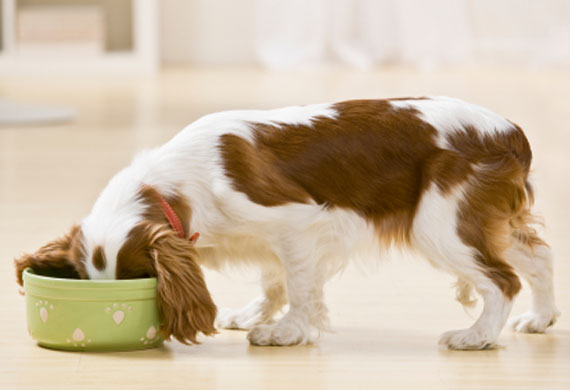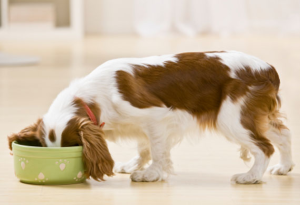 We suggest that you measure the amount of food you feed and only leave the food sitting out for about half an hour. Then put it away. This should give your dog time to eat. If you free feed and leave the food sitting out all the time dogs usually nibble which puts on pounds. Most adult dogs do well eating two meals per day. Puppies can usually eat three meals per day until they are old enough to start eating on an adult schedule.
Protein and fat are the main ingredients in the diet for a Cavalier, as they are for most dogs. However, not all protein and fat are the same. It's important that the protein and fat in the dog food comes from good sources if you want your dog to be healthy.
Ingredients to Look for:
Protein – Ideally you will select a dog food that features two or three meat proteins in the first several ingredients listed.  Whole meats refer to foods such as whole chicken, beef, fish, and lamb, while meat meals are a concentrated form of meat in which the moisture is removed.
Fat – Dogs also need good sources of fat. You should look for named fat sources such as chicken fat. Other named fats also provide needed nutrients such as fish oil which can provide omega-3 fatty acid to help keep the skin and coat healthy. Puppies can benefit from DHA which is Docosahexaenoic acid. This is a specific form of omega-3 fatty acid that helps with brain and eye development.
If you want to avoid corn, soy, and wheat in your dog food, your Cavalier may still be able to eat rice, barley, oats, or some other grain or cereal. Or you can feed a grain free dog food that uses an alternate source of carbs such as sweet potatoes. You don't have to feed a dog food with an excessively high percentage of protein but it's a good idea to keep the carb percentage low to moderate.
---
Best Dog Food for a Cavalier King Charles Spaniel Puppy
Small breed puppies like Cavaliers grow quickly and need a food formulated specifically for dogs of their size. However, it's still important that the calcium to phosphorus ratio be correct for small breeds. The recommended ratio should be about 1.2 parts calcium to 1 part phosphorus, though there is some slight room for variation such as 1.5:1. Most puppy foods should have a calcium to phosphorus ratio in this neighborhood. It's also important that dog and puppy foods do not have an excess (or deficiency) of calcium since this can affect bone growth. As long as you're feeding a food that is properly formulated, you should not add calcium to your Cavalier puppy's diet. This means no added yogurt, kefir, milk, cottage cheese, or other calcium supplementation. Doing so can cause problems with bone growth and lead to problems later in life.
Here are some of the puppy foods we like for Cavalier puppies.
1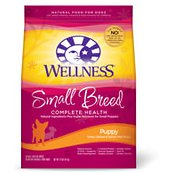 The Wellness Small Breed Complete Health Puppy Turkey, Oatmeal & Salmon formula contains DHA for healthy brain development, antioxidants, microbes to support digestion, and a mix of omega-3 and omega-6 fatty acids for healthy skin and coat. Your Cavalier puppy burns a lot of energy growing and play. With his smaller digestive tract and stomach, he may not be able to consume a lot of food at each meal but you can be sure he will get enough nutrition with this kind of food. Wellness also makes a number of adult formulas for small breeds.
Main Ingredients: Deboned Turkey, Chicken Meal, Oatmeal, Salmon Meal, Ground Barley
Protein: 28%
Fat: 19%
Fiber: 4.25%
Calories: 489 kcal/cup
2
Canidae Grain Free Pure Foundations Puppy Formula is a limited ingredient food with nine ingredients plus vitamins and minerals and probiotics. It's one of our favorite puppy foods and frequently recommended by dog breeders. It's grain free with probiotics to help digestion; antioxidants for a healthy immune system; and omega 3 and 6 to support healthy skin and a beautiful coat. The recipe is supposed to be especially good for puppies with sensitive digestion.
Main Ingredients: Chicken, Menhaden Fish Meal, Lentils, Peas, Potatoes
Protein: 30%
Fat: 12%
Fiber: 4%
Calories: 520 kcal/cup
---
Best Dog Food for a Cavalier King Charles Spaniels Adult
1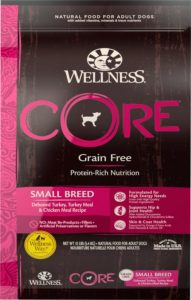 If you prefer a grain free food for your Cavalier, then Wellness CORE Grain Free Small Breed Formula always gets good reviews. The food features a smaller kibble size to make eating easier; omega fatty acids from salmon oil for good skin and coat; glucosamine and chondroitin for joint health; probiotics, botanicals, and antioxidants. It is naturally gluten-free.
Main Ingredients: Deboned Turkey, Turkey Meal, Chicken Meal
Protein: 36%
Fat: 16%
Fiber: 5%
Calories: 396 kcal/cup
2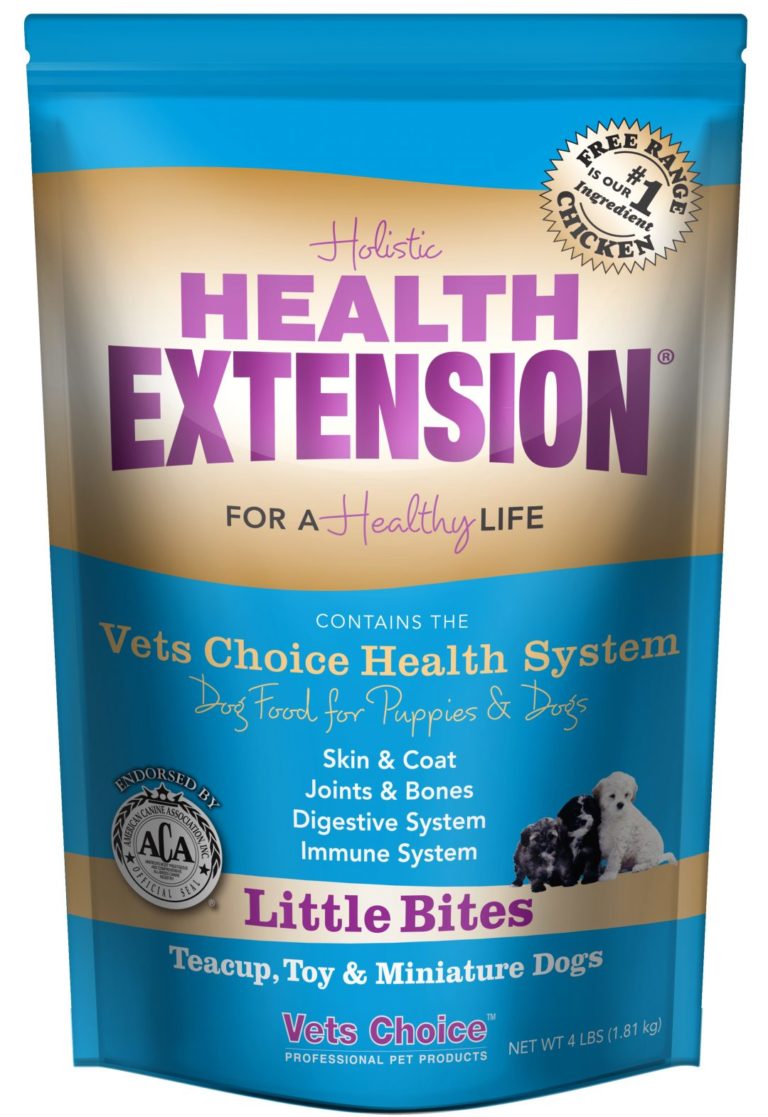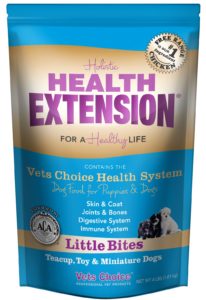 Health Extension Pet Care makes their own foods, including Health Extension Little Bites for toy and small dogs. They never use by-products, gluten, wheat, corn, soy, or any artificial flavors, colors, or preservatives. Per the company web site, every Health Extension diet is formulated to meet the nutritional levels of the AAFCO Dog Food Nutritional standards for all stages of a dog's life. All of Health Extension's meats come from the United States with the exception of lamb which is raised in New Zealand. Little Bites has smaller kibble pieces which make it easier for small dogs to eat. According to the company, their deboned chicken is the same chicken that people eat. You can see our review of this food here.
Main Ingredients: Organic Deboned Chicken, Chicken Meal, Ground Brown Rice, Chicken Fat, Lamb Meal
Protein: 26.7%
Fat: 20%
Fiber: 4.4%
Calories: 418 kcal/cup
3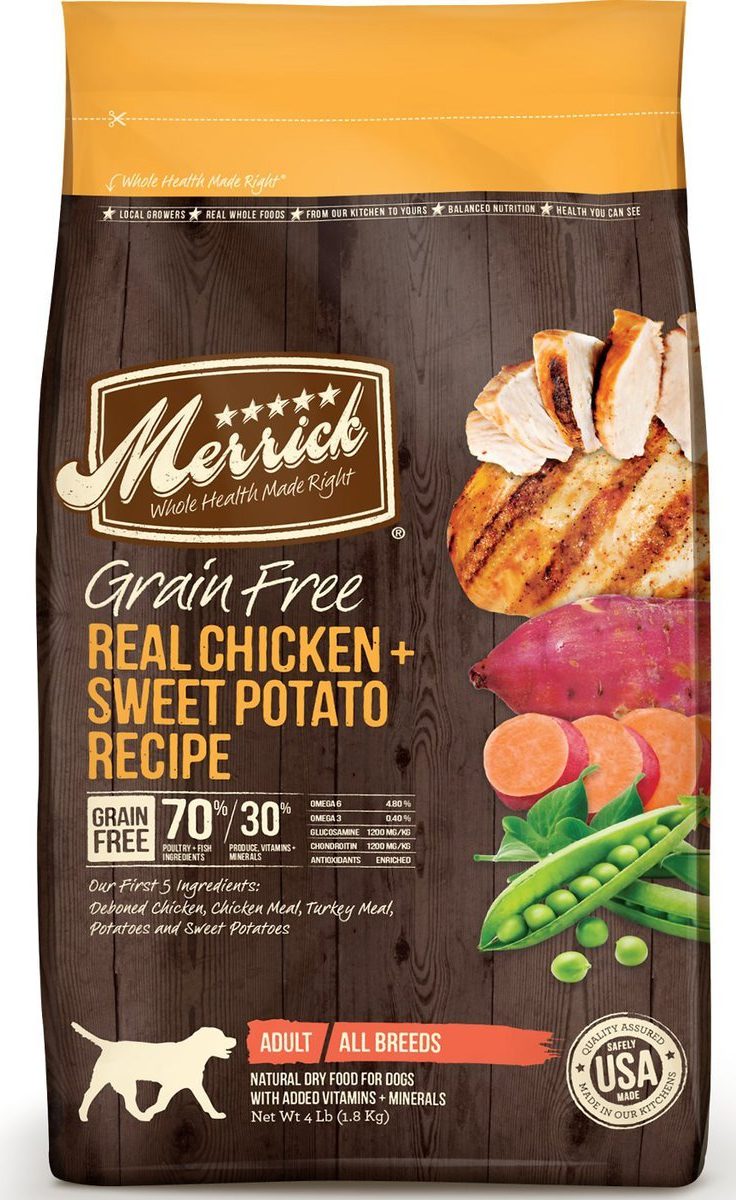 Merrick Lil' Plates has 70 percent meat ingredients, 30 percent vegetables, vitamins, and minerals. The recipe is free of  grain, corn, soy, wheat, gluten, and ingredients from China. It also has glucosamine and chondroitin added, as well as omega-3 and omega-6 fatty acids. It's very similar to Merrick's regular Grain Free Real Chicken and Sweet Potato Recipe but it's formulated for small dogs. Merrick uses local growers from Texas, where the food is made. We think this food has quality protein and other ingredients for Cavaliers. Merrick's Lil' Plates kibble also comes in salmon, lamb, and beef formulas, as well as bowls/wet recipes.
Main Ingredients: Deboned Chicken, Chicken Meal, Turkey Meal, Sweet Potatoes, Potatoes
Protein: 38%
Fat: 17%
Fiber: 3.5%
Calories: 430 kcal/cup
---
Best Dog Food for a Cavalier King Charles Spaniel Senior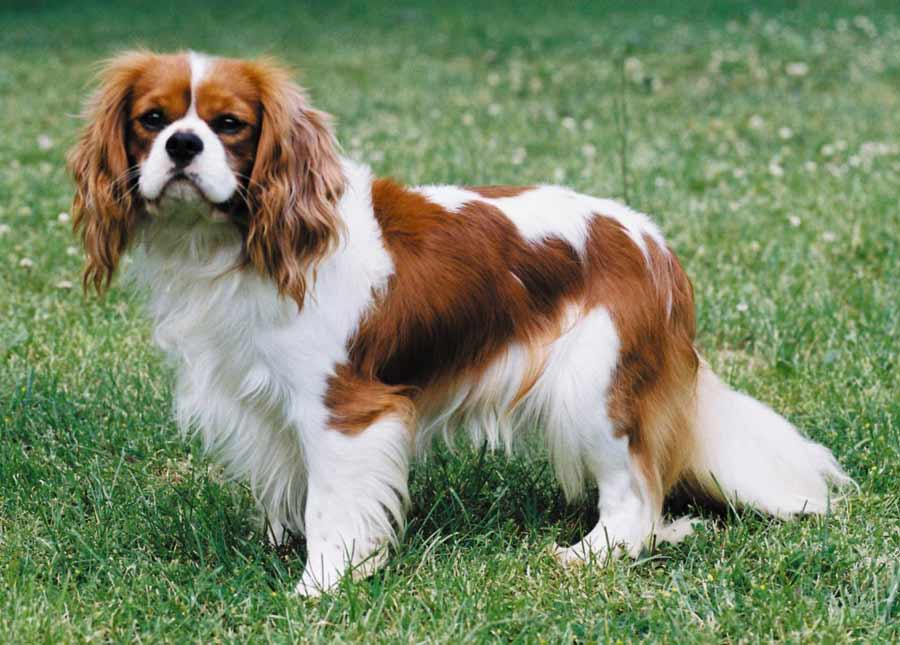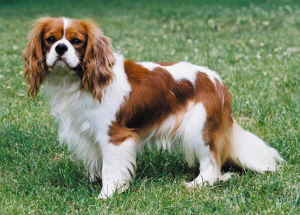 Despite having quite a few health problems in the breed, many Cavaliers live into their teen years. As your Cavalier gets older, it's a good idea to plan an annual senior check-up with your vet. Many older dogs begin to put on pounds as they become less active. For this reason, most senior dog foods have fewer calories and they can skimp on protein. You should watch your older Cavalier's weight as he gets older to make sure he doesn't become overweight. In some cases you can simply cut back on the portions of his regular dog food to help him stay fit or increase his exercise.
If you decide that your older Cavalier needs a senior dog food, here's a food we like:
1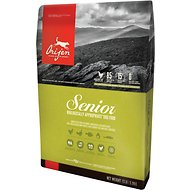 Older dogs can have difficulty metabolizing nutrients, especially protein. Orijen Senior provides plenty of excellent quality protein for your older Cavalier. This food features free-run chicken and turkey, wild-caught fish, and nest-laid eggs. It helps keep older dogs in good muscle even as they become less active. Made of 80 percent meats and fish, the food is low-glycemic and has low carbs to help keep your older dog's blood sugar steady. The food also contains natural sources of glucosamine and chondroitin to keep your Cavalier's joints healthy.
Main Ingredients: Deboned Chicken, Deboned Turkey, Atlantic Flounder, Whole Eggs, Whole Atlantic Mackerel
Protein: 38%
Fat: 15%
Fiber: 8%
Calories: 445 kcal/cup
---
Additional Dietary and Health Considerations
Cavalier King Charles Spaniels are often cited as a breed with some serious health problems. Some breeders recommend feeding an organic diet or food that has fewer additives and chemicals to try to keep the dog's immune system stronger and healthier. Some breeders recommend a raw diet for similar reasons. They believe that less processed food can help keep dogs healthier. There is no sure-fire way to prevent some of these health problems from occurring but many dog lovers try to protect their dogs by feeding a dog food with more natural ingredients to try to keep their dog's immune system as strong as possible. Many people recommend feeding a food that is free of some of the most common food irritants such as corn, soy, and wheat. These are not the most common dog food allergens – beef, dairy products, and chicken, for example, lead to more food allergies for dogs than corn, soy, and wheat. But many people like to avoid soy and grains in dog foods. There are many good grain free dog foods today if you want to feed one to your dog.
Whether you are getting a new Cavalier King Charles Spaniel puppy or bringing home an older dog, Cavaliers are wonderful, gentle companions. We hope we have provided you with the information you need to feed your friend the best food possible. For additional recommendations for the best dog food for a Cavalier, take a look at these small breed dog foods.
Below is a list of Products reviewed in this article