Rachael Ray Dog Food
Brief Overview
Rachael Ray Nutrish dog food includes dry kibble, canned food, and treats. According to the company, the kibble uses no by-products, artificial flavors, or artificial preservatives. They say their canned foods have no corn or soy and no fillers or artificial flavors. Their foods range from traditional foods with grains, to grain free, and limited ingredient diets.
Who manufactures Rachael Ray?
Rachael Ray pet food is manufactured by Ainsworth Pet Nutrition. The company has been in business for some 75 years. The company has evolved from a small, regional business to a multi-tiered North American organization that makes a wide variety of pet food and snacks. The original family (the Lang family) is still involved in the business.
Disclosure: Please note that this post contains affiliate links, which will direct you to our partner sites. If you purchase the pet foods we recommend through those links, we may earn a small commission – at no extra cost to you.
Rachael Ray Recalls 2017
Please Read First: If this statement is still here we are actively watching for new recalls. Below you will find a history of recalls. If you would like to know as SOON as we find out about a recalls visit:https://dogfood.guru/dog-food-recalls/ and fill out our Recall Alert form. We will ONLY email this list in the event of an actual recall. Once we stop watching for Recalls I will remove this statement.
We also encourage everyone to bookmark the site for future reference.
Latest Recalls List (From newest to oldest):
We didn't find any recalls for "Rachael Ray," "Nutrish," or "Ainsworth" in the FDA recall database going back to 2008.
Learn how we Monitor for Recalls: https://dogfood.guru/dog-food-recalls/
Rachael Ray Coupons 2017

---
30% Off First Order + Free Shipping
on Rachael Ray Dog Food
Rachael Ray Reviews
Rachael Ray makes six dry foods for dogs: three Nutrish formulas (including a weight control food), two Zero Grain formulas, and a formula called Just 6 that is a limited ingredient food. We would characterize the Nutrish foods as premium dog foods. They have named meat proteins at the beginning of the ingredient list but they also contain several kinds of grain, including corn. Otherwise, they have ingredients that are common in many other premium dog foods, good and bad. The protein, fat, and fiber percentages are typical of premium foods. Foods are around 335-340 calories per cup (315 for the weight control food). Foods are AAFCO approved.
The Zero Grain formulas feature a Turkey and Potato recipe and a Salmon and Sweet Potato recipe. These foods are grain free without by-products. They are also AAFCO approved. Both formulas have 313 calories per cup. The turkey formula has a guaranteed analysis that is very similar to their Nutrish foods. Unfortunately, no guaranteed analysis is supplied on the company web site for the salmon formula. Searching online, we couldn't find the salmon and sweet potato recipe for sale on any sites so this food may not be available at this time.
Finally, Rachael Ray's dry foods include Just 6 Lamb & Brown Rice recipe. This food contains no corn, wheat, or soy and no by-products. The food is AAFCO approved. No calorie information is given. This food looks like it has very low levels of protein. On a dry matter basis the food has 22.5 percent protein (low for a premium food), 14.6 percent fat, 7.9 percent fiber (very high), and 46 percent carbohydrates (very high).
Out of all of these kibbles, the Zero Grain Turkey & Potato looks like the best food based on the ingredients and other factors.
Overall, the Rachael Ray foods look comparable to many other premium dog foods. They have named meat proteins, although the protein percentages are only average. We like the fact that they avoid artificial colors and preservatives, as well as by-products. Most of the ingredients look reasonably good though we don't really like the peas and tapioca used in some of the foods in place of grains. We also note that some of the foods have synthetic vitamin K which shouldn't be necessary. So, these foods are not the very best dog foods you can buy, but some of them are nice foods and you might like them for your dog.
How would you rate Rachael Ray Pet Food:
[gdrts_multi_stars_rating_auto series="gdsr-dog-food-reviews" style_size=40 style_type="font" style_font_name="star"]
Our Rachael Ray Nutrish Zero Grain Turkey & Potato Recipe Review: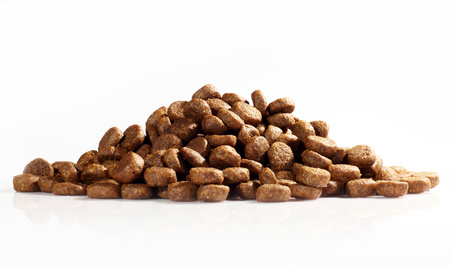 Rachael Ray Nutrish Zero Grain Turkey & Potato recipe looks like the best of the kibbles offered by Rachael Ray. The first five ingredients in the food are Turkey, Turkey Meal, Chicken Meal, Dried Peas, and Tapioca Starch. On a dry matter basis the food contains 29.2 percent protein, 15.7 percent fat, 4.5 percent fiber, and 41.6 percent carbohydrates. That's a nice percentage of protein for most dogs and the fat percentage should not be a problem (not too high or too low). The fiber percentage is typical for most kibbles. The carbs are a little high but not as high as some of the other Rachael Ray foods. This food is AAFCO approved for all life stages and, as mentioned above, has 313 calories per 8 ounce cup. That's not a lot of calories for a good dog food. You should follow the feeding directions on the label to start and watch your dog's condition if you feed this food. You may have to increase the amount of food you're feeding, especially if your dog has been eating another food with higher calories. As with any new food, you should always make the transition gradually by slowly mixing some of the new food with the old until your dog is eating the new food after a few days.
It's always nice to see meat proteins as the first and second ingredients in the food, especially named meats. Turkey and turkey meal are good ingredients for dogs. Turkey has 70 percent protein, 14 percent fat, and 16 percent carbohydrates. It's a good source of riboflavin and phosphorus, and a very good source of selenium. Most dogs can eat turkey without a problem but if your dog is allergic to chicken then he may eventually develop other poultry allergies, including problems with turkey. Since turkey is the whole meat, if the moisture were removed from this ingredient it would come lower down the list. However, turkey meal has already had most of the moisture removed. As a meal it's a condensed form of protein and has several times as much protein as the whole turkey.
The third ingredient is chicken meal and in terms of amino acids, it's similar to the turkey in the first two ingredients. Chicken is usually about 80 percent protein and 20 percent fat. Since this is a chicken meal, most of the moisture has already been removed and this ingredient will contain several times as much condensed protein as whole chicken. Chicken is a good source of vitamin B6 and phosphorus, and a very good source of niacin and selenium.
That makes the first three ingredients meats with lots of protein. The fourth ingredient is dried peas – a plant protein. Peas are often used in dog foods today as plant protein so dog food manufacturers can cut back on the amount of meat protein they use. Depending on the kind of peas used and the part of the peas, they can also add fiber. Some foods use peas, pea protein concentrate, pea fiber, and so on. Most of the time, unless otherwise indicated, the peas used are field peas. Peas also contain a lot of carbohydrates. They have about 22 percent protein, 2 percent fat, and 76 percent carbs. They can provide a lot of vitamins and minerals, too. So, you may be wondering what's wrong with peas in dog food? Well, dogs digest meat protein better than plant protein, for one thing. And peas are one of the foods that have "anti-nutrients" called phytates which can prevent the proper absorption of vitamins and minerals. Peas have been added to livestock feeds for years to increase protein percentages but herbivores can eat them without much trouble. Dogs, on the other hand, can have more problems digesting peas. Some dogs seem to do all right with peas in dog food and some don't.
The fifth ingredient is tapioca starch. Tapioca is a starch extracted from the cassava root or the Manioc from South America and other places. Tapioca is a staple food in many places and it's used as a thickening agent in foods. It's gluten free which many people like about it. However, it has almost no nutritional value. It's 100 percent carbohydrates. When you remove the grains from dog foods, they still have carbs of some kind – sometimes with less nutrition.
Another ingredient in the food that we like is dried plain beet pulp – not a sugar and it's a good dietary fiber. The food also has chelated or proteinated minerals which are usually found in better dog foods since they are easier for dogs to digest.
The food also contains potatoes (instead of grains). Some dogs do well on potatoes and some have problems. Dogs with joint problems or arthritis may have problems with potatoes since they are a member of the nightshade family and some of these foods can cause joint swelling. We note that the food has poultry fat – it's not identified more specifically. Flaxseed in the food is a good source of omega-3 and omega-6 fatty acids but it's problematic for some dogs. Flaxseed (along with soybeans) can interfere with a dog's hormones. If you are a dog breeder, be careful about giving your female dogs flaxseed.
Where can I buy Rachael Ray Nutrish dog food?
---

30% Off First Order + Free Shipping

---

Free Shipping on Orders over $35
Conclusion
Overall we think this is a good food and most dogs should do well on it. If you like grain free foods, you will probably want to consider this Zero Grain Turkey & Potato from Rachael Ray.