Best Dog Food for a West Highland White Terrier
The Ultimate West Highland White Terrier Food Buyer's Guide
Terriers are one of the oldest and largest families of dogs. Nearly all terriers originated in the islands of Britain and Ireland and date back centuries as a landrace breed. A landrace breed refers to a type of dog that is native to an area. It usually emerges because of geographical isolation. The geographical isolation of the British Isles certainly contributed to the development of the terriers. (A few later terrier breeds were developed in Germany and central Europe but they were not landrace breeds.) Terriers in Britain were used as all-purpose farm and work dogs. Many of them had superior skills hunting small animals, especially those that went underground. (Middle English terryer, terrer, from Anglo-French (chen) terrer, literally, earth dog, from terre earth, from Latin terra.) Eventually the terriers became more differentiated. There were long-legged terriers such as the dogs that became the Airedale. Fox Terriers were in demand for hunting. Very small dogs were popular as ratters. There are also short-legged terriers. The short-legged terriers of Scotland are now recognized as the Scottish, Skye, Cairn, Dandie Dinmont, and West Highland White Terriers which all descend from the same original sources. Terriers can also have different coats. They can have smooth coats, wire coats, soft coats, and rough coats. Rough coats refer to dogs that have a harsh outer coat with a dense, thick under coat.
Small white terriers have been seen in Scotland since at least the 16th century. The West Highland White Terrier, or Westie, is related to earlier white terriers such as the Poltalloch Terrier, the Roseneath Terrier, and the Pittenweem Terrier. The breed is closely related to the Cairn Terrier and the Scottish Terrier. Like most terriers, Westies have lots of self-confidence. They are courageous, friendly, happy dogs but they do have a high opinion of themselves. If you have a Westie, you do need to be clear about which of you is in charge. Otherwise, your Westie will take control. Westies are very loyal but they are also quite social. Your dog will expect you to be out and about. They are active dogs and they need regular exercise. Westies are also very alert so they make good watchdogs. Most Westies get along well with children but they do not tolerate any rough handling so you will need to teach children to play gently with your dog. Westies are usually a smart, hardy, tough breed. They can be stubborn so they need good socialization and training from a young age. You may need to refresh their training periodically. They have a strong prey drive so they will chase balls – and anything else that moves. Expect your Westie to have strong natural instincts. He will bark and dig. Like many terriers, Westies may not get along well with other dogs or pets. They can be territorial as well. Westies were first accepted by the AKC in 1908. They have remained popular in the U.S. ever since. Today they are the 42nd most popular breed in the country. The breed is exceptionally popular in the UK, with thousands of puppies registered each year.
Quick Look : Top 4 Best Dog Foods for West Highland White Terrier

---
20% Off + Free Shipping
on dog food for West Highland White Terriers
Nutritional Needs
Male West Highland White Terriers are about 11 inches tall at the withers (where the shoulder blades come together); females are 10 inches tall. Males typically weigh 15-22 pounds, and females 13-15 pounds. Westies have a rough coat that is harsh on the outside with a dense, warm undercoat next to the dog's skin.
Westies are very good at earthdog trials where they can exercise their skills at finding critters underground (no harm comes to the animals in these trials). They can also excel at agility, rally, obedience, nose work, and other events. If you and your dog train and compete in events such as these, you should take that into account when you are figuring how many calories your dog needs in his diet.
According to the National Research Council of the National Academies, an active adult West Highland White Terrier weighing 20 pounds requires an average daily caloric intake of 660 kcal. Dogs that have been spayed/neutered, or that are older, may need slightly fewer calories. Some dogs may need more calories depending on their level of activity and their individual metabolism. For example, if you are training and participating in earthdog trials with your Westie, you might need to feed him somewhere around 733 kcal. Growing puppies consume more calories than adult dogs and so do young adult dogs. A young West Highland White Terrier puppy (4-12 months) weighing 10 pounds needs an estimated 436 kcal per day. You always need to adjust your dog's food intake based on his activity level and other factors.
Westies are a small breed. Fortunately there are many good quality foods made for small breed dogs today. Small breed dogs can use up more calories per pound of weight than larger dogs. Most dogs foods made for small breeds are more calorie-dense than ordinary dog food. They have more calories per ounce than other foods. Small dogs usually prefer foods with small pieces of kibble as well. You also have many good choices for small breed puppies. These puppies typically grow faster and reach maturity sooner than bigger breeds. They can reach their full size by the time they are 8-9 months of age.
West Highland White Terrier (Photo from Wikipedia)
Feeding Your West Highland White Terrier
Westies are prone to certain skin problems, especially a breed-specific condition called hyperplastic dermatosis. It's not known to affect other breeds. The condition is not especially common in Westies but when it does occur it can be severe. It is sometimes misdiagnosed as an allergy or general dermatitis. Symptoms include hair loss, red hyperpigmentation of the fur (the fur taking on a reddish tinge) and scaly lesions on the skin. The skin on the dog's back is most likely to be affected.
Westies can also be subject to atopic dermatitis which is an inherited chronic allergic skin condition. The source of the allergy can be virtually anything from environmental allergens to foods, in some cases. There is no cure for this condition but it can be successfully managed, especially if it is diagnosed early in the dog's life. Identifying and avoiding allergens is always best, whenever possible.
We mention these skin problems because owners are often concerned about food allergies and food sensitivities. Westies are one of the breeds most likely to develop food allergies and skin problems. Their skin problems can be food-related but there can also be other causes. You should talk to your vet if you notice these symptoms. This can save you from changing dog foods multiple times if your dog's skin problems are not food-related.
If your Westie does have food allergies or food sensitivities, you will need to identify your dog's triggers and try to avoid those particular ingredients. The most common allergens for dogs are: beef, dairy products, chicken, lamb, fish, chicken eggs, corn, wheat, and soy. Some dogs are also allergic to pork or rabbit. Dogs can also be allergic to multiple foods so if your dog is allergic to chicken and lamb, for example, removing these ingredients may be helpful, but he could still have allergy symptoms because he is also allergic to wheat. It can be frustrating for owners – and take a long time to figure out – if you have a dog that's allergic to several different ingredients.
You may want to feed your Westie a grain free dog food just to avoid common allergens such as corn and wheat. You can start off feeding dog foods with common proteins (chicken, lamb, fish) but if your dog shows any sign of food allergies developing, you may need to switch to a food with a novel protein. Fortunately there are many dog foods available today with novel proteins. A limited ingredient diet may also be recommended. As with most dogs, we recommend a good quality food that is relatively high in animal protein. However, many foods with novel proteins and limited ingredient diets have moderate protein percentages compared to other dog foods. In some cases they are high in plant protein with less animal protein. You just have to feed your dog the best food you can if he has skin problems.
Westies can be fussy eaters so you may need to encourage your dog to eat at times or add little treats to his food to make it more appetizing. You can add a little homemade food or a little canned food to kibble, for example. The food needs to look and smell appealing or your Westie may walk away.
Adult West Highland White Terriers usually do well eating two meals per day. You can feed West Highland White Terrier puppies 3-4 meals when they are very young, then move to three meals per day as they get older. By the time they are about a year old they should be eating two meals per day.

West Highland White Terrier Health Problems
In addition to the skin problems already discussed (above), West Highland White Terriers can have a condition called "Westie jaw" (otherwise known as craniomandibular osteopathy). This problem occurs in young dogs when there is an overgrowth of the dog's jaw. This disease is not common but it is more common in West Highland White Terriers and some other Scottish breeds than in other dogs. It is often self-limiting when it occurs. In some cases it resolves as the puppy grows. In severe cases a dog may need to be euthanized.
Globoid cell leukodystrophy can also occur in Westies (and other breeds). This is a neurological disease that becomes noticeable as a puppy grows. Affected puppies have tremors, muscle weakness, and difficulty walking. The symptoms worsen until the dog's limbs begin to become paralyzed.
Westies can also have something called "white dog shaker syndrome." This condition is also seen in the Maltese but it is not limited to white dogs. It has also been seen in Yorkies and Dachshunds. It usually manifests quickly, over 1-3 days, and causes tremors of the head and limbs, lack of muscle coordination, and in-coordination and over-reaching of the legs (hypermetria). Females may recover in a few weeks but males can be affected for the rest of their lives.
Westies may also be affected by Legg-Calve-Perthes syndrome (a degeneration of the hip joint), but this is not common in the breed.
In spite of these possible health problems, the West Highland White Terrier tends to have a very long lifespan. According to the AKC the breed lives 12-16 years. Health data from the UK shows a typical lifespan of 10.5 to 15 years. In France, Westies have a median lifespan of 13 years.
You can find out more about health issues for West Highland White Terriers by visiting the Westie Club of America web site:. It is the AKC parent club for the breed.
Ingredients to Look for and Some to Avoid
As with most dogs, when choosing a food for your West Highland White Terrier you should look for a food that has good sources of protein and fat.
Ideally you will select a dog food that features two or three meat proteins in the first several ingredients listed. Both whole meats and meat meals are good sources of protein. Whole meats refer to foods such as whole chicken, beef, fish, and lamb. Some people don't like meat meals as much as whole meats but they are a concentrated form of the meat in which the moisture has been removed. They contain several times as much protein as a whole meat. Meat meals are usually quite acceptable as one of the first ingredients in a good quality dog food. They are used by many good dog food brands.
Many dog foods today, even some of the most expensive and highly touted, use lots of plant proteins such as lentils and peas. These foods often have high protein percentages on the label. When you read the guaranteed analysis it's important to consider how much of the protein in the food comes from meat and how much comes from plants. Your dog is able to digest meat protein more easily than plant protein. Meat protein is a much more natural source of protein for your dog than plant protein.
Dogs also need good sources of fat. You should look for named fat sources such as chicken fat. Other named fats also provide needed nutrients such as fish oil which can provide omega-3 fatty acid to help keep the skin and coat healthy. Puppies can benefit from DHA which is Docosahexaenoic acid. This is a specific form of omega-3 fatty acid that helps with brain and eye development. Older dogs seem to benefit from medium chain triglycerides which feature medium chain fatty acids (MCFAs). These have been found to help older dogs feel and act younger. They are often made from a combination of coconut oil and other oils.
If you want to avoid corn, soy, and wheat in your dog food, your West Highland White Terrier may still be able to eat an alternative grain such as barley or oats. Or you can feed a grain free dog food that uses an alternate source of carbs that is low glycemic such as sweet potatoes. You don't have to feed a dog food with an excessively high percentage of protein but it's a good idea to keep the carb percentage low to moderate.
If your West Highland White Terrier has a food allergy or food sensitivity, you may need to work with your veterinarian to identify the food triggers unless they are very obvious. There are lots of good foods with alternative meat proteins today as well as limited ingredient diets which we will discuss below.
Recommended Dog Food For An Adult West Highland White Terrier
West Highland White Terriers can eat many good quality dog foods. If your dog has a food allergy or food sensitivity you will need to try to avoid foods with ingredients that are triggers for your dog. We have listed some foods we recommend for dogs with food allergies and food sensitivities below.
We do suggest avoiding the following ingredients for Westies, in general:
beef
corn
wheat
brewers yeast
soy
meat by-products or poultry by-products, meat meal
garlic
artificial colors or flavors or any preservatives
Your dog may be able to eat some of these ingredients but many Westies can't. Some of them are not very desirable ingredients anyway so just avoid them if possible.
We have suggested a variety of foods here for West Highland White Terriers. These foods do not contain corn, wheat, or soy. You may have to try a couple of foods to find which one is best for your dog. You should also keep in mind that your dog's dietary needs can change as he grows and ages so you may have to change foods to suit him.
Best Dog Foods for West Highland White Terrier Adults
Small breeds have higher energy needs than other dogs. Wellness CORE Grain Free Small Breed formula is high in protein and calories to meet those needs. The first five ingredients are Deboned Turkey, Turkey Meal, Chicken Meal, Potatoes, and Peas. The food is high in protein (36 percent crude protein) and moderate in fat (16 percent crude fat). It checks in at 396 kcal/cup. It has no meat by-products or filler ingredients. It also includes glucosamine and chondroitin for healthy joints; antioxidants and probiotics. We also like the fish and flax omega for good coat and skin – very important for Westies and any dogs prone to skin problems. And it's has no grain, corn, soy, wheat-gluten or artificial preservatives, colors or flavors. It also has a smaller-sized kibble that makes the food easier for small dogs to eat. We think this is a very good grain free dog food for a Westie. Wellness CORE also has other dry and canned formulas if your Westie would prefer different recipes. We think this is a good grain free food for many dogs.
The first five ingredients in this food are Deboned Chicken, Chicken Meal, Turkey Meal, Sweet Potatoes, and Potatoes. This recipe is an all life stage food with 460 kcal per cup ME (metabolizable energy) on an as fed basis (calculated). It has 70 percent meat ingredients, 30 percent vegetables, vitamins, and minerals. It is grain free – no corn, soy, or wheat. No gluten. No poultry by-products, no artificial preservatives. No ingredients from China. It has 38 percent crude protein and 17 percent crude fat, with 3.5 percent crude fiber. It also has glucosamine and chondroitin added, as well as omega-3 and omega-6 fatty acids. Merrick uses local growers from Texas, where the food is made. We think this is good quality protein and other ingredients for West Highland White Terriers that need good nutrition for an active lifestyle. Not everyone will like a protein percentage this high but if you do, give this food a try.
Fromm Small Breed Adult Gold makes a good food for small dogs like the Westie. It has kibble pieces that are small in size so small dogs can eat them easily. Fromm is a family business that has been making dog food for generations in Wisconsin. The first five ingredients in this food are duck, chicken meal, chicken, oatmeal, and pearled barley. Even dogs that have problems with cereals/grains like corn and wheat can often safely eat oatmeal and barley. These ingredients provide good sources of dietary fiber for your dog's digestion, too. The food is also enhanced with probiotics to aid digestion and salmon oil to keep the skin healthy. The food has 26 percent protein, 17 percent fat, and 3.5 percent fiber according to the guaranteed analysis. (Technical analysis here.) This is a food for growth and maintenance with 416 calories per cup. We hear great things about Fromm from everyone who feeds it.
NutriSource Adult Chicken & Rice Formula is the basic food for this product line but they also have lamb, senior, puppy formulas, as well as weight management, performance, and super performance foods, plus canned foods. The adult chicken & rice formula has Chicken, chicken meal, brown rice, barley, and chicken fat (preserved with mixed tocopherols and citric acid) as the first five ingredients. The guaranteed analysis shows 26 percent crude protein, 16 percent crude fat, 4 percent crude fiber, and 10 percent moisture. The food has 429 kcals/cup. Other ingredients include chelated minerals for easier digestion and probiotics. This is an all life stage food. Looking at the dry matter basis for this food, it has moderate protein and fat and about 40 percent carbs with no corn, wheat, or soy and no artificial preservatives. NutriSource is made by a good company with a good manufacturing reputation. They have never had a recall. We think this would be a good food for many West Highland White Terriers as long as they can eat barley, rice, and oatmeal.
Best Dog Foods for West Highland White Terrier Puppies
West Highland White Terrier puppies can usually begin eating a puppy food after they are weaned or they can eat a good all life stage food. Some people like to feed a puppy food for a few months and then switch over to an all life stage food when their puppy is a few months old. If you have questions about how to feed your puppy, we recommend talking to your puppy's breeder. They usually have the most experience with raising West Highland White Terrier puppies and can guide you.
Puppy foods should have a calcium to phosphorus ratio of about 1.2 parts calcium to 1 part phosphorus, though there is some slight room for variation such as 1.5:1.2 . It's also important that dog and puppy foods do not have an excess (or deficiency) of calcium since this can affect bone growth. If you are feeding your puppy a food that is properly formulated, you should not add any extra calcium, such as milk, cottage cheese, or other calcium supplements. Doing so can lead to serious health problems such as OCD (osteochondritis dessecans) – painful bone spurs that may require surgery – and other orthopedic problems.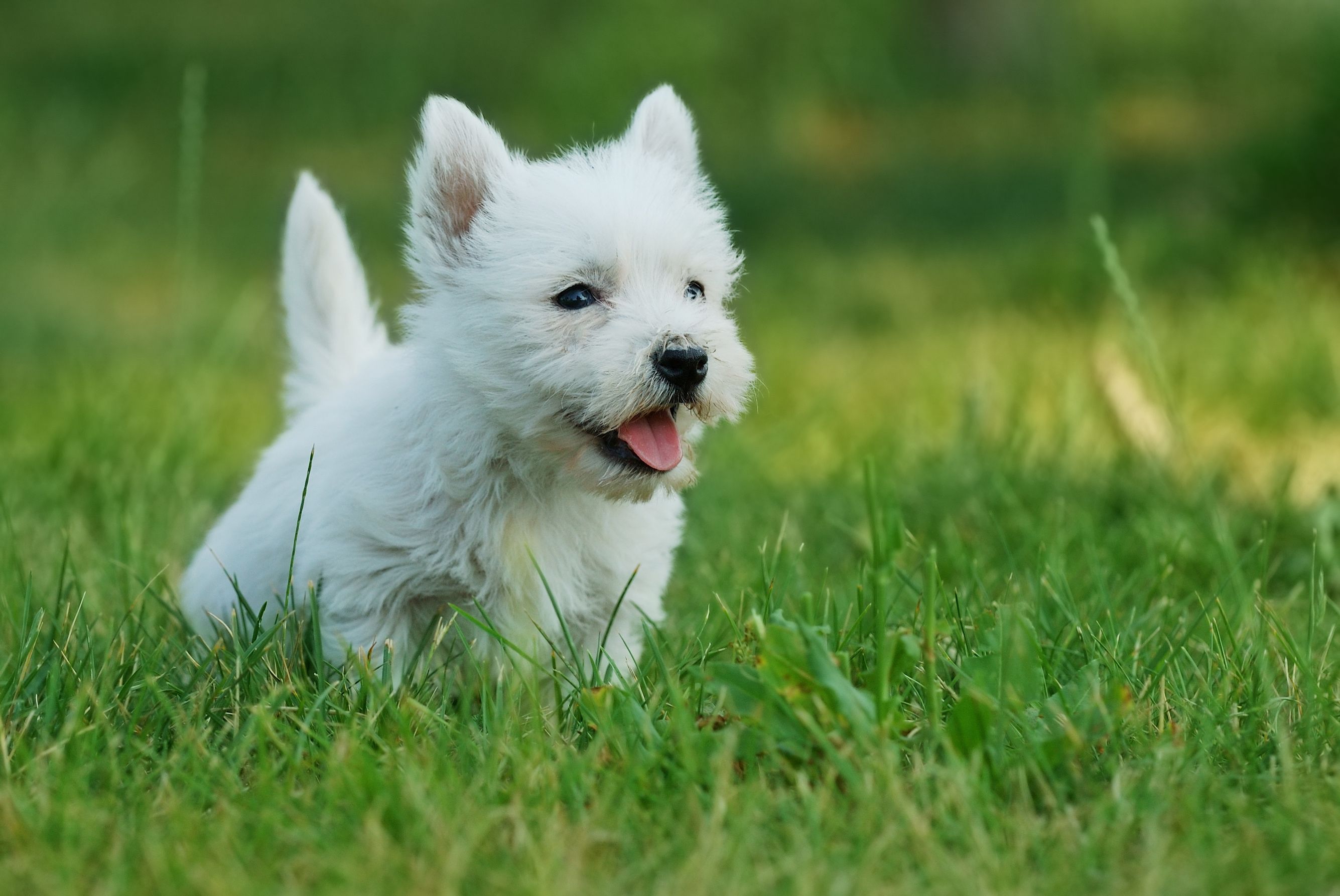 Here are some of the puppy foods we like for West Highland White Terrier puppies. Note that an All Life Stage food can also be fed, as long as the nutrients are appropriate for your puppy.
Canidae Grain Free Pure Foundations Puppy Formula is a limited ingredient food with nine ingredients plus vitamins and minerals and probiotics. It's grain free with probiotics to help digestion; antioxidants for a healthy immune system; and omega 3 and 6 to support healthy skin and a beautiful coat. The first five ingredients are Chicken, menhaden fish meal, lentils, peas, potatoes. The recipe is supposed to be especially good for puppies with sensitive digestion. The food has 30 percent crude protein, 12 percent crude fat, 4 percent crude fiber, and 10 percent moisture. This food checks in at 520 kcal/cup, so it's high in calories but active, growing West Highland White Terrier puppies can usually burn them off. Just remember that you don't need to feed a lot of food with these very nutrient-dense foods. If your West Highland White Terrier puppy does well on this puppy food, Canidae has some good adult foods – both grain free and foods with grains.
VeRUS Puppy Advantage is a good holistic food for puppies. The first ingredient is chicken meal followed by easy-to-digest ground oats and ground brown rice. The formula contains DHA for proper brain development, omega-3 fatty acid from fish oils, non-Chinese sourced vitamins and chelated minerals. The food also includes a freeze-dried live probiotic that is unique among dog food manufacturers. The chicken used in their food is cage-free, U.S.-grown and guaranteed to be antibiotic-free. VeRUS has none of the undesirable ingredients that are sometimes found in pet foods. No meat by-products, no artificial flavors or colors, no fillers, no corn, no wheat, no soybeans, no sugars. Any dog lover who may be concerned about chemicals or additives in pet foods should check out VeRUS.
Best Dog Foods for the Senior West Highland White Terrier
It's not unusual for many West Highland White Terriers to live into their teen years. This means that you will probably need to consider what kind of food to feed your West Highland White Terrier as he gets older. As your dog ages it's a good idea to plan an annual senior check-up with your vet. Many older dogs begin to put on pounds as they become less active. For this reason, most senior dog foods have fewer calories and they can skimp on protein. You should watch your older dog's weight as he gets older to make sure he doesn't become overweight. In some cases, you can simply cut back on the portions of his regular dog food to help him stay fit or increase his exercise.
On the other hand, some very old dogs often start to have some problems metabolizing nutrients, including protein. It can become hard for them to keep good muscle tone and weight as they age. For this reason, you may wish to avoid many dog foods labeled "senior." These foods are often formulated for older dogs that have gained weight. Instead, look for a senior dog food that we like which has lots of protein. As long as your older dog doesn't have any problems with his kidneys or with phosphorus, there is no reason to avoid higher protein levels.
Orijen Senior provides plenty of excellent quality protein for your older West Highland White Terrier. This food features deboned chicken, deboned turkey, yellowtail flounder, whole eggs, and whole Atlantic mackerel. It helps keep older dogs in good muscle even as they become less active. Made of 85 percent meats and fish, the food is low-glycemic and has low carbs to help keep your older dog's blood sugar steady. The food also contains natural sources of glucosamine and chondroitin to keep your West Highland White Terrier's joints healthy. The food is 38 percent crude protein and 15 percent crude fat. It checks in at 414 kcal per 8 ounce cup. We think this is a very good food for senior dogs who often need extra protein as they get older. (We know Orijen is expensive but this food really stands out for senior dogs.)
Another food you may want to consider for older dogs is Weruva's Caloric Harmony Venison and Salmon Meal Dinner with Pumpkin. This food (and several others in this product line) is potato-free with no corn or wheat, easy to digest, and low-glycemic. It contains pumpkin and oatmeal for healthy gut motility. Meat protein comes from grass-fed venison and the food also features salmon meal and herring meal. The dry matter basis for this food is an estimated 37.8 percent protein;14.4 percent fat; 3.9 percent fiber; and 35 percent carbs. The calorie count (calculated) is Metabolizable Energy (ME) 3320 kcal/kg; 348 kcal/cup. Those look like good figures for senior dogs that need more protein without extra fat.
Best Dog Foods for West Highland White Terriers with Skin Problems/Allergies
As mentioned earlier, West Highland White Terriers can have some allergies and skin problems. If your dog needs to avoid common proteins, you can try this food.
Any dog suffering from skin problems or food allergies may benefit from Wild Calling!'s Xotic Essentials recipes. Formulas like their rabbit meal recipe use exotic meats that are rare in today's pet food market so your dog hasn't eaten them before – less chance of having an allergic reaction. The foods are also highly digestible. Wild Calling! also uses what they call LITe (limited ingredient technology). They don't use any of the ingredients commonly found in most dog foods such as chicken, grain, gluten, egg, yeast, corn, wheat or soy. If your West Highland White Terrier has a food allergy, he may benefit from Wild Calling! The foods are formulated for rotational feeding and they offer several Xotic Essentials recipes, such as kangaroo and bison, so your dog doesn't get over-exposed to one kind of meat protein. This is an All Life Stage food. We think that dogs with skin problems and food allergies can definitely benefit from these recipes.
Another food that is often recommended for dogs with food allergies and skin problems is Zignature. It comes in proteins such as trout & salmon, kangaroo, turkey, duck, venison, and others. It's available in dry and canned versions. Foods are potato- and grain-free, and chicken-free. They do not use common bonding agents in their foods (ingredients to hold the food together) which are high in simple carbs and starches. They only use low glycemic carbs such as chickpeas that add extra protein and fiber to the food. They work with Tuffy's in Minnesota and Performance Pet in South Dakota to make their foods. Many people like Zignature very much. If you have a dog with food allergies, this is a brand that you might consider.
Best Dog Foods for West Highland White Terriers with Sensitive Stomachs
If your dog has a sensitive stomach it can be an indication of a food sensitivity, which is different from a food allergy. A dog with a food sensitivity will have gastrointestinal issues such as vomiting or diarrhea. Or it could be something more serious.
A dog with a sensitive stomach can often be helped by feeding the right dog food. Sticking to a limited ingredient diet food with as few ingredients as possible can reduce the chance of your dog having a bad reaction to something in the food.
We recommend Natural Balance L.I.D. Limited Ingredient Diets Sweet Potato & Fish Formula Small Breed Bites Dry Dog Food. This food is grain free with limited ingredients. It has good quality, alternative ingredients that are easily digestible for a dog with a sensitive stomach. And it contains no artificial flavors, colors, or preservatives. The first five ingredients are: Sweet Potatoes, Salmon, Salmon Meal, Canola Oil, and Potato Fiber. It has 21 percent crude protein, 10 percent crude fat, 4.5 percent crude fiber, and 10 percent moisture. It has 380 kcal/cup and it's an all life stage formula. If your dog can't eat some of the ingredients in this food, Natural Balance has lots of other LID recipes that you might check.
If your dog can't eat these ingredients, you might try one of the Weruva foods or Acana Singles. Weruva also has lots of foods with pumpkin which can sometimes help a dog with stomach issues.
Best Dog Foods for Overweight West Highland White Terriers
If your West Highland White Terrier becomes overweight, it may be due to overfeeding and not enough exercise. You can help your dog lose weight by cutting back on his portions and encouraging him to get more exercise. West Highland White Terriers are very active and playful dogs as puppies and young adults but they can become less active as they get older.
If your West Highland White Terriers needs to lose more than one or two pounds, however, you may need to consider a weight control dog food.
We do not recommend a weight control dog food for a puppy or a very old dog. These foods generally have fewer calories and may have some other differences in nutrients that make them inappropriate for growing puppies or older dogs who need special nutrition.
If you have a West Highland White Terrier that needs to lose weight we recommend Merrick Grain Free Healthy Weight Recipe. We like the fact that this food has 32 percent crude protein. The crude fat percentage is between 8 and 11 percent with 5 percent crude fiber so your dog should not feel like he's starving. It is AAFCO-approved for a maintenance diet. The food has 3,210 kcal per kilogram or 360 kcal per cup ME (metabolizable energy) on an as fed basis (calculated). It is grain free and made from 55 percent beef and poultry. And it contains no corn, wheat, or soy and no ingredients from China. The first five ingredients in this food are: Deboned Beef, Chicken Meal, Potatoes, Peas, and Sweet Potatoes.
If your dog needs to lose weight, you should proceed slowly. No crash dieting. You should aim for your dog to lose no more than 3 to 5 percent of his body weight per month or about one percent each week.
Conclusion
West Highland White Terriers have been popular since they were first brought to America. Indeed, these little white terriers have been managed to remain popular for several hundred years. Self-confident, loyal, happy, curious, smart, playful – there's so much to love about the Westie. If you are lucky enough to have one of these special dogs in your life, we hope you have a long, happy life together.