Best Dog Food for a West Highland White Terrier
The Ultimate West Highland White Terrier Food Buyer's Guide
Skip To Detailed Recommendations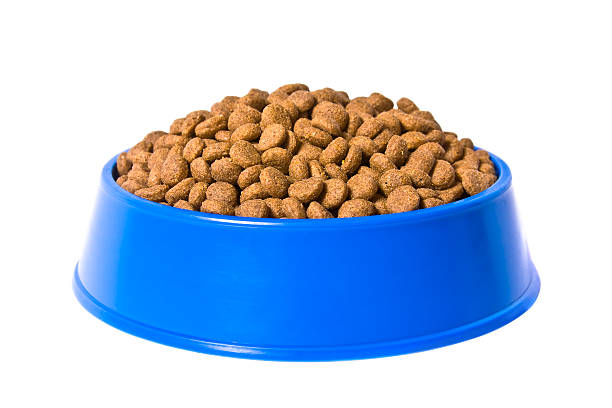 Self-confident, loyal, happy, curious, smart, playful – there's so much to love about the West Highland White Terrier, or "Westie" for short. They are very alert, making excellent watchdogs, and they tend to be good with children. Westies tend to be active dogs, requiring regular exercise. Westies live long and healthy lives as long as they are fed a nutritious diet. So, what's the best dog food for a West Highland White Terrier? Here's a look at some of the best formulas for puppies, adults, and seniors.
Disclosure: Please note that this post contains affiliate links, which will direct you to our partner sites. If you purchase the pet foods we recommend through those links, we may earn a small commission – at no extra cost to you.
Quick Look : Top 4 Best Dog Foods for West Highland White Terrier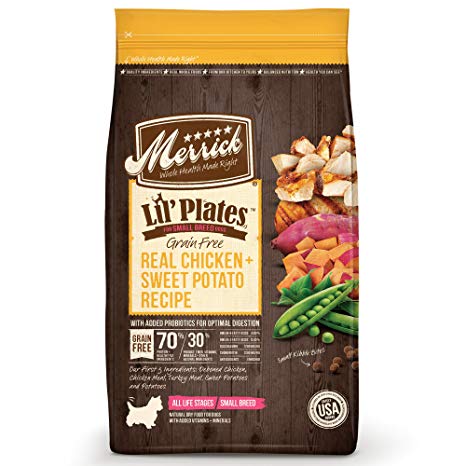 Merrick
Wellness CORE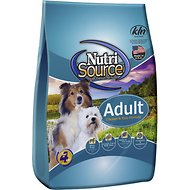 Victor

---
30% Off + Free Shipping
on dog food for West Highland White Terriers
West Highland White Terrier Diet And Nutrition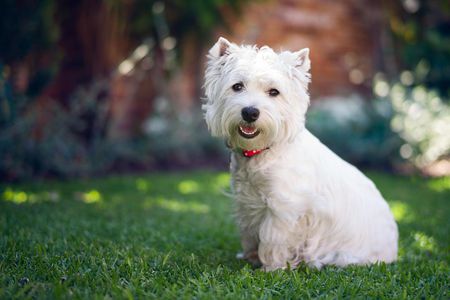 Male West Highland White Terriers are about 11 inches tall at the withers (where the shoulder blades come together); females are 10 inches tall. Males typically weigh 15 to 22 pounds, and females 13 to 15 pounds.
Westies excel at earthdog trials, agility, rally, obedience, nose work, and other events. If you and your dog train and compete in events such as these, you should take that into account when you are figuring how many calories your dog needs in his diet.
According to the National Research Council of the National Academies, an active adult West Highland White Terrier weighing 20 pounds requires an average daily caloric intake of 660 kcal. Dogs that have been spayed/neutered, or that are older, may need slightly fewer calories. Some dogs may need more calories depending on their level of activity and their individual metabolism. For example, if you are training and participating in earthdog trials with your Westie, you might need to feed him somewhere around 733 kcal. Growing puppies consume more calories than adult dogs and so do young adult dogs. A young West Highland White Terrier puppy (four to 12 months) weighing 10 pounds needs an estimated 436 kcal per day. You always need to adjust your dog's food intake based on his activity level and other factors.
What To Feed A West Highland White Terrier
Westies can be fussy eaters so you may need to encourage your dog to eat at times or add little treats to his food to make it more appetizing. You can add a little homemade food or a little canned food to kibble, for example. The food needs to look and smell appealing or your Westie may walk away.
Adult West Highland White Terriers usually do well eating two meals per day. You can feed West Highland White Terrier puppies three to four meals when they are very young, then move to three meals per day as they get older. By the time they are about a year old they should be eating two meals per day.
Ingredients to Look for:
Protein – Ideally you will select a dog food that features two or three meat proteins in the first several ingredients listed. Both whole meats like  and meat meals are good sources of protein. Whole meats refer to foods such as whole chicken, beef, fish, and lamb, while meat meals are a concentrated form of meat in which the moisture is removed.
Note: Many dog foods today, even some of the most expensive and highly touted, use lots of plant proteins such as lentils and peas. These foods often have high protein percentages on the label. When you read the guaranteed analysis it's important to consider how much of the protein in the food comes from meat and how much comes from plants. Your dog is able to digest meat protein more easily than plant protein. Meat protein is a much more natural source of protein for your dog than plant protein.
Fat – Dogs also need good sources of fat. You should look for named fat sources such as chicken fat. Other named fats also provide needed nutrients such as fish oil which can provide omega-3 fatty acid to help keep the skin and coat healthy. Puppies can benefit from DHA which is Docosahexaenoic acid. This is a specific form of omega-3 fatty acid that helps with brain and eye development. Older dogs seem to benefit from medium chain triglycerides which feature medium chain fatty acids (MCFAs). These have been found to help older dogs feel and act younger. They are often made from a combination of coconut oil and other oils.
We do suggest avoiding certain ingredients for Westies, like beef, corn, wheat, brewers yeast, soy, meat by-products, garlic, artificial colors or flavors, and preservatives.
---
Best Dog Foods for West Highland White Terrier Puppies
West Highland White Terrier puppies can usually begin eating a puppy food after they are weaned or they can eat a good all life stage food. Some people like to feed a puppy food for a few months and then switch over to an all life stage food when their puppy is a few months old. If you have questions about how to feed your puppy, we recommend talking to your puppy's breeder. They usually have the most experience with raising West Highland White Terrier puppies and can guide you.
Here are some of the puppy foods we like for West Highland White Terrier puppies. Note that an All Life Stage food can also be fed, as long as the nutrients are appropriate for your puppy.
1
Canidae Grain Free Pure Foundations Puppy Formula is a limited ingredient food with nine ingredients plus vitamins and minerals and probiotics. It's grain free with probiotics to help digestion; antioxidants for a healthy immune system; and omega 3 and 6 to support healthy skin and a beautiful coat.  The recipe is supposed to be especially good for puppies with sensitive digestion. Just remember that you don't need to feed a lot of food with these very nutrient-dense foods. If your West Highland White Terrier puppy does well on this puppy food, Canidae has some good adult foods – both grain free and foods with grains.
Main Ingredients: Chicken, Menhaden Fish Meal, Lentils, Peas, Potatoes
Protein: 30%
Fat: 12%
Fiber: 4%
Calories: 520 kcal/cup
2
Wellness Small Breed puppy is a consumer favorite. It is specifically formulated for the needs of small breed dogs, so you can be sure your Westie is getting the proper amount of nutrients. With three different types of protein, this recipe is packed with health benefits like DHA for brain and eye development.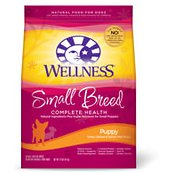 Main Ingredients: Deboned Turkey, Chicken Meal, Salmon Meal, Oatmeal, Ground Barley
Protein: 28%
Fat: 18%
Fiber: 4%
Calories: 480 kcal/cup
---
Best Dog Foods For A West Highland White Terrier Adult
1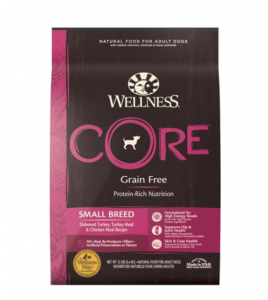 Small breeds have higher energy needs than other dogs. Wellness CORE Grain Free Small Breed formula is high in protein and calories to meet those needs. It has no meat by-products or filler ingredients. It also includes glucosamine and chondroitin for healthy joints; antioxidants and probiotics. We also like the fish and flax omega for good coat and skin – very important for Westies and any dogs prone to skin problems. And it's has no grain, corn, soy, wheat-gluten or artificial preservatives, colors or flavors. It also has a smaller-sized kibble that makes the food easier for small dogs to eat. We think this is a very good grain free dog food for a Westie. Wellness CORE also has other dry and canned formulas if your Westie would prefer different recipes.
Main Ingredients: Deboned Turkey, Turkey Meal, Chicken Meal, Potatoes, and Peas
Protein: 36%
Fat: 16%
Fiber: 5%
Calories: 396 kcal/cup
2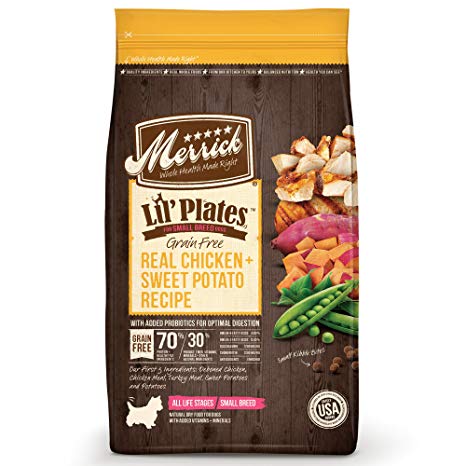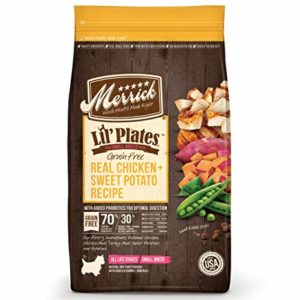 It has 70 percent meat ingredients, 30 percent vegetables, vitamins, and minerals. It is grain free – no corn, soy, or wheat. No gluten. No poultry by-products, no artificial preservatives.  It also has glucosamine and chondroitin added, as well as omega-3 and omega-6 fatty acids. Merrick uses local growers from Texas, where the food is made. We think this is good quality protein and other ingredients for West Highland White Terriers that need good nutrition for an active lifestyle. Not everyone will like a protein percentage this high but if you do, give this food a try.
Main Ingredients: Deboned Chicken, Chicken Meal, Turkey Meal, Sweet Potatoes, and Potatoes
Protein: 38%
Fat: 17%
Fiber: 3.5%
Calories: 460 kcal/cup
3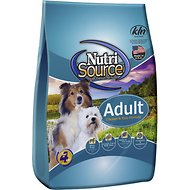 NutriSource Adult Chicken & Rice Formula is the basic food for this product line but they also have lamb, senior, puppy formulas, as well as weight management, performance, and super performance foods, plus canned foods. Other ingredients include chelated minerals for easier digestion and probiotics. This is an all life stage food. Looking at the dry matter basis for this food, it has moderate protein and fat and about 40 percent carbs with no corn, wheat, or soy and no artificial preservatives. NutriSource is made by a good company with a good manufacturing reputation.
Main Ingredients:  Chicken, Chicken Meal, Brown Rice, Barley, Chicken Fat
Protein: 26%
Fat: 16%
Fiber: 4%
Calories: 429 kcals/cup
---
Best Dog Foods for the Senior West Highland White Terrier
It's not unusual for many West Highland White Terriers to live into their teen years. This means that you will probably need to consider what kind of food to feed your West Highland White Terrier as he gets older. As your dog ages it's a good idea to plan an annual senior check-up with your vet. Many older dogs begin to put on pounds as they become less active. For this reason, most senior dog foods have fewer calories and they can skimp on protein. You should watch your older dog's weight as he gets older to make sure he doesn't become overweight. In some cases, you can simply cut back on the portions of his regular dog food to help him stay fit or increase his exercise.
1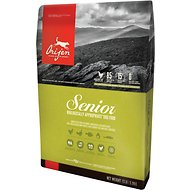 Orijen Senior provides plenty of excellent quality protein for your older West Highland White Terrier. It helps keep older dogs in good muscle even as they become less active. Made of 85 percent meats and fish, the food is low-glycemic and has low carbs to help keep your older dog's blood sugar steady. The food also contains natural sources of glucosamine and chondroitin to keep your West Highland White Terrier's joints healthy.
Main Ingredients: Deboned Chicken, Deboned Turkey, Atlantic Flounder, Whole Eggs, Whole Atlantic Mackerel
Protein: 38%
Fat: 15%
Fiber: 8%
Calories: 414 kcal/cup
2
Another food you may want to consider for older dogs is Weruva's Caloric Harmony Venison and Salmon Meal Dinner with Pumpkin. This food (and several others in this product line) is potato-free with no corn or wheat, easy to digest, and low-glycemic. It contains pumpkin and oatmeal for healthy gut motility. Meat protein comes from grass-fed venison and the food also features salmon and herring meals.
Main Ingredients: Venison, Venison Meal, Salmon Meal, Herring Meal, Oatmeal
Protein: 37.8%
Fat: 14.4%
Fiber: 3.9%
Calories: 348 kcal/cup
---
 Additional Dietary And Health Considerations
Westies are one of the breeds most likely to develop food allergies and skin problems. Their skin problems can be food-related but there can also be other causes. You should talk to your vet if you notice these symptoms. This can save you from changing dog foods multiple times if your dog's skin problems are not food-related.
If your Westie does have food allergies or food sensitivities, you will need to identify your dog's triggers and try to avoid those particular ingredients. The most common allergens for dogs are: beef, dairy products, chicken, lamb, fish, chicken eggs, corn, wheat, and soy. Some dogs are also allergic to pork or rabbit. Dogs can also be allergic to multiple foods so if your dog is allergic to chicken and lamb, for example, removing these ingredients may be helpful, but he could still have allergy symptoms because he is also allergic to wheat. It can be frustrating for owners – and take a long time to figure out – if you have a dog that's allergic to several different ingredients.
Below is a list of Products reviewed in this article