What Is The Best Dog Food for a German Shorthaired Pointer?
The Ultimate German Shorthaired Pointer Food Buyer's Guide
Skip To Detailed Recommendations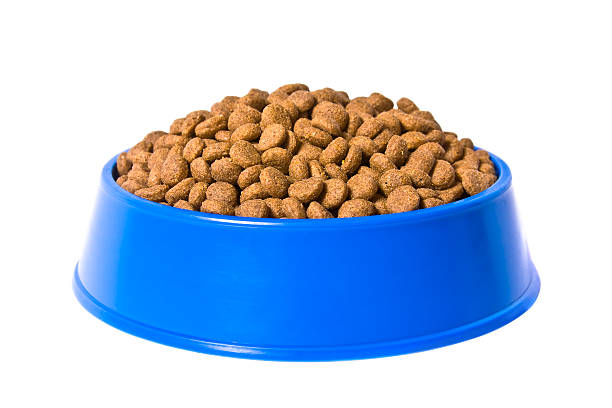 The handsome, powerful German Shorthaired Pointer (commonly referred to as a "GSP" or Shorthair) is known for being a versatile breed, developed in the 19th century in Germany as an all-purpose hunting dog. They are very intelligent, active, affectionate, and easy to train.
German Shorthaired Pointers are good with children and make great family dogs if you have room for them. GSPs have lots of energy and love to run, so exercise and a healthy dog food are essential. So, what's the best dog food for a German Shorthaired Pointer? Here's a look at our top recommendations for the breed.
Quick Look: The Best Dog Food for a German Shorthaired Pointer
Victor
Taste of the Wild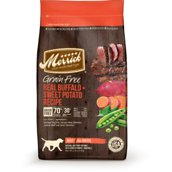 Merrick

---
20% Off + Free Shipping
on dog food for Pointers
German Shorthaired Pointer Diet & Nutrition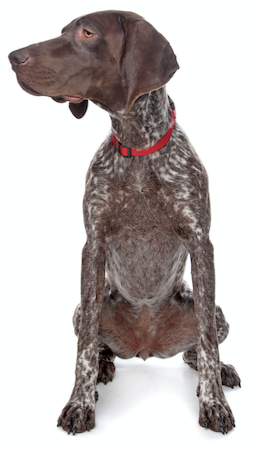 According to the standard for the breed, German Shorthaired Pointers stand about 21 to 25 inches tall and weigh between 45 and 70 pounds (females are smaller).
Because GSPs are bred to be hunting dogs, they are extremely active, which means they need the proper diet to sustain their high-energy level. According to the National Research Council of the National Academies, an active adult GSP weighing 60 pounds requires an average daily caloric intake of 1504 calories, but a GSP engaged in hunting or other performance work might require up to 3,340 calories per day.
Aside from activity level, your dog's age and metabolism, as well as if the they've been spayed/neutered, will impact how many calories he should eat in a day. Growing puppies and young adult dogs, for example, consume more calories than older German Shorthaired Pointers.
German Shorthaired Pointers are considered to be a medium-large breed. They should be able to eat most good quality dog foods and foods made for medium/large dogs. All life stage dog foods should also be suitable. You should note that large breed dog foods usually have fewer calories than other dog foods so it's not usually recommended to feed a German Shorthaired Pointer a large breed food.
What to Feed Your German Shorthaired Pointer
Protein and fat are the main ingredients in the diet for the GSP, as they are for most dogs. However, not all proteins and fats are the same. It's important that the protein and fat in the dog food come from good sources if you want your dog to be healthy.
We suggest that you measure the amount of food you feed and only leave the food sitting out for about half an hour. Then put it away. This should give your dog time to eat. If you free feed and leave the food sitting out all the time, dogs have the opportunity to overat. Most adult dogs do well eating two meals per day. Puppies can usually eat three meals per day until they are old enough to start eating on an adult schedule.
Ingredients to Look for:
Protein – Ideally you will select a dog food that features two or three meat proteins in the first several ingredients listed. Both whole meats and meat meals are good sources of protein. Whole meats refer to foods such as whole chicken, beef, fish, and lamb, whereas meat meals are a concentrated form of the meat in which the moisture has been removed. They contain several times as much protein as a whole meat.
Fat – Look for named fat sources such as chicken fat. Other named fats also provide needed nutrients such as fish oil which can provide omega-3 fatty acid to help keep the skin and coat healthy. Puppies can benefit from DHA, a specific form of omega-3 fatty acid that helps with brain and eye development.
Avoid – It's a good idea to avoid excessively high protein percentages and high carb percentages, as well as corn, soy, and wheat.
---
Best Dog Food for a German Shorthaired Pointer Puppy
German Shorthaired Pointer puppies need a quality puppy food or all life stages food. As with other puppies, the recommended calcium to phosphorus ratio should be about 1.2 parts calcium to 1 part phosphorus, though there is some slight room for variation (such as 1.5:1). Most puppy foods should have a calcium to phosphorus ratio in this neighborhood. It's also important that dog and puppy foods do not have an excess (or deficiency) of calcium since this can affect bone growth.
Here are some of the puppy foods we like for German Shorthaired Pointer puppies:
1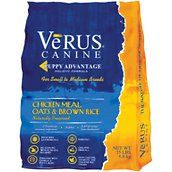 This particular grain-free option contains probiotics that stimulate a healthy digestive system. In addition, you'll find omega fatty acids for healthy coat and skin as well as fruits, veggies, and just the right amount of protein to promote steady growth through adolescence. Let's not forget that Taste of the Wild products are Made in the USA. This is seen as a big benefit to most customers as the ingredients are more trusted.
Main Ingredients: Buffalo, Lamb Meal, Sweet Potatoes, Egg Product, Pea Protein
Protein: 28%
Fat: 17%
Fiber: 5%
Calories: 370 kcal/cup
2
Similar to Fromm Gold Holistic Adult formula, this puppy formula contains no corn, wheat, or soy. Protein and fat in the food are moderate, and so are the calories, to help large breed puppies grow slowly. The technical analysis for the food shows the correct calcium to phosphorus ratio for growing puppies. Fromm Gold Holistic Puppy formula also has added DHA-rich salmon oil for good brain and eye development in puppies. The USDA-inspected ingredients for the food are delivered fresh each morning.
Main Ingredients: Duck, Chicken Meal, Chicken, Oatmeal, Pearled Barley
Protein: 27%
Fat: 18%
Fiber: 3.5%
Calories: 417 kcal/cup
3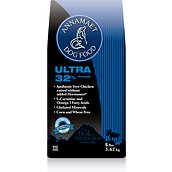 Annamaet Ultra is an all life stage formula that is suitable for puppies as well as performance dogs. The calcium to phosphorus ratio makes it a good fit for growing puppies. Annamaet uses algae as a source of omega-3 fatty acid for good skin and coat and healthy heart development. The food also contains DHA for good brain development. The chicken is raised free of antibiotics. Since this is an alll life stage food, you can go on feeding it as your puppy gets older and becomes an adult.
Main Ingredients: Chicken Meal, Brown Rice, Chicken Fat, Whole Dry Eggs, Herring Meal
Protein: 32%
Fat: 20%
Fiber: 3%
Calories: 480 kcal/cup
---
Best Dog Food for a German Shorthaired Pointer Adult
Every dog is an individual. Even dogs in the same breed can have different food needs. We are recommending a variety of foods for the GSP. Some have grains and some don't. We have selected foods without corn, wheat, and soy unless otherwise noted. You may have to try a couple of foods to find which one is best for your dog. You should also keep in mind that your dog's diet needs can change as he grows and ages so you may have to change foods to accommodate him.
1
Victor is made by Mid America Pet Food – a company that co-packs for some other well-known brands. All of their foods are free of corn, wheat, soy, gluten, and grain by-products. They use no artificial colors, flavors, or preservatives. Seventy-six percent of the protein in the food comes from fish. This is a great formula for your German Shorthaired Pointer, but we also recommend checking Victor's other formulas.
Main Ingredients: Salmon, Menhaden Fish Meal, Sweet Potato, Peas, Canola Oil
Protein: 33%
Fat: 15%
Fiber: 3.8%
Calories: 398 kcal/cup
2
Another best dog food for German Shorthaired Pointers is Taste of the Wild's Wetland dry dog food. It's made in the USA and, like Orijen, is also grain-free. This is great for GSP's with skin allergies or sensitive stomachs as it removes a lot of the typical ingredients that cause itching and bloat. Their 30lb bag retails (on sale) for $48.99 at Chewy right now.
Main Ingredients: Duck, Duck Meal, Chicken Meal, Sweet Potatoes, Peas
Protein: 32%
Fat: 18%
Fiber: 4%
Calories: 375 kcal/cup
3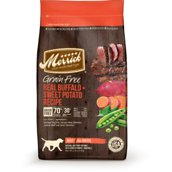 Merrick's formula has 70 percent meat and fish ingredients, as well as 30 percent vegetables, vitamins, and minerals. It is free of corn, soy, wheat, gluten, poultry by-products, and no artificial preservatives. They also use local growers from Texas, where the food is made.
Main Ingredients: Deboned Buffalo, Chicken Meal, Turkey Meal, Deboned Beef, Sweet Potatoes
Protein: 38%
Fat: 16%
Fiber: 3.5%
Calories: 460 kcal/cup
---
Best Dog Food for a German Shorthaired Pointer Senior
As noted, it's not unusual for German Shorthaired Pointers to live into their teen years. This means that you will probably need to consider what kind of food to feed your dog as he gets older. As your dog ages, it's a good idea to plan an annual senior check-up with your vet. Many older dogs, including GSPs, begin to put on pounds as they become less active. For this reason, most senior dog foods have fewer calories and they can skimp on protein. You should watch your older GSP's weight as he gets older to make sure he doesn't become overweight. In some cases, you can simply cut back on the portions of his regular dog food to help him stay fit or increase his exercise.
On the other hand, very old dogs often start to have some problems metabolizing nutrients, including protein. It can become hard for them to keep good muscle tone and weight as they age. For this reason, you may wish to avoid many dog foods labeled "senior." These foods are often formulated for older dogs that have gained weight. Instead, look for a senior dog food, like Orijen.
1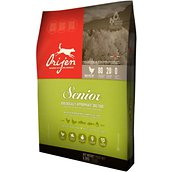 Orijen Senior provides plenty of excellent quality protein for your older German Shorthaired Pointer. It helps maintain muscle in older dogs even as they become less active. Made of 80 percent meats and fish, the food is low-glycemic and has low carbs to help keep your older dog's blood sugar steady. The food also contains natural sources of glucosamine and chondroitin to keep your GSP's joints healthy.
Main Ingredients: Deboned Chicken, Deboned Turkey, Atlantic Flounder, Whole Eggs, Whole Atlantic Mackerel
Protein: 38%
Fat: 15%
Fiber: 8%
Calories: 414 kcal/cup
---
Additional Dietary and Health Considerations
The German Shorthaired Pointer is usually considered to be a tough, sturdy dog. However, like all dogs, some health issues do exist. The German Shorthaired Pointer Club of America recommends that dogs considered for breeding have a cardiac exam, have their hips and elbows evaluated for dysplasia (not uncommon in larger dogs), have an annual eye exam until the dog is six years old, and have an Optigen test for cone degeneration (eyes). Other optional tests suggested by the breed club include a test for autoimmune thyroiditis, Von Willebrand's Disease (a form of hemophilia), and possibly Lupoid Dermatosis (LD). The club also donates to other research which may affect some GSPs such as epilepsy and cancer.
You can find more information about German Shorthaired Pointer health issues on the website for the German Shorthaired Pointer Club of America. Whether you are getting a new German Shorthaired Pointer puppy or bringing home an older dog, GSPs are intelligent, loving companions. We hope we have provided you with the information you need to feed your friend the best food possible.
For more information on medium-sized breeds, take a look at our recommendations for the best dog foods.