Pedigree Dog Food
Brief Overview
Pedigree dog food is a market leader among pet foods. The Pedigree brand makes kibble, wet food (canned and moist), and treats for dogs. They make food for puppies, adults, and senior dogs, apes well as food for dogs by size and by specific need such as weight control, dental health, and hip and joint health. Pedigree is easily found in grocery stores and other places that sell dog foods.
Disclosure: Please note that this post contains affiliate links, which will direct you to our partner sites. If you purchase the pet foods we recommend through those links, we may earn a small commission – at no extra cost to you.
Who manufactures Pedigree?
Pedigree is made by Mars Incorporated and their pet division. In the U.S. this division is called Mars Petcare and is headquartered in Franklin, Tennessee. Pedigree products in the U.S. are made at various factories including factories in Kansas, Arkansas, and Missouri, to name a few. Pedigree is one of the top-selling dog food brands in the U.S. and Mars is one of the big four pet food companies globally (the others being Nestle-Purina, Proctor & Gamble, and Colgate-Palmolive). These companies are thought to control about 80 percent of the world-wide pet food market.
Pedigree Recalls 2017
Please Read First: If this statement is still here we are actively watching for new recalls. Below you will find a history of recalls. If you would like to know as SOON as we find out about a recalls visit:https://dogfood.guru/dog-food-recalls/ and fill out our Recall Alert form. We will ONLY email this list in the event of an actual recall. Once we stop watching for Recalls I will remove this statement.
We also encourage everyone to bookmark the site for future reference.
Latest Recalls List (From newest to oldest):
Mars Petcare US Announces Voluntary Recall of 22 Bags of PEDIGREE Brand Adult Complete Nutrition for Dogs Sold at Dollar General in Mississippi, Arkansas, Tennessee and Louisiana
Pedigree had a recall in June 2012: June 30, 2012 Mars Petcare US Announces Voluntary Recall of Limited Range of Pedigree ® Brand Wet Dog Food Potential choking risk. The only other recall we find for dog food products produced by Mars are for these two products in 2007.
Learn how we Monitor for Recalls: https://dogfood.guru/dog-food-recalls/
Pedigree Dog Food Coupons 2017
---

Free Shipping on Orders over $35
Pedigree Reviews
Pedigree produces nine dry dog foods, along with 16 wet products and 10 different kinds of treats. Their kibbles include Pedigree Adult, Pedigree Puppy, Pedigree Large Breed, Pedigree Small Breed, Pedigree Active Nutrition, Pedigree Healthy Joints, Pedigree Healthy Longevity, Pedigree Healthy Weight, and Pedigree Sensitive Nutrition.
Ingredients in Pedigree foods typically include whole ground corn as the first ingredient. Other ingredients in the foods include meat and bone meal, corn gluten meal, animal fat, and soybean meal. The foods use artificial preservatives such as BHA/BHT. They also include artificial colors. You can find some of these ingredients in a lot of moderately good dog foods but when you find all of them in a food, we think it suggests that the food is low quality. Obviously, Pedigree dog foods are bestsellers and have been for years. They are found in every grocery store in the U.S. and they have identified themselves with marketing for shelter dogs ("Dogs Rule"). There are probably lots of dogs who have eaten Pedigree dog food their entire lives without any problems. But we think Pedigree dog foods, in general, are not a good choice for most dogs if you have the opportunity to buy something better.
Calories in the foods are also on the low side: 311 and 313 per cup for the Adult food and Large Breed Adult. Only 239 for the Small Breed Adult, even though most foods for small breed dogs are higher in calories because small breeds use more energy per pound. The Active Nutrition formula, which you might expect to have more calories, has only 293 calories per cup. This is very low for an active formula.
Guaranteed analyses for the foods show that most of the adult foods have about 21 percent crude protein and 10 percent crude fat. The Active Nutrition formula has 26 percent crude protein and 12 percent crude fat. Again, this is low compared to most active dog formulas.
Considering the carbohydrate matter in these foods, as well as the corn content, we think many people who feed Pedigree will find that half the food they feed will be undigested by their dogs. People who feed these foods will probably have a lot of dog poop to clean up in the yard. While it may sound silly, you can often tell how good a dog food is by how much poop you have to scoop. If you are scooping a lot, it means your dog isn't digesting the nutrients in the food very well. Foods that produce small, compact poop usually mean that your dog is getting the most out of the nutrients in the food and there isn't much left for him to eliminate from his body. (Yes, it's true that dog people do spend a lot of time looking at dog poop.) Of course, any dog can have some digestive upset when you change his food, even if you do so gradually. But take a look at the poop your dog is leaving when your dog is eating a food he is accustomed to and see if you're happy with the food.
We cannot recommend Pedigree dog food on the basis of their ingredients and other factors.
How would you rate Pedigree?
[gdrts_multi_stars_rating_auto series="gdsr-dog-food-reviews" style_size=40 style_type="font" style_font_name="star"]
Our Pedigree Sensitive Nutrition Food for Dogs Analysis: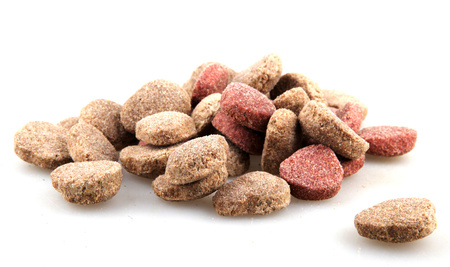 Pedigree Sensitive Nutrition has ingredients that are a little different from the other Pedigree foods so we thought it was a good idea to look at it more closely. Pedigree says the food is intended for dogs with sensitive stomachs. It has no corn, wheat, or soy, so some dog owners might be tempted to buy this food for their dogs, thinking it's a better food.
The first five ingredients in this food are:
Ground whole grain barley
Poultry by-product meal
Brewers rice
Poultry fat (source of omega 6 fatty acids [preserved with bha and citric acid])
Fried plain beet pulp
You'll notice that the first ingredient is still a grain and not a meat protein. On a dry matter basis, we figure the food has 23.9 percent protein, 11.4 percent fat, 4.5 percent fiber, and about 51.1 percent carbohydrates. That's an exceptionally high amount of carbs for any dog food. The food has 280 calories per cup, which is low. This food is AAFCO approved for maintenance.
The first ingredient, ground whole grain barley, is 90 percent carbs, 7 percent protein, and 3 percent fat. Barley has some nutritional value, of course. It's a good source of dietary fiber and manganese, for example. Some dogs can eat it more easily than other grains, like corn. But you probably don't want it to be the biggest ingredient in your dog's diet.
The second ingredient is poultry by-product meal. According to AAFCO this is the ground, rendered, clean parts of the carcass of slaughtered poultry, such as necks, feet, undeveloped eggs, intestines, exclusive of feathers, except in such amounts as might occur unavoidably in good processing practices. It's better than some of the vaguer meat meals because at least you know that it's poultry. And by-products from poultry are not so bad. Many people who feed a raw diet give their dogs necks and other by-product parts. But if you could choose what goes in your dog's food, this probably isn't an ingredient you would select. We can say that chicken and turkey, in general have about 70-80 percent protein so "poultry" by-products would have something in this neighborhood. As a meal, most of the moisture has been removed and this ingredient would have several times as much protein as normal.
The third ingredient is brewers rice. Brewers rice is the small milled fragments of rice kernels that have been separated from the larger kernels of milled rice. It is often used in pet food to provide structure and texture to the food. It's not uncommon to see it far down the list of ingredients. However, when it appears near the top of the list, it is usually being used as a filler ingredient.
The fourth ingredient is poultry fat (preserved with BHA and citric acid). Poultry fat is, again, better than an unnamed fat source since you know it's poultry, but it's not as good as chicken fat or turkey fat. Poultry fat can provide some omega fatty acids for your dog. We are reluctant to provide nutritional information for poultry fat without knowing specifically what it includes. We also note that this fat is preserved with BHA. BHA (Butylated hydroxyanisole) is a controversial artificial preservative that has been suggested as a human carcinogen. For this reason, most people try to avoid it in pet foods since it's thought that it can also cause cancer in pets.
The fifth ingredient is dried plain beet pulp. Many people are confused about beet pulp. They believe it's a sweetener or a filler or that it has some other bad properties. We like dried beet pulp a lot. It's a good dietary fiber and it is not a sweetener. All of the sugar has already been removed from the beet pulp before it is used in pet food. This ingredient is very good for a dog's digestion.
Of these first five ingredients, we are most troubled by the use of the BHA, though we don't like the barley as the first ingredient either. However, we also find it troubling that the food is preserved with BHA & citric acid (a preservative) listed at the end of the ingredient list.
Overall, this food does look better, in terms of ingredients, than some of the other Pedigree foods, but we still can't recommend it.
Where can you buy Pedigree?
You can buy Pedigree dog foods virtually anywhere dog foods are sold, as well as online.