Best Low-Fat Dog Food
Your dog is your best friend, so shouldn't you do everything you can to keep him happy and healthy? All dogs require a balanced diet, but some dogs have specific nutritional needs that require a certain type of food. In this article you will learn the basics about low-fat dog foods and why they might be necessary for certain dogs.
Medical Necessity for Low-Fat Diets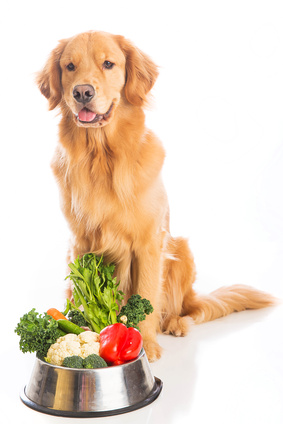 Low-fat diets are not just for dogs that are currently or are at risk for being overweight – they are also recommended for dogs suffering from certain medical conditions. Aside from obesity, pancreatitis is the condition for which a low-fat diet is most recommended. A dog suffering from pancreatitis may not be able to properly digest the fat in its food, thus necessitating a diet that is low in fat. Other conditions which may make a low-fat diet necessary include inflammatory bowel disease, exocrine pancreatic insufficiency, hyperlipidemia and dietary intolerances and allergies.
Choosing a Low-Fat Dog Food
When you have a dog that requires a low-fat diet, choosing a commercial dog food can be tricky. If you choose to go commercial, look for a formula that contains less than 10% fat on a dry matter basis (this is equivalent to less than 17% of the calories coming from fat). Ideally, these foods should be made from high-quality but low-fat protein sources like chicken breast, turkey, venison, rabbit and buffalo. Beef and other types of red meat tend to be very high in fat. Avoid products made with fillers like cornstarch, rice, corn gluten meal and animal byproducts.
Another alternative to buying a low-fat commercial dog food is to make your own low-fat food at home. There are some challenges associated with making your own dog food including the cost and the time needed to make it, but the benefits are definitely worth considering. If you do make your own dog food, be sure to choose a low-fat recipe that has been approved by a veterinary nutritionist to ensure that it will meet all of your dog's nutritional needs. Such recipes should be made from low-fat protein sources like those listed above and they shouldn't be too high in carbohydrates such as corn, rice and wheat.
Best Brands for Low Fat Dog Food Diet
Whether you make your own low-fat dog food or buy a commercial formula is up to you. In the event that you do choose to go commercial, try out one of these recommended low-fat brands:
Amicus Weight Management
Offering your dog a healthy diet is the key to keeping him in good condition – both physically and mentally. If you do not give your dog the right food he may fail to thrive and he could even end up becoming obese. To provide your dog with the best care possible, start with a high-quality dog food.