Here are the different types of Dog Food
(Click to visit the relevant page)
Our Top Dog foods
Most Popular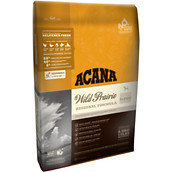 Best food Acana
Grain-Free
Ranch-raised beef & pork.
No added corn, soy, wheat or tapioca.
Made in the USA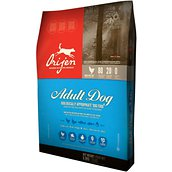 Best food Orijen
85% meat ingredients
Coated with freeze-dried liver
Made in the USA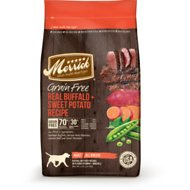 Best food Merrick
Grain-free recipe
real beef and sweet potato.
65% protein and healthy fat
35% fiber, produce, vitamins
Or see categories below for recommendations based on categories
There are approximately 83.3 million pet dogs in the United States, according to the 2013-2014 American Pet Products Association National Pet Owners Survey. Americans will spend an estimated $22.62 billion on pet food in 2014 and there's no sign that the upward trend will slow. As a nation, we love our pets and the pet food market is expanding to offer more and more choices to loving pet owners. In addition to the overall growth of the pet food market, organic pet food and premium pet foods are also growing at a strong rate as consumers try to make sure that their pets eat healthier foods. Owners are concerned about the kind and quality of ingredients in the food, where ingredients are sourced, handling and processing practices, company reputations, and whether companies have had a history of recalls. When it comes to choosing food for a pet, who is often considered a beloved family member, price is often a distant consideration.
At the same time, not all pet foods are what they claim to be. Pet food companies are aware of the factors that appeal to consumers and they market products with terms like "natural" and "holistic" which have limited meaning. They make appeals to "pet parents" to play on your emotions and sometimes use gimmicky ingredients that don't really have any nutritional value for dogs because they are popular human health trends. Some companies also tout doubtful nutritional theories. A dog running happily through a field of wheat in a commercial may look sweet but it's probably not a good reason to buy a dog food. It's not easy for dog owners to know which foods are really nutritious for their companions.
We hope to dispel some of the confusion by looking at what's in pet food and what is really nutritious for your dog. We'll start by looking at the different types of dog food.
Dry Dog Food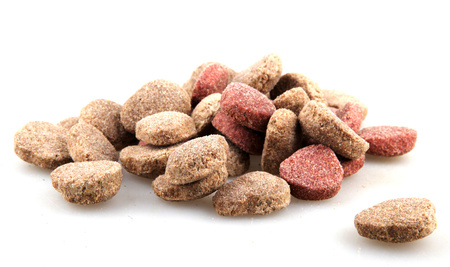 Obviously, people have been feeding their dogs one thing or the other for thousands of years. Mostly dogs have been fed leftovers from human meals, parts of animals that people didn't want to eat, or a mixture of scraps and cereal grains. Dogs that were more prized – usually because they were good hunters or pampered pets – sometimes had special meals made up of better food based on the current theories about good nutrition for dogs. It wasn't until the 1860s that an American in London named James Spratt came up with the idea for the first dry food for dogs in the form of a biscuit. It was modeled after the sea biscuits that sailors had for rations. You can find a good overview of the modern history of dog food here.
Our Top Dry foods
Most Popular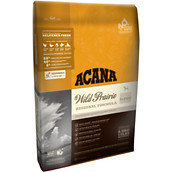 Best food Acana
Grain-Free
Ranch-raised beef & pork.
No added corn, soy, wheat or tapioca.
Made in the USA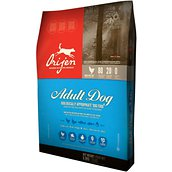 Best food Orijen
85% meat ingredients
Coated with freeze-dried liver
Made in the USA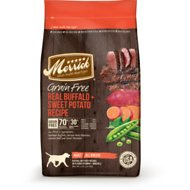 Best food Merrick
Grain-free recipe
real beef and sweet potato.
65% protein and healthy fat
35% fiber, produce, vitamins
Kibble
Kibble is a kind of dry pet food that is usually made by an extrusion process. Some people are under the impression that higher quality kibbles are made in a different way, but with just a few exceptions, all kibbles are basically made the same way, using the same kind of machinery. Each pet food will have its own recipe which is a proprietary formula owned by the pet food company. Many companies make their own foods. This is especially true with kibbles. Canned foods require different machinery. Some companies – especially larger companies – make their own canned foods.
Many smaller companies who haven't invested in the extra machinery for canned foods have arrangements with other companies who make their canned foods for them. The ingredients and recipe used will be specific for the company's food. The pet food is simply being made using the machinery and in the facilities of another company. This is called "co-packing." This is why you often see people asking, "Who makes the food?"
The process for making kibble begins by mixing the dry and wet ingredients together to make a mixture like dough. This mixture then goes into a machine called an expander which uses pressurized steam or hot water to cook the ingredients. While in the expander the mixture is under high pressure and high temperatures. At this point the dough is forced or "extruded" through specially-shaped holes and cut off into small pieces. It's a little like pushing Play-doh through a Play-doh factory. The dough is still under great pressure at this point but as soon as it is extruded and the pressure is released, the pieces puff up. These are the bits of kibble you see in your bag of dog food. The kibble still has to pass through a dryer to help dry it out. Then it is sprayed with fats, oils, vitamins, and minerals and sealed into the bag before the fats and oils can spoil. Most kibble has a moisture content between 10 and 12 percent. You can see the process here.
There are a few dog foods that are baked instead of extruded. Baking doesn't necessarily make a pet food more nutritious, though many of the baked dog foods are very good foods. Baking is a slower process and the dough is not kept at such high pressure or at such high temperatures. It is similar to how you would bake cookies in your kitchen at home. The companies who have baked dog foods claim that the food is easier for dogs to digest. (AvoDerm, Flint River Ranch, for example.) We note that some dog foods have established the right to call themselves "human grade." They use human-grade ingredients and are manufactured at facilities that have passed inspection for human food processing. However, the process used to make their kibbles and other pet food products are the same as that of other companies.
Dehydrated
As you might guess, dehydrated dog foods have had much of the moisture removed. In some cases the dehydrated food is raw before dehydration. Freeze-drying is one way of dehydrating food so you may see some pet foods with "freeze-dried" on the label. Dehydrated pet foods offer several benefits to dogs and owners. The foods are not cooked at high temperatures or for long periods of time which makes it probable that they don't lose nutrients through cooking and processing. And the dehydration process keeps the food from spoiling without the need for a lot of preservatives. Some dehydrated foods have to be rehydrated with water before you feed them to your dog, but not all of them. Some companies like to add some dehydrated raw food to their kibble as an extra boost to the food (Nature's Variety Instinct Raw Boost). The Honest Kitchen and ZiwiPeak both make good dehydrated dog foods but there are others. This is a growing category. Dehydrated foods are more expensive than ordinary kibble but you usually feed your dog much less of the food. We consider this a "dry food" because bags of dehydrated dog food are dry and easy to carry and store, the same as kibble. Read more about Dehydrated Dog Food: https://dogfood.guru/dehydrated/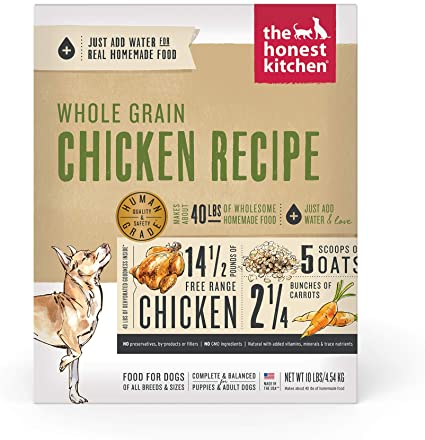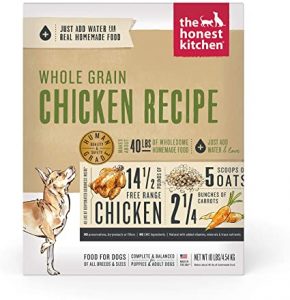 The Honest Kitchen – Dehydrated chicken receipt- Chcck Price
Wet Dog Food
Wet dog food usually comes in a can or pouch. Canned dog food can be up to 78 percent moisture unless they are labeled "in sauce," "stew," or "in gravy." Products labeled in this manner can contain as much as 87.5 percent moisture. Although this may not sound like a big difference, when you figure the dry matter basis for the food it can make an enormous amount of difference in how much meat and other ingredients are in the can.
Most canned dog food has a higher percentage of protein (dry matter basis) than dry dog food and a small amount of carbs. They sometimes have a higher percentage of fat, as well. This is one reason why dogs love canned food so much.
Wet food can have these proportions because they don't require much in the way of carbohydrates to make a dough the way that kibble does. They usually just need a little starch to give the food shape, form, and texture. Many canned foods use natural thickening agents for this purpose such as guar gum or cassia gum. Some foods use wheat (flour) or corn starch which are familiar to most people who cook as thickening agents. Some foods use carrageenan which is an old-fashioned thickener made from seaweed (used in human foods, too), though it has come under scrutiny as a digestive irritant.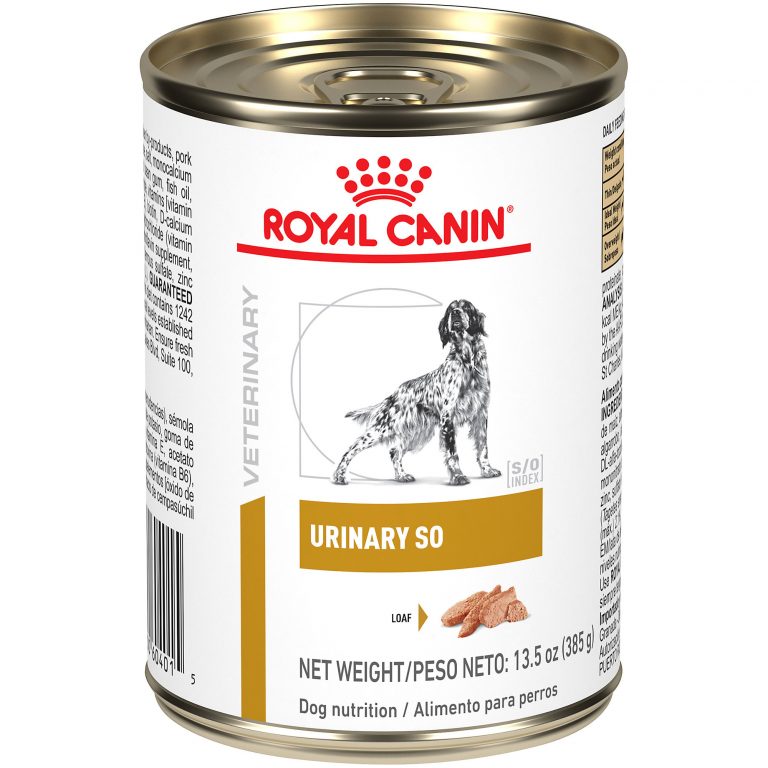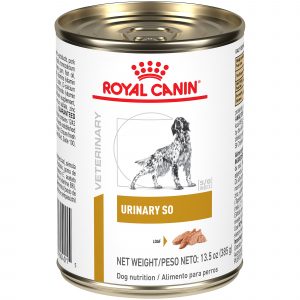 Canned
As already mentioned, canned dog food requires a different manufacturing process than making dry kibble. There's an excellent explanation (with photos) of how a canned food is made on The Whole Dog Journal site.  You can also see a nice graphic from The Petfood Institute here.  Pet food companies are required to follow the same federal regulations for making wet pet food products that human food companies must follow for low acid foods (21 CFR Part 113). The process involves mixing the meat and other ingredients, cooking, adding the "ash" content or minerals, and sealing into the cans, among other things. It's completely different from making kibble.
American Nutrition and Simmons make a number of canned foods for other companies and there are others. This is called "copacking" when a company makes food for another company on a custom basis. The recipe and ingredients used belong to the original company but the work is done by the copacker. Companies are often reluctant to disclose this kind of information.
Is canned dog food better for dogs than kibble? There's really no better or worse when comparing canned and kibble food. There's only what works best for your dog. There are, however, pros and cons to canned food.
Canned food is typically more expensive than kibble;
Canned food can be awkward to carry and store;
It takes a lot of canned food to feed a medium or large dog;
However,
Canned food can be great for small and Toy dogs, especially if the cost is not a factor;
Canned food makes a great topping or treat;
Canned food is often a good way to get picky dogs to eat;
If you buy canned food by the case, it can be easier to carry and store;
Canned food can be good for senior dogs who are losing their appetite.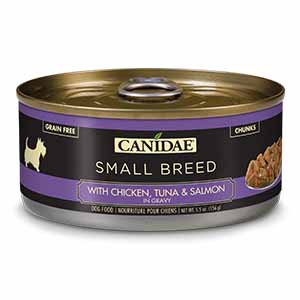 DFG recommendss:  CANIDAE Grain-Free PURE Petite Chicken, Tuna & Salmon in Gravy Limited Ingredient Small Breed Canned Dog Food, 5.5-oz, case of 24 – Check Price
As with all foods, some canned foods are of better quality than others. Just as with kibbles, it's important to read labels and examine the guaranteed analysis so you know what you're buying. It's especially important to figure the dry matter basis when you're looking at canned food.
When a can of dog food has 78 percent moisture, it's very important to convert the guaranteed analysis to the dry matter basis so you know what the real percentages are. You can use the following method to figure the dry matter basis: If a can of dog stew has 82 percent moisture, you would subtract 82 from 100 (100 percent is the whole amount). This means there is 18 percent dry matter in the food.
Let's say the food has 4 percent fat in the guaranteed analysis. You would then divide the 4 percent fat by 18 percent dry matter and get 22. This means the food has 22 percent fat after the water has been removed. If the food has 9 percent protein in the guaranteed analysis, you would divide 9 by 18 and get 50 percent protein by dry matter basis. And so on. You can do this for fiber and other percentages given in the guaranteed analysis. Or, you can always look online to find some convenient dry matter basis calculators for pet food and simply plug in the numbers. The important thing is that you make sure when you are comparing cans of dog food that you're comparing them based on their dry matter basis. Otherwise, you're not looking at a true comparison of what's in the food or what your dog would be eating.
Pouch
Dog food pouches are a small segment of the overall dog food market but they are a favorite with some dogs and owners. They have some of the meatier taste of canned food but they usually come in a resealable pouch so they are easy to store. You can use what you need and put the rest in your refrigerator for a day or two which makes them more convenient to use than canned food. The process for making dog food for pouch containers is basically the same as that for canned foods. Dog food in pouches can be similar to canned foods in terms of ingredients and guaranteed analysis, but some dog food in pouches can focus more on meat protein, depending on the brand and line of foods. You should read the label carefully to see what the ingredients are and, as usual, compare foods by dry matter basis.
Frozen
This is a relatively new – but very fast-growing – segment of the pet food market. Frozen dog food has been around for a while.  Frozen dog foods today are often made by the same premium brands that make other high quality dog foods. The same companies that make raw food diets, for example, often feature a line-up of frozen foods.
Nature's Variety Raw Instinct is frozen. They also have a freeze-dried version. Stella & Chewy's comes either frozen or freeze-dried. Orijen also has a freeze-dried food. There are plenty of others in these categories.
In case you're wondering, freeze-drying and dehydration are not the same thing. Both methods of food preparation are good for long-term storage, however, dehydrated foods usually have to be rehydrated. Freeze-dried foods don't need anything done to them, usually. You can just put them in your dog's bowl and let him eat. (Always check the label instructions to see what the company says about feeding.) Technically speaking, freeze-drying is a kind of dehydration, but it's a different process from dehydrating dog food.
If you prefer a cooked food for your dog, FreshPet makes three fresh, refrigerated products: Homestyle Select, Vital, and Deli Fresh. The foods are pasteurized and cooked with minimal heat. Homestyle Select and Deli Fresh contain about 70 percent meat and 30 percent veggies and grains. Deli Fresh has a mix of fibers and prebiotics so it could be a good food for dogs who have digestive problems. Vital is a grain free food with 80 percent (or more) poultry, meat, or fish. It has 20 percent (or less) veggies and fruit. The ingredients used in the food are human grade. Read more about Freeze-Dried food: https://dogfood.guru/what-is-freeze-dried-dog-food/ As for raw food for dogs, please see our section on Raw Food.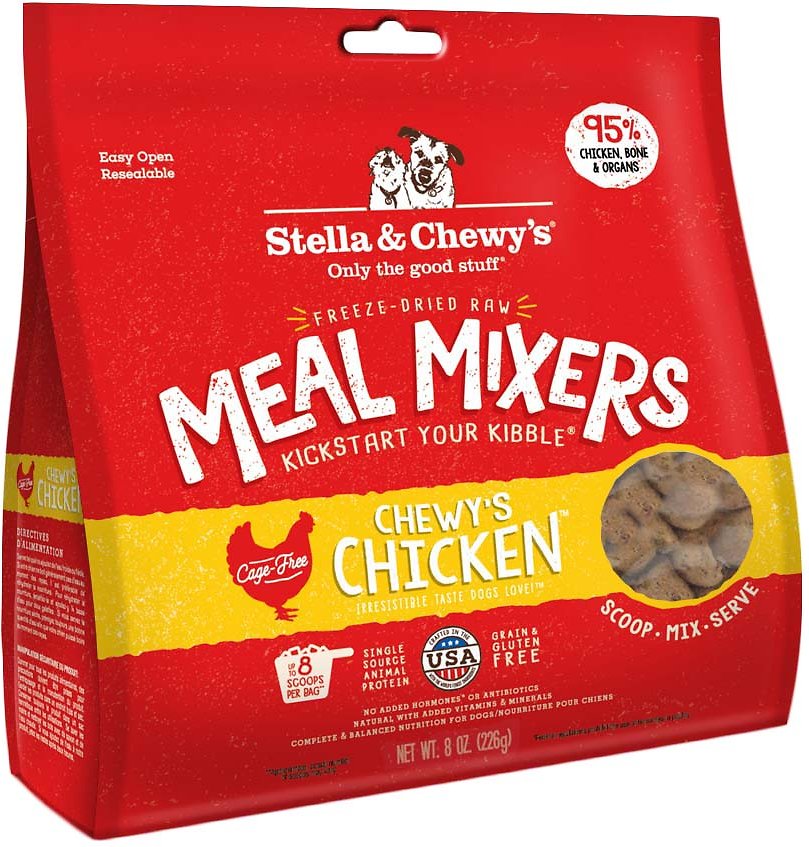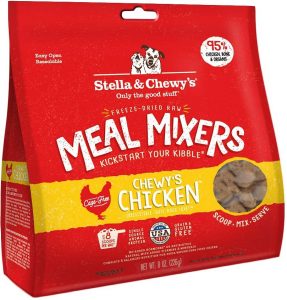 Diets
In the old days, dog food was dog food. You bought kibble or canned. Perhaps a brand had different flavors or meat sources. But there wasn't a lot of choice when it came to the diet or recipes. This started changing in the 1970s and 80s and it's been growing ever since. More dogs needed special diets for health reasons such as allergies. At the same time, pioneers like Dr. Pitcairn and others were shaking up thinking about how a dog should eat in order to be healthy.
People are becoming more health-conscious about their own diets and it was natural for them to be concerned about what their dogs were eating. . Following the pet food recalls in 2007 due to melamine poisoning, dog owners became hyper-aware of the ingredients in dog foods.
Nowadays, You can buy human-grade dog foods and foods made with free-range chicken, grass-fed beef, and foods that are organic (or mostly organic). In short, the pet food industry is very drive by consumer demand so we have a lot of very specialized foods now. The U.S. saw pet food sales of $21.57 billion in 2013. You can find virtually any kind of diet you want for your dog.
Here's a look at some of the dog food diets you can choose for your dog today:
High Protein
One of the most popular trends today is toward feeding dogs a high protein diet. The epitome of this kind of diet is the prey model or carnivore diet that is based on a raw diet for dogs. There are several high-quality dog foods that follow this formula such as Orijen. Wysong and ZiwiPeak also follow a prey model diet. The thinking with this approach is that dogs are descended from wolves and so, in order to be truly healthy, dogs should eat a diet that is close to what their wolf ancestors ate. This is a high protein, low carb diet. T
his approach blames most of the health problems modern dogs experience on other commercial dog food that is often high in carbs and uses a lot of grains in the food. They claim that dogs were never intended to eat this kind of diet and if they eat a high protein diet they will be healthier. Related: https://dogfood.guru/should-i-be-feeding-my-dog-a-high-protein-dog-food/
Many very good dog foods today are higher in protein but they don't necessarily go all the way to a prey model diet. They use lots of good meat protein which appears in the first five ingredients of the food, but they may also include some carbs in the food. Foods that fall in this category would include Acana, Artemis, Timberwolf Organics, and Wellness CORE, to name just a few.
The National Research Council's Nutrient Requirements for Dogs and Cats has quite modest protein recommendations for dogs, based on years of research. Their recommendations are updated periodically as new research is done. (see AAFCO and NRC recommendations here ) Most premium foods today have much more protein than is strictly necessary. While protein from good quality sources of meat is good for dogs, it's important to note that some foods – even very well-known foods – will boost their protein percentages by using ingredients such as peas, pea protein, soybeans, and other protein boosters. Some grains also add to the protein percentages. This is why some companies use corn and other plant sources of protein. Dogs can use plant sources of protein but they don't generally digest it as well as meat protein.
The latest research confirms that dogs have the enzymes necessary to be able to digest carbohydrates quite well, unlike their wolf cousins. What this means for your dog's diet is that it's probably not really necessary for dogs to eat a prey model or carnivore diet like their wolf ancestors. They are perfectly adapted to be able to eat dog food that contains starches and grains, along with meat.
The quality of the protein is very important in these diets, as is choosing a food that is AAFCO-approved to be balanced for your dog's life stage. Most people think that you can't feed a dog too much protein but that's not really true either. People often assume that foods with higher protein percentages are automatically better for dogs, but it's not that simple.
If your dog eats more protein than he needs, he will excrete some in his urine or store some as fat. Yes, dogs can get fatter even if they are eating a high protein diet. The source and quality of the meat protein is also important since meats contain other nutrients besides protein. Some vitamins and minerals can cause your dog's nutrition to become unbalanced if your dog eats too much of them. For example, eating too much protein from some meat sources can make it hard to maintain a proper calcium-phosphorus ratio with some dog foods. This can cause problems with bone growth – one reason why very high protein diets are sometimes not recommended for growing puppies, especially large breed puppies, who need to be careful about the calcium to phosphorus ratio. While high protein doesn't typically cause kidney problems if your dog has existing kidney problems, a very high protein diet can exacerbate those problems. It can also worsen liver problems. In general, high protein diets are fine for healthy adult dogs who are very active and who use a lot of energy. Some older dogs can also need higher protein as they get older since it becomes more difficult for them to process protein and other nutrients. However, if your dog has any kidney problems or some other health issues, you should talk to your vet before feeding a high-protein dog food.
DFG recommendation for High Protein food
Blue buffalo high protein  – Check Price 
Low Protein
While you may assume that low protein dog food is simply the opposite of high protein dog food, that's not the case. Low protein dog food is generally needed for dogs with kidney disease or who are in renal failure. Most research today seems to point toward the fact that average or even higher amounts of protein in a dog's diet are not harmful, even for dogs with minor kidney problems. Dog owners are generally advised to lower phosphorus in the dog's diet instead of simply lowering the protein percentage. However, the two things often go hand in hand with many dog foods. More information on Low Protein Dog Foods: https://dogfood.guru/low-protein/
Some companies make low protein dog food that is available by prescription such as Hills Prescription Diet and their k/d Canine Renal Health Dry Dog Food. These foods require a prescription from your vet. If your dog has kidney disease or is in renal failure you should take him to see your veterinarian and discuss his diet along with the rest of his care. This is a serious, life-threatening condition and attention to your dog's diet is important. (You can see an exchange of messages and a disagreement over low protein food on the Dogaware.com site. This information will probably be of special benefit to anyone who has a dog with kidney disease. We are not veterinarians and we do not make these precise recommendations about low protein/low phosphous dog foods. Please talk to your veterinarian and seek more information if your dog has kidney disease.) Most dogs do not require a low protein dog food and you won't have to worry about the phosphorus levels in their food. Even if you don't want to feed your dog a high protein diet, the majority of dog foods have a normal, moderate amount of protein that is more than sufficient for the needs of a dog with a maintenance diet. This is especially true if you are feeding a good quality food that uses good sources of protein and is AAFCO-approved for your dog's life stage.
Our Top Recommnedation for Low Protein food – hills-prescription-diet-id-digestive – Check Price
Grain Free or Low Carb Dog Food
One of the hottest trends in dog food right now is grain-free food. Virtually every brand of dog food has grain-free lines of food because consumers are demanding them. Grain-free dog foods started becoming popular a few years ago because some dogs seemed to be developing allergies to some of the common grains used in dog foods such as corn and wheat. At the same time, people who fed raw food diets to their dogs were touting the success they were enjoying with meat and low carb diets. The two trends began to merge and before long, many people with perfectly healthy dogs became worried about feeding dog food with grains. Then, in 2007, corn gluten (and to a lesser extent rice gluten) was associated with the melamine pet food recalls*. After that, sales of grain-free dog food really took off. Many dog owners didn't want to feed any kind of dog food that contained any "glutens" or other grains.
More on Grain Free Dog Food: https://dogfood.guru/grain-free/ Glutens are the proteins from grains. It's also kind of a jargon term in the pet food industry. It's used to refer to some products that aren't really glutens, such as rice gluten, but that's how these ingredients are known in the industry. Are corn gluten and grains harmful to dogs? No.
Some dogs are allergic to some grains. That's true. But there are many other common food allergens such as beef, dairy products, chicken, lamb, fish, chicken eggs, and soy. Obviously, no one would say these are "harmful" ingredients. But if you have a dog who is allergic to one or more of these ingredients, or who has a food intolerance, then foods that contain these ingredients are definite no-nos. But corn and wheat, among the grains, have been used widely in dog foods for decades and people often associate them with lower quality dog foods. There has been a backlash against foods that contain grains even though, in moderation and used in dog food with good quality meats, these grains are perfectly fine for your dog to eat.
Some dogs will benefit from a grain-free diet. If your dog has allergies or some other health issues, then going grain-free can be a good choice. Grain-free diets are usually (but not always) higher in protein. They are often (but not always) lower in carbohydrates.
But, just because a food is "grain-free" or it doesn't have corn or wheat, it doesn't mean that it doesn't contain carbohydrates. There are lots of excellent grain-free dog foods on the market at the moment. You can practically close your eyes and pick one unless your dog has an allergy or food intolerance and then you would need to be careful about choosing a food that doesn't contain the offending ingredient(s). Acana, Addiction, The Honest Kitchen, Instinct by Nature's Variety, Dick Van Patten's Natural Balance, Newman's Own Organics, Orijen, Pinnacle, Solid Gold, and Timberwolf all make very good grain-free foods.
Kirkland Signature Nature's Domain Grain Free dog foods are also very good. They are a private label brand made for Costco. However, they are also made by Diamond (at least the kibble) in case that bothers you. Again, when you're considering a grain-free food, read the label. Look at the ingredients and the guaranteed analysis. Do the math for the conversion to dry matter basis. Make sure the food is AAFCO-approved. Reading and understanding the label will usually tell you what you need to know about the food. If there are ingredients that you don't recognize or you don't understand why they're in the food, look them up. This probably seems like a lot of work to choose dog food, but you're buying something that will help determine your dog's health. *Corn and rice gluten are simply derived from corn and rice. They do not normally contain melamine. Melamine is used to make some kinds of plastic and it has a chemical composition that looks like a protein when it is analyzed. In 2007, glutens from some factories in China were adulterated with melamine. This was done to defraud the purchasers. The factories were using less gluten and adding melamine to make it look like the product was high in protein. When the tainted gluten reached the United States, it was unknowingly distributed to human food and pet food makers. Menu Foods in Canada, among others, used some of the tainted gluten to make canned pet food and a number of cats and dogs became ill. Some died, although we don't have exact figures. As a result, several thousand different brands of pet food were recalled, affecting millions of pet owners. The recalls continued for several months because no one knew at first why pets were getting sick or which ingredients might be making them ill. A number of pet food companies now test their ingredients for melamine and other additives before using them in their foods.
DFG recommendation for Grain Free Food
Blue buffalo high protein  – check price 
Hypoallergenic Dog Food
Dogs with allergies often need to eat hypoallergenic dog food. Hypoallergenic dog foods typically have exotic or novel proteins (such as meats you don't normally see in dog foods, i.e., rabbit, quail or duck, kangaroo, and other meats that aren't normally found in the U.S.). They may have "limited ingredients," though this term is often used very loosely by dog food manufacturers. And they usually avoid some or all of the ingredients that are frequent triggers for food allergies for dogs. The most common food allergens for dogs are: beef, dairy products, chicken, lamb, fish, chicken eggs, corn, wheat, and soy.
Many people think their dogs have food allergies but food allergies are actually not that common in dogs. They only make up about 10 percent of the allergies seen in dogs. However, dogs can also have intolerances to certain food items. What's the difference? Well, a food allergy usually manifests as other allergies do, with itching affecting the face, paws, ears, forelegs, armpits and the area around the tail. Your dog can bite and chew on his skin because of the intense itching. He may develop red areas and make himself bald. Ear infections and skin infections can develop and there is some evidence that dogs with food allergies have more bowel movements. Yeast infections can often set up once the ears or skin is already inflamed and infected, making these cases even harder to treat.
A dog with a food intolerance is more like a person who eats something that disagrees with him. Some dogs who have very sensitive stomachs find themselves in this situation. If you are an owner with a dog who has this kind of sensitive stomach, it can be hard to find a food that doesn't trigger an allergic reaction or your dog's food intolerances, especially if your dog has intolerances to a lot of ingredients. You'll just have to keep a list and try different foods until you find one that works for your dog. It often has nothing to do with the quality of the food. You might be feeding your dog the best dog food in the world, but if it contains that one ingredient that your dog is allergic to or to which he is intolerant, your dog will react.
When a veterinarian puts a dog on a limited ingredient diet during the elimination phase of a food trial, s/he usually intends for a dog to eat one protein and one carb that the dog has never eaten before. It's doubtful that vets intend for dogs to eat the long list of ingredients that are included in the foods that claim to be limited ingredient diets. If a dog has a reaction during the elimination phase while eating one of these foods, it would be impossible to tell which ingredient was triggering the reaction.
If your vet advises you to feed your dog a limited ingredient diet, you should discuss the particular food with him or her and show them the ingredients in the food to make sure they know what's in the food. Or, better yet, feed your dog exactly what your vet prescribes and keep it very simple. That's the only way you'll be able to isolate your dog's allergy triggers. If your dog doesn't have a food allergy, then feeding him a novel protein will not prevent him from developing an allergy. In fact, feeding too many novel or exotic proteins is usually a bad idea. If your dog becomes exposed to lots of these novel proteins and he develops allergies to them, what kind of meat protein will you feed him? He will already be allergic to the meat proteins that most people use if their dog develops an allergy. Be sure you "save" some novel proteins that your dog hasn't tried, just in case you ever need them in the future. While we have referred to the common allergens for dogs, dogs can become allergic to other things. The foods on the list of common allergens are not "bad" ingredients. Some of these foods, such as lamb, used to be a novel protein in the United States. However, it's so widely used in pet food now that some dogs are allergic to it. If your dog is not allergic to these ingredients, there's no particular reason to avoid most of them unless they are being used as fillers in pet food or for some other reason. There are both commercial dog foods and prescription hypoallergenic dog foods. Hill's, Royal Canin, and Purina have excellent prescription hypoallergenic foods.
The prescription diets are very expensive but they are usually for the most severe cases. Some of these foods use "hydrolyzed" protein. That basically means that the protein in the food (whatever the source) is in molecules that are so tiny that your dog's immune system does not react to it. Again, these foods are usually for the most severe cases of food allergies. Before making any purchases you should talk to your vet about what your dog needs. If you merely suspect that your dog might be allergic or intolerant to certain foods, you can do some research and find which dog foods avoid the ingredients your dog needs to avoid. Be aware that allergies and intolerances can change as a dog ages. Dogs can suddenly develop a food allergy at any time in their lives and they affect males, females; all breeds; and both intact and spayed/neutered dogs. An allergy to chicken can become an allergy to other poultry, and so on. Food allergies and intolerances are a subject that most dog owners didn't know much about 20 years ago but it's a good idea for all dog owners to be familiar with the subject now.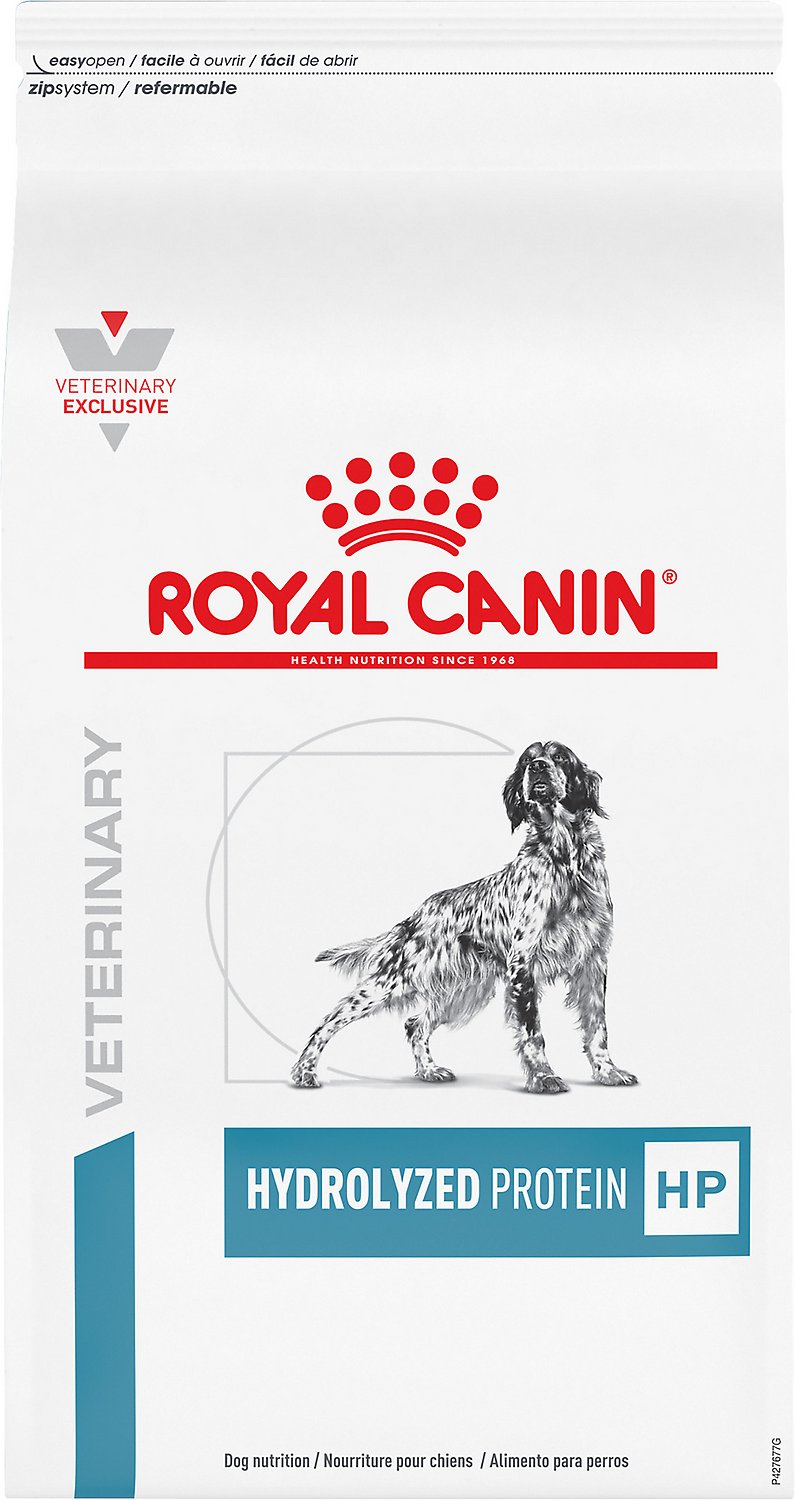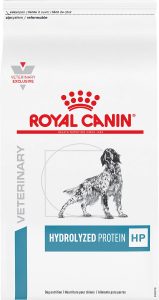 Our Top recommendation for Hypoallergenic food – hydrolyzed protein royal canin – Check Price
Weight Control Dog Food (Low Calorie and/or Low Fat)
Each year the reports about obesity in dogs become more alarming. According to survey results, about 52 percent of dogs in the United States are overweight or obese.  Most dogs are overweight because their owners feed them more food than they need. Most owners are unaware of how many calories their dogs need per day or how many calories are in the food they are feeding.
Many people assume that dogs get plenty of exercises, especially if they have a backyard where they can run around and play. But the truth is that most dogs don't self-exercise. If you take some time to watch your dog when he goes outside you'll probably notice that he walks or trots around a little when he first goes outside and then he takes a nap or comes back to the door to come inside. This is especially true for middle-aged and older dogs – the dogs who are most likely to put on pounds.
Naturally, dog food companies have noticed this trend toward overweight and obese dogs and they make a number of weight control dog foods. Foods are lower-calorie and/or lower fat. Philosophically, most weight control dog foods take the approach that dog food should make the dog feel full so he won't be so hungry. They usually try to do this by using more carbs and fiber but will use less fat because fat contains lots of calories. Some of these foods are also lower in protein. Some foods will add L-carnitine, an amino acid that helps the body convert fat to energy and lean muscle.
There is a wide range of foods in the weight control and weight management category. You should check them out carefully because many of them will have higher percentages of carbohydrates . One of the problems with this approach is that if the fat content is too low, your dog will still be hungry after he eats. He'll keep giving you those pleading looks and beg you for more food. For this reason, it's usually a good idea to avoid weight control dog foods that are too low in fat. They're self-defeating since you'll probably end up feeding your dog more food to make him happy. Experts suggest choosing a weight control dog food with a fat percentage between 12 and 16 percent. A protein percentage around 25 percent is recommended, but higher percentages aren't a problem for most dogs if you can find weight control dog foods with higher amounts. There are other ways to help your dog lose weight.
One similar approach that doesn't use weight control dog food is to feed your dog the same food he is accustomed to eating but substituting green beans or another veggie for some of the food. Green beans and other veggies will also help your dog feel full and cut down on some of the more fattening calories he's been eating in his dog food but without feeding him a dog food that you may not like very much.
If your dog is only a little overweight, the best way to help him lose weight is by reducing his portions. Feed him a little less food and he should start to lose some weight. If you are free-feeding or leaving food down for him all the time, put him on a meal schedule so he can't eat all the time. That will also help your dog lose weight.
You can also help your dog get some more exercise. Even taking a daily walk with your dog is a good way to help him lose a few pounds. Remember to consider how many treats you're giving your dog, too. Treats should only be a small part of your dog's diet, not an extra meal. Remember that calories from treats add up. If you're giving your dog a lot of treats, deduct those calories from your dog's meals and feed him less food.
Being overweight or obese can shorten your dog's life and bring on a host of health problems as your dog gets older. Try to keep your dog at a healthy weight and watch how much you feed him. Just a couple of pounds on your dog can suddenly start to make him look very chubby so pay attention to his diet and exercise. You'll both feel better if you do. We don't recommend weight control dog foods for puppies or very elderly dogs. Be sure to check the label for the AAFCO statement regarding the life stage for the food. Weight control dog foods are not appropriate for pregnant or nursing female dogs since they have reduced calories.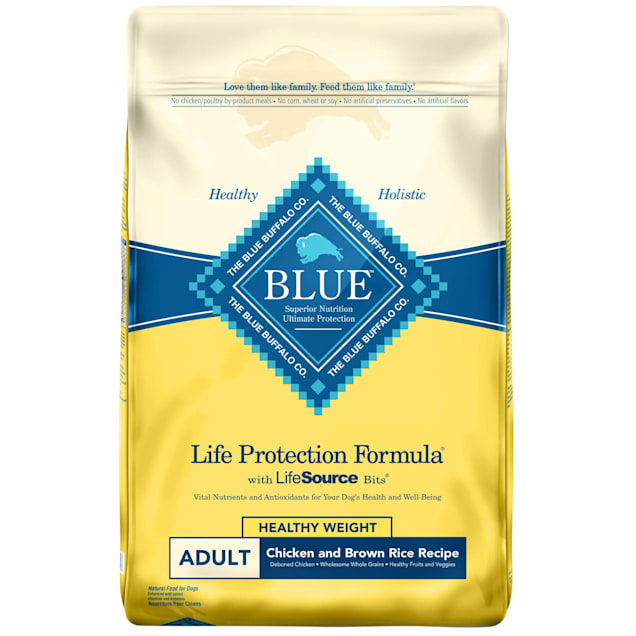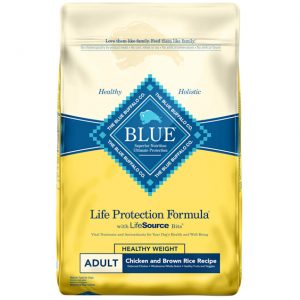 Our Top Recommendation  On Weight Control Dog Food – Blue Buffalo Life Protection Formula Healthy Weight Adult Chicken & Brown Rice Recipe Dry Dog Food – Buy Now
Sensitive Skin Dog Food
Dogs can have sensitive skin for lots of reasons. Sometimes it's due to common pests such as fleas or ticks. Internal pests such as worms can also result in a poor coat and skin problems as well. Worms deprive a dog of proper nutrition, among other things, which leads to a poor appearance.
Dogs can also have sensitive skin if they have a weakened immune system or if their diet is deficient in the proper vitamins and minerals. Of course, allergies are a frequent cause of sensitive skin. This includes all kinds of allergies, not just food allergies. Like people, dogs can be allergic to things they touch or inhale. Some dogs are allergic to grass or pollen, for example, and the itching can drive them crazy.
Flea Allergy
The most common allergy found in dogs is flea allergy and it can be torture for a dog. While no dog enjoys fleas, a dog with a flea allergy can suffer intensely. Just one bite from one flea on any part of his body can send the poor dog into a frenzy of scratching and chewing all over. The dog's body has an extreme reaction to the flea bite. If the dog has a lot of fleas, he can easily scratch himself red and bloody until his hair is sparse or gone. Most places in the United States do have fleas and it's recommended that owners provide a good flea preventive for their dogs. There are many good preventives on the market now. You can talk to your veterinarian about what kind of flea preventive works best in your area. Non-chemical solutions, such as herbs, work for some dogs, but if you have a dog with a flea allergy it's usually best if you concentrate on killing every last flea by any means necessary so your dog won't be tormented.
Our recommended treatment for Flea Allergy: NexGard Soft Chew for Dogs- Buy Now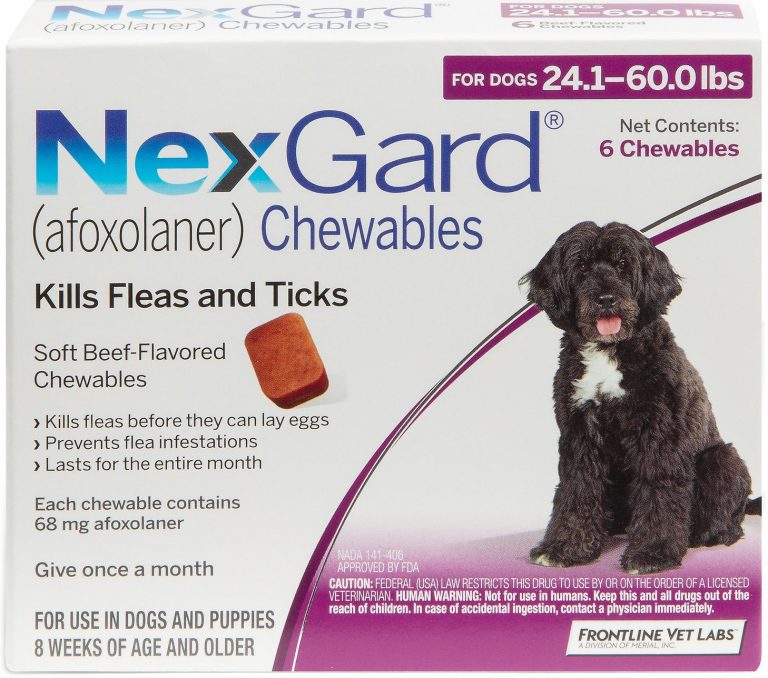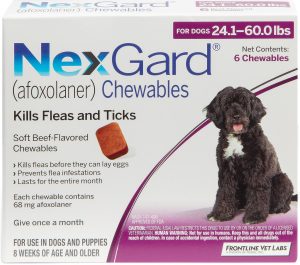 Inhalant or atopic allergy
The second most common allergy in dogs is an inhalant or atopic allergy. This kind of allergy includes things that dogs breathe in – like grass and pollen. Dogs can also be allergic to dust mites and other common allergens found in the home. These allergies are often seasonal, especially if they relate to grasses and pollens, so they come and go. But the symptoms include itching and scratching. If your dog is allergic to something in your home, you can help him by vacuuming frequently and washing bed linens, dog beds, curtains, and other materials in hot water at least once a week. You will also need to brush your dog often and bathe him at least once a week to remove allergens he may pick up and carry on his coat.
Food Allergies
Food allergies are the third most common allergy and make up an estimated 10 percent of the allergies seen in dogs. Dogs can be allergic to any kind of food but the most common culprits are the most common ingredients in dog foods: beef, dairy products, chicken, lamb, fish, chicken eggs, corn, wheat, and soy. This is not surprising since these are the ingredients that dogs are exposed to the most. If you're lucky, you can simply avoid foods that contain ingredients your dog may be allergic to. If you're not so lucky, it may take some time to identify which ingredients your dog is allergic to.
Some dogs can have sensitive skin for other reasons. Dogs with white coats – and pink skin – can have sensitive skin, especially if they have thinner coats. This seems to be because they are more exposed to the sun. (However, this doesn't apply to all dogs with white coats. There are plenty of whitehaired dog breeds who don't have skin problems.)
Hairless dogs can have sensitive skin, as you might expect since they don't have a protective coat. These dogs usually require sunscreen if they live in very sunny climates. They often need some lotion or conditioner for their skin to help it stay supple, too. If you have a dog with sensitive skin, the most important step is to figure out the reason for your dog's skin issues and take steps to deal with the root of the problem. It won't help your dog to feed him food for sensitive skin
if he has a flea allergy, for example. You need to get rid of the fleas first. If your dog has a yeast infection on his skin following a bacterial infection because he has been scratching himself due to a flea allergy, you still need to work on the basic problem of getting rid of the fleas. Then you can work with your vet to get rid of the infections and heal his skin with a food for sensitive skin. Dog food for sensitive skin usually avoids the common allergens mentioned above, such as beef, chicken, lamb, corn, wheat, and soy, though this will vary a little from one brand to another. They usually contain plenty of omega-3 and omega-6 fatty acids since they are good for the skin. Linoleic acid is another common ingredient in sensitive skin dog foods – a type of omega-6 fatty acid. Vitamin E is also usually found in these foods. Dog food companies often combine sensitive skin and sensitive stomach recipes in one food, so you will sometimes find these foods contain more dietary fiber and are gentle for the dog's stomach, which isn't a bad thing. Fish, the especially salmon, is often used in sensitive skin formulas. It's a good source of omega-3 fatty acid. Even if it is on the allergy list for dogs, most dogs are able to eat it. If your dog can't eat salmon, venison is often a good alternative for dogs with sensitive skin. Sensitive skin dog foods tend to be slightly more expensive than regular dog foods but they sometimes have slightly better ingredients, too. There are a wide variety of these foods and many of them are very good. As you deal with the causes of your dog's sensitive skin, these foods can help your dog's skin heal and return to good condition.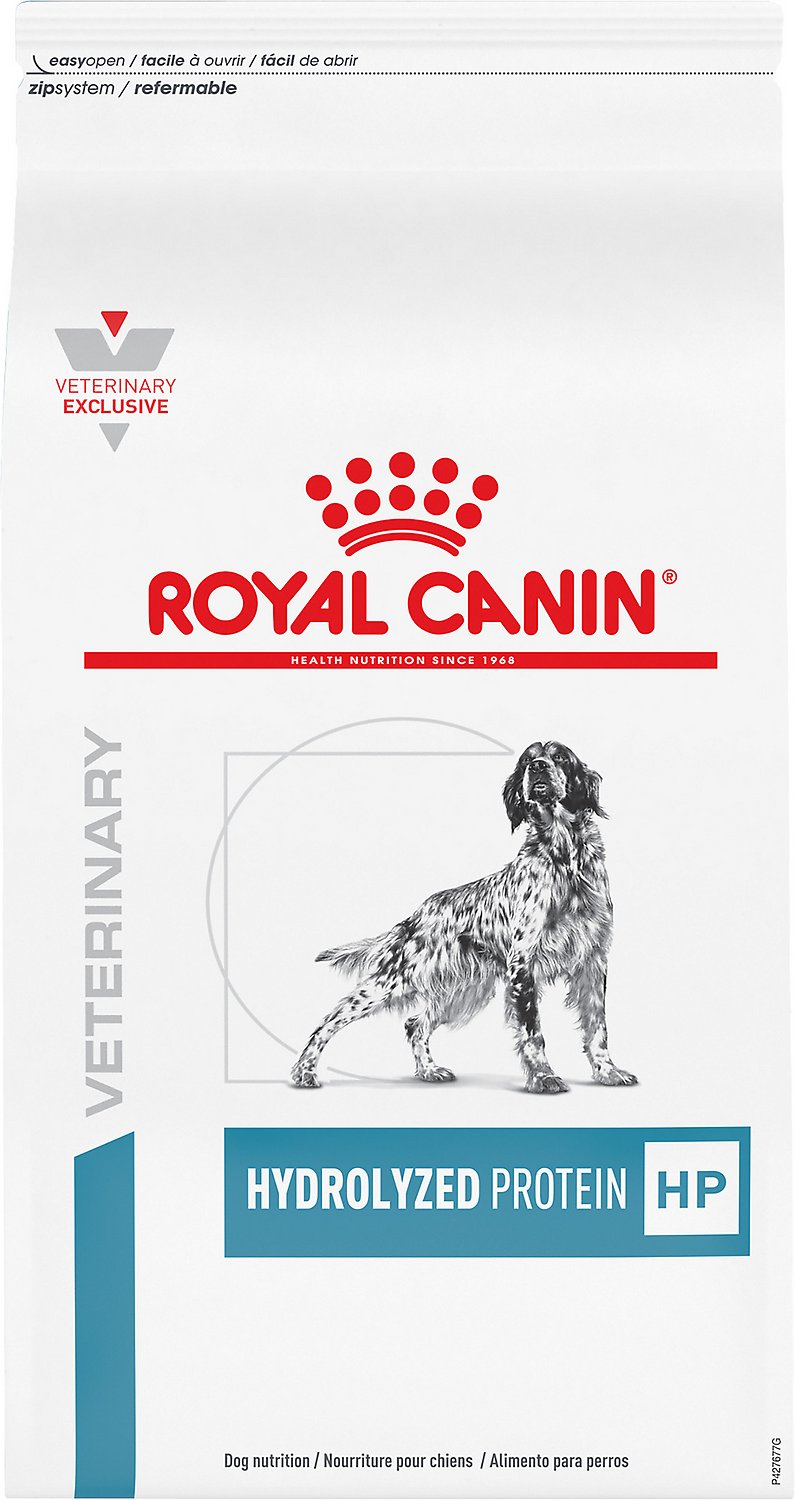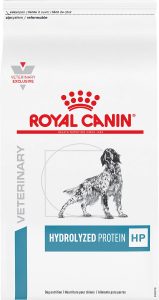 Our Top recommendation for Hypoallergenic food – hydrolyzed protein royal canin – Buy now
Senior Dog Food
Older dogs begin to have difficulty metabolizing nutrients as they age, including protein, so they need more protein, not less. They may need up to 50 percent more protein than adult dogs. If a senior dog doesn't get enough protein in his diet, his body will begin using the protein in his own muscles which can lead to physical degeneration. Elderly dogs need more protein and that's one thing you should be looking for in good senior dog food.
Some companies are now selling a "mature" senior dog food which seems to be aimed at dogs just past their prime years – from about the age of 7 to 11 for medium and large dogs, for example. These dogs are usually still active, though they might have put on some pounds. The fat content in these foods might be a little lower than in active adult food. As long as the protein percentage is still good, we think these foods are a good step for a "young" senior dog.
Being overweight is not a good idea for any dog, especially a dog who is getting older. Extra weight can make arthritis and joint disease worse. Elderly senior dogs, however, can require foods with higher fat content. Again, as a dog gets older, he begins to have problems metabolizing food. A food with more fat allows the senior dog to have plenty of fat in his diet even if he is inefficient at using all of it. By "elderly" we mean dogs that are really slowing down and showing signs of aging. These are dogs that might have some health problems or arthritis. Joint and mobility problems typically become issues as a dog gets older.
The age at which a dog becomes elderly can vary. Large breeds can begin to seem elderly when they are 6 or 7 years old. A medium or large dog might start to seem elderly when they are 10 to 12 years old. Some small breeds and Toy dogs can live into their late teen years. They may not seem elderly until they are 12 to 14 years of age. Aging is an individual process so you should pay attention to your dog's condition. Is he maintaining his weight or losing weight? Is he still active or does he sleep more than he used to? Does he have more trouble walking or getting around? Are stairs becoming a problem for him?
As they age, many senior dogs will begin to lose interest in food (another reason why dogs need more protein and fat in their diet). This is often because their senses begin to dull. They can no longer smell or taste food as they did when they were younger. There are some things you can do to make your dog's food more appealing. If you feed kibble, you can start adding some tasty canned food to the mix to entice your senior dog to eat more. You can warm the food or add some water to it to make a gravy so it will taste better. Add some yogurt or stew as a topping. Add some fresh food or something you make yourself to the food so it will taste better – something like chicken or steak.
Keep in mind that senior dogs have other issues, too. If you call your dog for dinner and he doesn't come right away, maybe he didn't hear you. His hearing might be less than it used to be. Go wake him up. An older dog who doesn't eat could have a bad tooth or another dental problem. Have your vet take a look in his mouth. Once the problem is fixed, your dog should be back to eating again. (Horrible breath is often a tip-off that your dog has a bad tooth and dental decay.) Some of the foods we like for older dogs are Holistic Select Senior Health Formula, Chicken Soup for the Pet Lover's Soul Senior Dog Formula (we like a lot of their foods), Acana Senior Dog, and Orijen Senior.
The only reason you would want to steer clear of a higher protein percentage for your senior dog would be if he had a kidney problem. Otherwise, higher protein is almost always a good idea for your older dog. Some foods for senior dogs also add glucosamine and chondroitin but in order for your older dog to really get enough of these supplements to be helpful, you would need to add them separately to his diet. You can find them in most drugstores and places like Costco and Walmart, as well as online. Glucosamine and chondroitin are often used to help dogs (and people) suffering from arthritis and other joint problems. The science is inconclusive about whether they really help, but many dog owners are convinced of their efficacy.
Older senior dogs should have a dog food that has a higher protein and a higher fat percentage since many of these dogs have problems metabolizing food. Give them all the good nutrition they can handle. Don't forget to make their food as tasty as possible, too. Do everything you can to keep them happy.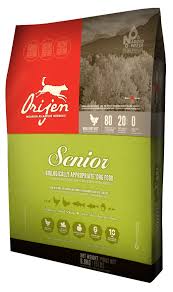 Our Top recommendation for Hypoallergenic food – Orijen Senior Dog Dood – Check Price now !
Prescription Diet Dog Foods
In addition to the specialized dog foods you can buy at many specialty pet food retailers and online, there are several pet food manufacturers who make prescription diet dog foods. These are larger pet food corporations that have invested money in pet food research and development: Hill's, Royal Canin (owned by Mars), and Purina, for example. Prescription diet dog foods typically require a prescription from your veterinarian. They are called to help treat dogs with specific health problems.
Hill's probably has more prescription diets than any other company. They have kibbles, canned foods, and treats for urinary tract health, aging, skin problems, metabolism and weight, cardiac issues, mobility problems, gastrointestinal problems, renal problems, hepatic problems, and more. Prescription diets are usually quite expensive and they are often food fed as a last resort. They usually contain some specialized formulations so they can address a dog's particular health problem.
If you search, you can usually find research online that backs up the manufacturer's claims about the food. This is true of the prescription dog foods we've reviewed. You may see these dog foods receiving poor ratings on some dog food review sites because they contain grains and other common ingredients. Before dismissing them you should investigate and see if they contain uncommon ingredients that could benefit your dog. You can check PubMed and other online sites for papers that have been published regarding some of the ingredients used in these prescription diets. Dog food companies will often note some of these special ingredients and reference the research on the websites for their prescription diets. In some cases, there are non-prescription commercial dog foods that claim to address specific dog health problems. You can ask your veterinarian about trying one of these foods for your dog.
You can also talk to a canine nutritionist or another expert on pet food. But make sure that the person you talk to really knows something about dog food and canine health. You don't want to accidentally make your dog worse by feeding him something that would harm him. One of the nice things about prescription diets is that the research that goes into these foods often finds its way into commercial pet foods eventually, where it can be of use to lots of dogs. The formulas may not be "prescription strength," but the pet foods can still benefit the larger canine population.
We hope we've managed to educate you on the different types of dog food and assist you in finding the right type of food for your dog! To your dog's Health!
Dog Food Guru Top Dry foods
Most Popular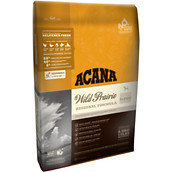 Best food Acana
Grain-Free
Ranch-raised beef & pork.
No added corn, soy, wheat or tapioca.
Made in the USA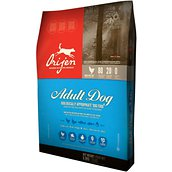 Best food Orijen
85% meat ingredients
Coated with freeze-dried liver
Made in the USA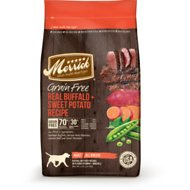 Best food Merrick
Grain-free recipe
real beef and sweet potato.
65% protein and healthy fat
35% fiber, produce, vitamins