What Is The Best Canned Dog Food?
The Ultimate Canned Dog Food Buyer's Guide
While kibble is more popular with most American dog lovers, there are some good reasons why some people prefer to feed a canned or "wet" dog food (also known in Britain as "tinned" food). Canned dog food can be a good choice for small dogs, elderly dogs who have become finicky about eating, dogs recovering from surgery or illness, and dogs with poor teeth or a bad bite which make chewing difficult. On the other hand, canned food is, per ounce, more expensive than kibble and not economical for many dog owners – especially if they have larger dogs. A large dog would need to consume quite a big of canned food per day, which could be cost-prohibitive for many people. Some large dog owners will buy canned dog food and use it as a treat or topping for their dog's dry dog food.
Larger dog food companies often offer both dry dog food and canned dog food selections but many smaller companies only offer dry or canned. This is because the machinery used to make the two kinds of dog food are very different. As you might guess, the machinery used to make dog food in a plant is very expensive. Many small dog food companies can't afford to invest in both kinds of machinery, especially when they are just starting up. Some smaller companies will use a co-packer to make their canned foods. This is not uncommon in the pet food industry today. It doesn't necessarily mean that the food is of lower quality. There are some very good co-packers that have been in business for decades and they follow stringent manufacturing guidelines. Some very good quality canned dog foods are made by co-packers for their companies.
There is also a trend toward having canned pet food made in Thailand and some other Asian countries today. There can be concerns about working conditions with these Asian co-packers, but the companies have to meet very strict regulations for canning. Pet food is often made at the same canning facilities as human food; and food often has to pass inspection for British and European authorities, as well as the United States. These foods are typically canned for some high quality dog food companies in the U.S. and there should not be any issues with the quality of the food.
Disclosure: Please note that this post contains affiliate links, which will direct you to our partner sites. If you purchase the pet foods we recommend through those links, we may earn a small commission – at no extra cost to you.
Pros and Cons of Canned/Wet Dog Food
There are some benefits for feeding canned foods:
Higher in protein than most kibbles (and higher in fat)
Tastier to your dog than kibble (partly because of the fat)
More moisture than kibble which is better for your dog's kidneys
Easier to digest than kibble
Fewer carbs and less grain than kibble
Fewer chemical additives
We can't quite list is as a benefit since it's not true in all cases, but many canned dog foods have relatively few ingredients compared to kibbles. You still find added vitamins and minerals in most canned foods, but lots of canned foods only have 5-6 ingredients otherwise. We usually consider fewer ingredients better, especially if your dog has any food allergies or food sensitivities.
The canning process preserves the food so it's not necessary to add the kind of preservatives that are found in dry dog food. However, canned dog food will spoil quickly once it's opened and left out for your dog, unlike kibble. Canned dog food is higher in protein and fat than kibble, which makes it taste delicious to your dog. That's the reason why dogs usually go crazy for it. Canned food can also be up to about 78 percent (or slightly more) moisture so dogs get lots more moisture when they eat it. This makes it easier to digest but it also means you MUST figure the dry matter basis for canned food if you are comparing the percentages to dry food. A canned food that says it has 8 percent crude protein has to be converted so you can compare it to a dry dog food that has 30 percent crude protein. Otherwise, the figures are meaningless.
Canned dog food does contain fewer carbs and grains than dry dog food. Unlike dry dog food, canned foods are not made into a batter/dough and they do not go through the extrusion process with the machinery. There is no need to put a lot of carbs in the food. Canned foods can contain fillers but you won't usually find a lot of carbs or grains.
There are also some negatives to feeding canned dog food:
Cost
Less convenient
Not as easy to store
Spoils quickly after opening
Questionable thickening agents such as carrageenan
Cans lined with BPA (Bisphenol-A)
Just like kibble, canned dog food is not perfect. Whether you choose to feed your dog a dry dog food or a canned food usually depends on your individual situation.
Figuring Dry Matter Basis (DMB)
Figuring the Dry Matter Basis (DMB) is a pain for most dog owners but you really need to do it if you are buying canned food. It's very easy to mistake how much protein, fat, and other nutrients are in a canned food unless you convert the figures to the dry matter basis. You can figure the dry matter basis for dry food as well, but it's not usually as important because dry food usually only has 10-12 percent moisture. This means that the protein and other nutrients listed in the guaranteed analysis are not too different from the actual dry matter figures. With canned foods, the moisture content can be 78 percent or higher. You have to remove this moisture content from the figures in order to see how much actual protein, fat, fiber, etc., is really in the food.
The easiest way to find the dry matter basis for a canned food is to find a handy DMB calculator online and plug in the values for a particular ingredient. You can use a calculator like this one. If your canned dog food has 78 percent moisture and 8 percent protein (not uncommon for many canned dog foods), it will convert to 36.36… percent protein on a dry matter basis. That allows you to compare the protein in the food to the protein (DMB) in a dry dog food so you can make a meaningful comparison. You can do this with every ingredient in the guaranteed analysis.
There are mathematical ways to figure the DMB but the calculator already has them programmed. You can find them online if you want to see what goes into figuring the DMB.
Ingredients to Look for and Some to Avoid
As with kibble, there are certain ingredients you like to see in canned foods and some you want to avoid.
Protein and fat are the main ingredients in a dog's diet. However, not all proteins and fats are the same. It's important that the protein and fat in the dog food comes from good sources if you want your dog to be healthy.
Unlike dry dog foods where you usually look for two or three meat proteins in the first several ingredients, you may not find that many meat proteins in a canned food. Instead, look for canned foods that have a good, named meat protein as the first ingredient. A few good foods list water or broth as the first ingredient but it's usually better to find a named meat protein as the first ingredient since this indicates that it is the heaviest ingredient in the food, by weight, before cooking.
However, you should avoid meat, animal, and poultry by-products and digests. These ingredients are vague and they can include some less than desirable parts of animals. You want to find named sources of meat, whether it is muscle meat such as chicken, beef, lamb, and so on, or organ meat such as beef liver, etc. Make sure you know what you are feeding your dog.
Dogs also need good sources of fat. You should look for named fat sources such as chicken fat. Other named fats also provide needed nutrients such as fish oil which can provide omega-3 fatty acid to help keep the skin and coat healthy. Puppies can benefit from DHA which is Docosahexaenoic acid. This is a specific form of omega-3 fatty acid that helps with brain and eye development. Older dogs seem to benefit from medium chain triglycerides which feature medium chain fatty acids (MCFAs). These have been found to help older dogs feel and act younger. They are often made from a combination of coconut oil and other oils.
You should avoid avoid corn, soy, and wheat in your canned dog food. It's a good idea to keep the carb percentage low to moderate. Some good canned foods do use whole grains and vegetables which provide carbs. Fewer is better in these cases. We suggest that you try to avoid or limit ingredients such vegetable and grain by-products such as potato starch and tomato paste
We do suggest that you avoid foods that contain corn gluten meal and wheat gluten meal. These are cheaper ingredients that are sometimes used to boost the protein percentage in lower quality dog foods. The same is true with soy protein and rice protein concentrate.
In better quality dry dog foods you should also avoid things like artificial preservatives (BHA, BHT, ethoxyquin), artificial colors, and sweeteners. It can be hard to know if a food contains ethoxyquin. Dog food companies are only required to list ingredients that they add to foods. Ethoxyquin is sometimes added to fish used for fish meal while the fish is still on the boat, before it ever arrives at a dog food company. That means that if it is used with the fish meal, they don't have to list it among the ingredients. Usually, the only way you can be sure that a food doesn't contain ethoxyquin is if the company states that it uses fish/fish meal that is free of it. Some companies will put this information on their web sites or you can call and ask them. There are safe alternatives to ethoxyquin, as dog food companies and fishing companies know.
Your dog doesn't need added colors in his dog food. The coloring is added solely to appeal to humans. Sweeteners in dog food can include things like corn syrup or sucrose. Dogs do have a sweet tooth and they like the taste, but they don't need this sweets nutritionally.
As already noted, BPA-lined cans are a problem with canned pet food. You can find a discussion of this topic and a list of company responses on the Truthaboutpetfood.com site. At the moment there seems to be confusion in the pet food industry about the topic and some companies may not be taking customer concerns seriously.
Many canned foods use gums as thickening agents and some of them can be problematic if your dog is sensitive to them. These gums include guar gum, xanthan gum, and agar agar and a few others. If your dog has problems with any of these thickening agents you can choose a canned stew or other canned food that contains more liquid. It is usually canned dog foods made into the shape of a loaf or pate that have the most thickening agents.
We have already mentioned carrageenan. Carrageenan has been used as a thickener for centuries. It's a kind of seaweed and it's widely used in human food, too. However, there is some evidence that it can cause digestive problems and be irritating to the stomach.
We also recommend that you buy canned dog food that is AAFCO-approved. While some people criticize AAFCO because their requirements are not as strict as they could be, we believe that they provide some assurance to consumers that pet foods meet a minimum standard.
Canned foods and calories
Comparing calories with canned foods can also be more difficult than with kibble. While companies usually give calorie information about kibble in kcal per cup or kcal per kg, for some reason companies often provide calorie information about canned dog food on a per can basis. Since cans can range from 3.3 ounces to 15 ounces and vary from one company to the next, this can make counting calories in canned dog food highly confusing. When comparing foods and calories, be sure that you are comparing equal amounts. Once again, you may have to do some math to make sure you are comparing the same amount of food to figure the calories.
Recommended Wet Dog Foods
Every dog is an individual. Even dogs in the same breed can have different food needs. Some dogs need more calories than others. Some dogs will do better with more protein or fat than other dogs. If you don't find a food here that you and your dog like, don't give up. If you keep looking, reading labels, and talking to other dog lovers to see what they are feeding, you will find a good food that your dog can eat.
There are lots of good quality canned dog foods available today and we can't cover them all here. We will suggest a food that we like – which may be more expensive. And we will also suggest a good quality food that might work for someone on a smaller budget. We all love our dogs but many of the super premium foods are very expensive and we know that cost can be an issue – especially if you have big dogs or more than one dog. Please note that more expensive foods are not always better. At the same time, if you buy very cheap dog food, you will probably be buying very cheap ingredients. So, have reasonable expectations about the food you buy and the costs.
Please be aware that dog food companies often lump dogs together in terms of size. They can lump Toy and small dogs together – which may include dogs such as tiny Chihuahuas and a Pug which are vastly different! Or they can put large and giant breeds together which covers everything from a Labrador Retriever to a Great Dane – again, breeds that have little in common, including size. You have to use your best judgment when choosing a food for your dog, even if the food sounds like it is labeled for your dog.
Canned foods are a little different than kibbles but many people still prefer grain free foods. Some of the foods we recommend have grains and some don't. We have selected foods without corn, wheat, and soy unless otherwise noted. You may have to try a couple of foods to find which one is best for your dog. You should also keep in mind that your dog's diet needs can change as he grows and ages so you may have to change foods to accommodate him.
Recommended Wet Dog Food for Toy & Small Breeds
Merrick Grain Free Grammy's Pot Pie Classic Recipe
Merrick Classic Grain Free Grammy's Pot Pie™ Canned Dog Food contains no artificial colors, flavors or preservatives. No ingredients from China. Made in Texas. The first five ingredients are Deboned Chicken, Chicken Broth, Potato, Carrots, and Peas. Crude protein 9.5 percent, crude fat, 4.5 percent, crude fiber 1.4 percent, moisture 81 percent. The food does contain carrageenan and a couple of gums for thickening.
Nature's Variety Instinct Grain Free Small Breed Chicken Formula
Grain-free and gluten-free canned dog food, calorie levels ideal for small breed dogs, omega fatty acids for healthy skin and coat, complete and balanced for adults, formulated for dogs less than 30 lbs at maturity. No artificial colors, flavors or preservatives. The first five ingredients are Chicken Broth, Chicken, Chicken Liver, Peas, and Cod. Crude protein 8 percent, crude fat 3.5 percent, crude fiber 3 percent, moisture 78 percent. Uses several gums as thickeners.
Recommended Wet Dog Food for Medium Breeds
Natural Balance L.I.D. Limited Ingredient Diets® Venison & Sweet Potato Canned Dog Formula
Limited list of protein and carb sources. Alternative ingredients. Grain free. Balanced omega-3 and omega-6 fatty acids help to maintain healthy skin and a luxurious coat. No artificial flavors, colors, or preservatives. Crude protein 6 percent, crude fat 4 percent, crude fiber 1.5 percent, moisture 76 percent.  The first five ingredients are Venison, Venison Broth, Sweet Potatoes, Potatoes, and Dehydrated Potatoes. Uses carrageenan and guar gum.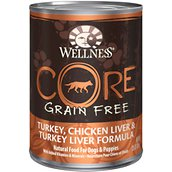 Wellness CORE Grain Free Turkey, Chicken Liver & Turkey Liver Formula
Grain free with five protein sources. Naturally gluten-free. Greens and botanicals for preventative health benefits. Fish and flax omega blend for healthy skin and coat. The first five ingredients are Chicken, Turkey, Chicken Liver, Chicken Broth, and Chicken Meal. Crude protein 12 percent, crude fat 8 percent, crude fiber 0.5 percent, moisture 78 percent. Contains carrageenan and guar gum.
Recommended Wet Dog Food for Large & Giant Breeds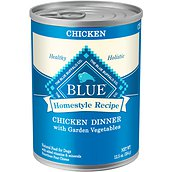 Blue Homestyle Recipe Chicken Dinner with Garden Vegetables & Brown Rice for Large Breed Adult Dogs
No chicken or poultry by-product meals. No corn, wheat, or soy. No artificial preservatives, colors, or flavors. The first five ingredients are Chicken, Chicken Broth, Ground Brown Rice, Whole Ground Barley, and Oatmeal. Includes glucosamin and chondroitin for joints. Crude protein 10 percent, crude fat 6 percent, crude fiber 1 percent, moisture 78 percent. Uses carrageenan and several gums as thickeners.
Canidae Life Stages Large Breed Adult Chicken, Duck & Lentils Formula Canned Dog Food
Formulated for large breed dogs (over 50 pounds). Low protein and fat levels for the health of large breed dogs and their optimal weight. No wheat, corn, soy, fillers, antibiotics, hormones, artificial flavors, colors or preservatives. The first five ingredients are chicken, duck broth, duck, dried egg whites, and brown rice. Crude protein 9.5 percent, crude fat 7 percent, crude fiber 1 percent, moisture 78 percent. Contains carrageenan and several gums as thickeners.
Conclusion
We hope this information about canned/wet food helps you choose a good canned food for your dog. There are some special challenges involved in finding and selecting a canned food. You may have noted that it's hard to find canned foods that don't use carrageenan or gums. If you want to find these foods you will have to look hard and there may be other issues with the foods; or they may be extra expensive. If you have a large/giant breed and you want to feed canned food, there are few foods made especially for dogs of this size. We rejected one food for our list because the company recommended feeding three cans per every six pounds your dog weighed! Most canned foods are made with smaller dogs in mind. If you do have a bigger dog and you want to feed canned food, consider mixing it into his dry food. One company recommends a 25 percent canned to 75 percent dry food ratio and this seems like a good idea for many larger dogs. Mixing canned and dry food can also help your dog have firmer stools, if this is an issue for him.
Most dogs love canned food so getting your dog to eat the food is not usually a problem. The foods suggested here are generally bestsellers but you can find other formulas/flavors made by the same companies if your dog doesn't like these recipes.
Good luck and we hope your dog enjoys his canned/wet food.
Below is a list of Products reviewed in this article
Updated February 17, 2016