Best Dog Food For Dogs With Arthritis and Joint/Mobility Issues
Skip To Dog Food Recommendations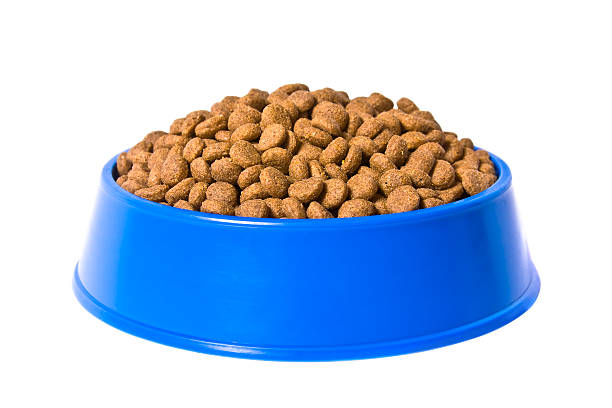 Joint and mobility issues, like arthritis, are some of the most common health problems among dogs. And while these issues do not exclusively affect one breed over another – dogs that are older, overweight, or larger in size are more susceptible to developing painful symptoms.
Joint disease can range from being hardly noticeable to debilitating. For that reason – it's important to keep in mind that a dog's diet and overall health can affect the severity of the symptoms. Fortunately, there are plenty of dog foods for dogs with arthritis that help to alleviate pain and promote healing.
To make selecting a specialty food for your pup a bit easier, we've outlined the top prescription, vet-recommended, and commercial diet dog foods for dogs with arthritis.
Disclosure: Please note that this post contains affiliate links, which will direct you to our partner sites. If you purchase the pet foods we recommend through those links, we may earn a small commission – at no extra cost to you.
Signs of Arthritis and Joint Disease in Dogs
Typical signs of joint disease in dogs include stiffness, limping, or favoring a leg. Dogs with arthritis or joint disease can also have difficulty getting up and down, often occurring after your dog has been sleeping or resting.
Older dogs and dogs with arthritis or joint disease may walk without fully bending their joints until some of the stiffness works itself out. Your dog may also be reluctant to jump or climb stairs, showing evidence of pain when he does the things that used to be normal and easy for him.
Other Joint and Mobility Diseases
Keep in mind, arthritis is not the only common disease that causes joint and mobility issues. Hip dysplasia, elbow dysplasia, OCD (osteochondritis dissecans), congenital disorders, metabolic disorders, cancer, and accidents or trauma can cause mobility problems and greatly affect your dog's quality of life. As soon as you start to notice any symptoms, get your dog into the vet to determine a proper diet and treatment before symptoms progress.
Joint Disease and Weight

No matter what size your dog is, carrying extra weight puts added stress on his bones and joints, causing cartilage to deteriorate, which leads to bone rubbing against bone. This added stress can worsen any pre-existing problems, increasing the chances of developing pain and inflammation. However, larger dogs are even more likely to have bone and joint problems. If you have a large or giant breed, be careful about watching your dog's weight, along with making sure that he doesn't grow too rapidly as a puppy. This is why there are special dog foods made for large/giant breed dogs and puppies.
Ingredients and Supplements 
Offering your dog a lean, healthy diet is especially important to prevent and alleviate symptoms of arthritis. But more often than not, a nutritious food alone won't keep your dog from developing a joint disease. Specialty foods have been developed with ingredients and supplements that target joint and mobility issues, helping with inflammation and stiffness. When seeking out a dog food for dogs with arthritis, look for one that includes these beneficial ingredients and supplements:
Green-lipped mussels or Perna mussels
Omega-3 Fatty Acids
Methyl-sulfonyl-methane (MSM)
Duralactin
Creatine
Vitamin C
Best Prescription Foods for Dogs with Joint & Mobility Problems
There are several prescription foods for dogs with arthritis and joint/mobility problems. The foods generally contain a blend of ingredients and supplements that keep joints supple and maintain healthy cartilage. Be sure to pay close attention to the breed specifications, as some of the foods are made specifically for small, medium, or large breeds.
You can find the following dry food prescription diets on Chewy.com. Prescription diets require a prescription from your veterinarian. Once your vet faxes or e-mails your dog's prescription, the order can be filled and shipped to you. Other online sites have the same requirements for prescription diets.

---
30% Off + Free Shipping
on Dog Food For Arthritis
These diets should always be fed according to your veterinarian's instructions. You should consider the dog food the same as any other prescribed medication for your dog. Most diets are mixed with normal food for a few days to help your dog adjust to the new food.
---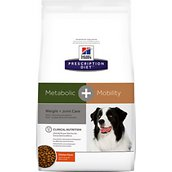 Nutritionists and veterinarians developed Prescription Diet Metabolic + Mobility Canine clinical nutrition to help manage your dog's weight and joint health. In fact, Metabolic + Mobility Canine has clinically proven nutrition to improve mobility in as little as 21 days and reduce body weight by 13 percent in 60 days.
Key Benefits
Naturally works with your pet's unique metabolism
Improves your dog's ability to run, walk and jump
Helps your pet feel full & satisfied between meals
---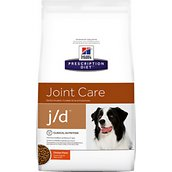 Improving your dog's mobility is as easy as feeding the right nutrition. Being proactive about mobility issues early can avoid the need for more aggressive treatments. Hill's Prescription Diet j/d helps your dog walk, run and jump more easily in just 21 days.
Key Benefits
Help improve your dog's ability to run, walk and jump in as little as 21 days with a clinically proven combination of nutrients
An excellent source of the Omega 3 fatty acid, EPA, to nourish cartilage
Controlled calorie content and added L-carnitine help maintain a healthy weight and avoid extra stress on joints
---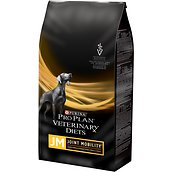 With its natural source of glucosamine and high EPA and omega-3 fatty acid content, Purina Pro Plan Veterinary Diets JM Joint Mobility Canine Formula is designed to help improve mobility in dogs with arthritis. It offers dietary benefits that provide optimal nutrition while meeting your adult dog's or growing puppy's special needs.
Key Benefits
High levels of long-chain omega-3 fatty acids
A natural source of glucosamine
A high level of antioxidants
High protein-to-calorie ratio
---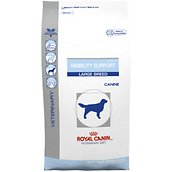 Royal Canin Veterinary Diet Mobility Support JS Large Breed Dry Dog Food is a highly digestible dog food formulated with New Zealand green mussel. This formula addresses adult dogs with, or at risk of developing, degenerative joint disease (osteoarthritis). Some of those risk factors include obesity, advanced age, very active lifestyle (working dogs, hunting dogs); a history of joint injury or trauma; and genetic predisposition.
Key Benefits
Treats osteoarthritis
EPA and DHA help support healthy joints
Specifically formulated for large breed dogs
Customized kibble for large jaws and teeth
Balanced and complete nutrition
Specific nutrient blend to help regulate intestinal transit and to help support the digestive flora
---
Commercial Diets for Dogs with Arthritis and Joint/Mobility Problems
If your dog is at a healthy weight and you are more focused on joint support, consider these commercial diets. They're typically more affordable than prescription and vet-recommended formulas, but they have added benefits targetting arthritis and joint/mobility issues.
---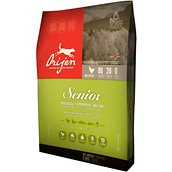 Orijen Senior provides plenty of excellent quality protein for your older large dog. This food features free-run chicken and turkey, wild-caught fish, and nest-laid eggs. The food is 38 percent crude protein and 15 percent crude fat. We think this is a very good food for senior dogs who often need extra protein as they get older.
Key Benefits:
High in protein to support muscle health
Glucosamine and chondroitin to support joint health
---
Dogswell knows how much dogs love running laps around the house and chasing friends at the dog park. It's why they created Happy Hips Canned Food, to help them play for years to come. Happy Hips Chicken & Sweet Potato Stew is crafted with high-quality protein, wholesome fruits and veggies and supplements that help sustain hip and joint health. Every dash to the dinner bowl means it's working! (Also dry foods and treats.)
Key Benefits
Grain-free recipe
Cage-free chicken is the #1 ingredient
Glucosamine and Chondroitin to maintain hip and joint health
Antioxidant-rich fruits and veggies
Chelated minerals for better nutrient absorption
---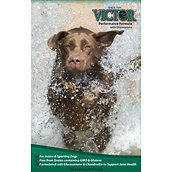 Victor Performance Formula Dry Dog Food features high levels of protein and energy with only 35% total carbohydrates, making it an excellent choice for young, growing and highly active dogs. Multiple protein sources from beef, pork, and chicken meals provide excellent amino acid balance, supporting muscle development and maintenance and infusing natural flavor in this nutritious food. Balanced levels of Omega 3 and 6 fatty acids support healthy skin and a glossy coat, and glucosamine and chondroitin promote long-term joint health. Like all other Victor foods, Performance Formula is free of corn, wheat, soy, and gluten.
Key Benefits
83% of the protein in this recipe comes from meat and poultry
Great for young, growing and highly active dogs
Multiple protein sources provide excellent amino acid balance
Omega 3 and 6 fatty acids support healthy skin and coat
Glucosamine and chondroitin support long-term joint health
No corn, wheat, soy or gluten
---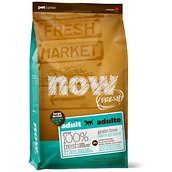 Now Fresh Grain Free Large Breed Adult Recipe is made by Petcurean. The food contains 363 kcal/cup and has 27 percent crude protein and 13 percent crude fat. These levels should help your large breed dog stay at a prime weight. We think this food has some good features for large breeds in terms of bone and joint health and heart health, as well as quality ingredients.
Key Benefits
New Zealand green mussels and glucosamine and chondroitin for healthy joints
L-Carnitine for a healthy heart and to help turn fat into lean muscle
Pre- and probiotics for better digestion
---
This unique Wellness CORE Grain-Free Large Breed Formula nurtures and supports your dog's inner wellbeing. It is made with a high concentration of quality animal protein, such as deboned chicken, chicken meal and turkey meal, and a proprietary blend of botanicals and nutritional supplements. Made with a larger kibble size and the WellFlex system for joint support, this formula is ideal for large breed adult dogs!
Key Benefits
Grain, gluten and GMO-free formula
High levels of protein
Glucosamine and chondroitin for joint support
Antioxidants, omega fatty acids, and probiotics
Optimum fat and calories for healthy body weight
Made in the USA
---
Vet Recommended Diets for Dogs with Arthritis and Joint/Mobility Problems
Keeping your dog at a healthy weight is one of the best ways to reduce the risk of developing arthritis or other joint and mobility problems, which is why vets often recommend weight control dog foods to address these problems.
Some of the non-prescription dog foods recommended by vets to help lose weight include the following:
Remember, arthritis and joint problems in dogs are very common. In fact, arthritis is so common that you may not even notice your dog starting to develop some early symptoms. Try to keep your dog at a healthy weight and watch for any signs that he's developing mobility problems as he gets older. There are lots of foods and supplements you can use as needed. For additional dog food recommendations, check out these weight loss formulas.
Below is a list of Products reviewed in this article
Chewy Sales