Homemade Calming Dog Treats
If your pup is a bit hyperactive or anxious, you've probably tried everything to calm him down. From evening walks to therapeutic chew toys and obedience lessons – but what if nothing works? Whip up a batch of calming dog treats, of course.
These homemade treats are specifically made with ingredients to help soothe your dog during those high-energy or agitated moments. Made with calming and healthy ingredients, these treats help fight anxiety and insomnia. Trust us, your pup will prefer the chamomile tea in a crunchy treat over steeped in his water bowl!
Here's the quick and simple recipe:
Disclosure: Please note that this post contains affiliate links, which will direct you to our partner sites. If you purchase the pet foods we recommend through those links, we may earn a small commission – at no extra cost to you.
How To Make Homemade Calming Dog Treats
What You'll Need:
• Cookie cooker in cute shapes
• Large mixing bowl
• Scissors
• Rolling pin
• Metal baking sheet
• Parchment paper
• 1 chamomile tea bag
• 1.5 cups of oat flour
• 1/3 cup of unsweetened, plain yogurt (Be sure it contains no xylitol)
• 4 tablespoons, unsalted sunflower seeds
• 1/3 cup freeze dried strawberries chopped into small pieces
• 1 tablespoon honey
Instructions: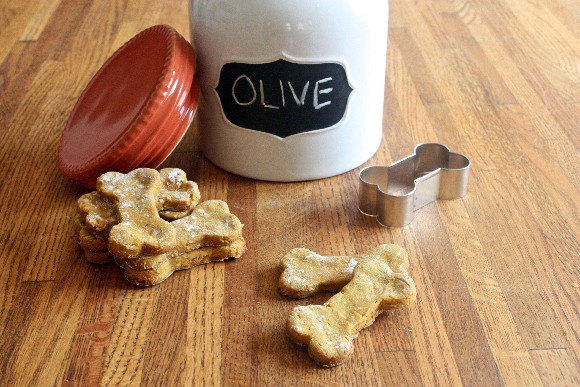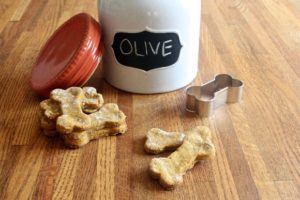 1. In the large mixing bowl, combine the oat flour and sunflower seeds.
2. Use scissors to open the chamomile tea bag and add the contents to the bowl.
3. Add the yogurt, dried strawberries, and honey.
4. Mix the contents well.
5. Use your hands to knead the dough into a firm ball. Add a small amount of water, if necessary, to soften the dough.
6. Roll the dough out using the rolling pin to a thickness of around ¼ inch.
7. Cut out shapes using your cookie cutters
8. Apply parchment paper to the metal baking sheet.
9. Place the cutout shapes on the parchment paper.
10. Preheat the oven and bake for 2 to-30 minutes at 325 degrees F until firm.
11. Remove the dog treats from the oven and let them cool on the counter. They should harden a bit more as they cool.
What Are the Health Benefits of Calming Dog Treats?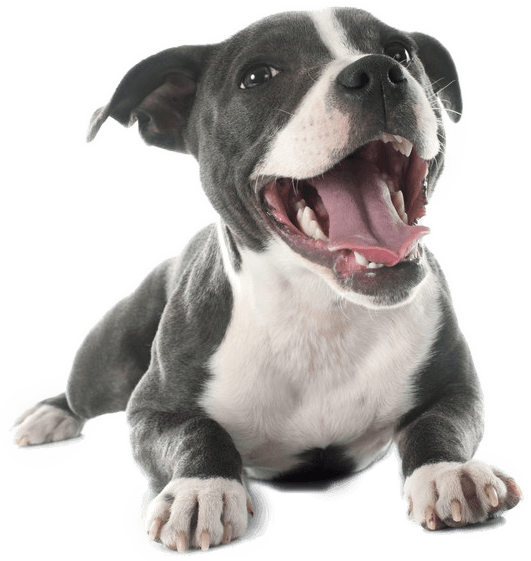 Dog treats should be tasty, but they should also be healthy. As mentioned, chamomile has calming properties, but it also has antioxidant and anti-inflammatory benefits. One precaution: Don't give chamomile to a pregnant dog as it can trigger uterine contractions, potentially causing premature labor.
What about the other ingredients in these tasty dog treats? The mix-in that adds crunch to these cookies are the sunflower seeds. Like chamomile, sunflower seeds have anti-inflammatory benefits (thanks to fatty acids). Sunflower seeds are an excellent source of vitamin E, an antioxidant vitamin, as well as B-vitamins, magnesium, and selenium.
Also on the list of healthy foods for dogs are strawberries. Strawberries are a top source of vitamin C, containing more vitamin C per serving than an orange. They are also rich in natural antioxidants that help reduce inflammation. And since strawberries are one of the fruits that are most heavily sprayed with pesticides, it's best to get organic ones if you are buying them fresh.
How about yogurt? Dogs often have problems digesting foods with dairy, but yogurt is fermented, which means it is easier to digest than most dairy products. Be sure to choose one that's unsweetened and contains no xylitol, a sweetener that's toxic to dogs. Read the label carefully to be sure.
The next time your dog is restless or anxious, give them a dog treat that will help them calm down. You both will appreciate it!
Le Dogue Dog Paws and Bones Silicone Baking Molds with Recipe Booklet
When you're after the best homemade dog treats, you need to know you're not alone. Chewy offers this silicone baking mold at a low price. You can use it to prepare homemade calming dog treats and easily wash them in the dishwasher when done.
For freshly baked treats, this mold comes in various shapes such as little paws. Since it's made from durable silicone, you will also be able to creatively use it to create frozen treats.
Additional Recipes
For additional homemade dog treats, try these recipes:
Updated September 23, 2018