Yummy, Nut Butter and Pumpkin Dog Treats
Dogs love peanut butter – no secret here. But giving your dog a scoop of Skippy right out of the jar sounds darn-right messy and unsanitary. Quick fix? Satisfy your pup's love for peanut butter by adding it to his favorite dog treats.
Skip the commercial cookies that contain fillers and additives, and give your pup something healthy and delicious – not to mention, a bit easier on your wallet. As long as you have an oven and a few common ingredients, you're ready to go. Here's how to make your pup's new favorite snack – Nut Butter and Pumpkin Dog Treats.
Disclosure: Please note that this post contains affiliate links, which will direct you to our partner sites. If you purchase the pet foods we recommend through those links, we may earn a small commission – at no extra cost to you.
How To Make Homemade Nut Butter and Pumpkin Dog Treats
What You'll Need:
A large metal or glass bowl for mixing
Smaller bowl to hold ingredients
Wooden board for rolling out dough
Cookie cutters
Sheet pan lined with parchment paper
2 eggs
3 cups of whole wheat flour
1 cup of pureed pumpkin (available canned at most stores – look for no added sugar)
½ cup old-fashioned oats
3 tablespoons of peanut butter (preferably low-sugar, no added salt)
½ teaspoon of turmeric spice
Instructions:
Preheat oven to 350 degrees F.
Use the small bowl to combine the whole wheat flour, old-fashioned oats, and turmeric spice.
Set the bowl aside.
Use the larger bowl to mix the peanut butter, pumpkin puree, and eggs.
Carefully add the liquid ingredients to the dry mix and stir them thoroughly with a mixing spoon.
Apply a thin layer of flour to the wooden board to make it non-stick.
Carefully pour the mixture onto the wooden board.
Roll the dough with the rolling pin to a thickness of approximately ½ inch.
Use the cookie cutters to cut the dough into shapes.
Transfer the dough cutouts to the sheet pan lined with parchment.
Bake for approximately 35 minutes until the dough feels firm and the cookies are golden brown. They will harden a bit more after they're removed from the oven.
Place the cookies aside to cool.
Offer your pup one as soon as they've cooled, or store them for later!
What Are The Health Benefits of Nut Butter and Pumpkin Dog Treats?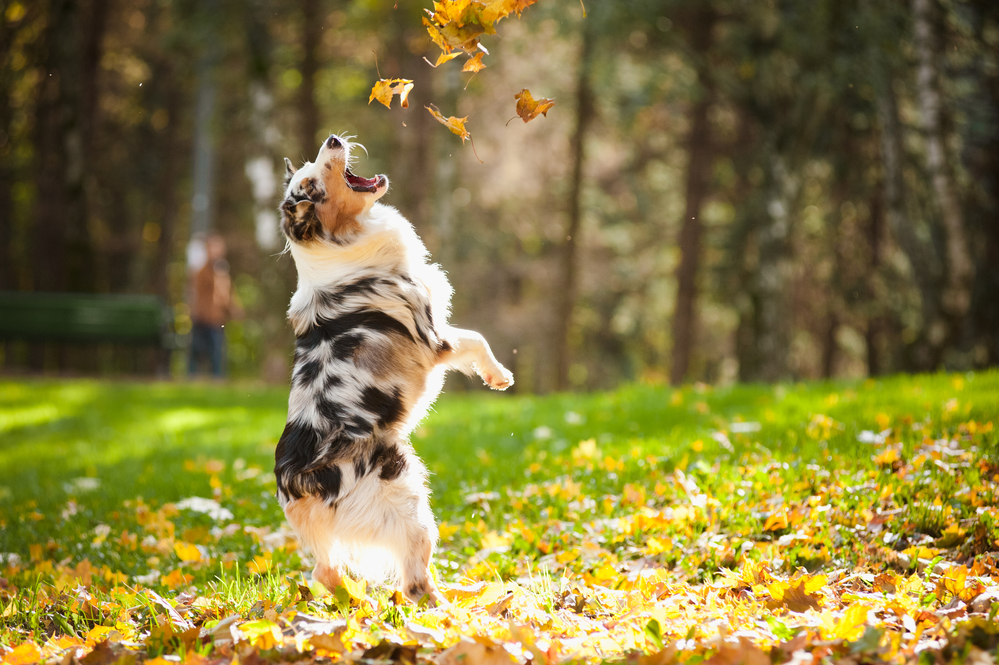 Taste is important, but you also want the cookies and treats you give your dog to be healthy. You're one step ahead if you make them at home. Fortunately, Nut Butter and Pumpkin treats are made with veterinarian-approved ingredients. Let's look at the ingredients more closely.
Pureed pumpkin is rich in beta-carotene, a nutrient that forms vitamin A in a dog's body. It also has antioxidant and anti-inflammatory activity and is a good source of fiber for digestive health.
The flour in these homemade dog treats is unbleached, whole wheat flour and adds an additional source of fiber to your dog's diet. The oats contain a compound called beta-glucan that's important for immune health. Plus, the addition of oatmeal makes the cookies more satisfying to a dog.
What about peanut butter? Peanut butter is a safe food for dogs, and veterinarians say it's healthy in moderation. It's a good source of protein and healthy fat for your canine companions. One precaution: make sure the brand of peanut butter you choose is free of xylitol. If it's in a product, it should be listed in the ingredient list. Xylitol is a sweetener that's safe for humans but quite toxic and potentially deadly to dogs. Also, don't substitute macadamia nut butter for peanut butter in the recipe, as macadamia nuts are toxic to dogs.
Finally, turmeric is a spice frequently used in Indian and Thai food. What's most intriguing about turmeric is the potential health benefits it offers. Studies show that active compounds in turmeric called curcuminoids have anti-inflammatory activity. So, these cookies may be particularly beneficial for a dog with arthritis or certain inflammatory skin conditions.
Aside from these health benefits, Nut Butter and Pumpkin Dog Treats are a treat guaranteed to cause mouths to water and tails to wag. And the best part? You can be happy knowing these crunchy cookies are healthy for your pup!
For additional homemade dog treats, try these recipes: