Homemade Dog Treats: Sweet Potato Chews
There's something a Great Dane and a Yorkie have in common – besides taking mid-day naps and jumping at the sight of a squirrel. These breeds – and every other one, for that matter – drool over the chance to eat something other than their everyday kibble. Dog treats are the perfect reward or token of love to show your pup how much you care.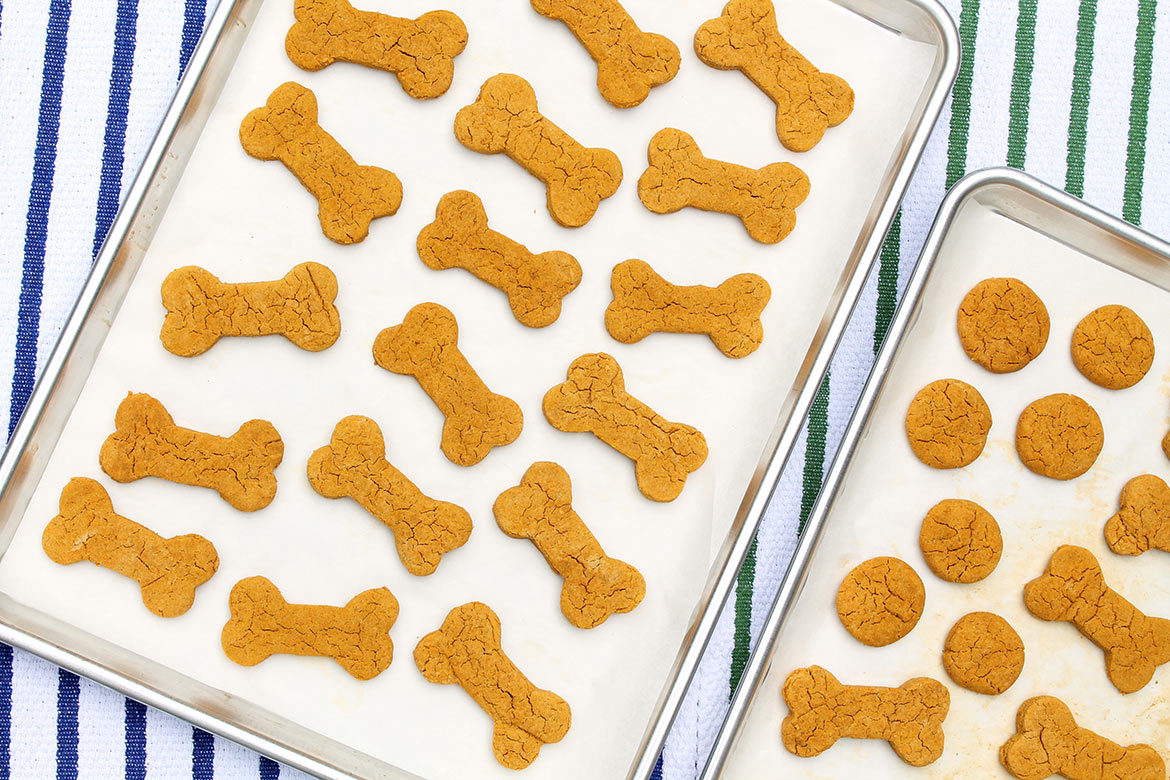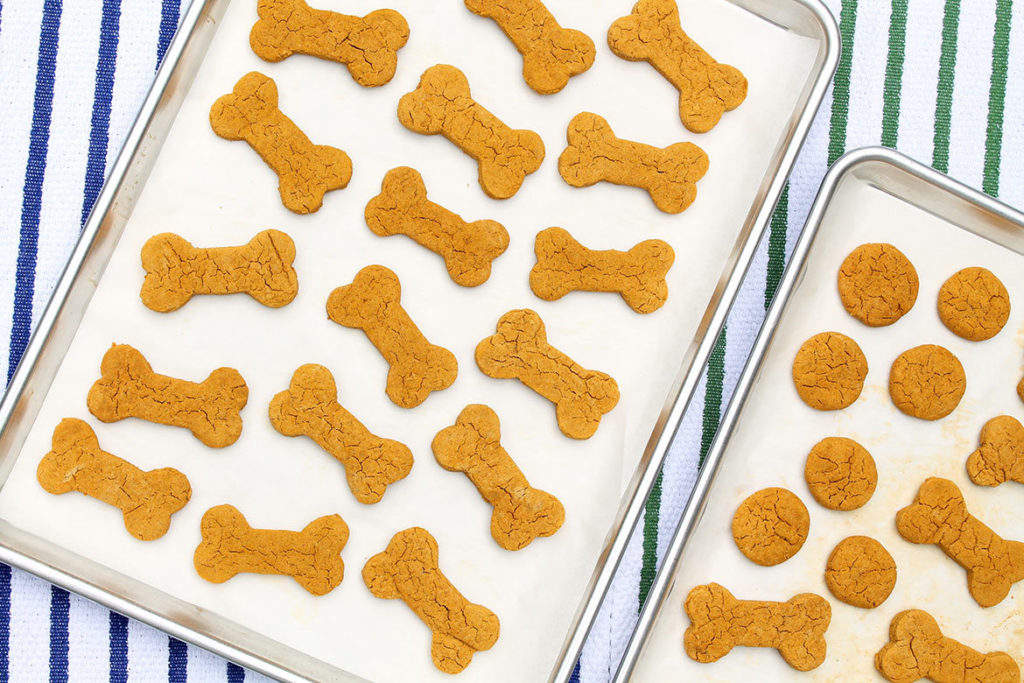 However, keeping your cabinet stocked at all times with name-brand dog treats can get expensive. Plus, many of the brands on supermarket shelves are all about the taste and less about the nutritional value. Rather than opting for a store-bought snack, skip the cheap ingredients and hefty price tag, and go for a homemade dog treat, instead.
While your dog may not know (or care) that his treats are fresh from your home oven, you'll feel confident knowing you're feeding your pup a healthy, digestible, and delicious homemade dog treat.
Disclosure: Please note that this post contains affiliate links, which will direct you to our partner sites. If you purchase the pet foods we recommend through those links, we may earn a small commission – at no extra cost to you.
---
How To Make Homemade Sweet Potato Chews
Don't worry – making dog treats does not have to be a complicated, day-long project. Instead, keep it simple and try out these tasty and healthy sweet potato chews, containing only one ingredient.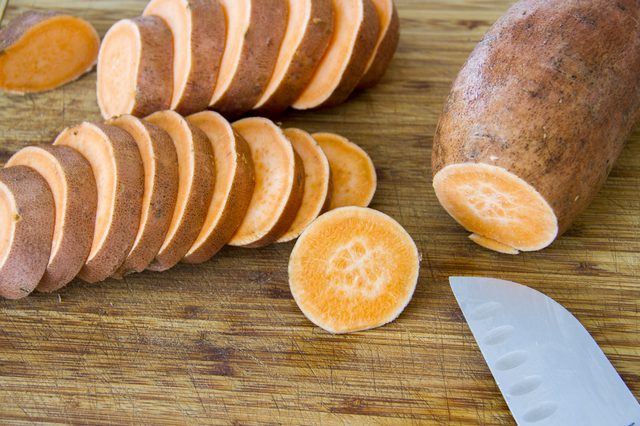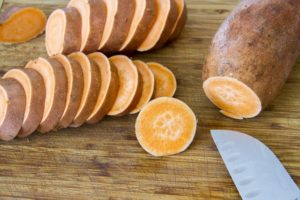 Ready to get started? Create this delicious, colorful treat in a few easy steps with a couple of fresh sweet potatoes. There are two ways to make the treats – either with a dehydrator or an oven.
The easiest way is to use a dehydrator. (We recommend the  Nesco FD-1040 Gardenmaster Food Dehydrator on Amazon.) The benefit of having a dehydrator is that you can use it to make other dog treats, like jerky. However, if you won't use a dehydrator often, an oven will work just fine, too. 

What You'll Need:
A dehydrator or oven
Sharp knife
Metal cookie sheet
Sweet potatoes (organic is preferable)
Preparation:
Wash the sweet potatoes thoroughly and let them dry.
Use a sharp knife to carefully slice the sweet potatoes lengthwise. Each slice should be 1/3 to 1/2 inches in thickness. The thicker the slices, the chewier the dog treats will be.
Baking in an Oven:
Spray the metal cookie sheet lightly with a cooking spray.
Place the sweet potato slices on the sprayed cookie sheet so they aren't touching.
Turn the oven on the lowest setting. Place cookie sheet in the oven.
Leave the slices in the oven for 3.5 hours. After 3.5 hours, open the oven and turn the slices over.
Keep the slices in the oven on the low setting for an additional 3.5 hours. When they're done, the potatoes should feel soft and dry.
Remove the slices from the oven and let them cool on the counter for an hour.
Place into plastic bags for storage.
Using a Dehydrator:
Place the cut slices on the dehydrator trays. Make sure they're not touching to ensure good airflow.
Turn the dehydrator to the highest setting. It should be 145 to 155 degrees F.
Allow the sweet potato slices to remain in the dehydrator for 6 to 8 hours.
Remove the slices from the dehydrator and let them cool on the counter.
Once cool, place into plastic bags for storage.
---
What are the Health Benefits of Sweet Potato Chews?

When you toss that first chewy sweet potato treat to your dog, he'll melt from the delicious, unfamiliar taste. Little does he know, you're giving your canine friend a treat loaded with health benefits. Sweet potatoes are rich in beta-carotene, an antioxidant that helps fight inflammation. Plus, a portion of the beta-carotene dogs take in through diet can be converted to vitamin A. Sweet potatoes are also an excellent source of fiber to help keep your dog's gut healthy by fostering the growth of gut-friendly bacteria.
Most importantly, sweet potatoes are veterinarian approved. They're safe, healthy, and contain no added sugar or preservatives. However, American Kennel Club recommends avoiding feeding sweet potatoes to your dog in the form of pies or desserts.
---
Additional Tips & Considerations
While sweet potato treats are a healthy snack you can feel confident about feeding your pup, never give your dog a chew treat unless you're around to watch him to ensure he properly chews and swallows the treat. Your dogs will thank you for this before-bedtime snack or loving reward for good behavior.
If you try out this recipe, let us know what you think in the comments below, and be on the lookout for additional homemade dog treat recipes in the coming weeks!